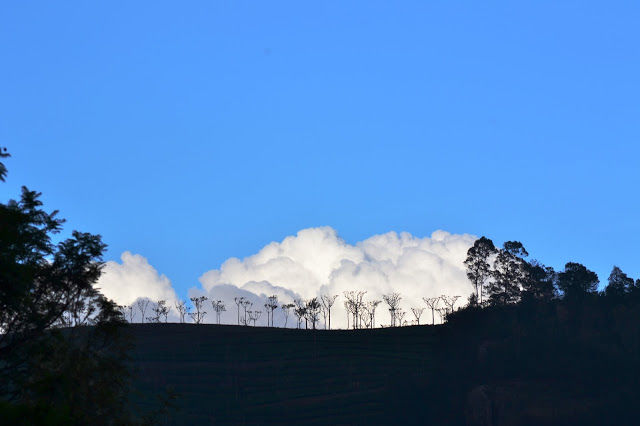 Marsh Villa
We headed to Marsh Villa on the 2nd day. It is an old colonial bungalow, with typical British architecture- wooden flooring, creaky cabinets and doors and a vintage atmosphere to it. The bungalow is surrounded by sparsely places small houses (very peculiar in their color schemes), few schools and old churches. It gives a retro countryside feeling to the place and with the firewood going, you can let your imagination run wild and may be share an odd ghost story or two over drinks.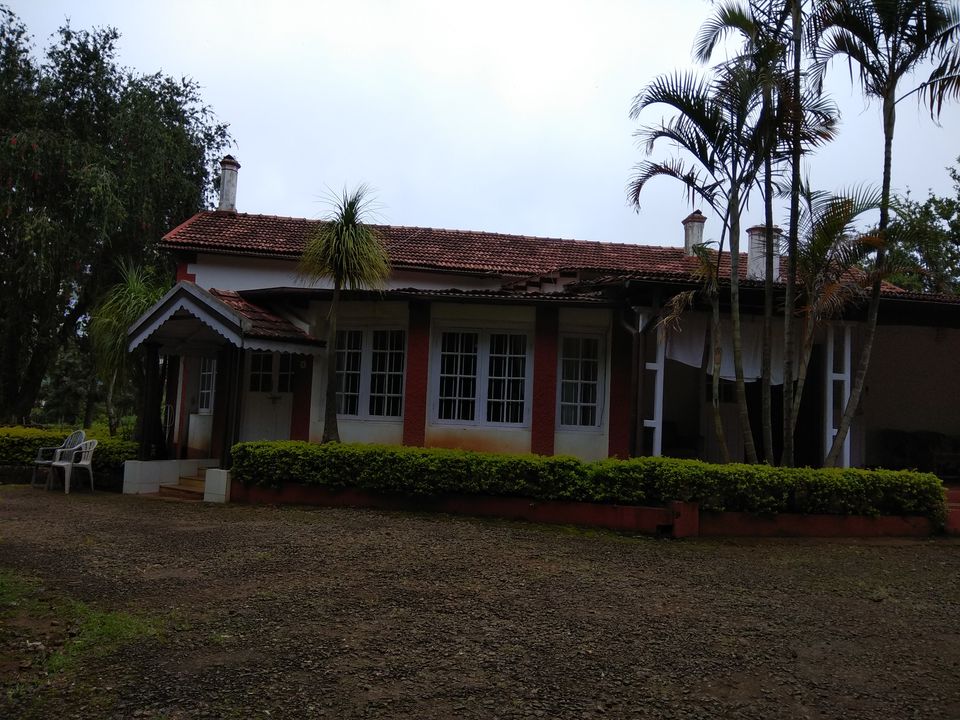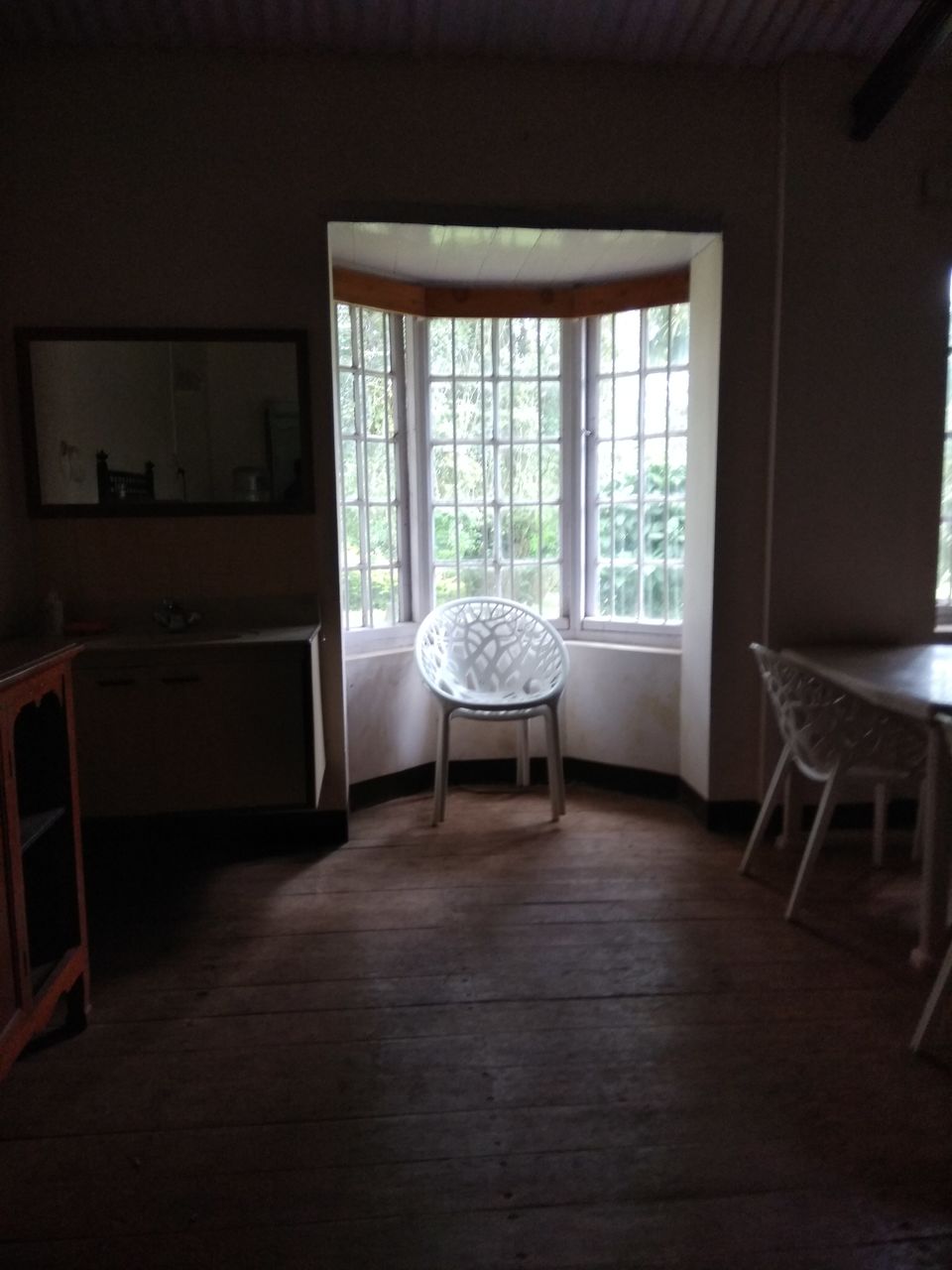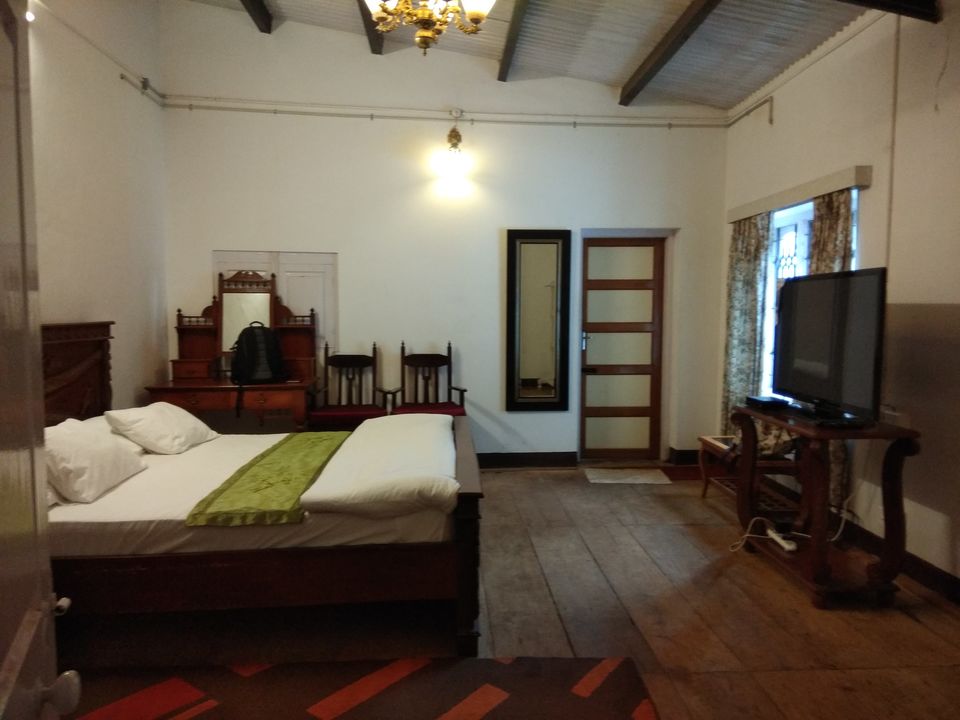 There are many tea shops (which sell loose teas from different Nilgiri Tea estates), few nice bakeries(try Cake O Clock), organic stores (Green Shop by Last Forest) and local food places (Hotel Kasthuri for the authentic local meals) in the market. You could also check out Nehru Park- a typical old school small park with well-maintained flowers and small walkways. After a little exploration we headed back to the resort through walk down from the market. The streets don't have too many lights so we used our phone torch while admiring the quirky sounds of a forest/tea garden landscape.
Dinner was a timid affair, as the staff is pretty basic with what they offer in terms of food and services. But the bright spot was some nice breakfast- very basic south Indian stuff with some toast and jam.
Sightseeing
The drive to Kodanad view point (18 km from Kotagiri) is very comfortable with the tiny villages on the way. These are old villages set up for tribes with unique colorful houses which offer a picture postcard view. There is also a famous Todas tribal hut/temple on the way.
Kodanad was home to late Jayalatha, AIADMK chief and CM of Tamil Nadu. She owned much of the tea estates here, ensuring the infrastructure is excellent with smooth wide roads, hedged with flowering plants.
John Sullivan Memorial
John Sullivan Memorial is an old bungalow (renovated post 2000) which is a lovely reminder of the history of development of the Nilgiri area by the 19th Century British Collector. It houses a collection of paintings and photographs of a bygone era.
Longwood Shola forest
How to reach
Take SETC or KSRTC bus till Ooty. From Ooty, take local bus (20 rupees ticket) to Kotagiri or book a taxi (around 1500 rupees).
Driving from Bangalore is around 12 hours (380 kms) via Salem. I recommend this route, compared to the one via Mysore, as the roads are much better.
P.S. All pictures clicked by Tushar Shukla and are not meant for commercial use. Artwork and content by Seema Misra.
If you liked this article, read more such stories at lonelycanopy.com .
Also worth checking out are Longwood Shola forest, Elk's Falls, Dolphins Nose, Rangaswamy Peak and pillar.
Kodanad View Point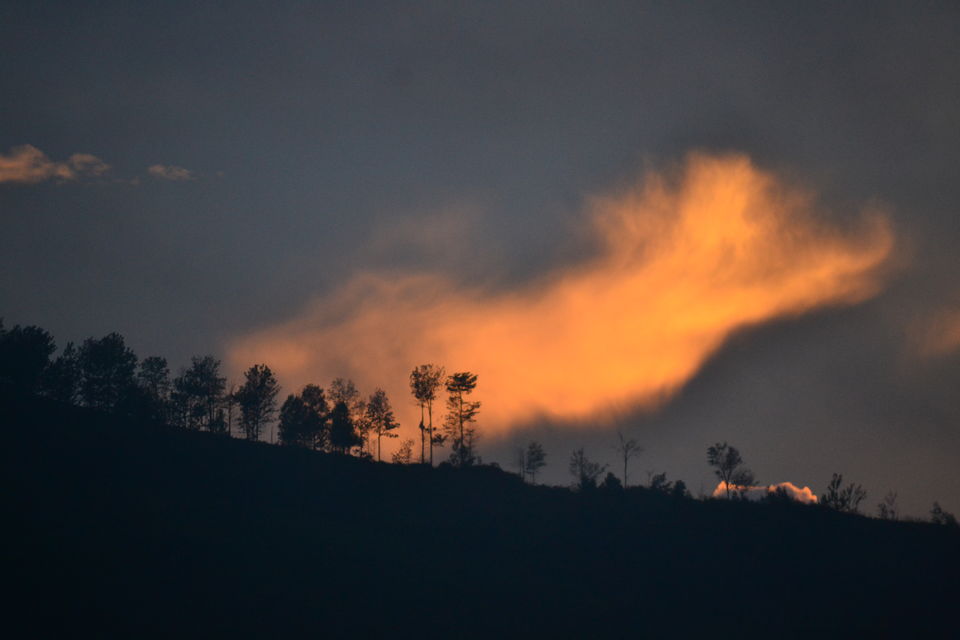 Hanging Huts was not too tough to locate. A few calls to the resort manager (which is quintessential to the hill road trips) and we were able to reach there.
I did expect finding bright red huts type of houses, and that was pretty much there. But what was also there was a unique view.
The resort seemed to blend in with the surroundings, steps leading down to the cottages and then up again to the dining area, which overlooks the splendid tea valley.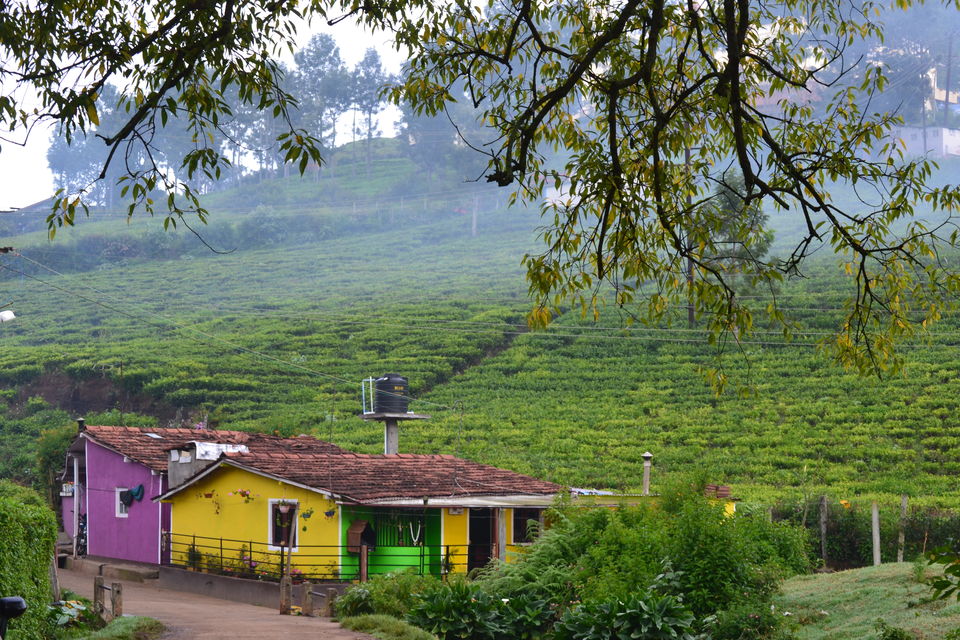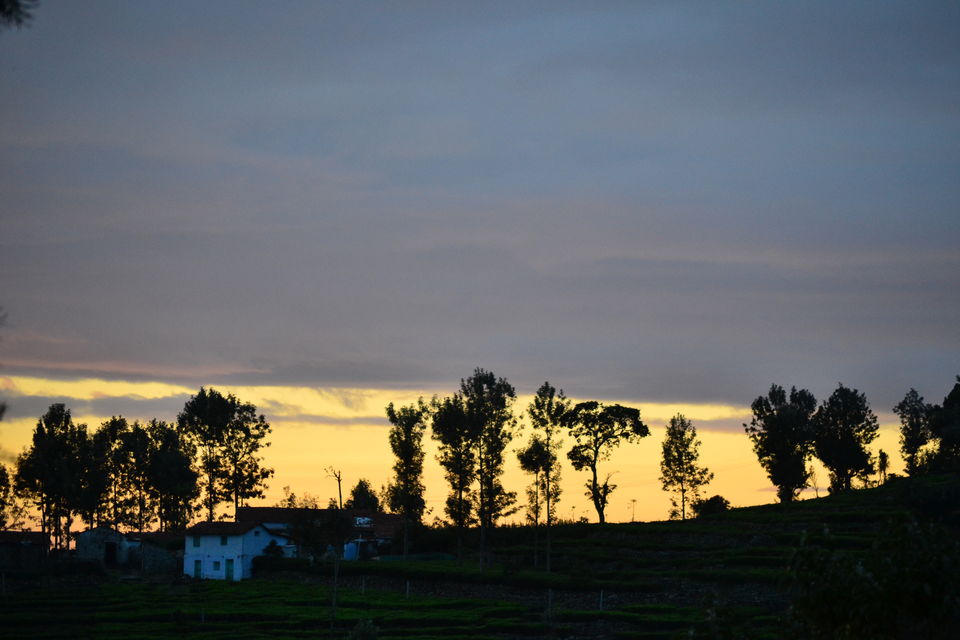 You can sit for hours just admiring the serene views, a camera or a book or some music just adds to the experience.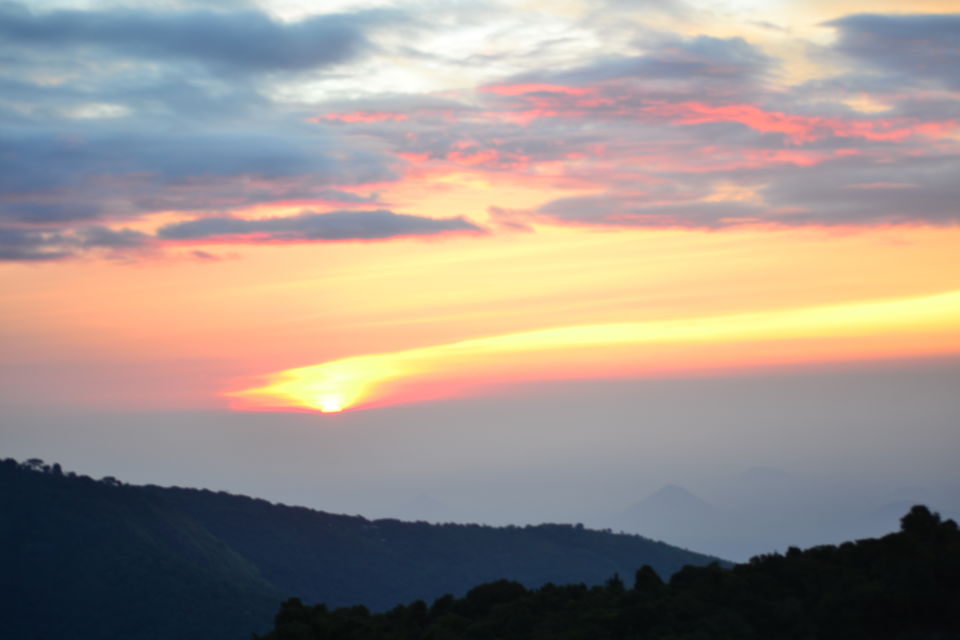 We took a taxi for a half-day tour to the nearby attractions- Kodanad View Point, Catherine Falls, John Sullivan Memorial and Todas tribal hut. As if often the case, the journey and the views that you get on the ride are far more memorable than the actual viewpoints, so we made a point to keep looking wide-eyed all through and stop wherever the view was too good to pass.
While the other attractions are mostly viewpoints, the Longwood Shola forest is a different experience as you get to drive through rocky terrain in the middle of a dense patch of ecologically rare trees. Walking through the dense forest, with the melodious song of the Nilgiri whistling thrush, occasional view of a Malabar flying squirrel atop a tree, woodpeckers, flycatchers, and many other birds. This 100 hectare forest is one of the last remaining natural forests of the Nilgiris - thanks to the many conservationists and locals who have worked tirelessly to preserve this tiny, sparkling forest.
The rooms were quite comfortable with all the essentials in place. Being a tea lover, I was delighted to find a water heater, something even the bigger resorts seem to ignore. You could also spot a few Bisons grazing through the hills, and birds of course- lots of them providing a unique natural sound to the mystical scenery.
Time flies when you are in such a pristine magical place, and you don't need a particular agenda to cover. The food was pretty ordinary, but they do have a tree house type of dining place, apart from the regular dining hall, which we enjoyed.
For activities, you can walk up and down the hills, and enjoy breath taking views and admire the local houses and structures. We were lucky to witness wonderful sunrises and sunsets here as well.
Room tip- Nothing major, just carry a few essential cosmetics for the hilly air, and may be some candles or incense sticks to fight the musty monsoon mood. If you are fond of black tea you may be disappointed. As ironical as it seems I have often found it tough to get the local brewed tea whenever I have stayed in tea estates (with 1-2 exceptions, like Lymond House in Ooty where there served then then popular Nonsuch tea as a routine), so you may want to carry your own tea bags.
You can't really expect the best of services in such a set up and price, so we settled for a walk to the nearby Kotagiri market and Avenue road to explore and try some food.
Kotagiri offers some offbeat breaks in the picturesque Nilgiris. The name Kotagiri refers to the hills of the Kota's, one of the five hill tribes of Nilgiris. A little away from the popular Ooty and Coonoor, it is not the best when it comes to tourist friendly facilities and service, but if you love a little quieter tea valley and misty mountains and can put up with a minor inconveniences, Kotagiri might be the spot for you.
We stayed at Hanging Hut Resorts and Marsh Villa.