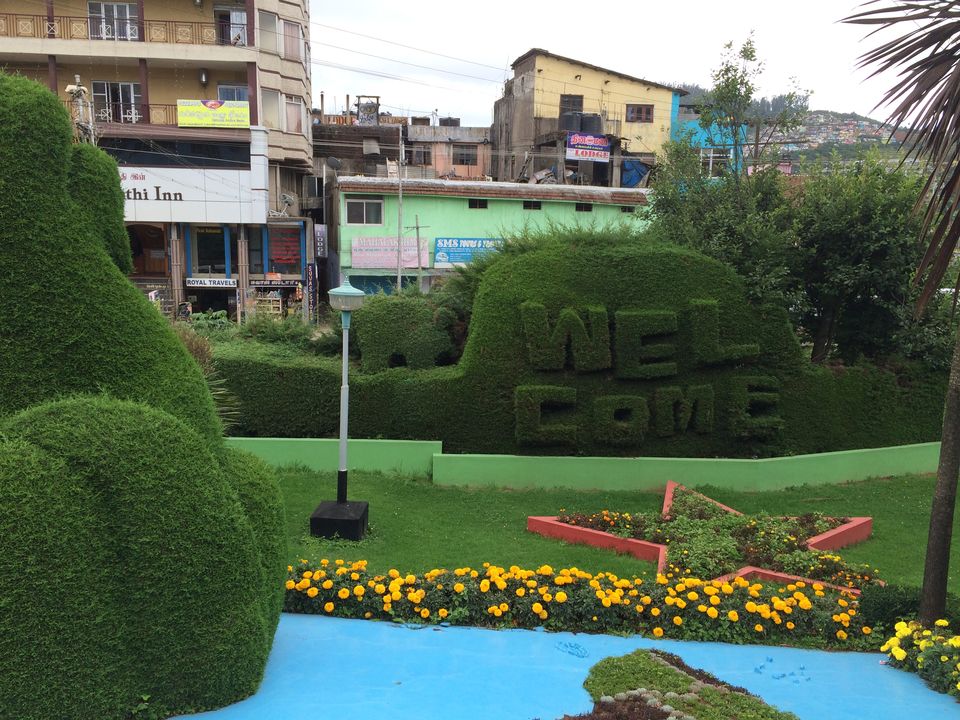 Have you ever dreamt of walking in or above the clouds? Ever wanted to see how the world looks from the escape to the world, the suicide point and how it feels when you have chocolates plants all around?
Heartwarming beauty, awesome climate, terrific atmosphere and pleasurable hot flavored tea.....If all these stuff tantalize you then without thinking anything else explore the blue mountains (Nilgiri Hills) of OOTY.
How to reach?
If you are in a group you can hire a cab otherwise the best option is KSRTC Volvo service AIRAVAT. It takes 7-8 hours to reach from Bangalore by the bus. There is a check post before Bandipur National Park, which remains close from 9pm to 6am. So you have to take another route which is quite risky or plan your trip according to the check post timing if you are planning to go by your own car. Check post is around 60 km from Ooty and it takes almost 3 hours to reach out from there, so it is better to reach the check post early in the morning.
On the way
When you cross the check post, area of Bandipur National Park status, which is established as a Tiger Reserve. You can easily spot deer and elephants hovering near the road from the bus. It was a great sight watching deers, elephants in open. One good thing is that there is a ban on traffic from the hours of dusk to dawn to help bring down the deaths of wildlife as there were many due to lots of traffic on the road and speedy vehicles. When the hilly area starts there are many felicitous sights to watch like valleys, hills and cloud jogging over the hills. Little drizzle keeps you fascinated and if you are fond of photography, this place is meant for you.
What after reaching there?
The most important question right now is that how much time it will require to visit all the soothing places without missing anything special. The answer depends on how much time you are willing to give. It is definitely not a one day place to visit. You should keep at least 2 and at max 3 days for Ooty if you have any plans to visit other places. You must be needing a hotel to stay. For this you can book the room from the online travel websites or I would suggest to take the room after reaching there as there are innumerable options available which will charge you at much cheaper rates than any online travel websites. You must be requiring some vehicle for travelling inside Ooty as things are a little bit far from each other. There are numerous options available like mini bus, which is shared with others, but not suggested by me as you lose your freedom of what time you want to spend and which places you prefer, although much cheaper. The best option is hiring a cab which can cost you around 1000-1500 per day, you can choose the places you wish to visit and the time you want to spend and if the driver is friendly which most of them are can offer a free guided about the site. There is one more option of taking a Scooty or bike on rent which costs around 500 bucks per day exclusive of petrol. You can prefer any option according to your feasibility and adventurous capacity.
Places to Visit
There are 3-4 kinds of tours available to visit the sights around Ooty. One tour starts from visiting Doddabetta Peak, which is the highest peak in south India, but the place is very Crowdy which can cause a nuisance. The Botanical Garden and Sim's park are for those who have some affection for different kinds of trees and interested in learning scientific names despite the fact that there are trees which are older than 200 years. On the way to Dolphin's Nose you can find various tree gardens on a mountain slope in stair fashion. You can easily spot some women plucking tea leaves and putting them in their basket which some of you could have only seen in movies unless you have already visited North East regions of India. You can also visit the Madras Regimental Centre and Wellington Gymkhana Club where some of the movies like 'Roja' were shot. View from the Dolphin's Nose was breathtaking. It is also called as 'Suicide Point' but I am sure you will forget any such thoughts and will lose in the spectacle beauty of the panoramic view. We took some amazing photos and videos from there. Now if you still have time after spending some quality time at these places you can go to the boat house after returning from Connor. But the boat house and most of the places in Ooty closes at 6 in the evening. Pedal, Row and Motor boats are available for half an hour, but the water is very refrigerated, if you have any intention of play with that.
Another tour takes you to Filmy Chakkar which includes most of the places where shooting of some movies took place. It includes Pine Forest, which is the perfect place to shoot horror movies. Behind the forest there is a small lake over which Kamraj Sagar Dam is constructed. The site is good at sunset or sunrise when the sun goes beyond the mountains and there is a lake at the ground.
The best thing that I found in Ooty is also here in the vicinity. Its 9th mile. There is a small grassy mountain over which you have to climb and if the weather is good then it will be the most memorable place for you. When I went there the weather was awesome. Clouds were levitating over the grass and there was a small drizzle all around makes it fully awesome place. You can scream whatever you wish, you can do whatever foolish thing you need to do at the place at the top is less Crowdy and energizing. Even if you are a hardcore Urbanite this place makes you think about having a small hut at this place and live forever. The next stop is Pykara falls, but it is not so deep which you might have imagined by the name falls, but any pace can turn to the fun spot if you have some fun loving friends around as luckily in the case of mine. From here you can visit Madumalai national park where you can again find some adventure. It is almost one hour jungle ride. Since I have not visited due to lack of time, it is not possible for me to give reviews. After returning to the city again one place you can go is Rose garden. It's not a big deal if you miss the place, although it is made in unique fashion of step farming. But let me tell you the names given to the roses are completely hypothetical and came from someone's deep imagination. This was the last place we visited in Ooty but some rest between the roses released all the tiredness we had.
Places that you must not avoid
1) 9th mile
2) Dolphin's Nose
3) Doddabetta peak
4) Nilgiri Toy train: Although we missed it, but the train journey covers 46km in 4-5 hours from Ooty to Mettupalayam. It goes through various tunnels and bridge and covers the various scenic beauty on the way. You have to book tickets in advance otherwise it is very difficult to get a ticket at the station especially during peak season.
Major Downside 
The major problem that you can face in Ooty is the food. It is quite difficult to find a decent place to eat on average budget and the problem intensifies if you are a pure vegetarian and North Indian too. One more advice that I can give from personal experience that don't forget to take sme woolen clothes with you even if you are going in summer beacause the place turns very cold in the night.
I would suggest come to Ooty and experience it at a gradual pace, spend more time at the places you liked the most and it will definitely add to your lifetime experience. The whole place is appealing and beautiful, all you need is to submerge in the beauty and it will energize you for a long long time.
I hope this thing will surely soothe you if you are planning to visit this place, if you need more assistance you can contact me anytime or just comment below, I will be delighted to help. If I missed out something then please comment.
If you want to contribute to the travel blogisode, you can write to me anytime, I will be happy to share your experiences too.
Originally published as: http://vishwasjainblog.blogspot.in/2014/07/travel-blogisode-1-ooty-queen-of-hills.html