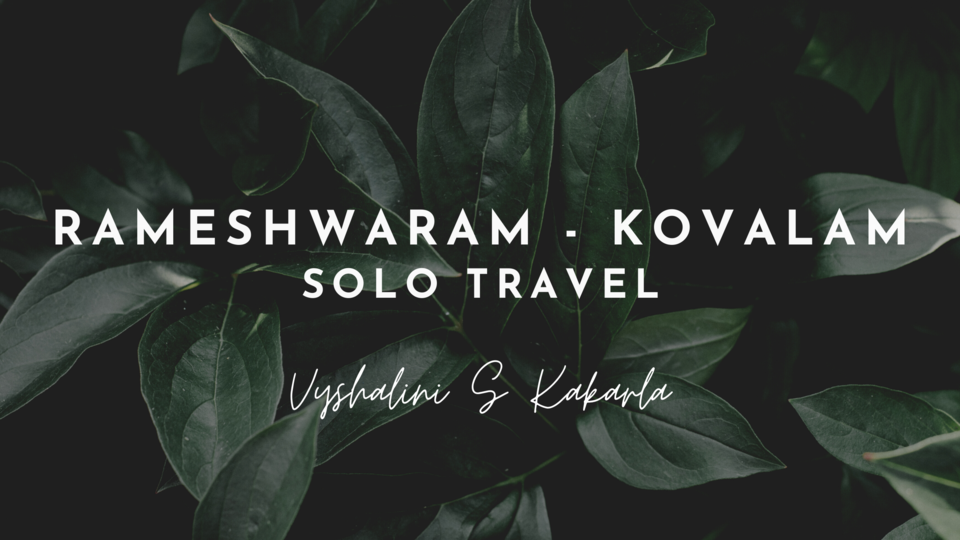 GREAT START TO 2020!
Most of my travels in the past were decided on the spur of the moment and this is yet another unplanned solo travel. And yes, to all new destinations where I have never been before!
11th JAN 2020 -
I just packed my bag and started from my place (Kollegal) to Bangalore through bus.
Of course, with the parents being 'Not so happy' about the travel. Their main concern is my safety, somehow I managed to convince. I do keep sharing my locations and whereabouts with parents to make them feel better.
The moment I arrived at the Satellite Bus Stand, Bangalore
I met a little girl Usma who was selling flowers. I asked her if she is a school dropout, she told me that she studies at a Government run school and sells flowers in the evenings. I just got a chocolate for her, also I did advise her not to get anything from any other strangers.
There came a couple of furry babies wagging their tails, being an animal person, how could I go without feeding them ? :D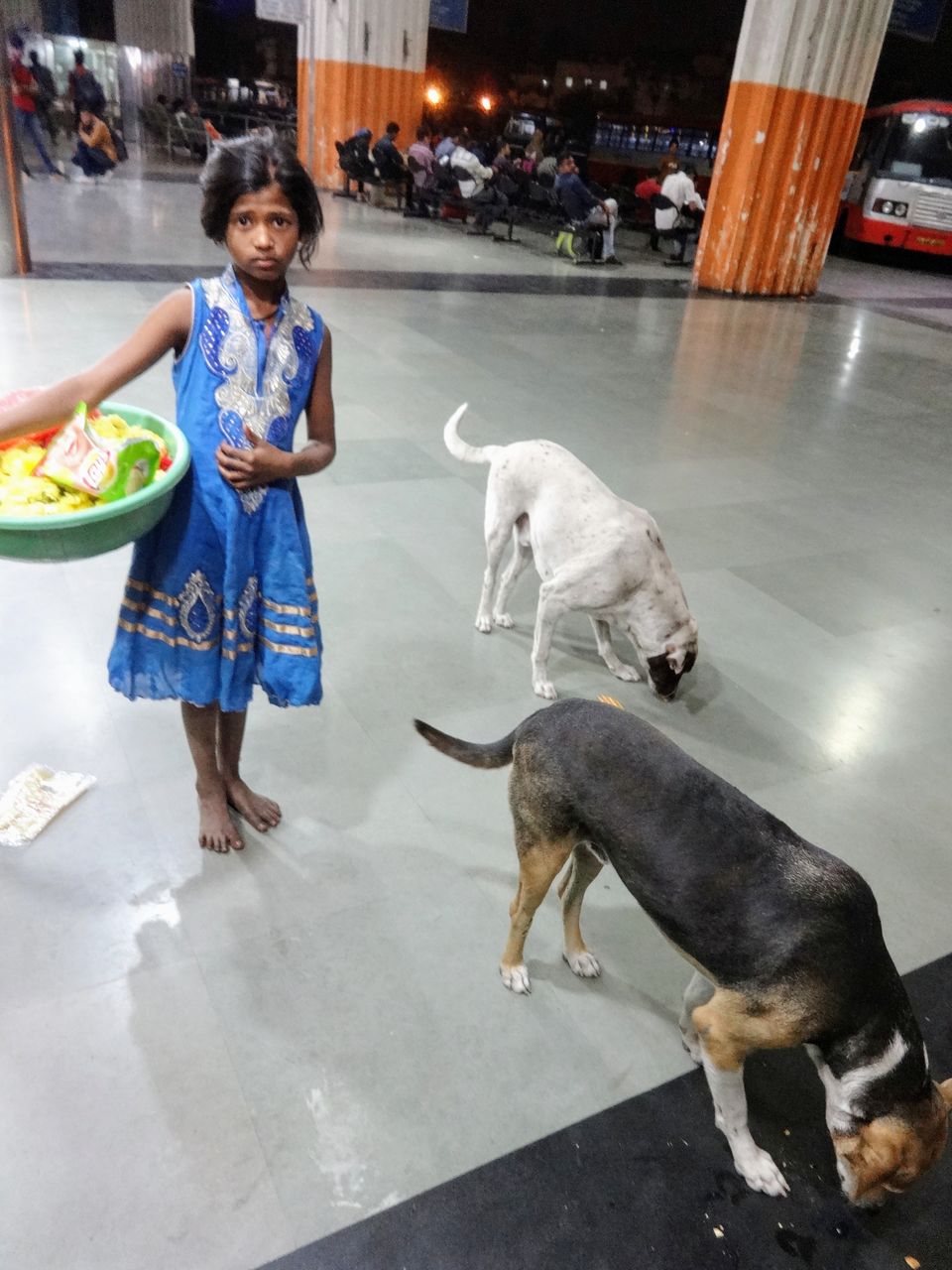 Then a good South Indian dinner at A2B near the bus stand.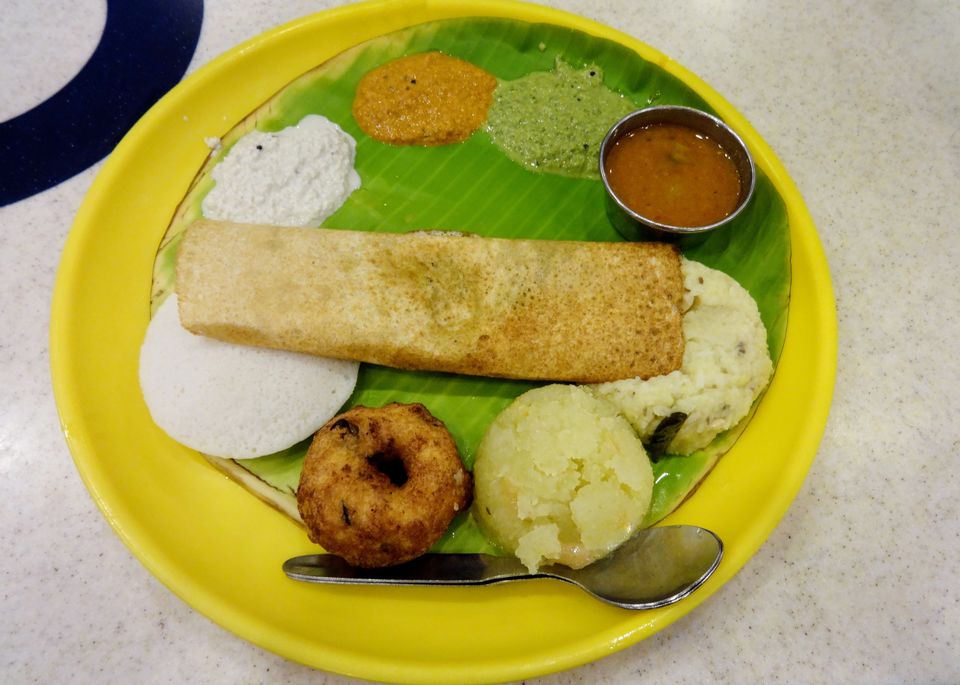 On the night of 11th Jan, I boarded a bus (KSRTC Airavat Clubclass) from Shanthi Nagar bus stand, Bangalore to Madurai
12th JAN 2020 -
I had a simple breakfast at a restaurant named Aryaas near the Mattuthavani bus stand. The food was okay.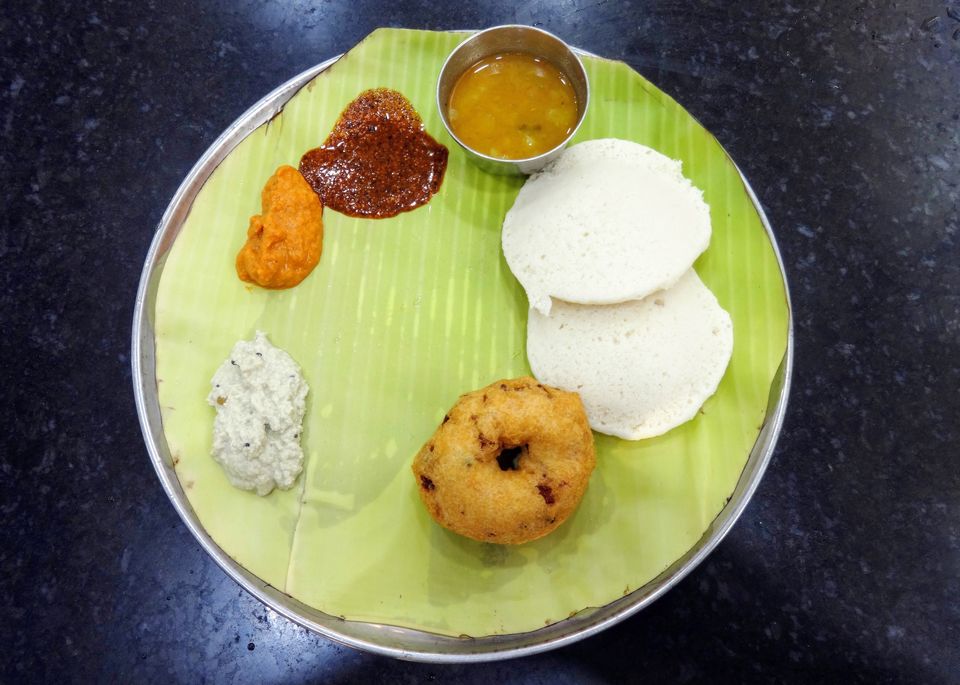 Post breakfast, I just walked back to the bus stand. I saw a couple of ladies selling flowers with all smiles and giggles - They happily posed for a picture.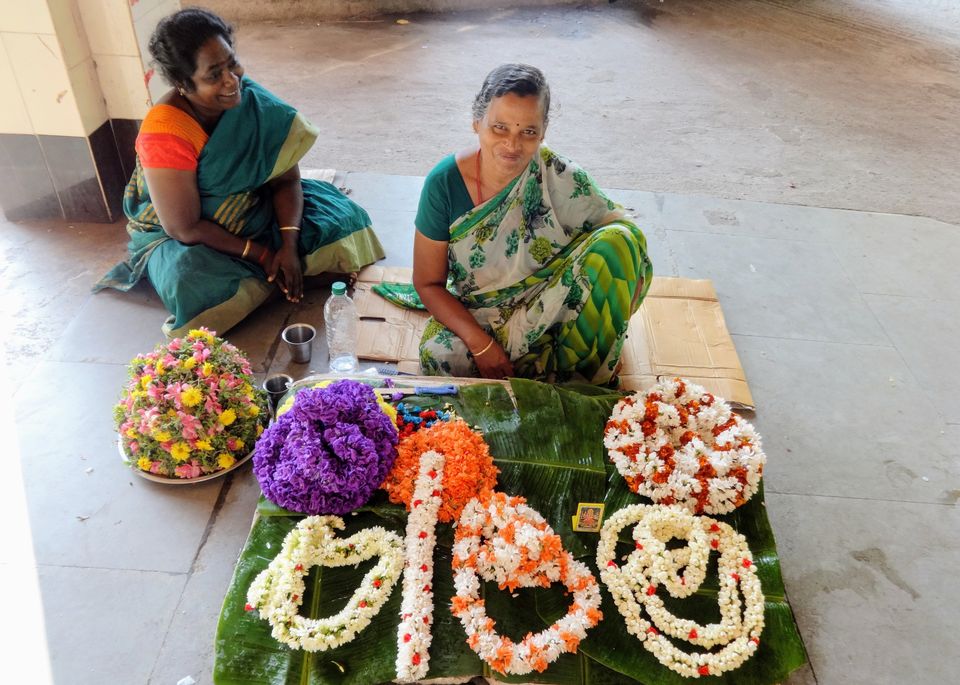 I boarded a bus to RAMESHWARAM - Probably, this is the first time ever I booked a hotel on the go while nearing the place. I found one hotel named KNP NEST, I called them up after reading good reviews on the internet. I was okay to go ahead.
I was super excited to reach an all new place. I was so fascinated about the PAMBAN BRIDGE - Truly incredible!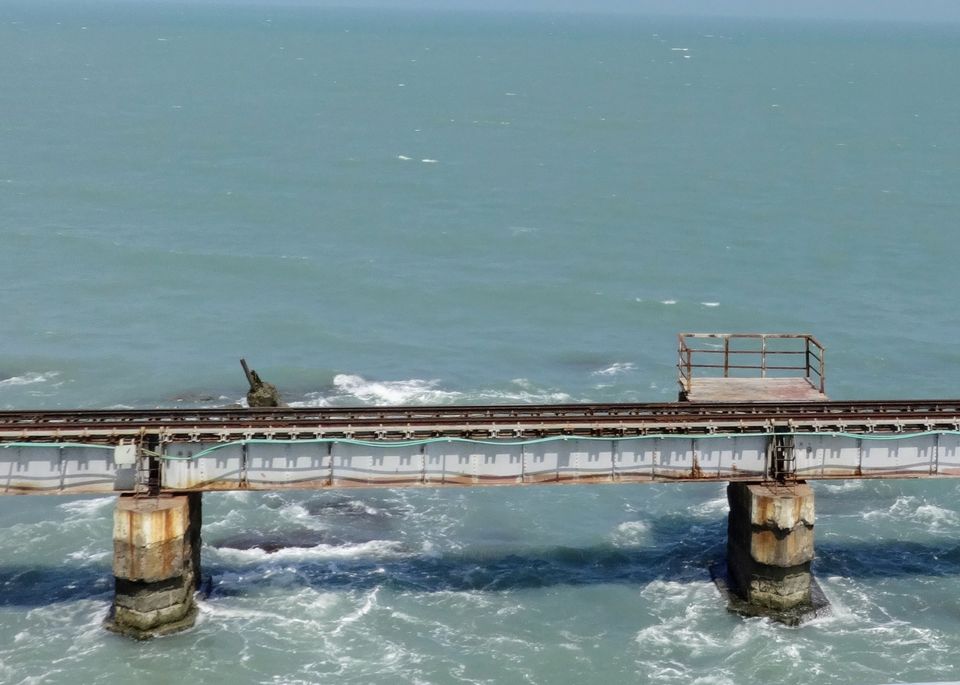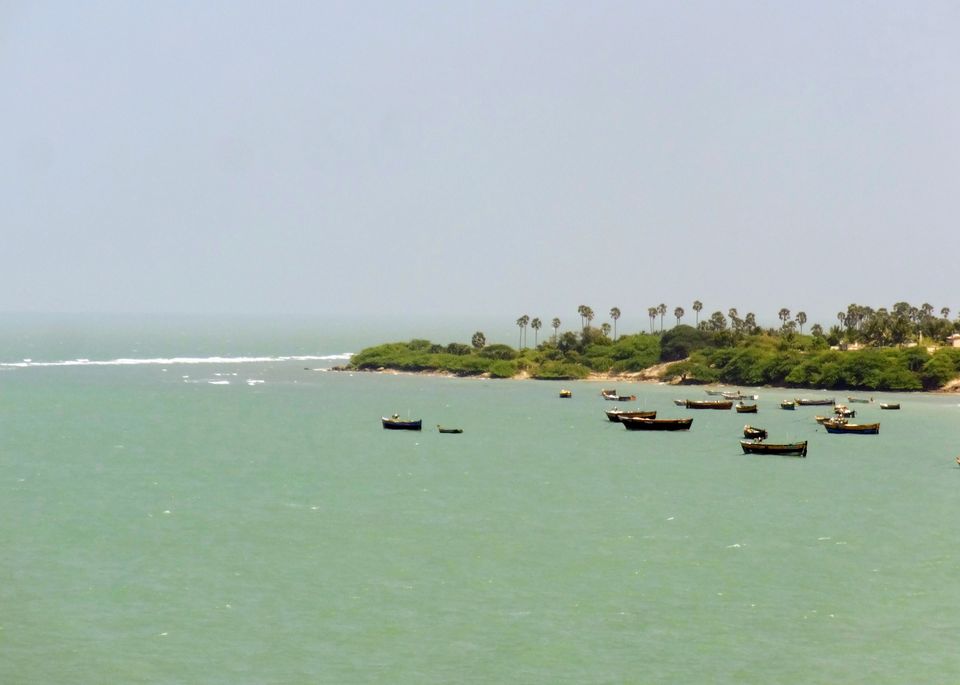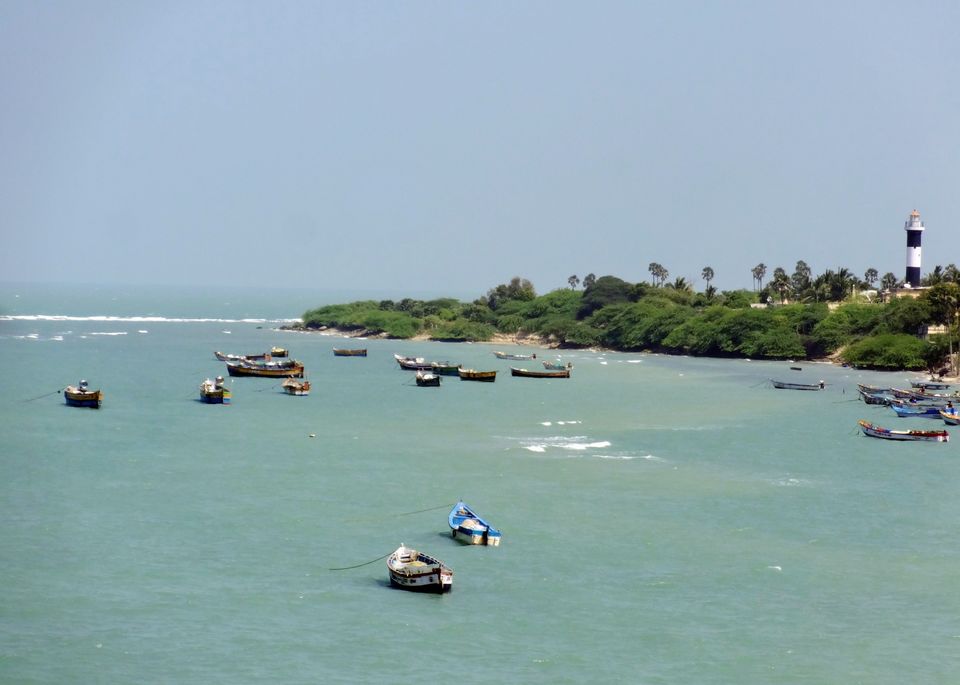 The moment I got down from the bus, the hotel guy picked me up. I was happy about my choice of stay, definitely would recommend - Neat room, good food, location and great hospitality. I ordered my lunch from their in-house restaurant, Paneer Fried Rice + Bindi Masala, was good.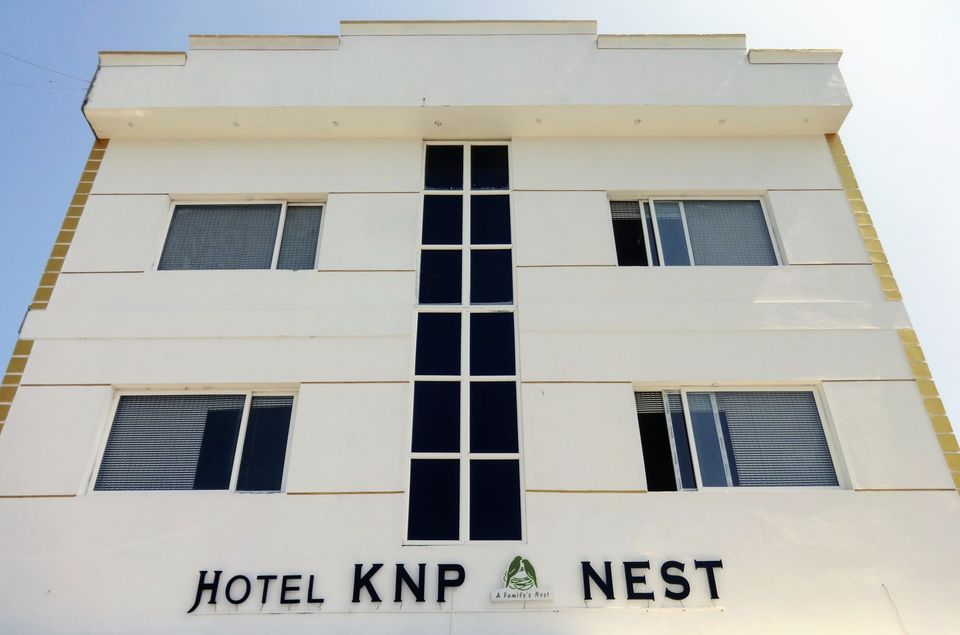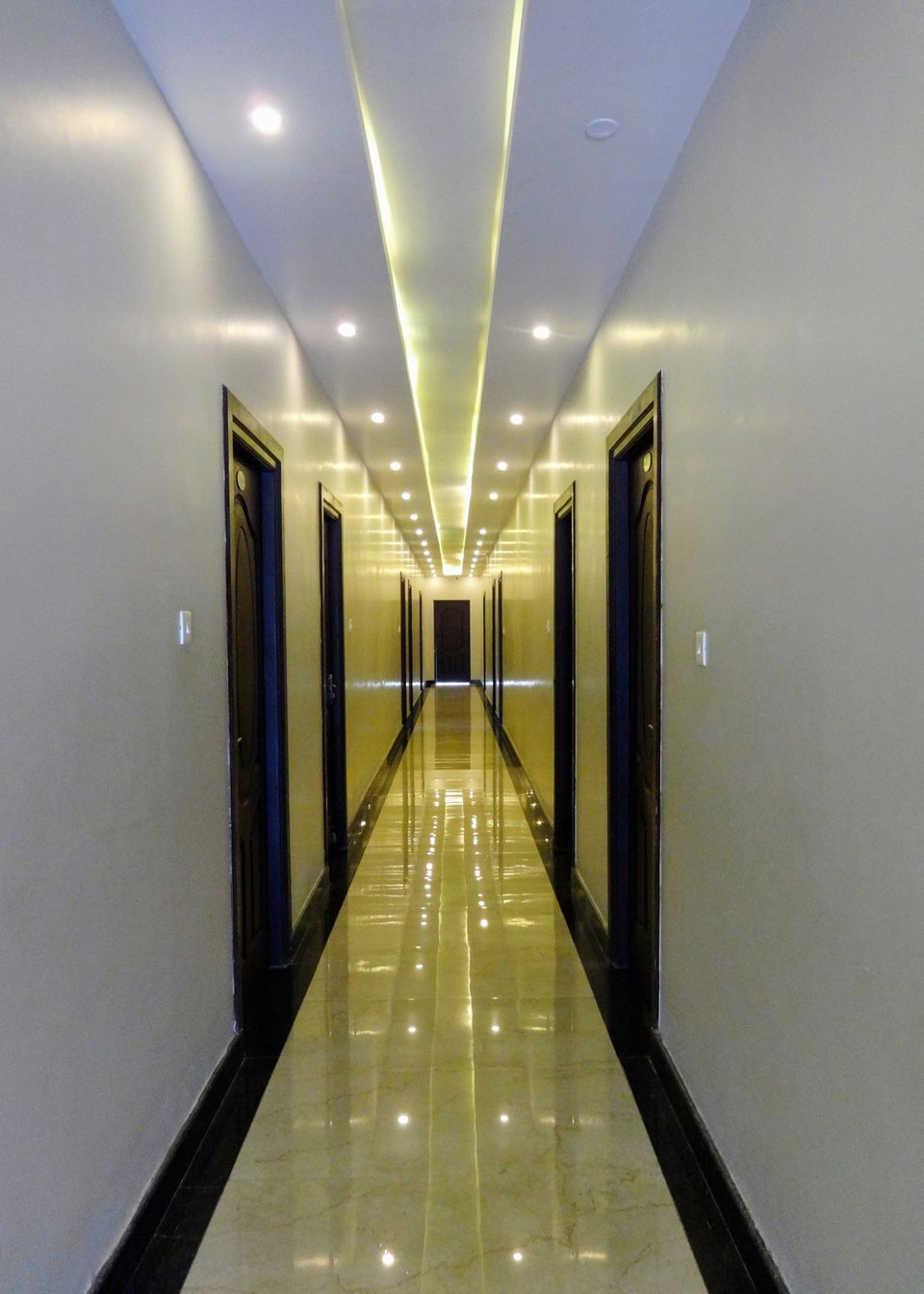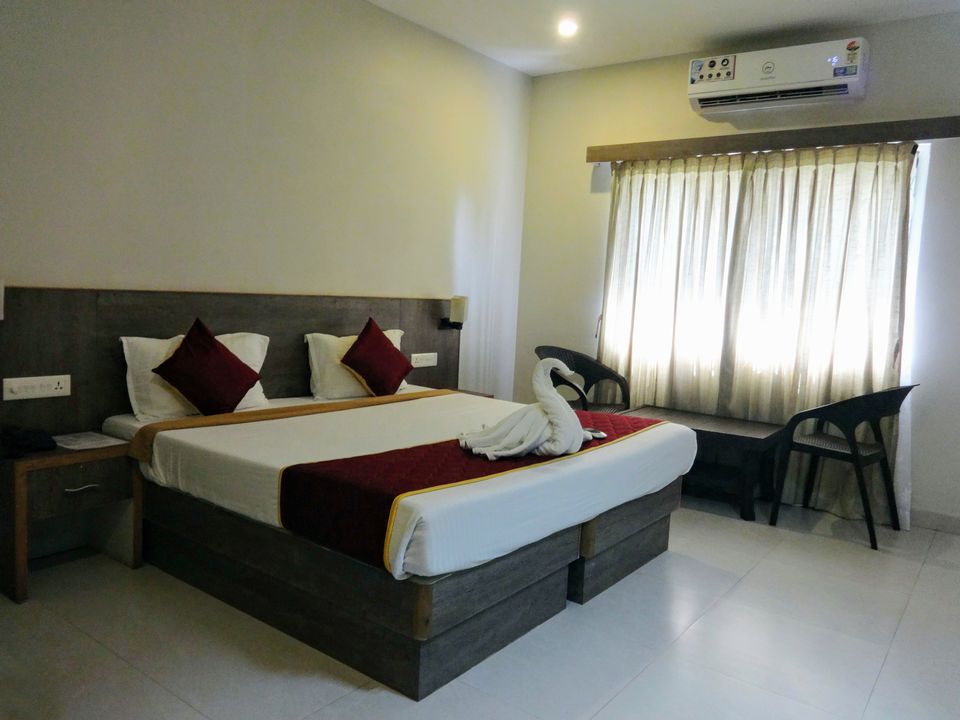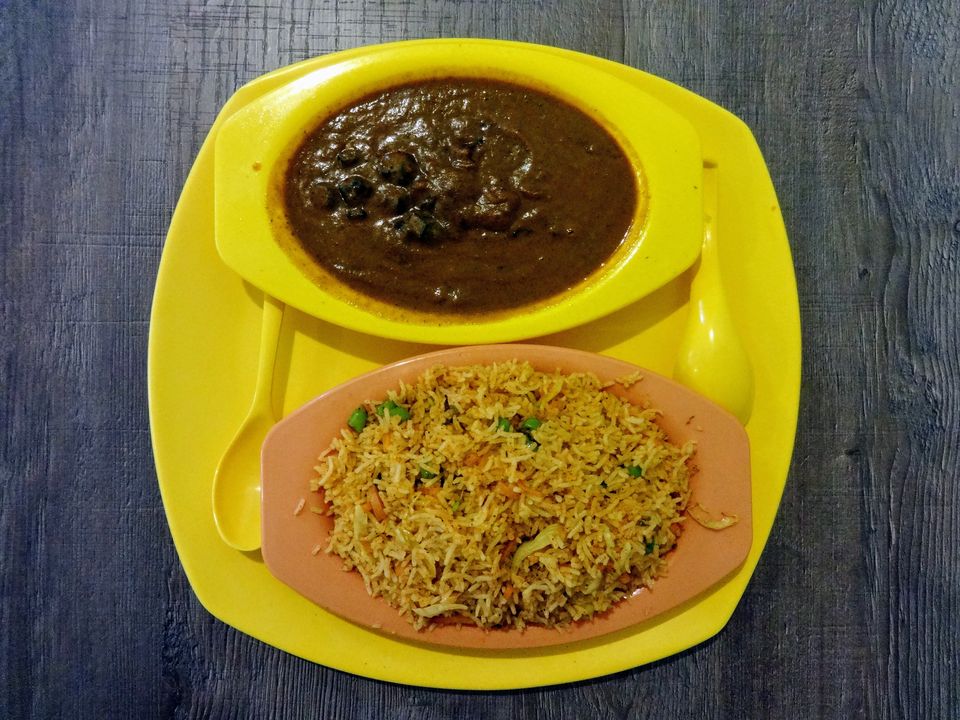 I always prefer hiring a two wheeler and exploring on my own. So I had asked them to arrange for one and they gave me an activa on rent.
I took rest for a while, got ready and started from the hotel to explore.
The very first place I visited was the "HOUSE OF KALAM", to see where our Former President Dr. A.P.J. Abdul Kalam Grew Up. A part of their house is a gallery and store now.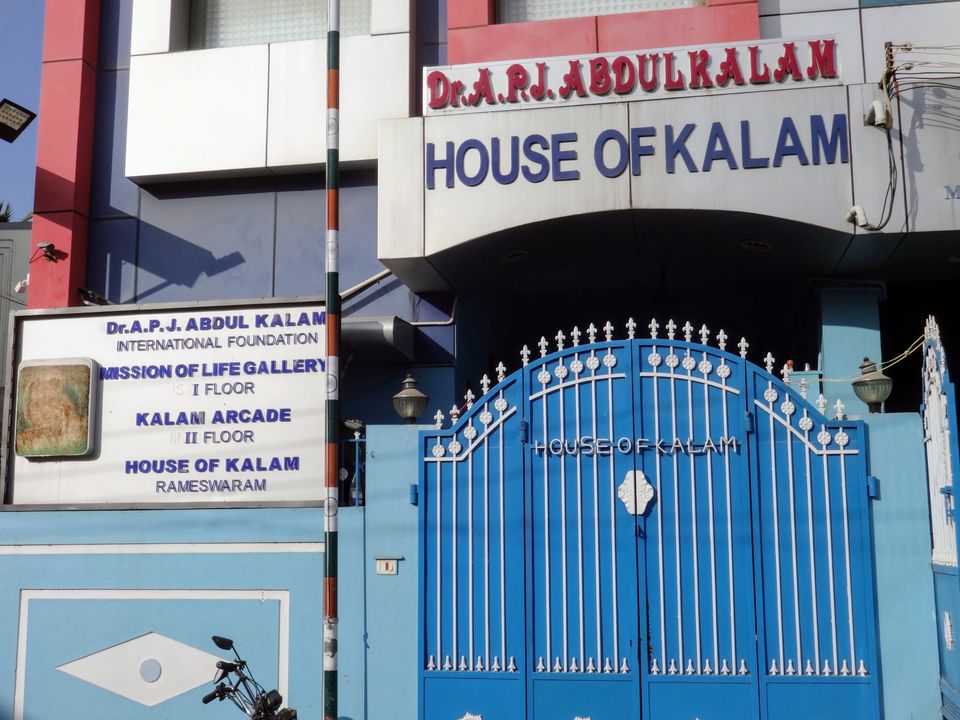 The next place I visited was DR. KALAM's MEMORIAL, which is again a great place.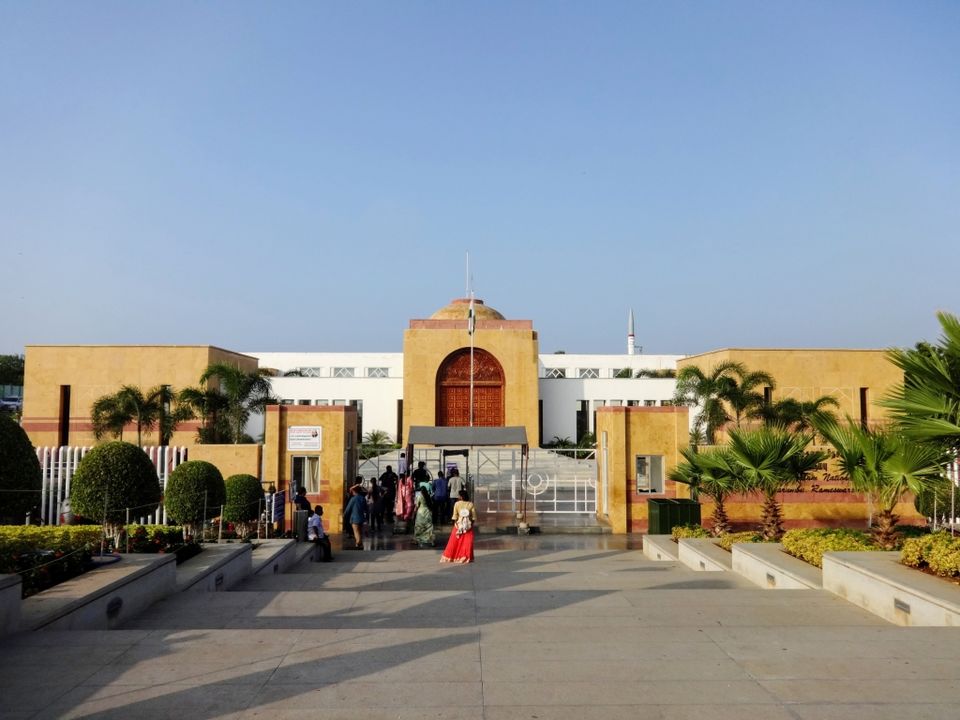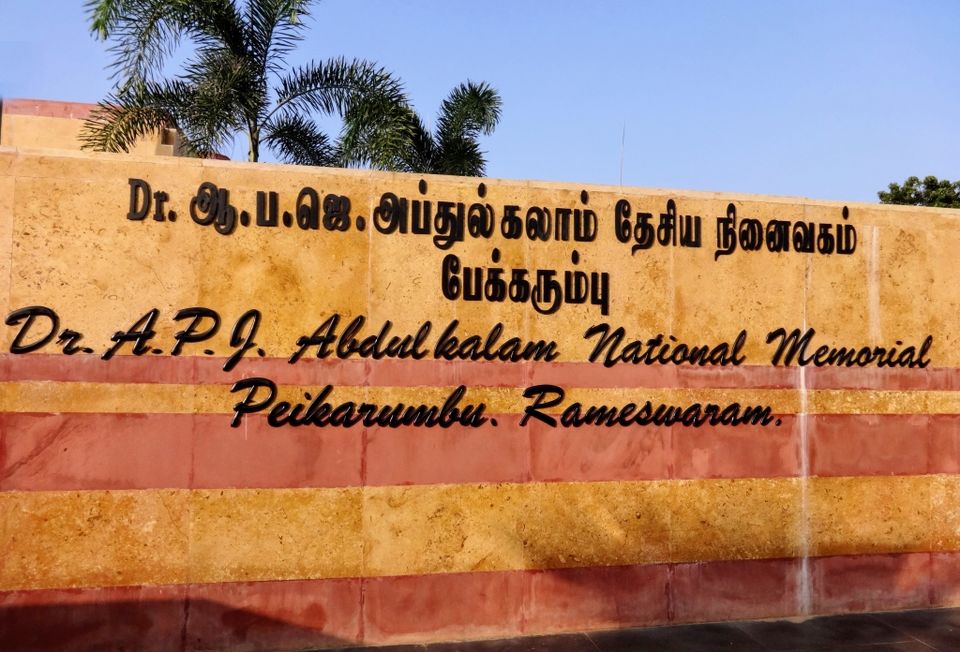 From there, I went to a place called VILLONDI THEERTHAM, Legend has it that this was created with lord Rama shot an arrow to get fresh water from the sea to quench his wife Sita's thirst - Interesting! Also peaceful place with less crowd.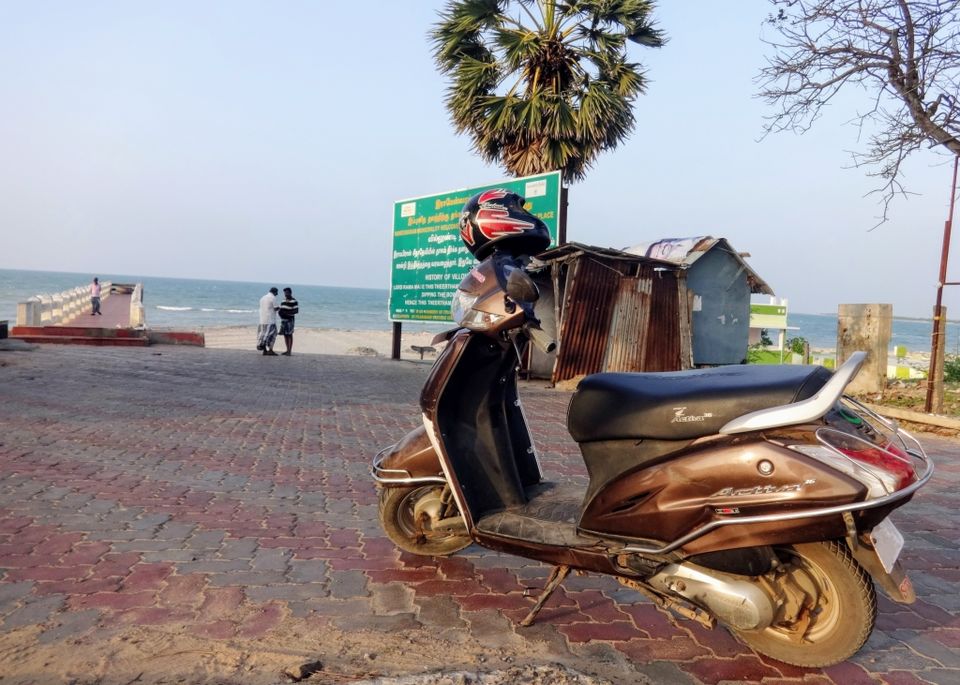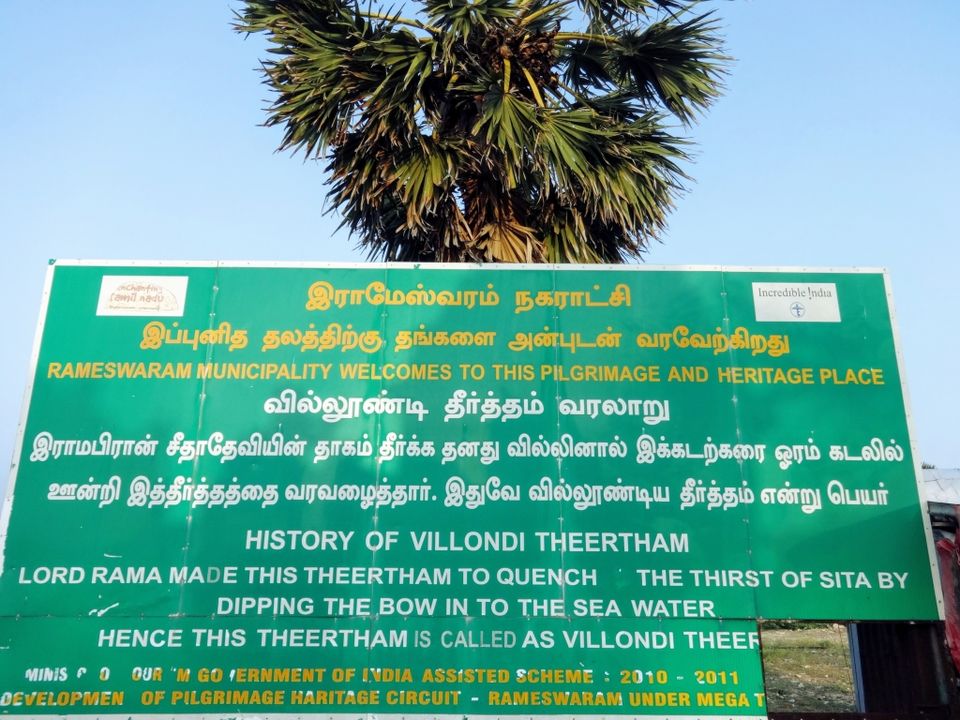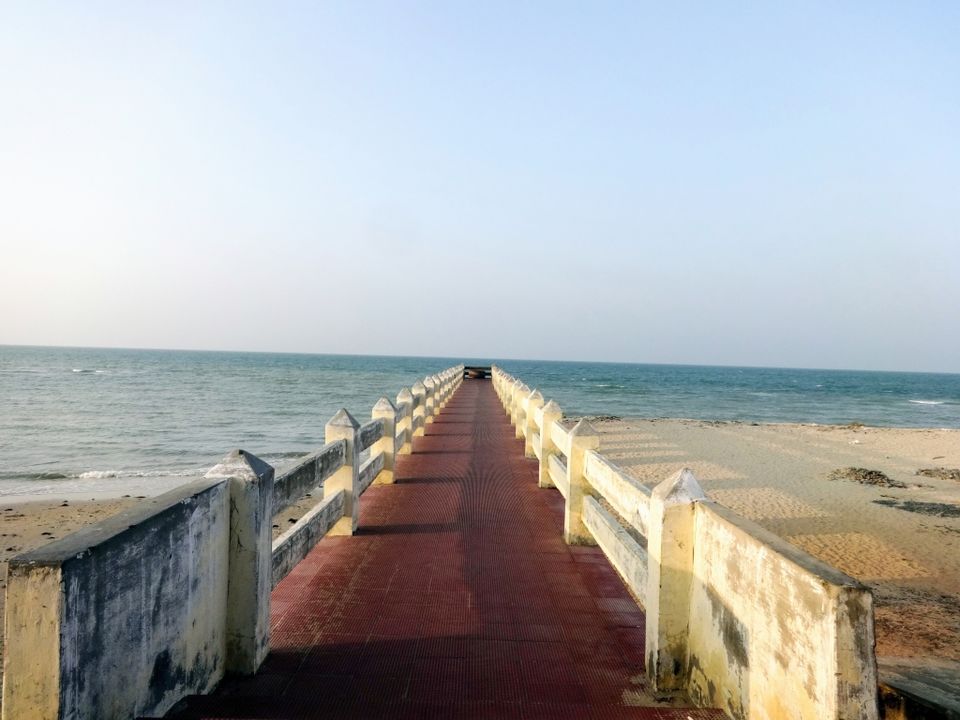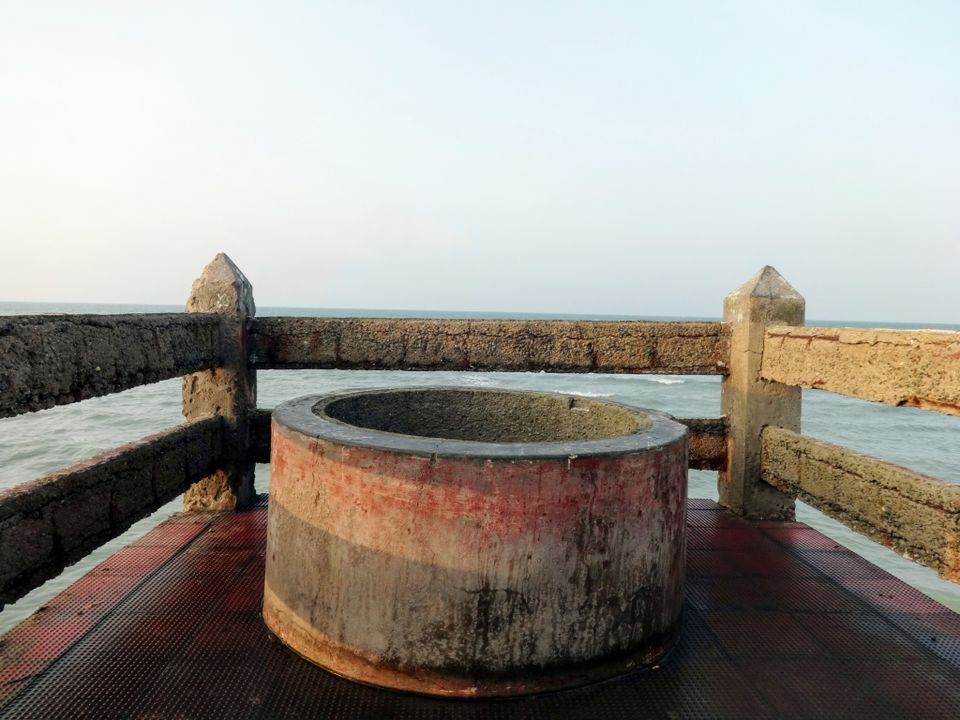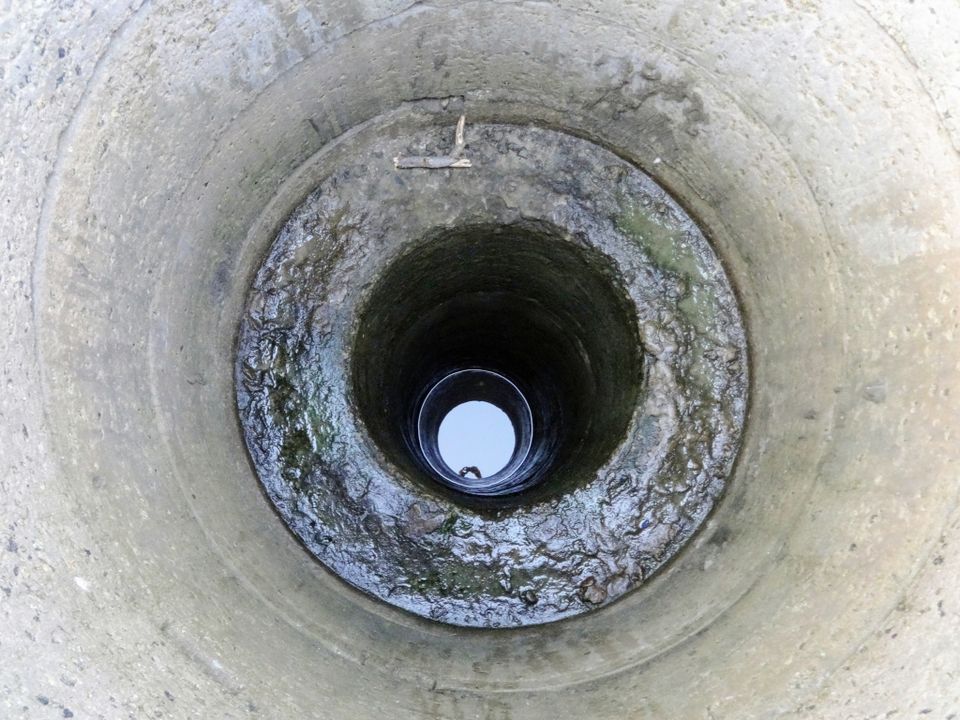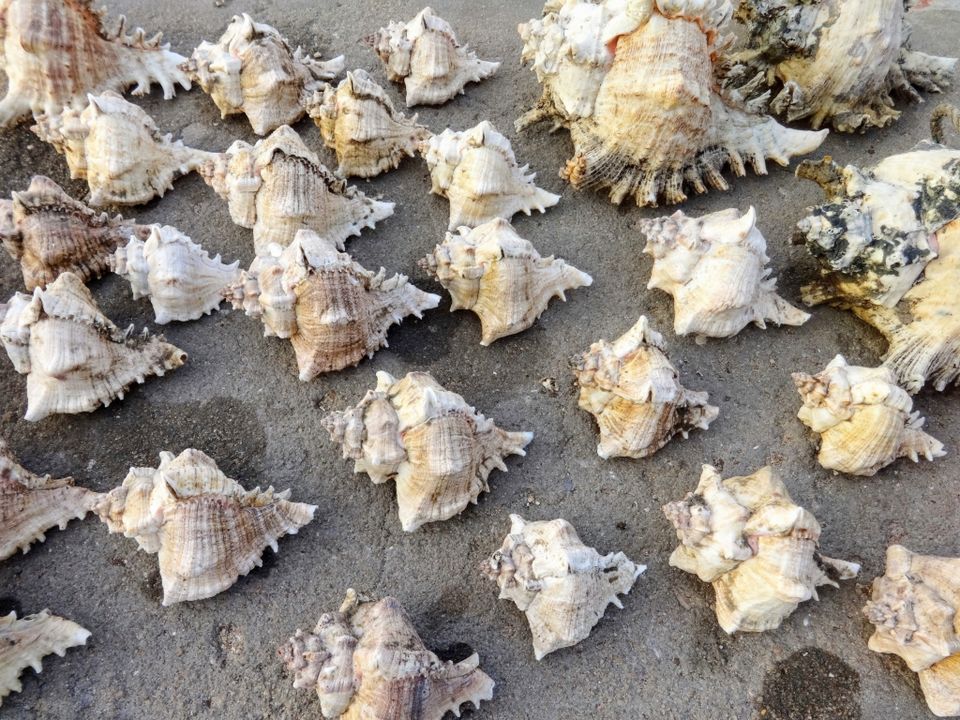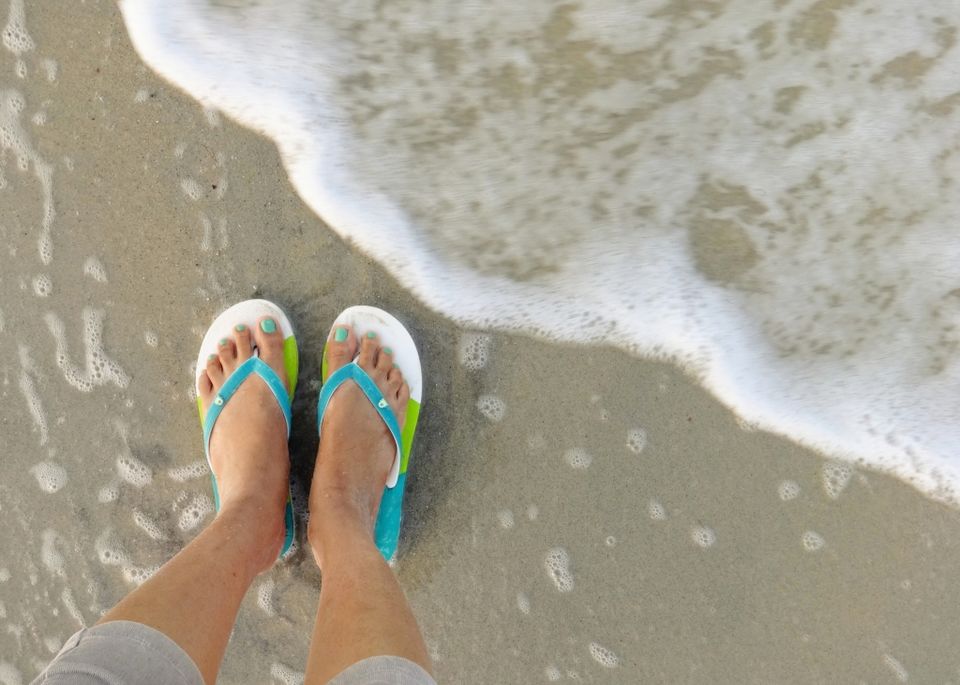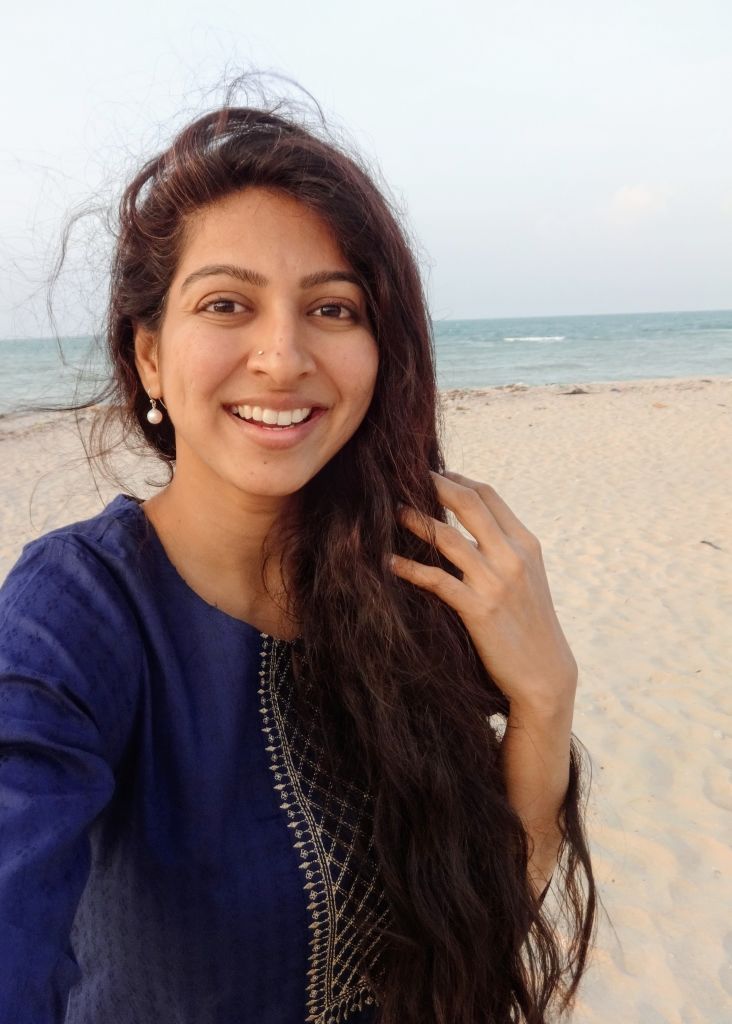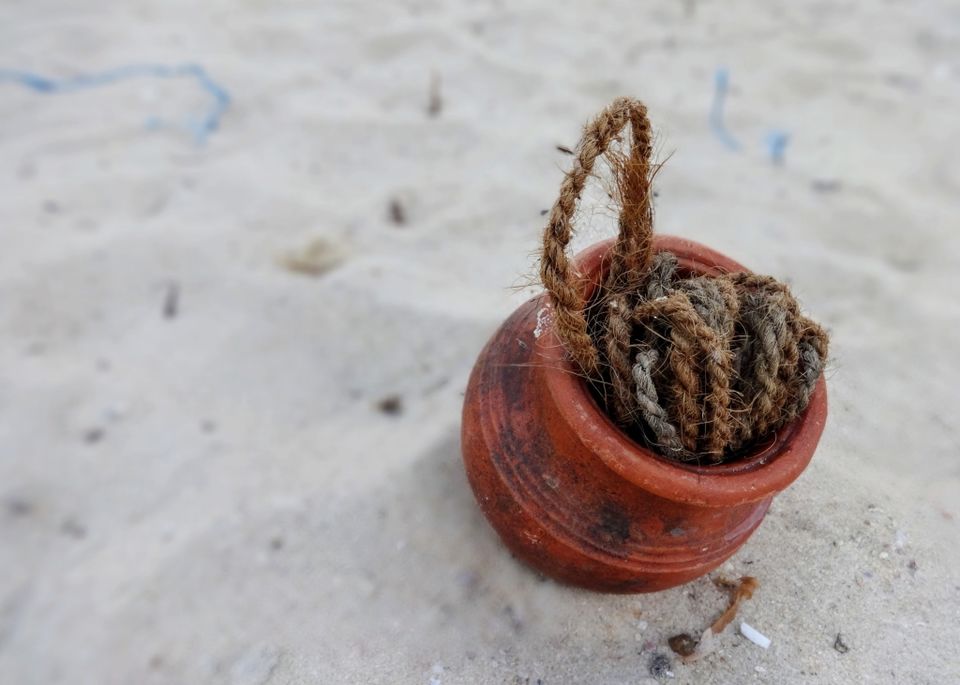 I met a grandpa and his grandchildren who are localites, he told me that he brings his grandkids once or twice a week to play. I appreciated him for raising the kids closer to nature.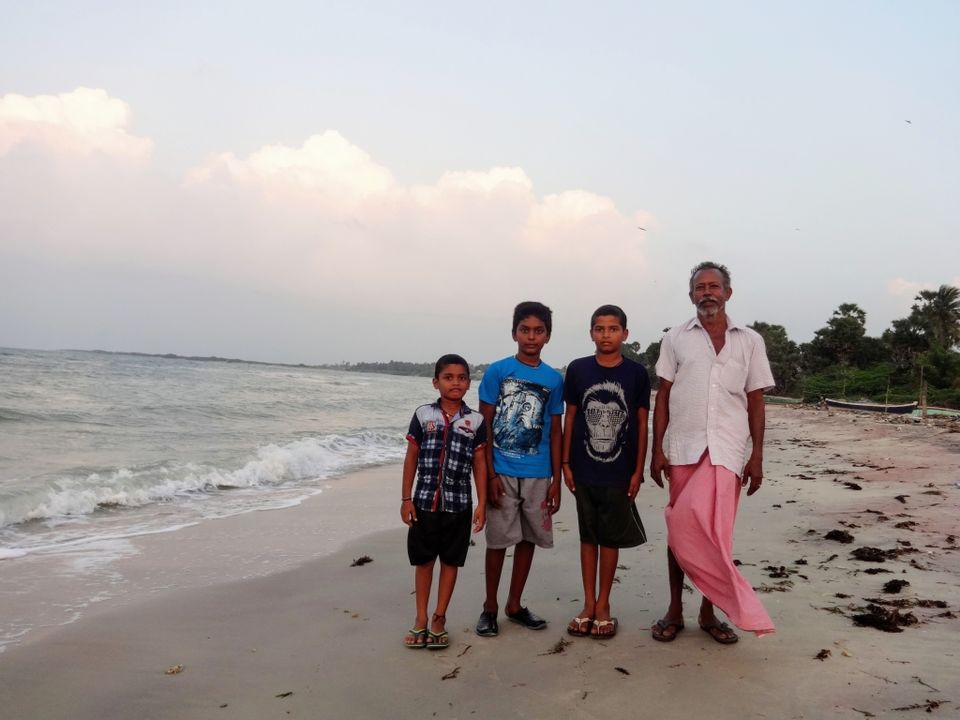 I took a ride over the Pamban bridge. Was a great experience!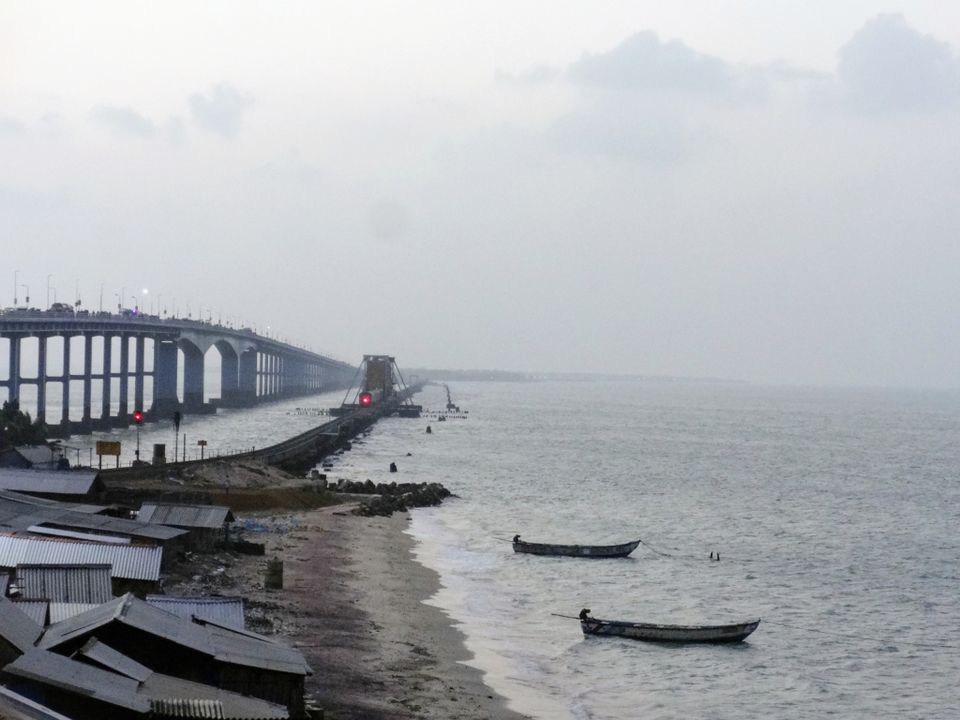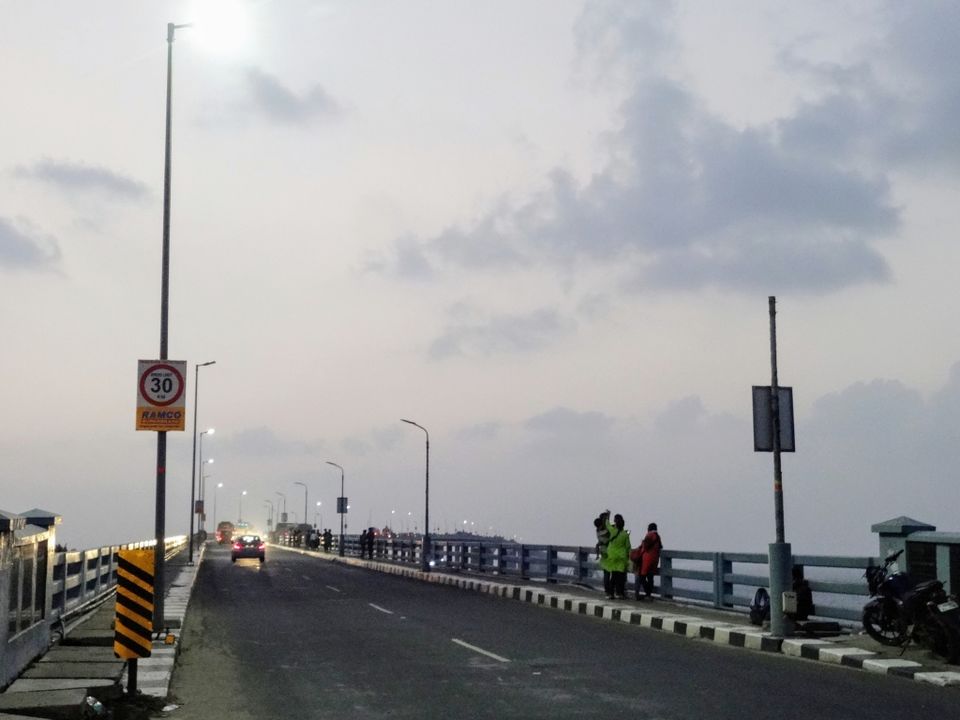 Then I reached the temple street just to view the temple tower from the outside as I had planned to visit the temple next day.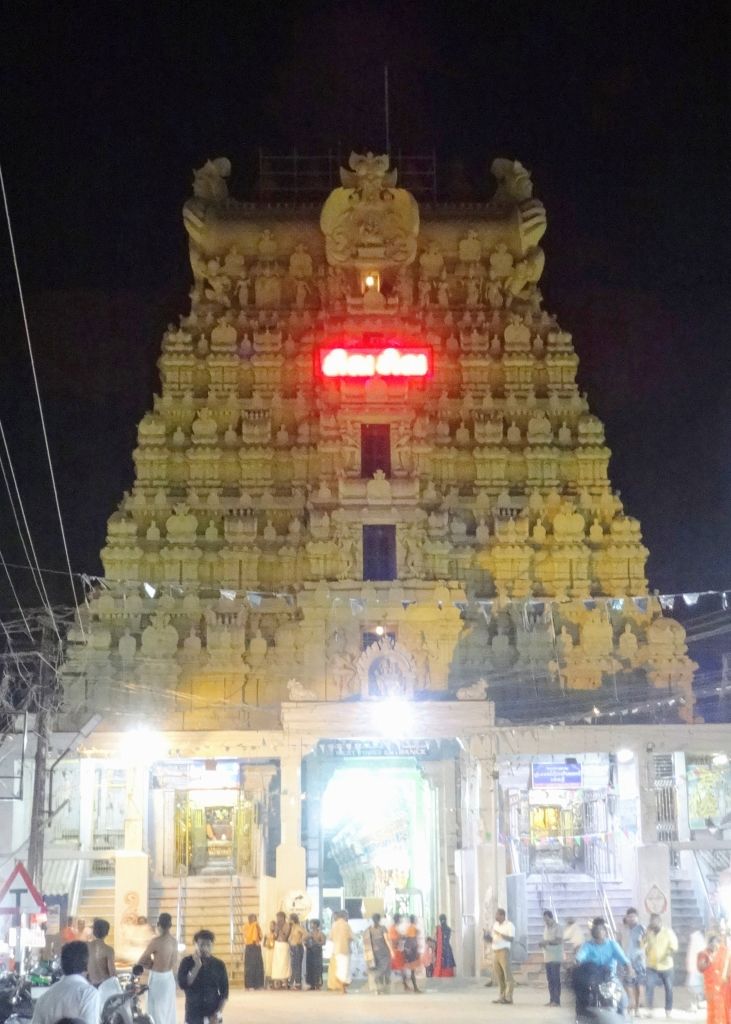 I had chapatis for dinner at a place Hotel Annapoorna at the temple street, was okay, not so great.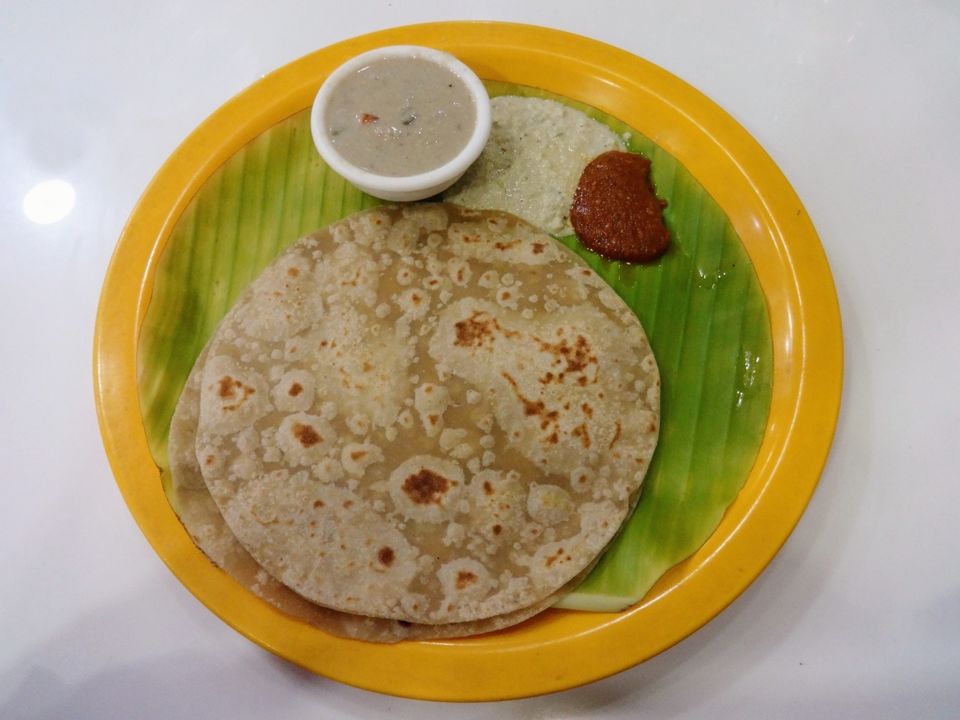 While on my way back to the hotel, I stopped at a restaurant ARS AAVIN JUNCTION - I ordered a Jigarthanda, I really liked it. Also they serve great snacks and food. Highly recommended.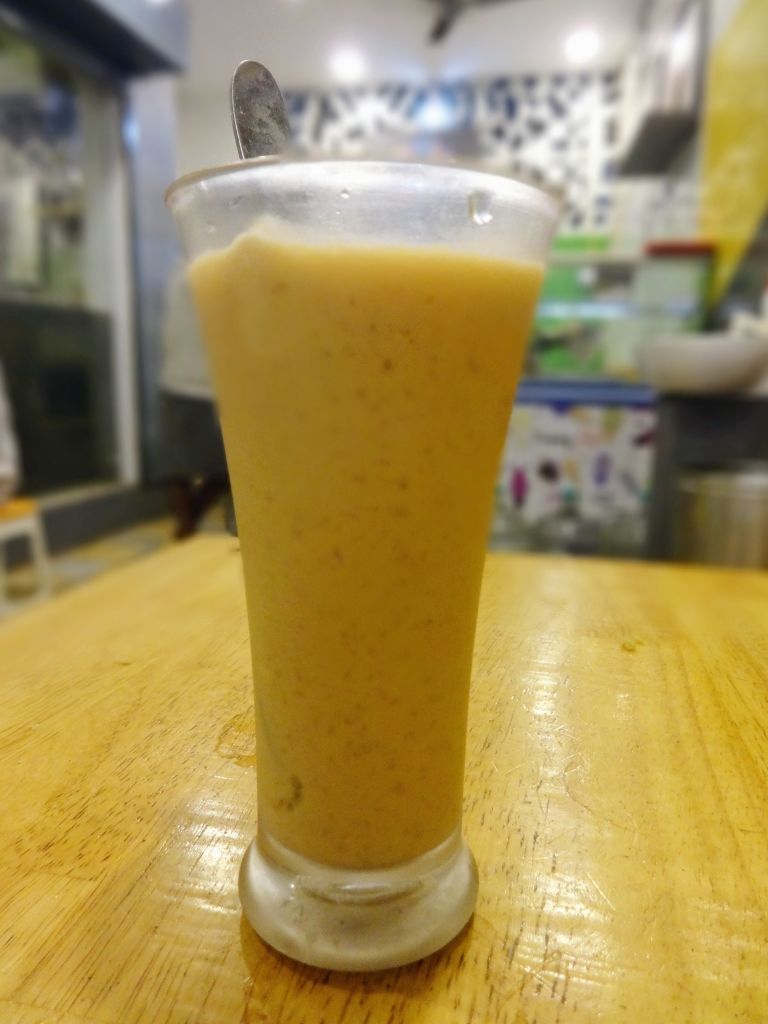 13th JAN 2020 -
Probably, one of the best days in life, experiencing an all new side of me
I woke up around 7:30am, took shower and started to RAMANATHASWAMY TEMPLE - The temple and the rituals are quite unique.
I parked the two wheeler near EAST ENTRANCE of the temple. And put my footwear on the stand. Started walking towards AGNI THEERTHAM - Everyday, thousands of pilgrims take bath in this holy sea. You will find many homeless people on the way asking for money.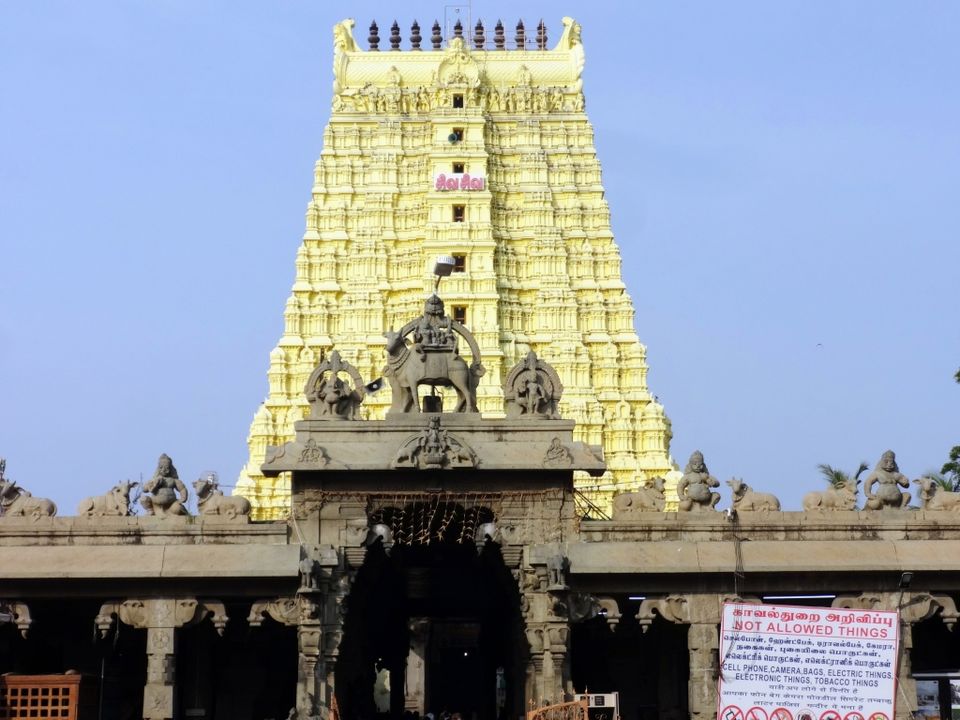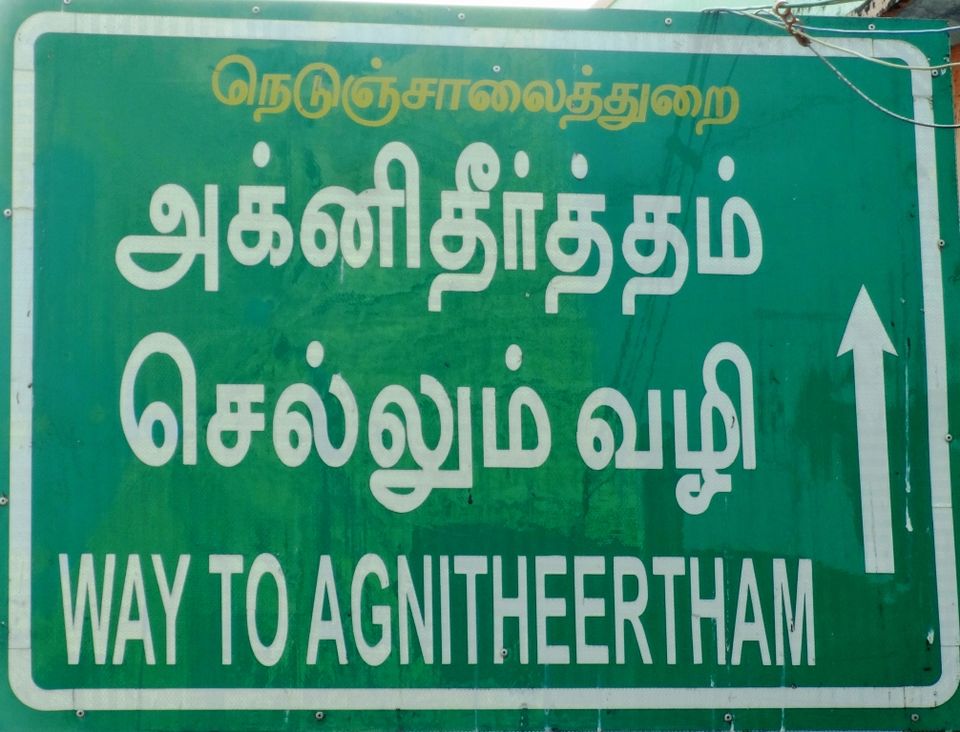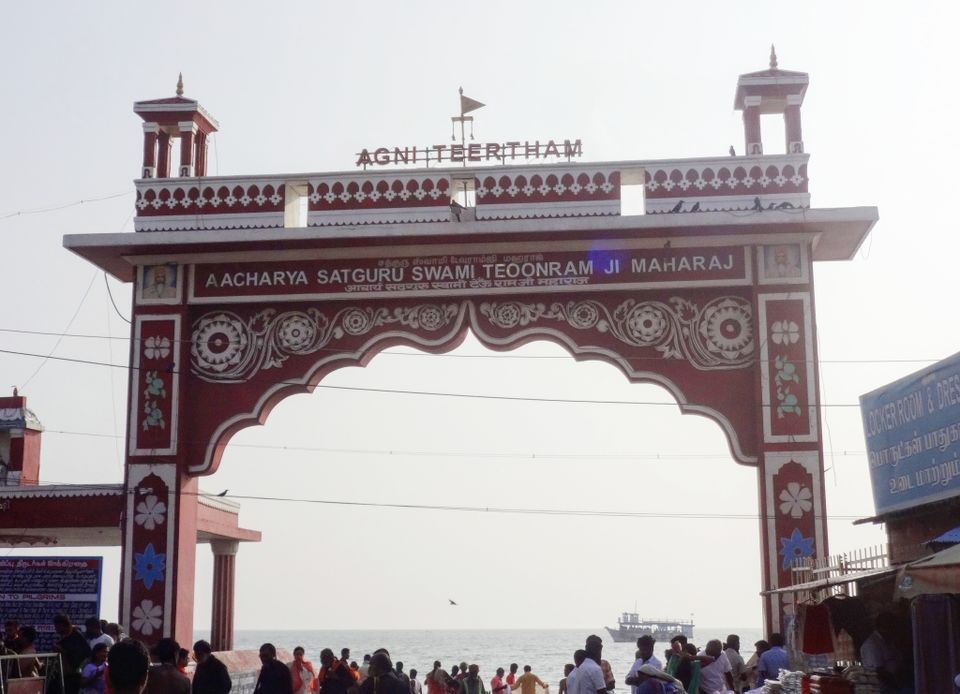 I was welcomed by two little puppies.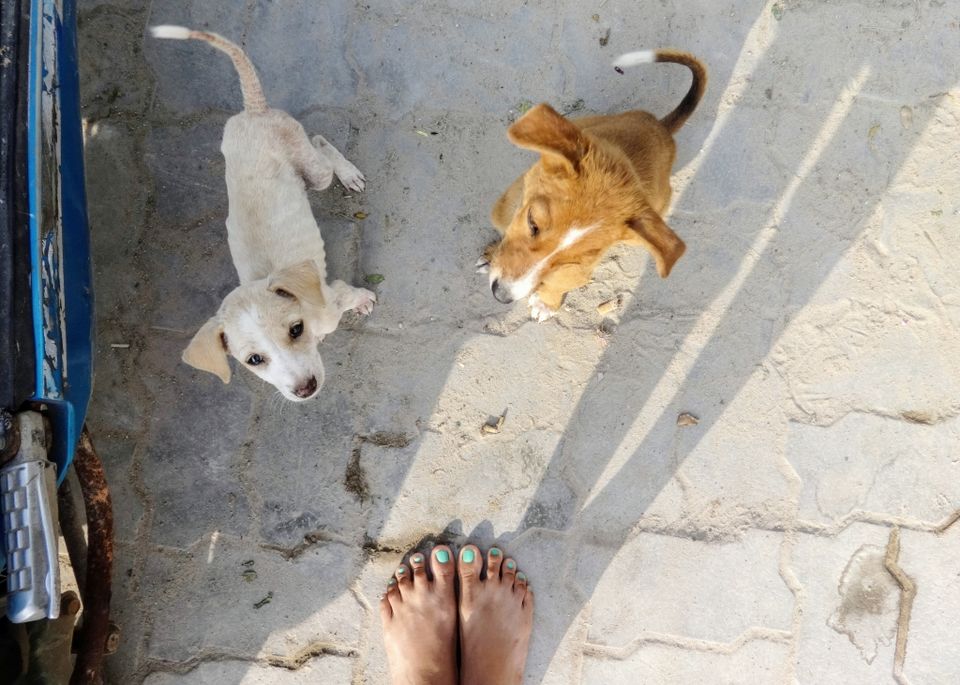 I met Vasantha Paati (Grandma) who was selling spinach (Agathi Keerai), I bought some and fed the cows and a goat.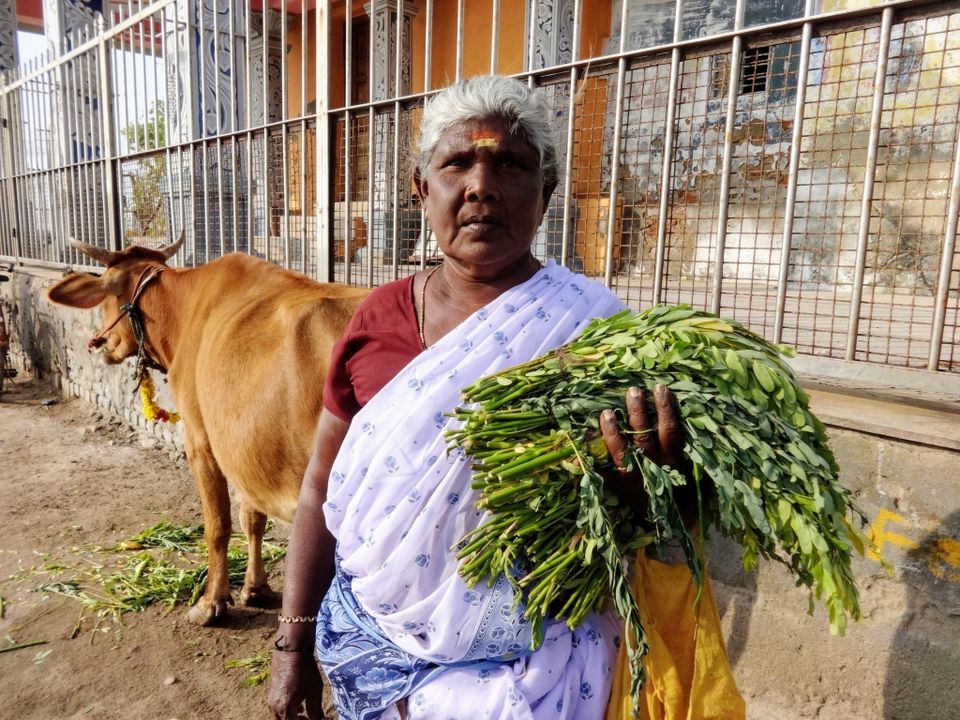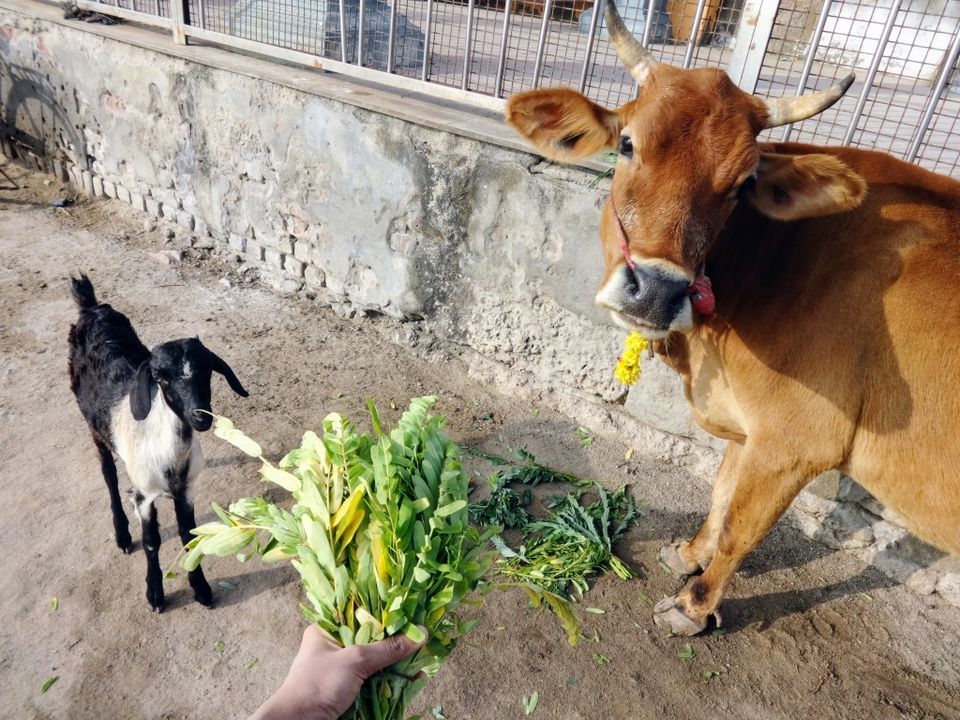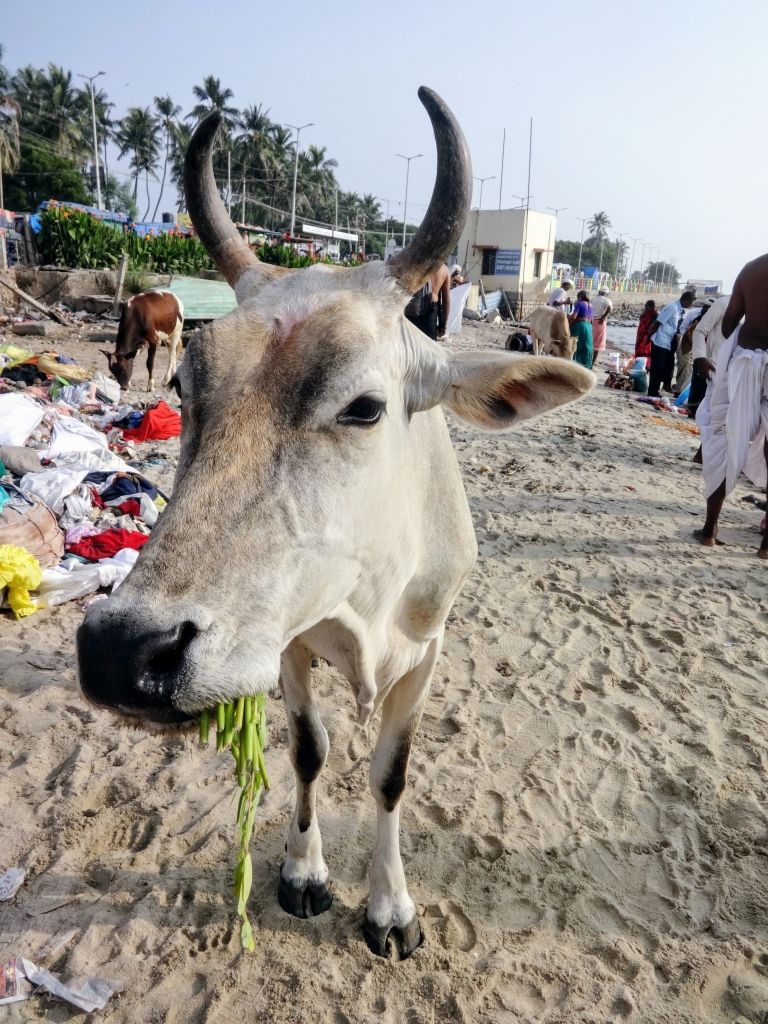 Except Tirupati, I had not been to any such pilgrimage site with a huge crowd from all over the India, also from foreign countries.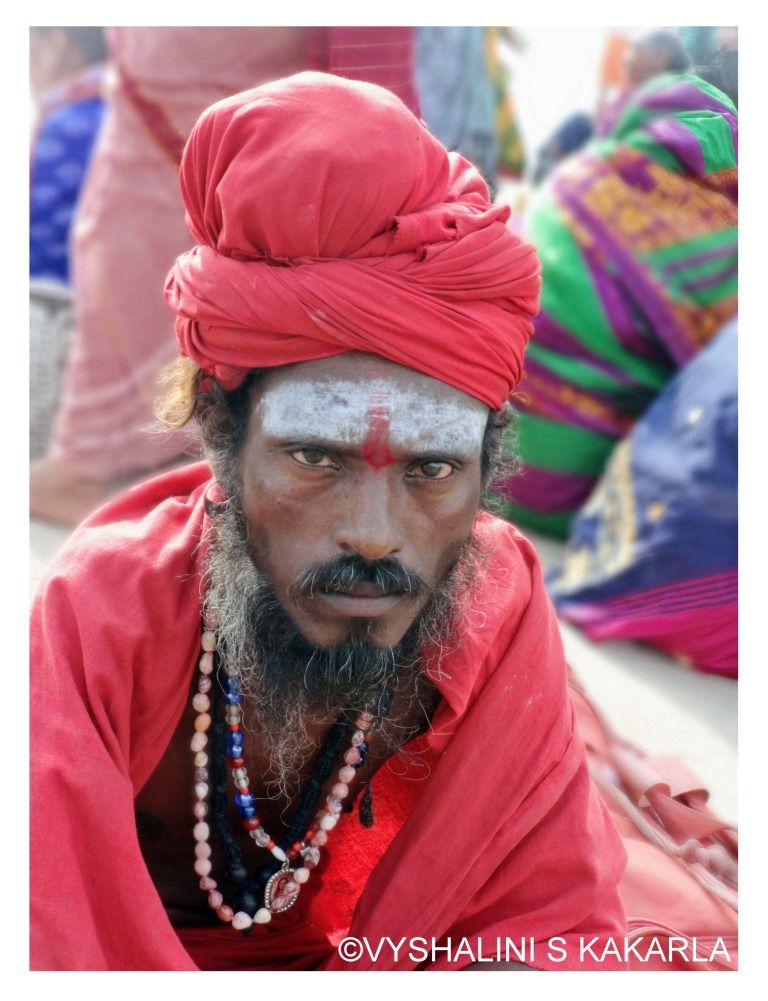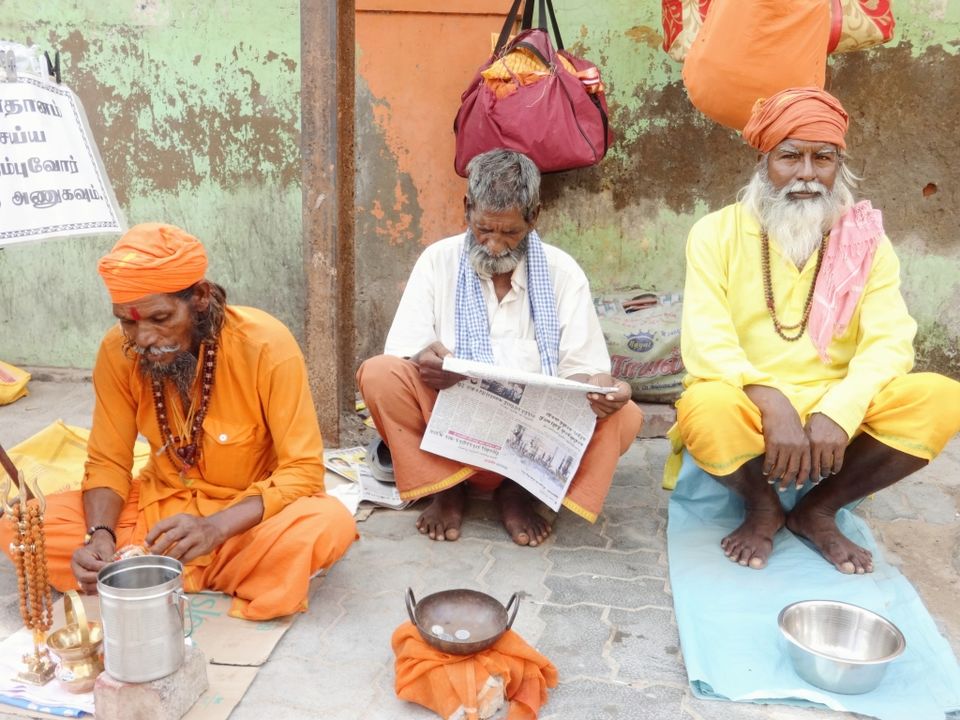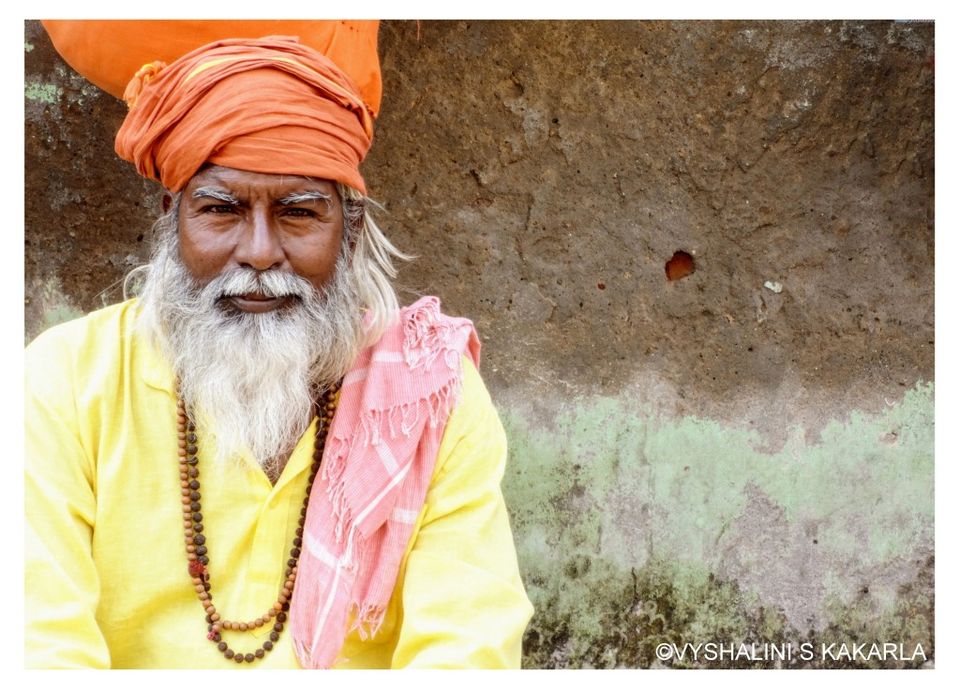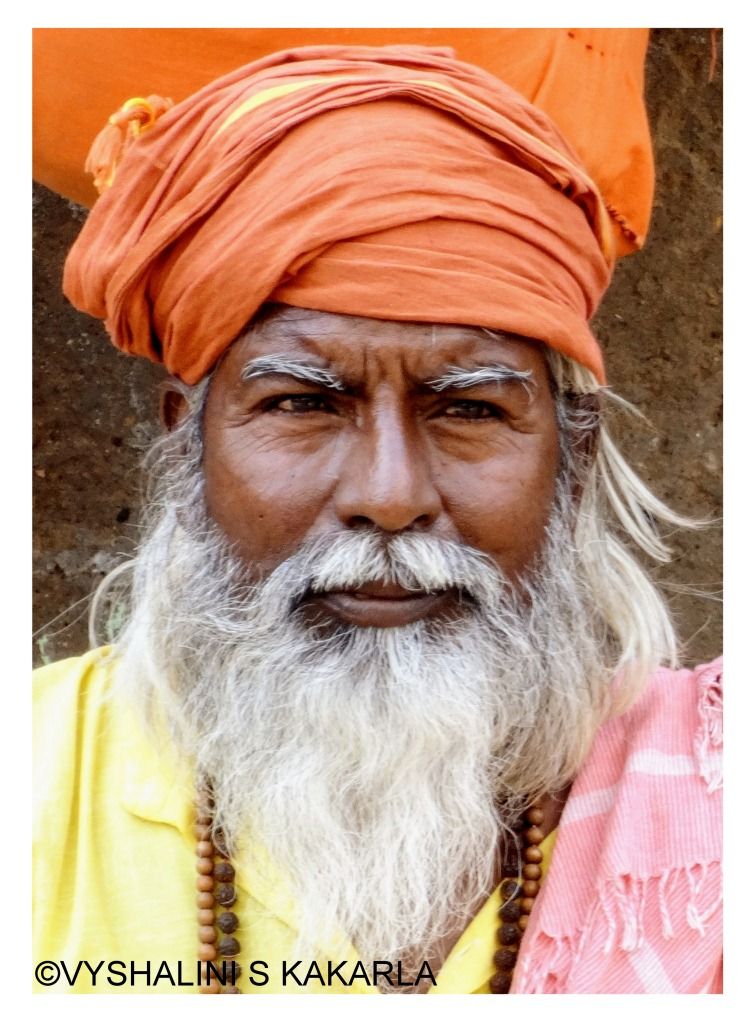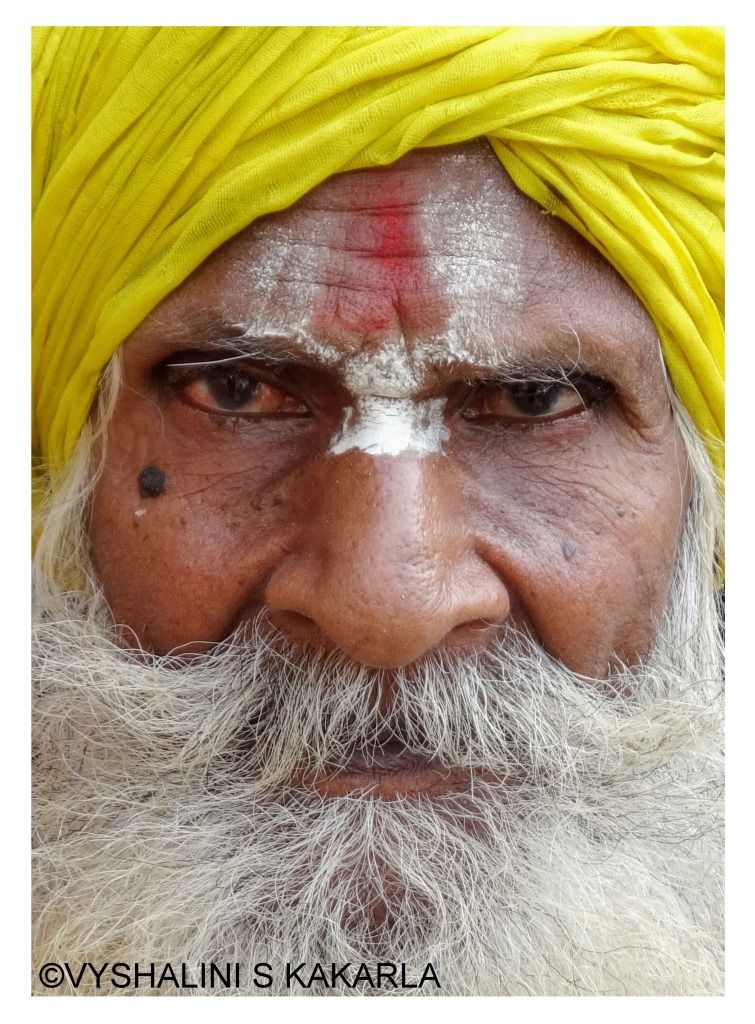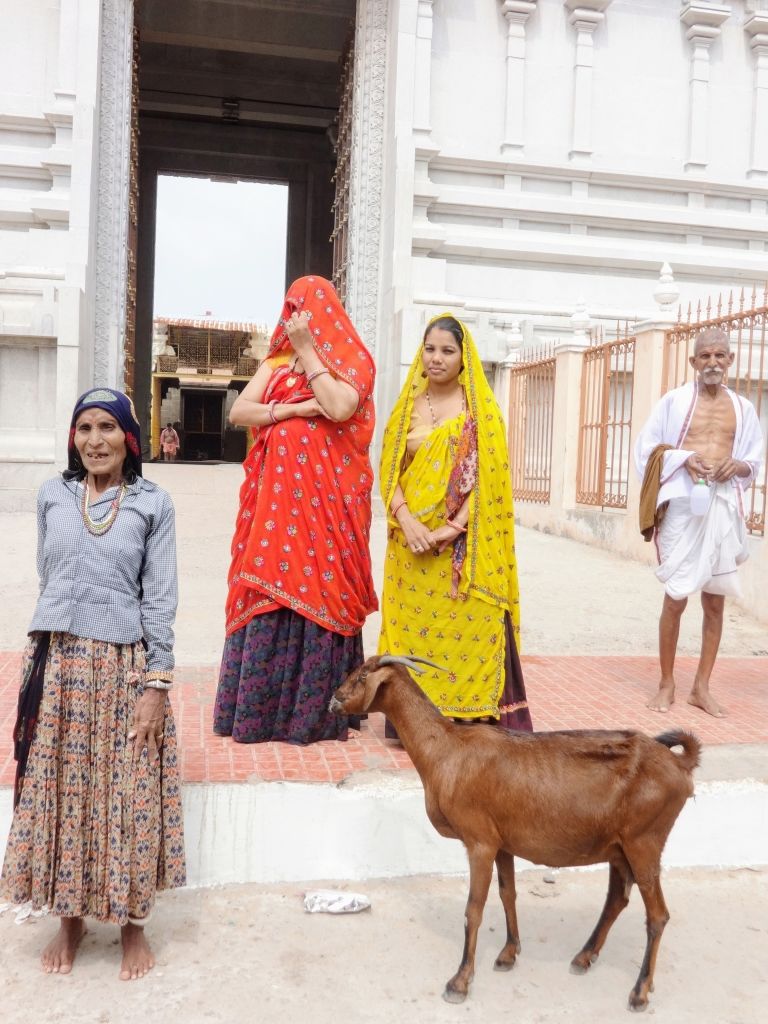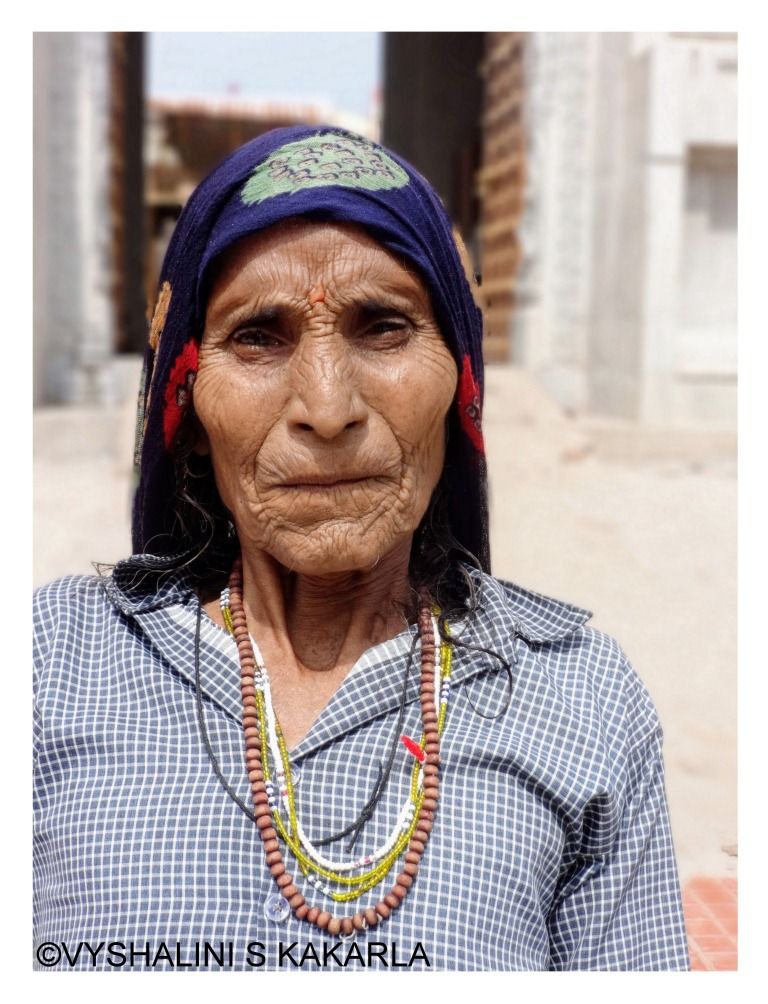 I saw many people by the sea performing rituals to their ancestors.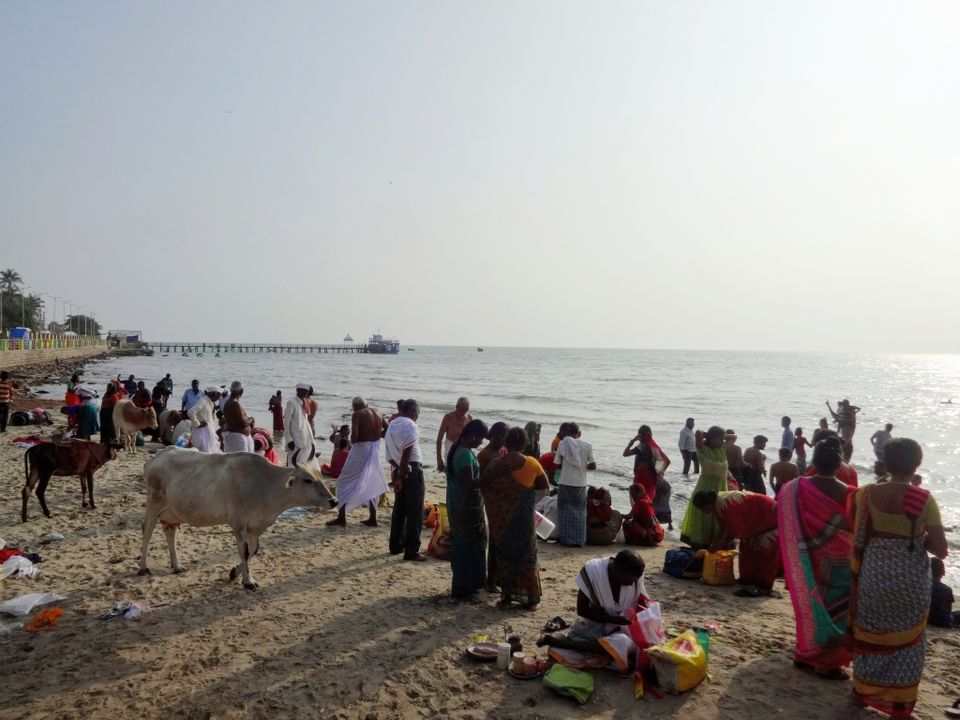 I met a person named Subramaniam Iyer, one of the persons who performs poojas / rituals. I asked him to take care of my handbag till I take a dip in Agni Theertham - For the very first time in life, I took a dip in the sea, interesting yet scary! I also have his mobile number, if anyone needs it while visiting Rameshwaram to perform poojas, may write to me.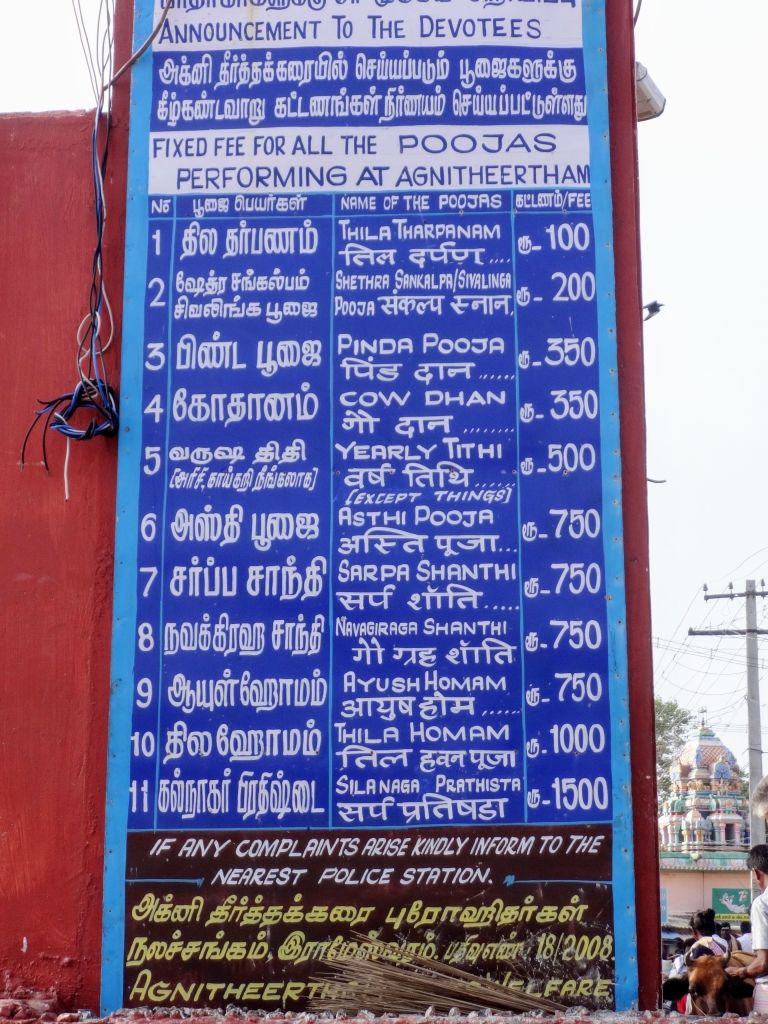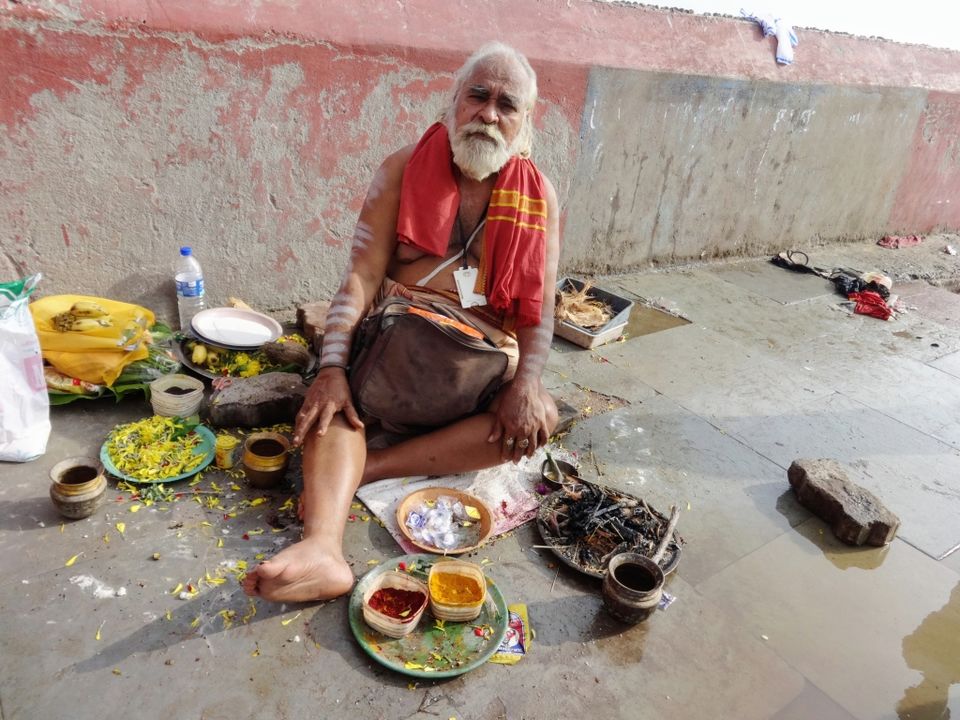 Gave some money to the poojari and I just started back to the temple. There a lovely woman smiled at me and that changed my trip!
Ms. Crissij, a 56 year old passionate traveler and a talented interior designer from London, UK
Instantly, we got connected. We decided to visit the temple together. We put our belongings in a locker run by temple. And walked to take bath with 22 THEERTHAS which is in the form of wells in various parts of the temple. It was so amazing to experience it for the first time, Crissij enjoyed it. I kept explaining her and she was happy.
Post the holy dip/bath. One should change the clothes and go for darshan of Ramanathaswamy
Both of us left to our respective hotels and Crissij was kind to pick me up along with her driver.
We visited the temple - Really a good one. It was so crowded, we had to buy a special ticket of rs.200 per head to make it faster. We had a great darshan. Also some fresh temple made pongal was served.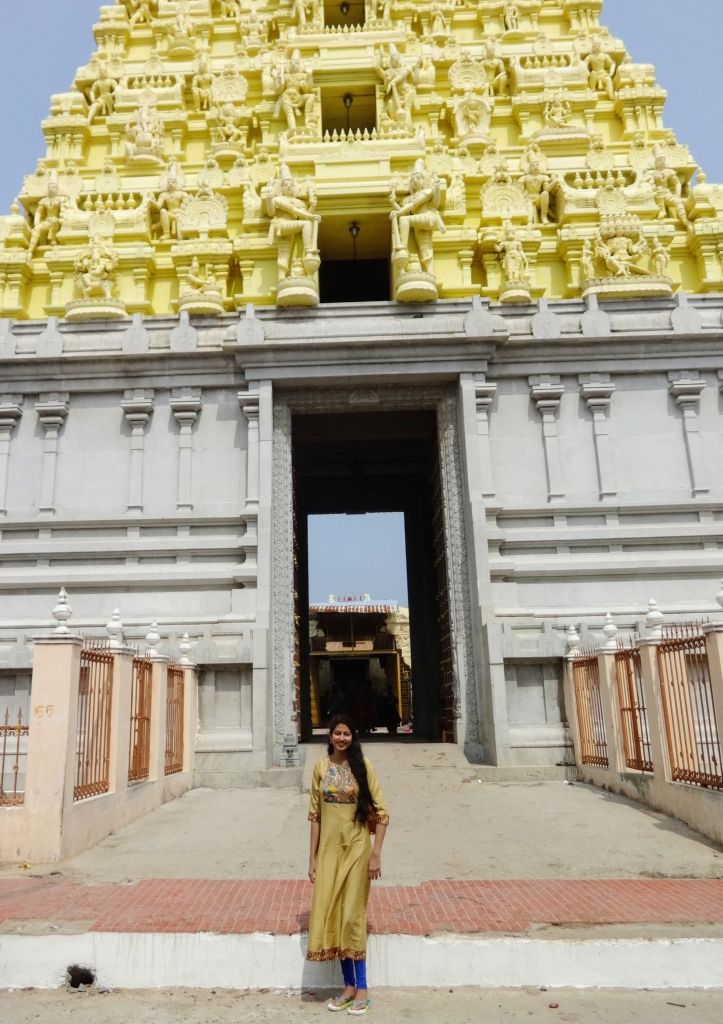 From there, both of us decided to visit DHANUSHKODI
Crissij and Driver anna enjoyed their sea food.
I had some rasam rice with spiced boiled potatoes from one of the stalls there, not upto the mark. I do not recommend food for vegetarians at Dhanushkodi, better to have in Rameshwaram town and then visit.
Post lunch, we visited ARICHAL MUNAI, the edge of India, technically the border between India and Sri Lanka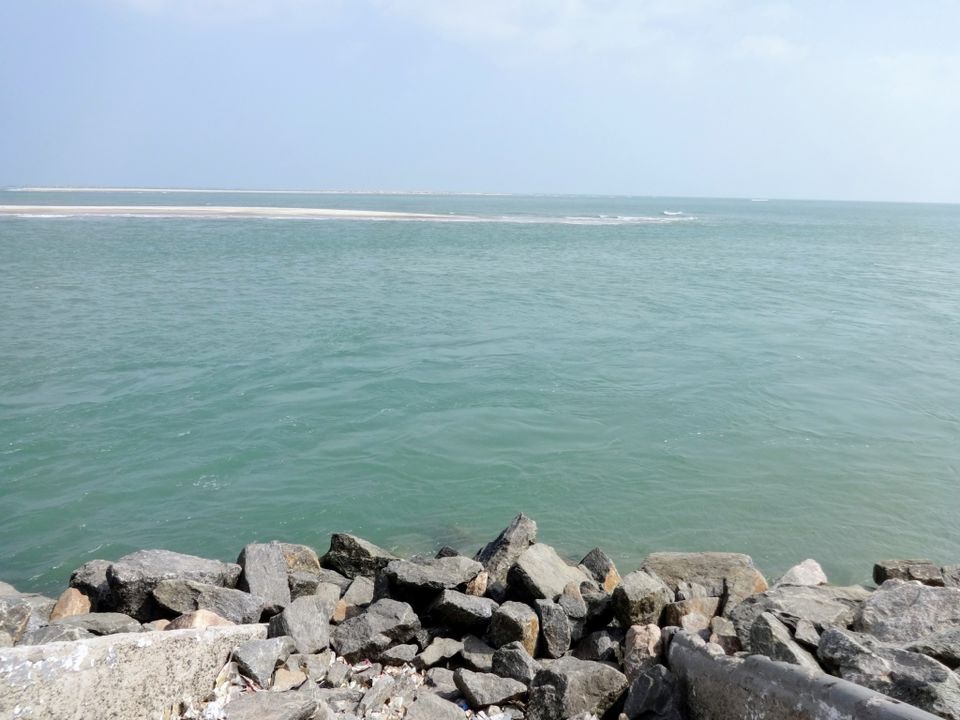 You can see our Indian Emblem on a pillar placed there.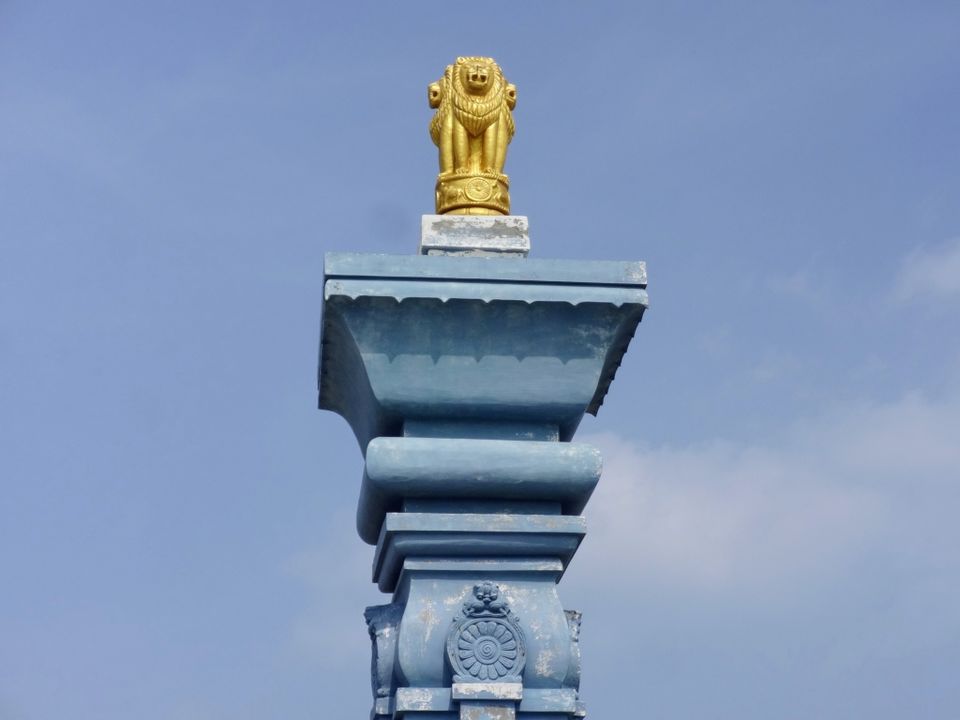 Amazing view, but crowded. Worth the visit.
We three stopped at a calm place to spend sometime.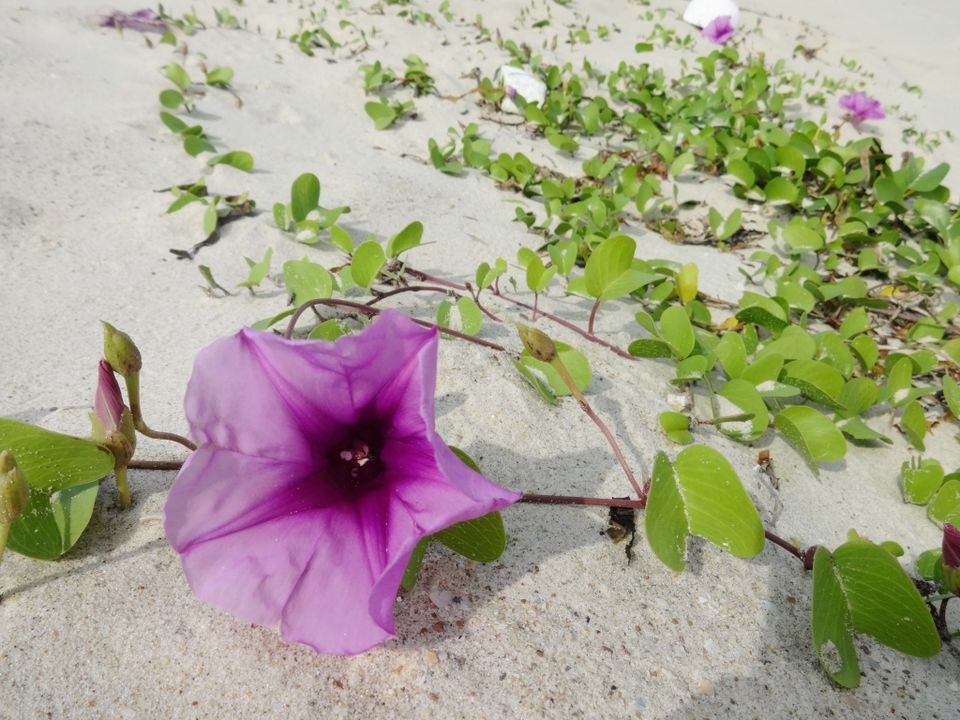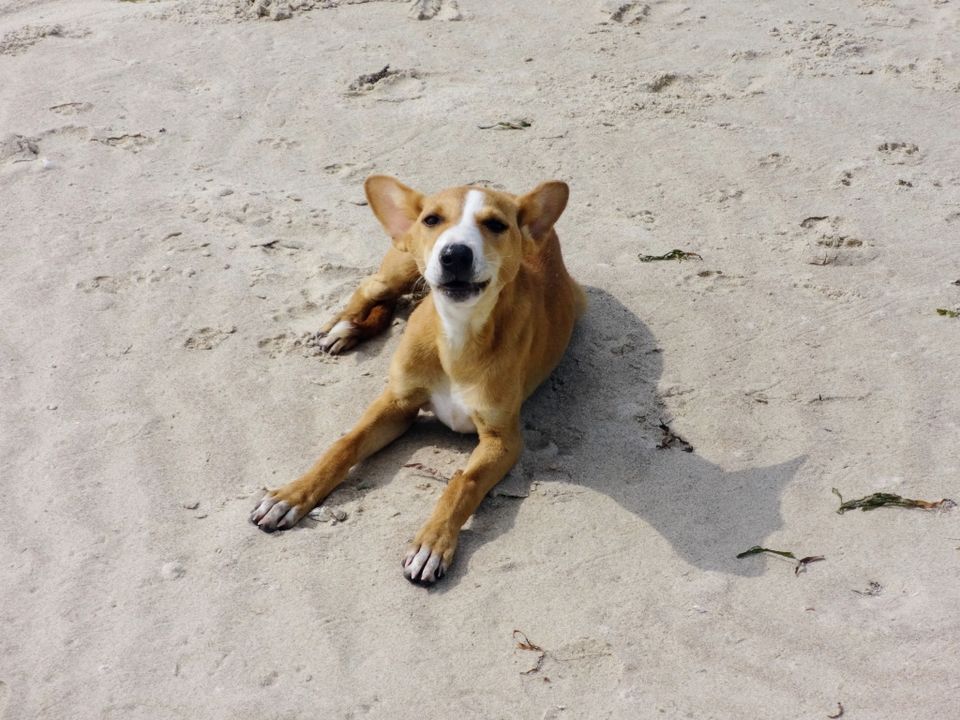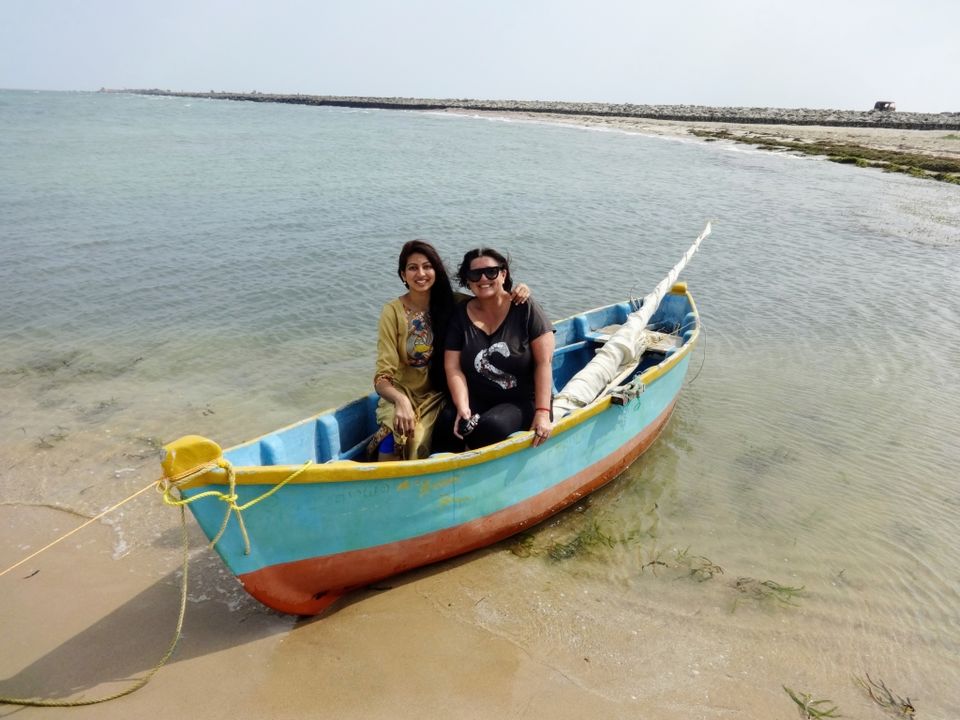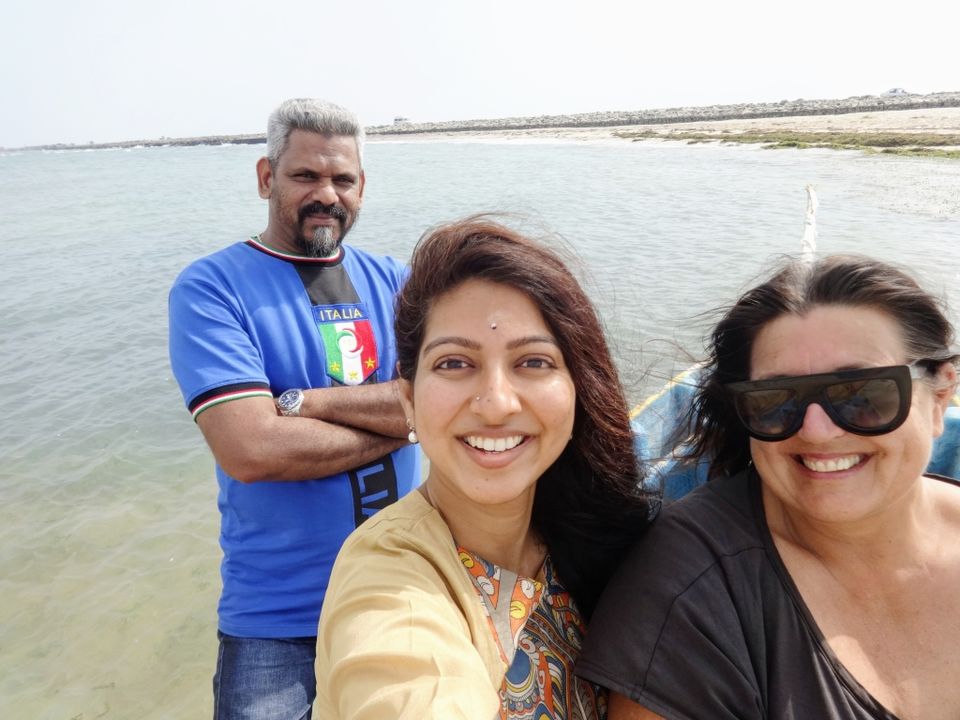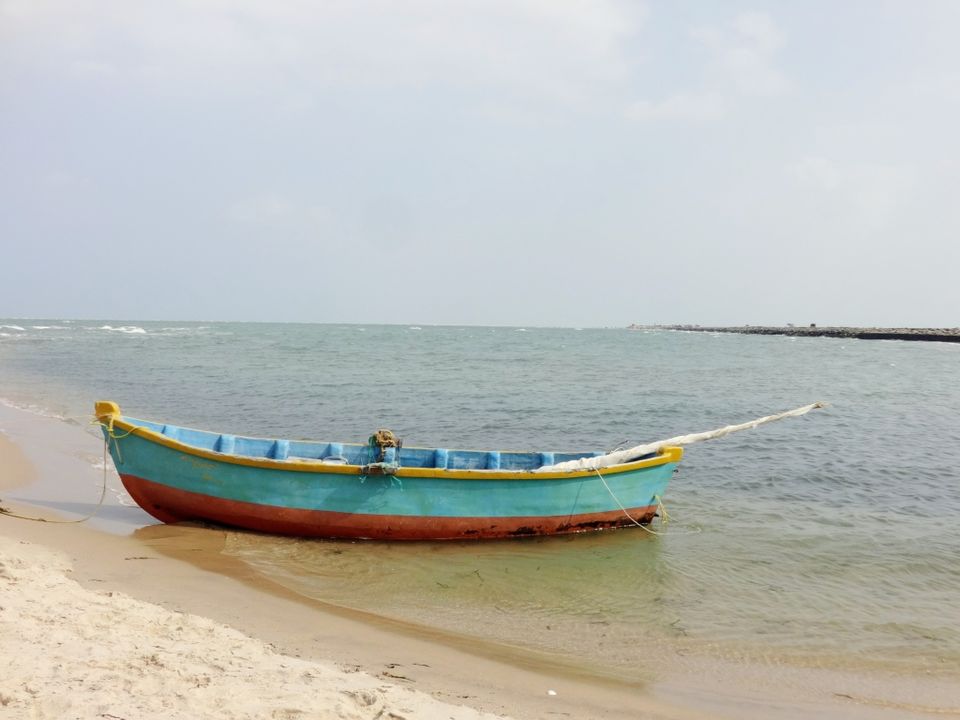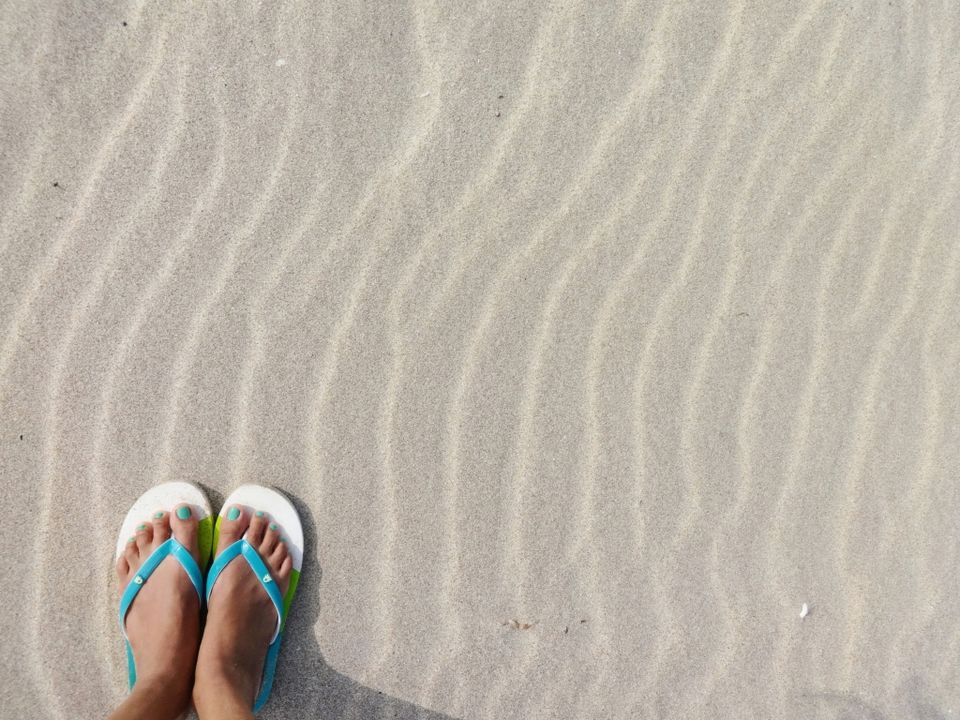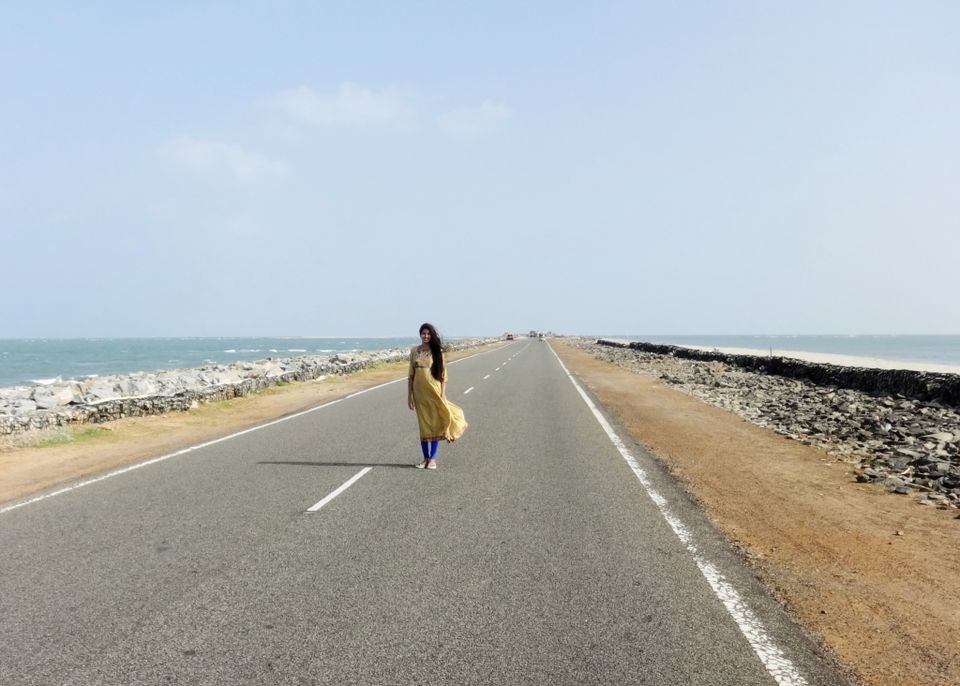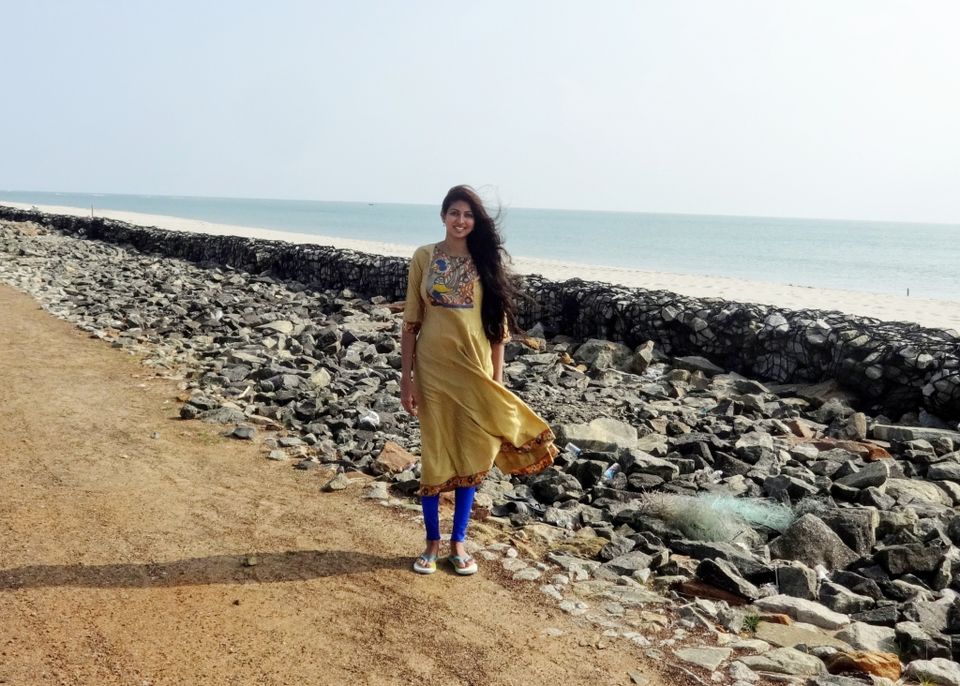 There are many stalls or shops near the ruins of Dhanushkodi selling accessories and other stuffs made of sea shells. PERSONALLY, I DO NOT SPEND MUCH ON THINGS, I SPEND ON EXPERIENCES. So, I did not shop anything.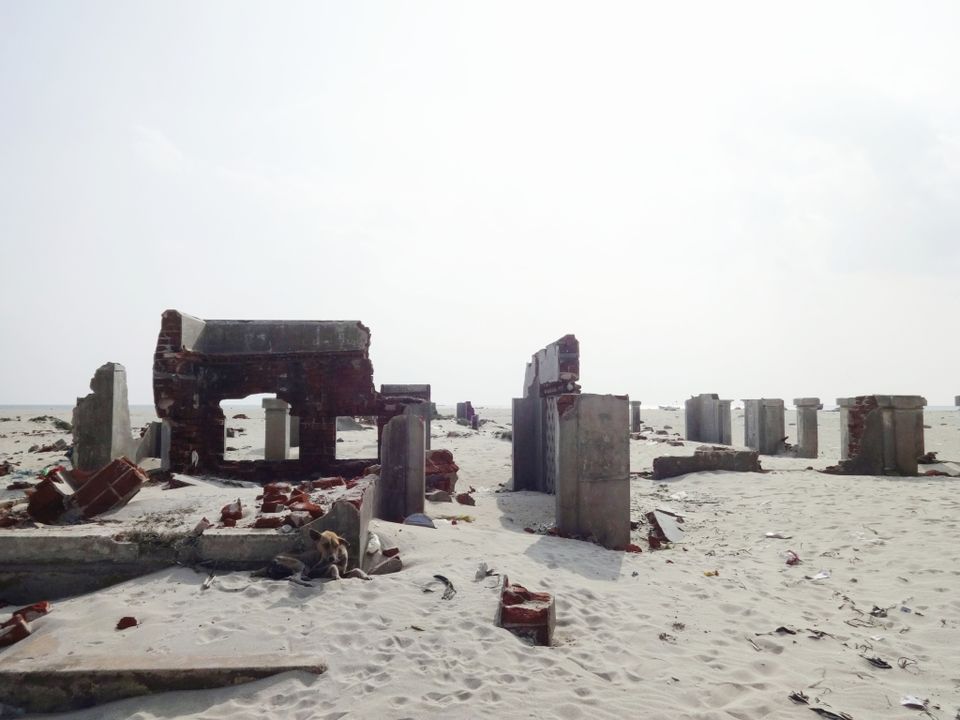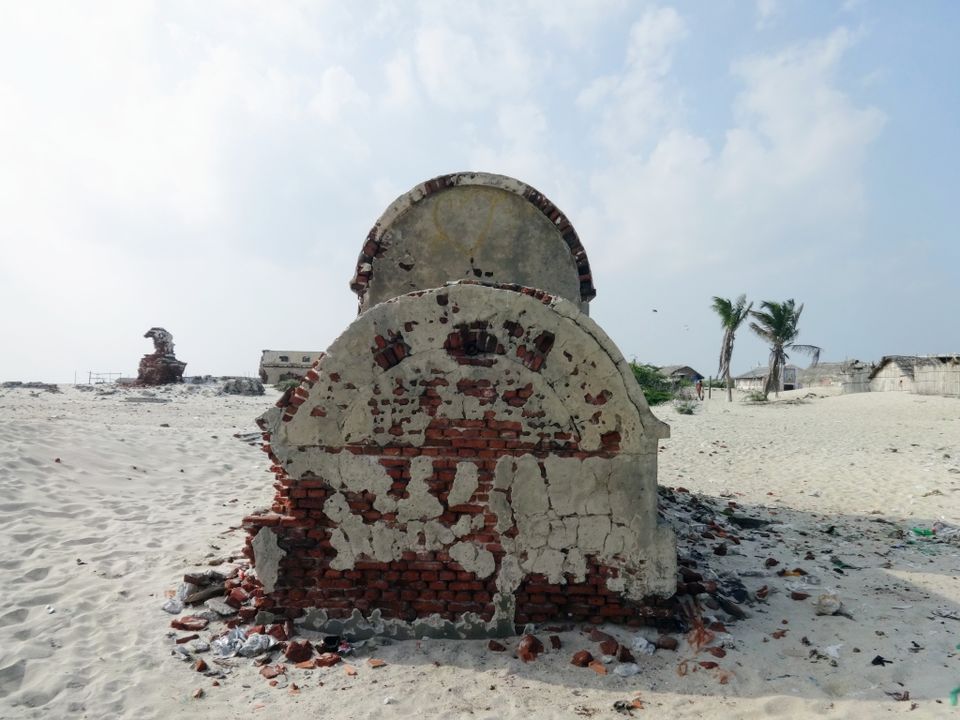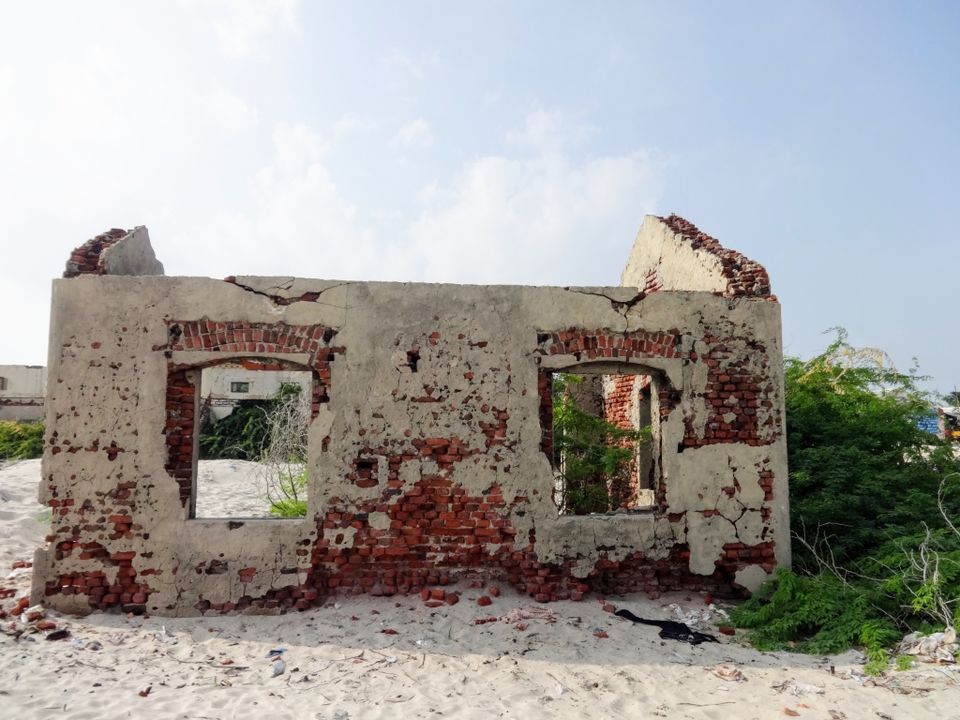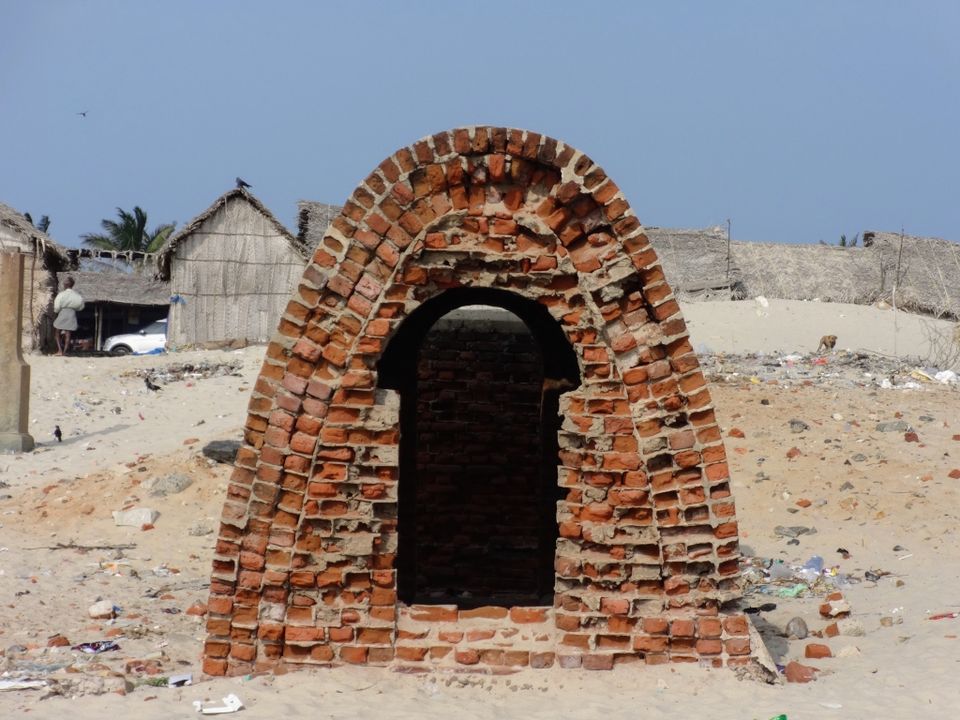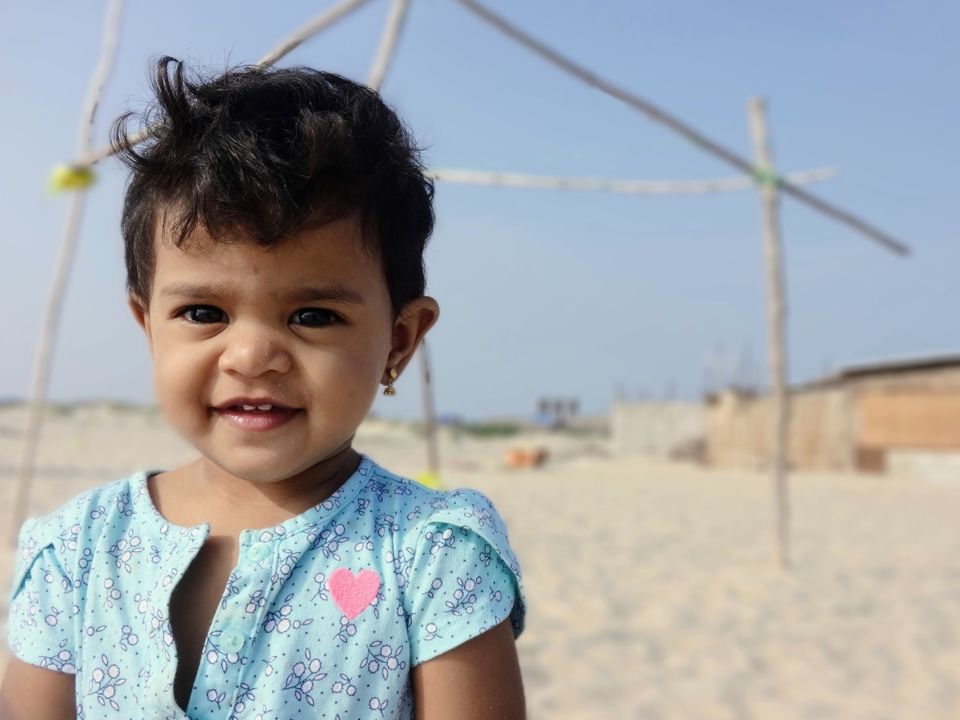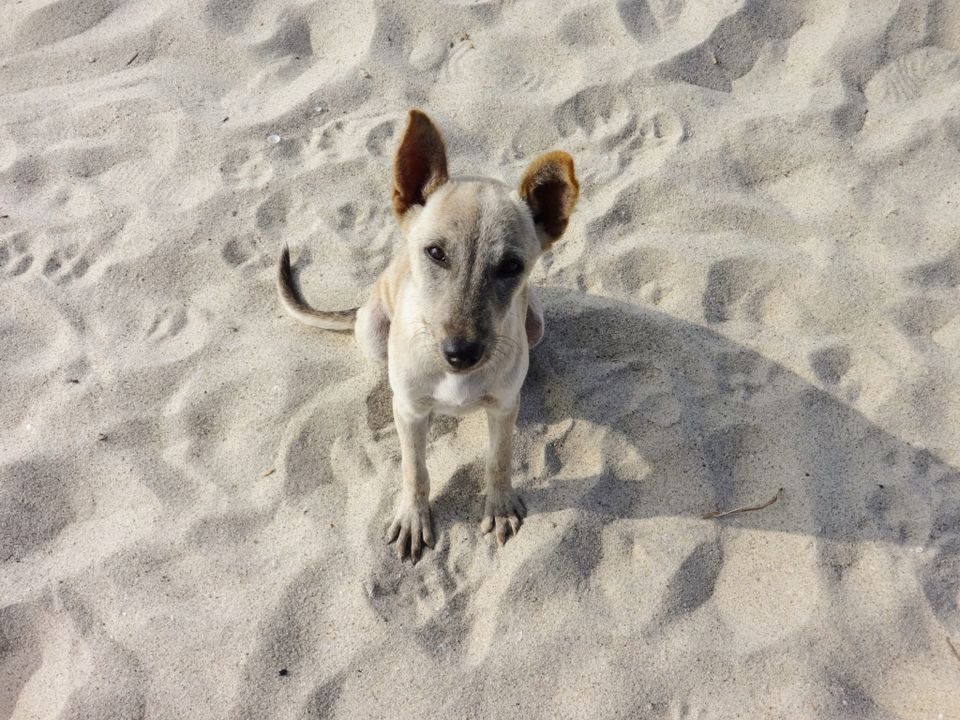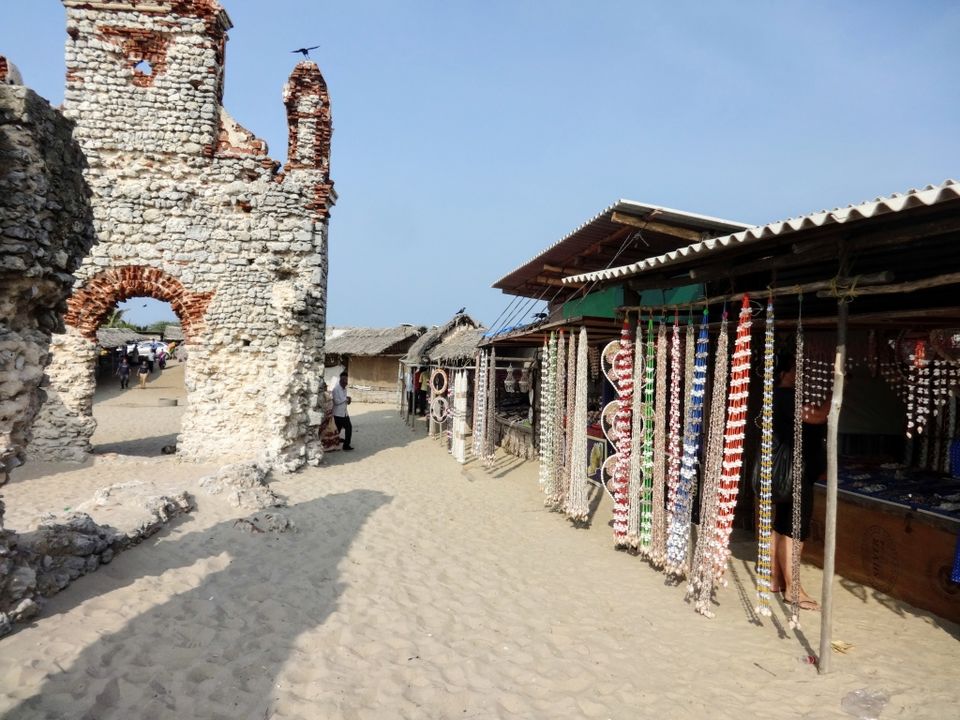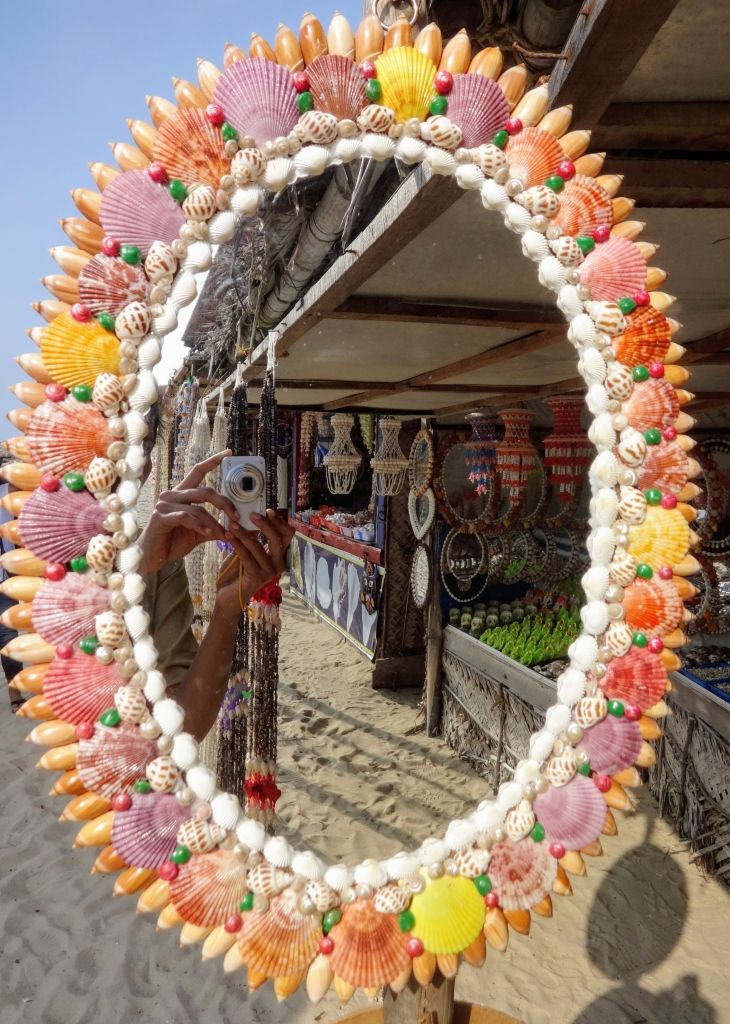 Me and Crissij had tender coconuts, say no to the plastic straws wherever you go.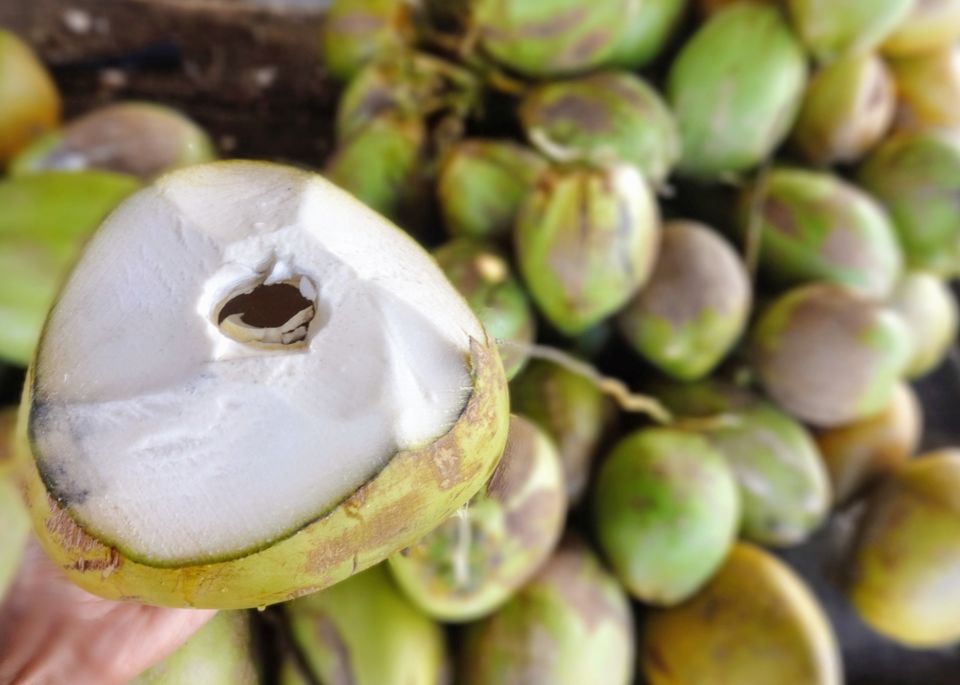 Then we just took a stroll through the huts of fishermen. We saw baby goats and some interesting humans.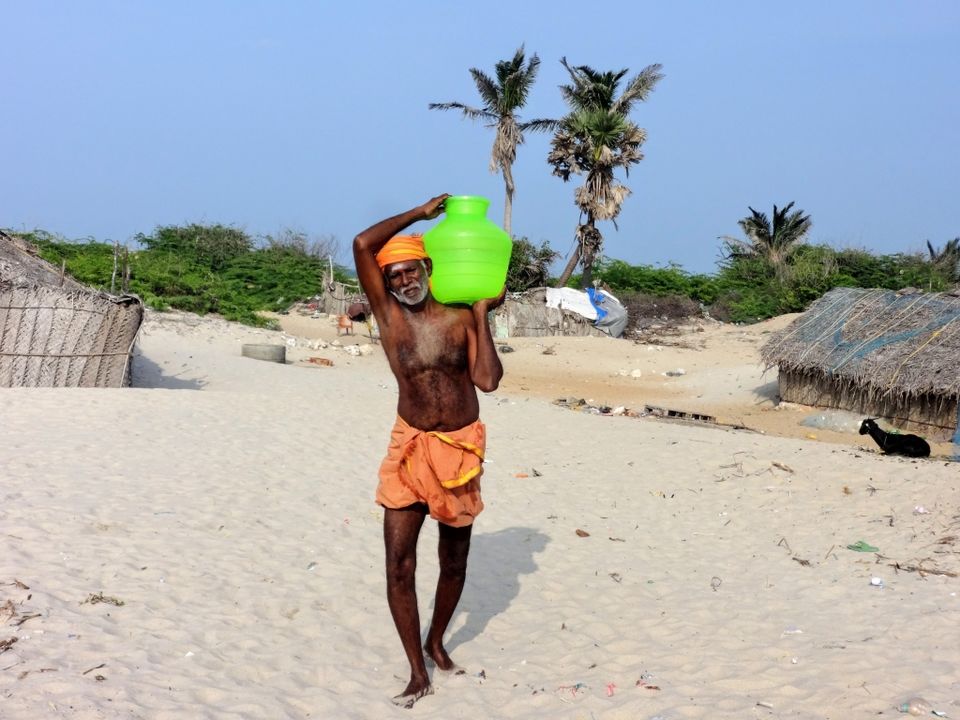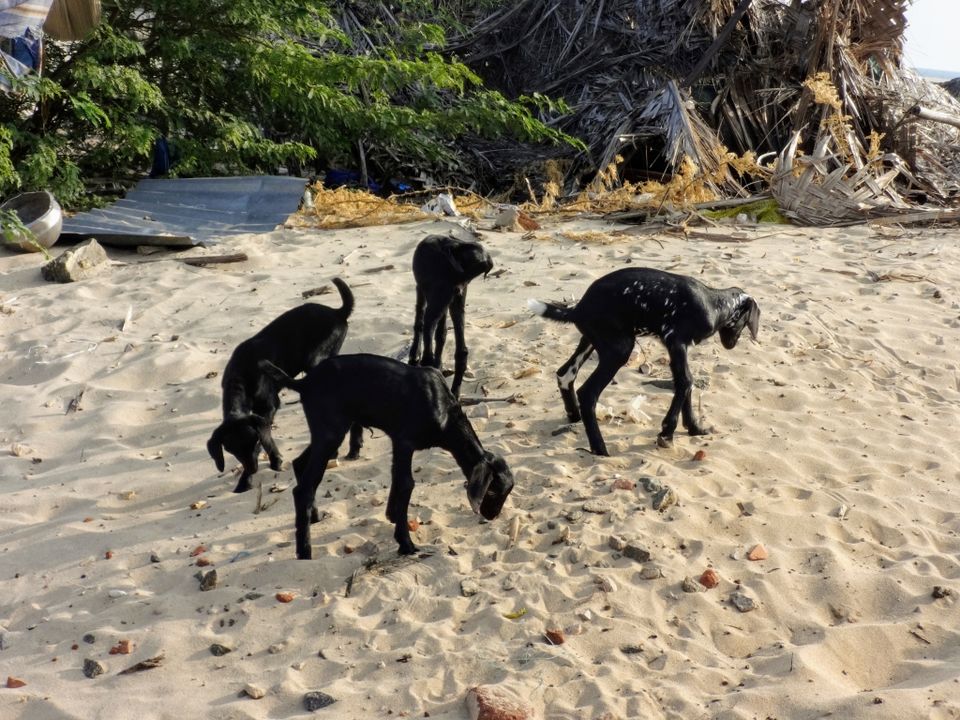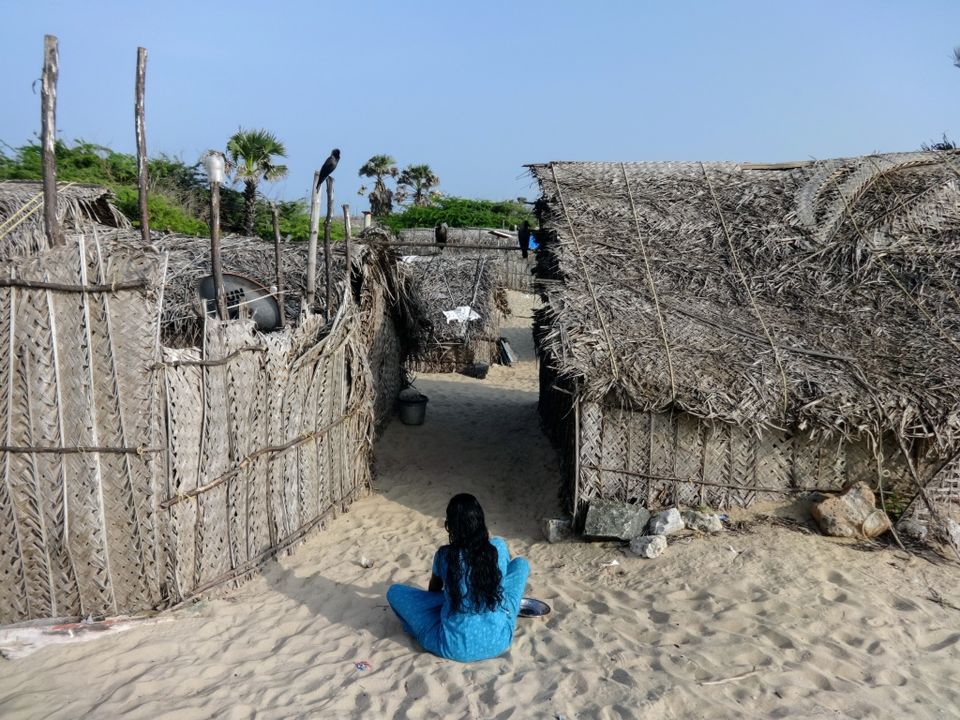 On our way back, we visited KOTHANDA RAMAR TEMPLE, good one.
We reached the town in the evening. We had some nice snacks at ARS AAVIN JUNCTION - Mushroom samosas, Bondas and of course Jigarthanda.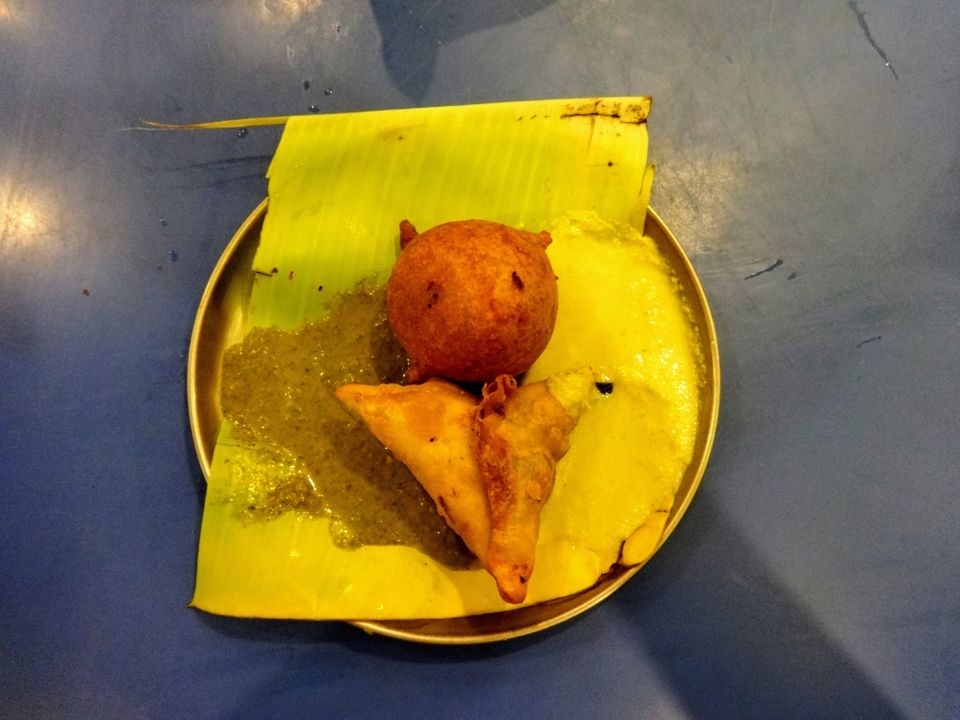 Then I was dropped back in my hotel. I had a good dinner from my hotel - Onion Tomato Utthappam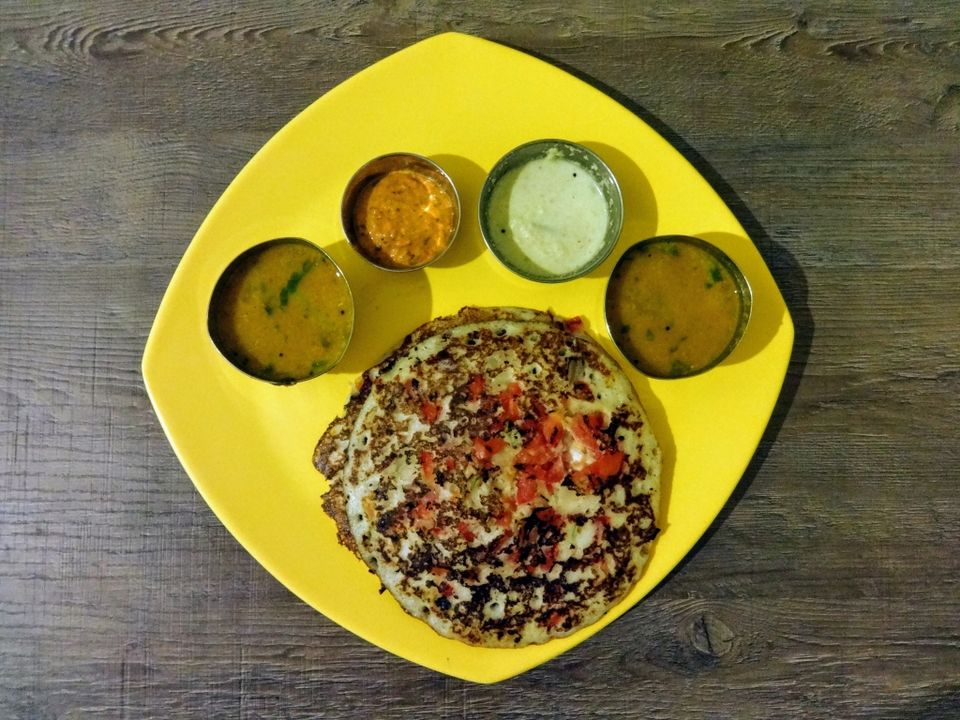 It was a memorable day!
14th JAN 2020 -
I woke up, took shower and had a great South Indian breakfast from my hotel KNP Nest and checked out.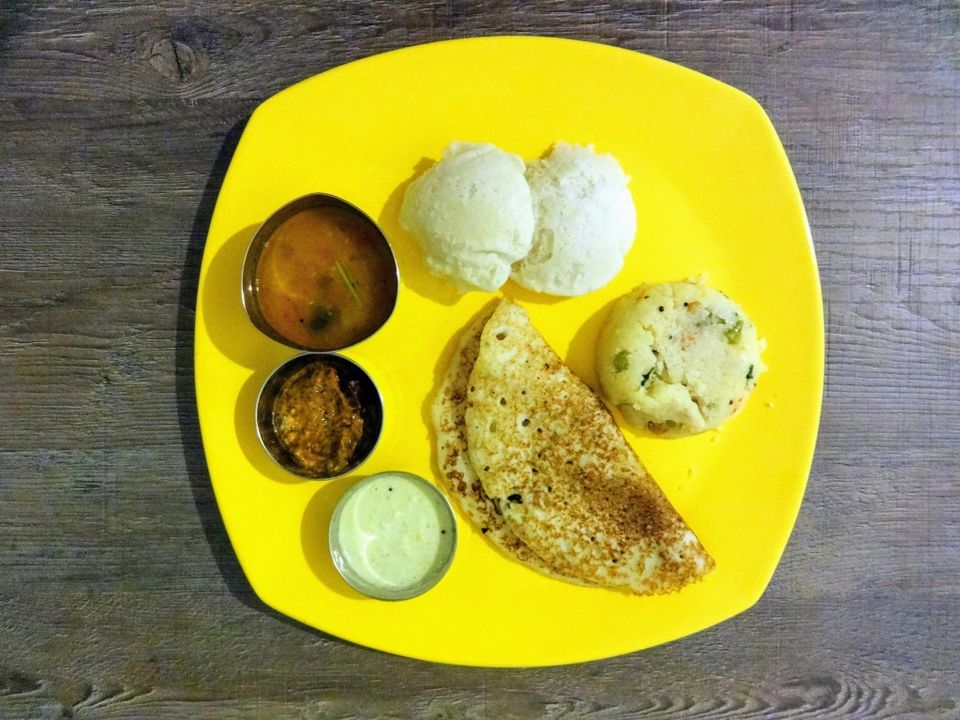 Me and Crissij had decided to travel together for a couple of days or more.
I hardly connect with humans, I am very choosy with whom i spend my time with.
Crissij is a highly knowledgeable and well traveled woman, also young at heart. She loves art, books, food and travel.
One of her projects is a Japanese restaurant named PACIFIC, run by an Award-Winning Australian Masterchef Shaun Presland
She has designed the restaurant very beautifully, I loved her idea of moss wall.
And our ideas of travel is similar, that connected us.
We decided to share the expenses of our travels. Our driver anna Mr. Check from Pondicherry was an amazing person. Both of them picked me up from my hotel and we started towards PAMBAN BRIDGE - We parked our car near the fishermen community and we started to explore.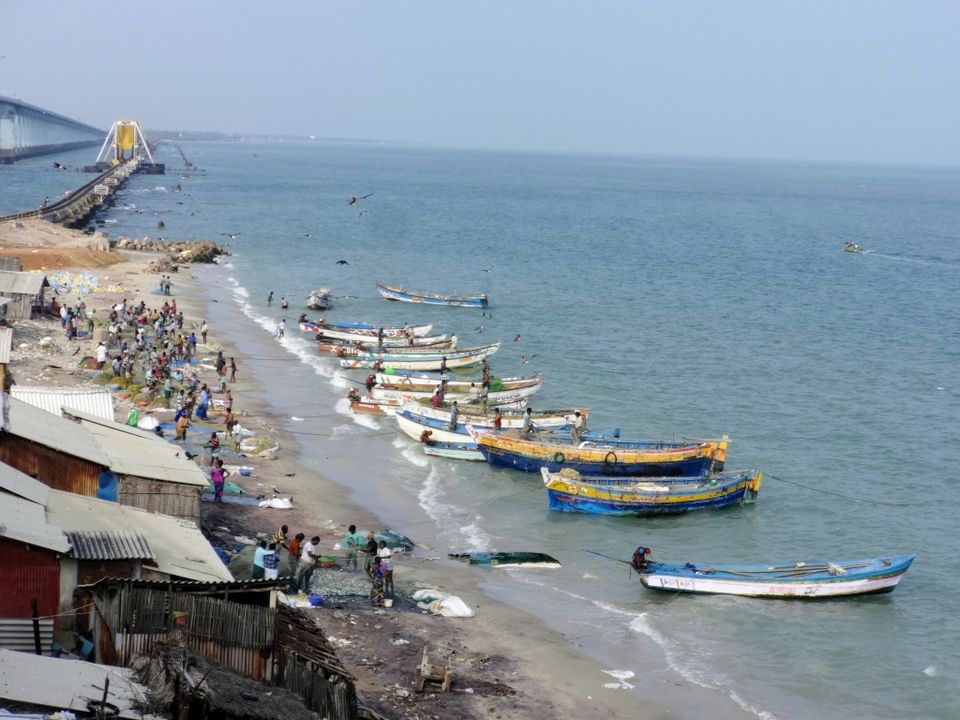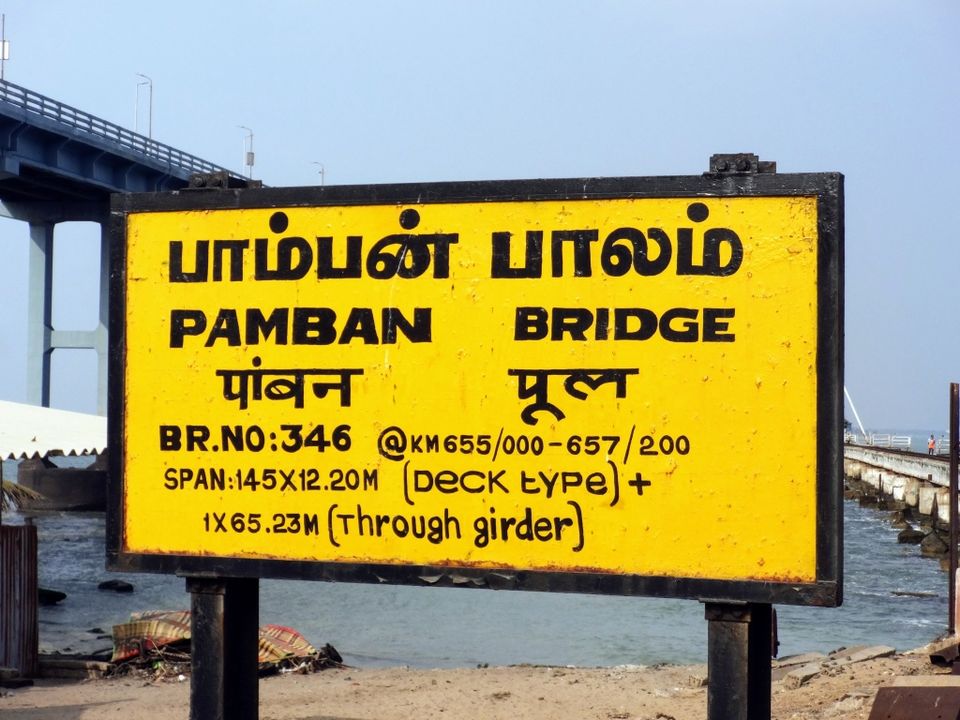 We took an adventurous walk on the bridge's railway track. Wouldn't have done this if I were alone.
The most scary yet once in a lifetime experience it was. I wouldn't recommend this to any unless you are with responsible humans and experienced swimmers.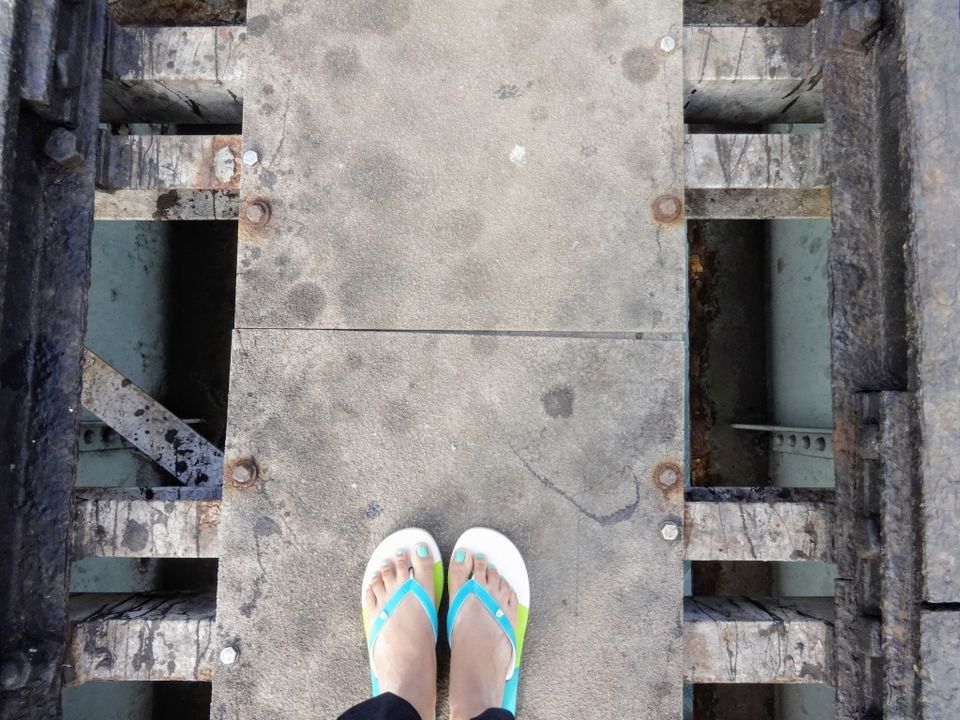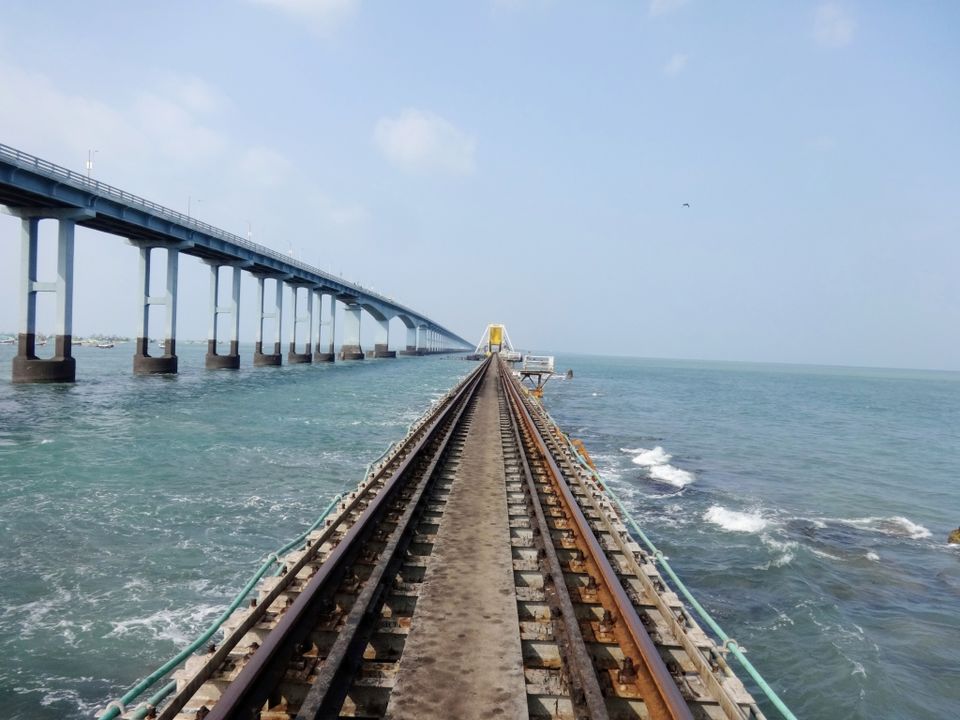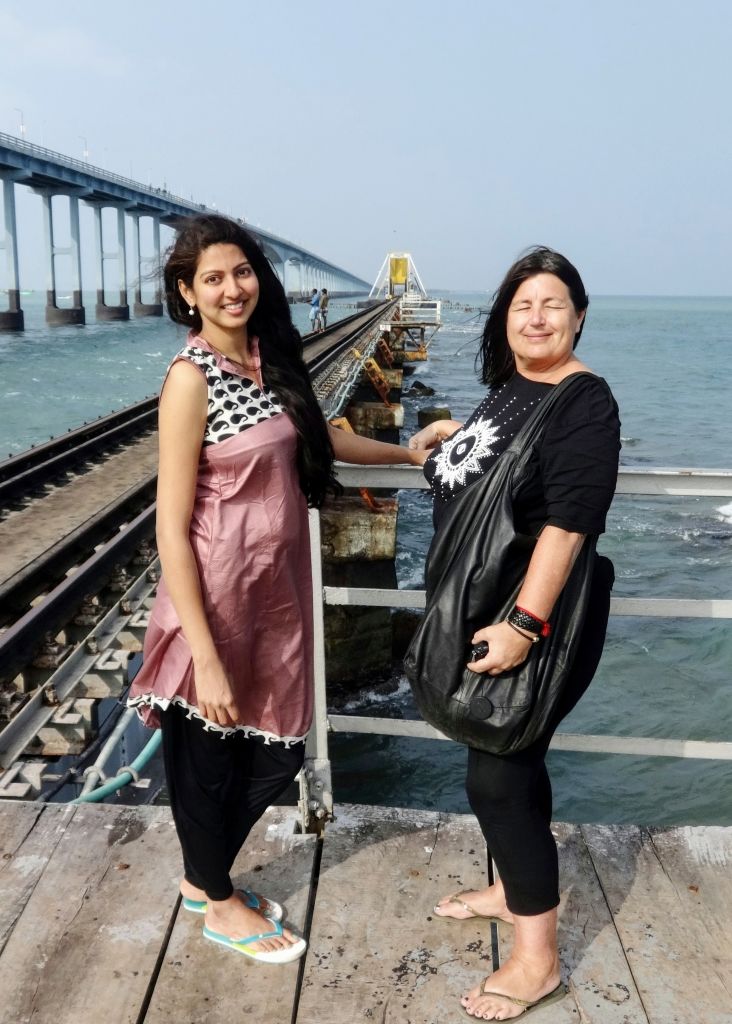 Then we took a stroll through the fish market. Though I have turned into a vegetarian and i did feel bad for the poor fishes, I could get a glimpse of the fishing community in Pamban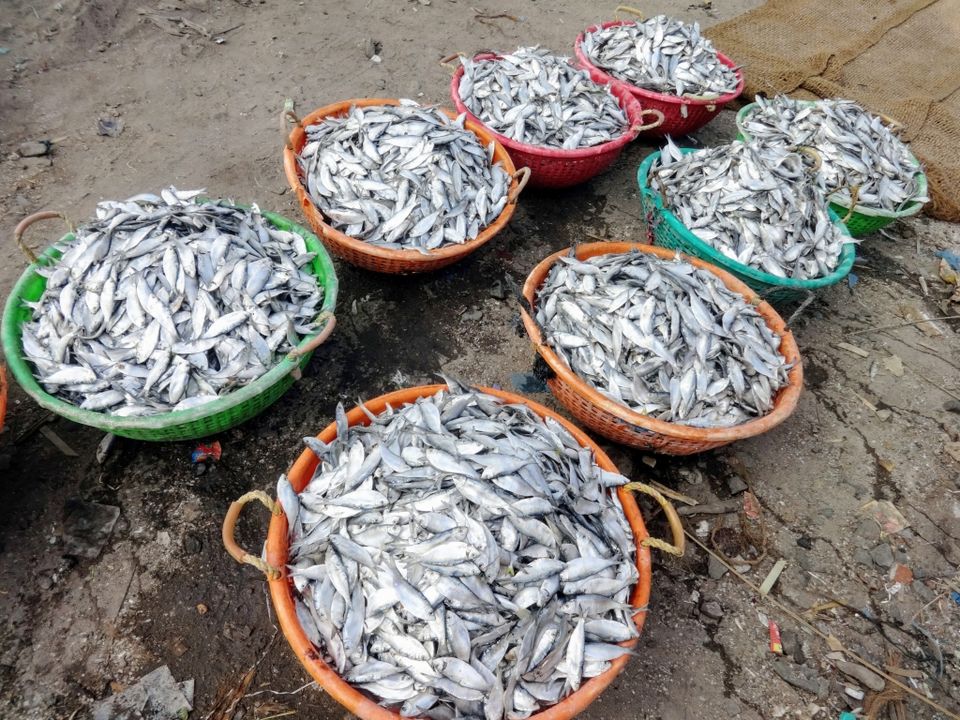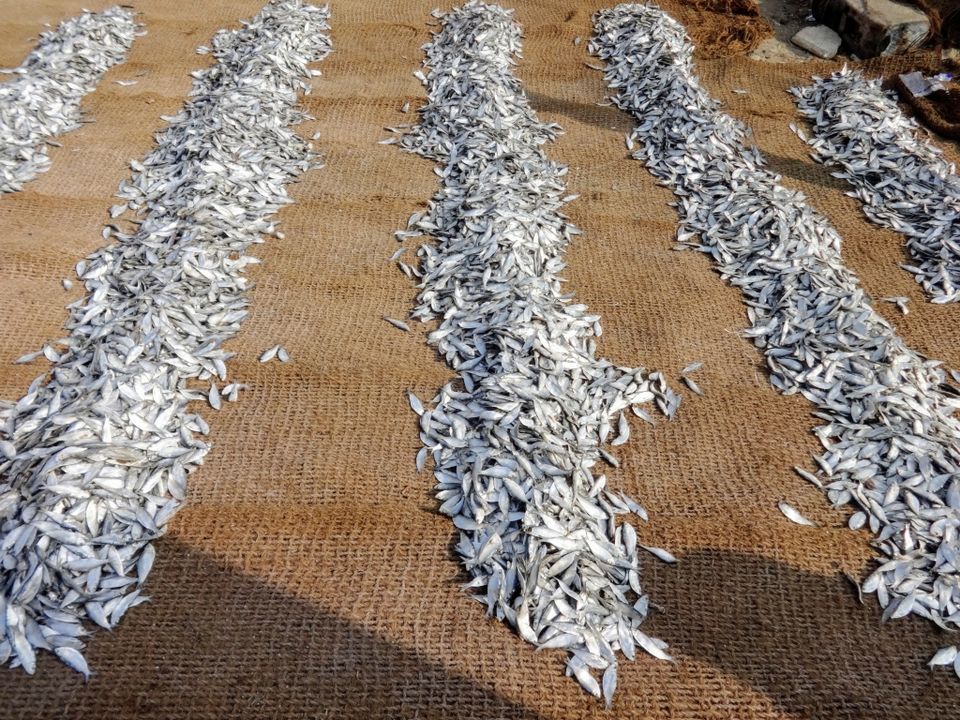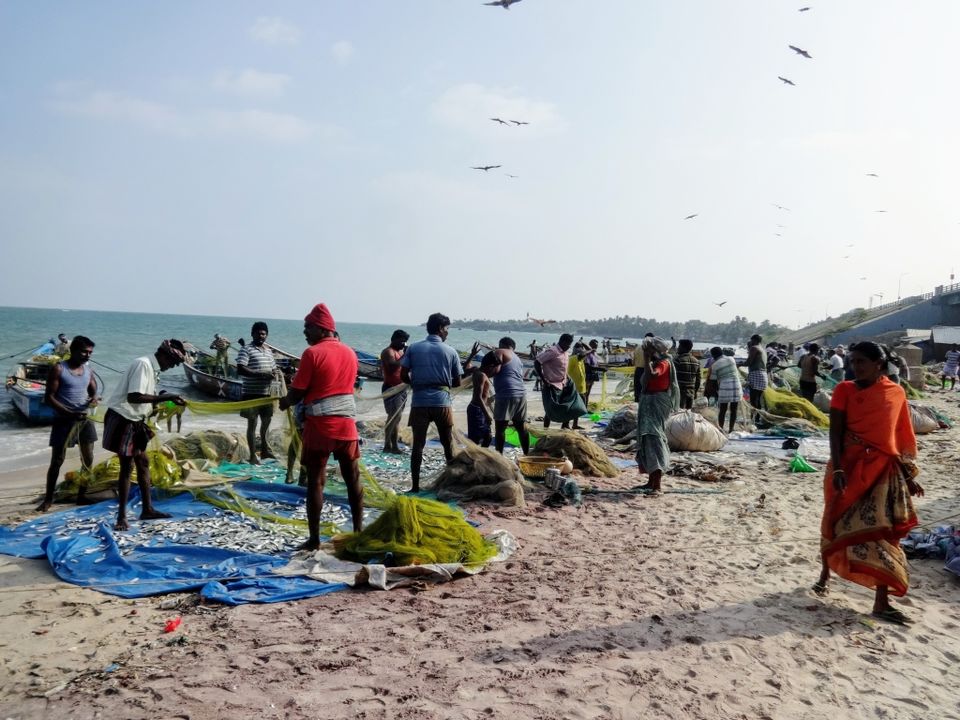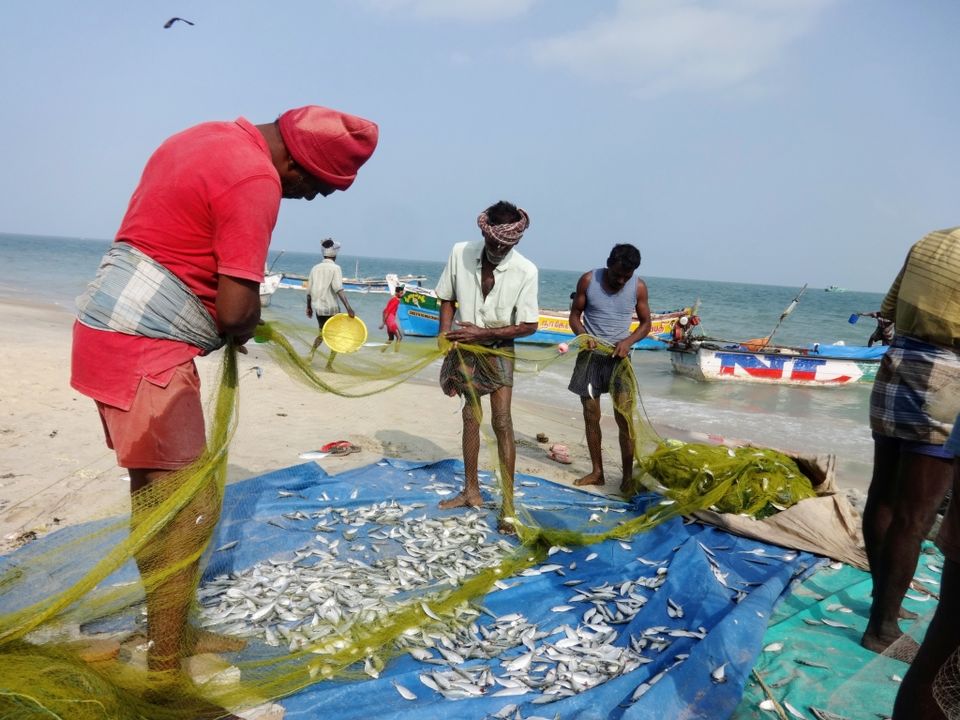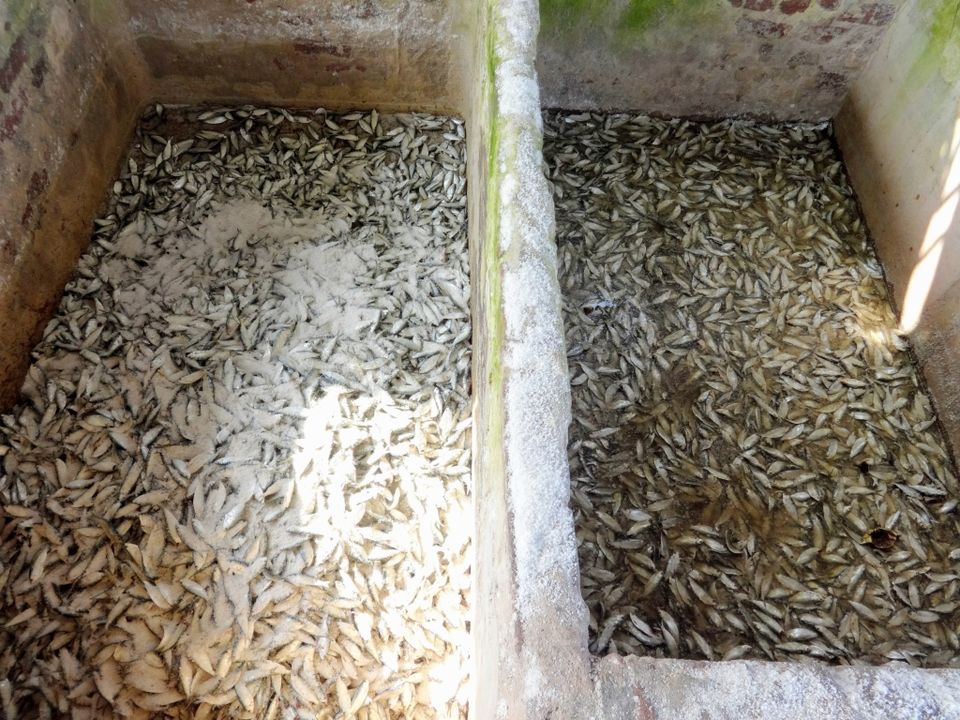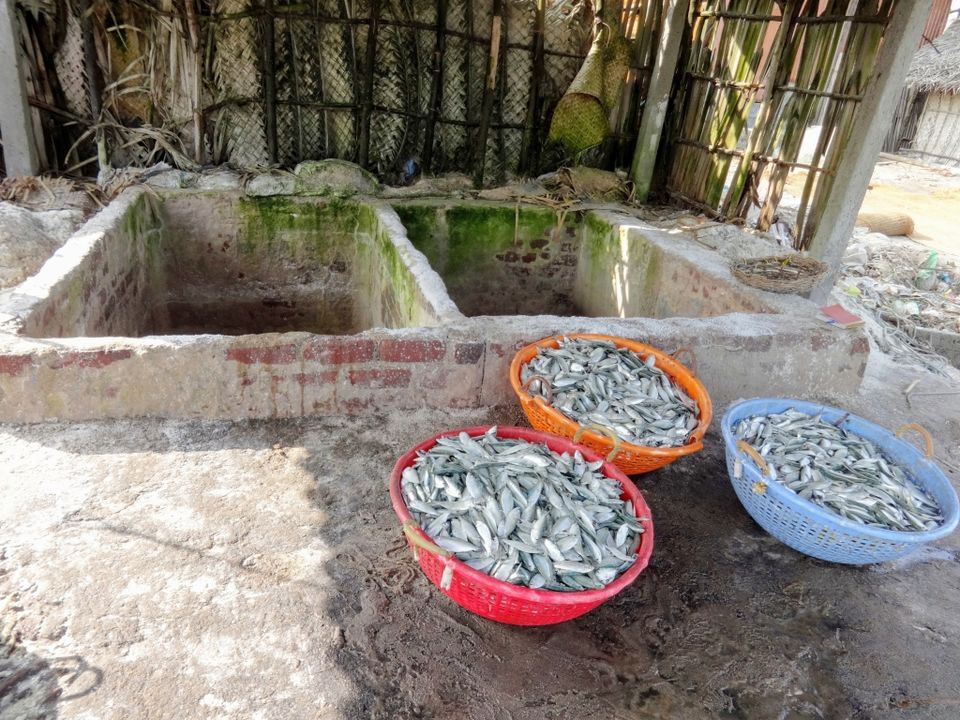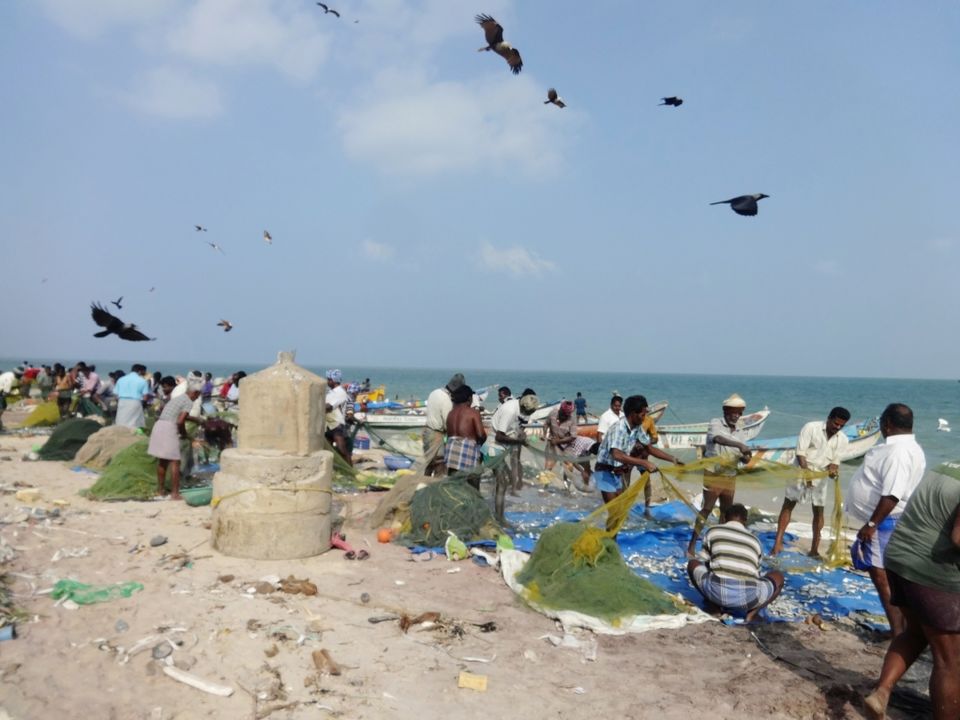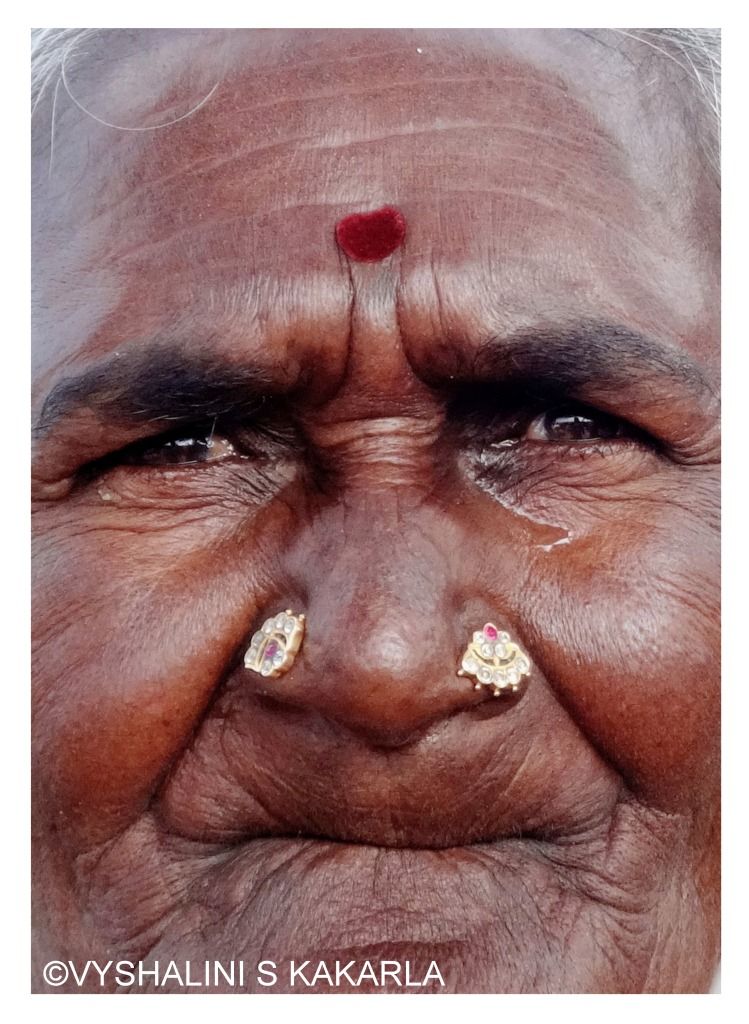 Crissij wanted to try an idli from a lady who was selling there. She tried one idli with coconut, tomato chutney and sambar. She liked it. Rs.6 for one idli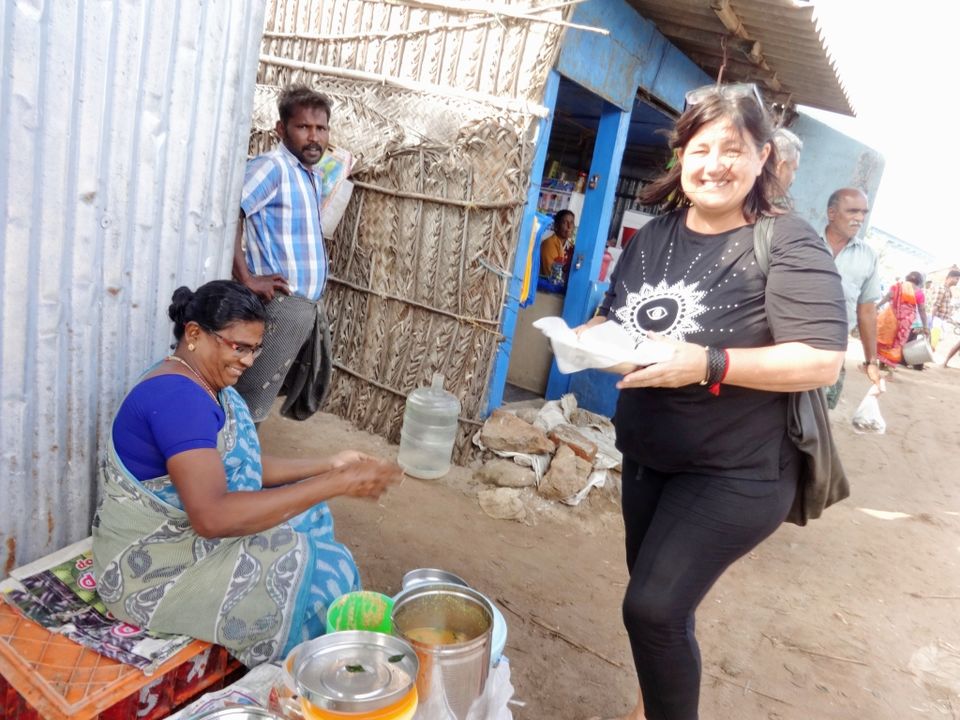 Then I met a boy named Rishwin who was helping his elders. Wherever, I travel - I get worried if i see children working. I immediately ask them about their education and family. This boy told me that he is on pongal holidays.
I wished him the best for his education and appreciated him to make Rameshwaram and India proud like Dr. Kalam
He smiled.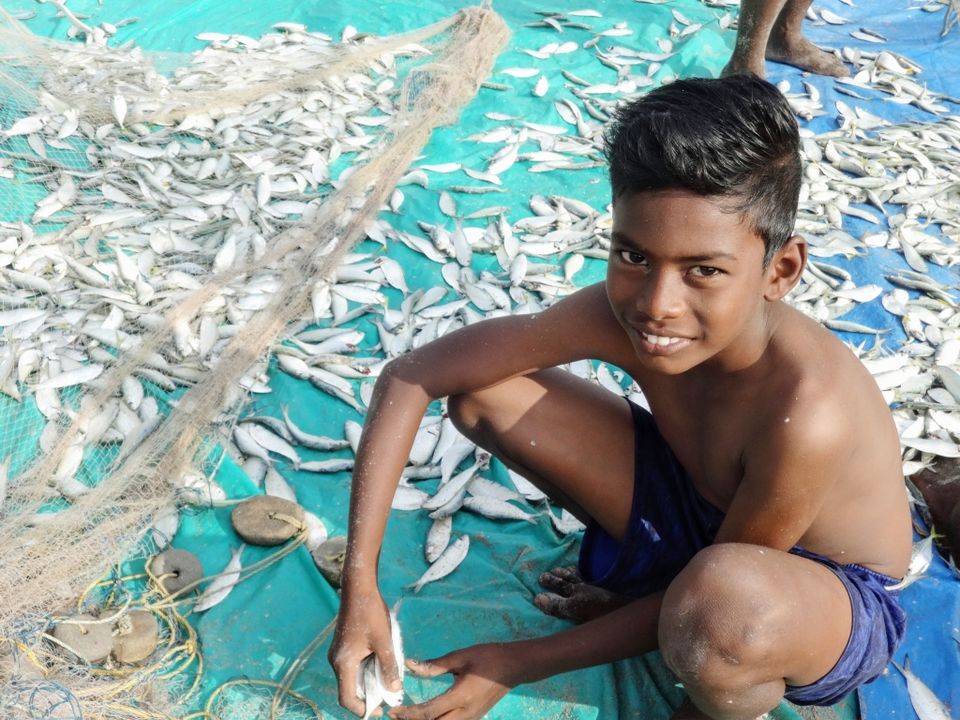 Criss wanted to try the street side parathas and I had one. It was good.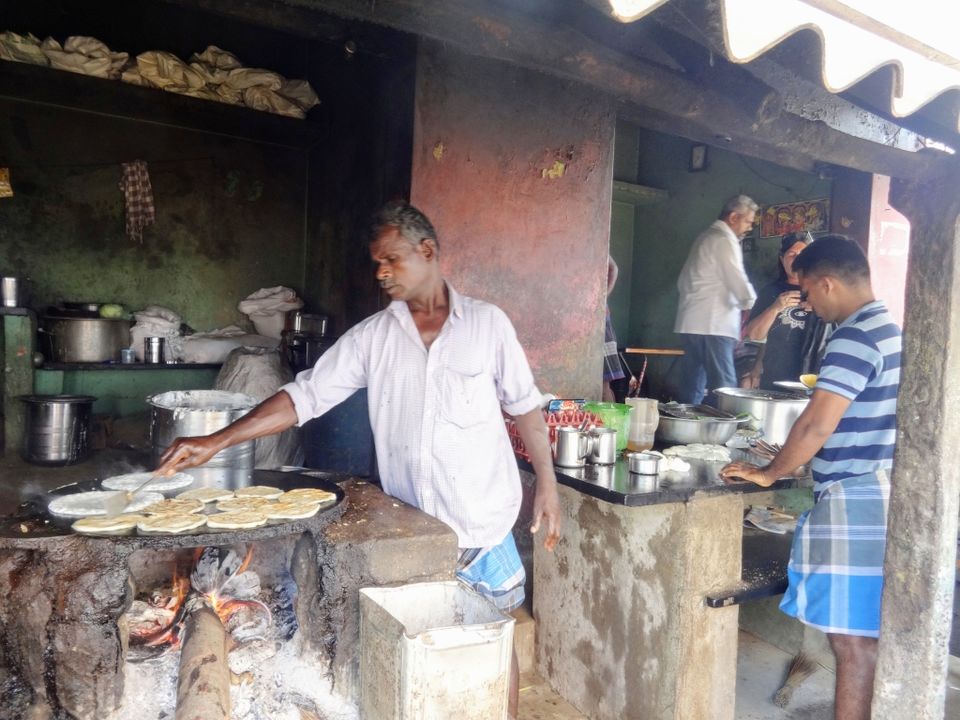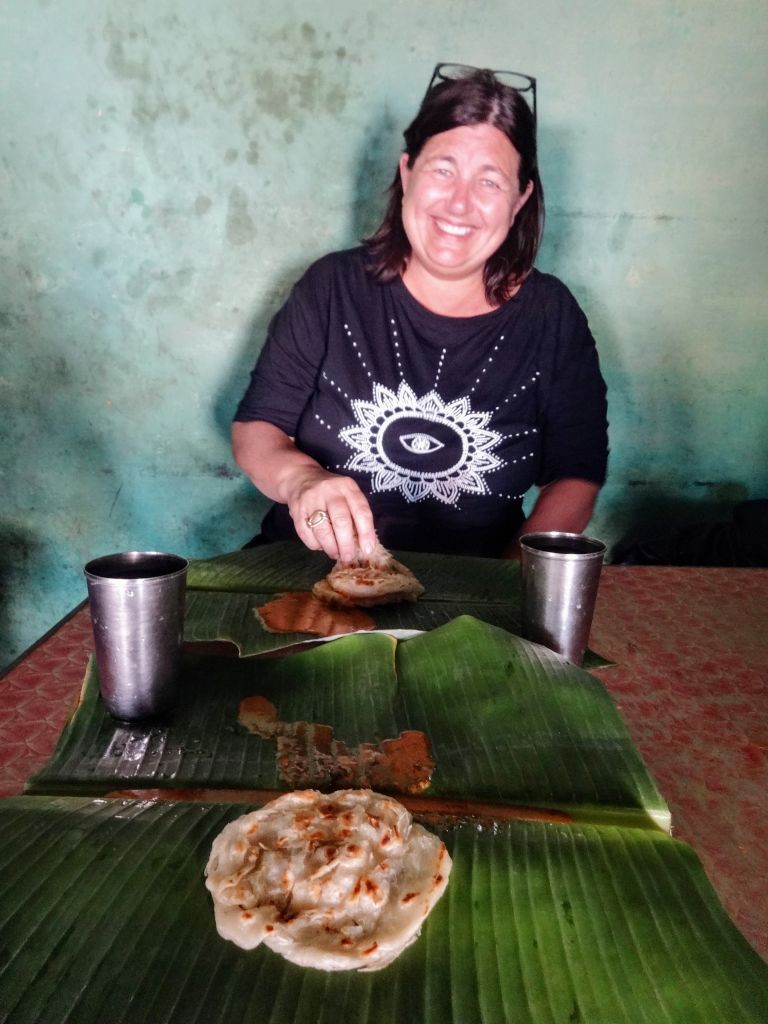 From there, we started to DEVIPATTINAM, which has a Navagraha (9 planets) temple. This was recommended by my mother.
On our way to the temple, we saw many beautiful rangolis in front of the houses.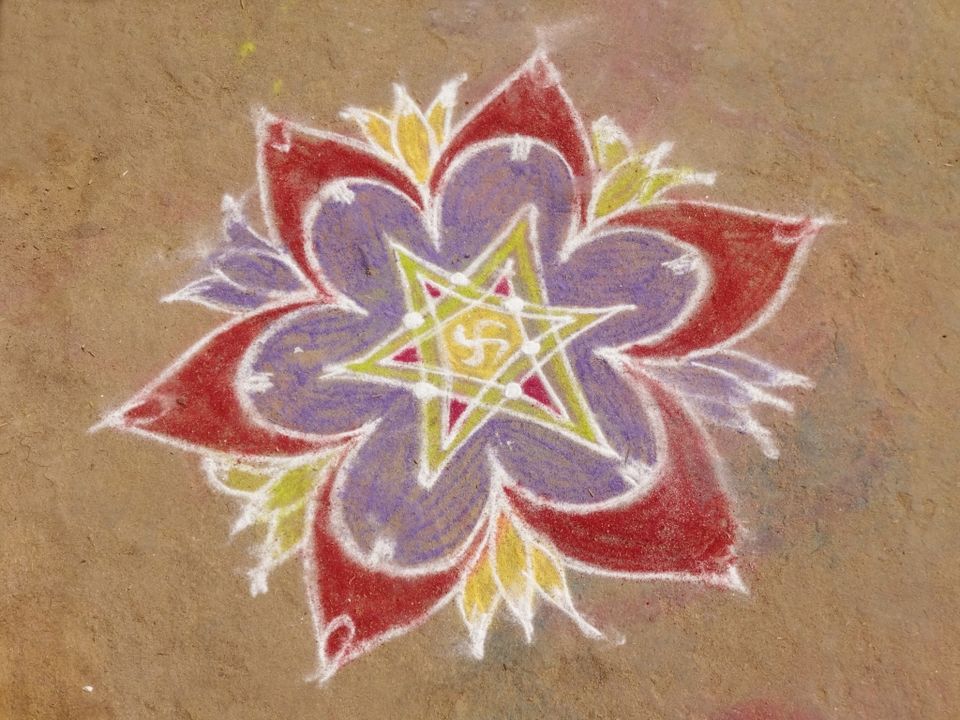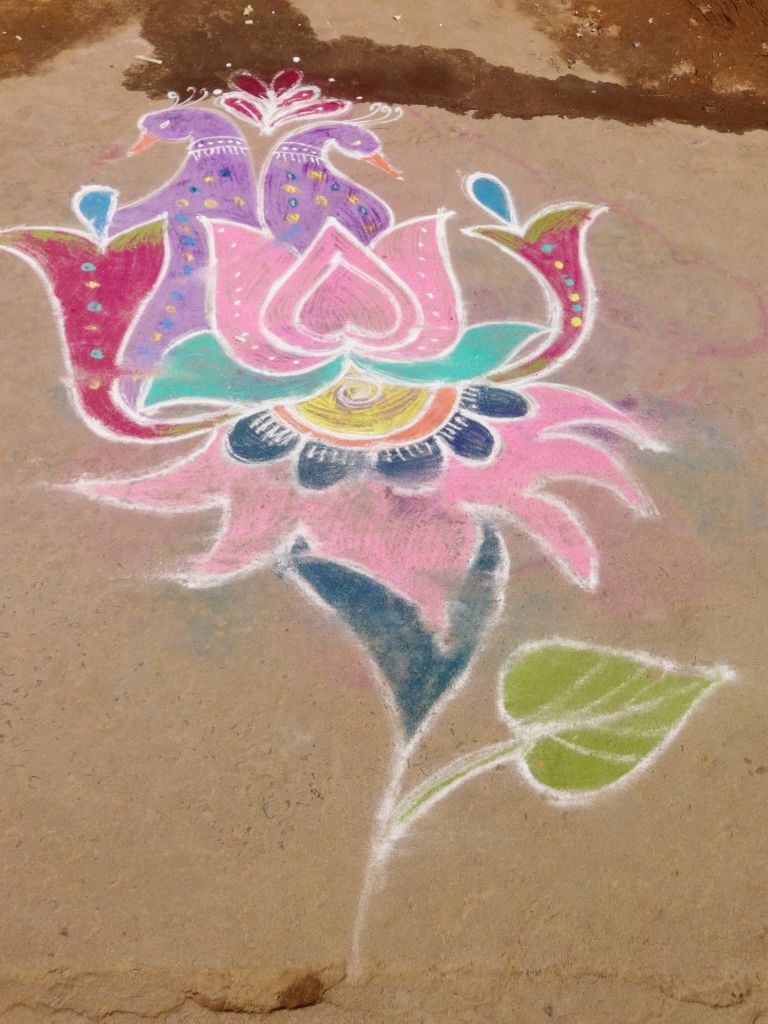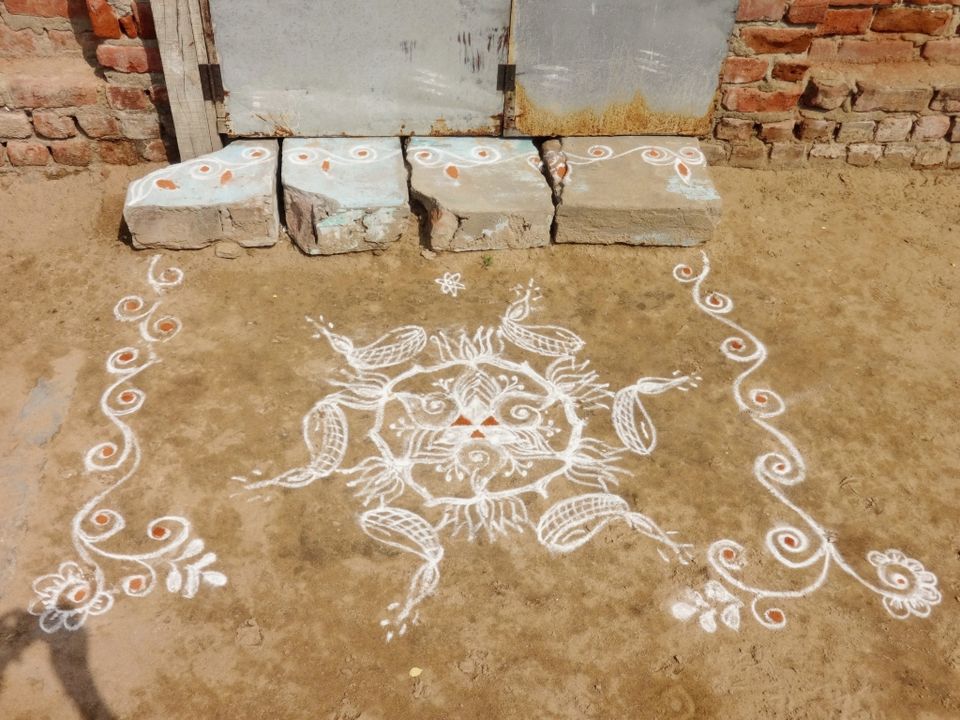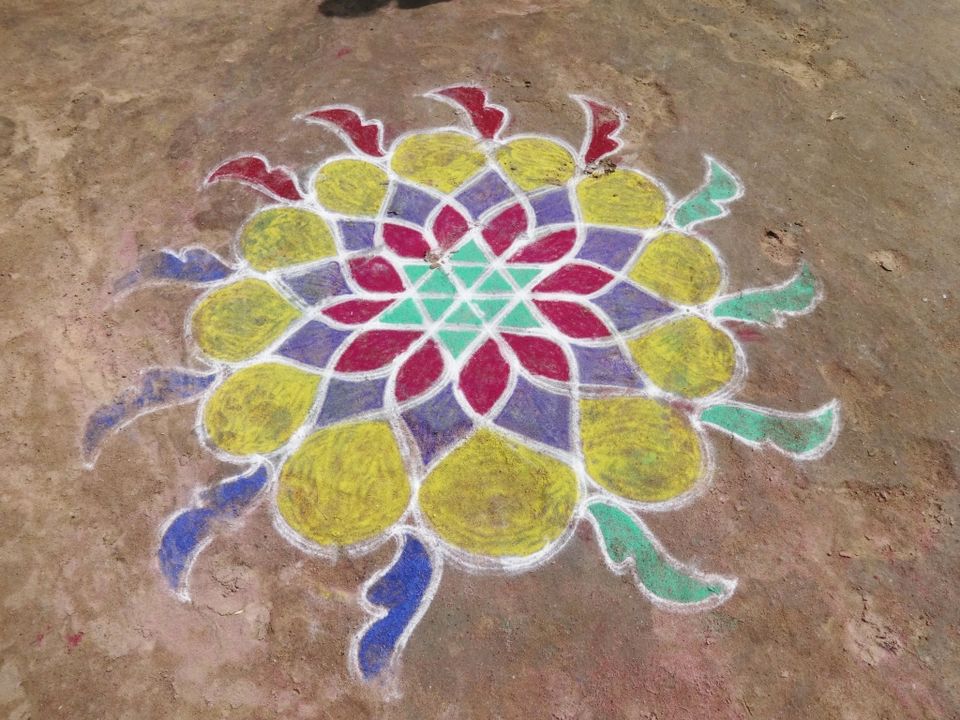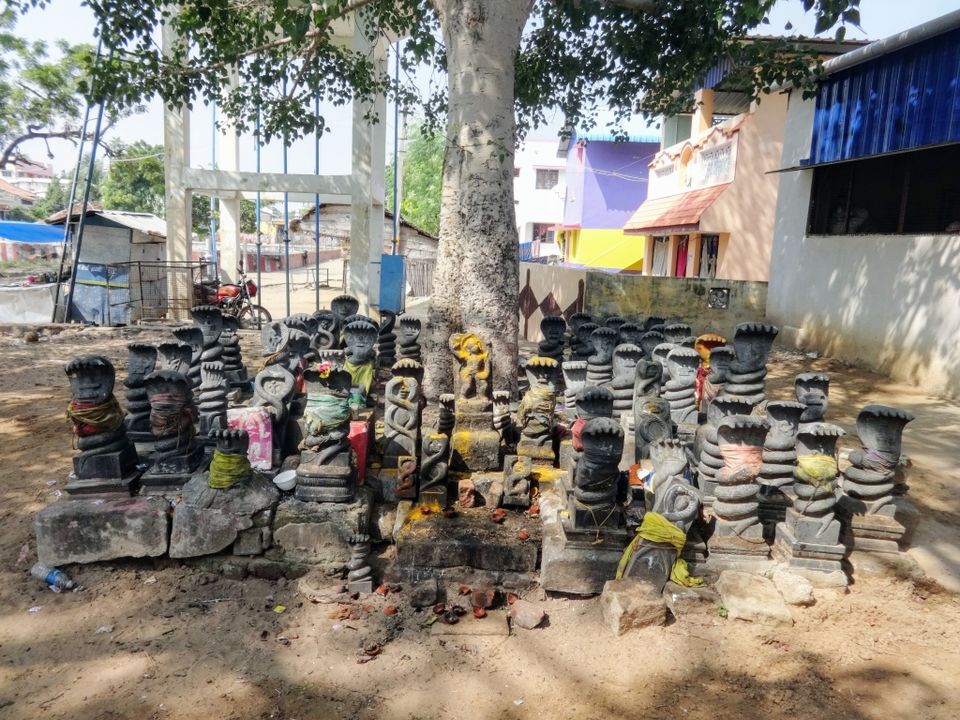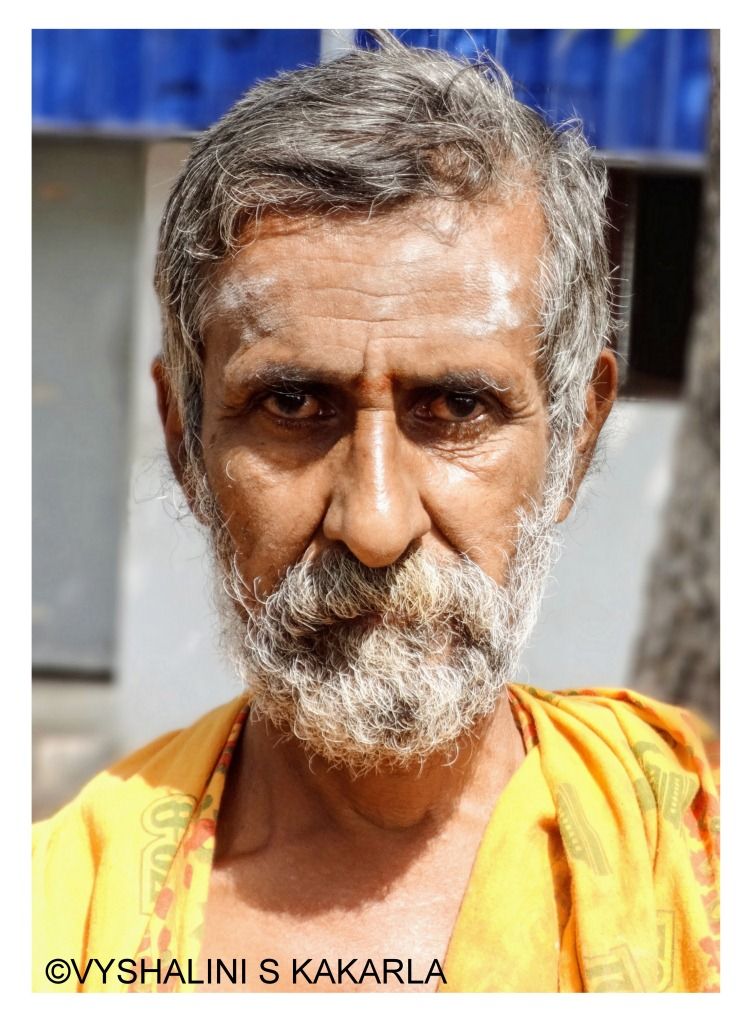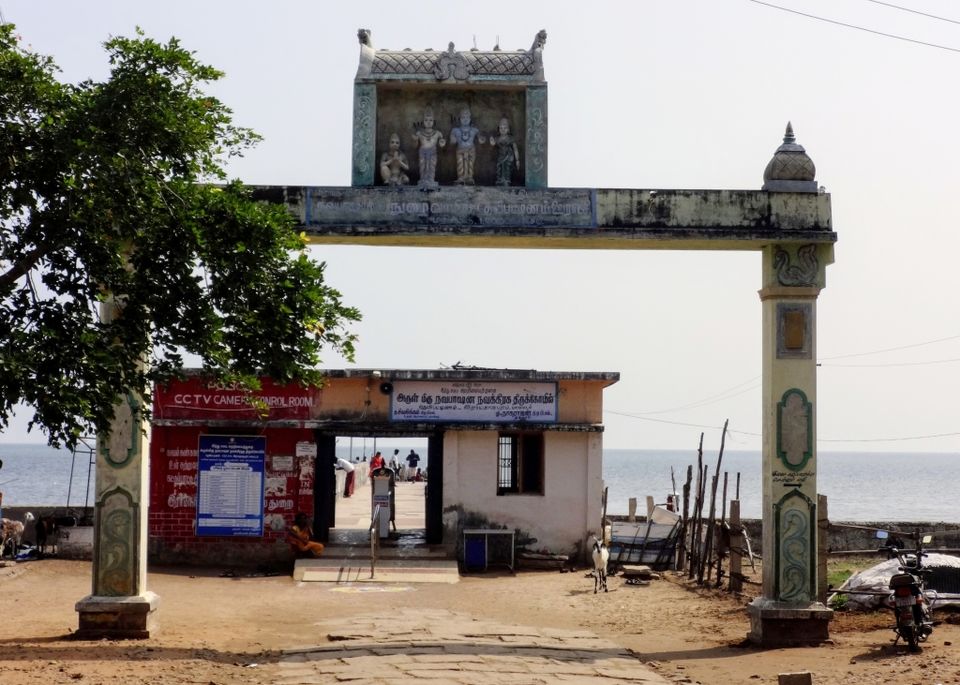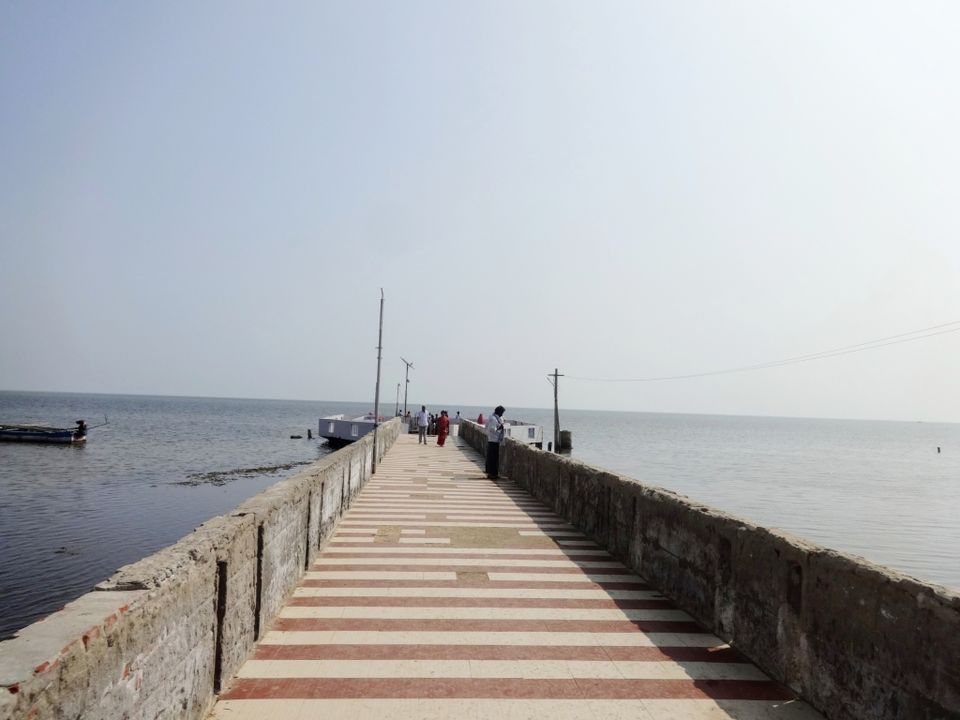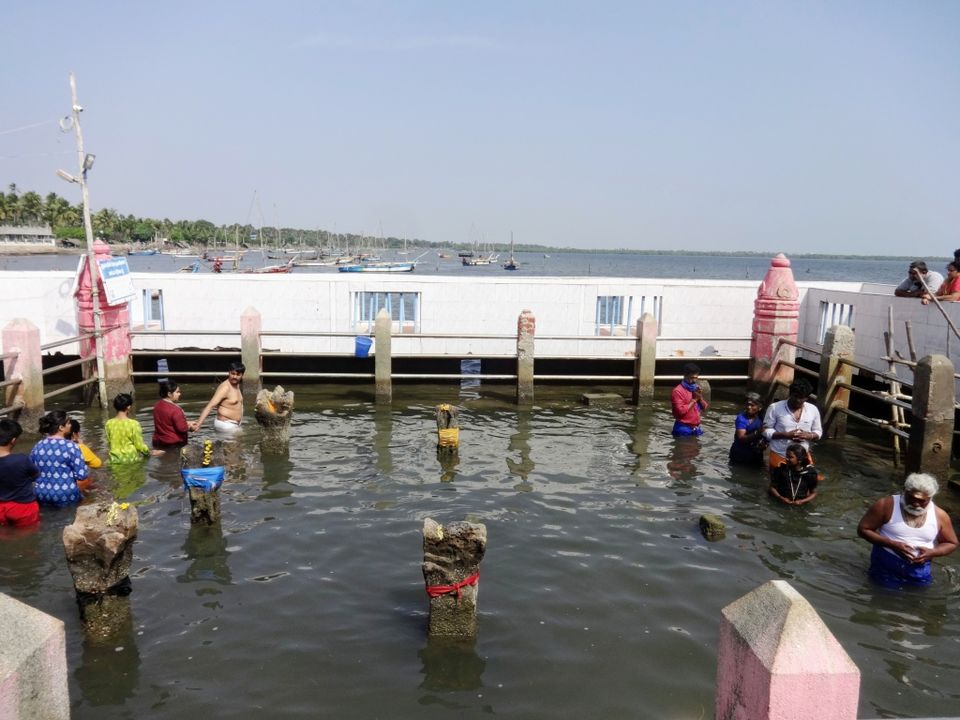 We did a crazy ritual as advised by a grandma who runs a shop there. We bought two thaalis (yellow threads with turmeric) symbol of marriage. We tied it to the stone near the banyan tree where hundreds of yellow threads were already tied.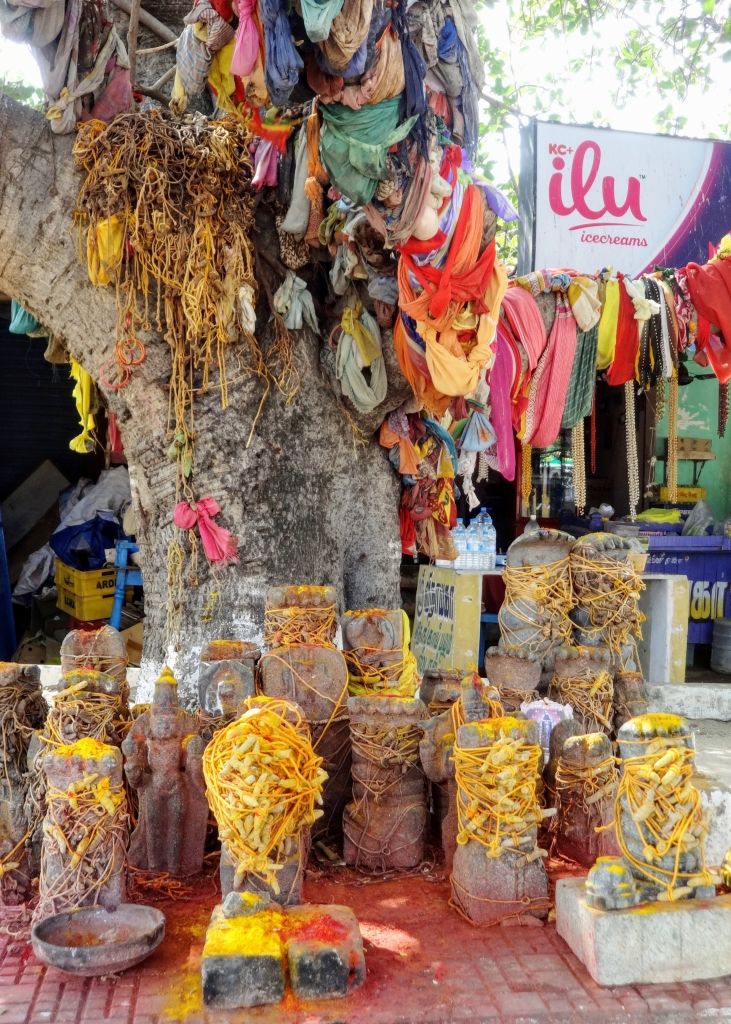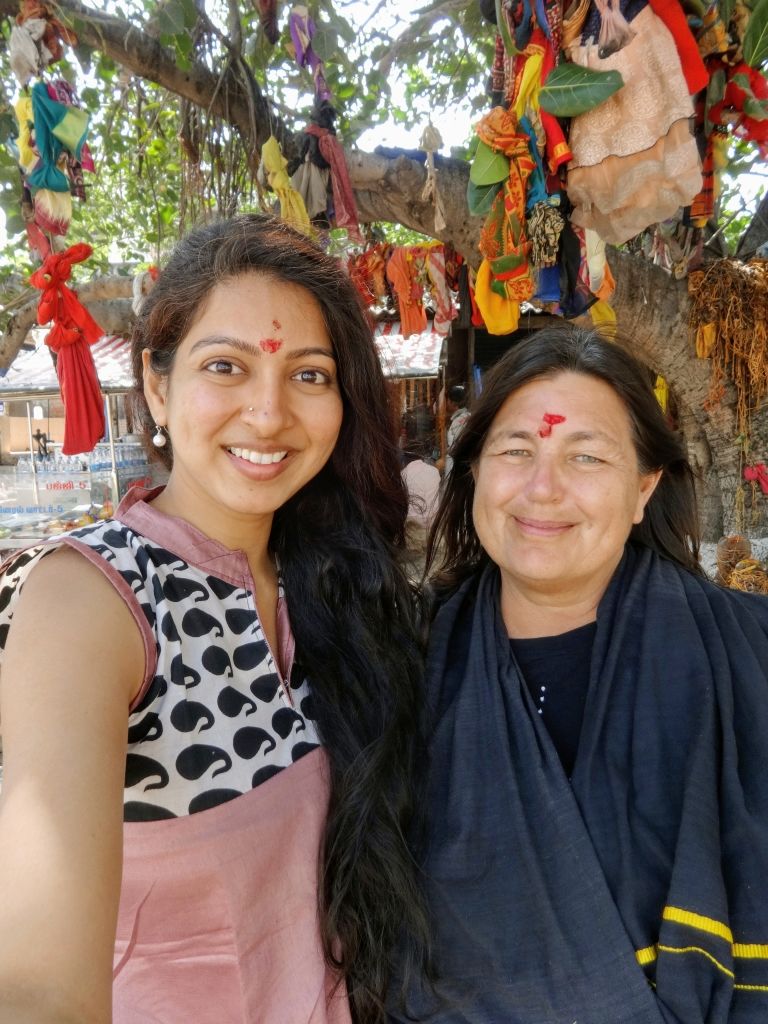 Grandma blessed us to find the suitable partners.
Criss laughed and said, I am already 56
May be i will find one who loves me and travels with me. That was so lovely of her.
And I will tie the knot only when i find an equally weird man ??
From there we started to Nagercoil via Thoothukudi
I have motion sickness, i did stop the car and puke once ??
On our way, we had a cup of ginger tea at a stall in Nanguneri Toll Gate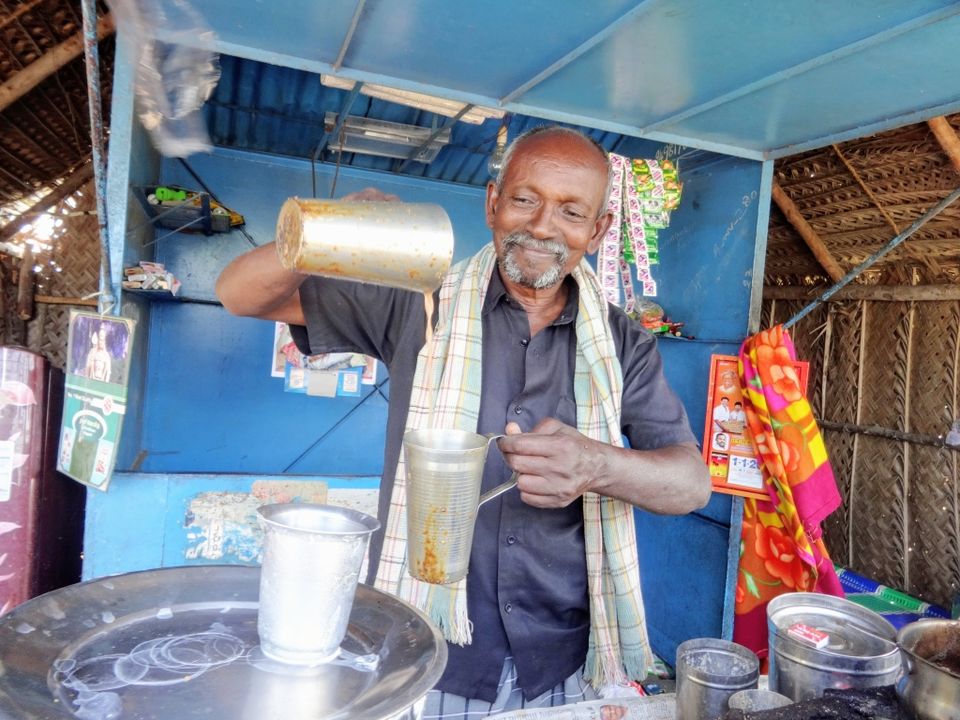 We reached THUCKALAY near Nagercoil
We booked a room at Elite Residency, which is on the main road.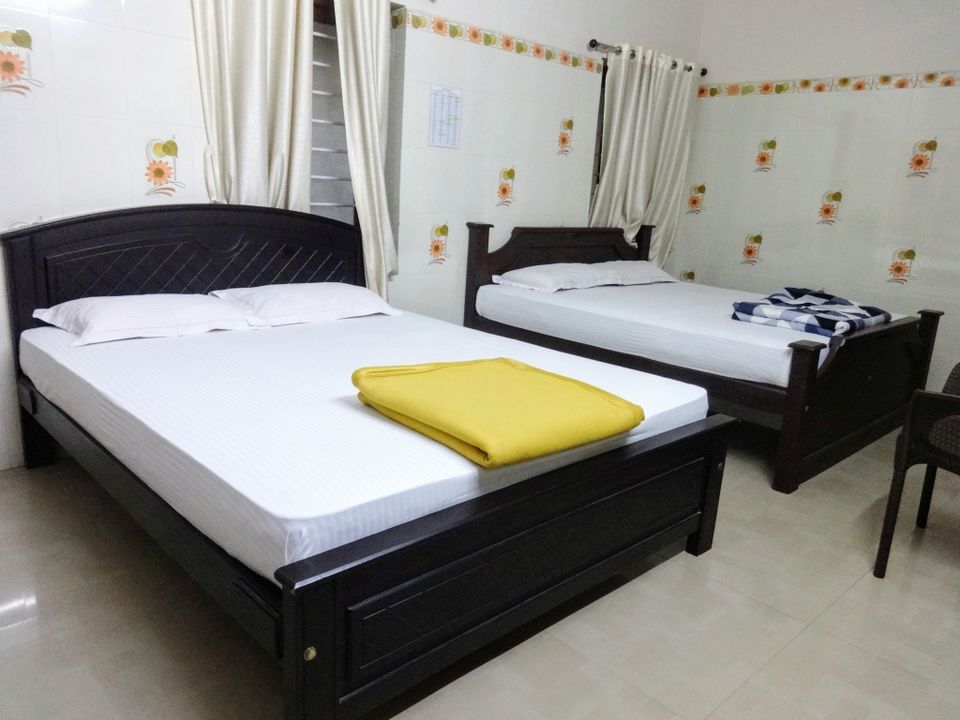 Dinner at Mubarak, I had mushroom biryani, was good and Criss had prawns one.
Then we shopped some organic stuffs at a Swadeshi store in Thuckalay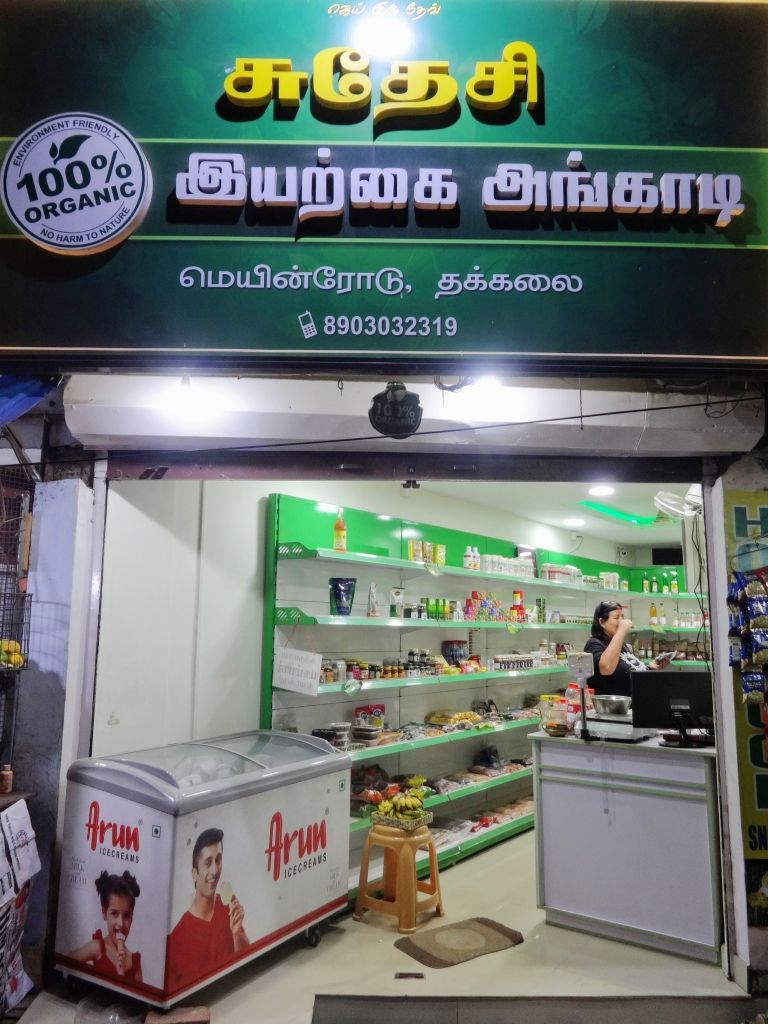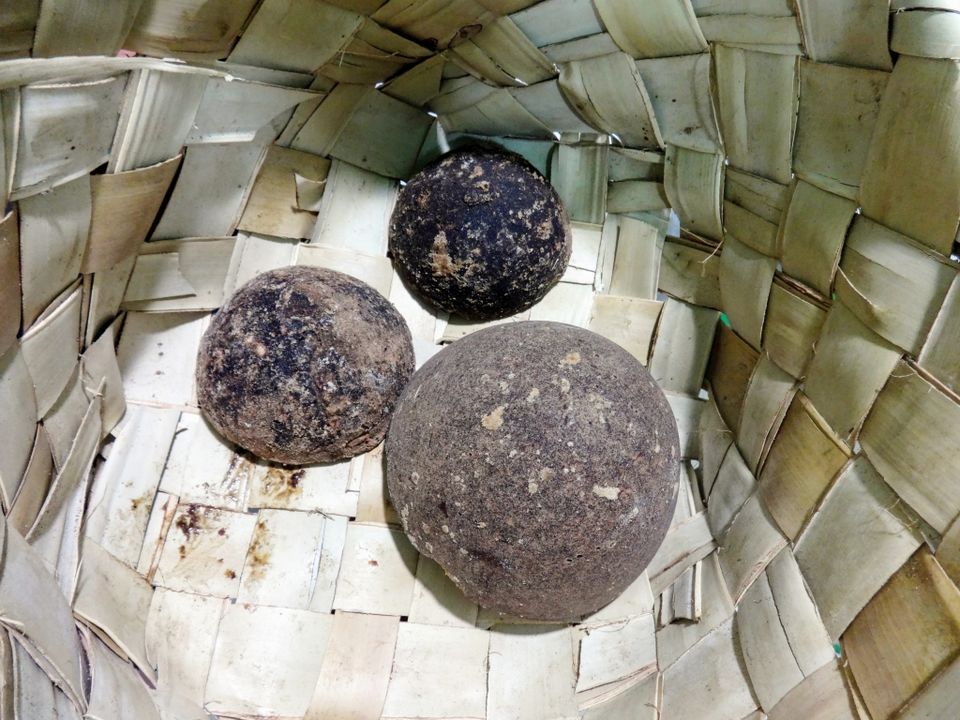 We returned to our hotel to rest.
Criss showed me some of the beautiful handmade baskets, she shopped from M.Rm.Rm Cultural Foundation, Chennai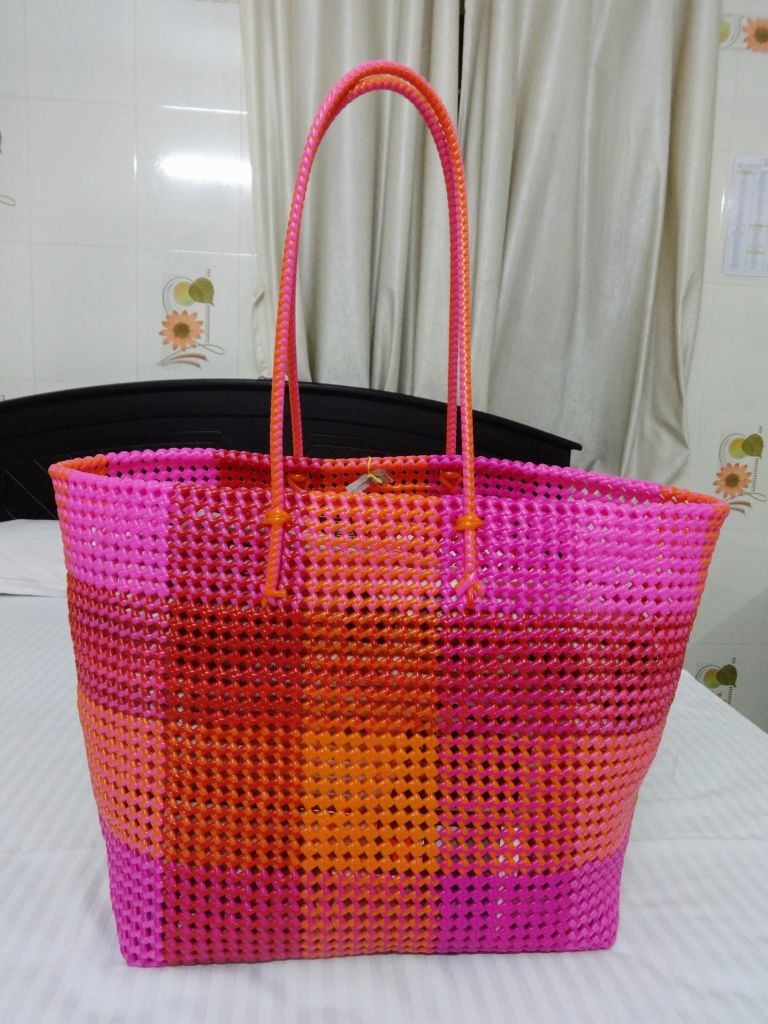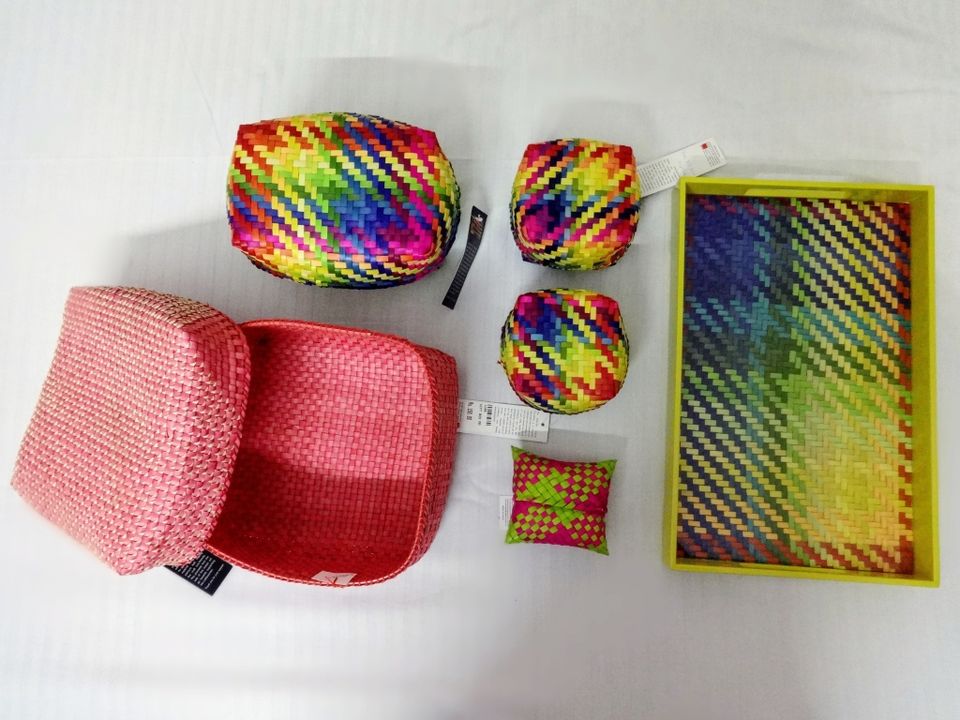 15th JAN 2020 -
Festival, and I was away from home, missing mom's sweet pongal
Wore a saree. And I wanted to decorate my hair with Jasmine flowers, bought some for rs. 100 (Priced high during the festivals) from a flower shop in Thuckalay's Bus stand corner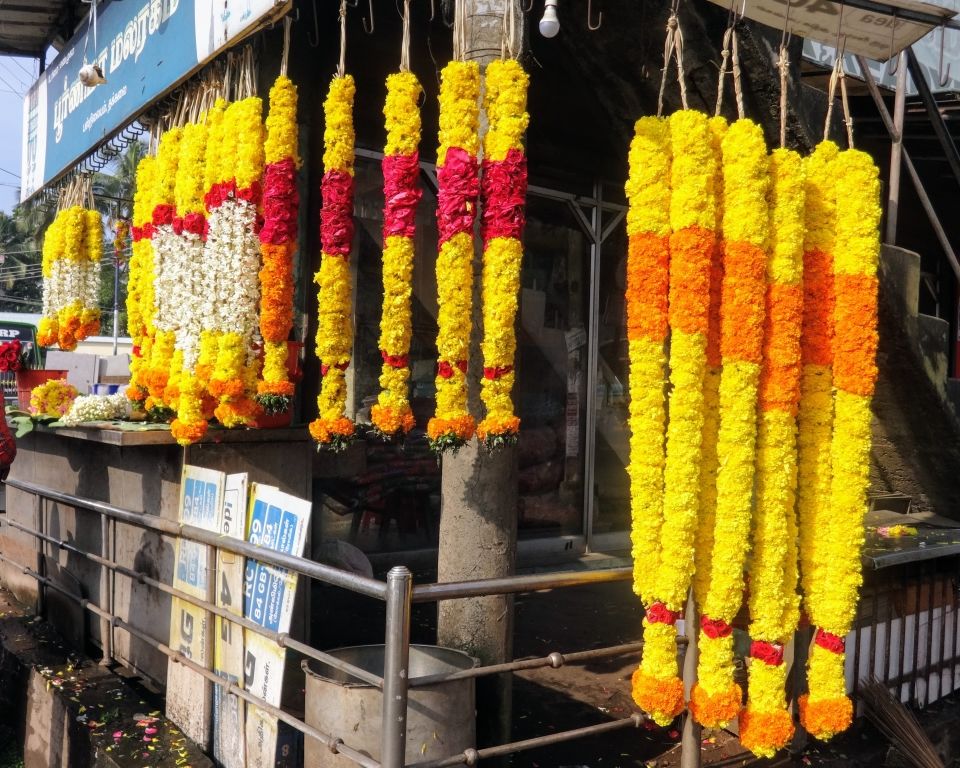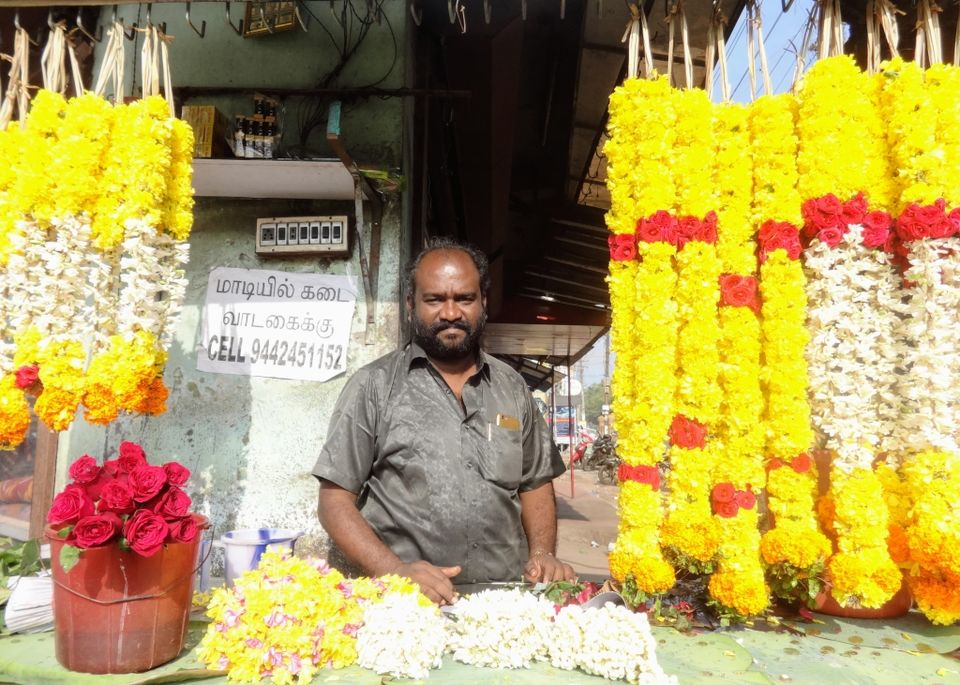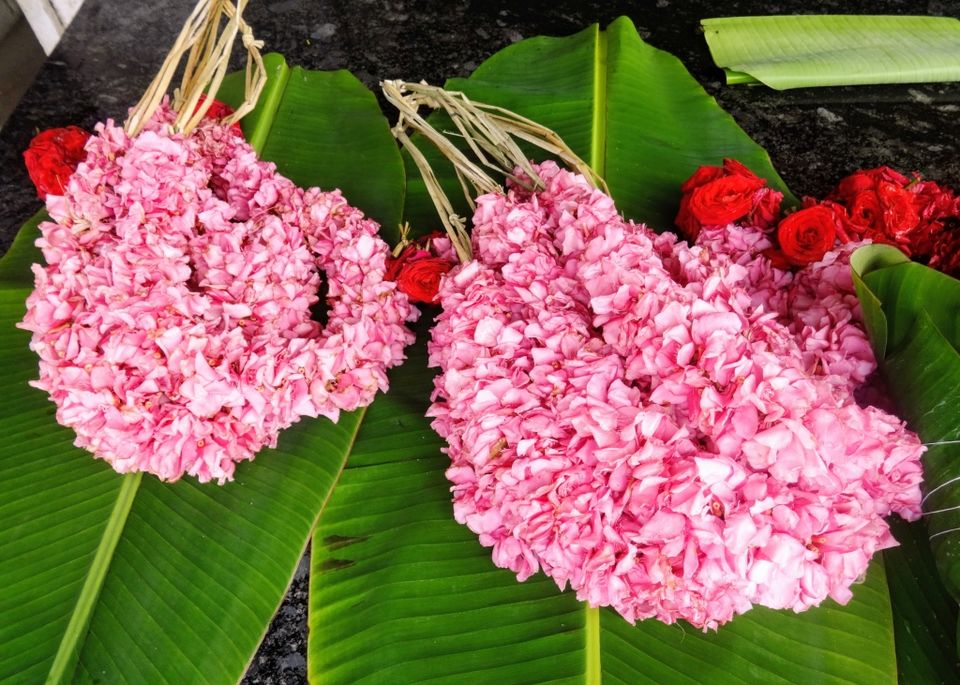 South Indian breakfast Roast + vada at Uma Shankar, Thuckalay
We boarded a bus (13g) to Padmanabhapuram Palace.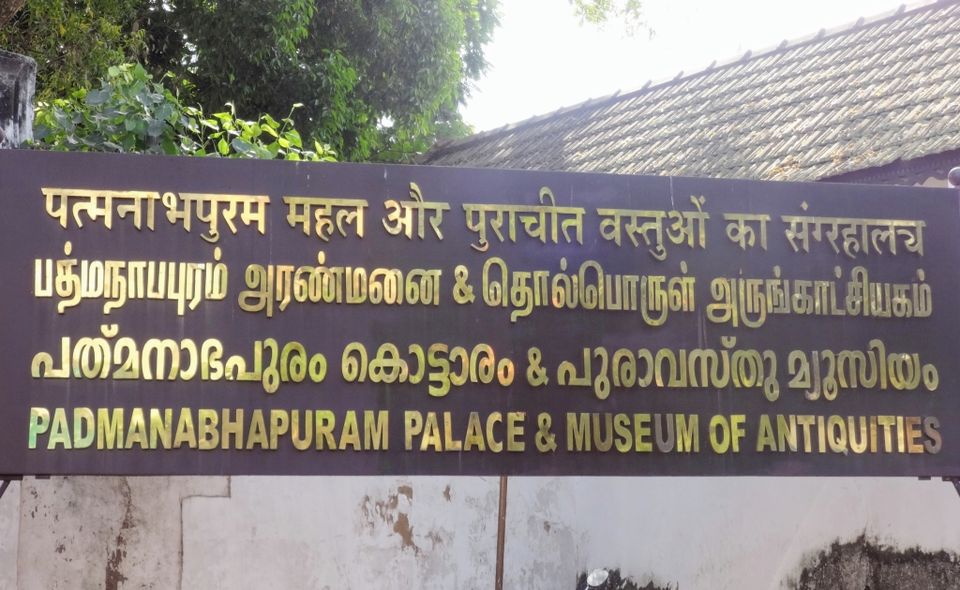 When we reached there, we were disappointed looking at the holiday notice.
We had fresh Palm fruit from the shop opposite to the palace. And Criss picked up a beautiful piece of miniature Rickshaw from the shop nearby.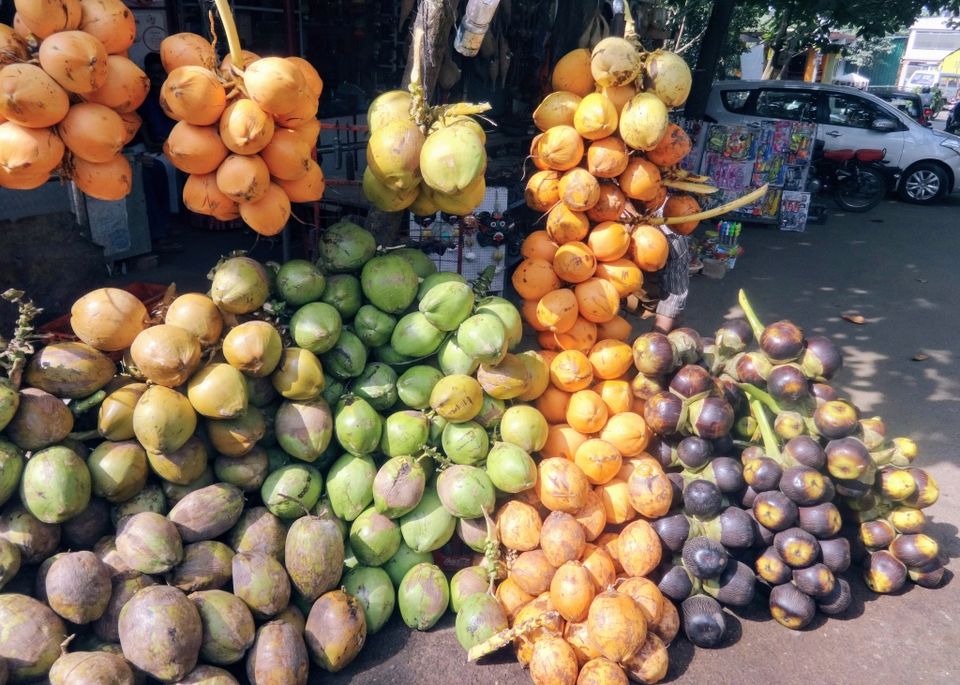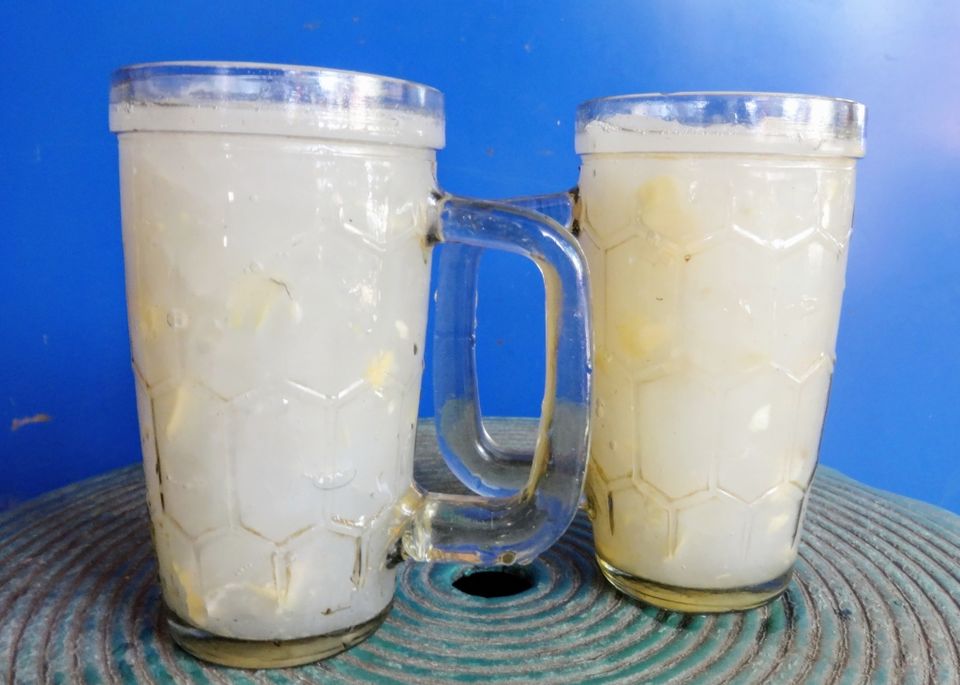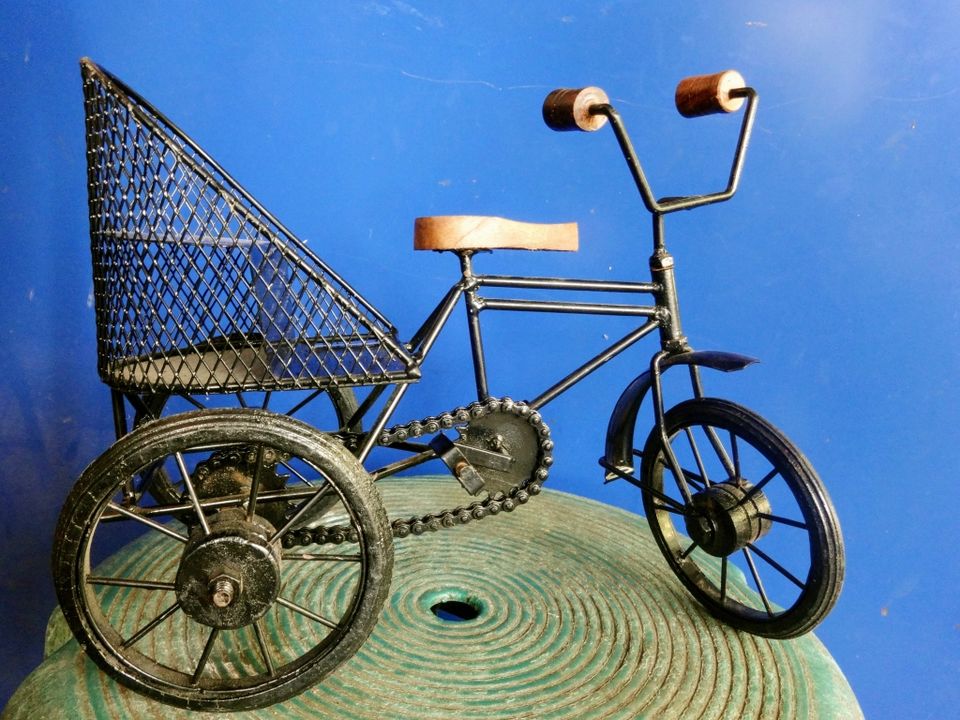 Then we visited Nikki bonsai garden, run by Mr. Ravindran Damodaran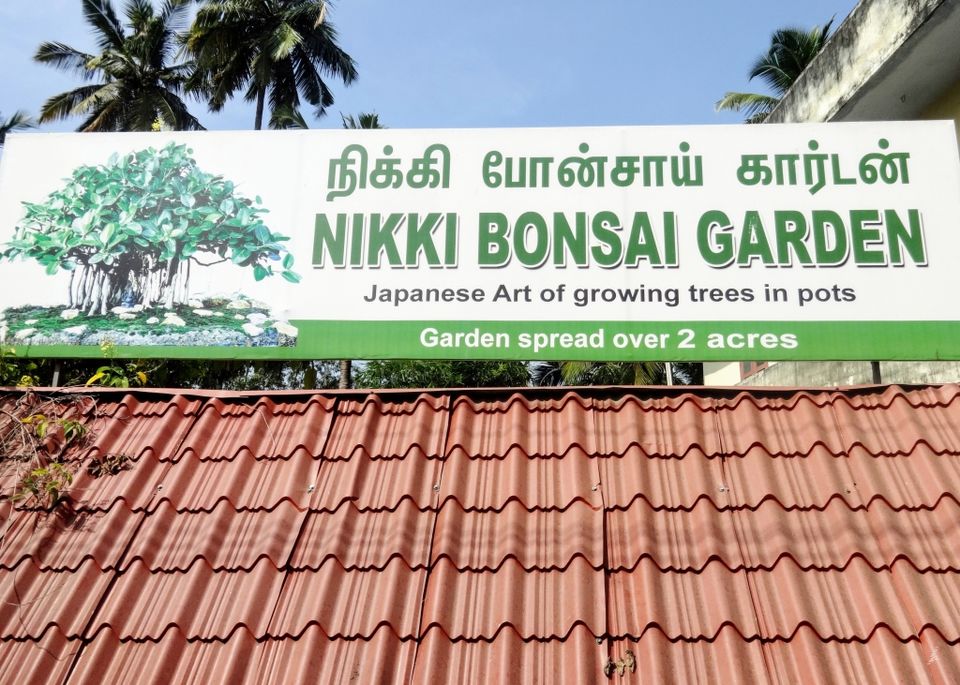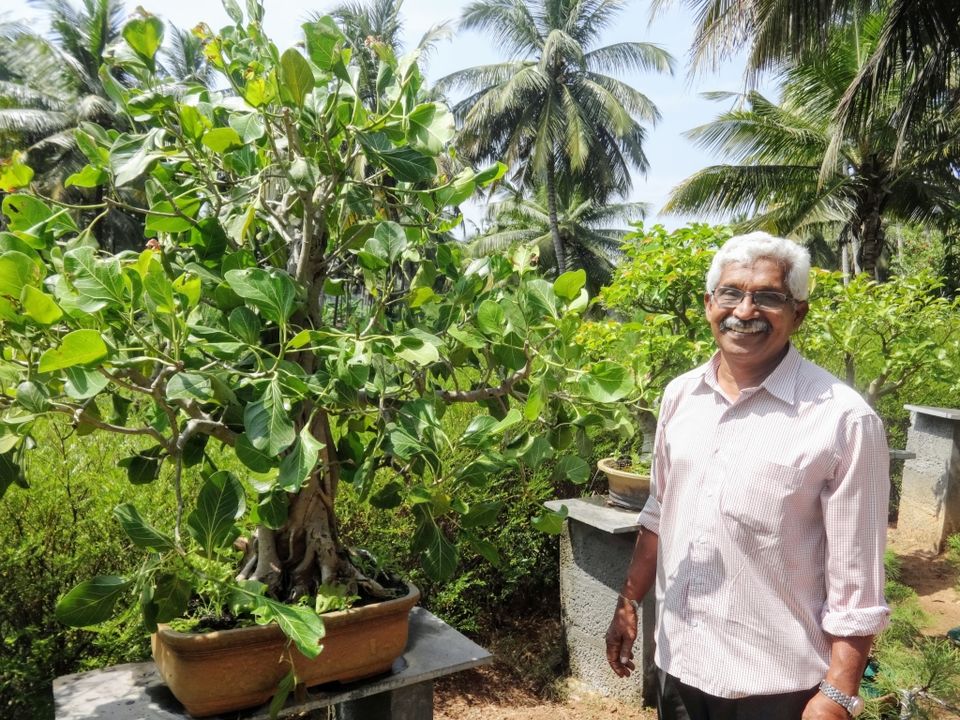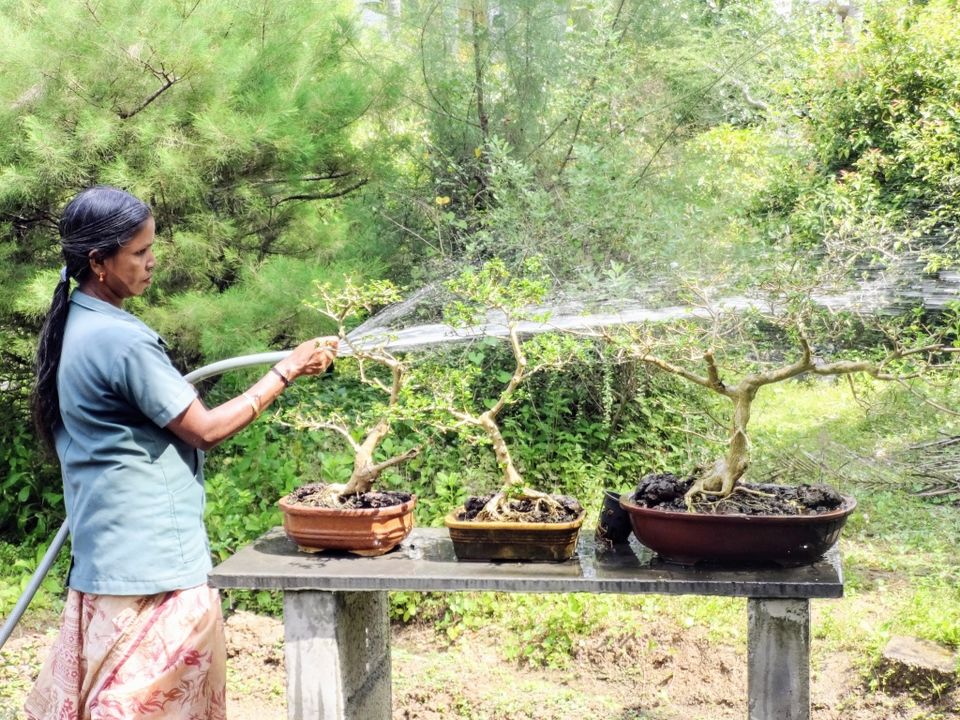 Was quite interesting to see his bonsai creations. Beautiful garden!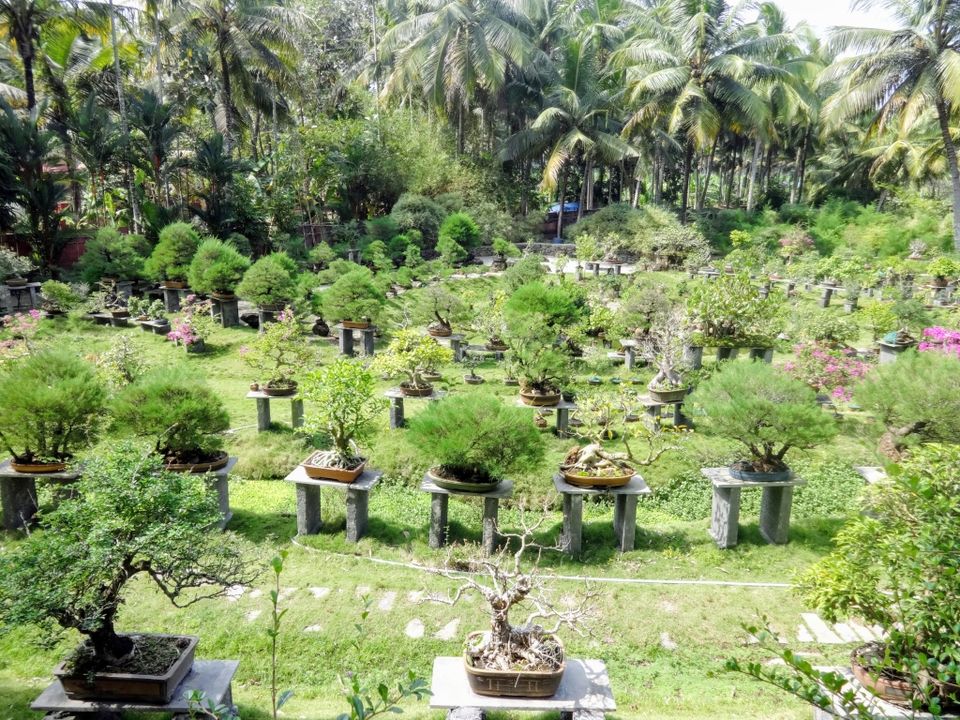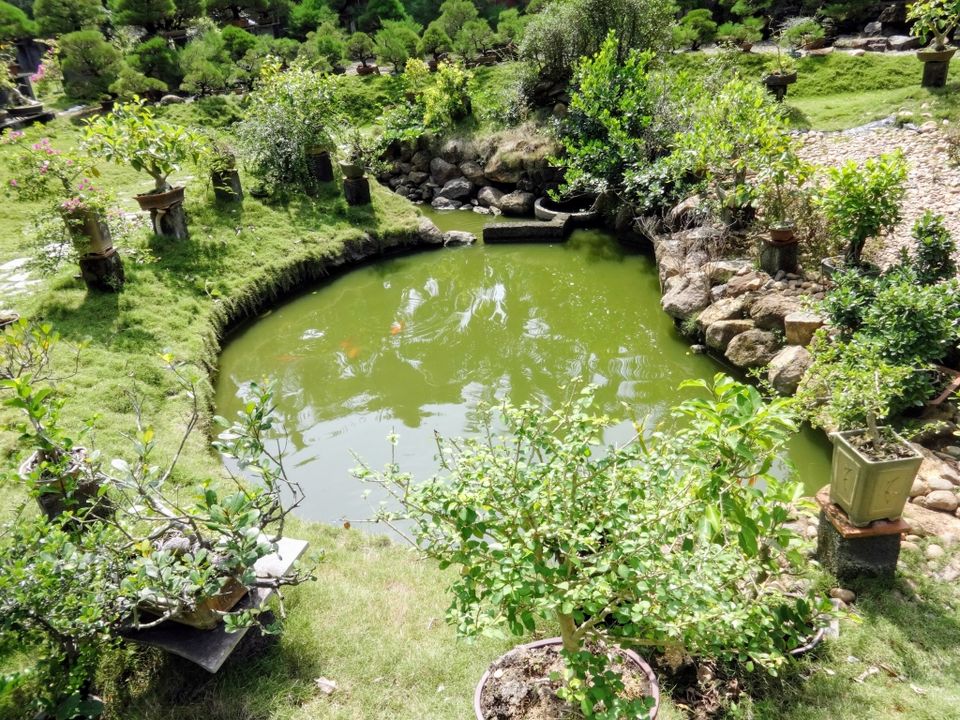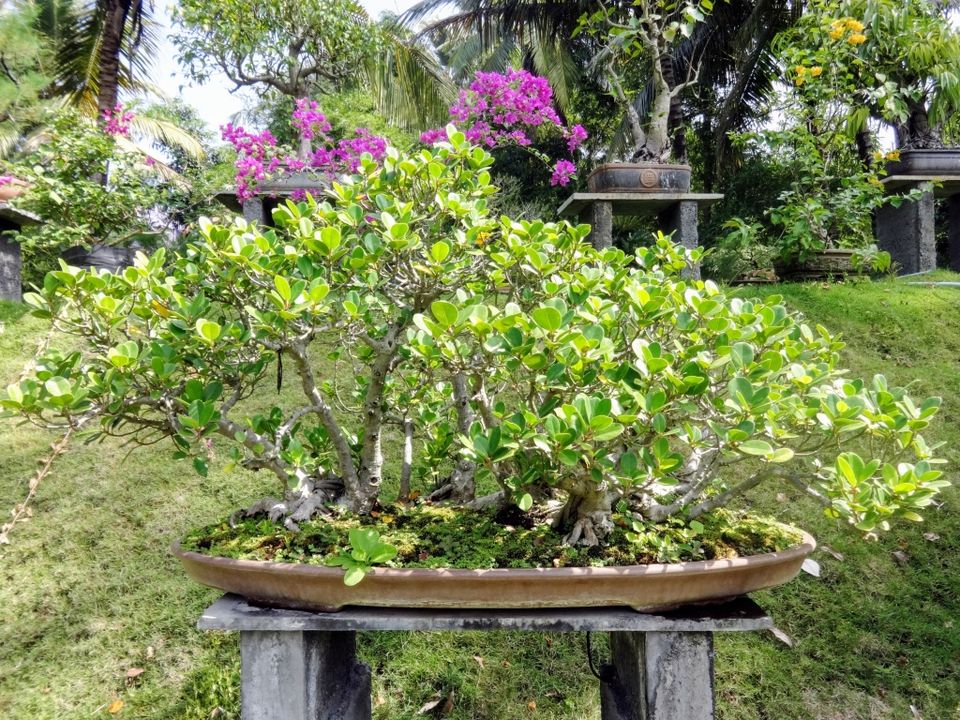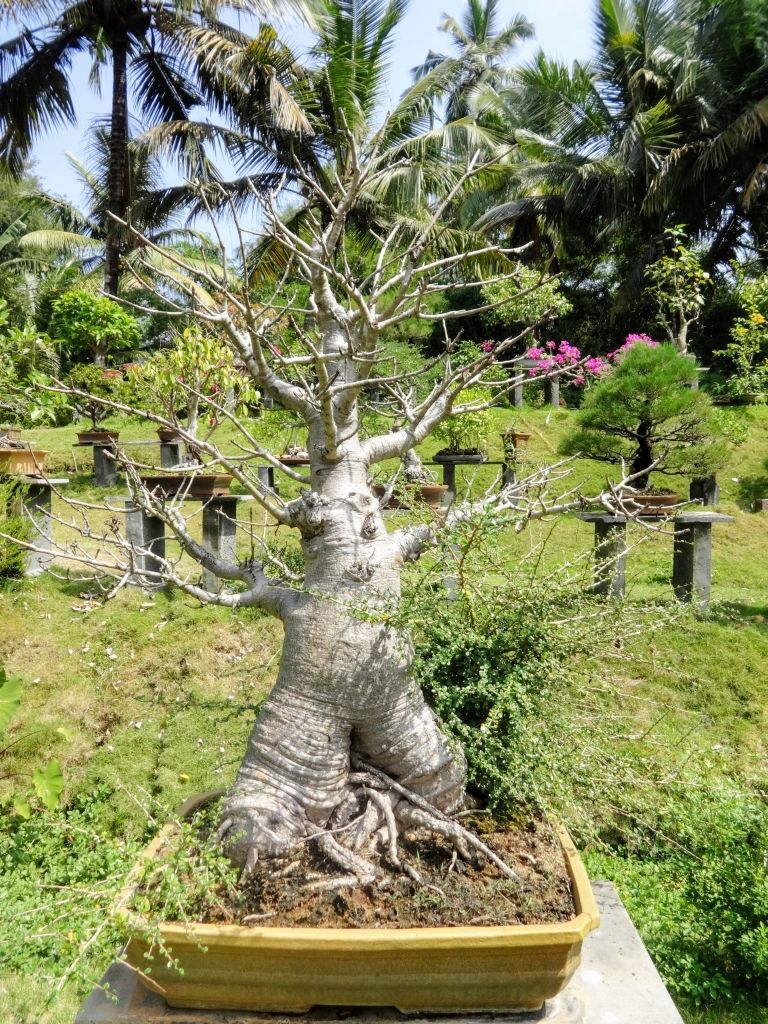 Then we hired an auto to Kanyakumari
Beautiful rangolis on the way.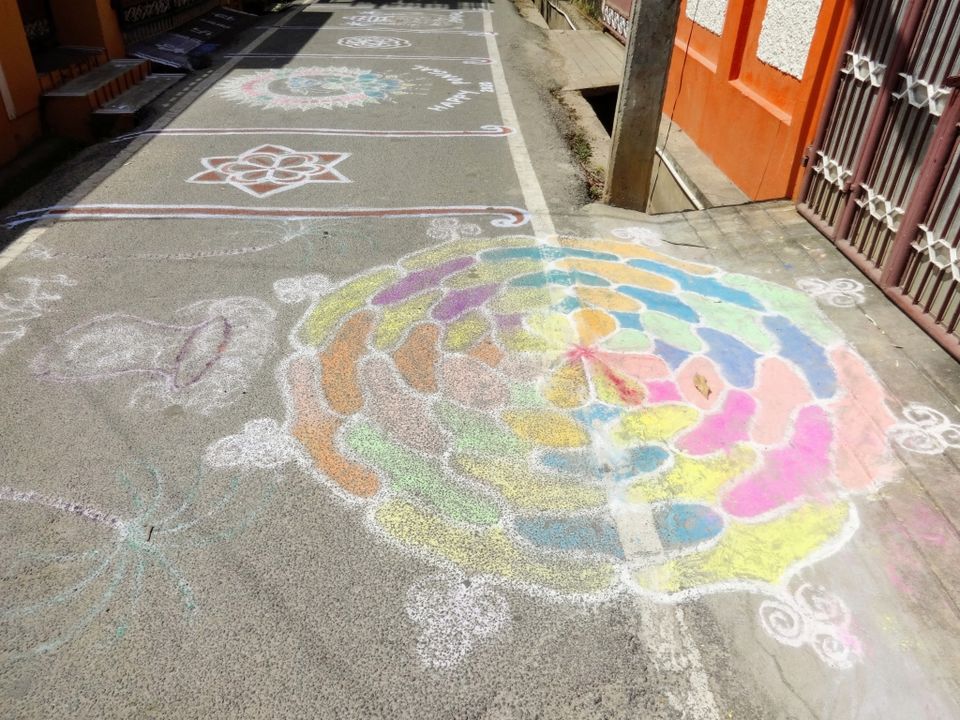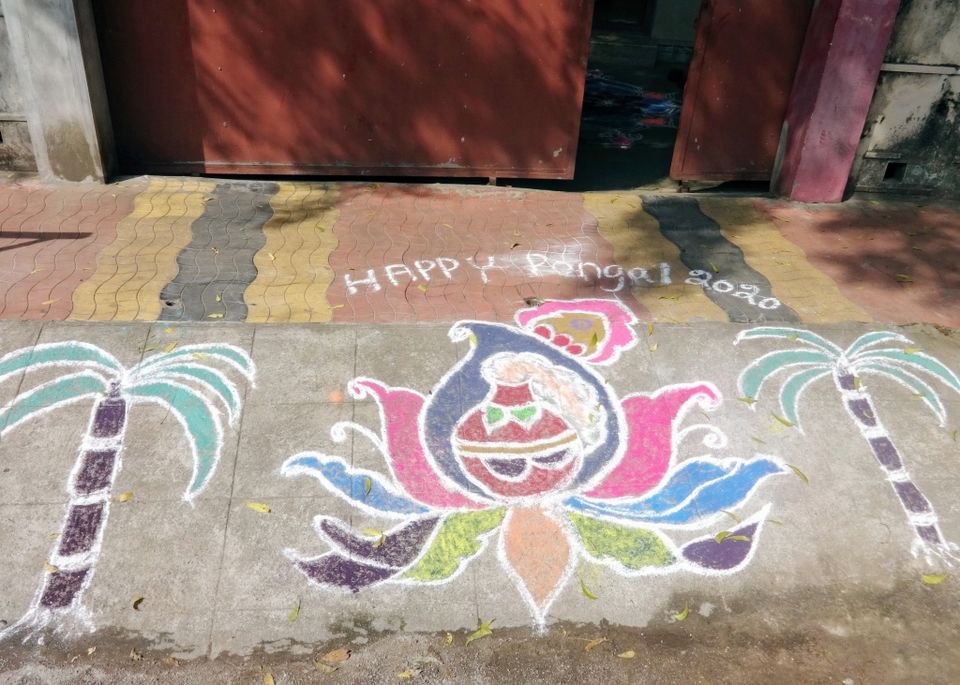 And we tasted some fresh Watermelon.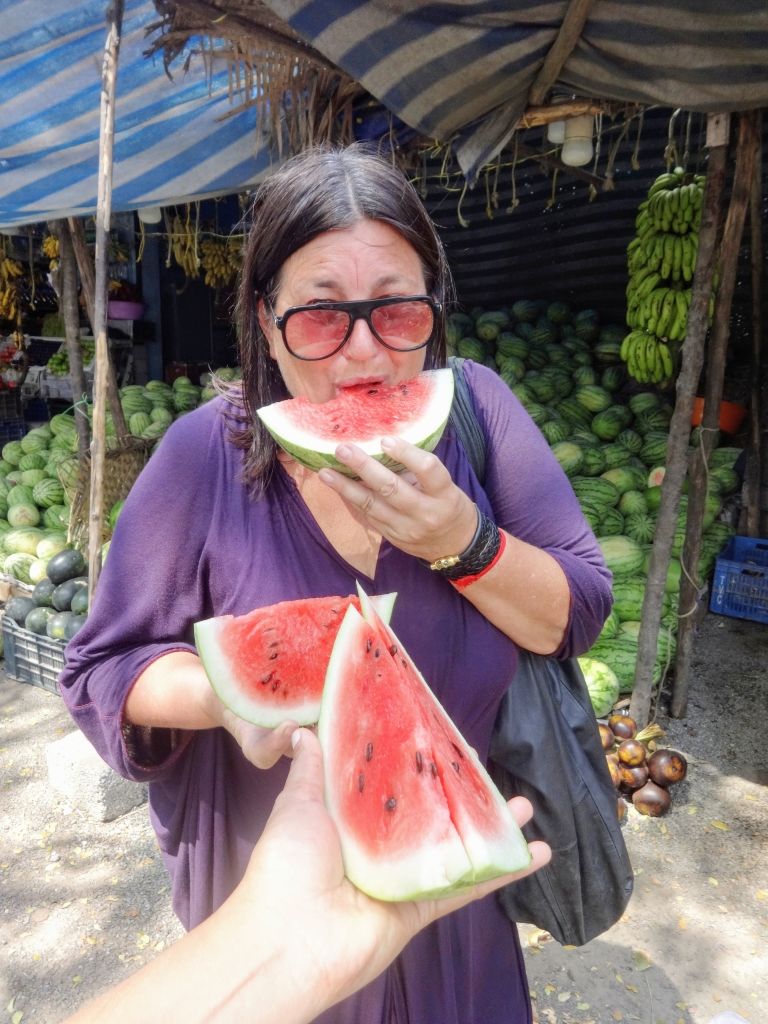 The auto driver showed us Marundhuvazh Malai (Mountain)
He explained me saying, the Maruthuva Malai is a fragment of the Sanjeevi Mountain, a piece of which fell down here, while it was being carried by Hanuman from Mahendragiri to Lanka for healing the fatal wounds of Lakshmana, the brother of Rama - Interesting!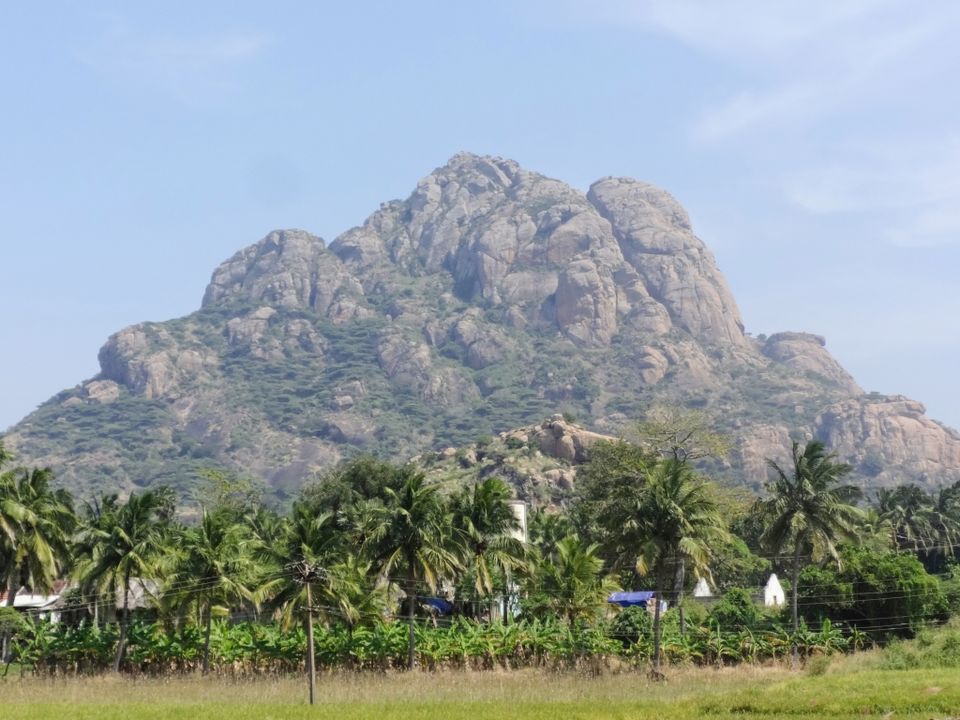 I asked the auto driver to stop near a temple when i saw the banyan trees with the wooden cradles tied to the branches and trunks. Looked very beautiful
Had seen such trees only in some of the Tamil movies before. People pray here to have children
It's Esakki Amman temple near Perumalpuram enroute to Kanyakumari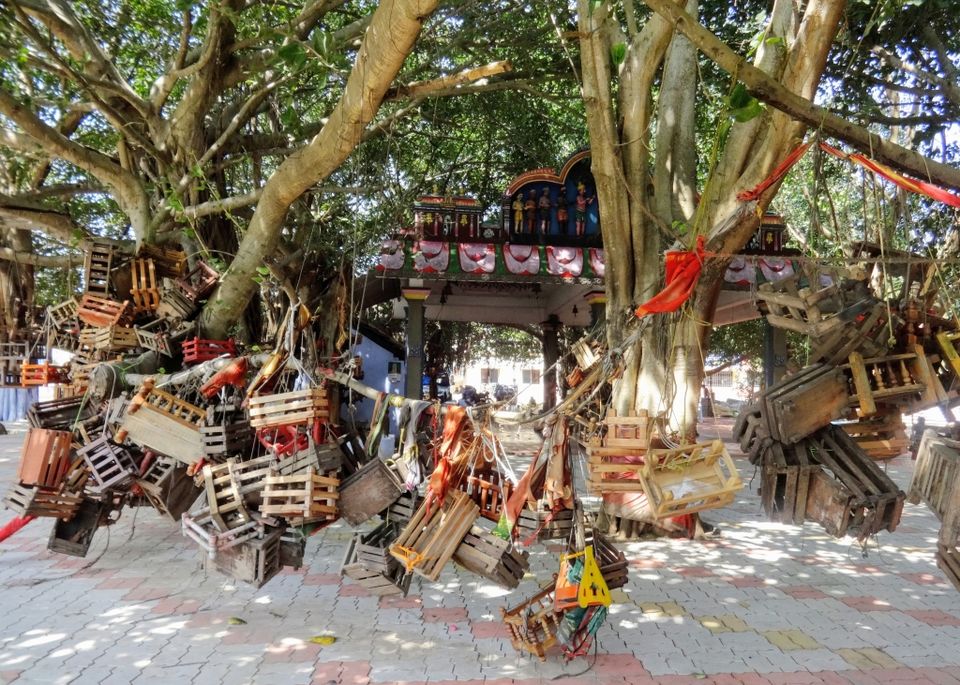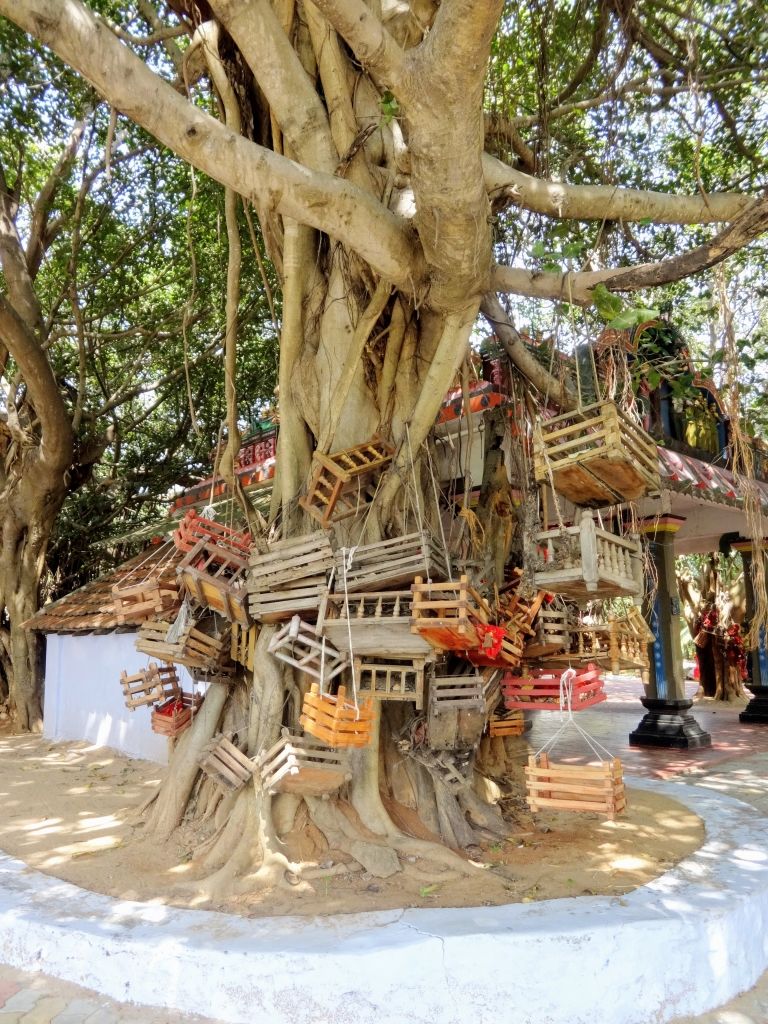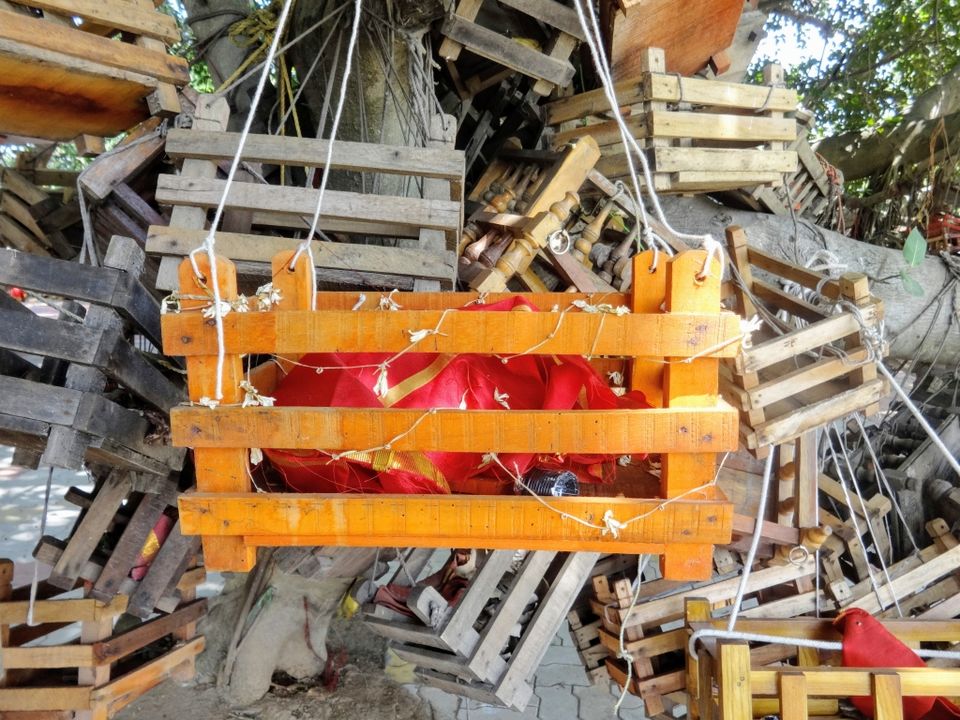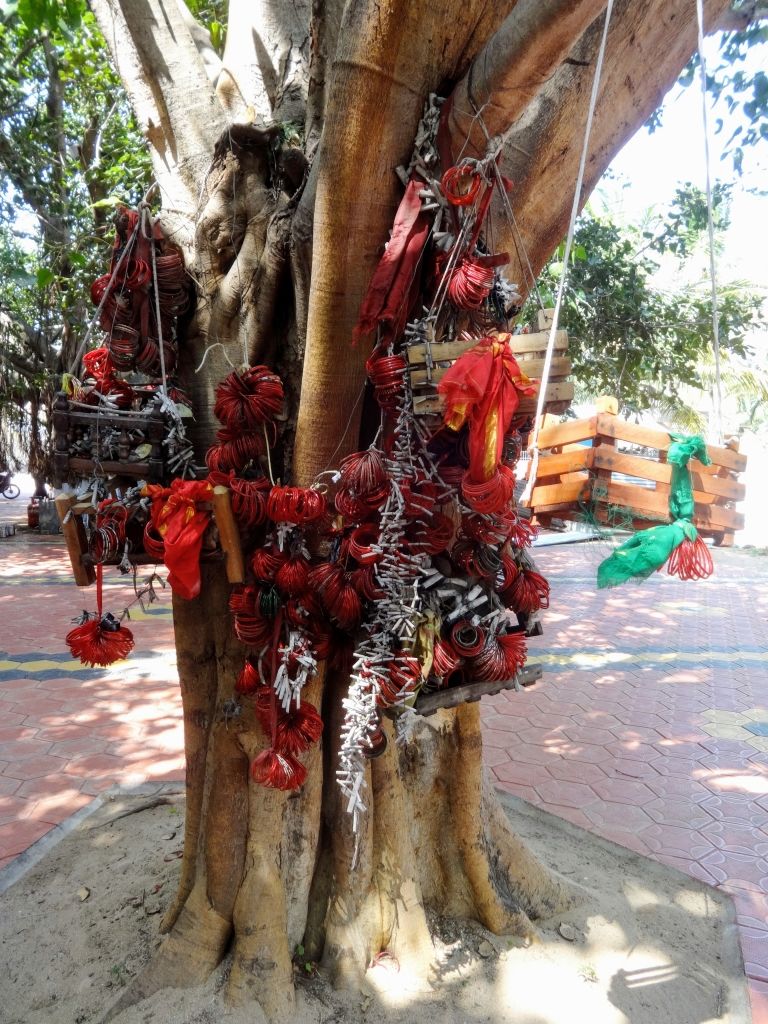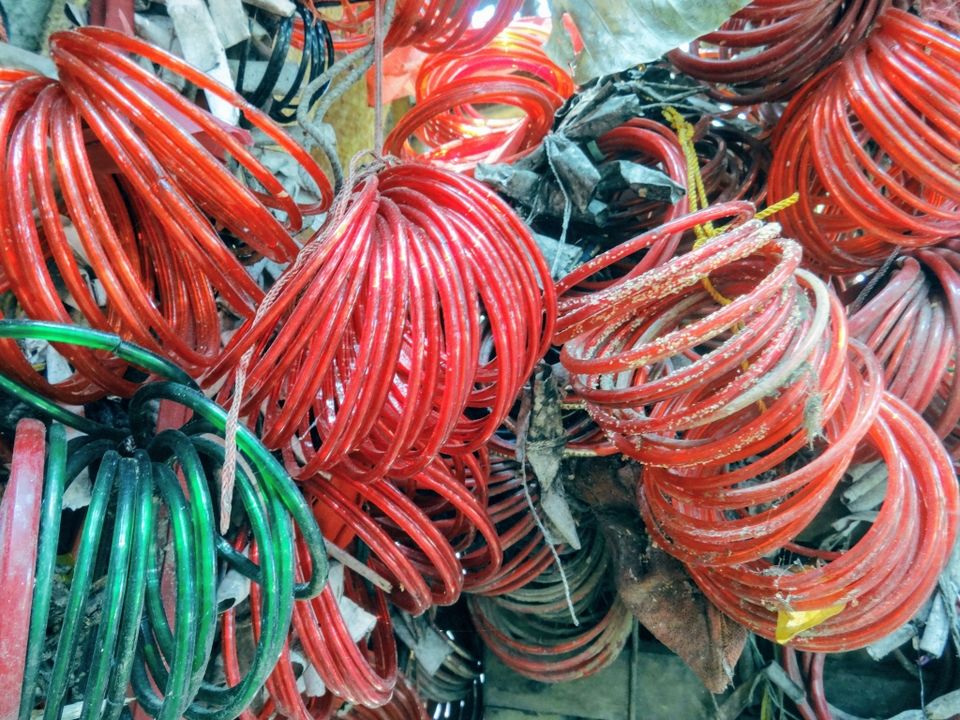 We took a ferry ride to visit Vivekananda memorial
Amazing view!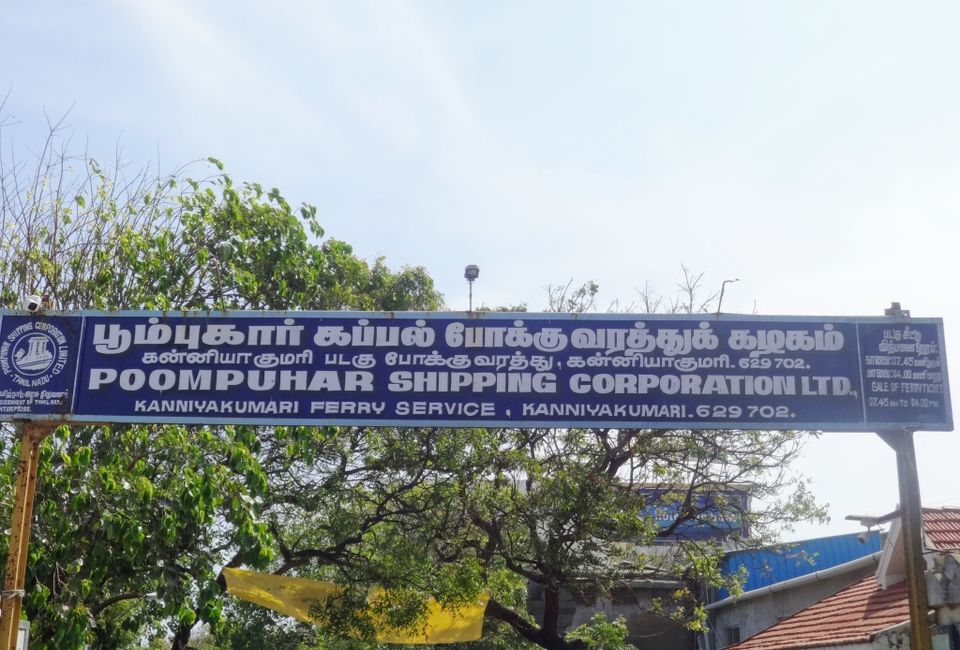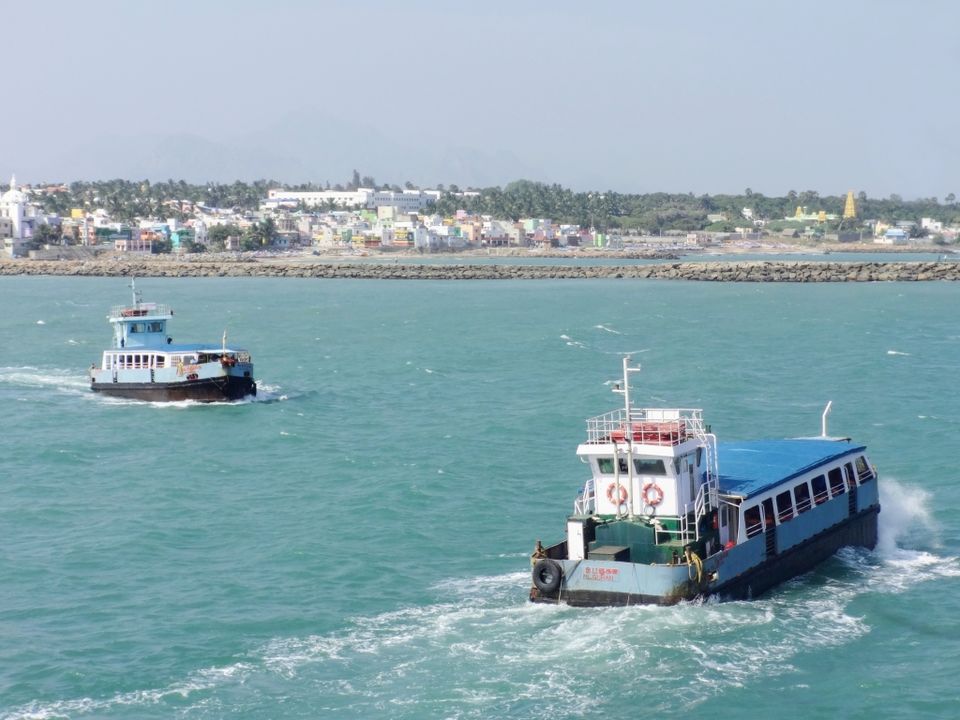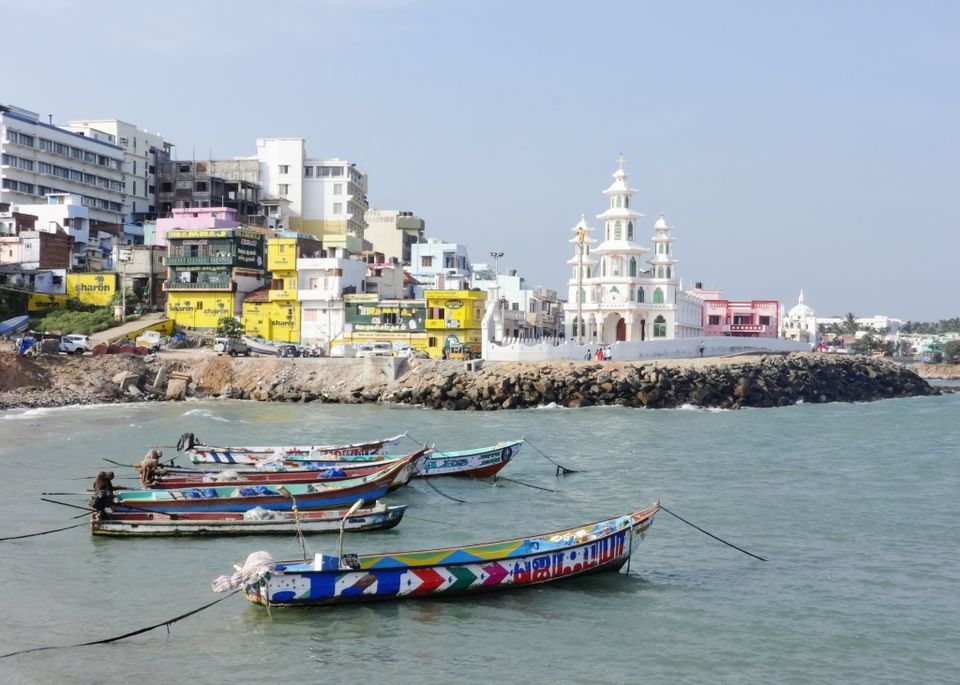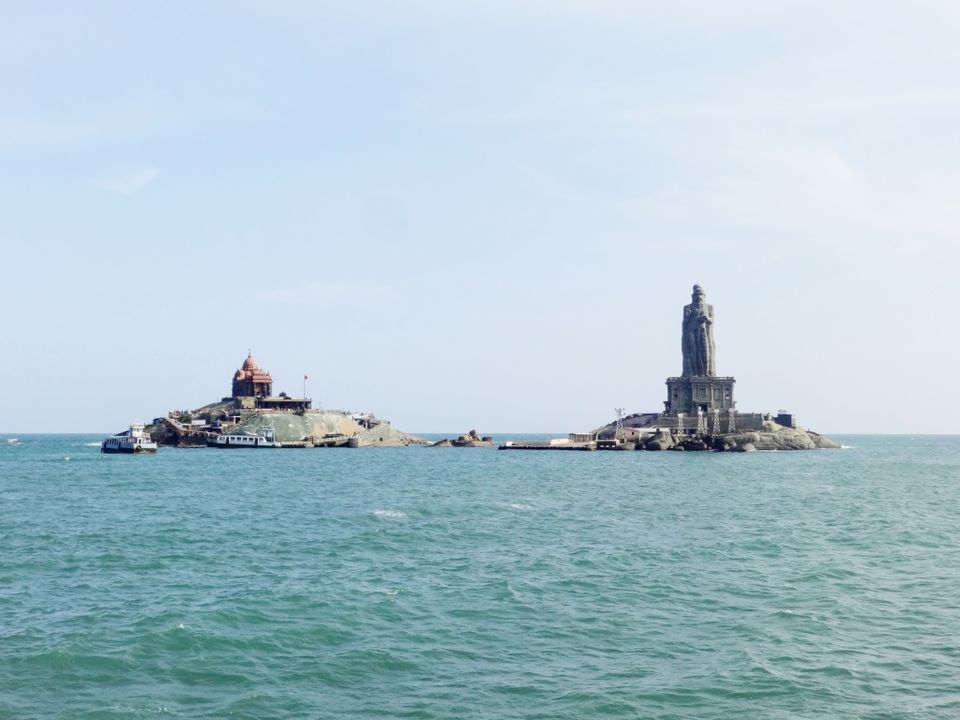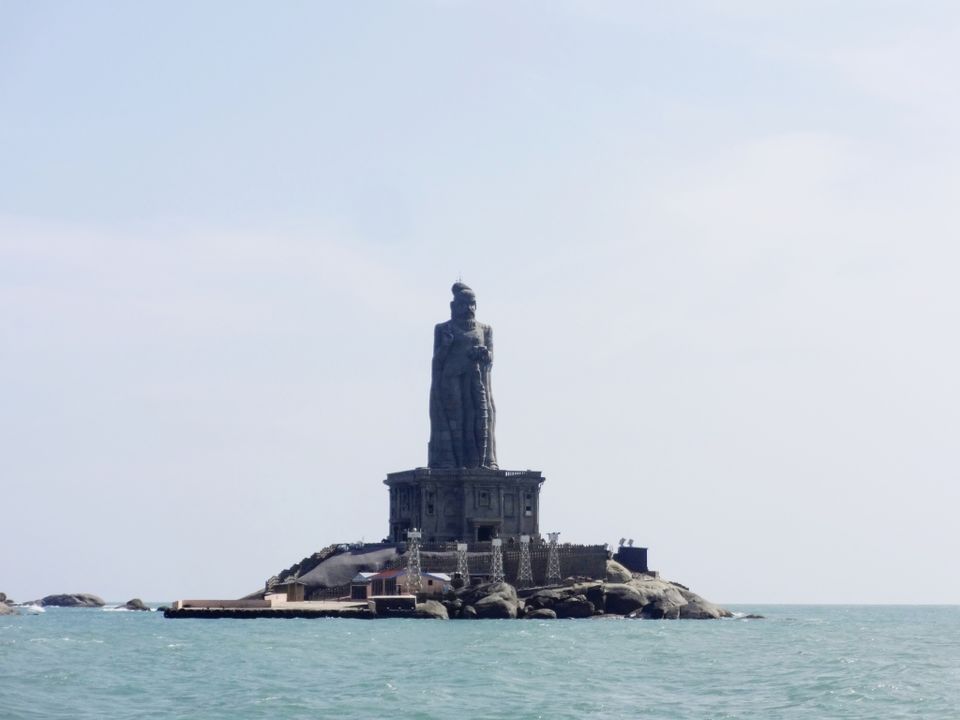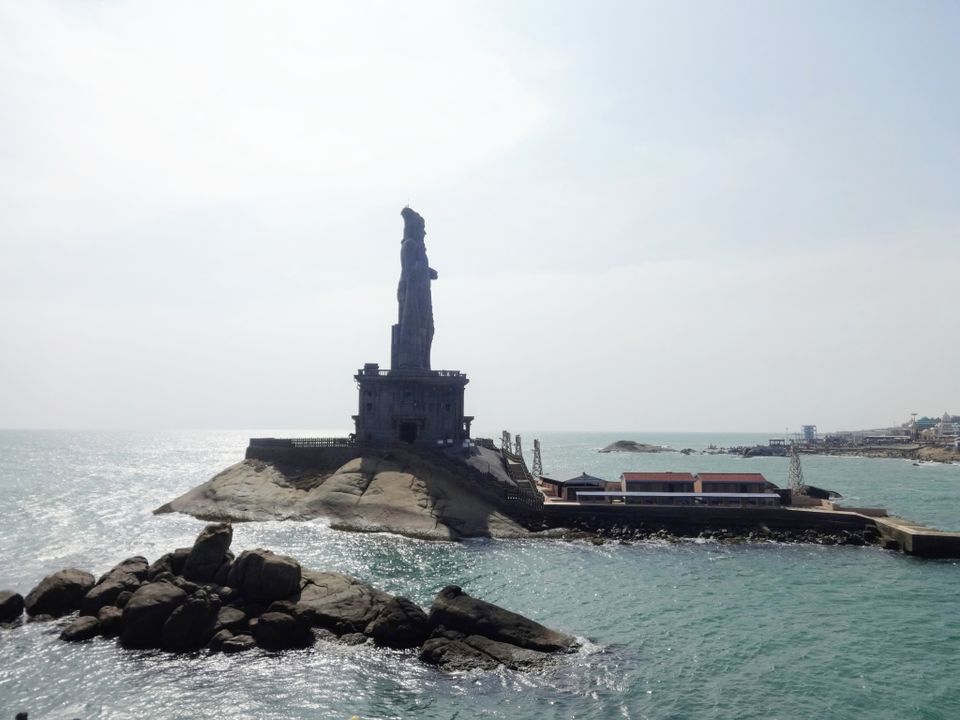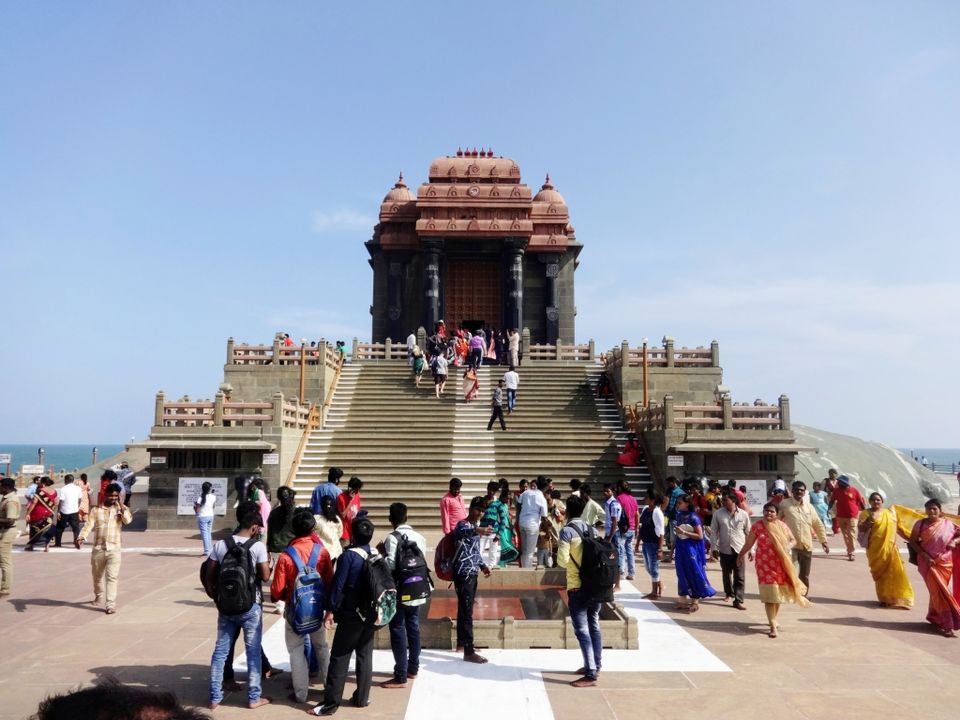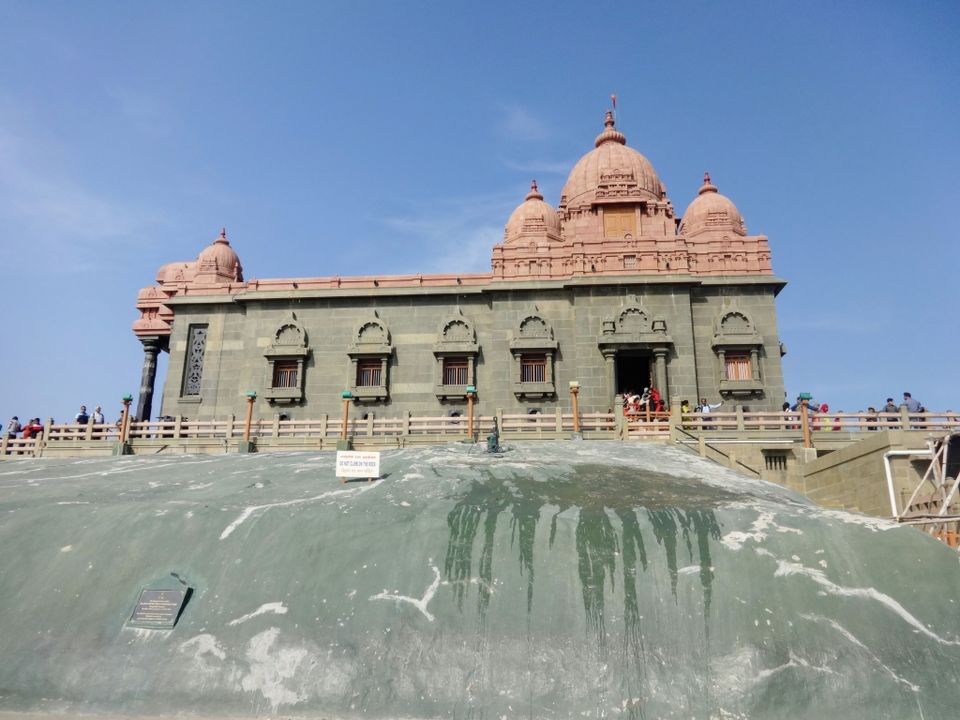 We had lunch at Saravana Veg, Kanyakumari
It was good.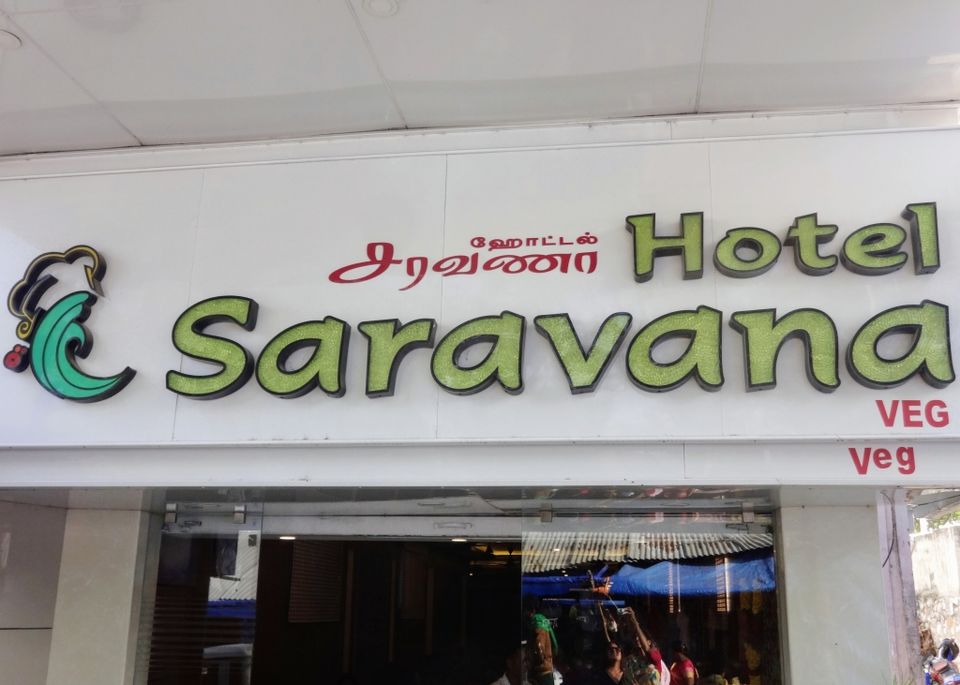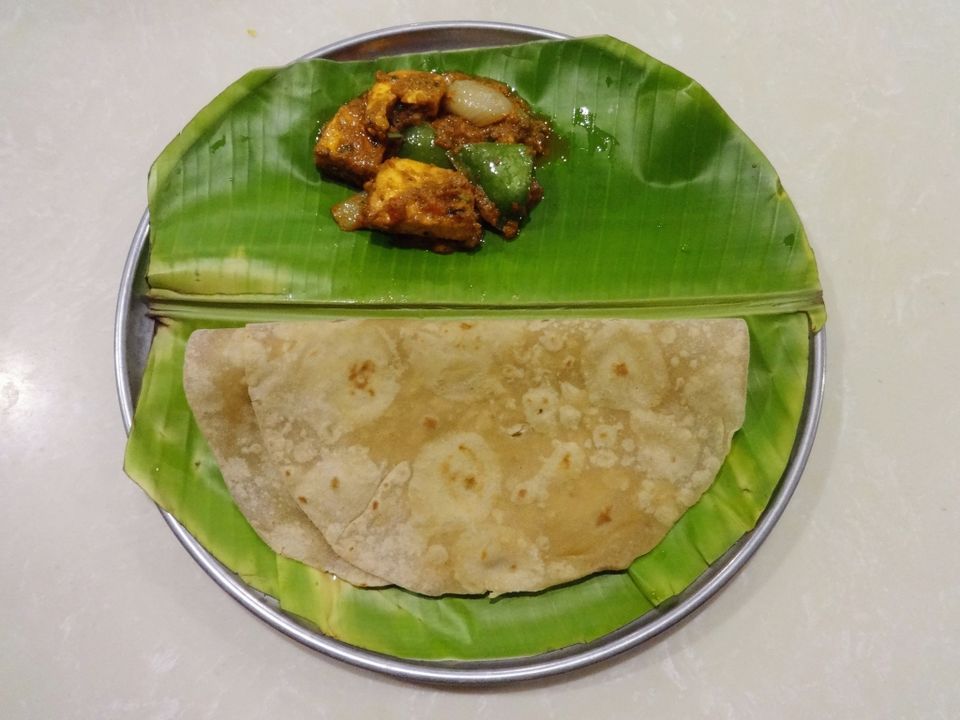 On our way back, I saw some people selling beads and chains. I bought chocolates to their kids and they were all smiles. They are from the Narikurava community
I have always seen most of them selling beads. Also they usually have many children. I wish they develop over time and educate the future generations.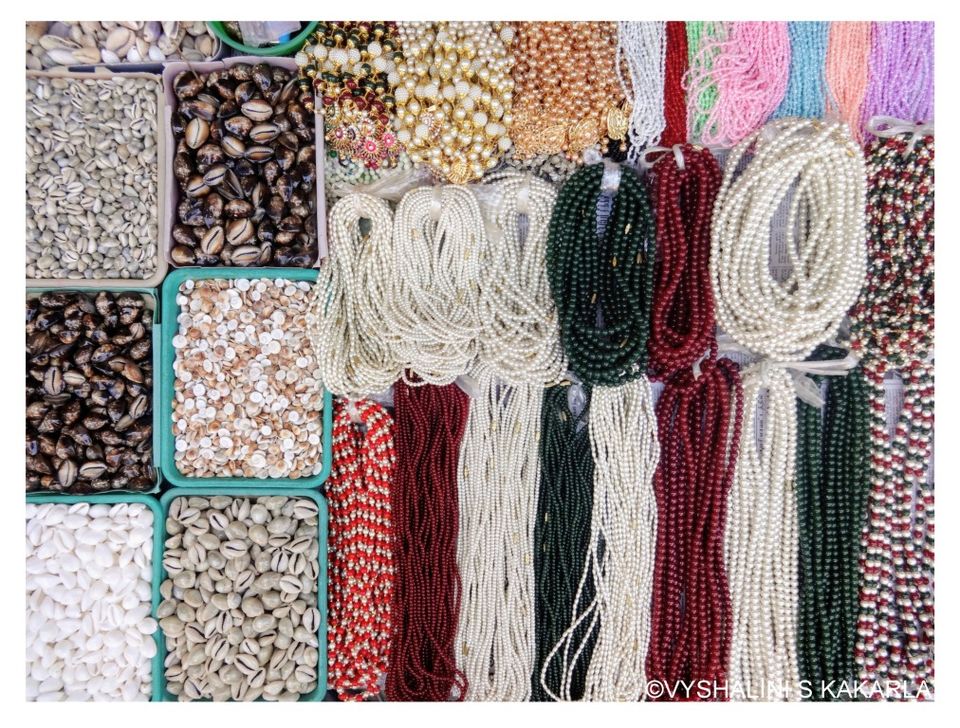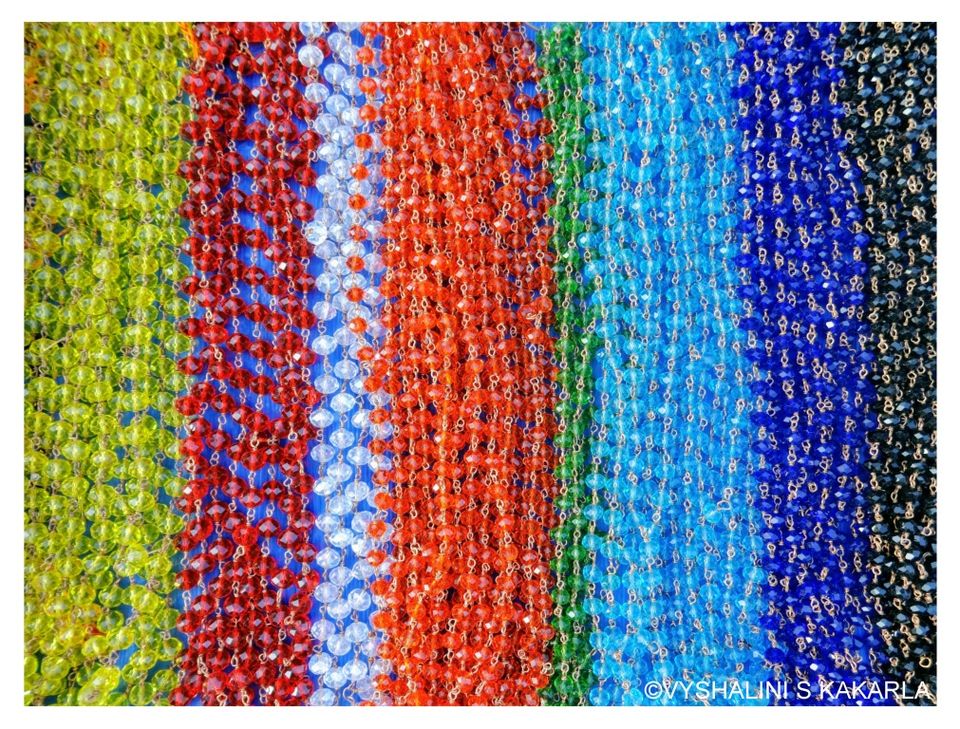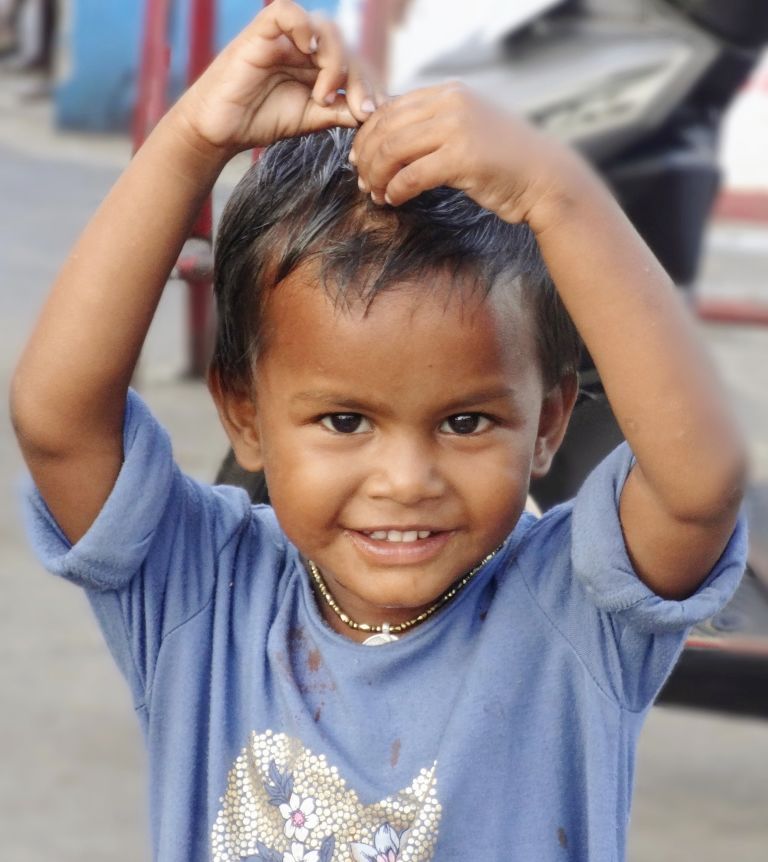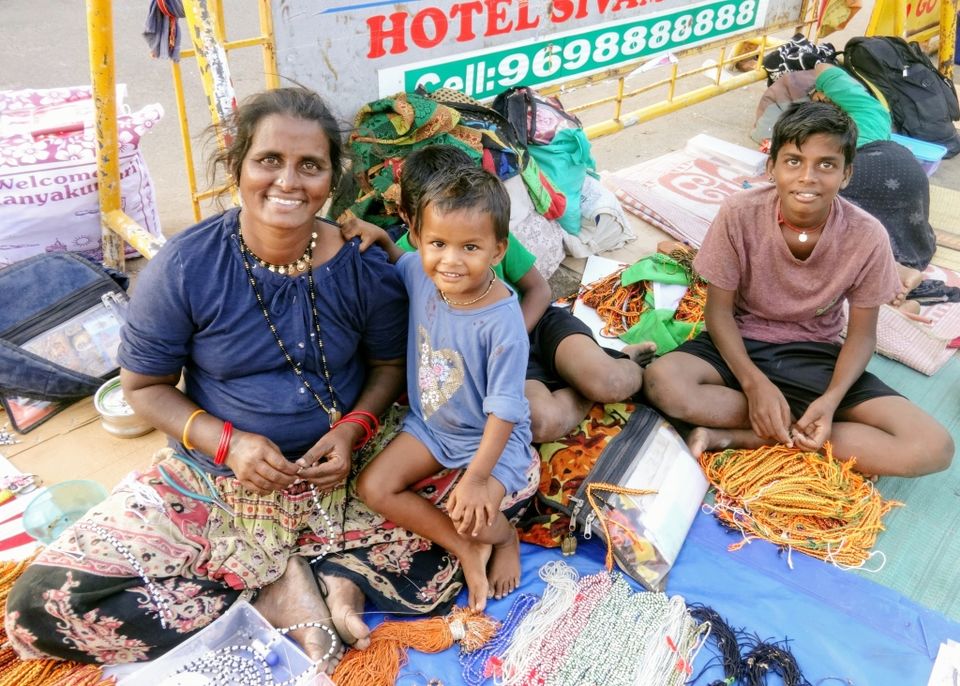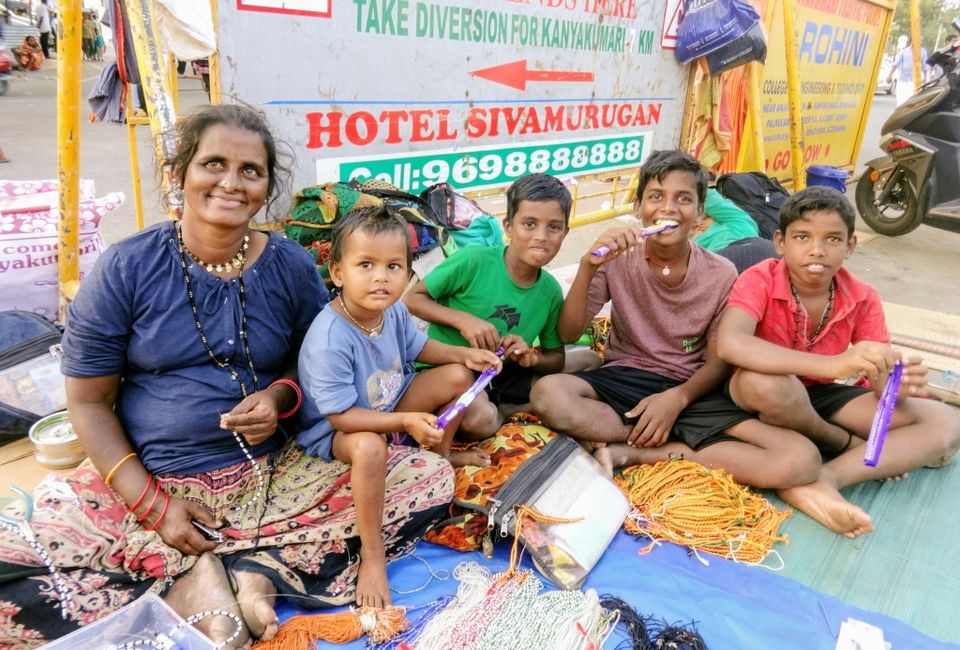 Then we boarded a bus to Thuckalay
Had some amazing palm jaggery desserts at Swiss bakery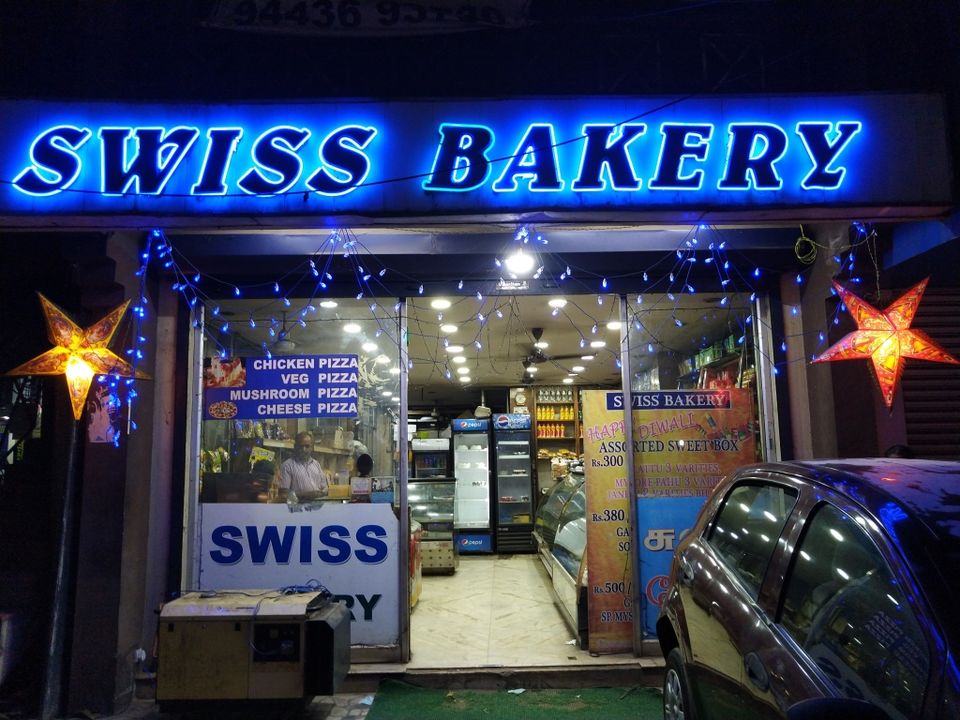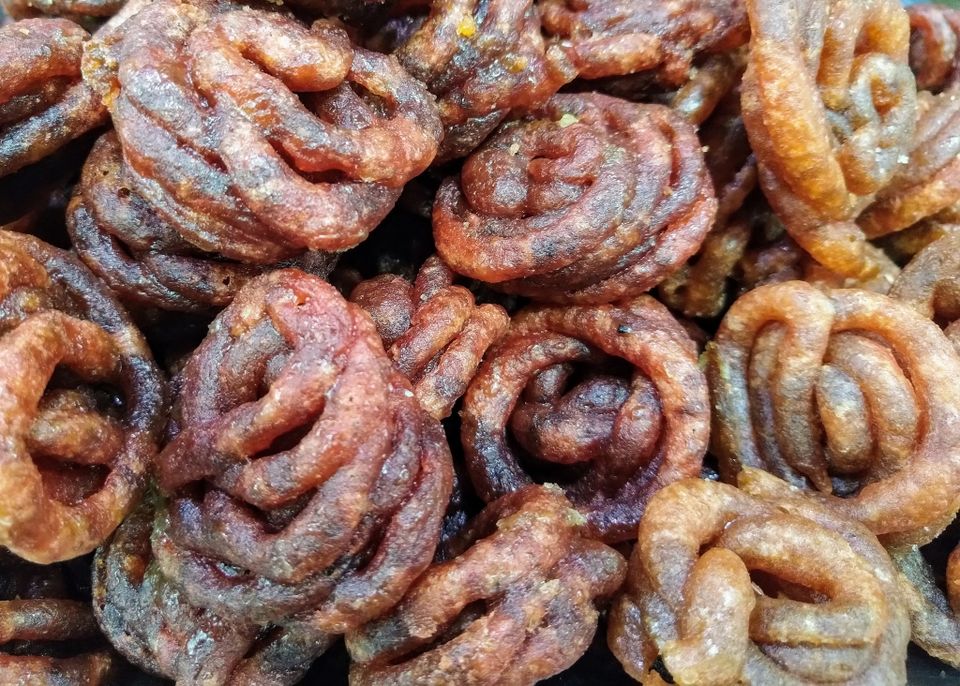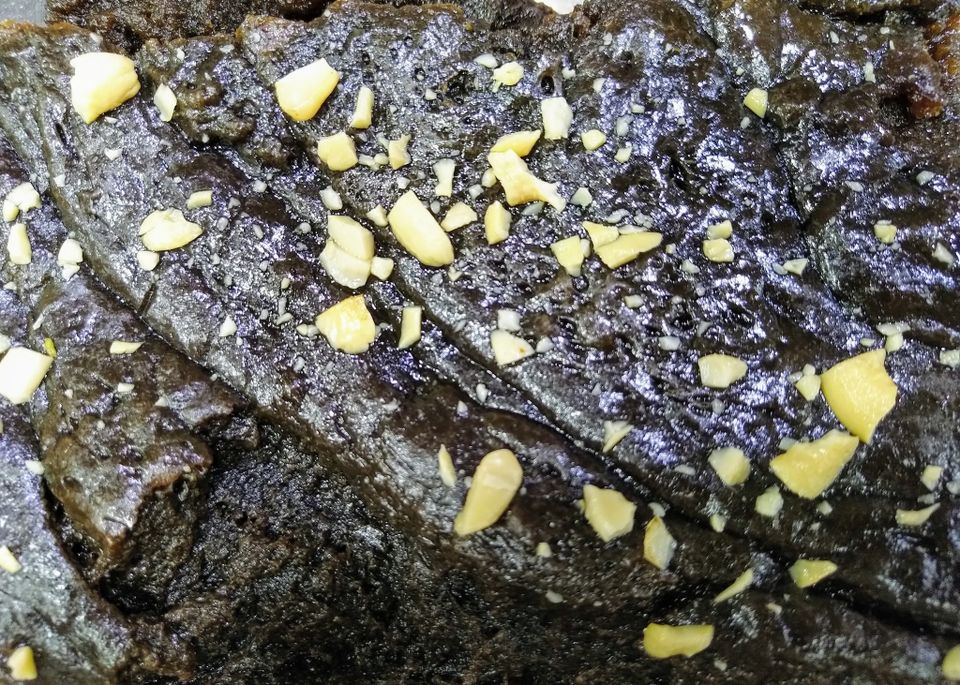 That's how I celebrated my Pongal this year.
16th JAN 2020 -
Good breakfast (Idiyappam) at Uma Shankar, Thuckalay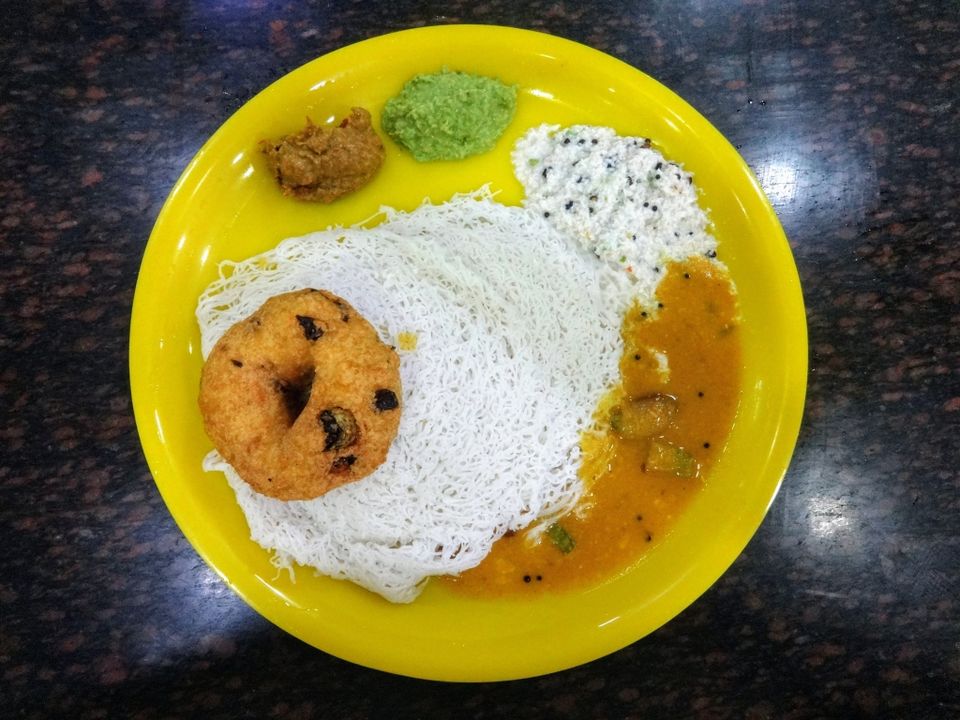 Boarded a bus to Padmanabhapuram palace and we reached before it was opened.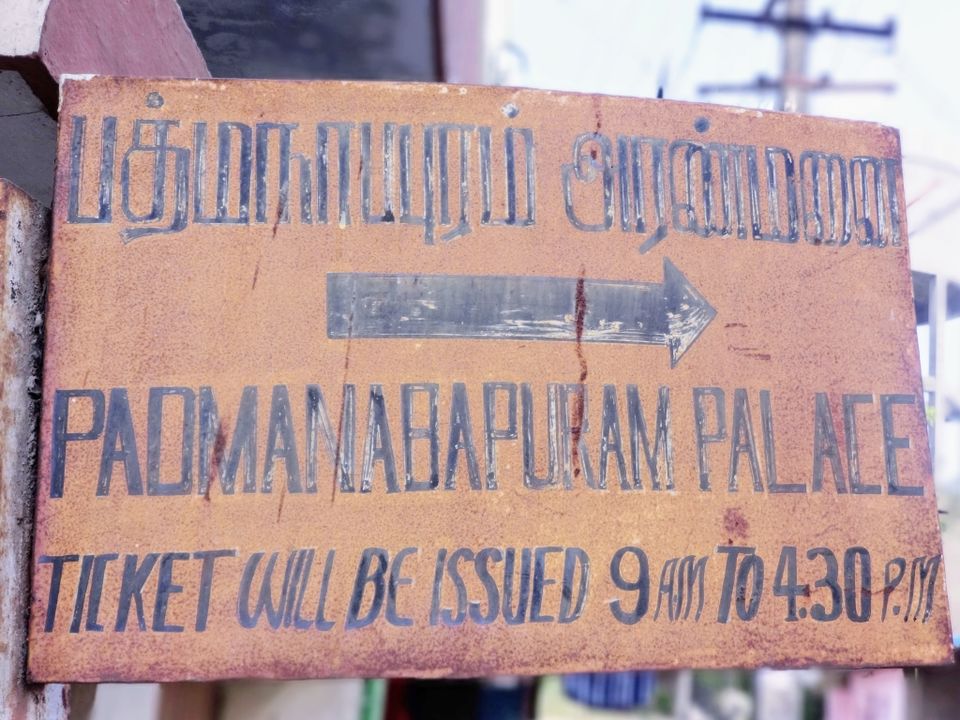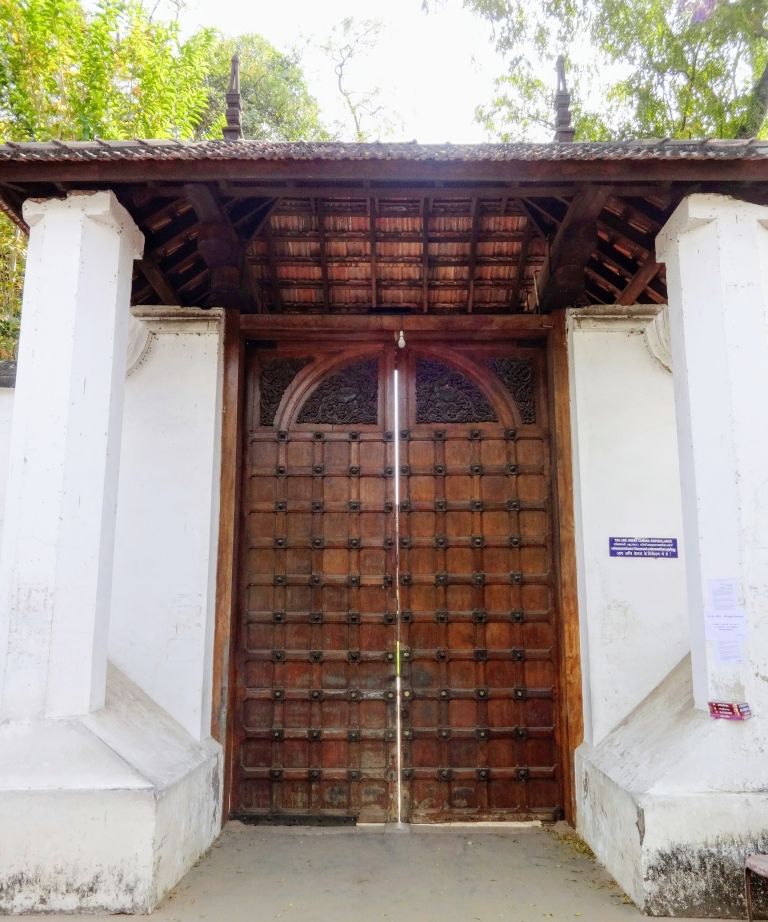 Amazing architecture, absolutely loved visiting the place. Big thanks to Crissij for taking me to this heritage site.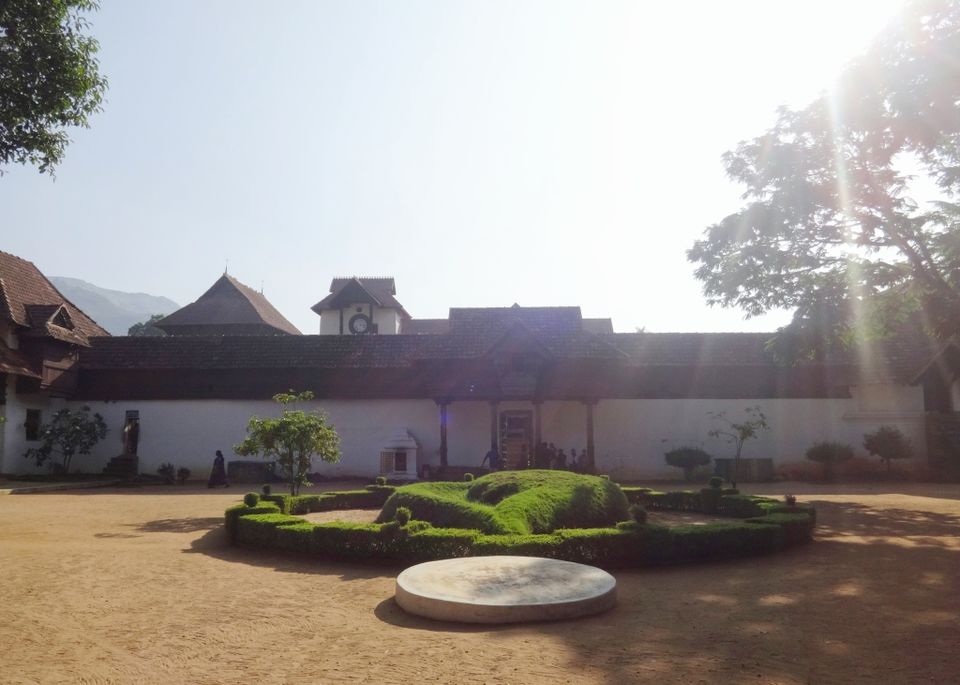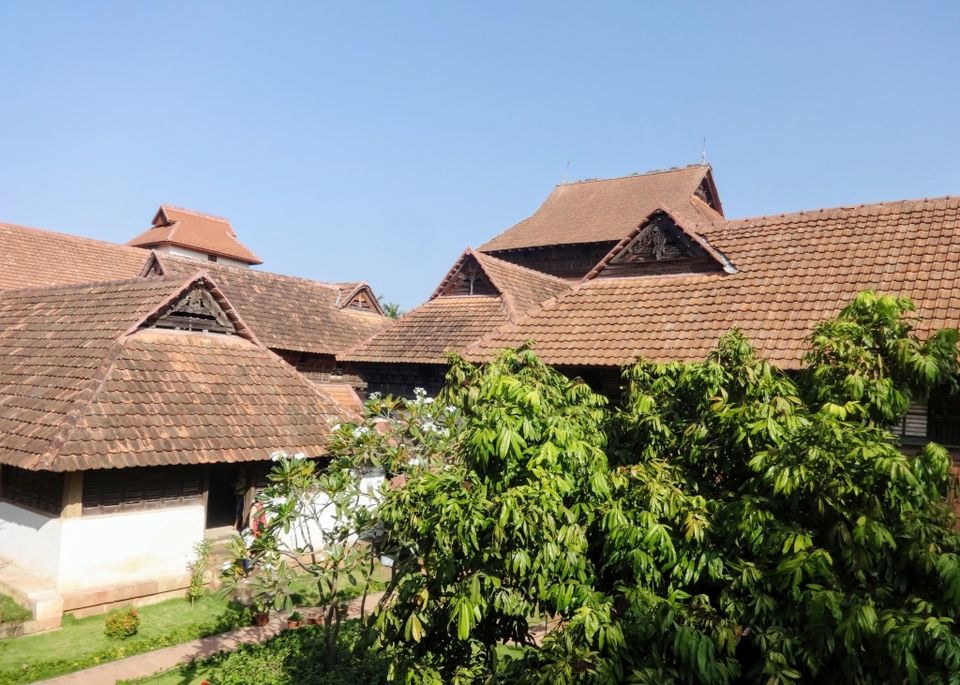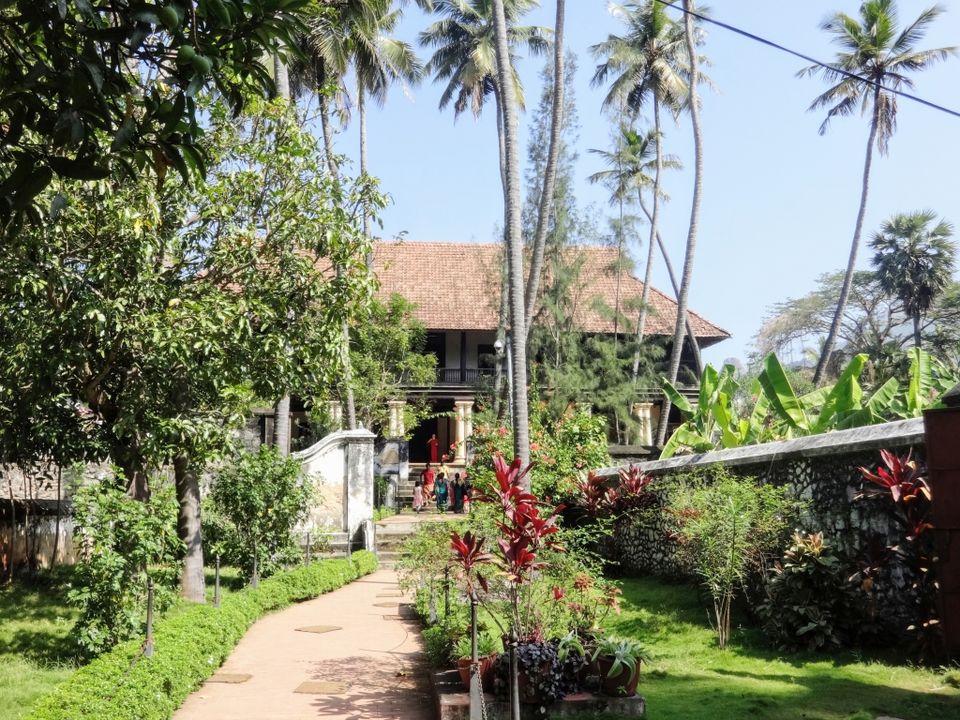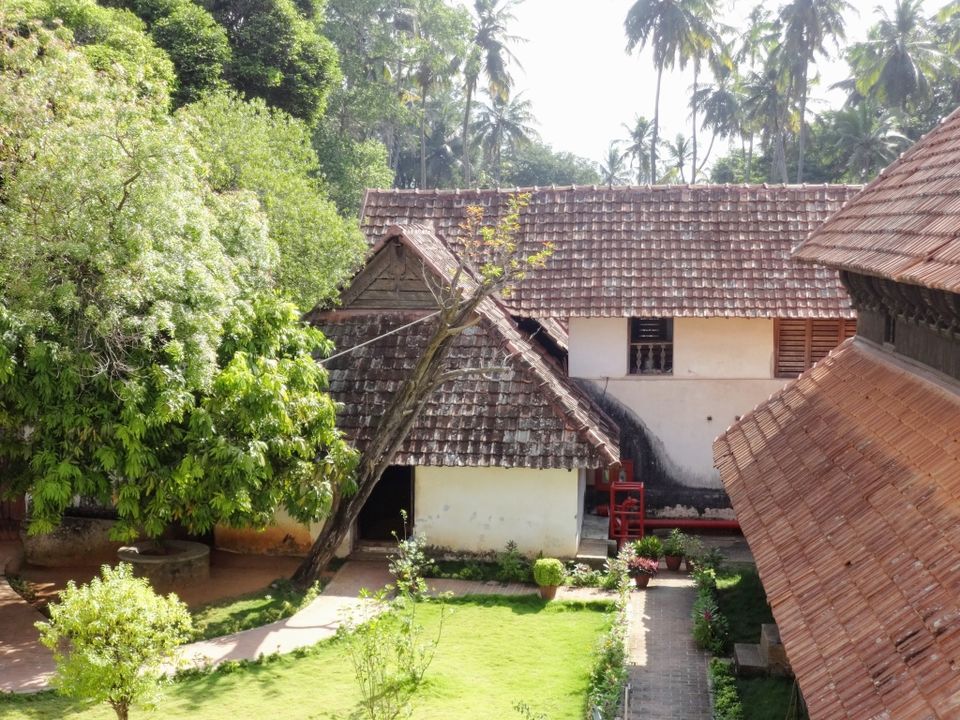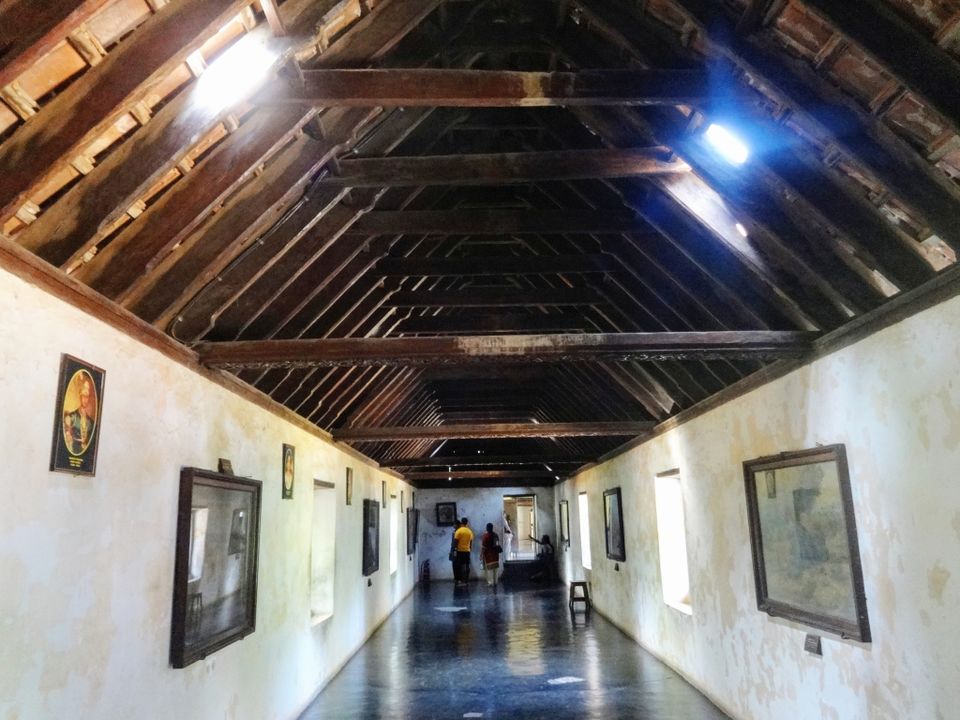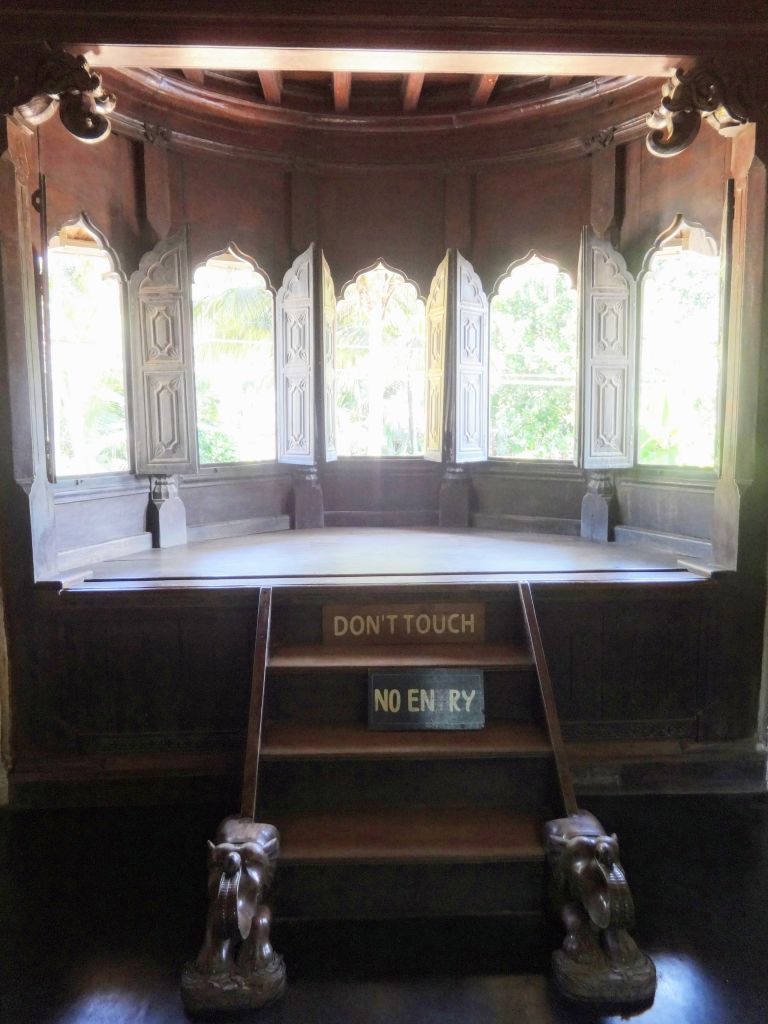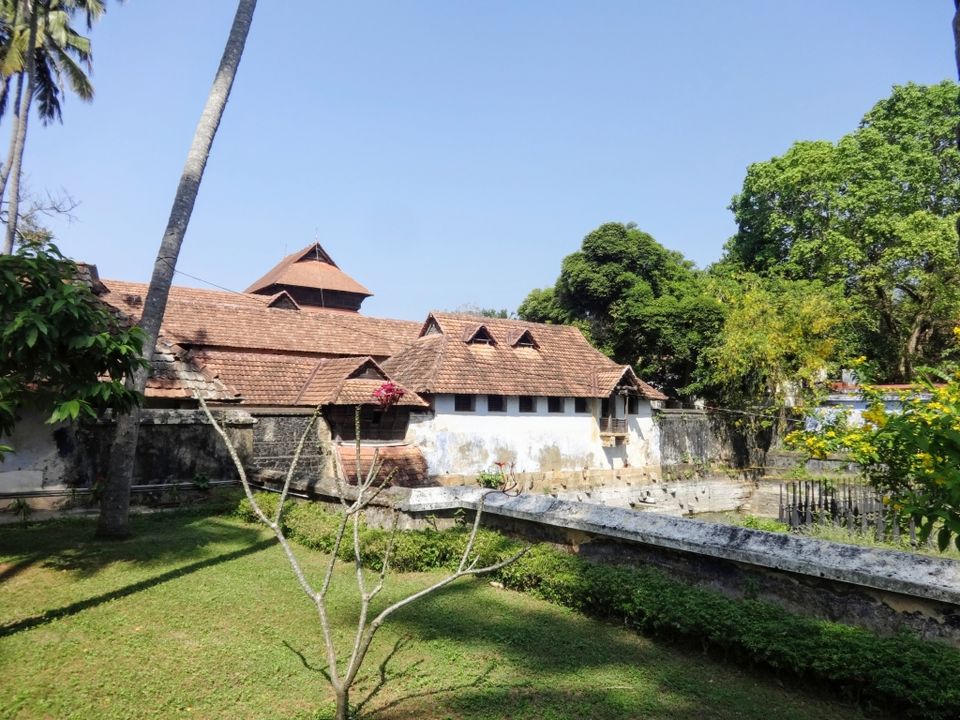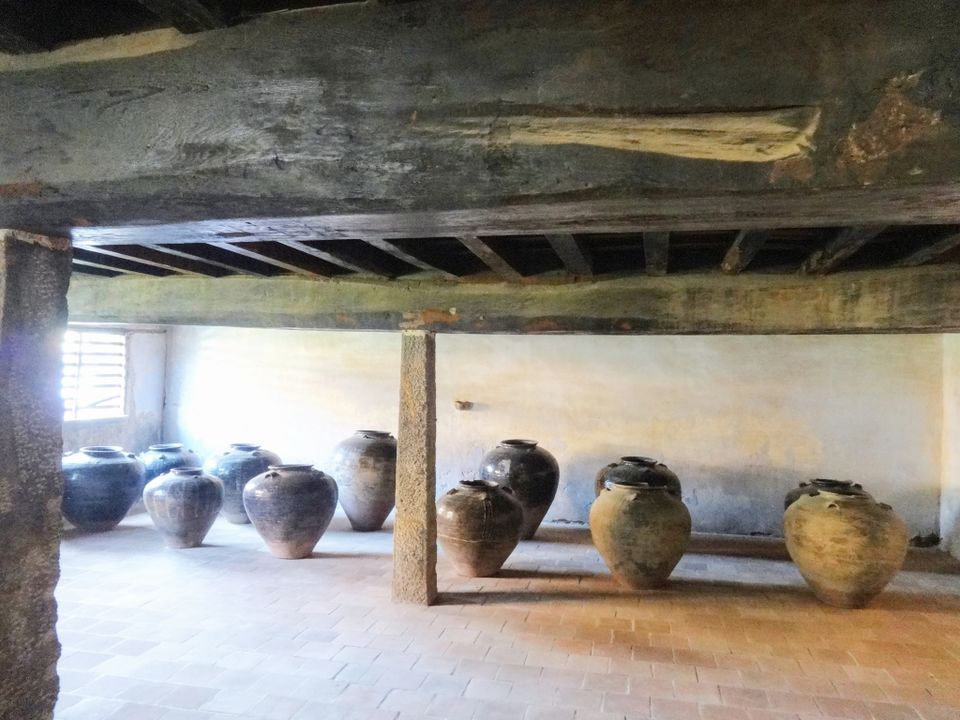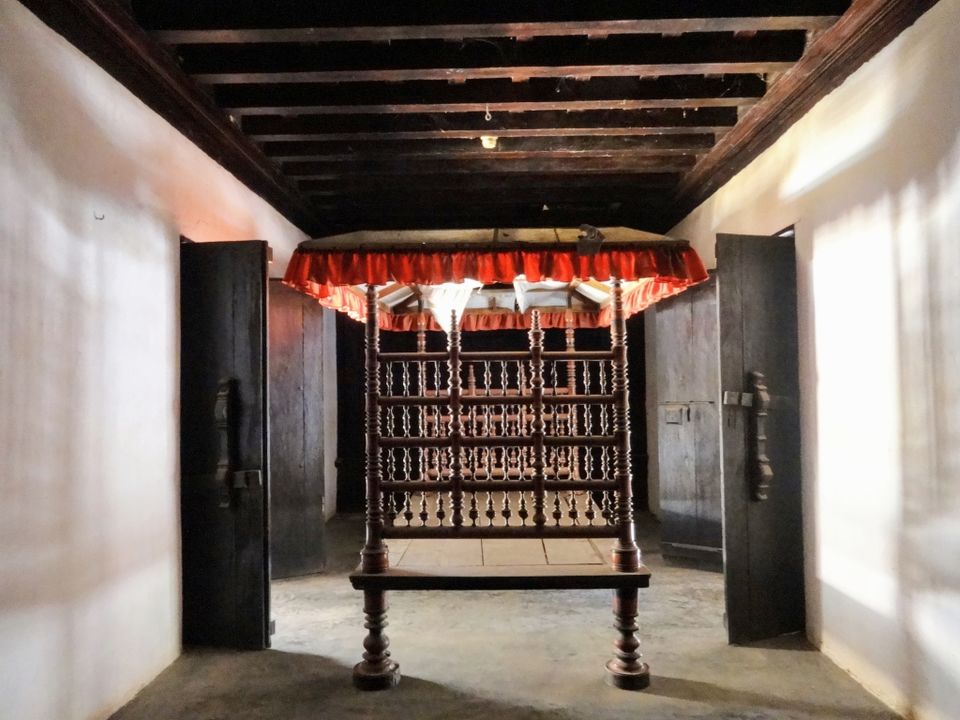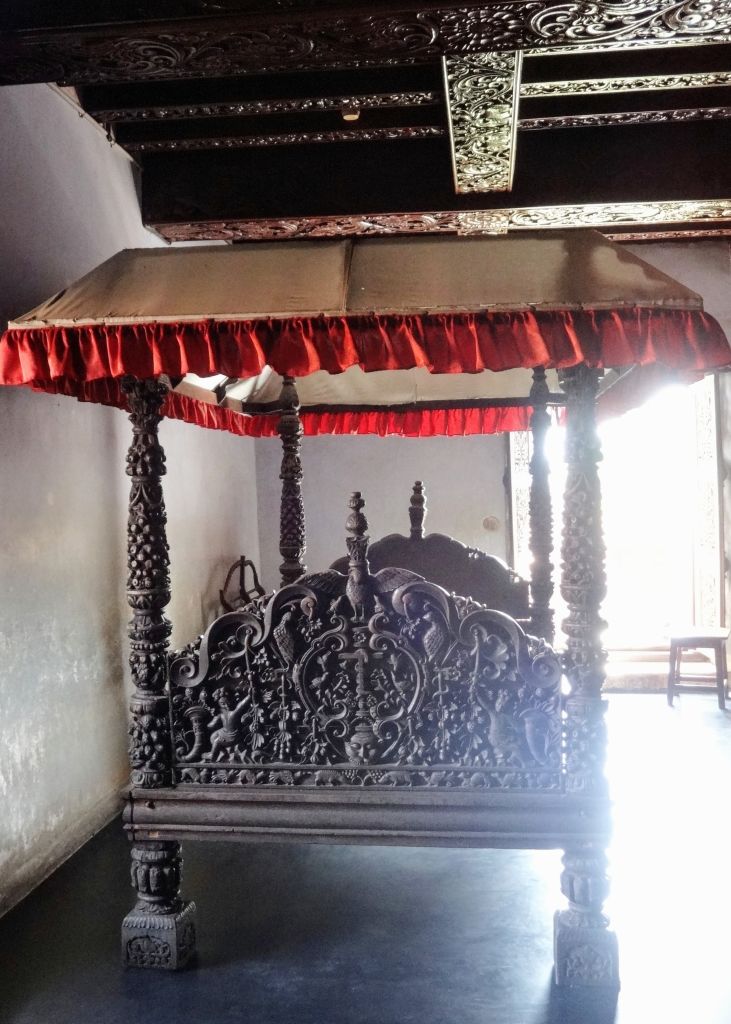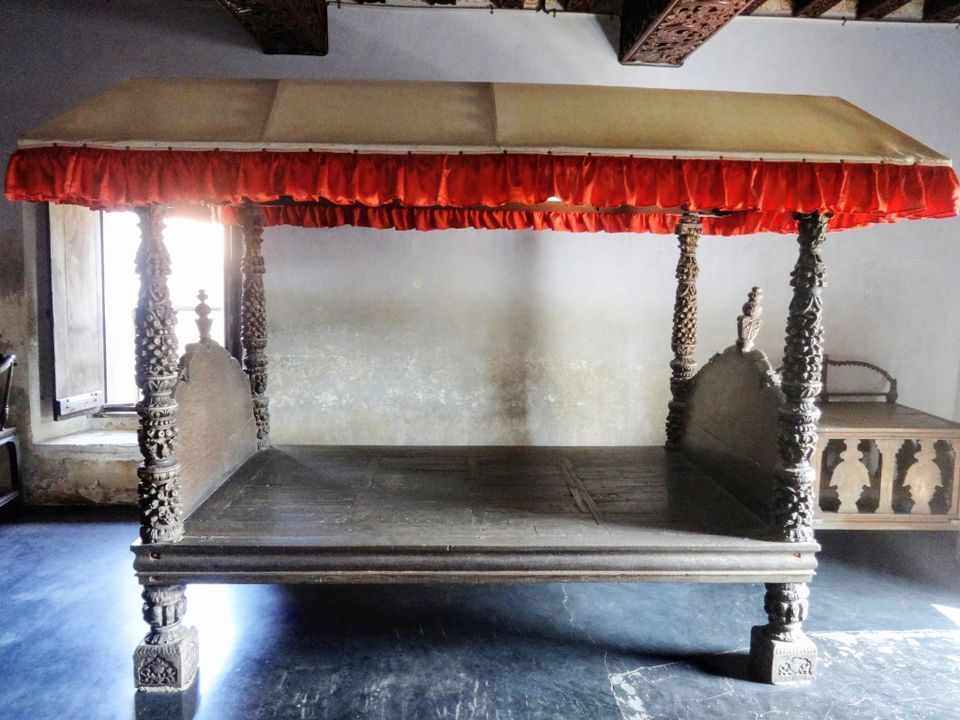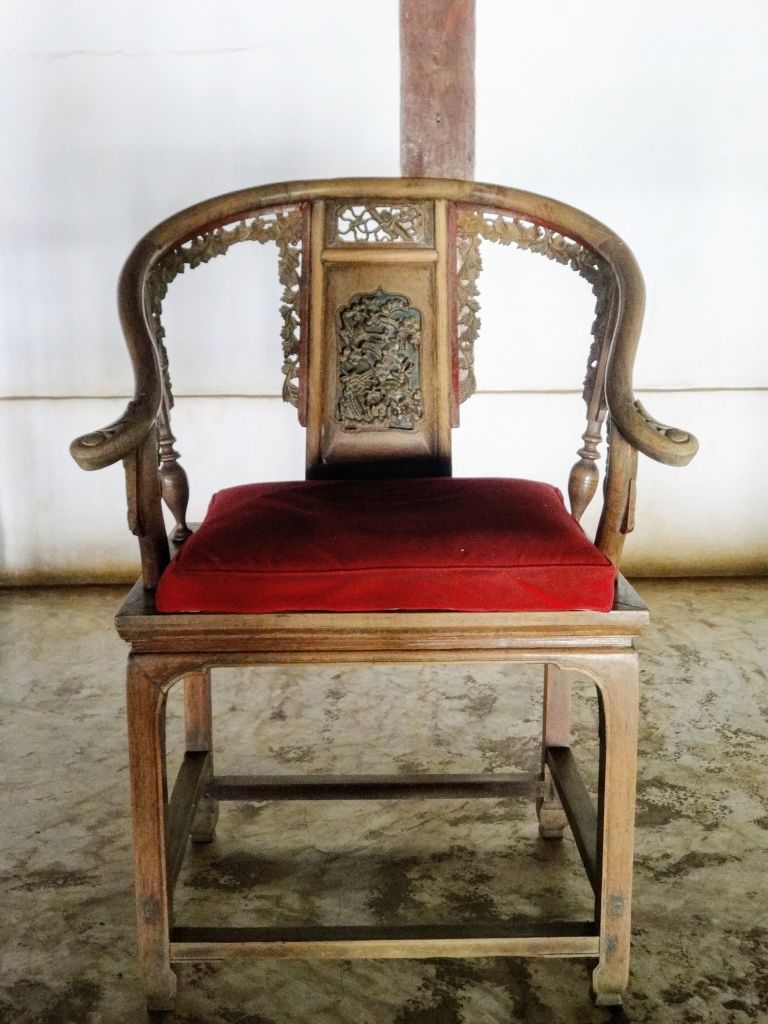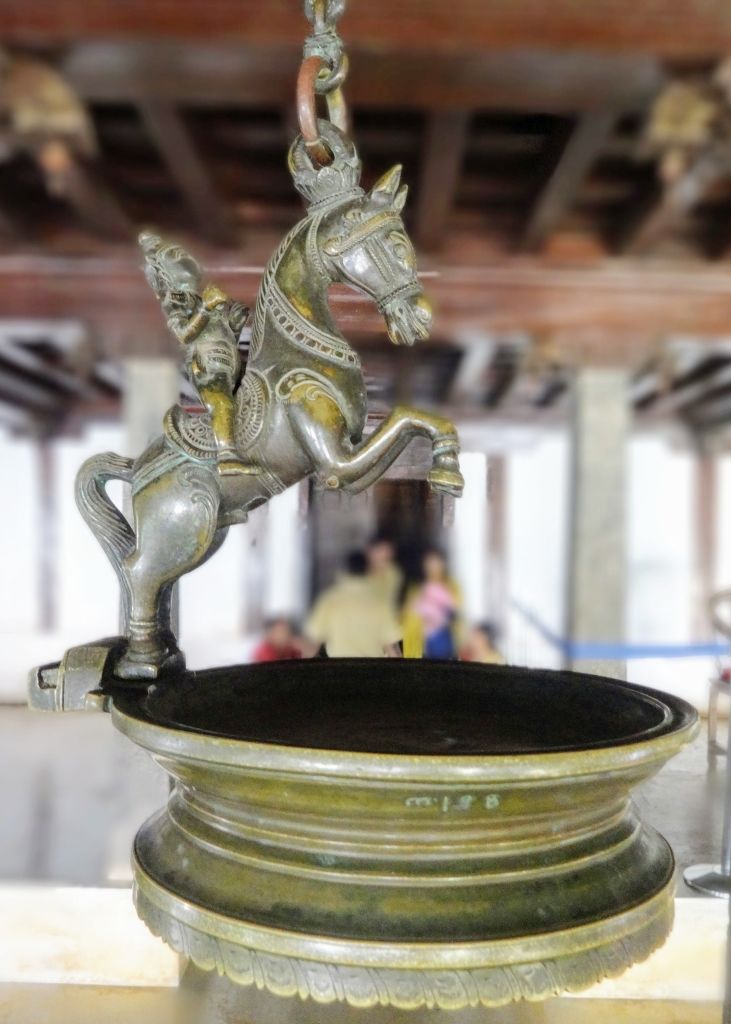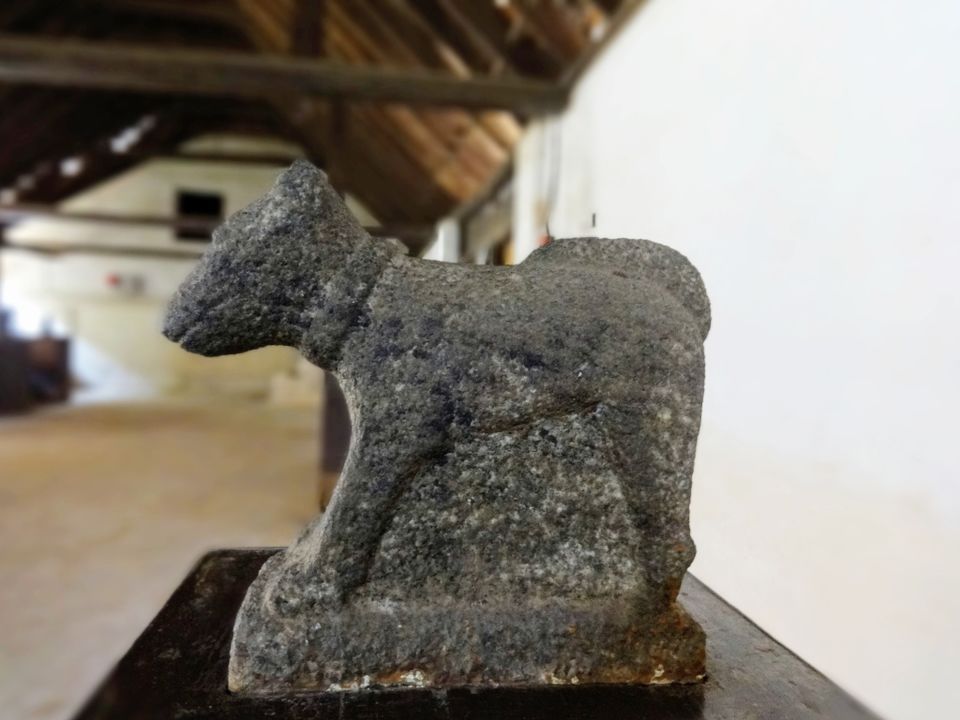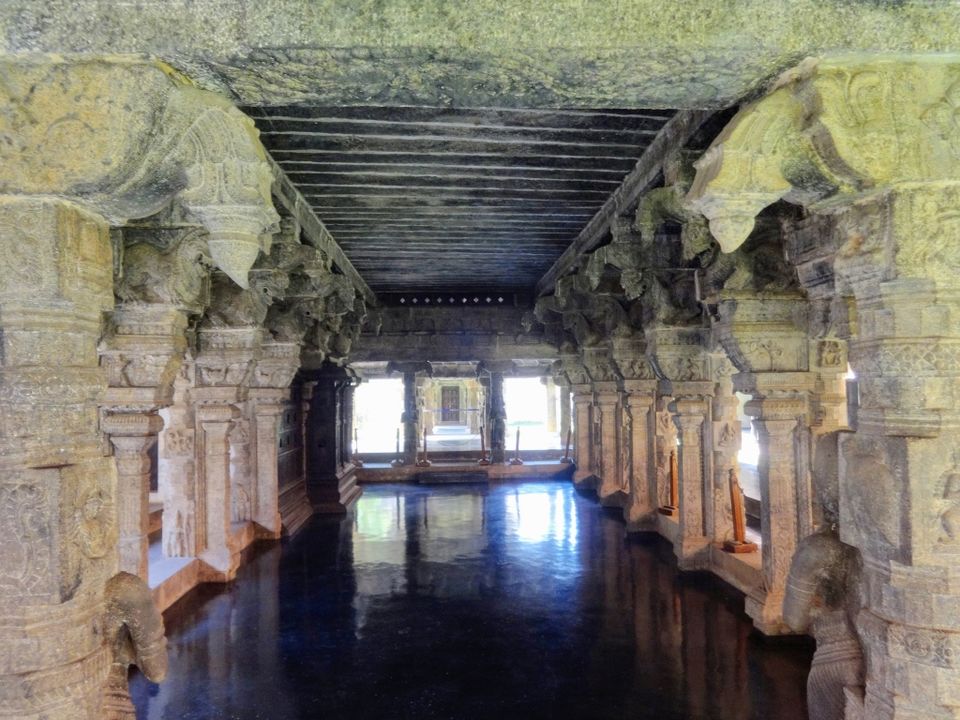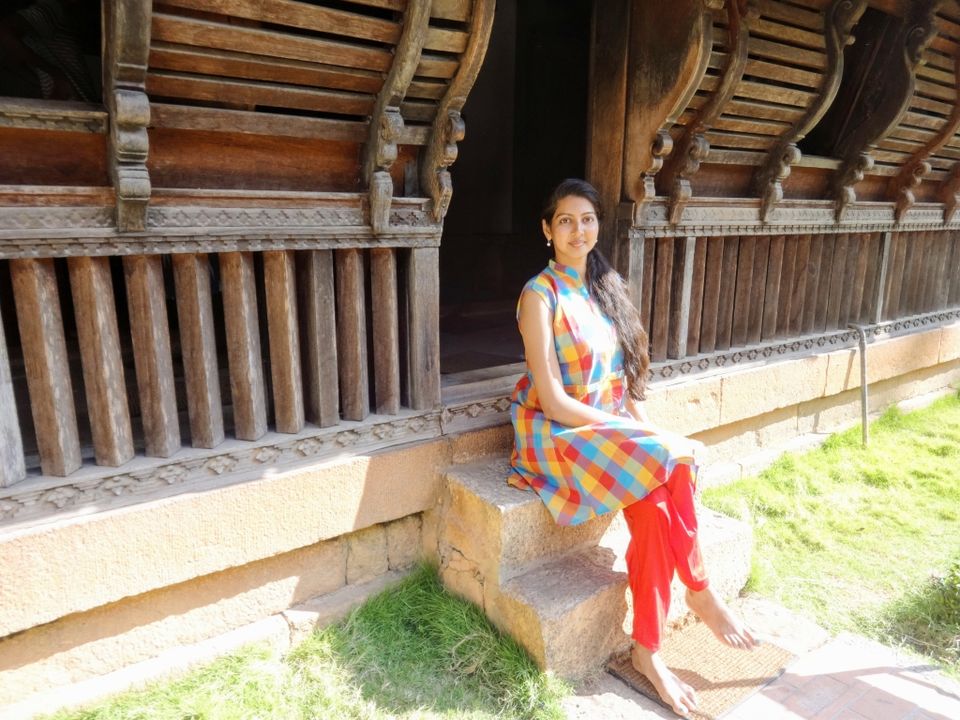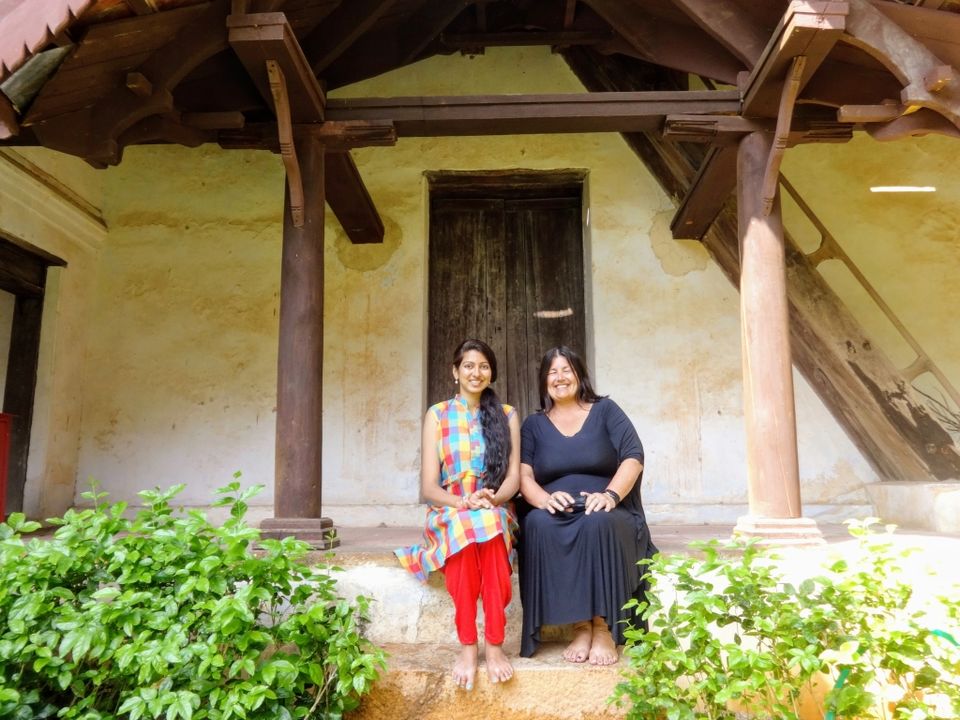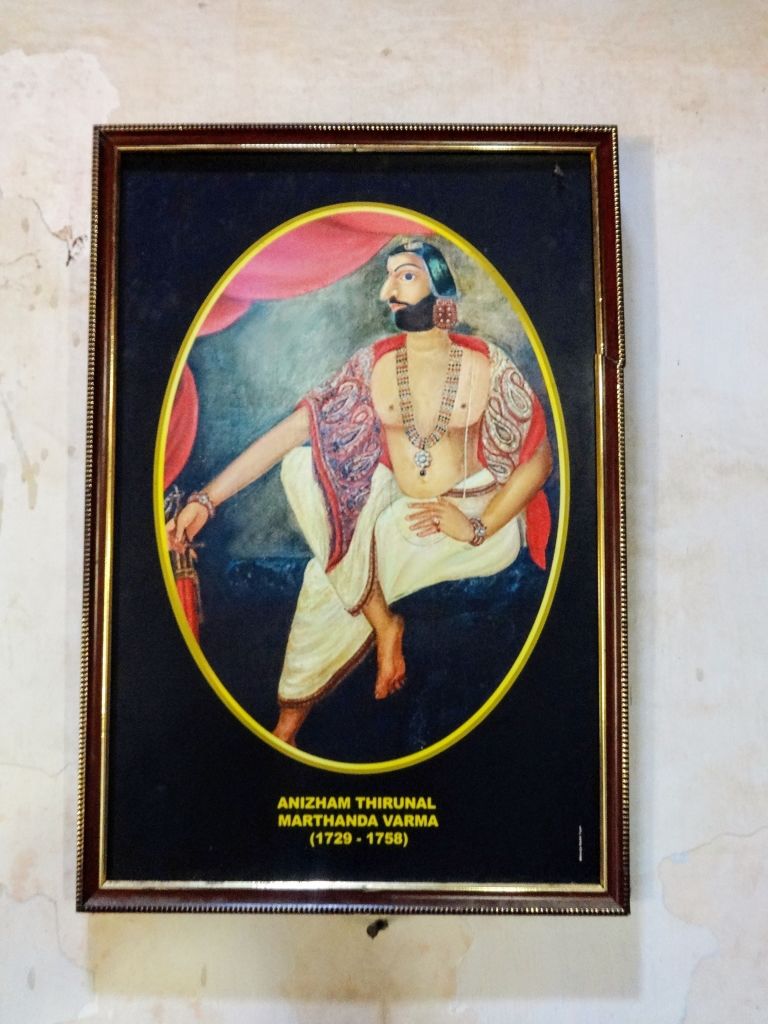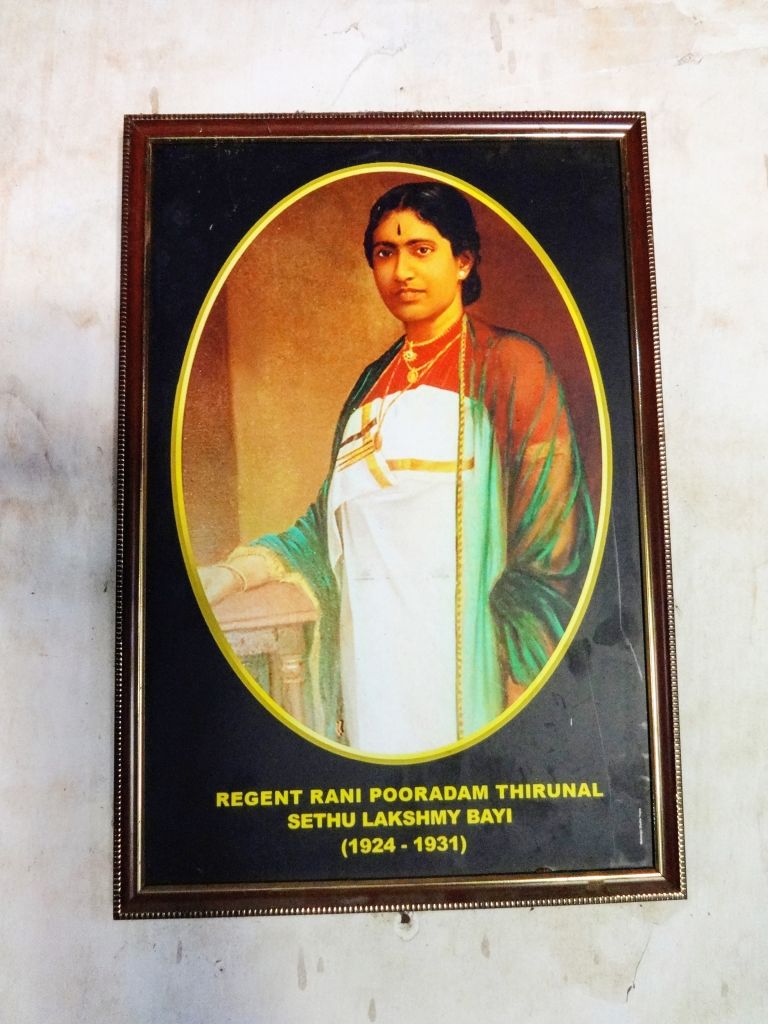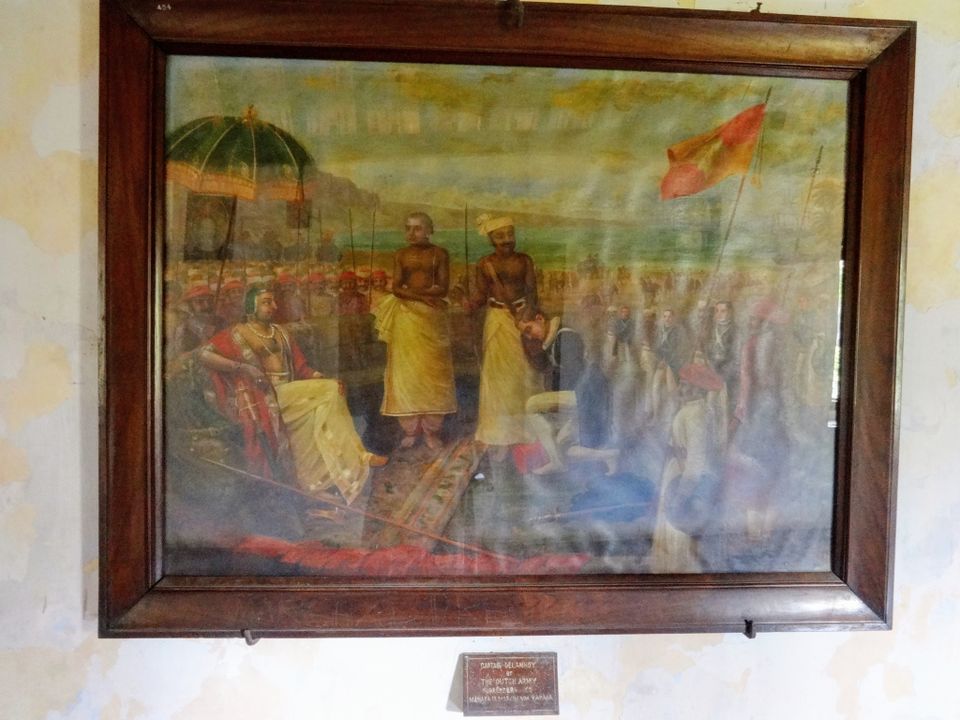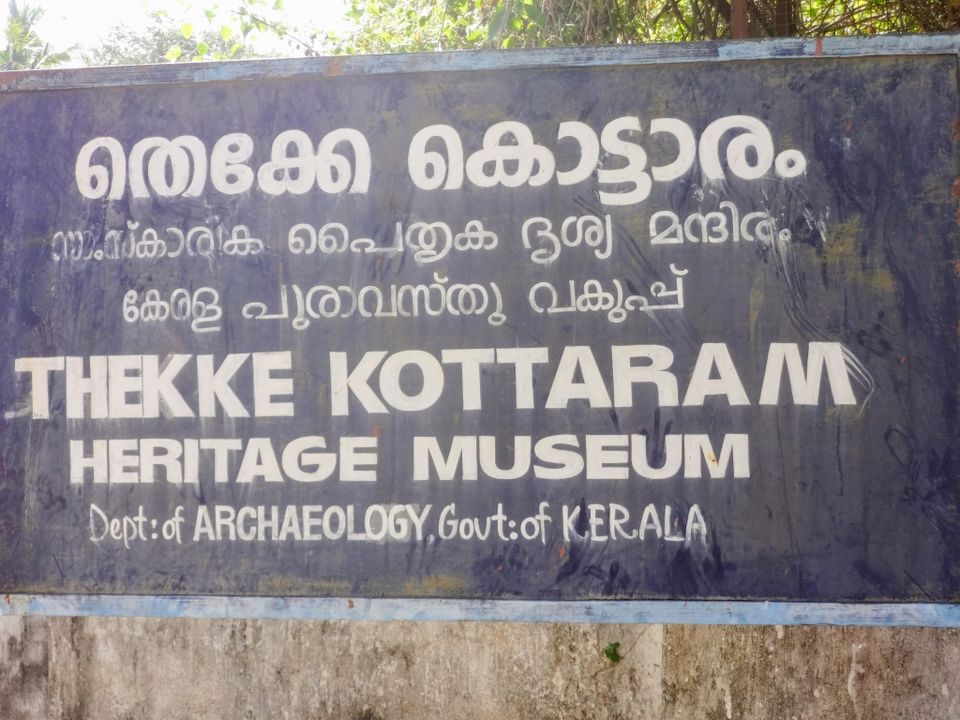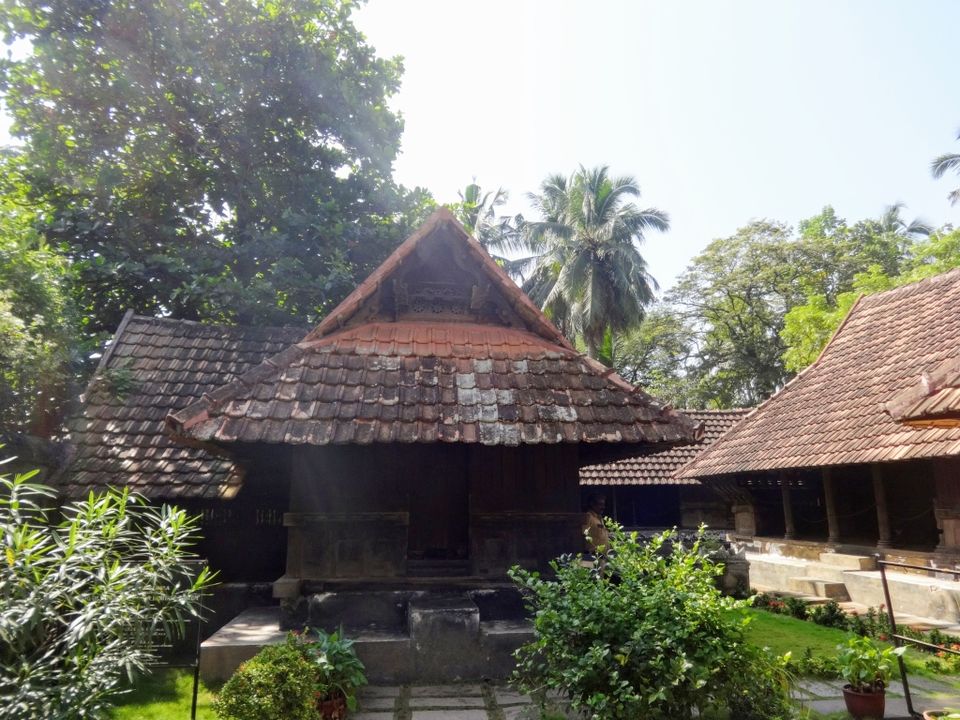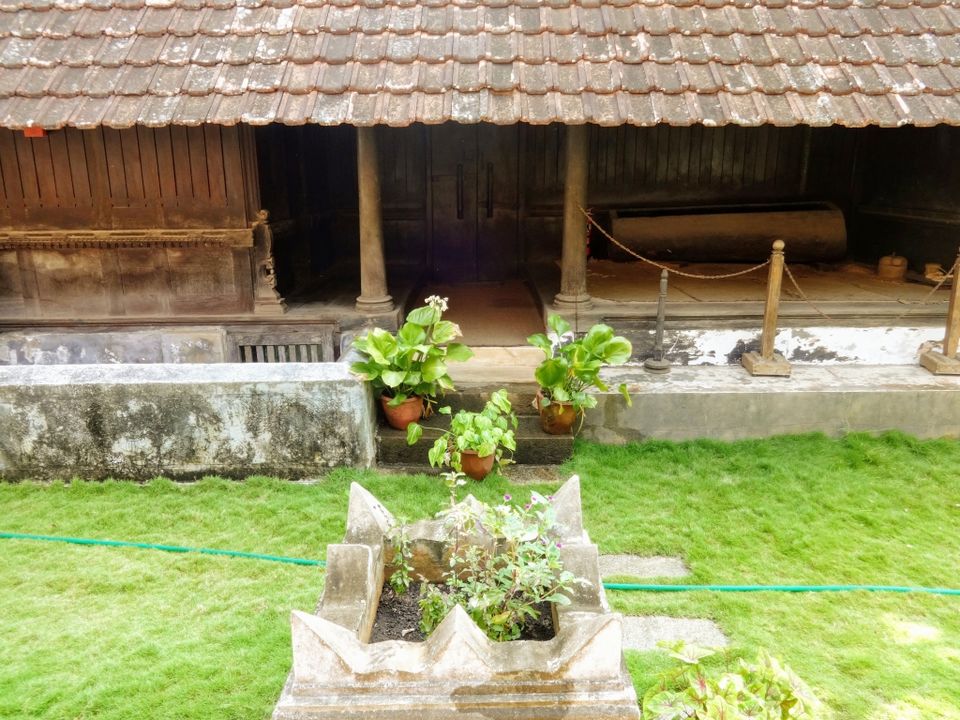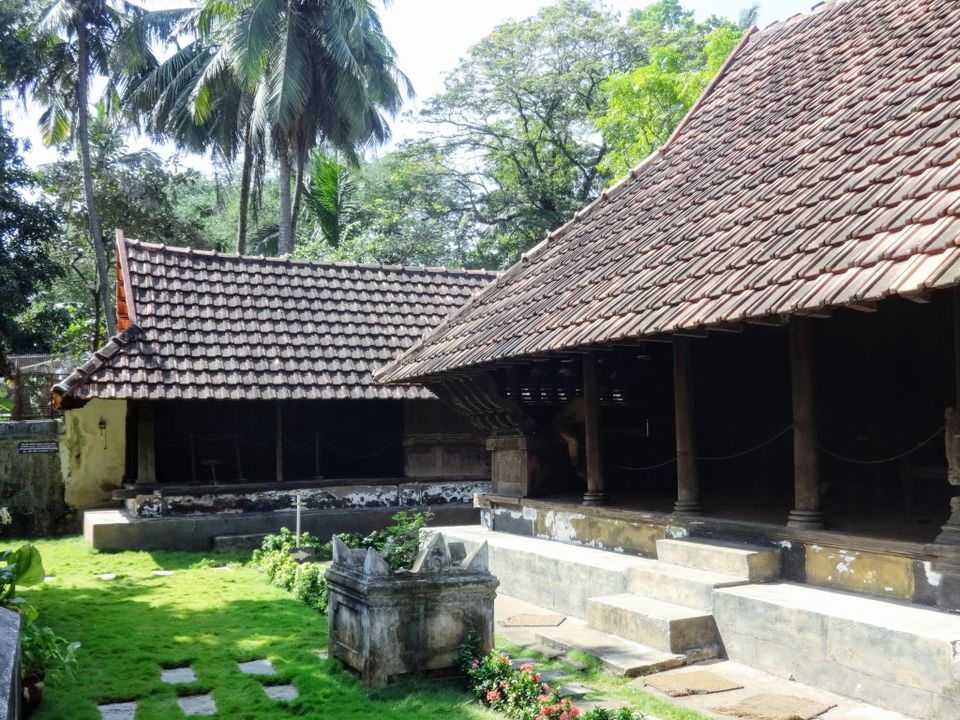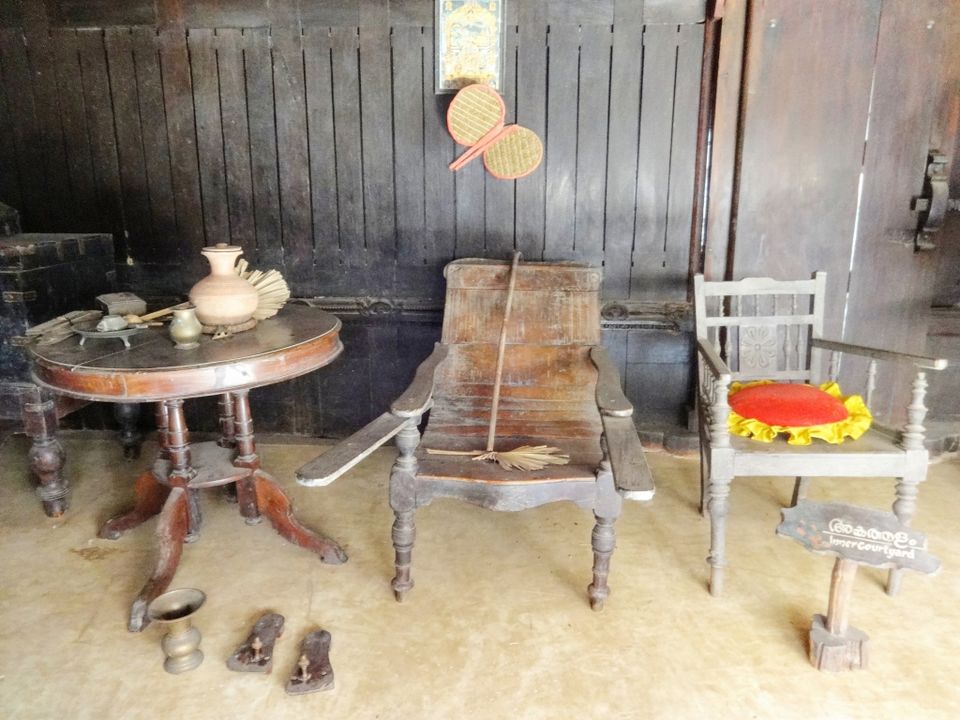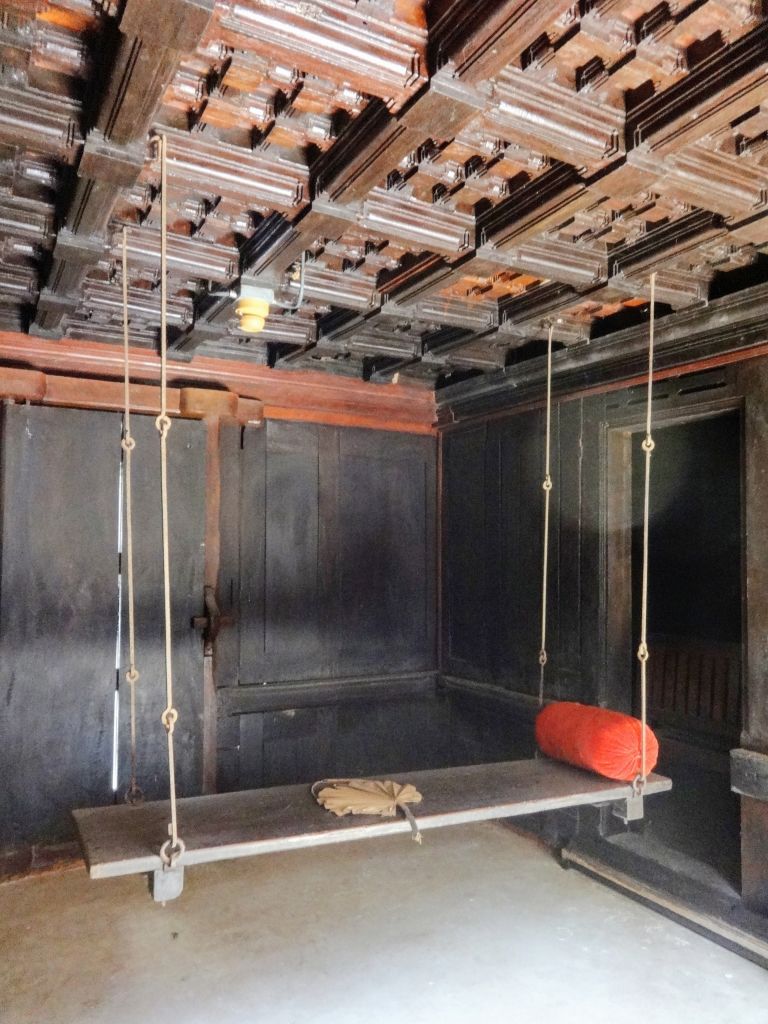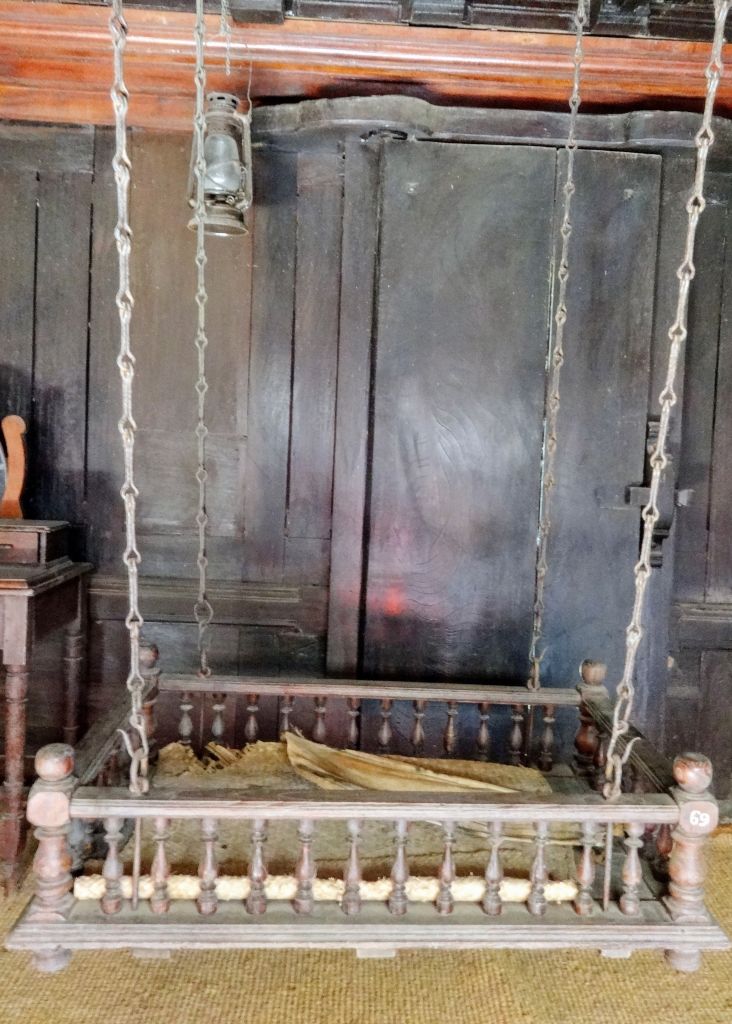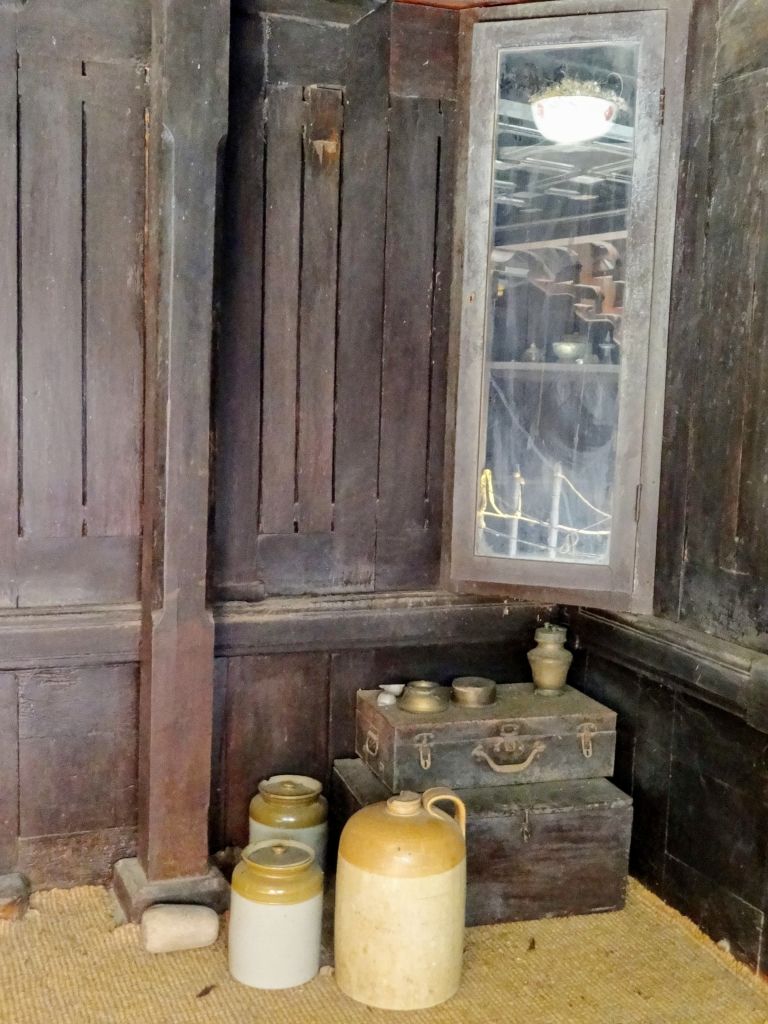 Once we were out , we had Palm fruit, returned to the hotel and checked out.
We hired a taxi to Kovalam
Then after dropping our luggages at our guesthouse,
We hired an auto to Sree Anantha Padmanabhaswamy temple
I wanted to try the ripe banana fry which is one of my favorites from Kerala, we visited a restaurant named Panchali near the temple
It was okay, not upto the mark.
Probably, I need to try at other places before I leave Kerala
Since I was wearing a churidhar bottom and kurta, I had to buy a dhoti to wear on top of it. mandatory. No mobiles and cameras are allowed inside the temple. Also no foreigners are allowed. So Crissij had to wait for me outside.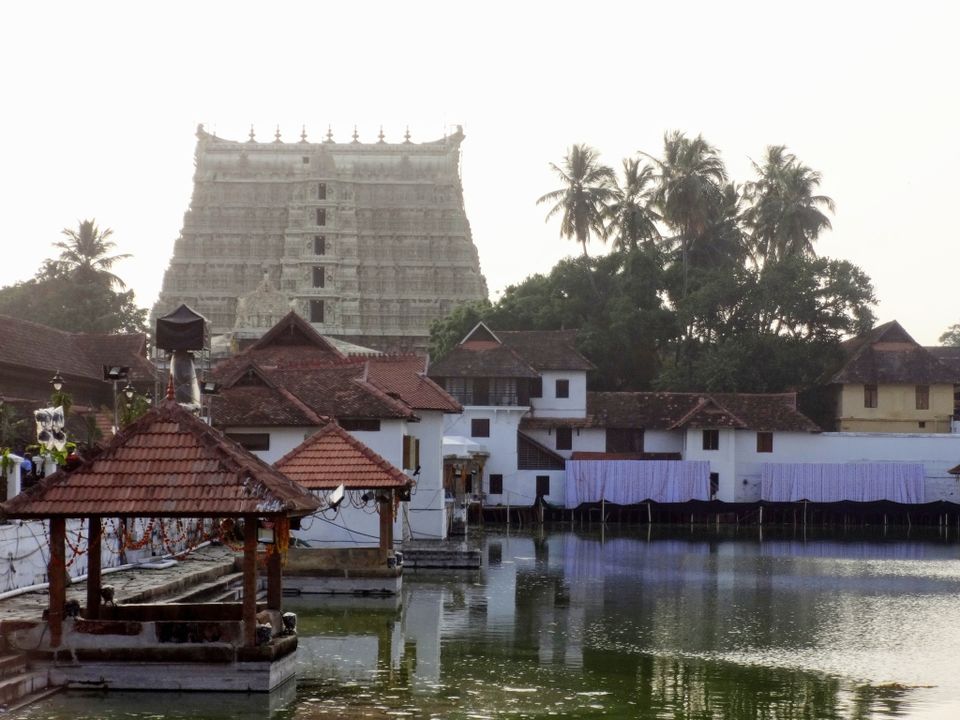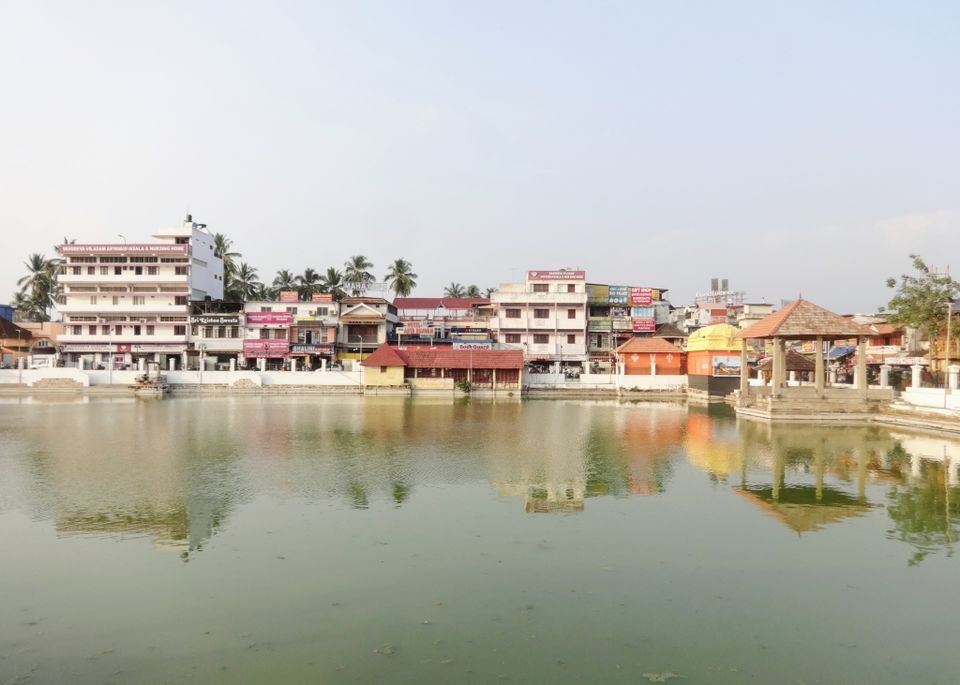 I entered the temple around 5:30pm and came out at 8pm
Probably, next to Tirupathi, I experienced such huge crowd in this temple. No discipline among the fellow citizens, also poor management. But worth the visit.
When I came out of the temple, it was all lit up with lamps and lights. Such an amazing view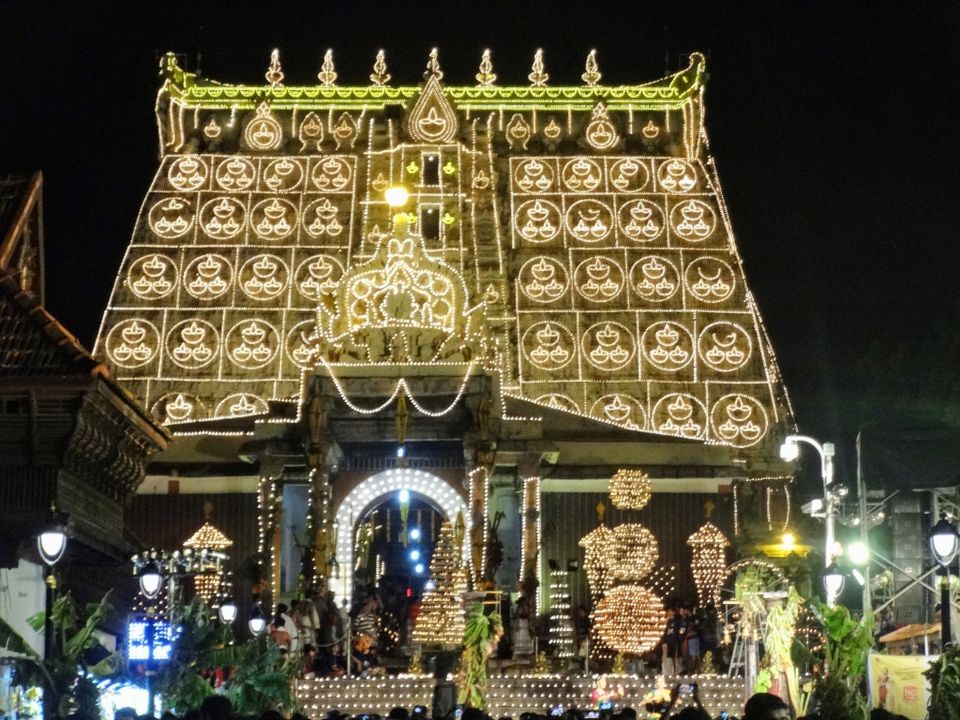 Also Carnatic music and classical dance, enjoyed watching it for a while and we returned to Kovalam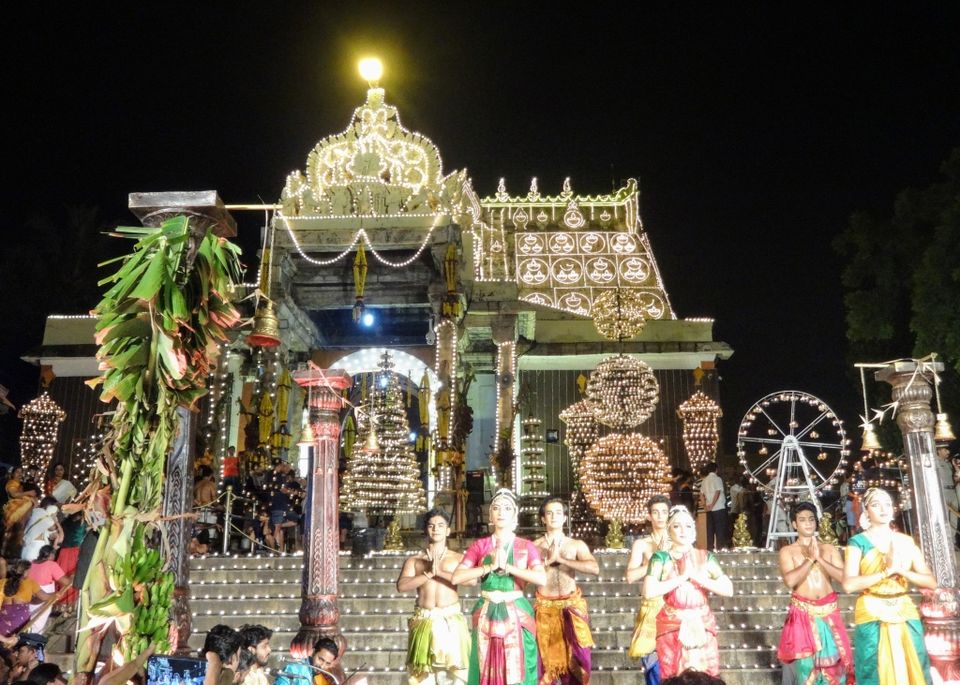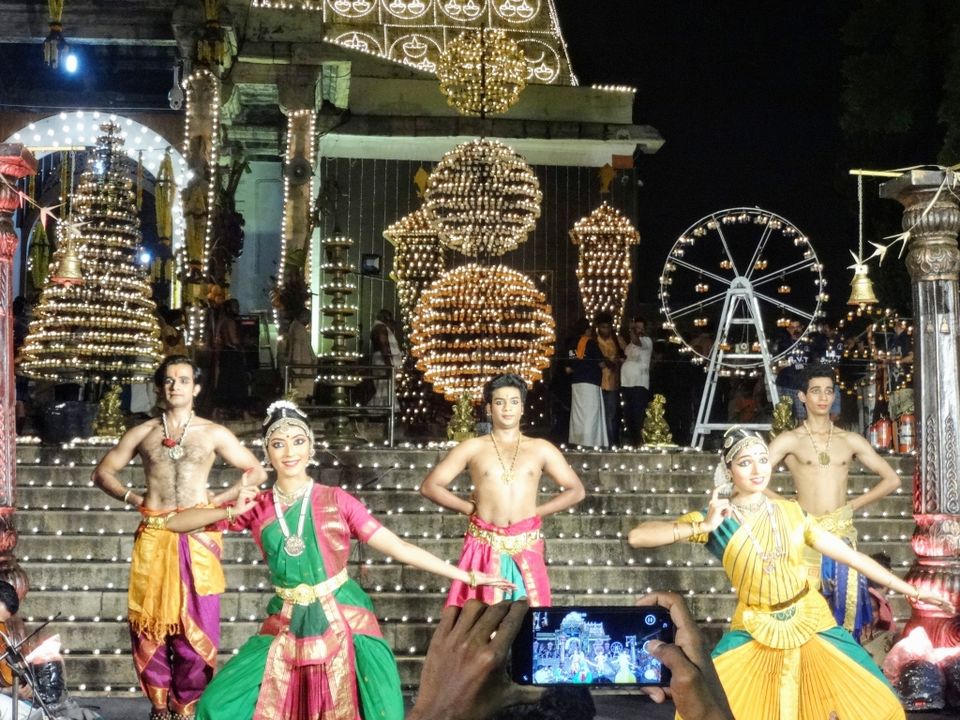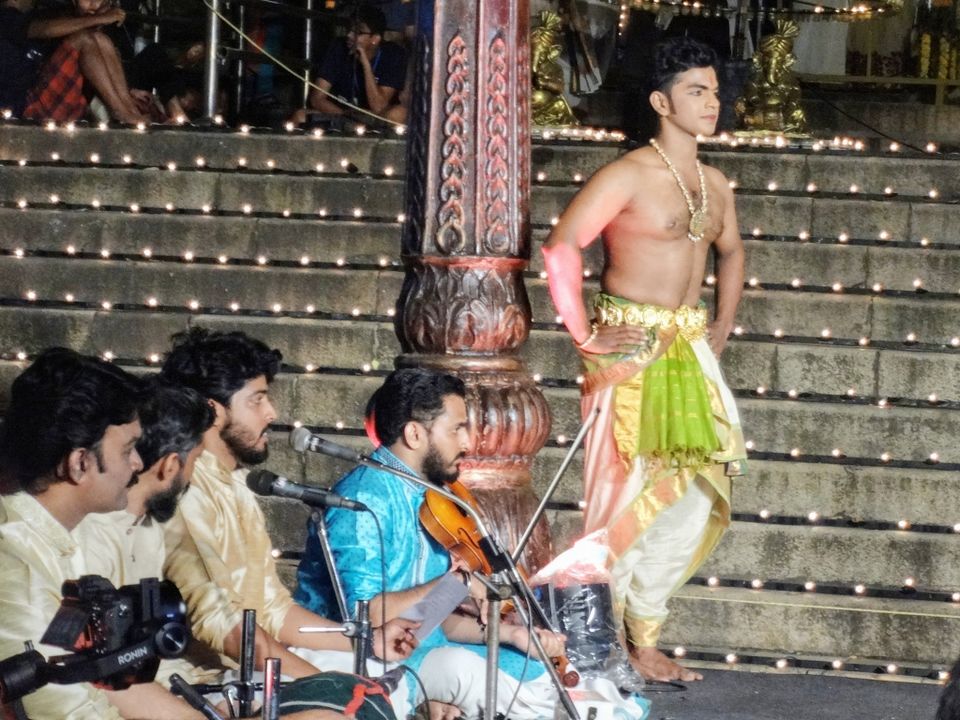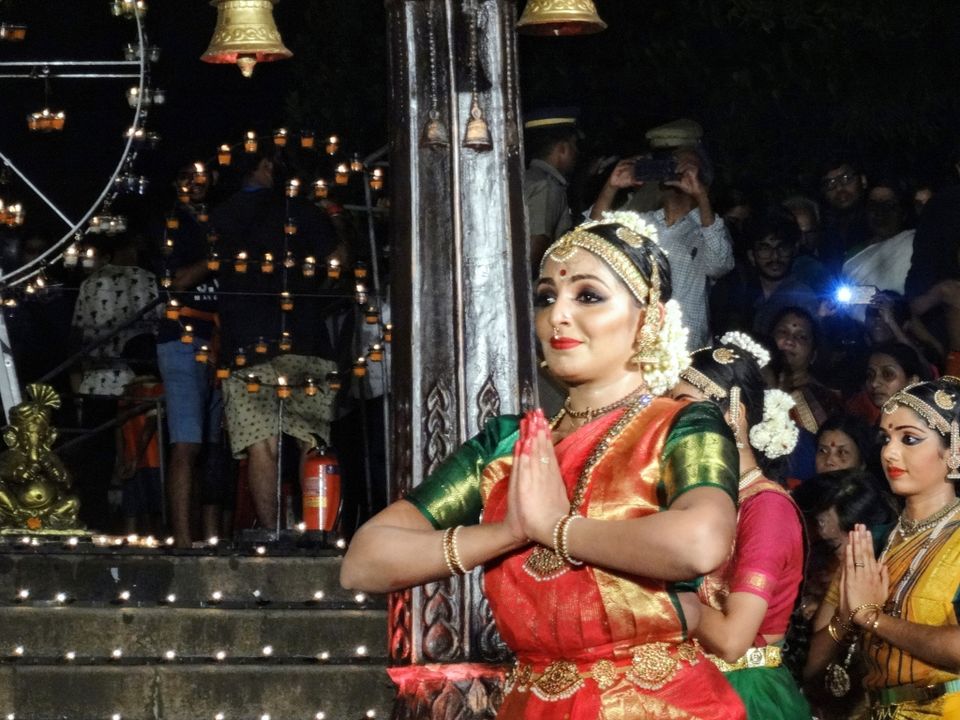 Dinner at a restaurant named Varsha, was okay.
Then we took a stroll through the beach at the night. Was a nice experience.
17th JAN 2020 -
It's all about the BEACH + FOOD + YOGA
Day started with Yoga at Padmakarma, Pink Flowers, Kovalam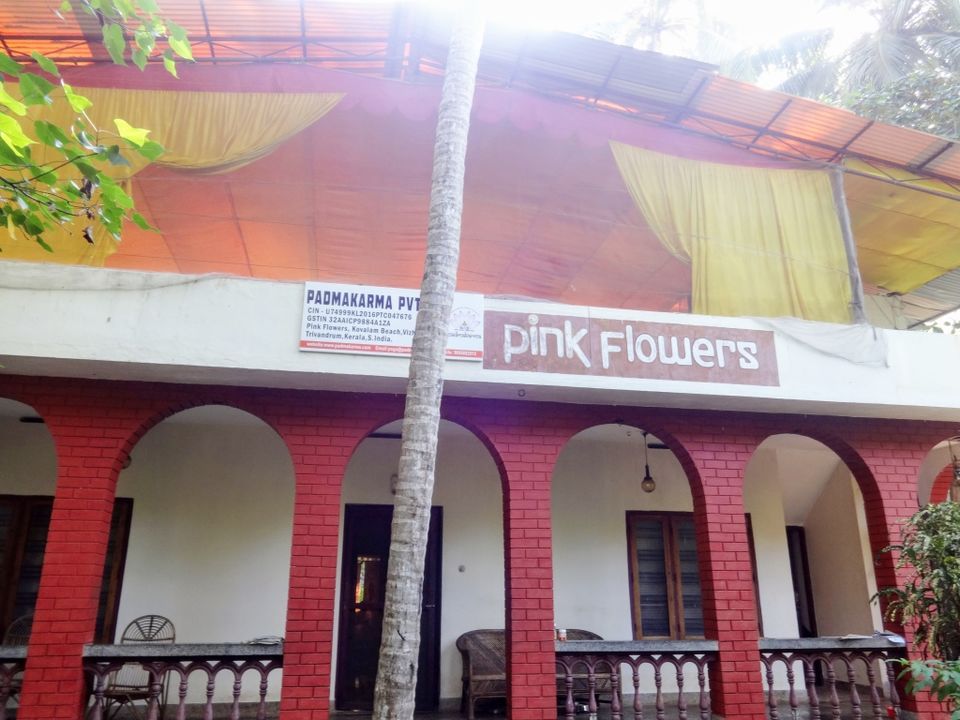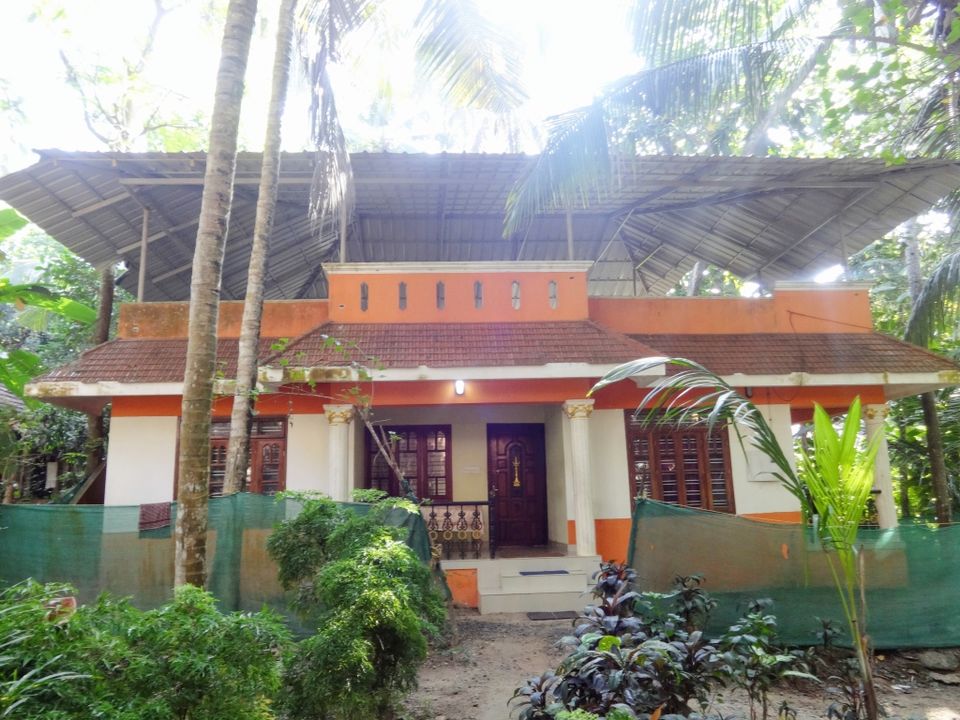 Run by an amazing guru, compassionate and inspiring woman Mrs. Padma Nair
She is very kind and loving.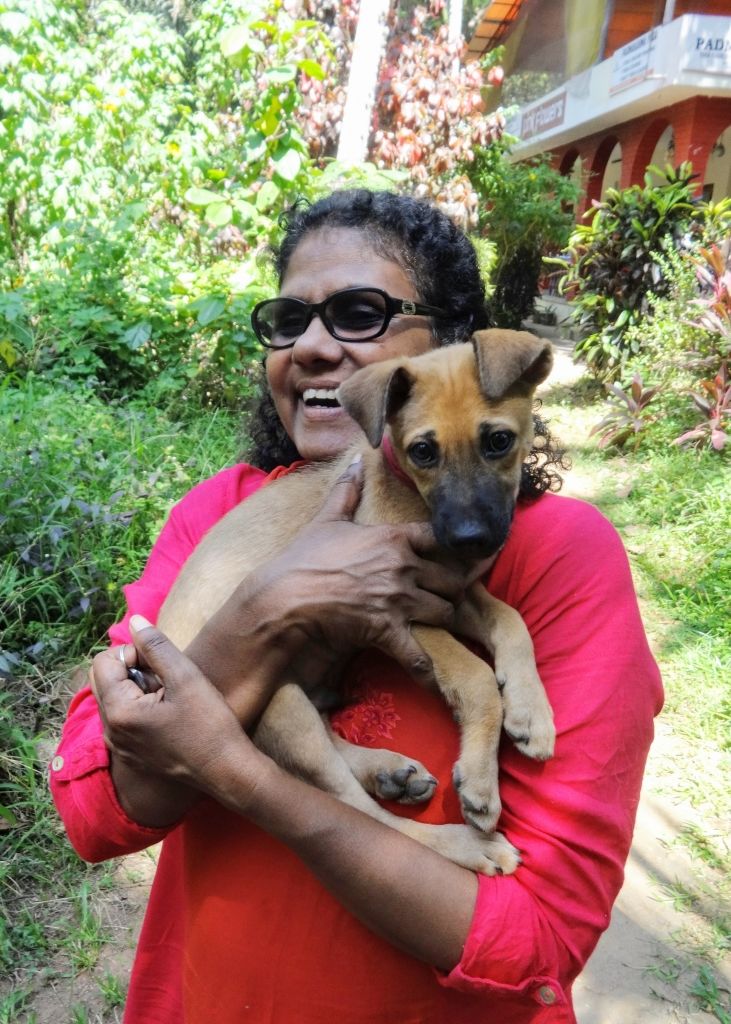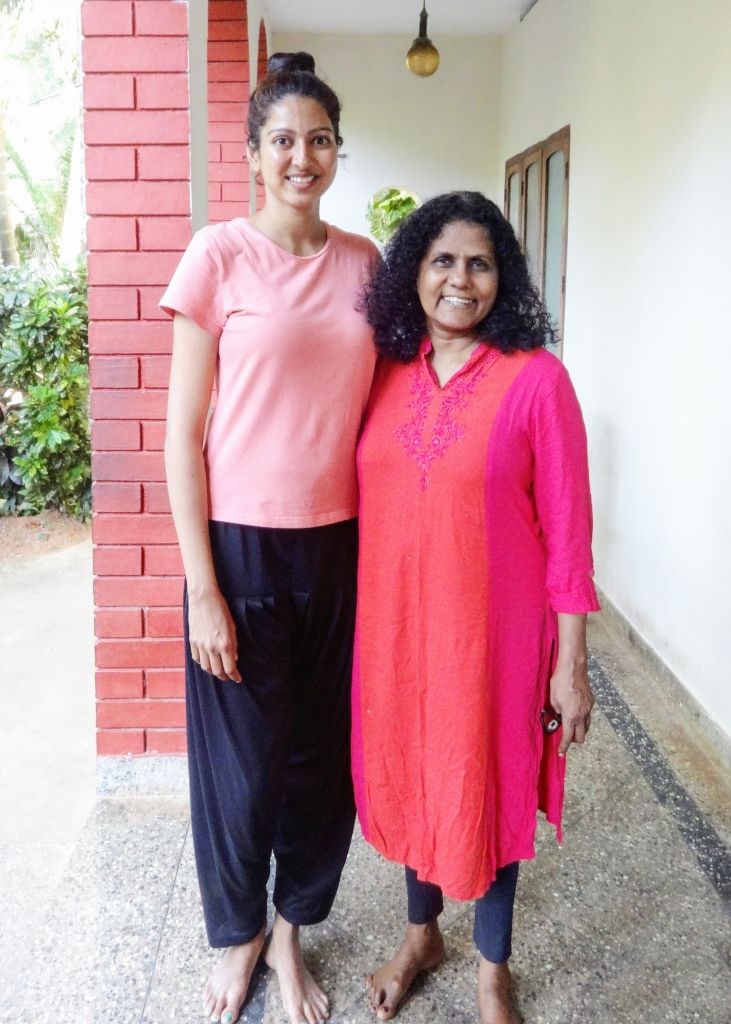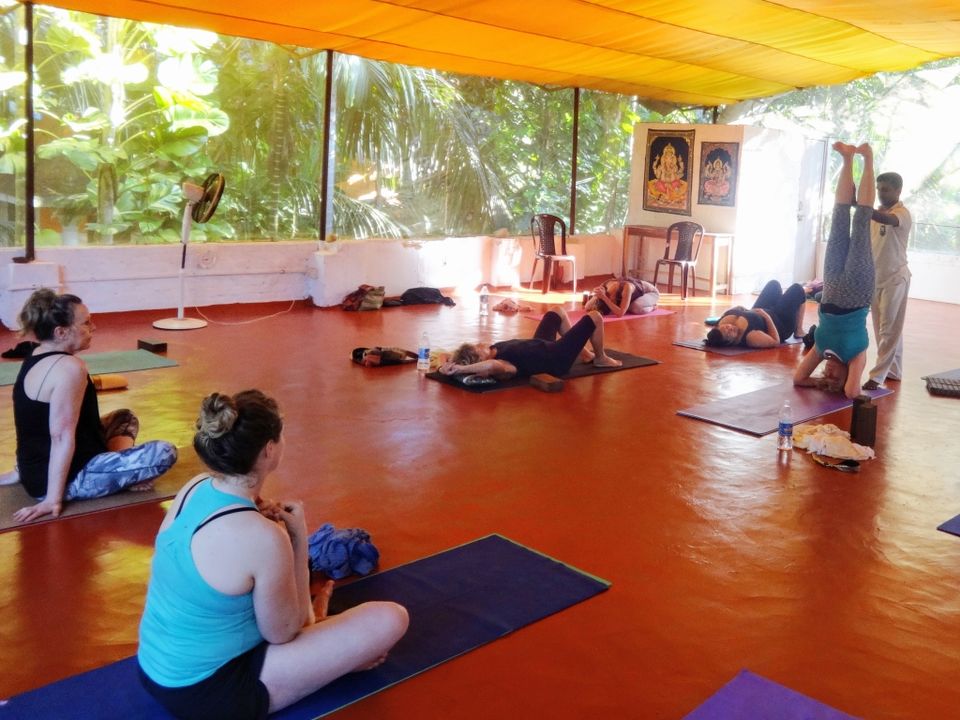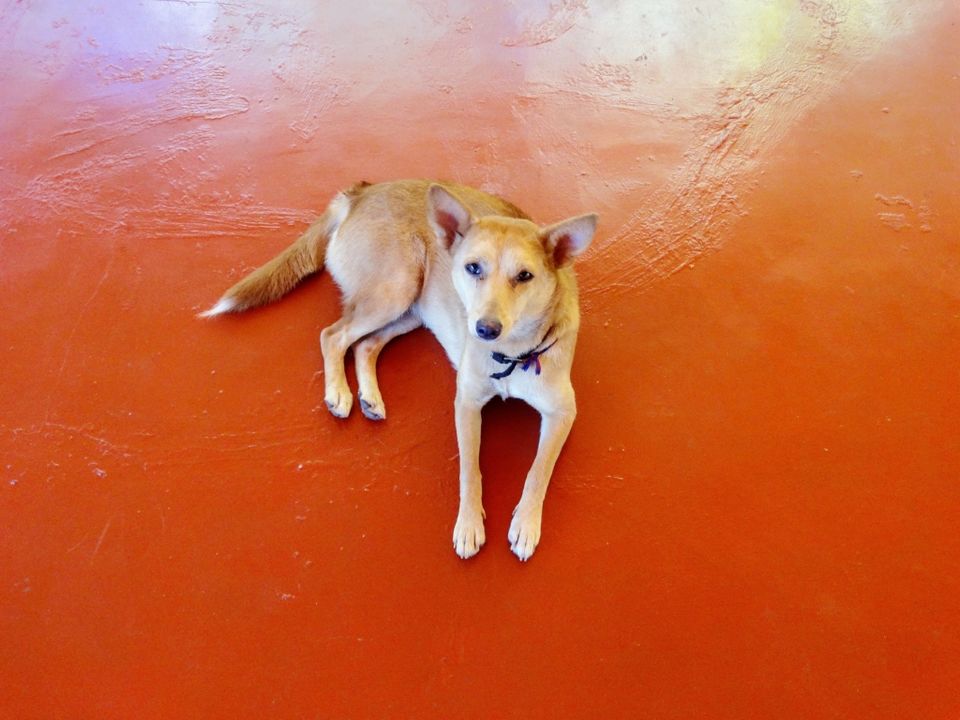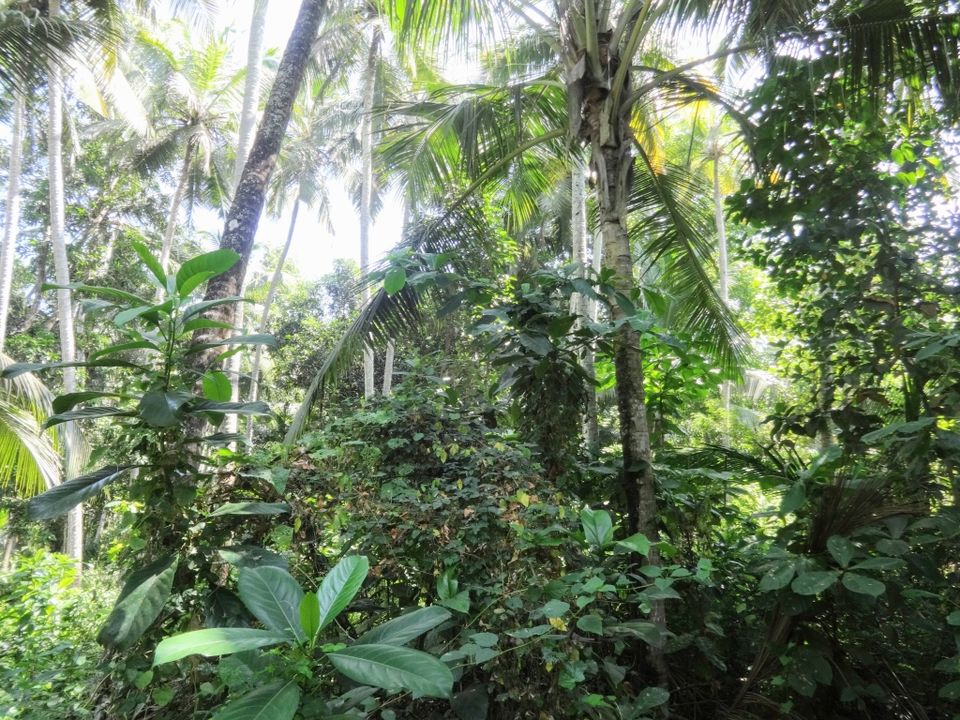 Class of 2 hours followed by an authentic homemade kerala breakfast at Padmakarma - Puttu, Bananas and Herbal Water
The best puttus I have ever had.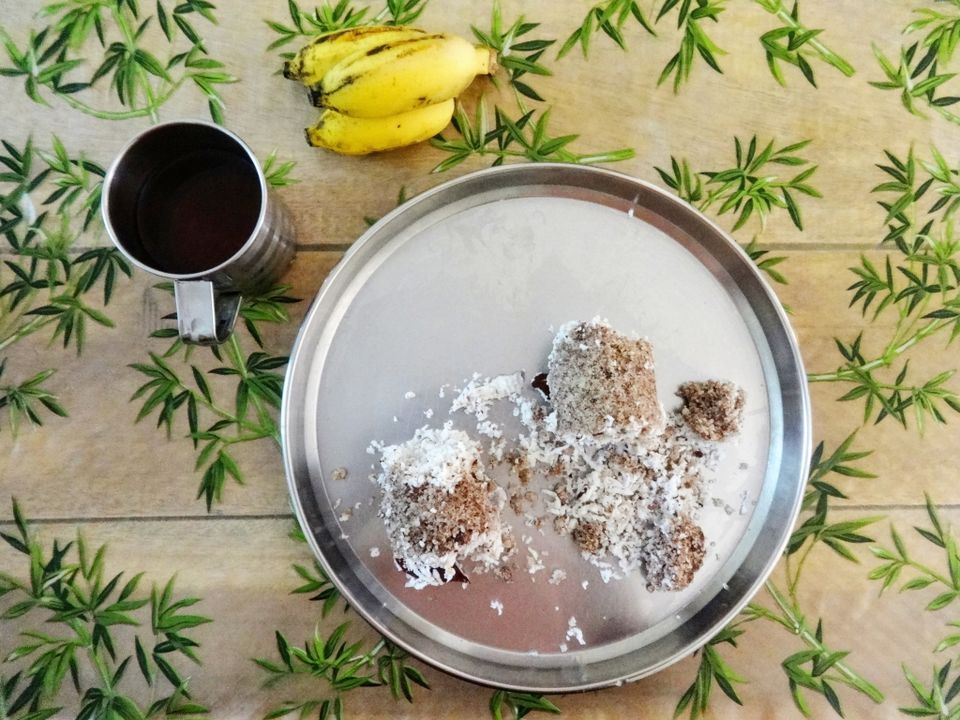 Then we listened to the class on Chakras by Padma Ma - It was very informative
I was the only Indian student for the session and mostly foreigners are the ones who fly down to learn yoga, really appreciate them.
They say, India has gifted Yoga to the world and we hardly know or practice yoga. All of us need to realise the importance of yoga for our overall health.
Padmakarma's website -
Lunch at Arya Ayurvedic Restaurant - Kerala rice and curries, was good.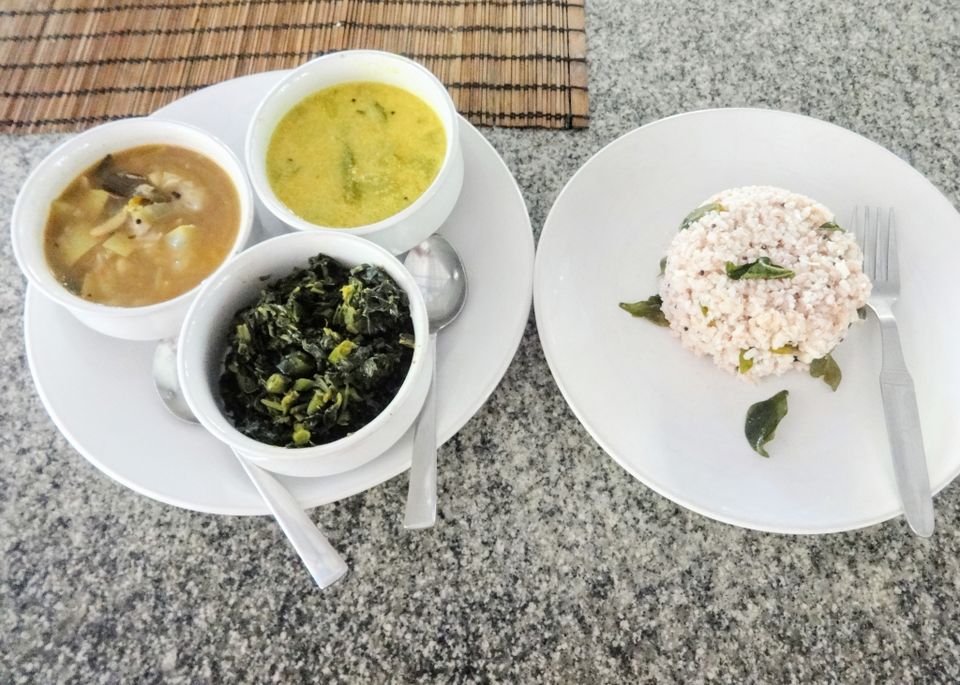 Then me and Crissij took a stroll through the beach. Towards the light house side of the beach, it is clean. Most of them who visit this place are westerners.
Good place for vacation. It would be great if you combine it with Yoga and Ayurveda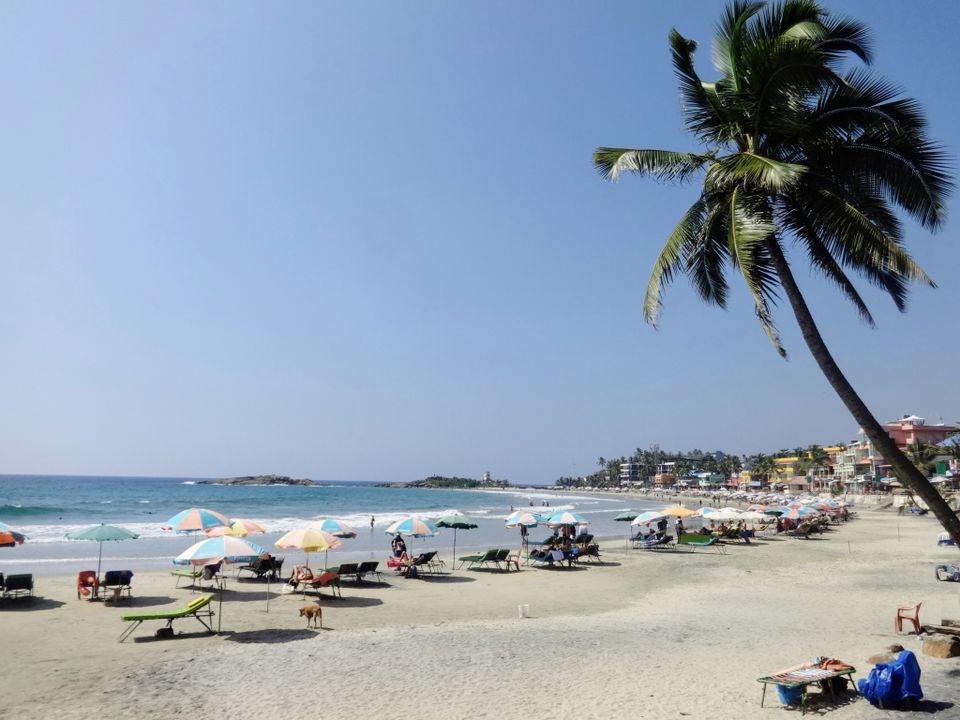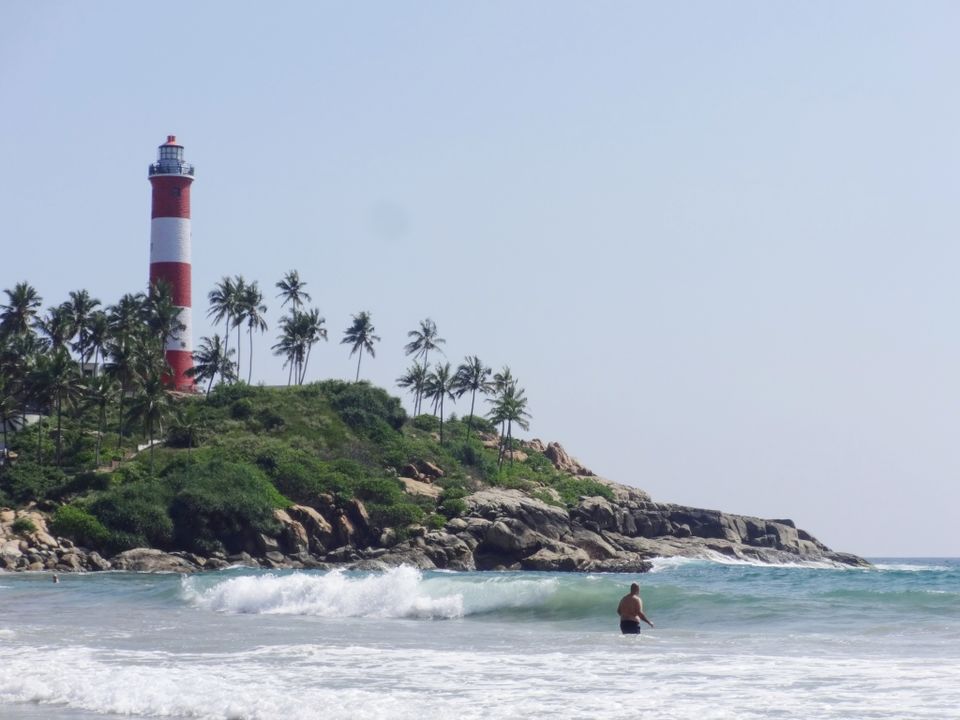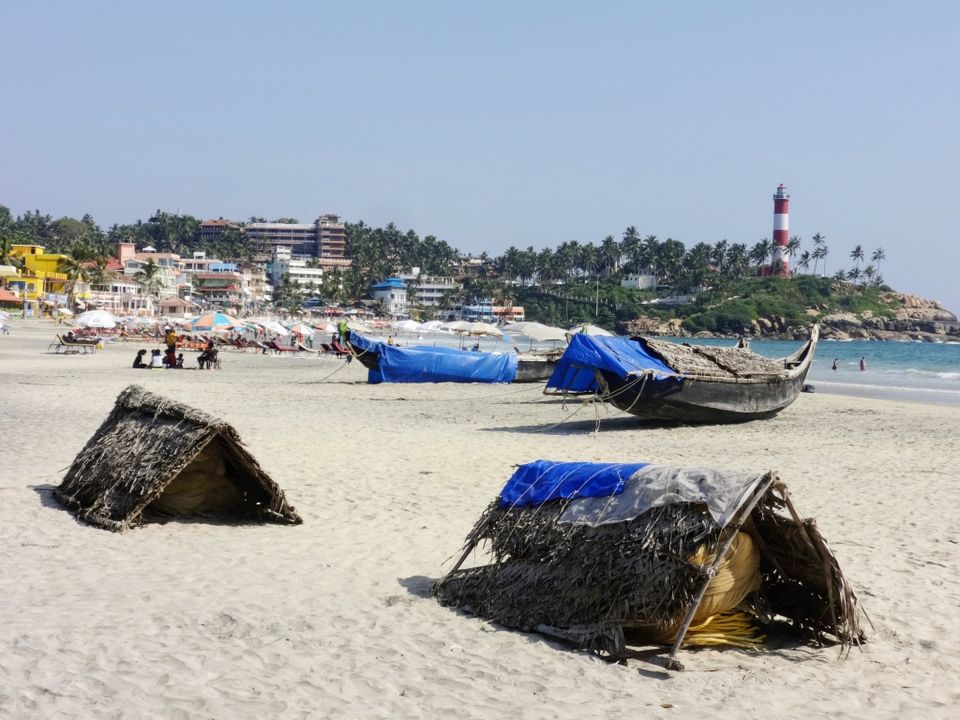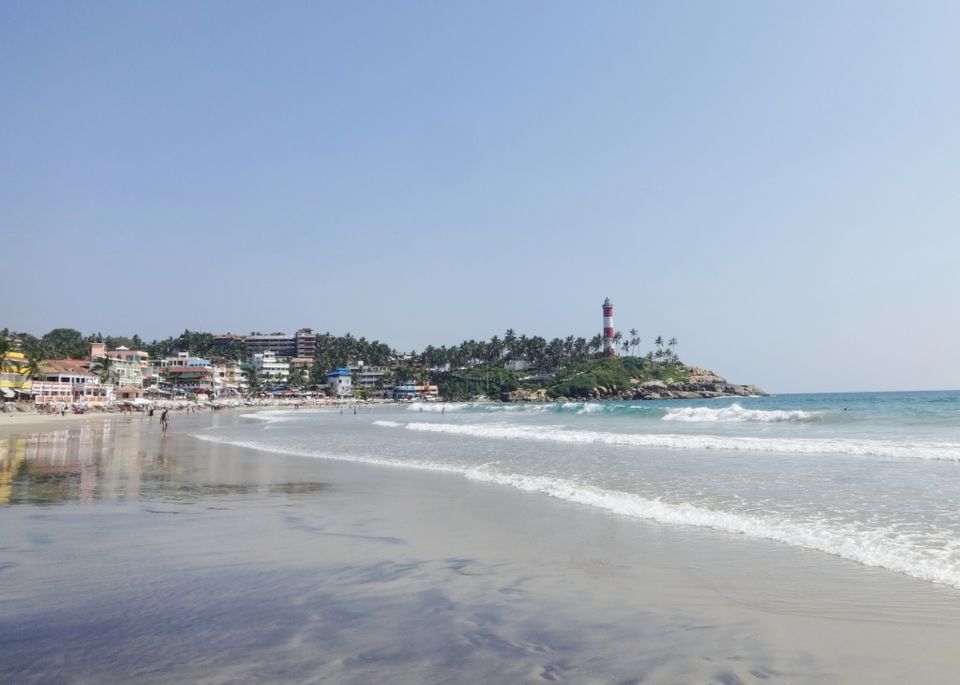 18th JAN 2020 -

Day started with Yoga for 2 hours followed by healthy breakfast, Cinnamon Oatmeal Porridge + Bananas + Ginger Water at Padmakarma, Kovalam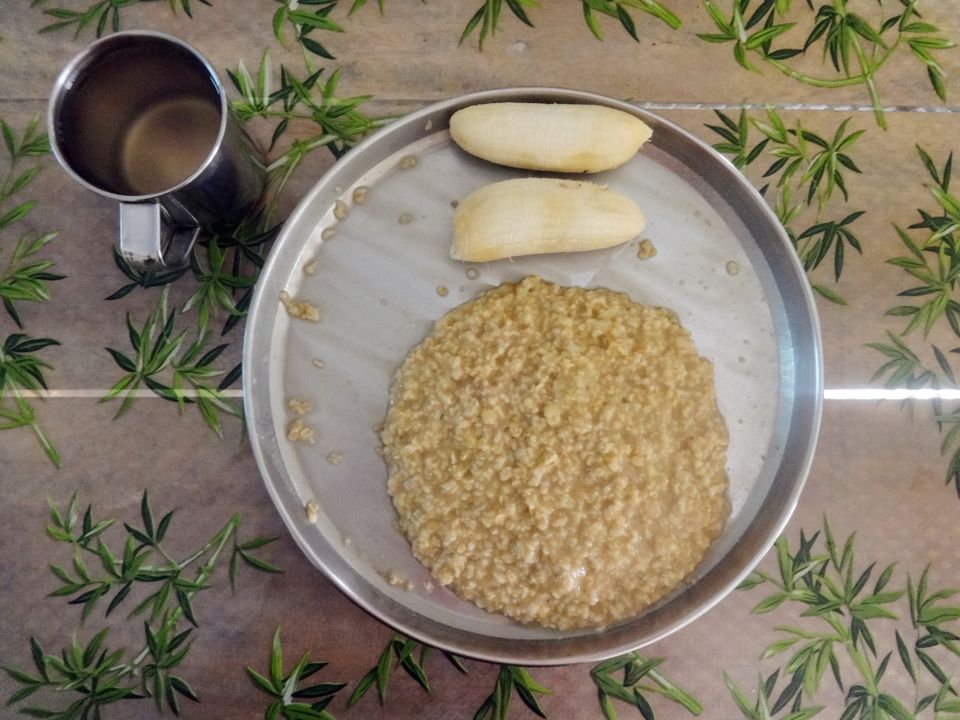 Then we went to the beach.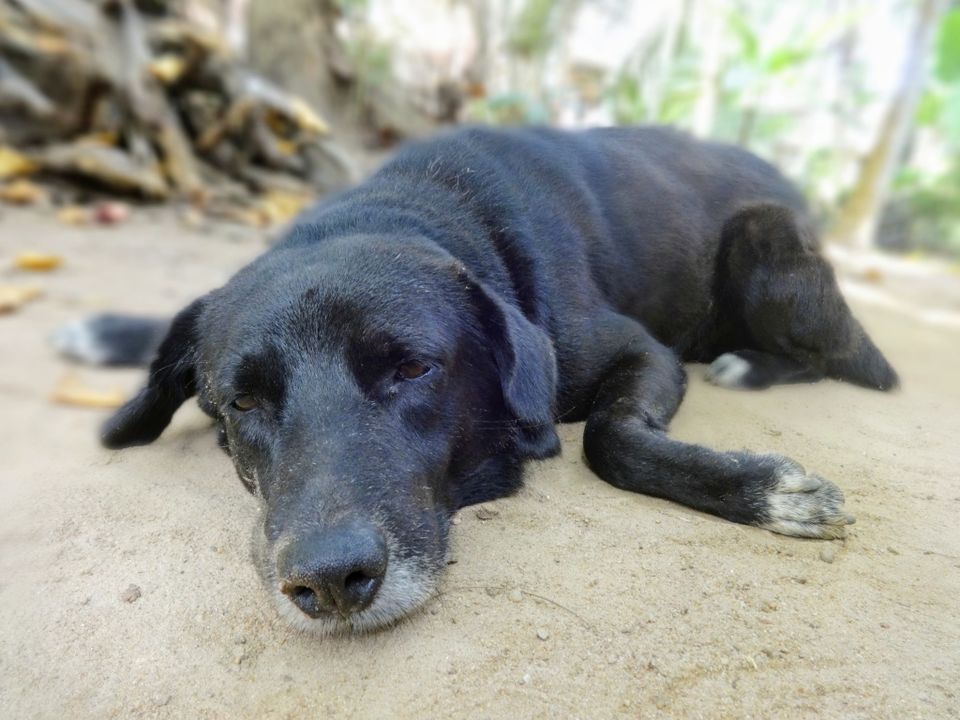 Criss sunbathed and swimmed, while I just chilled with a furry baby.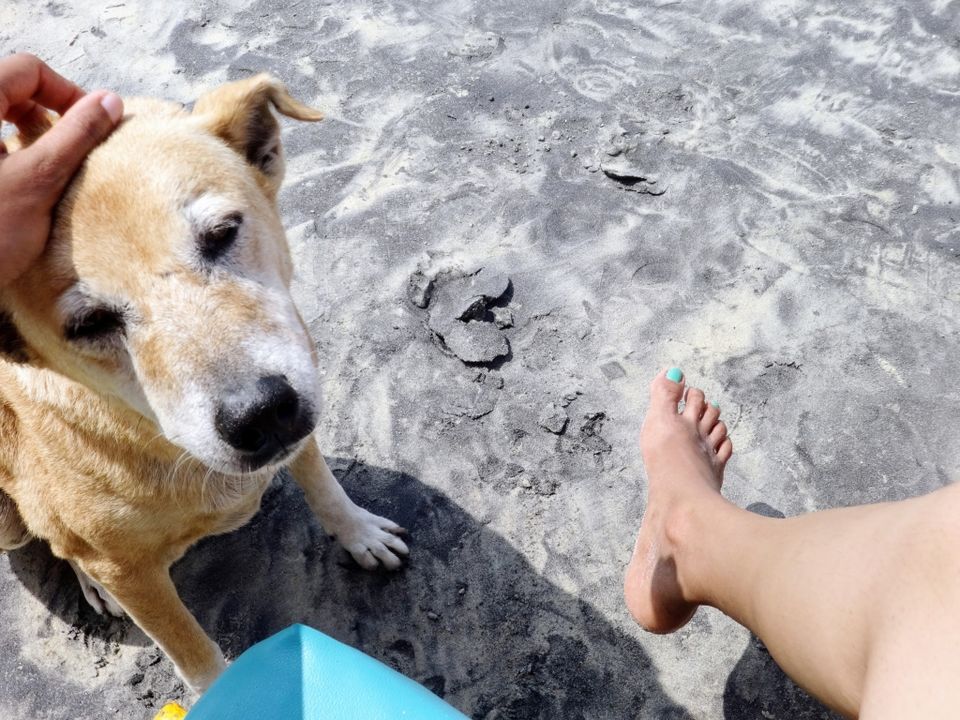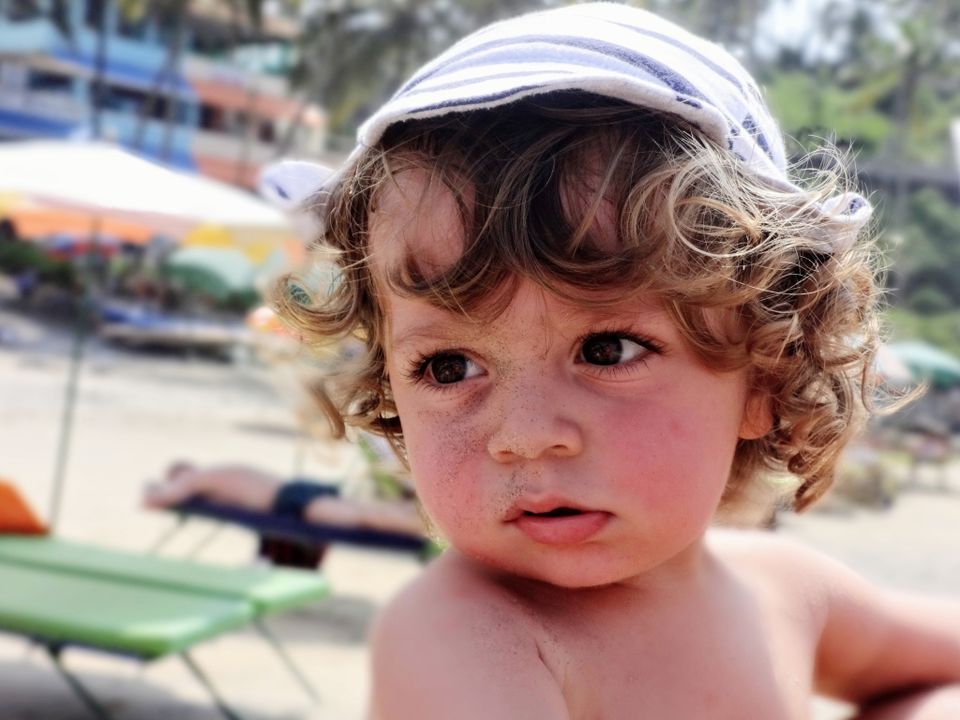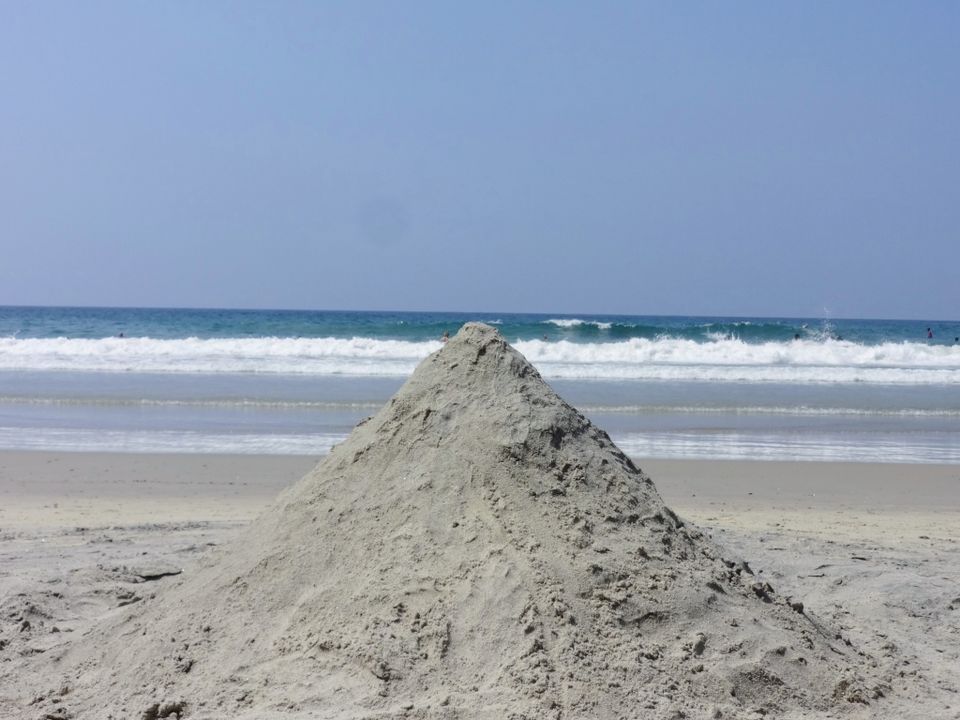 On my way back to the guest house, three underprivileged women from Maharashtra were asking for monetary help. Instead, I donated some of my clothes. They were happy and that made day.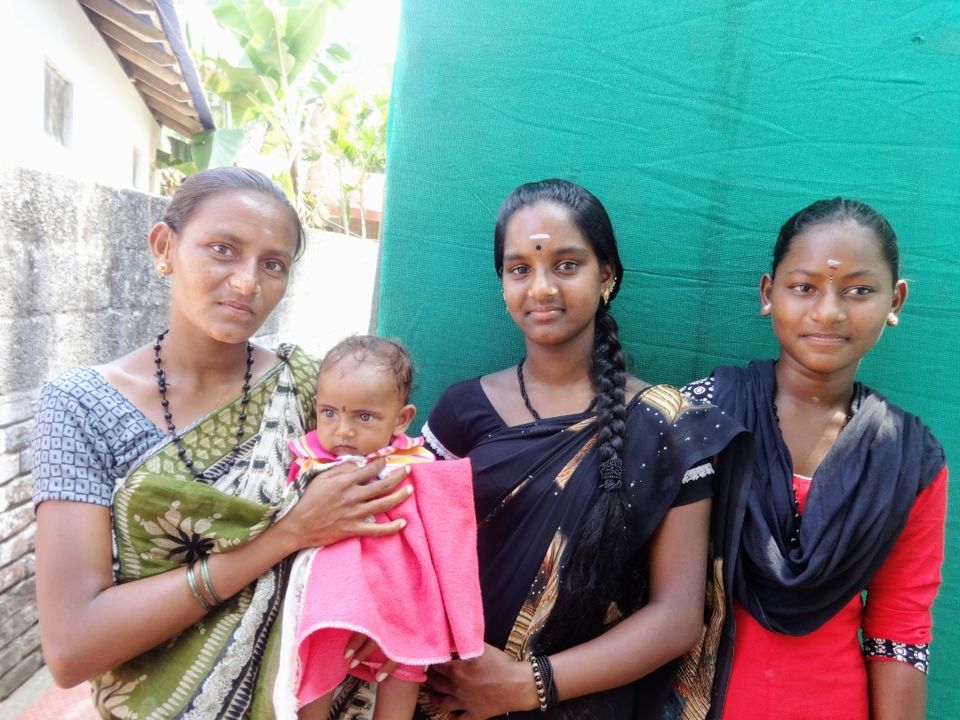 Crissij wanted to stay in Kovalam for a few weeks to practice yoga and to get her ayurvedic treatments done.
It was great traveling with her, we thanked and said goodbye to each other with a warm hug. I started from Kovalam to a new place.
Unplanned trips are always amazing!