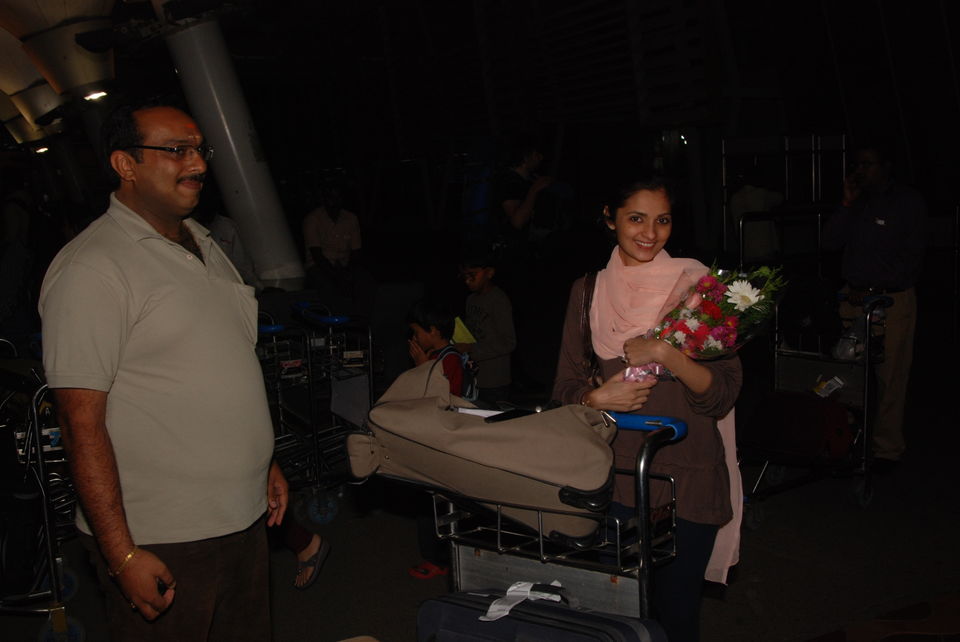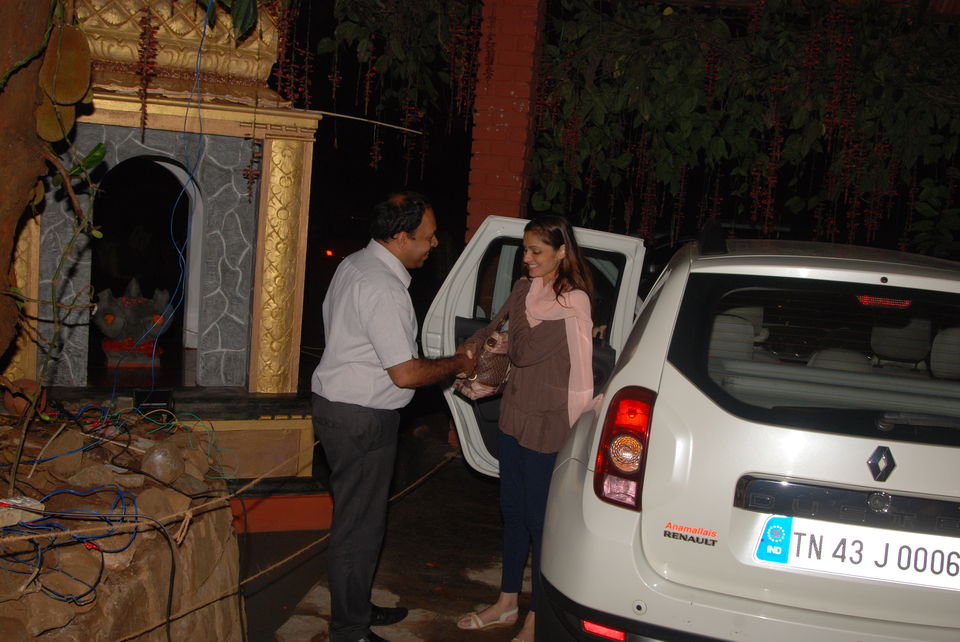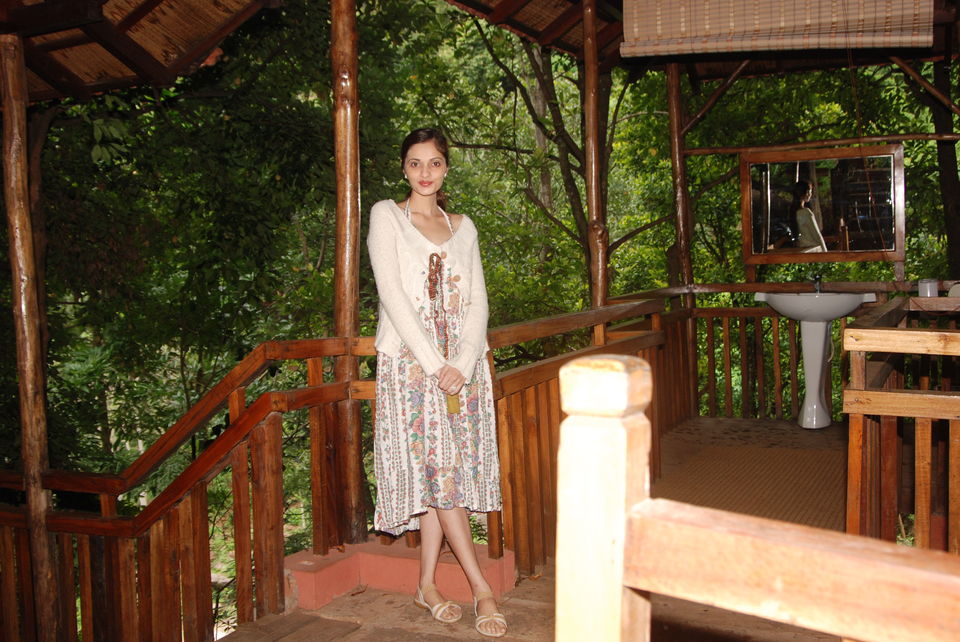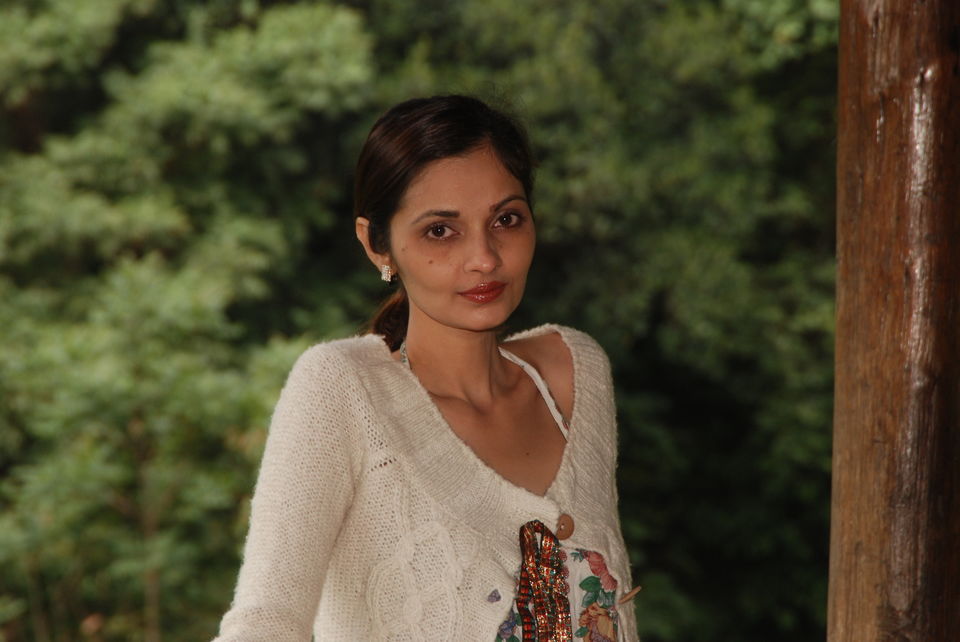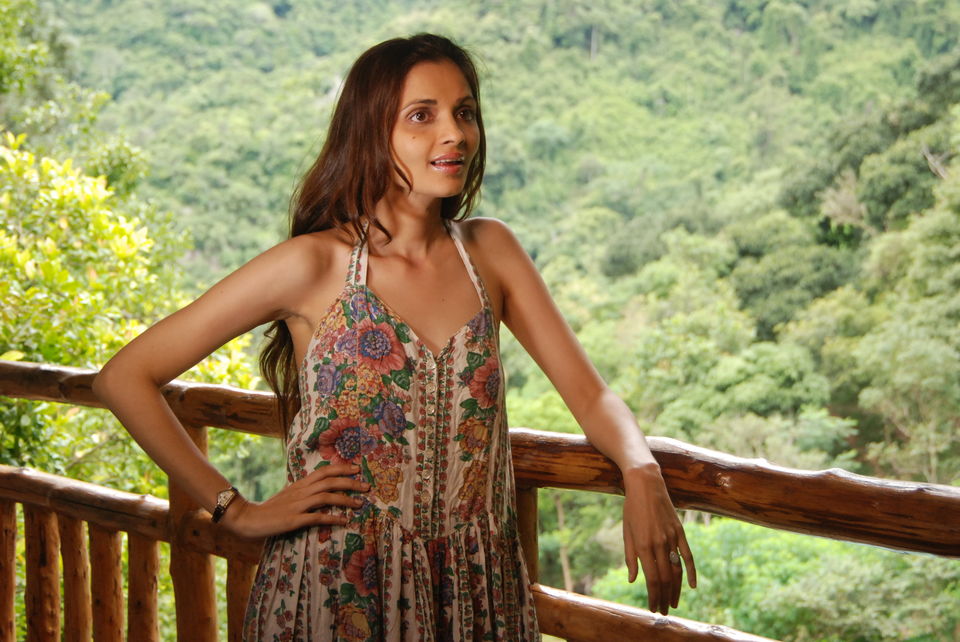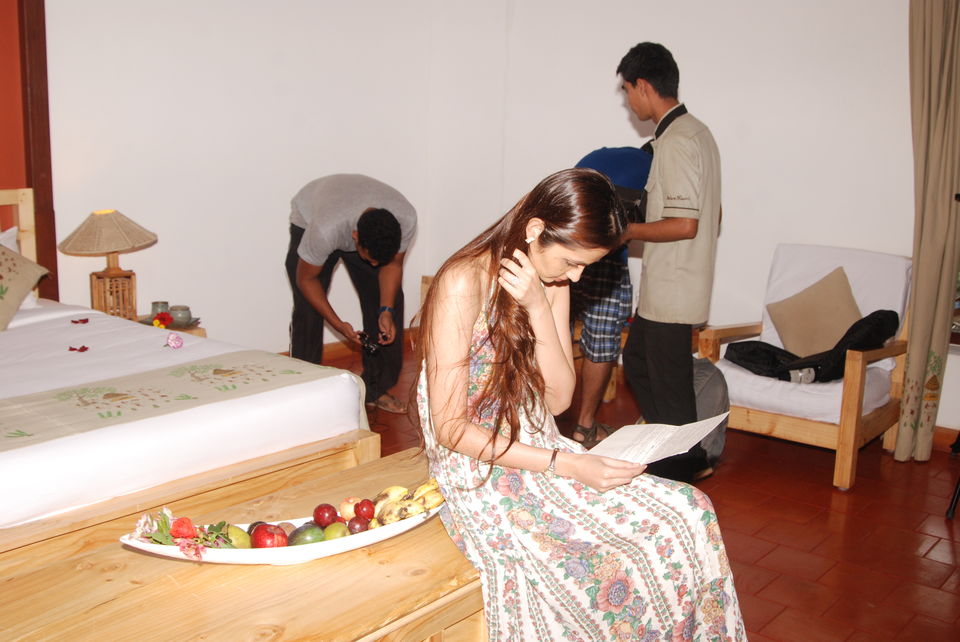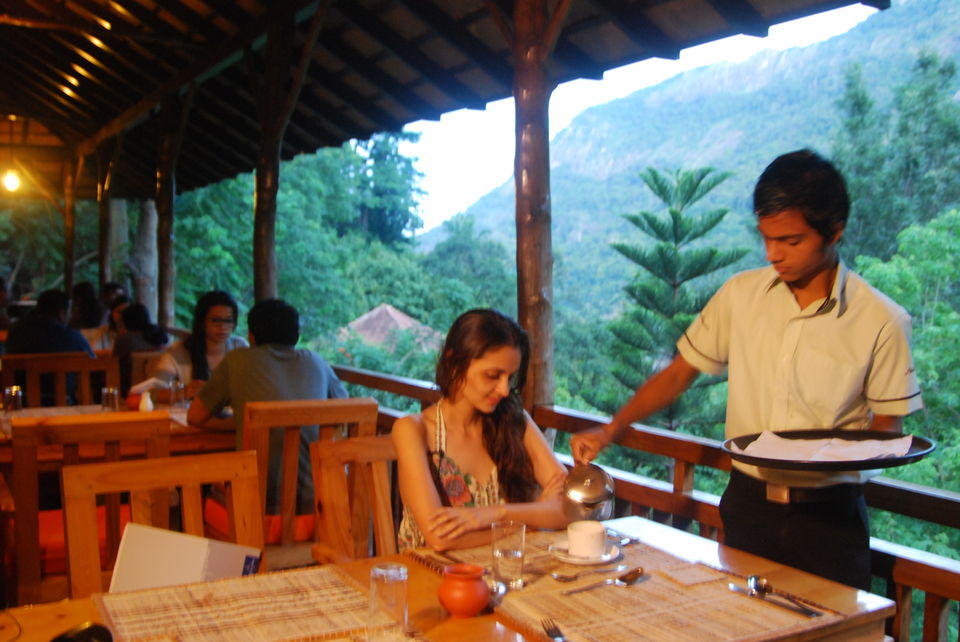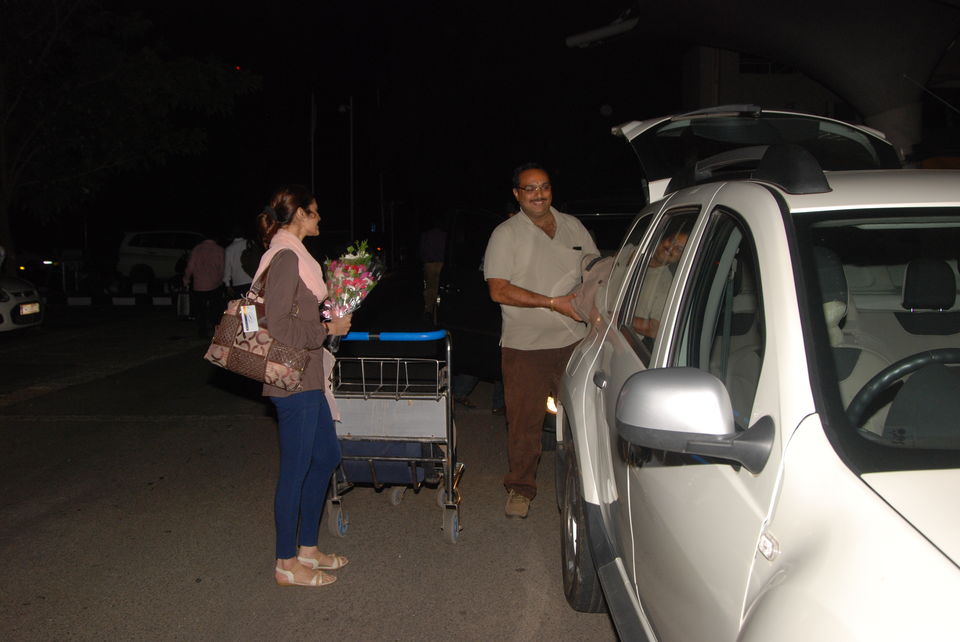 Thursday~August 28th
It was last Fall, almost one year since I had left the United States in September of 2013 to continue onward with my world travels and recovery after a long overdue pause of two years.
I was now on the other side of the world, in India and this particular exploration I was embarking upon was a journey to the state of Tamil Nadu in South India, onto the Nilgiri Blue Mountains of the Western Ghats.
My journey began by flying into Coimbatore via Jet Airways, an airline I do not favour, after being spoiled by SpiceJet, as far as Indian airlines are concerned.  Coimbatore is a two hour plus flight from Mumbai and then, it is almost three hours by road to the Nature Resorts Kurumba Village property, my first destination, situated on the Ooty-Metupalayam Road.
I was received at the Coimbatore Airport, with a lovely flower bouquet by driver, Sarvanan and on staff photographer, Cyril.
We drove down a long road, out of the city of Coimbatore along a road once lined with 200 year old Rosewood and Teakwood tress which had sadly been chopped down to make a four lane highway.
I was told that sometimes, on late nights, like this one, an Elephant will wander out of the forest and just stand on the road.
There are not nearly enough laws in India to protect animals, and where there are established nature preserves or national parks, rangers take bribes to allow in poachers illegally.
It all made me very sad.
Here I was, trying to grasp nature, leaf by leaf and against me was the world, on the way to a 'Nature Resort', stories of trees and animals being destroyed for human gain.
We stopped in Mettupalayam, a small town, to shop for a few frivolities from the Pasumai Pharmacy.
Mettupalayam was the last little town before driving onto the Ooty-Mettupalayam road, toward Kurumba Village.
By the time I reached Kurumba Village, it was past 10:30 p.m.
Needless to say, I was starving and exhausted.
I had been traveling the entire day and it was far past my dinner time.
Upon arrival, I was greeted by General Manager, Jyotish, at the informal lobby, as well as the sound of one hundred crickets chirping in the forest night.
After a dinner at the resort restaurant, lit by candlelight, surrounded by darkness, I enjoyed a dish of Paneer Tikka and made plans for my three days here.
It was pitch black in the night as I was escorted to my cottage which was the farthest of the 24 cabins from the reception and also the most secluded, just as I liked it.
As we were walking there, Jyotish said to me, "Don't be scared here in the jungle, you're not alone, we all live here."  And I replied, "But I'm not afraid, because I'm home".
Entering my little cottage house felt so nice after such a long day at airports, in the air and on the road.
The cottages here are rustic and I was in the Honeymoon Cottage, the one with the most privacy and seclusion:  dark wooden floors, creamy walls, exposed wood beam ceilings and old light fixtures with both a balcony and bath facing nothing but the vast jungle.
I was not surprised to find that after unpacking, a long nighttime bath, and bed tea, I stayed up most of the night and only drifted off to slumber around the wee hour of 2:00 a.m.
Friday~August 29th
Now, usually, I would have slept until at least 2:00 p.m. in the afternoon after such lengthy travels but I was awoken by what sounded like the all too familiar whistling I heard on an almost daily basis during my time in Mumbai and New Delhi.
But no, this was not Eve-teasing from hoodlums outside my bungalow, it was an unseen friend, nestled somewhere in the treetops making himself known by his melodic early dawn song.
It was the Indian Whistling Thrush, indigenous to this region and other mountainous regions of the country.
My eyes were heavy with sleep, but he was persistent and I preferred his sweet morning welcome over the routine workday alarm clock beeping or the phone ringing endlessly from a hotel wake-up call any day.
I was eager to see the view of the forested mountains which were invisible the night before when I arrived.
The first thing I did was swing open the doors to my cottage balcony and as I stood there, allowing the gentle morning breeze caress my face, I let the infinite colours of green soothe my eyes and then, as if that wasn't therapeutic enough, the lullaby of one hundred chirping morning birds and gurgling of the stream below my bungalow washed my ears with their harmonious hymn.
I knew for many years, that I belonged to nature, and it to me.
The only true friends I had ever known were the birds in the trees.
And here, in the midst of it all, in the forest of the Western Ghats, in the Nilgiri Blue Mountains, named after the blue tinge exuded by tall Eucalyptus Trees; far, far away from the city, I found a piece of myself, I found the peace of home.
The day was to be long, beginning by 8:00 a.m. and not wrapping until 11:00 p.m., filled with outdoor shoot activity.  So to begin, I went straight to meet my camera crew from Iora Pro in the duplex cottage.
I would be shooting a travel show segment for three days here with Prakash, Vinayak and Sudheer who had traveled from Bangalore, Karnataka.
As I wrote my script links upstairs, while the crew set up downstairs, I was served chai and boiled eggs for breakfast.
I was comforted by the fact, that the female assistant I had requested, was finally here.
Kaushalya:  dark skinned, no make-up, dressed in a maroon and yellow South Indian sari, hair in a bun and red bindi in the center of her forehead, was from the nearby hill station town of Coonoor and would accompany me for the duration of my stay at Kurumba.
I also met Renjith, a Keralite, who would be coordinating my shoot schedule and stay activities.
Saturday~August 30th
Something wicked had taken over my body the day prior, I was terribly ill the earlier evening and it had carried over to the next day.
With my delicate immunity and health, I always take extra care, but travel is unpredictable; and the same thing that makes it wonderful can often be detrimental.
My wake-up call came from a rattling at my balcony door.
A family of wild moneys from the jungle had arrived to wake me up at 9:00 a.m.
There must have been at least eleven to thirteen of them when I went outside to check on the noise.
I made sure they did not enter my cottage but I went inside and fetched the fresh fruit basket from the coffee service table.  I felt that my forest friends would be grateful for the gesture, so I gave them all of the fruits.
Now, I had things to do.
There was work to be done and much to be experienced yet at Kurumba Village.
That day, as a part of the shoot schedule, I was shown around the spice plantation by Kaushalya, where I tasted some of my favourite spices right off of the trees, including raw green pepper berries and clove buds.
Afterward, I experienced a traditional South Indian welcome ceremony at the lobby, complete with Pooja, a flower necklace and red Sindoor.
As we strolled towards my cottage, I heard the 'laughter' of the Giant Indian Malabar Squirrel somewhere in the treetops, who lives in this region and thrives on the Nutmeg Tree.
There came a point in the late afternoon, where I felt my tired, aching body giving out on me and it was then, that I had to surrender.
All I wanted to do was sleep but the staff insisted I see a doctor, so off I went to Coonoor, with Kaushalya and Cyril.
The drive was a harrowing mess.
With the 4:30 p.m. rush hour, the highway ran up the steep mountain, at a twisting, lurching, nauseating pace.
I hate road travel, especially with traffic jams and even more so with curvy, winding roads which aggravate my vertigo.
We reached Coonoor just as the sun was beginning to set.
Coonoor was once a lush, green, forested hill station with only carriage transport, British tea gardens and a few boarding schools.
I remember visiting this town as a child when nothing but lush mountaintops kissed with a thick fog emerged as one approached the small hill station, with its hallmark being the old sky blue hued clock tower.
But now, today, it was another disappointment:  litter everywhere, traffic, pollution, the once crisp mountain air hazed with gray clouds of smoke, noise, congestion; I may as well have been in Bombay.
All I wanted to do was get out of the car and walk through the marketplace.
I decided to bypass the doctor and go to the herbal pharmacy across the street from where we parked.
I bought a dozen Vicks Ginger and Menthol cough drops and Tulsi syrup.
Though it was getting quite chilly now, I wasn't going to leave without visiting the Eucalyptus Oil Manufacturer next door.
The fragrance of Eucalyptus, one of the essential oils I absolutely prefer, was intoxicating.
The factory was actually a small distillery out of a private home.
I knocked on the door and was almost overwhelmed by the heady scent when the homeowner opened it.
He was an old man, delighted to educate me on all of the different types of oils:  distilled, filtered and raw.
He showed me one after the other out of the aged glass and wood apothecary cabinet where each oil was neatly arranged and labeled.
I purchased a bottle of Eucalyptus (Nilgiri) oil and one bottle of Wintergreen (Gaultheria) oil which I would surely use for many things.
The drive down the mountain out of Coonoor back to Kurumba was not nearly as unpleasant.
I saw several families of monkeys on the roadside and did my best not to be incensed by the graffiti on the walls and trash on the roads.
It was when I rolled down my window and let the cold evening air wash over me, while I gazed beneath to the valley of tea estates which were quickly filling with a sea of fog, that I was able to disconnect from what is ruined and absorb what has been preserved.
As requested, when I reached back to my cottage, exhausted, weak and famished; I was relieved to find that Renjith had arranged for the staff to prepare a Eucalyptus and Clove flower bath as I had requested earlier on that day.
I retired to the bath and sunk into the scented floral water to allow it to soak away my pain and fatigue.
After what felt like liquid slumber, I pulled myself up to get dressed and go up the steep walk to the restaurant to meet Prakash, Vinayak and Sudheer.
It was the last night with my camera crew from Bangalore so I made the most of it as we went through all the beautiful footage we had shot the past two days.
For me, the night ended peacefully, with dinner in my little villa followed by my last slumber here at Kurumba.
Sunday~August 31st
Yes, the first half of my South India press tour was over but the better half of my journey was about to begin.
Around 10:00 a.m., I was dressed and ready to check out from my cottage, 109.
After taking some departure photographs and bidding adieu to the Kurumba staff, Sarvanan had arrived to chauffeur me to the next phase of the Nature Resorts properties, Tea Nest & Tea Annexe, situated in the Coonoor Mountains.
What I was most looking forward to was the immense peace and quiet I so craved and I was promised that up in those mountains, surrounded by tea plantations, I would have that exact tranquility.
The hour and a half drive was undesirable but it was the only way to reach.
I must mention that the Nilgiri Mountains are only navigable by road and train.  The closest airport, where I landed, is Coimbatore, a good three to four hour drive away from anywhere in the central mountains.
I desperately wanted to travel via the Nilgiri Mountain Railway, one of the seven 'chotey' (meaning small or little) railways in India sited as a UNESCO World Heritage treasure.
These tiny steam engine toy trains are a gift to India from the British Raj that were built in the early 1900s and considered engineering marvels of their time.
To my dismay, my jam packed schedule and the absence of last minute train ticket availability, I was unable to experience the Mountain Railways on this trip.
Once we got past the bustle and bump of Coonoor town, we ascended up the hills, higher and higher.  Then, delightful drizzle began to dampen the windows and fog clouded the roads ever so romantically, until our Toyota Innova disappeared into the mist.
I was taken up to Tea Annexe, the smaller, more private and pricey of the two tea estate properties of Nature Resorts.
Tea Annexe is a small bungalow with only two rooms and two staff.
I was welcomed there by Augustine, the Property Manager, who was awaiting my arrival.
After a short survey of the place, I just knew that I would rather stay at Tea Nest, just below, even though I hadn't formally visited it yet.
Though Tea Annexe was all the seclusion and quiet I cherished, I wanted to interact with staff, as I always do when traveling, be it on press trips or personal holidays.
And, it was the best decision I had made.
The moment we drove down to Tea Nest, a mere two minute drive downhill, I felt the warmth of each staff member and suddenly knew the sense of a home that I never quite had.
The property was uninspiring, though it could have been magnificent had it been preserved in its two hundred year old British Colonial style.  It had all of the potential to be grand and quaint all at once but was neither of the two.
The bungalow had been renovated on the inside to look like a tacky plaster mixture of something dawned from the seventies.  This version, is decorated by the current owner.
And what was originally the entrance and front garden had been cemented over with just that, cement.
It was all very cheerless.
I was told that the owner was a Sindhi proprietor who now lived in Canada and his residential bungalow was right beneath the Tea Nest property.
It was a construction tragedy, so I tried my best to overlook that and just immerse myself in what was left of the natural surroundings.
My first night here was spent in the Green Room, which was quite ordinary but cozy, nevertheless.
But the better part of my stay began the next day when I shifted to Jasmine Suite, the largest, most private and loveliest of all the rooms at Tea Nest.
Jasmine was situated in the private garden below, adjacent to the owners bungalow.
I was quite happy there.
There was more quiet here than on the upper level bungalow rooms and the on site caretakers, Baby and Sheeba were nearby in case I heard a bump in the night.
There was flora and fauna here not to be seen in the city accompanied by my dearest and most beloved friends:  the fluffy squirrels playing joyfully, birds of variety chirping about and the soft swishing of leaves as they brushed against one another in the mountain breeze.
I ate my meals on the covered patio, resting in an old wooden lounge chair.
An oil lamp lit the small service table where my meals were laid out and as the flame flickered about, I took pleasure in the peace as I dined and let the little birds sing me their sweet lullaby.
One of the things I took notice in here was the way the staff moved so gently about, respecting nature's gifts.
My last afternoon here, while I was lunching on the patio, one of the boys was walking down the sidewalk towards the kitchen entry door; there were two little sparrows hopping around merrily and he stepped carefully over to the side, ensuring they went undisturbed.
It was the presence of such small kindnesses that were often completely absent in the city.
In addition to the lovely tea, I want to remember to mention that the charming boys that comprise of the staff here are so humble, mannerly and obliging that I felt not a tinge of discomfort being among an all male staff.
Kaushalya, from the Kurumba property was supposed to join me at Tea Nest for the latter part of my stay, but she never presented herself.
As I was on my own, I wish to mention that Augustine, the Tea Annexe Manager, came down especially to serve me during my stay with the assistance of Arafat, a very young trainee boy on site.
Both of them made me feel as if Tea Nest was my own home and Augustine makes the most wonderful Lemongrass Ginger Chai I have tasted in India.
Arafat was very quick and eager to learn; he accompanied me to my outings after I taught him how to operate a video camera for recording my journals.
I was still ill that night and had run out of medicine, but the staff was kind enough to venture into Coonoor marketplace and bring me my refills.
With Tulsi Cough Syrup and Ginger Tea, I drifted off into deep sleep.
Monday~September 1st
Today was my last full day in Coonoor and I wanted to have an outing or two.
Around 4:30 p.m. that afternoon, I took Augustine up on his offer to guide me through the nearby tea trails.
The weather, to my dismay, had been much warmer than I anticipated on this entire journey.
Augustine told me that when it once used to pour in the fall months, now it barely rained due to heavy deforestation.
But I could not remember when a walk through nature had not done me good, so I still went.
Alas, as I had feared, the trails were littered with garbage from unruly local tourists.
This, in general, is one of the gravest disappointments travel throughout India.
The government is corrupt and does not look after its national monuments, Taj Mahal included, much less its natural surroundings.
However, one cannot entirely blame the government.
The general synthesis of mentality here is a grotesque mix of the uneducated, pilfer and pillage.
Indians trash their own country in ways that are too demeaning to mention in depth.
I had come to a point where I was not only disheartened but truly disenchanted with travel in India, as it was impossible now to turn a blind eye on this very problem no matter where one ventured.
Barring the benefit of fresh air and exercise, I wanted to go back to Tea Nest after a very brief stroll.
Once I had my late afternoon tea, I was ready to go explore the Conoor Market.
Arafat, Cyril and Driver escorted me down the hill in our SUV.
The market was a mere 10-15 minute drive from Tea Nest.
In its day, the Conoor Covered Market was quite well known for its fresh South Indian Coffee Grounds, Mysore Potato Chips and local Essential Oils.
I had no clue where to begin but I knew I wanted to talk with the locals about their individual stalls.
Many of them spoke English.
Hindi is not spoken in South India; they speak their respective state language (Tamil, in this case) and some speak English.
What pleased me most about the shop owners here was how kind and friendly they were, but most of all, how they believed in soft selling as opposed to the hard, aggressive manner of vendors in Bombay and Delhi.
They were happy to answer as many questions as I had, without the pressure of a sale.
When I went to a flower vendor in one of the market alleys, I smelled all of the flowers and the shopkeeper suggested which one he thought I would enjoy most.
I pinned the cream and coral coloured jasmine bundle into my hair, where the fragrance intoxicated.
And the most touching moment of the day arrived when he refused my money with a warm smile.
This, more than anything was what made travel, my life.
I went forth, out of the covered market, onto the main street, where a local fried snack shop owner insisted I try his crispy delights.
I was not one to say no to fried food, especially not in India and above all, never to street food.
The sampling seemed endless:  fried plantain chips with red chilly, fried black pepper banana chips, crunchy bitter gourd with masala and my top pick, the local special, Mysore Potato crisps, made from potatoes only grown in South India particularly for frying.
My last stop in the market was to sample more essential oils like Tea Tree, Lemongrass, Clove, Ginger and Rosemary.
The outing was a treat for my senses but I was ready to retire for the evening.
That night was quiet and peaceful.
I had dinner in my bungalow alone, followed by bedtime tea and just enjoyed the calm in the soundless hours of darkness.
Tuesday~September 2nd
Five days had gone by quickly and at last, my visit was coming to a close.
It was time to bid my goodbyes to the wonderful staff here, especially those whose hospitality I would miss most:  Augustine and Arafat as well as Jignesh, the trainee boy from the front office who had all made me feel at home.
Before I digressed onto the four hour long path to the Coimbatore International Airport, I was certain to say a personal thank you to each staff member and make a parting video diary for all to share.
It would be a long passage in transition, private car, airport and cab so I relished my last memory of this South India trip:  the sight of Beetle Nut Plantations whizzing by in a picturesque green haze.