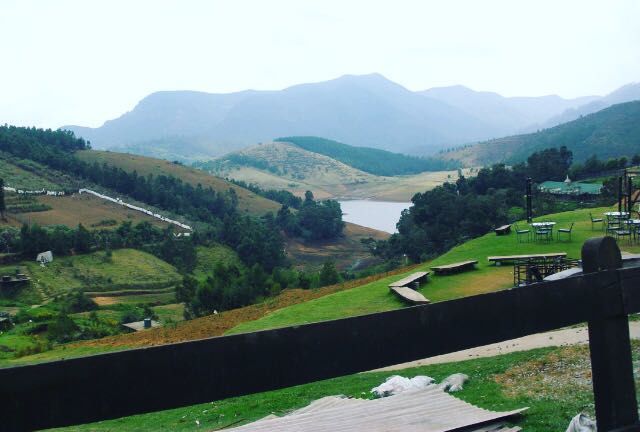 It was March, the month that I hate the most as turning another year older that haunts me. But recently I have understood that I should consider like am turning wiser. Better thought yeah ?
So since it is that time of summer and my friends and I were thinking to get out celebrating my day, so I thought why not explore Ooty considering the pleasant weather that would be much needed for a break.
I have traveled to Ooty so many times as a kid with my family, and it is got so commercialized from the way it used to be at a time. We scrolled through the stays and finally decided to visit Destiny farm stay which looked far away from the city and was called as a hill resort. Destiny is set in the Nilgiri biosphere, 25 km from Ooty.(Main city). And I commuted via bus which is the most comfortable, safer and faster way of transport. If you are driving by yourself you can follow the google maps. But if you commute in other ways , you can consider requesting for a pick up from the hotel.

Getting here:
By Air
Approximately 88 kilometers away, Coimbatore is the nearest domestic airport from Ooty which is well-connected with most of the Indian cities. You can also take a flight from Bangalore (which is 295 kilometers from Ooty) as Bangalore airport is connected with most of the cities across the globe. There are regular flights from Delhi, Mumbai and Chennai connecting Bangalore and Coimbatore. Once you reach the airport, you can take a taxi or bus from there to reach Ooty.
By Bus
Ooty is a major tourist attraction of South India. You will get both government and luxury buses from Bangalore, Mysore and Chennai to Ooty. These are overnight buses and the journey is quite comfortable. and it takes just 6 hours to reach Ooty.
By Train
The nearest railhead is Mettupalyam, 40 kilometres from Ooty. There are trains from Chennai, Coimbatore, Mysore and Bangalore connecting Mettupalyam. Some of the popular trains are Ooty Udagamandalam Passenger train, Mettupalyam Udagamandalam you can also board the heritage train known as the Nilgiri Mountain train which takes you uphill on an exciting journey. However, if you wish to reach faster, take a taxi from the railway junction.
Road/Self Drive
The best part of a road trip to Ooty is that you drive through the reserve forest area and stunning scenery, and that surely is some experience. If you wish to drive from Bangalore to Ooty there are 2 routes you can take: via Mysore or via Chamarajanagar. Finally you reach Gundlupet, the border town and enter the forest road amidst Bandipur National Park and Mudumalai Wildlife Sanctuary. Look out for elephants on this stretch!
Things to do:
They have many exciting things to offer, but what's more amazing is the view itself.
• They have indoor games like tennis, Foosball, we even requested for a Karaoke since it was my birthday. The lobby is quiet and pleasant so you can enjoy your time of for yourself gazing at window sipping a coffee or read your favorite book.
• They have other exciting things to offer like Horse riding, Hiking and camping. One can even try fishing on a pond or a lake. The farm has a stable full of horses, a dairy full of cows and also ducks in pond. You can even request for a bonfire during the night if you are huge in number and need some more fun.
• Who doesn't like a spa on a vacation, this place gives beauty treatments and different kind of massages, enjoy it with a beautiful view.
Food
They have a restaurant that can offer you variety of cuisine, although it is expensive. You can't find another option since the place is remote and far of the city.
Stay
They have around 30 wooden furnished rooms which offer standard, deluxe and luxurious stays based on your interest. My room had a beautiful view of hills and a lake that I could wake up with.
Pros and Cons
Pros are that this place is like a dream, it's got the best view and you will not encounter any disturbing noise that you get in your day to day life. There are so many things to do that you will be unable to cover it all if you lose the zeal and get lazy. Considering many stays this place is expensive, but experience is worth it.
Cons are that this place does not have a good phone network, although they provide calling facilities to their landline, if you are an addict to phone and internet, this place might not be the best for you.
Overall a big thumbs up to my experience at this place. See through my pics on how I cherished this place.
Cheers,
Swetha Kumar