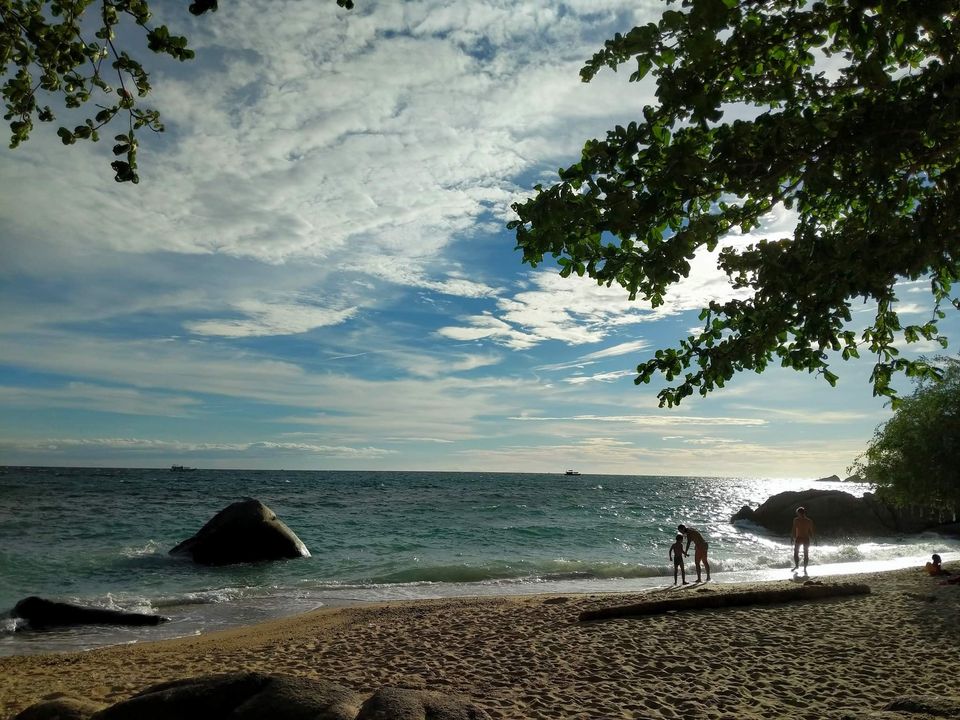 Tales of Thailand - Volume >>5 💓
Koh Tao 🇹🇭
July 2019
Well it was my 6th Visit at Kingdom of Thailand and 5th in last 300 days and prettiness of Thailand is such that there is nothing called "Enough" .
It was my birthday so definitely I wanted to encash this moment for myself .
May be I would complete the remaining major regions like Chiang Mai & Chiang Rai soon and that is how I can proudly wear cap and ask for dual citizenship of Thailand from Royal King of Thailand .
Coming to Royal King , we actually share the same birthday week and I could see that every bit corner of the country had King Photo and probably anyone who visit Thailand would able to recognize him and this auspicious day but I really don't fall for " Apna Time Aayega " syndrome rather to live the life you have as it is ....
Before this I boarded flight from Delhi to BKK and Immigration asked me whether I am part of any tour and I said , No I am solo travelling .
He asked me , whether you are from Dollar Club team and I was not sure what is that and I said No ...
Little did I know that my travel schedule had same of this Dealers Dollar Club meeting and while entering in flight I could see that today flight is a big time mess .
So more than 80% occupancy was from this dealer team and there was one single women from their own team . I feel so sorry for that women who had to compliment them in a trip . The absolute lack in etiquette to seeing the Cabin crew as granted to make a commercial flight treated like a local wine shop , this is how we make fun of ourselves in others land . For a moment when I watched Bali incidence , I was not shocked rather it was a relief that people need to be aware about what they do and how they project their own country .
Only thing I could barely do well is to keep a safe distance and not entering in conversation unlike my regular behavior .
May be one day , things would be better but now we need to go with the flow of story here ..
I may have countless stories to tell about Thailand and many I simply cannot but then there were others which made a real dent in my life .
This time I desperately wanted to go Koh Tao specially when last time people told me that it's not safe and there are gangsters operates in this region . While in Koh Samui last time I enquired locals and some had verified that claim that law and order is a miss there and many murderer happened in last few years . Since I was part of South Asia backpack groups , I could see people go there often and I made my mind whatever it takes I would go .
I took a flight from BKK to Koh Samui and mind you this internal flight was equalent to my flight from Delhi to BKK but then I was only concerned about time , money comes later . I landed in this beautiful Airport of Koh Samui and it was no less than a premium resort . I took a first ferry to Koh Tao and reached in next 2 hours . I didn't book any hotel there because look and feel is more important for me .
While we were reaching I saw a cliff and some cottages there and Yes I knew that I wanted to stay there . I enquired around and get to know the name of hotel . I called them to allow me early check in and basis that I would book the hotel . This American Manager agreed and then I landed at hotel .
For next 15 Minutes I was just adoring the prettiness and I wished that swimming pool next to sea should be my next hotel and I was so much happy to know this 100-200 Ft below swimming pool belongs to hotel and that made my day and roughly I spend my half day in this pool with Chang beer .
This hotel has pavements for restaurant , pool and beach and in the evening I wanted to go at beach . Koh Tao is somehow least crowded paradise place in Thailand and there was this couple along with a kid sitting sit to a beach .
I feel so bad that I don't know swimming and I wish I would swim in sea without life jacket but I know someday I will .
They both were swimming and kept their son sitting at the beach side . After sometime this guy went out and took his boy to other side and may be some food or life jacket .
But the lady kept swimming .
I could see that she was going way far and looked like she is so perfect in swimming and enjoying this lovely weather with strong wind and tides .
She went that far that now I could just able to see her head and then I was just looking this pretty view on other side .
I was at some distance away from them and now I saw this guy came with his little boy and started looking for mom .
I could read the lips well so he asked his son , where is mom ?
Of course he didn't know because they were together but that was just a worried question coming from a father to son , looking for his mother .
Perhaps I was only one who knew that she is swimming and now I started looking at that head that where is she swimming .
I scrolled my head around and she was not there .
I went other side , she was not there .
Somehow I could feel my heart beat rate rising up because I have never saw anyone drowning and perhaps I even didn't want to break that news that she sunk in sea .
This guy who was still feeling helpless , watching around and now I could see he was shaking .
I wanted to come closer and wanted to hug him but didn't have that courage to tell him .
May be you don't believe it but real prayers gets answered when you do for others .
I closed my eyes for some 5 seconds and prayed to God that save her life .
Let this baby have his mother and let this guy have his beloved .
I opened my eyes and I could see she was swimming other side behind the Rock . It was still a far distance and only her tiny head was visible.
It was a sigh of relief for me and my absolute equation of being a agnostic version washed away like every time and somehow from my bottom of my heart I know , there is someone .
I waved my hand to this guy and showed him the direction .
He came running to me and perhaps he knew that I was telling him about his wife .
He came near me to and I said she is there .
I could see his eyes with gratitude for me and I told me I could see you were worried and looking for her and he said Thank You and went back to his son .
May be this thank you was more than alot for me .
Now this lady came out and saw both of them standing , waiting for her .
This guy hugged her for next 10 minutes and may be he told her that he had a feeling that he might have lost her today .
After that sweet gesture , this guy and lady turned towards me and I could see he told her about me .
I might have gone there to have conversation but I choosed to look at other side and only reason is I didn't want to deteriorate their " We" moment .
For a moment I felt how it feels when you loose someone you love .
Perhaps it told me , how does it really feels .
Glad they are together ❤️