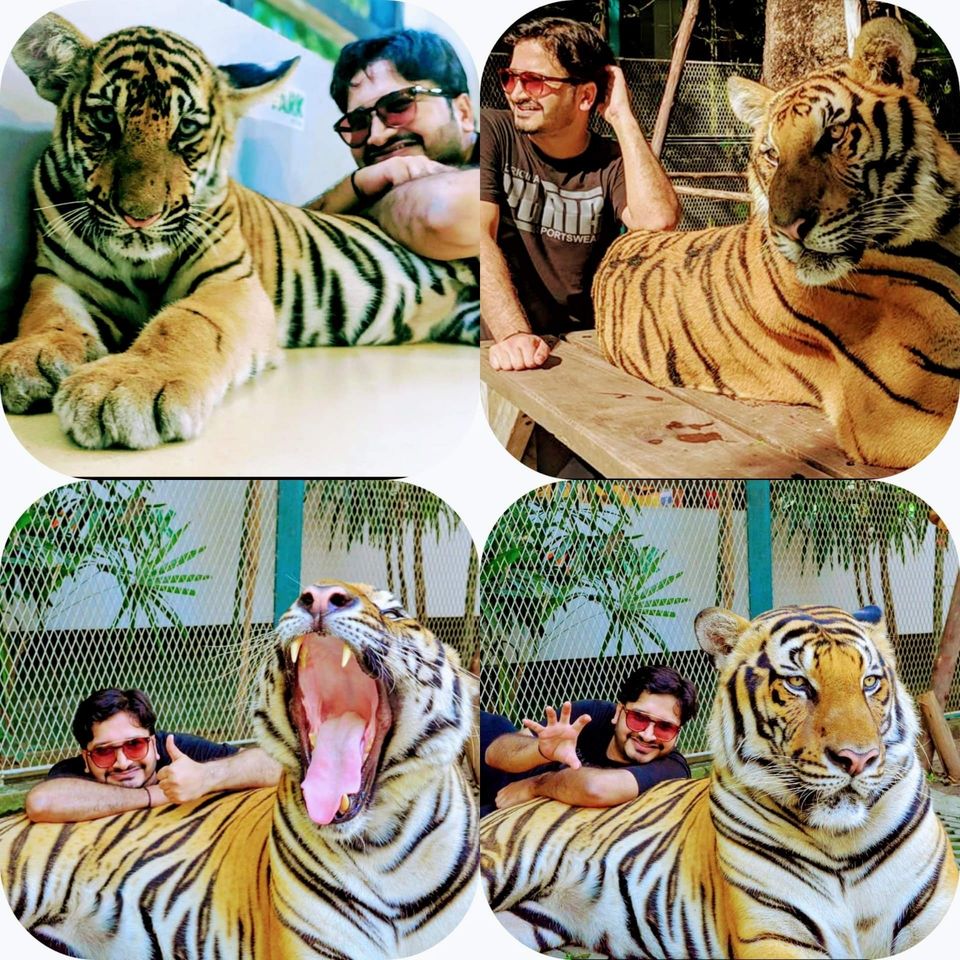 Chapter - Tigers Park , A Cruel Tamed Den !
Pattaya - Thailand 🇹🇭
November 2018
Statutory Warning - Do read it till end .
I took my first ever flight in Year 2011 and it was an international flight . There was a different league of excitement to share with everyone that I am going to travel in Air for first time and that too visiting Thailand 🇹🇭 .
Good part is this was sponsored by my first company I worked in and was a Corporate Annual Meeting at Pattaya City in month of March at time of Musical Festival .
Itinerary was designed for 500+ Employees by an outsourced marketing agency and the time we were coming from BKK to Pattaya City by bus we had our lunch halt at place where lunch table is in between and all sides were surrounded by glass . Other side of this transparent glasses were Tigers may be more than 24 in numbers .
I am still not sure whether it was Tiger Park or Tiger's Temple but we have been told that monks have raised these tigers and these animals have given up their Natural Wild instinct and now these animals are like other domestic pets .
We all were so much convinced with that idea and because I had Special love for tigers and lions I knew that I would someday come again and spend time with them .
We had our crew as lady Host in bus who was telling us things about Thailand as a country and Pattaya as city . From Sim Cards to Food to How to save self from Pickpockets to notorious elements , she was the ultimate guide. Then there were some of the seasoned players within bus who touched the narration of the infamous Pattaya themes .
Till now I had no idea what this is about . The time this discussion went full fledged I knew while come back I would tell everyone I had visited Thailand not Pattaya . Pattaya has a bad name .
Till now I was calling it as Pah - Tah - Yaah but then I realized it's actually Paaat-Yaah ...
Nevermind every place has a dark side but everything was so tight schedule that we have meetings , awards function so practically less than half a day left to actually explore the little region near to our hotel .
I still remember witnessing Thai ladyboys for first time on street to drugs openly selling on walking street I saw everything .
I went out from Dushyat Thani Hotel at 8.30 PM and started walking to every nook and corner . Never been much into party side before till this day .The discs with smoke coming out and African heavy build bouncers and some foreign women inviting you to come inside the disc .
That was time Pattaya was hell different .
Not crowded , Music festival with every house on the street playing drums and instruments . I had no courage to go inside this smoky tight disc but then I was determined to see each and everything on walking street and beyond that day from outside .
I came back with some lovely memories and reached back hotel alone by 4.30 AM . I covered the whole lane in adjacent to Pattaya beach by foot and probably there cannot be any better night life than Pattaya specially during Musical Festival .
I knew my first international trip was beyond my imagination and told myself that someday I would come here by my own .
Till that time , let the dreams on ..
I didn't bring the dark side of Thailand narration back home because I knew all society compromises of good and bad .
And the most important thing is the acceptance of each and every connotation of things around you till the time it is not deterrent to any particular individual as such .
Now it was Year 2018 when I was planning a trip with my close friend and his family . Unfortunately I had to cancel my trip because of unavoidable thing appeared in between .
They all went and shared me that Thailand is now way different than before .
I made my mind that I would go by my own .
I had planned for Phuket since it has now started being considered as a wonderful Touristry commercialized location but Pattaya and Bangkok have their own acclaimed infamous Patented USP's from eyes of Indians .
While booking the flights I realized there is hell lot of difference between Flights from New Delhi to BKK and New Delhi to Phuket . I checked internal flight rates and it was 1500 INR round trip .
I made my mind to spend one day in Pattaya and rest all in Phuket .
Everything went planned and I dropped at BKK , took taxi and reached Pattaya City . Asked local Tour operator to take me to Tiger Temple & Water Kingdom .
He said Temple is different but he can take me to Tiger Park . I had no idea , I just wanted to feel these tigers who are supposingly my favorite from time immemorial .
I was given choice whether I wish to see Cubs , Small , Medium , Big or Large Tigers 🐅 .
I choosed the highest slab which covered all size of tigers along with photographer with Pen drive they give you at the end .
They made me sign the agreement that I am responsible for my own life not Tiger Park .
I went inside cage and they were Cubs .. I was told not to touch them from front and they can get violent irrespective of their age and size .
I followed their instructions carefully .
I was told now you can touch them or you can feed them milk , I did same and there was no better feeling than this .
Now I was escorted to another cage with small cube and then medium tigers .
Medium tigers were not that medium , they were of size that can just place their paw on your body and can tear you in two pieces .
They were 6 in numbers ...
I asked my trainer , why these tigers are not violent and he said we brought up them with training from the time they were small cubs .
I said Ok !
I asked whether there any incidence of tourist death inside cage and he remained silent .
I asked again ..
Any casualty by Tigers to any crew or tourist .
He said Never !
While I was clicking my pictures there was a another cage at my back and the tiger in that cage was running fearless . That was not a happy sight to visit when he was almost trying to charge me from inside .
I asked Trainer , Why are they that violent ?
He had no answer ! He was now pretending to behave like he talks less .
I started talking with my photographer and in-between handling my phone to trainer for pictures .
He got mad at me and Started screaming in medium pace voice .. " I am your trainer , here to save you from potential tiger who can possibly kill you , I am not your photographer "
The time people are conscious about your safety , your don't say anything even when they are shouting at you . I realized this that day ..
I kept my calm since I know he is making a lot of sense about my safety .
On a other side I knew these tigers can kill me in some micro seconds and this trainer is my only savior here .
I could see one of big tiger has started getting annoyed and trainer used his Stick to calm him down .
I was so frightened from inside but this probably was one of the decade old dream come true . I could possibly let my life at stake here .
I was happy when I was back home .. put pictures on my WhatsApp and shared that on my Instagram and few travel groups I was associated at at that time ..
People started appreciating and then one comment that changed everything ..
He wrote , For your own entertainment you contributed to the exploitation of Wild Animals like Tigers ..
I couldn't understand how the pet tigers or Zoo for that sake become torture for an animal and leads to Animal Cruelty .
Another comment said , People like you spend money and such Tiger parks gets opened Every month and I was equally shocked to be called Offender .
Another comment said , These are drugged tigers and there are casualty that happens every now and then when they become conscious and with less affect of drugs .
I went back at Google and started reading all articles related to Tiger Park .. Tiger Temple and Monks keeping Tigers .. I saw article of tourist death by tiger attack at same place a week back .
Everything puzzling started getting unlocked by its own . Now I could relate the drugged tiger comments to my experience inside cage .. Why were the tigers in separate cage were trying to charge me and others outside are behaving like Pet animals .
I realised my mistake which I didn't do intentionally and then I said sorry for all people who bashed me for my contribution as tourist to any place which involves animal cruelty .
It would be lie if I tell you that I forget all that happened that day because this was a lifetime experience for me but i want you all to understand this thing before you step down in that cage for your selfies 🤳.
It is still your call but do understand that till the time Tourist pays for it, they would keep on adding a new center every month . Second these tigers can regain the consciousness anytime and you would be their breakfast or lunch depending on the time slot you choose to witness them .
Be it is Elephant 🐘 ride .. Be it be selfies with Tigers 🐅.. Be it be swimming with Dolphins 🐬 and getting a kiss on your check .. Be it is Eagle 🦅on your wrist ..
These all leads to Animal Cruelty !
Don't Ever Contribute 🙏
#Thailand #Pattaya #TigersPark #AnimalCruelty