Travelling is something that everyone looks forward to. In India, for way too many decades, the idea of a holiday , was to visit the relatives. But, it is changing rapidly due to the ease of options available for travelling and most importantly,there has been a major improvement in the spending capacity of the families. The idea of travel is to have new experiences, and more importantly ,experience something ,that is different from our home country.
Before i get started with my reasons , about why Indians shouldn't take Thailand as their first International trip, i would like to specify the assumptions that i have made. Most people who book their first trip to Thailand,generally travel to Bangkok and then to either Patayya or Phuket. Very few of them or maybe just the younger crowd travel to islands like Krabi , Koh Samui etc. So my write up assumes that someone booking a first trip abroad ends up booking the popular stuff than an off beat option.
when ever we land on any foreign shore, the first factor, which makes, the place feel new is obviously, the climate. Landing in Europe, on most days, you drive out into a hazy and overcast climate with a little bit of impending rain around. This is in absolute contrast to Mumbai or Chennai ,where it is hot and humid and there is sun beating down 11 months a year. well, landing at Bangkok, you will feel that you have landed at the same airport from where you had taken off. The climate is almost identical to most Indian cities. So there is nothing foreign on that front.
Anywhere in Thailand, when you arrive at the hotel, you are welcomed warmly, your luggage is taken care off immediately and you are at so much ease during chek-in. so what's wrong in that ? , well like Indian hotels, even Thai hotels are very hospitable and take great care of you ,by providing assistance everywhere. In comparison, if you had landed in a western country ,you would have to do all your stuff on your own. Don't expect assistance. Thailand gives you an impression, that all the countries in the world are as hospitable and hotels as welcoming, well that's not the case. so you don't realize that most places in the world are 'DO IT YOURSELF' kinda places.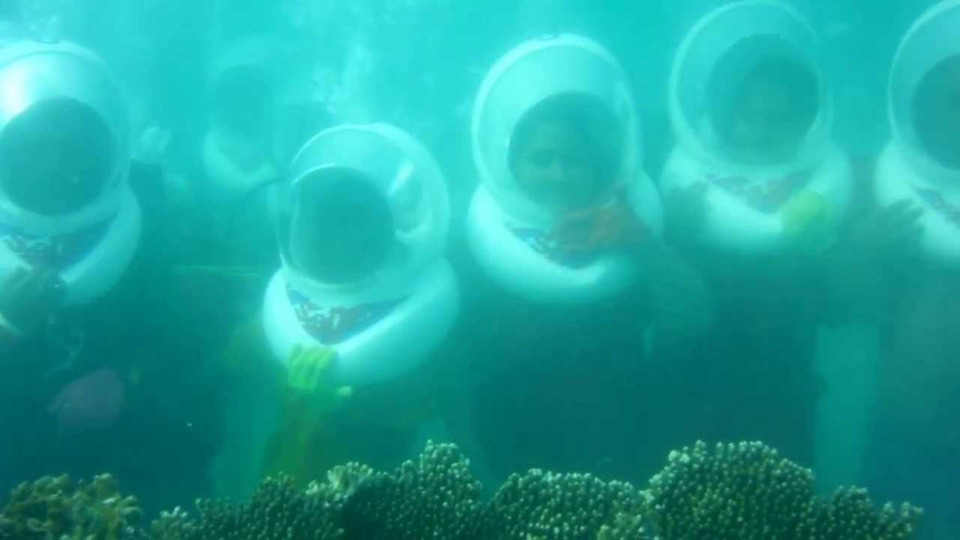 Though India has a huge coastline, the idea of long ,clean and enjoyable beaches is far from being realized here. As travellers, our idea about beaches is long stretches of fine coarse sand and never ending view of crystal blue waters. Lot of water sports and a view of people enjoying lazy afternoons on the beach. well, all this obviously has been picked up from millions of movies that we have seen.
Sorry to say, beaches in Patayya and Phuket, let you down on this front. The water is dirty and beaches overcrowded. your stay on the beach ,is far from relaxing as hundreds of individuals will try and sell thousands of their wares to you. The activities like under sea walk are carried out in mud filled sea where corals are impossible to locate. Parasailing is rough and so are numerous boat rides. First timers , will end up believing that, it's done that way across the globe. Trust me, it's not , if you have been to USA or even Mauritius or Seychelles, you will realise these activities are way more fun. Thailand fails to leave you awestruck on this front too.if you have been to GOA, you will end up confusing Patayya beach or Patong beach to Baga or calangute.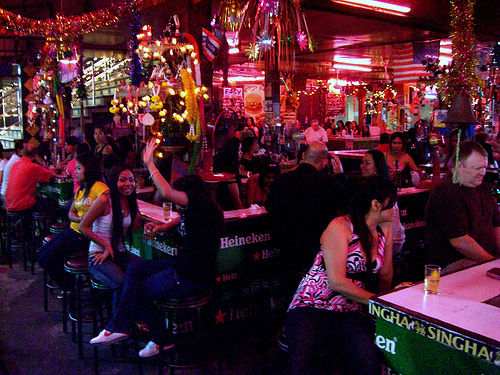 BAR CULTURE :
One aspect that i loved while travelling to various countries, is their 'BAR' culture. Though a non drinker myself, i love the way these people enjoy a game of football over never ending jugs of beer. Any country that you visit, if it has a strong sporting culture, the atmosphere at the bars is not to be missed. I must admit, that this is common across the globe, but in India it is restricted to few places and is not a wide spread phenomenon. May be, coz we don't have that kinda drinking or sporting culture yet.
In Thailand too, the bars are too crowded and noisy. People there drink , to get really drunk. At Most places, the bars double up as pick up joints and hence dont let you be in peace. so unless you are into a habit of gulping down gallons of spirit or you have women on your mind, you might not enjoy the place.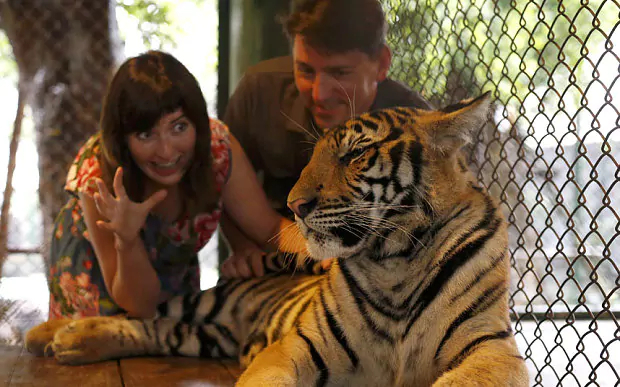 The Pictures of pretty Dolphins ,amazing tigers or deadly crocodiles ,bring lot of visitors to the numerous animal parks across Thailand. Though there are few good ones , like the safari park in Bangkok, most of the parks are not well kept. These places end up disappointing tourists. We leave most places feeling sad for the animals kept there and the treatments meted out to them. Am sure most of these places are running on very tight budgets and hence can't maintain the standards over a period of time. A first timer there, feels that is how the wild beasts are kept, but across the globe , in more well kept places, you really enjoy these creatures ,as they themselves enjoy their stay in those premises.
TEMPLES: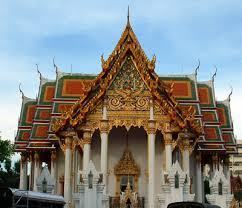 Like India, even Thailand is known for famous temples. lot of westerners come all the way ,to experience these temples. For us as Indians, a visit to temples is hardly on the agenda, as we have so many back home. also, world over ,it is difficult to match the awesomeness of the temple architectures here in India. So , at times these temples in Thailand leave us un-impressed.
For a lot of people Bangkok is a synonym to endless shopping. It could have been true a decade back, but its not the same any more. When shopping in a country , i look for local stuff, there is no point buying a global brand, which i could have bought in Mumbai or Delhi. The local stuff ,in Thai markets, is way below the desired quality and honestly ,all that stuff can be picked during a round of street shopping back home. The haggling for the prices is the same, as here in India. The shopping is restricted to few select areas in each city. My shopping experience in Bangkok is similar to that of Linking road at Bandra in Mumbai. Compared to other countries, yes shopping in Thailand is cheaper, but we Indians don't gain much as the difference in the values of Thai Baht and Indian Rupee is not huge. if you compare USD to Thai baht, the difference is astronomical. The shopping experience in other countries is very different than in Thailand.
For a first time visitor, the take away from Thailand tour is, just a visit to another country. Its doesn't give a peek into ,what the rest of the world looks like. I am sure, an American or European or an Australian, would be enthralled on their visit to Thailand, but i don't feel, that as an Indian , I will feel too many differences.
Kindly note : Thailand is a great country to visit, just that, it shouldn't be the first one an Indian should Visit.