Lewis Tourism & Travel Guide
Lewis Tourism & Travel Guide
Trips and Itineraries
9 Days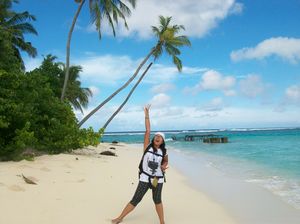 Maldives : the turtle nomads
there are 3 types of traveling in Maldives 1. the resort playah. people come to the airport, they have the resort speed boat pick them up and directly taking them into their resort (one resort, one island) where they spend minimum 200$ per night, but they have everything there, free food, free alcohol (which you cant get anywhere else, its a moeslem country, they dont drink), maybe additional excurcion, and water sports 2. budget trips, when you take local ferry to Maafushi island, and stay at a guest house for 65$ per night, have lunch in a cheap food stall and have dinner in fancy restaurant, with excurcion of group that cost 20$ perperson 3. and then there is us, THE TURTLE NOMADS, we bring our own home a.k.a tent a.k.a Pato, we take local ferry to local island, we look arounf a good place and set up our tent, sleep in the tent, and use the washroom in the mosque, there is a reason why we set our tent so close to the mosque. we eat one plate for both of us, only in cheap places, we eat peanuts and dried food when hungry, we charged our phone anywhere there is free plugs. we use the plugs in the food stall, ferry, and other place,,, be shameless is the key. we sometimes use the shower in the place that we eat. and at night we set the tent, and in the morning we fold it again,,, oohh yeah the trip starts in Chennai (India) - sri lanka - maldives - sri lanka - back to chennai here is the itenarary chennai to sri lanka we had a few hours transit, so we decided to look around the nearest city which is Negombo, situated 15 minutes away from the airport, and cost 300 sri lankan rupees with auto rickshaw (tuk tuk). warning, before come to sri lanka, exchange the indian ruppes before, due to the war between tamil and sri lanka, they dont have a good relations regarding the currency also negombo --> sight seeing place for 6 hours transit = lewis place, go to one of the resort, grab a Lion beer and a cabana, and enjoy the beach on the way to maldives hulhule --> airport island, take 15 minutes ferry ride to male, and spend time in male for a night male --> 20$ guest house, and lovely dinner with ice cream Fulidhoo --> cost 53 maldivian rufiyas with local ferrry and it takes 3 hour to get there, since its in another atoll. set up the tent in front of the mosque, and enjoy the island maafushi --> snorkle our way in the lovely beach in maafushi. warning : since its a public beach, no bikini, must wear proper outfit Valhalla --> this is actually a made up name that me and my friend victor made, because the sand banks is sooo damn beautiful and heavenly we decided to called them valhalla which means a heaven for the nordics villivaaru --> this is an uninhabited island, i dont really like it here, simply because there are too many mosquitos attacking me, well it is inhabited, so no human being lives there gulhi --> the best island evaaahh,, see more on the description back to male, and the airport sri lanka trip Tangalle--> this happens by accident, we suppose to stop in Galle, but since we are both tired, we slept on the bus, and dont realize that we missed galle, eventhough the bus conductor already screamed GALLE GALLE Mirissa --> we dont have a good experience here, we just walk along the beach, victor dropped his pants, the only amazing thing here is the egg kottu yumm galle --> very peculiar place, with no cheap guesthouses, anyway pretty cool with the galle fort and everything Unawatuna --> the best spot in sri lanka!!!!!...

Oregon - Seaside and Cannon Beach - Photo Blog
Seaside One reaches Seaside first and the entrance to the beach is this statue of Lewis and Clark, the first explorers to cross the western portion of the US....
---