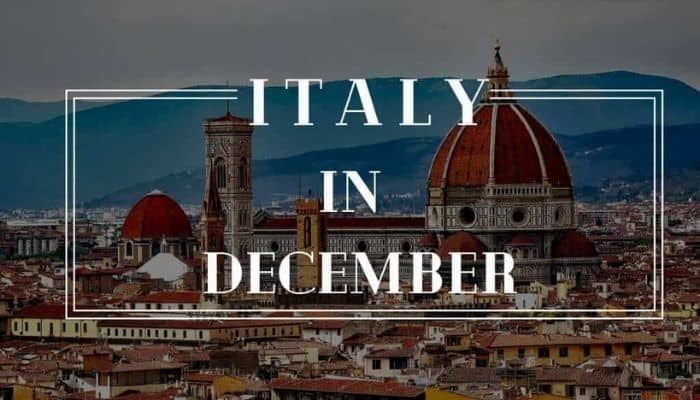 Italy In December: Whatever time of year you're travelling, is a beautiful place to fly to. Yet in winter, the nation takes on its own unique beauty.
In its wonderful places, you can enjoy comfortable break time and also spend your evenings in nice and comfortable wine bars or have an excursion on its magnificent snow-capped mountains and interesting mountain ski runners.
What Is The Weather In Italy In December?
Italy's weather in December marks one of Italy's coldest seasons. During this season it's also a little humid. While it may be a little cold yet the crowd is slightly less that makes more exploration for travellers. Hotel and travel prices may also drop a little. Italy's temperature in December would be very nice.
Different parts temperature in Italy in December are as follows: Northern Italy: -4-5 ° C (-25-45 ° F) Central Italy: from 5-13 ° C (40-55 ° F) Southern Italy: From 13-16 ° C (55-60 ° F)
7 Best Places To Stay In Italy In December
Having said that, while travelling to Italy in December, take a look at these seven best places to visit which are a must for every traveller. Make sure you miss none! We have tried to answer the question of where to go in Italy in December
1. Sicily
Palermo, the capital of Sicily is a nice starting point for your island tour and an amazing place to visit in Italy during the wintertime.
Exploring the city in December and also early January is a great experience, as you will find numerous religious symbols as well as Christmas markets – all adding to the elegance of Palermo.
You can also travel to Cefalu, a breathtaking views coastal town in South Italy in December, for ancient knowledge and a spectacular beach.
If you are searching for assured winter sun and temperate climate in Italy in December, you should surely be travelling to Sicily.
Also, the Average Weather in Sicily Italy in December would be between around 14°c – 17°c.
Must Enjoy In December: Take a 30-minute ride from Palermo to Termini Imerese, enjoy the city's Christmas performance on the roads, shop on the glittering Christmas markets, and more
2. Venice
If you wanted to know where to go in Italy in December, then you definitely should consider Venice in December. Another beautiful spot to travel during the winter season.
The air is cleaner, and the sights and activities are better while the crowd can distract from the scenery than during the summer.
Moreover, Venice provides everything all from breathtaking baroque designs to gondola rides and fantastic food and wine.
If nothing else, in St. Mark's Square you can also sit and drink a cup of coffee, and enjoy as you watch the world go by in genuine Italian style!
Also, the Average Weather in Venice Italy in December would be around the maximum of 8°c and a minimum of 1°c.
Must Enjoy In December: Even during the fog, if you're in Venice, a gondola ride is a must, and one of the things to do in Italy in December. The environment gets more magical in winter, and you don't have to think too hard about crowding.
3. Turin (Torino)
If you're making plans to go skiing in Italy in December, you surely should first make a trip to Turin, the northern city that offers a platform to the mountains.
The town is where many skiers come for their ski trip before heading to the mountains. Yet, in itself, Turin is like a paradise.
The yearly Luci d'Artista is the main attraction, an event that glorifies art through light and you also will see the city illuminated in various creative and innovative ways.
Moreover, if you love food, you'll fall in love with Turin as this is the location of the original 'Early' store, which displays the finest Italian food.
Also, Do not even forget to check out the booming dining scene where chefs blend Italian classics with a distinctly alpine flavour.
Also, the Average Weather in Turin Italy in December would be around the maximum of 9°c and a minimum of 4°c.
Must enjoy in December: Visit Caffe Al Bicerin to experience Bicerin, a classical Italian drink. Add the chocolate, coffee, and cream to this decadent concoction.
4. Rome
In winter Italy's beautiful capital is quieter but indeed spectacular. Rome is truly one of the most important places to visit in December in Italy.
You can love visiting tourist destinations like the Vatican Museums as well as the Roman Forum at a relaxed pace, with fewer crowds to deal with.
Rome is renowned for its many fashion shops but in the city's small, winding streets you'll also find plenty of art and design opportunities.
Then after a long day of sightseeing, in one of its many restaurants and bars, you can enjoy a meal and drink that is just as lively and vibrant in winter as any other time of the year.
Also, the Average Weather in Rome Italy in December would be around the maximum 13°c and a minimum of 4°c. It's one of the best places to travel in December.
Must Enjoy In December: Go shopping! You will cash in on the incredible holiday sales in shops around the city when you visit Rome in the wintertime.
5. Amalfi Coast
The weather in Southern Italy in December is nice, with a cool climate, rendering it a perfect place to visit during your holiday.
On the Amalfi Coast, situated in the province of Salerno, you can also have a beautiful seafront view.
If the area has fewer people and also is nicer you can probably go on a road trip along the coast. Also, you can experience whatever the Amalfi Coast has to give at your own rate.
You can go on hiking adventures and start exploring the towns and villages as they come alive with winter holiday celebrations.
Also, the Average weather in Amalfi Coast Italy in December would be around the maximum 14° c and a minimum of 9°c.
Must Enjoy In December: Explore Pansa Pasticceria at Piazza del Duomo in Amalfi and also look for it. Over two decades, it has been baking exquisite pastries as well as sweets, rendering it as historic as the nearby cathedral.
Please ensure you only get a taste of the local specific desserts available during the festive season and their renowned panettone. You can also cherish some good music in concerts happening in winter all over Amalfi.