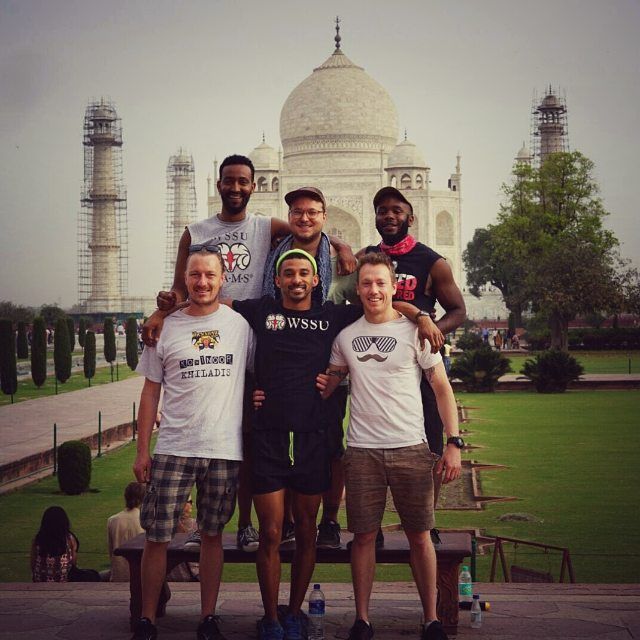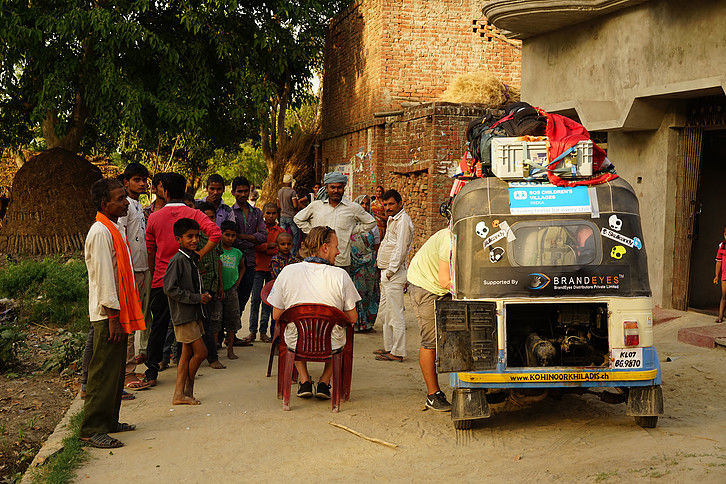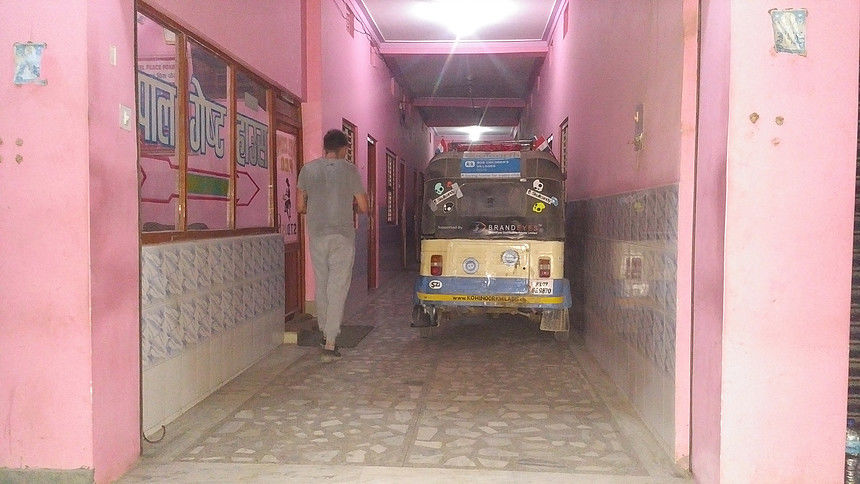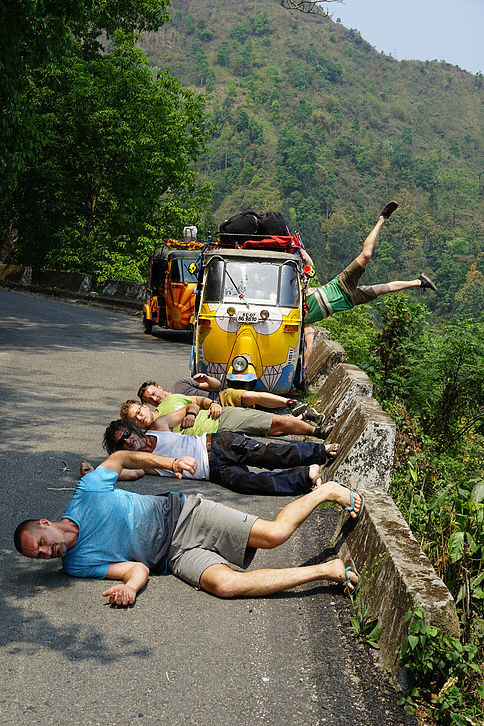 They say that the long and bumpy paths of India will break everyone eventually.  Today was the day that it broke us on the run down streets just outside the small village of Padrauna. Seeing ourselves in the middle of nowhere with no food, no help and no one in sight for miles, I was the first to break.  The roads got to me and I couldn't hide this frustration and anger any longer. I could handle the jarring and bumpy roads for all of 10 hours but all I could think about was how each nasty bump could be the one that finally broke our auto rickshaw, Lily, once and for all.  She's an oldie and not made for this kind of punishment so for her to break down would be horrible. Lily has already been through a lot this past week but she still has a long way to go. Dani was the next to crack, on similar grounds. We'd been going non-stop on long, terrible and gruesome roads and couldn't take it anymore!  Bram, who usually can find the positive in any situation finally cracked later in the evening. Will we be able to overcome all odds and reach their destination?
It was at a Kebab stand at the Sziget Music Festival 2014 in Budapest, when 3 strangers, Daniel, Bram and Ernie, met. Little did we know that this new-found friendship would soon turn into an adventure spread across 2,700 km in India, a country 30,000 km away from their homes, to help children they have never met before. Why? Because that's what the Kohinoor Khiladis do!
Day 1 was long. We picked up our things and said goodbye to the majestic fort of Jaisalmer bound for a trip of a lifetime.
Lily, our rickshaw was in high spirit this morning. There was more spring in her step than she's had in ages.
We had a great first day on the road but also a long one. Within minutes of a rest stop on the road we had at least 20 people, mostly children, crowding around Lily wanting to honk her horn (and believe me, she's got a great horn!), try out their English or just smile. Even on the road people were waving, laughing and just genuinely happy to see us.
We headed out at 9:15 am and arrived, after some pretty scary night driving, in the ancient district town of Nagaur at around 8:15 pm. We managed to over 320 km in 11 hours of pretty consistent driving. You've got to love rickshaws!
Day 2 started with a dilemma of it's own. We woke ourselves up only to find out that there was no water to bathe with. Survival instincts kicked in, and we used water bottles we bought the previous day to at least brush our teeth. But that's part of the adventure isn't it? We later found out that Nagaur, having a short supply, turn off the water between midnight and 7 a.m.
The aim for Day 2 was a 240 km drive to Jaipur. With a 7 am head start we expected to reach by around 3 pm, but while continuing on a big issue arose. One of the supports for our rack had broken and considering the weight of the bags it was supporting we had to get that repaired quickly or risk our luggage falling through the cloth roof and landing on our heads!
Stopping at the next village, we found a welder who could offer his services. At the village, we visited a school and took pictures with the kids and answered a few questions such as "What's your name?" "Where are you from?" "Do you watch cricket?" etc. After a few group photos and tea, we hit the road again.
We managed to reach Jaipur a few hours behind schedule, at 5 pm, a minor setback in an otherwise amazing experience.
On Day 3, we headed towards the Taj Mahal. Spirits were high when we left Jaipur at 7am hoping to enjoy the morning cool but that was soon wiped out when our clutch broke down. We tried to fix it on our own but within a few minutes we were surrounded by a dozen Indian 'mechanics', locals who were passing by but extremely interested in helping the Khiladis; in India, everyone is a 'mechanic'. One guy found the actual problem and helped us get back on the road within an hour.
After a quick lunch we headed back on the road to Agra. Shortly we encountered a motorcycle crossing the highway in front of us. We tried to avoid an issue by honking and slowing down but we still managed to hit the side mirror. After a short discussion with the police, we were back on our way. This was soon followed by an auto breakdown.
We ended up reaching the Taj Mahal too late to visit and so, stopped in Agra for the night. We hoped to visit when the morning light would show its magical side.
From Agra and the Taj we didn't really have a next stop in mind so we just headed east. Our goal was to head north and reach the Himalayas. After traversing the asphalt road we managed to reach Kannauj by 7:30 pm. With our horn still not working, muffler loose again and gear shifter not responding we had a few things to take care of tomorrow before we continued North.
 On Day 5 we headed east, trying to get one step closer to Nepal. We ended up at Faizabad after a 10-hour drive. Though poor everyone we had met so far had been extremely friendly inviting us for a cup of chai after bringing out their guest chairs from their houses, wanting to know where we are from, our names, ages, if we're married and if so, how many kids we have.
Day 6 didn't require a long drive, so we thought a proper repair of Lily would be ideal. We knew that finding an Auto repair shop in Nepal would be impossible.
Once we got out of Faizabad we hit the highway, something we didn't enjoy doing. Part of the thrill was to travel all the roads and experience all the sights on the road less travelled. However, once we got back on the road, we set our sights at Padrauna.
By the start of Day 7 we were over the halfway point and on our way to Nepal! However once we left Padrauna, reality kicked in. We encountered narrow roads and multiple roadblocks, which slowly caused panic amongst the Khiladis. They say that the long and bumpy paths of India will break everyone eventually.  Today was the day that it broke all three of us.  
We ended our frustrating day soon after leaving India, in the border town of Birgunj.
Day 8 was spent enjoying the sights of Nepal, the entire region was near the end of dry season. It hadn't really rained in about 6 months so it was extremely dry.  Over the 303 kms we travelled, we traversed at least 200 rivers of varying sizes.  All were bone dry with the exception of 3 that had a trickle of water. We normally think of dry times when the rivers are lower than average.  Here there are dry beds with people harvesting rocks and earth instead of fishing!
About mid afternoon Lily completely lost her power. We managed to get her back to the nearest town to get her checked out. We already knew the issue. The part of the exhaust we replaced the day before burned through again but in the 8 days we spent on the road we developed a good knowledge on what Lily's problem areas were so it was a quick fix. The mechanic, at the tender age of 14, replaced the burnt out part with a completely different seal.  Worked like a charm!  For the rest of the day Lily was running like a champ.  Hopefully that continues for the rest of the week.
On Day 9, the plan was pretty ambitious but clear. Take Lily across the mountains and push her to her limits. To everyone's shock she mastered the mountain climb like a champ! However, an immigration officer halted the journey to Kurseong. We managed to reach there by sunset and had a great stop.
On day 10, after an amazing time of tea and good company in Kurseong it was time to head back down. At the bottom we found ourselves in an area of India within about 40kms of both the Bhutan and Bangladesh borders. The pressure was on. Only a few days to go until we have to be in Shillong to visit the SOS Children's Village and still many km's were left.
Day 11 was an easy drive. We managed to reach Guwahati by 3 pm or so, just in time to enjoy the rain that brought an end to the scorching heat of the previous few days. We were only 85 km from their destination now and had an entire day to reach it.

On the final day, after visiting the 12 homes that make up the village and spending some time with the kids we unfortunately had to get Lily rolling again for the trek back up the mountain.  We only had 2 hours before the finish line closed and being a 1.5 hour drive we had to move.  With high spirits and resolve to continue our fundraising efforts to the last minute we were floating on air.  What a day!  What an experience!
 The trip is over but our campaign is still up and live! You can help contribute to the children's upbringing at the SOS Childrens Village Shillong on https://www.impactguru.com/