In this article, we are discussing on a latest travelling trend, 'Glamping'; which is a derived from glamorous camping. Glamorous Camping gives you an experience of camping without taking away your comfort. Glamping saves you the hassle of pitching the tent and cooking your own meal. And, this new adventure trend is picking up in India as well.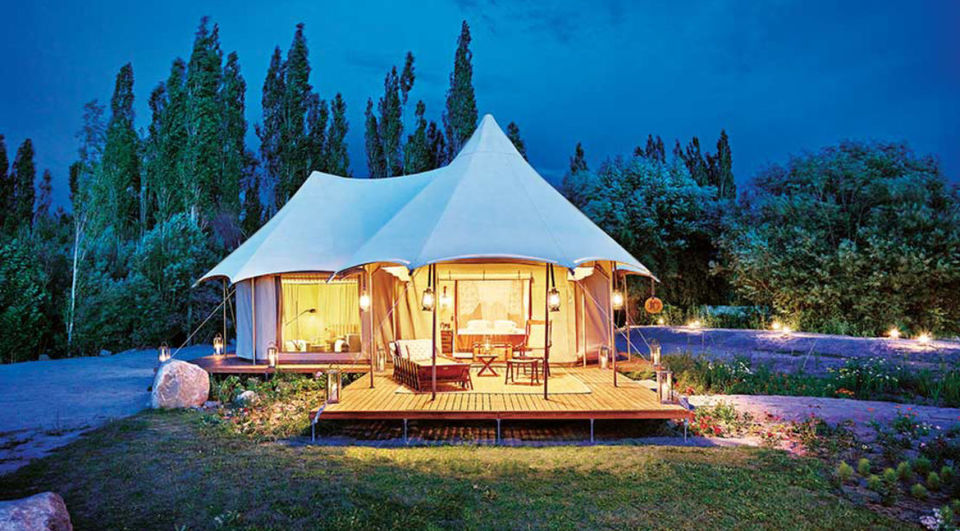 Here, we have compiled 10 top glamping sites in India, starting from North to South of India. These sites will be a refreshing and adventurous experience, in all it glamour and luxury.
We not only have named these sites but also have provided you with the Basic Details.
1. Jaisalmer, Rajasthan
Cost: Rs. 6000 – Rs. 55,000
Key Attractions: Sunset by the sand dunes, desert safari, local cuisine, folk dance
Best Glamping Operators: Serai, Jaisalmer Desert Camp, Manvar
2. Goa
Cost: Rs. 5500 – Rs. 60,000
Key Attractions: Campfire, spa, water sports, activities on the beach, open showers
Best Glamping Operators: Otter Creek Tents, La Mangrove, H2O
3. Jim Corbett
Cost : Rs. 6,500 – Rs. 12,000
Key Attractions: Jungle Safari
Best Glamping Operators: Camp Hornbill Corbett, Sterling Corbett, Kunkhet Valley Resort
4. Rishikesh
Cost: Rs. 4,000 – Rs. 10,000
Key Attractions: Water Rafting, Campfire, Kayaking, and riverside volleyball
Best Glamping Operators: Camp AquaForest, Sarovar Camp
5. Manali Glamping Sites
Cost: Rs. 3,000 – Rs. 7,000
Key Attractions: Paragliding, Zorbing, Trekking, Rock Climbing
Best Glamping Operators: Camp Exotica Manali, 365Hops
6. Ranthambore Glamping Sites:
Cost: Rs. 20,000 onwards
Key Attractions: Game drives in the park, jungle cooking, ghooming
Best Glamping Operators: Aman-i-Khás, Oberoi Vanyavilas, Sher Bagh
7. Ladakh Glamping Sites:
Cost : Rs. 4,000 – Rs. 10,000
Key Attractions: Trekking, Camel Safari,
Best Glamping Operators: Double Humped Camp, Ladakh Sarai
8. Bundi:
Cost: 3000
Key Attractions: Fairs, bird watching, sightseeing
Best Glamping Operators: Ummaid Bagh
9. Mashobra:
Cost : Rs. 6,000 onwards
Key Attractions: Trekking
Best Glamping Operators: Manshobra Greens
10. Wayanad:
Cost : 3,00 – 5000
Key Attractions: trekking, open-air barbeque, swimming
Best Glamping Operators: Grassroots, Seagot, Banasura Hill Resort