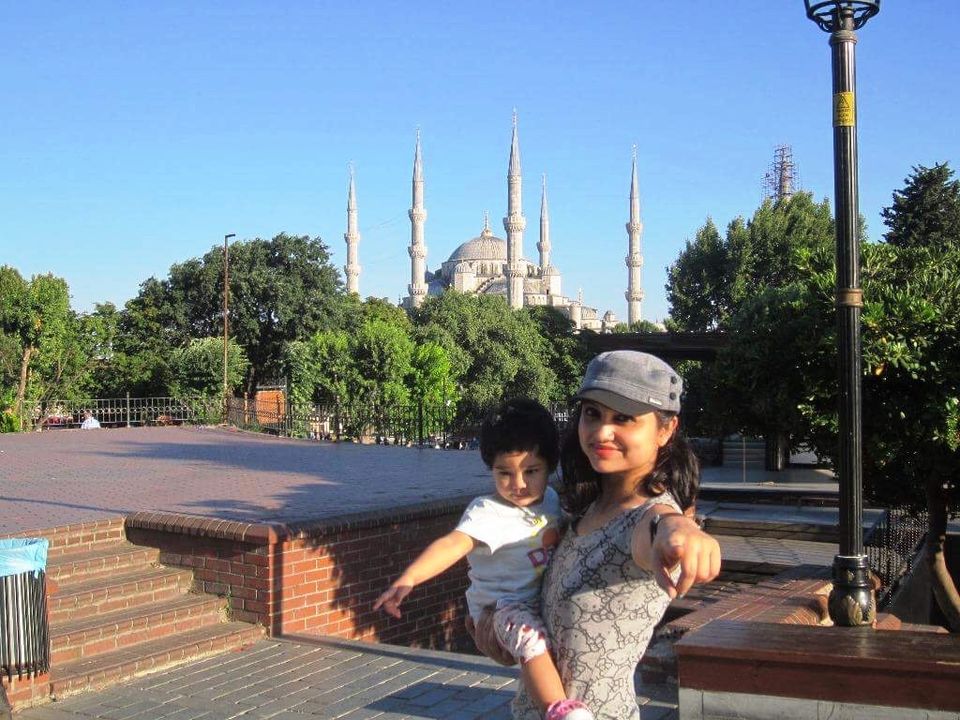 1) A healthy Body and Unflinching Spirit - This is at the top of my list only because it seems to be the most important thing that helped me backpack with my baby to ten countries. A well thought out backpacking trip also needs well thought out mental and physical preparedness. You need to get yourself (if going alone) and your partner thoroughly checked for a green signal of health, before you plan the trip. Lets be honest. You will be your own beast of burden for most of the trip, plus you will have a little baby with you for who you are responsible. You don't want to realize later in the trip that you have a severe lower back problem, or that dizziness while you're out in the sun is because of a low sugar problem.
 2) A Baby Stroller- This is going to come in handy everywhere. I suppose you must already know the fruitfulness of carrying a baby stroller on your trips. The type you want to carry however, depends entirely on you. Since you will be backpacking, I strongly recommend a light and durable stroller. I have a stronger, bigger one at home but I bought a smaller portable one for our trips which worked just as well and was super reasonable. However, look for a stroller with good sturdy wheels that can take all kinds of terrain and also the pebbled streets in Europe that look so fancy but is a nightmare for strollers. It looked flimsy on the outside, but really took in all seven countries worth of travelling. The wheels also gave us a lot of support, and carried itself everywhere.. they got a little worn in by the end of the trip, but for the price and the lightweight (you will thank its weight when you have to fold and carry it with your backpack), I felt its a steal. It also reclines so baby can be really comfortable while you go on extended sightseeing walks across cities. You can ofcourse alternate with carrying your backpack on the seat of the stroller, and wear your baby, if this seems more comfortable to do. This is also what I did sometimes on my trip, when my backpack became heavier than my baby. The stroller esp helps when you want baby to take a nap while you're parked and eating lunch at a roadside cafe, or when its raining and you're
3) A Baby Carrier - You may have read another post on my blog backpackindianmama.com about Babywearing while travelling. I cannot stress on this enough. On my trip, I used an Infantino flip carrier, and it was good and helped me throughout...but in sunnier climates, such as the cities of Istanbul, and Berlin, I wish I had a cloth carrier instead. I got to know of cloth carriers later in mommy life, and since then I have been using a fantastic full buckle cloth carrier by Soul. (An ethical and Indian babywearing brand based in Bengaluru). It has very good waist and shoulder support, is great for hot humid countries like India, is very light to carry and just fold into your rucksack, and it has been helping me carry my little one on all my trips since I got it this year. You can go through their full buckle range too.
4) Travel Pouches of all Sizes - These come in handy when you want to save space, but pack everything essential for your backpacking trip with baby. Try getting a whole lot of inexpensive waterproof pouches in different sizes, and label them so you can see whats in the pack while you're on a busy train and want to change your baby's diaper. Pack mini bottles of your basic toiletries, one for yourself and one for baby, and pack one with essential medicines for baby and you. You DO NOT have to carry a huge diaper bag while travelling, because why would you want to carry an extra bag when you already have your rucksacks, a baby and a stroller!! These pouches work so well, and you can make separate ones with everything you feel is going to be of use on your trip. We even made one with chocolates, candy, and snacks to eat on the go.
5) In flight Entertainment - If you are someone like me, who wishes to backpack to every country on the planet, you will probably be taking a lot of flights. International travel means long flights, odd hours, and sometimes more than two connections and that can leave you really exhausted and fed up of the whole idea. I will be doing a separate post on taking practical and comfortable flight routes while backpack travelling with your baby, but for this one, I would suggest carrying a small pouch with airplane entertainment for your baby. If your baby is less than a year old, it will probably spend a lot of time napping in between feeds, but you can always keep your baby engaged with coloured bead necklaces, teether toys or tiny picture board books. Please save the other passengers from agony and do not carry rattles with you that make funny noises while the other passengers are sleeping. A good idea is to introduce yourself to the seat rows in front and behind you, so they know that there will be some baby talk from time to time. If your baby is more than a year old like mine was when we backpacked to Europe, you can carry board books, finger puppets (my daughter loves these), mess free colouring books like this one, or anything that you feel will fit into your inflight entertainment pouch and wont be too heavy to carry. Please remember that a lot of International carriers giveaway toy kits to their little passengers. We got a really cute one from Turkish Airlines , which she also used and enjoyed throughout the trip
6) Feeding Essentials - The easiest advice I can give you at this point is - RELAX! Don't stress too much about your child's food and diet while on the trip. Please remember that there are babies all over the World, and they also feed on healthy stuff just like your baby. If you are an Indian mother, you probably will worry more because your baby may not be used to processed pureed food tubs that most mothers carry for babies. Well, it is natural to be worried, but dont go ahead and cancel your travel plans because of your endless worrying about what to feed your child. A good thing to do is to buy fresh packet milk (you find it supermarkets, gas stations, and subway station markets all over the world ), on a daily basis. Milk is called differently in different parts of the World, but they always have the same content inside. Go for the full fat ones, that are stored in the fridge section, unless your baby is on formula or mothers milk. You will also find the same formula companies in International markets (such as Nan Pro, Enfamil or Similac), so please dont stock up on formula packets and increase your luggage size more than you can practically carry. You may also want to carry a small steam sterilizer like this one (a really compact travel size one) for feeding bottle sterilization and baby accesssories, small bottles of babysafe liquid detergent and a bottle brush. You can also safely wash your bottles in warm soapy water with baby safe dishwashing liquid and you dont have to carry a sterilizer in that case. I have nothing against mothers who also believe in making freeze dried powdered food to carry along, such as powdered dal khichdi (dried and powdered lentils and rice) or porridge, so please go ahead and pack a few of those if you feel your baby will be at ease. One great blog i came across to make babyfood for travel is My Little Moppet . Indian mothers will find a lot of useful recipes on this site. For everyone else reading this blog, you probably always buy pureed baby food off the shelf so that is an available option. My daughter was 7 mo when we first backpacked to Bhutan, and all we carried was some formula. She was on mothers milk at the time, which made travelling with her really easy, and she took to soupy bland bhutanese food and porridge and lentils, so we survived the trip quite well. When we went to Europe, she was 16 mo and by then, she had started eating and enjoying almost everything. I make sure I don't make my life more difficult by insisting she has homecooked food 24/7, and I am not Cruella de Ville either! She ate fresh fruit, fresh cooked sausages, fresh baked bread, and cheese, and fresh fish throughout our Europe trip. We just made sure whatever she was eating freshly cooked in front of us at farmers markets, or in hygienic restaurants. Also, if you tell them you want this dish for the baby, most places take care not to make it spicy and cook clean anyway.
7) Booking Records - Now let us proceed to what you will need while backpacking. I am hoping you will remember to carry your stamped visa and your passports(including your baby's) before you embark on any international travel. It is a good idea to carry print outs of your travel and accomodation bookings and punch them all into one file that you always have at hand. Make sure you carry copies of your passports, your photographs and complete itinerary in that file as well. While it may be eco friendly to carry all your tickets and bookings on your phone, you never know when you are stuck at a place with no internet to open that email voucher, or your phone dies on you (always carry a portable power bank and multicountry adaptor plug). So, please remember to always carry a hard copy of all your bookings including your train tickets and hotel/hostel bookings. (Rail Europe usually mails you your train tickets to your home address, so you carry those). Youth Hostels also ask for a valid proof of your confirmation once you arrive, so there you go!
8 ) Pick up Train Route maps and City Maps - There is really no need to print these beforehand, because you will easily find these at all train stations in cities across the World. Look for the (i) offices once you arrive at each station, and do not hesitate to ask for help. In all European stations, you will find these offices staffed with locals who can understand and converse in English. Pick up a basic city map, and a subway route map, and pick up more fluff tourist brochures too. You can keep disposing them before you head to the next place, or carry along just the most important ones for memorabilia. It is important that you take ten mins to sit down and understand the subway routes for each city, so you don't waste time while buying a ticket to anyplace and stand for long periods with your baby at the information desk. Most well known European cities are very well connected by underground and overground trains, so once you have your subway lines figured out on the map, you will know which line to change from and which line to hop on to without constantly asking for directions. Please also note that when you are travelling on local trains, you come directly in contact with locals in that city, and while some may entertain your questions, others may simply look away because they do not understand English. This is not really rude, it is just because a whole lot of the European local population, esp in smaller towns do not converse in and understand English. Try to compare them with people in India, who would probably react the same way if they didn't understand the language that is being spoken. A good idea from our personal experience, is to also find out your hostel's location on Google Maps, while you are safe at home, before taking the trip. You will know exactly where to head the minute you arrive at their central station and maybe just ask for a few basic directions. A major reason why you should book at a reputable International Hostelling organisation is because some of these hostels are located at beautiful sites across the city. They are safe, welcoming and very easily accessible from the train stations. You would however, have to take a shuttle bus from the airport if you fly in.
9) International Forex Card - This is something we were introduced to a few years ago and we absolutely swear by it. I am sure most International travellers already use this, but I am still stressing on how essential this one card is for all your travel across the World. There are several types of Forex Cards, but its best to get a 'Multi Currency' one, which works when you swipe it anywhere. You can use it just like a debit card at all grocery stores, supermarkets, take out cash from an atm and pay at restaurants and hostels. Only very few places in Europe did not accept this card, so we had to make sure we had some cash in hand for that. If you are travelling in Asia however, I am not very sure about which countries you can safely swipe in. During my trip to Cambodia with baby, I did get stuck at a couple of places, (also at a couple of places in Bangkok Airport for some reason) where they did not accept a forex card. On the same note however, it does make sense to put in most of your travel money in this and be safe while you backpack.
10) A Really Good Backpack - This brings me to the end of my essential list. The most essential thing without which, you are sure to fail the trip is a good sturdy backpack. Please do your research online, and make sure you purchase a really comfortable, lightweight and sturdy brand that will hold your luggage, have compartments for your sleeping bag/s, tent (if you also wish to camp but I will enlighten more on camping with baby in a a separate post), and sturdy and wide shoulder straps and waist and chest buckles. These belts are provided to secure your backpack safely against your back and also save you from back and shoulder discomfort. It is a good idea to spend more on a good brand than to regret why you bought an inexpensive bag that gave way bang in the middle of the trip
I really hope these points covered most of what you will need on your first backpacking trip with baby! I would love to hear more from you about could be added to this list, so do leave a comment below and share this post if you like with your fellow traveller friends!! Happy Backpacking ????