You can watch my youtube video about Hampi here!
I have been to Hampi twice already and I really love the vibes of this place. It is famous as a city of ruins and has a whole area full of old temples and structures, but what fascinates me more is the less known backpackers area here. This is called 'Virupapura Gaddi' among locals and 'Hippie Island' among travellers. The ruins and temples in Hampi are located on the southern side of river Tungabhadra and the northern side is where all the backpackers stay and have fun. I stayed on this side for both of my trips and found it relatively cheaper and livelier. It is not a huge place with party vibes but just a small village like place, where there are lots of backpackers who have found different places and ways to have fun and chill. This is like going really close to nature and relax. These are the top 10 things that you should definitely try in Hampi:
1. Cliff Jump & Swim in Tungabhadra: This will be one of the most fun things that you can do if you know swimming well. All the foreigners usually flock at this little waterfall (Near Sanapur) which is very less explored and spend their entire afternoons chilling and swimming. You can also join them or rent a life jacket for around Rs 50 to get in water.There is no particular shop for this, just a local guy renting out. So, you should take care of jacket quality as well as the possibility of him being absent that day.
2. Take Coracle ride in Tungabhadra: This is the round floating vessel used by local villagers here. It is probably banned by government but is a fun and easy way to get in water if you don't know swimming. This is quite fun in the river near waterfall but you can also do it in sanapur lake. It may cost you around Rs 100 - Rs 150 per ride, which happens for around half an hour.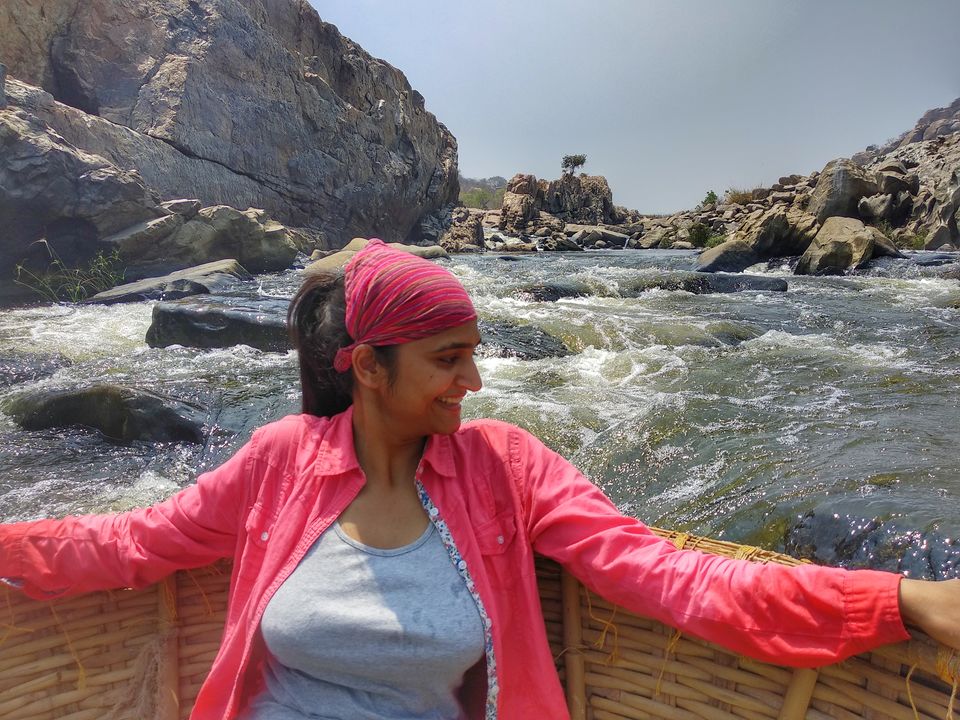 3. Bike Drive in Hippie Island: Bike is the easiest way to go around and have fun. You can rent a bike for Rs 150 - Rs 350. It is a small place with only one street which is full of cafes and the rest is all paddy fields and boulders. You drive amid beautiful landscapes to reach places and explore unknown areas. I have been to Hampi twice already but will be really excited to drive again here.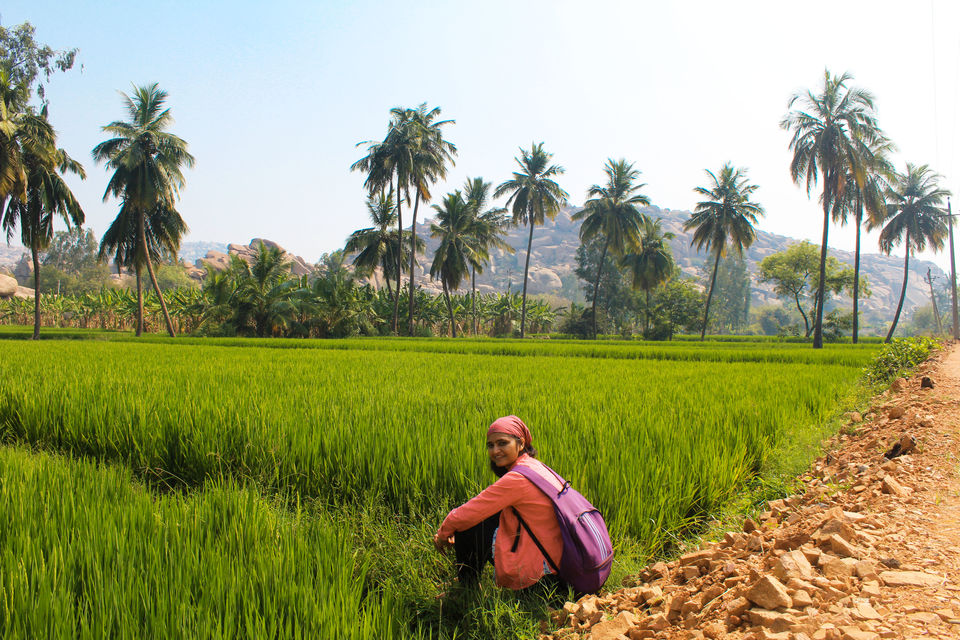 4. Witness magical sunset: There are multiple places to see sunset in Hampi, you can actually climb any hill if you seek solitude. The sunset in Northern Hampi oversees wide paddy fields and coconut trees and looks really beautiful. If you are lucky you may get to experience some jam sessions as well during the sunset (usually in winter months).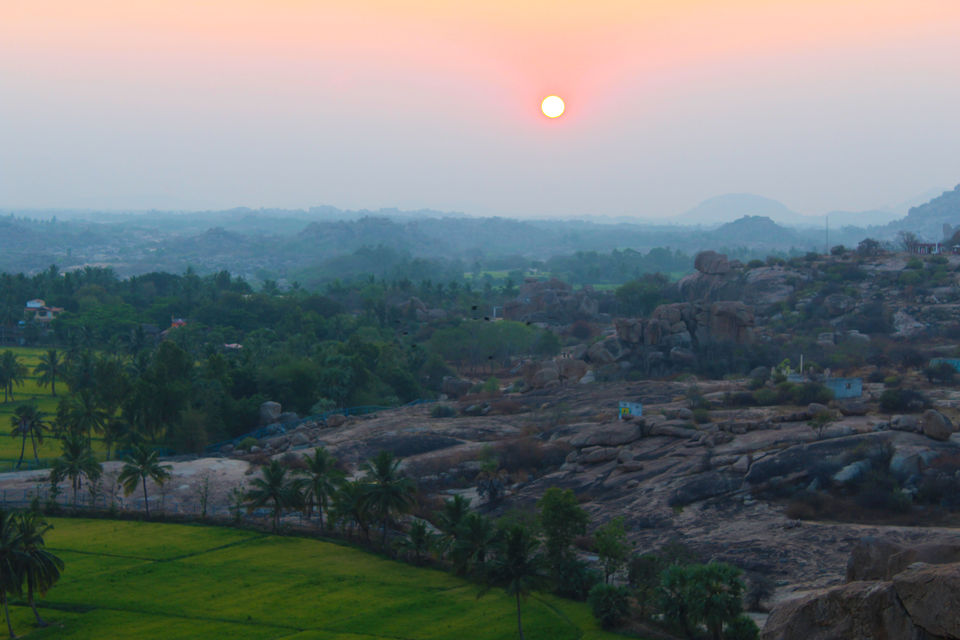 5. Enjoy the Jam sessions: One of the best experiences I had was the Jam sessions during sunset, where people from different countries use different instruments and create music while watching the sunset. This happens in peak season i.e from October to January end. In other months, it is relatively smaller and happens in some corner cafes.
6. Bicycle amid ruins: You can take a day tour in Hampi on a bicycle ( rent around Rs 150 per day) and travel amid ruins, villages, coconut orchards and Banana plantations. Even though I completed the entire circuit which was more than 20 km but I admit it was tough in scorching heat of March. If you find it challenging, the second best option would be to rent a bike on this side (southern) of Tungabhadra. You cannot use the same bike on both sides of the river.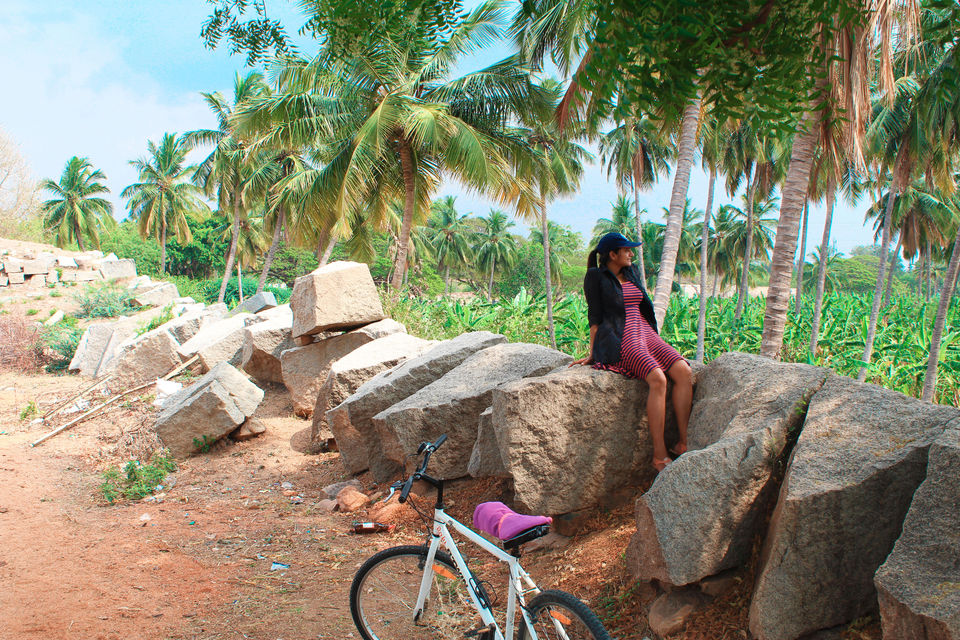 7. Anjani Parvat: Birthplace of Lord Hanuman: There is not much grandeur or adventure but you can climb around 600 steps on Anjani Parvat or Monkey Temple to see the birth place of Lord Hanuman. This place has a floating rock and offers a great view of entire kingdom (Kishkindha) with lots of monkeys whom you can feed as well.
8. Yoga & Massage: In the Hippie Island, a lot of backpackers join morning yoga sessions to relax. You can also attend these classes and pay on per class basis of around Rs 200. You can also take ayurvedic oil massage here. I actually saw only one shop and the prices were not low but you still have the option.
9. Rock Climbing: Hampi is a paradise for rock climbers because of so many boulders and hills made of boulders. There are also 2 or 3 shops where you can easily rent the equipment like shoes, chalk dust, and crash pads. You will get almost everything to rent here.
10. Relax & Shop: The street in Virupapura Gaddi has cafes full of all kinds of food. I like the food and masala tea at Cafe named Gauthami. But there are so many where you can try, but just a heads up that there is a chance of getting local version of that food. You can also shop clothes, jewelry, leather bags, antiques here. I bought my sling bag here that I used for my one month long backpacking in Kerala. I earlier bought my Hula Hoop in this Street. And other than that just chill in Cafes here. They have whole mattress lied down because people just chill for long hours. The air of Hampi is very relaxed and fun loving, and if you take it easy you will feel it too.
Hampi needs only an overnight bus from Bangalore. If you planned at the minute, you can book tickets to Hospet, which is very close and well connected to Hampi. So next holiday, try this place and let me know if you enjoyed it!