A small nation with a lot to offer, Singapore is one of the world's most culturally rich places. Being a key destination for trade and travel between Asia and all other continents, it thrives on diversity. And this fusion, which forms the very essence of this city-state, reflects in its diverse range of dining options.
If you're someone who loves exploring a new place through its food, then you must definitely give these local dishes a try when you're in Singapore.
1. Hainanese Chicken Rice
Considered to be one of Singapore's national dish, Hainanese Chicken Rice is widely consumed by Singaporeans and visitors alike. This dish can be found everywhere from the street-side hawkers to the fine-dining restaurants. The recipe, which includes juicy poached chicken and seasoned rice, served with chilli sauce and garnishes, was adopted from Hainan, an island in the southernmost province of China.
2. Chilli Crab
An iconic preparation, this dish is referred to as the king of all crab dishes. Chilli Crab elevates one of the most popular seafood items in Singapore to something that is loved by people from all ages and cultures. The sauce is a lovely blend of tomatoes and chilli paste, thickened with beaten eggs that perfectly compliment the meaty, juicy crab.
3. Fish Head Curry
This dish is not for the light-hearted, especially if you judge a meal by its visual appeal. As the name suggests, the hero of the dish is a fish head that is cooked in tamarind, and coconut milk, along with okra and egg plant. The gravy is scrumptious, spicy and is served with a side of rice. Fish Head Curry is a beautiful mix of Chinese and South Indian tastes.
4. Fried Carrot Cake
Fried Carrot Cake is a highly deceptive dish, and you will know why just as you take your first bite. This is a savoury dish that has no carrots, and obviously doesn't taste like cake. However, it makes up for this master deception with its smooth, melt-in-the-mouth texture. Also known as chai tow kway, the dish is made up of flour, white radish, garlic and eggs.
5. Hokkien Prawn Mee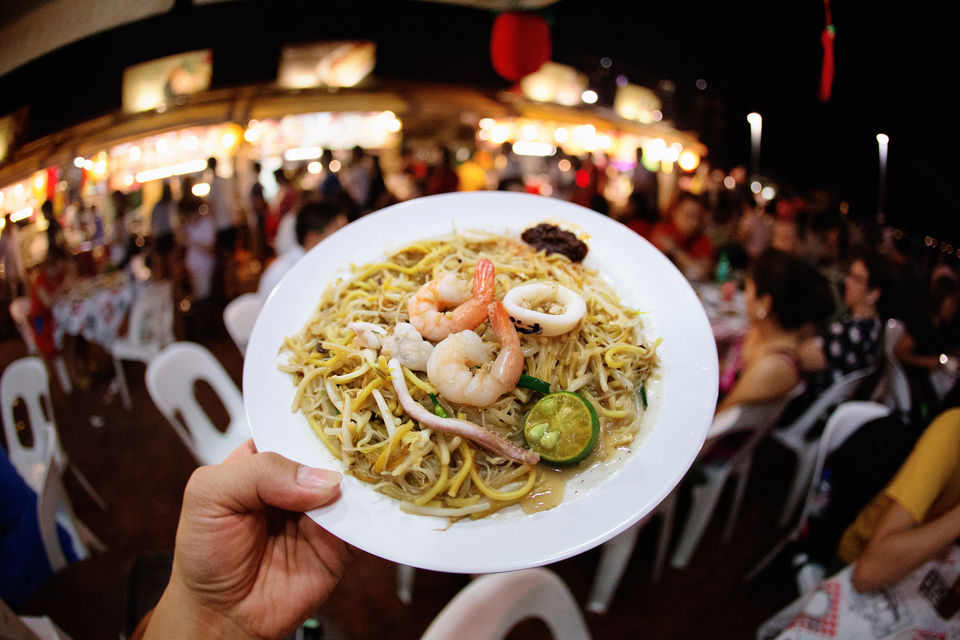 A stir-fried noodle dish that is steeped in an aromatic stock made of pork bones and prawn heads, this is the epitome of comfort food. The yellow noodles are served with squid, pork belly strips, egg and crunchy fried pork lard that makes it one of the most delectable dishes you will ever come across. As if this burst of flavours was not enough, it is served with sambal chilli and lime juice for that zing!
6. Kaya Toast
Unlike most dishes from Singapore that are mix of various flavours, the Kaya Toast is a simple, unassuming version of a sandwich. A local jam called Kaya, along with butter is spread in between two breads and enjoyed with coffee/tea and often, boiled eggs. This is the ultimate food if you're looking for a quick-bite while on the go.
7. Laksa
A spicy noodle soup popular all across the country, Laksa is available in many variations. The most popular version, is found in Katong where Laksa is served as a spicy noodle soup flavoured with coconut milk, dried shrimp and garnished with ingredients like cockles, prawns and fishcake. This is also something you will find everywhere you go from the street hawkers to more posh restaurants.
8. Nasi Lemak
Nasi Lemak is a fragrant rice dish that translates to "rich rice" in English. The dish derives its name from its star ingredient, a thick coconut cream that lends the rice a dense flavour. The preparation usually involves infusing aromatic rice in a blend of coconut milk and pandan leaves. It is eaten with deep-fried fish or chicken wings, otah (grilled fish paste), fried local anchovies, peanuts, eggs, cucumber slices, and a spicy chilli paste.
9. Rojak
Rojak is a Malay term that roughly translates to "eclectic mix" – a phrase that perfectly encapsulates the essence of the dish. This salad brings together ingredients used in various different cuisines – a reflection of Singapore's multi-cultural personality – and combines them to create a lip-smacking dish. Made up of vegetables, fruits, and dough fritters, the salad is covered in a sauce that is made up of fermented prawn paste, sugar, lime and chilli paste. It's to say that Rojak is Singapore on a plate!
10. Roti Prata
Roti Prata is a twist on the Indian concept of rotis and paranthas. This is a flour based flat-bread that is fried in ghee and served hot with mutton or fish curry. If you're homesick in Singapore, don't worry, because you will find this dish almost everywhere!
This list just gives you a small glimpse of Singapore's rich culinary experience. I know I can't wait to try all of these delicacies out! What about you?
In association with Visit Singapore