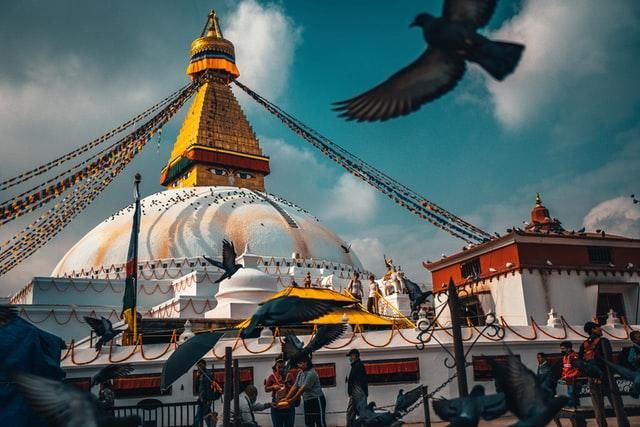 Nepal, a Himalayan country, has countless of the most beautiful places to visit at least once in your lifetime. It has many popular places where natural grandeur and cultural diversity blend in perfect harmony.
The nation, very rich in culture and wildlife diversity, also has mighty mountains, beautiful landscapes, amazing rivers, and waterfalls. Nepal's famous places such as Lumbini, Everest, Annapurna, Kathmandu, Pokhara attract thousands of tourists each year.
If you are wondering about the top places to visit in Nepal or else looking for an option for your holiday destination, then you have come to the right place. Here, we are going to list the 10 most beautiful places to visit in Nepal once in your lifetime.
10 Best Places to Visit in Nepal
Everest Base Camp (EBC) - Best Place to see in Nepal
Also known as the country of the Himalayas, Nepal has eight out of 10 highest peaks in the world, including the mighty Everest. Mt. Everest is the highest mountain on earth. No one can deny that one of the best places to visit in Nepal is the Everest Base Camp. The base camp of the world's highest mountain invites a high-altitude trek to reach the area.
You can go to the area with a 14 days Everest base camp trek package. The adventurous journey to EBC (altitude 5364m) starts from Namche. The journey helps to challenge yourself and discover both the majesty of mountains and your potential. Sipping your tea while witnessing magical sunrise over Everest is a memory to behold for the afterlife. Not only Everest, but you can also watch the spectacular panoramic view of silver-shining mountains like Nuptse, Changtse, Lhotse, etc. Beautiful glaciers around those mighty mountains melt your hearts. Apart from the hike to the EBC, you can even enjoy and learn about Sherpas and their lifestyle. Unsurprisingly, EBC will be one of the most adventurous and enjoyable places to travel to Nepal in your lifetime.
Chitwan National Park - Top Place in Nepal for Wildlife Tours
The first national park of Nepal and UNESCO World Heritage Site is the best place to go to Nepal for wildlife enthusiasts. The abundance of diverse wildlife around this area attracts lots of tourists from various parts of the world. Travelers can always go to the area with a Chitwan National Park Tour.
You can enjoy a jungle safari and reach the deep tropical forests where you can see grazing herds of deer, dancing peacocks, sloth bears, etc. Some of the rare animals found in the area are one-horned rhinoceros, Gaur, Royal Bengal tiger, Wild elephant, Four-horned antelope, Pangolin, Golden monitor lizard, Python, etc. If you are lucky, you can also see an extremely rare Royal Bengal Tiger and one-horned Rhinoceros. Apart from this, you can even walk to Elephant and Gharial breeding centers.
Not just wildlife, you can also enjoy local Tharu culture and ethnicity here. If you are a nature-loving person and like animals and plants, then Chitwan National Park is one of the most beautiful places to visit in Nepal.
Lumbini, Must-Visit Cultural Attraction in Nepal
Lumbini is the birthplace of Lord Buddha. Therefore, it is a holy pilgrimage for Buddhists around the globe. Not only for Buddhists, but it is one of the most beautiful cultural places to see in Nepal.
Lumbini has huge historical and cultural significance. There are many old temples and ruins of ancient monasteries. Maiyadevi temple is the most famous temple in the area. Similarly, several new shrines like the World peace pagoda, Golden temple, etc, are also constructed under the funding of Buddhist organizations from various countries.
Apart from the beautiful temples and monasteries, there is a museum inside the Lumbini premises. There is a beautiful pond called Puskarini. People believe that Lord Buddha took his first bath in that pond. As this place has high historical and cultural importance, it is one of the best places to see in Nepal for cultural enthusiasts.
Annapurna Base Camp (ABC), Most Beautiful Place in the Himalayas
Often considered as a shorter and cheaper alternative to EBC, Annapurna Base Camp is an amazing destination in Nepal, where the rewards easily outweigh the efforts.
The place is at a distance of 40 km to the north of Pokhara and you can visit this amazing destination with an Annapurna Base Camp Trek. The trek offers a journey through quaint Gurung villages, diverse landscapes, beautiful forests, pristine rivers, and terraces of paddy fields to ABC at an altitude of 4130m. Also, this natural beauty of Nepal offers a panoramic view of glittering mountains like Annapurna I, Machapuchhre, Annapurna South, Hiunchuli that are jaw-dropping. Picked up by several international magazines as the best trekking destination in the world, the ABC is also the most beautiful place to visit in Nepal.
Overall, not just beautiful landscapes and mountains, the glacial basin is home to diverse wildlife like clouded leopard, Himalayan thars, musk deer, etc. Therefore, it is a famous place to visit in Nepal among outdoor enthusiasts.
Pokhara- Famous Tourist City in Nepal
Saying Pokhara is Nepal's best tourist attraction won't be wrong as there are countless things to do for a tourist in Pokhara. The beautiful city of Pokhara is the tourism capital of Nepal. It is the gateway to different trekking trails and expeditions in the Annapurna region. The city offers a majestic view of mountains like Dhawalagiri, Annapurna I, Manaslu, etc. There are many lakes among which Begnas and Fewa Lake are the popular ones. So, Pokhara is also called the city of Lakes. Besides some other attractions in Pokhara include World Peace Pagoda, Pumdikot Shiva Temple, different Caves, David Fall, Tal Barahi Mandir, Mountain Museums, and many others.
The center of attraction in Pokhara is the lakeside. If you walk to the lakeside Pokhara, the reflection of the beauty of the mountains on Fewa Lake overwhelms you. You can enjoy boating and cycling around the city. Several adventurous sports in Nepal, such as paragliding, bungee, and zip flying, are also available. Plus, you can also find Nepal's finest handicrafts in this city.
If you are planning to explore this popular destination, set aside at least 3 days from your travel itinerary. But, if you just have a day and still choose to wander around the area, you can join 1 day Pokhara city tour with Heaven Himalaya.
If Pokhara isn't enough to quench your thirst for adventure, then there are several places around this city where you can enjoy short treks. Ghandruk, Ghorepani-Poonhill trek, etc are popular trekking trails nearby Pokhara. Overall, Pokhara is one of the most beautiful places for travelers seeking adventure and joy.
Tsum Valley - Hidden Place in Nepal
Also known as the hidden valley of Manaslu, the Clough has everything that a traveler seeks. The valley has amazing landscapes, spectacular mountains, and unique culture. People living over there have their ancient form of dialect, art, culture, and tradition. Beautifully decorated monasteries, gompas reflect their rich culture and traditions. You can trek to the area with a Tsum Valley Trek from Heaven Himalaya. Once you enter the area, you will feel you are in a different world. The beautiful paths with Mani walls made from stones carved with Buddhist mantras lure your heart.
Also, there are several caves where different arts and scripts are engraved. Besides this, there are many streams and waterfalls which add more beauty to the valley. The valley is rich in wildlife as well. You can see very rare snow leopards in the area if lucky. Altogether, the less-visited valley of Tsum won't disappoint you.
Pashupatinath Temple, a religious site to visit in Nepal,
Pashupatinath is a sacred and holy pilgrimage for Hindu people all around the world. It is in Kathmandu at the bank of the Bagmati River. Also enlisted as a UNESCO World Heritage Site in Nepal, it has huge religious importance. If you are looking for a spiritual place to visit in Nepal then, Pashupatinath is the right choice. The main temple is for Lord Shiva and has a lingam inside. There are several other temples and ashrams around the main Pashupatinath Temple.
The place has a very high religious importance and people from around the world come to see this holy temple. Undoubtedly, visiting Pashupatinath is one of the best things to do in Nepal. When you are in Nepal, you can visit the temple with a Kathmandu Day Tour. You will feel an unmatched mix of religious, cultural, and spiritual experiences upon visiting this holy land. Also, beautiful statues, lingams, temples, ancient scriptures, burning pyres, bhajan, ringing bells, Pashupatinath is one of the most beautiful places to visit in Nepal.
Upper Mustang, Mystical Place to go to Nepal
The geographically and politically isolated ancient kingdom of Lo is popularly known as Upper Mustang. Visiting here is almost similar to Wandering Tibet. You can reach this must-visit mystical place in Nepal with an Upper Mustang Trek and an Upper Mustang Jeep Tour. If you are looking for out-of-the-world experience, then you should visit there.
The journey is all about exploring the hidden world of the ancient Buddhist kingdom of Lo. Here; you get the rare opportunity to understand and live the life of the actual mountain people. The long, rich, and complex history of this place lures everyone.
Walking along the unique walled settlement surrounded by spectacularly tanned red cliffs is amazing. Ancient and beautifully decorated monasteries with colorful prayer flags are blissful to watch. If you travel to the place in May, you can experience the intact native culture and traditions of the Tiji Festival. Further, there are various caves with different decorative arts and scripts depicting the life of Buddha. Upper mustang is a restricted area and you need a special permit to go there. Untouched by modernization and many areas yet to be discovered, the place is one of Nepal's most beautiful places to visit.
Bhaktapur Durbar Square, A Royal Palace to Visit in Nepal
Bhaktapur is widely known as the city of ancient sculptures, celebrations, and festivals in Nepal. This popular travel destination in the Kathmandu Valley has the best-preserved traditions and culture, palace courtyards, and an old city center. Many ancient temples, beautiful statues, and artwork on wood, metal, and stones make this place unique and significant in terms of history, culture, and architectural value. Therefore, UNESCO declared it as a world heritage site in 1979 AD.
Nyatapola temple, Bhairab Nath Temple, Dattatraya Temple, Changu Narayan Temple constructed during the ancient and medieval periods of Nepalese history are some of the top places to visit in Bhaktapur. Changu Narayan Temple is one of the oldest temples and also a UNESCO World Heritage Site. Visiting Bhaktapur allows you to you enjoy different festivals and Jatras, like Yomari Purnima, Bisket Jatra, Indra Jatra, etc. During Indra Jatra, Chariot's ride of Nepal's only living deity, Royal Kumari, is a unique culture to watch. Overall, visiting Durbar Square is one of the best things to do in Kathmandu. Also, it is the top places to visit in Nepal if you are interested in ancient art, scriptures, temples, and culture.
Tilicho Lake, Second Highest Altitude Lake in the World
If you are a nature lover seeking some inner peace and marvelous adventure in the lap of the Himalayas, then Tilicho is the must-visit destination in Nepal. At an altitude of 4919m, the lake hosts a spectacular view of the silver-shining mountains of the Annapurna Range. The lake also has high religious significance for Hindu and Buddhist devotees. You can reach the lake with an Annapurna Tilicho Lake Trek from Heaven Himalaya.
Not just the lake, also the journey to the lake is full of astonishing views of the breath-taking Himalayas. Lush green hills, beautiful meadows, artistic waterfalls, pristine rivers, gorges, sacred temples, and colorful monasteries make the journey unforgettable. Although the trek is quite challenging, the reward will be magnificent and the journey will be a true lifetime experience. Besides, the lake is also known as the second-highest altitude lake in the world after Kajin Sara lake. Therefore, it is one of the best places to visit in Nepal.
At the End
The aforementioned 10 most beautiful places to visit in Nepal are among the few top places. There are many other amazing places as well. From plain lowlands to the highest peak, Nepal has everything a traveler seeks. Blessed with natural beauty, it also has unique traditions and cultures which are bliss to travel enthusiasts. The country is truly a heaven for travelers and you must come to see these popularly amazing destinations once in your lifetime.