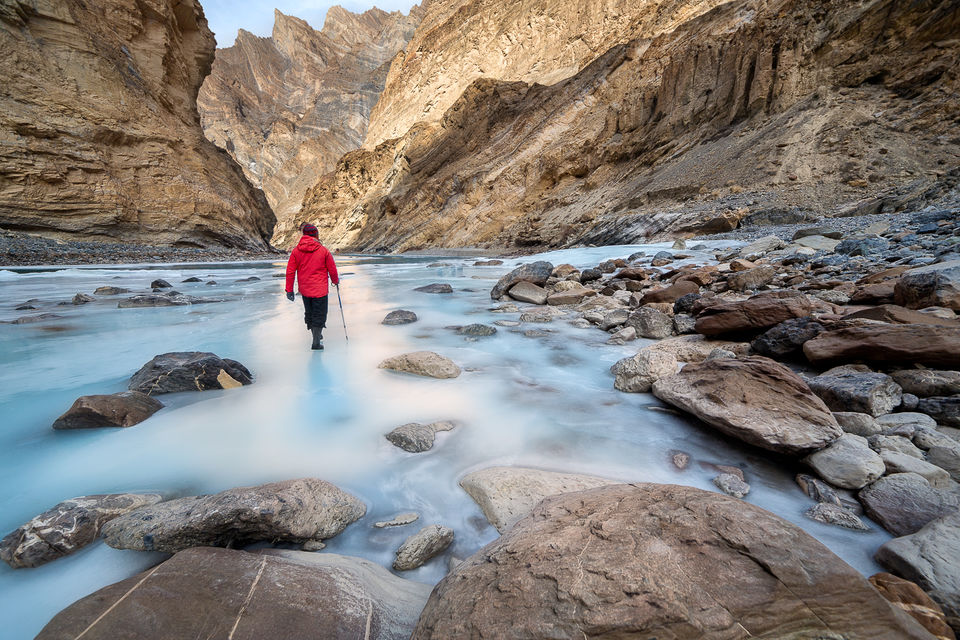 The infamous Chadar trek
Well the most common question that i get is
Is Chadar trek the most difficult trek in India?
Well the answer is NO, not at all !Chadar trek has low altitude than Leh so Altitude sickness is not the problem. What you need to do is arrive one day prior to trek and acclimatize. Mainly, Chadar is a game of "Mind over Body" because mental preparation is must for this trek as there are extreme weather conditions. All you need is a proper gear to wear and you are sorted. Once you take it as a mental challenge, follow all the nature rules and trek with all necessary logistics, it will be a beautiful memory for lifetime.
You don't Need to do any exercise before coming as you will be walking the entire trek and NOT climbing
Lets start with the most Important thing which is Layering!
First Layer - Starting with inner thermals.
Second Layer - Full sleeves t-shirt and track pants, Woollen Socks (One double woven Woollen socks with one warm nylon or normal Woollen socks inside). Just carry 2 spare socks and 1 spare layer as you wont be taking a bath there! lol
Third Layer - Fleece Jacket with Good thick Woollen Cap or Balaclava.
Fourth Layer - A Good Down Jacket.
Gloves - 2 layers of gloves ( windproof gloves on top of a thin glove )
A Sun Glass with Good UV Protection.
If you haven't bought the stuff from wherever you are coming, you can get everything from Leh Market!
Gumboots - You can buy gumboots for 300 Rs from Leh market (Carry your trekking shoes incase your gumboots get broken)
All the trekking companies start there trek by 8 am, But i had to click pictures without the Mela around my pictures so i used to leave by 6 30 or Max by 7 AM , We used to only find porters throughout our way and we never used to stop for lunch as my body used to hot, stopping for an hour meant that all our energy was going to die after it
Keep your water bottles, Charger, batteries and your socks inside your sleeping bag as everything else will freeze !
• At a few spots, waterway has solidified in the streaming structure i.e. whirling example and strolling on those twirls and curves is hazardous and additionally dangerous. Higher odds of tumbling down there. "Fall on Chadar is a piece of Chadar", yet endeavor to fall either on left/right or rear, staying away from the front fall, since it can hurt your head and can be exceptionally risky.
• Backpack (55 - 65 L) with tough lashes and supporting edge.
• LED Torch (Head lights are significantly more ideal) with Extra Batteries, as Batteries deplete quick.
• Keep sunscreen cream (in any event SPF 30) and Lip Balm.
• Trekking shaft is obligatory.
• Double Sleeping is Necessary. Ask your coordinator whether they are giving Single Sleeping Bag or Double. Convey inward for your sleeping sack, if conceivable.
• Do not uncover your hands/legs to the icy specifically for a long stretch.
• Do not be unforgiving on your trekking guide, cook, aide, doormen. They work hard to make your adventure as smooth as would be prudent.
Photography Tips
• Don't Carry Too Many lens as you wont use them at all
• Drone wont fly there as the wind is so thin and it next to impossible to fly it there! We used to heat the batteries for like an hour so that it can fly for 5 mins but it just flew once on our entire chadar trek journey
• Carry atleast 3 Spare Batteries for your Dslr
• Keep your Camera Brightness at its minimum
• Give your bag-pack to Porters if you really want to capture the beauty of chadar as it will give you flexibility to run and take the desire shot rather than just taking whats infront of you. I only had my camera bag on me which was 8 kgs :P
• I had a 14 mm F2.8 and 24- 70 F2.8 but i was using the 14mm for most of the journey as i wanted to capture everything that i could see infront!
• If anyone has a gopro, keep it in your pockets while on the trek as if you will take it out it wont work due to the extreme cold
• All the Batteries and Electronic devices were in my pocket to keep everything warm
• Dont carry your tripod when you are walking coz you will never be able to stop and take pictures on your tripod, instead when you arrive at your location for the day take the tripod out and shoot the sky which is extraordinary by the way
• Carry a tactical Flashlight with 10k> lumens
• Can try the Tube photography too in chadar which i havent seen so far