Nestled within the centre of Europe, Poland is famous for its rich history, vibrant culture, historical places and picturesque landscapes.
A trip to Poland will never be boring as there is so much to see, do and discover. From it's enchanting and turbulent history to it's modern day city life. Here is a list of the most beautiful places in Poland.
1. Krakow's Main Market Square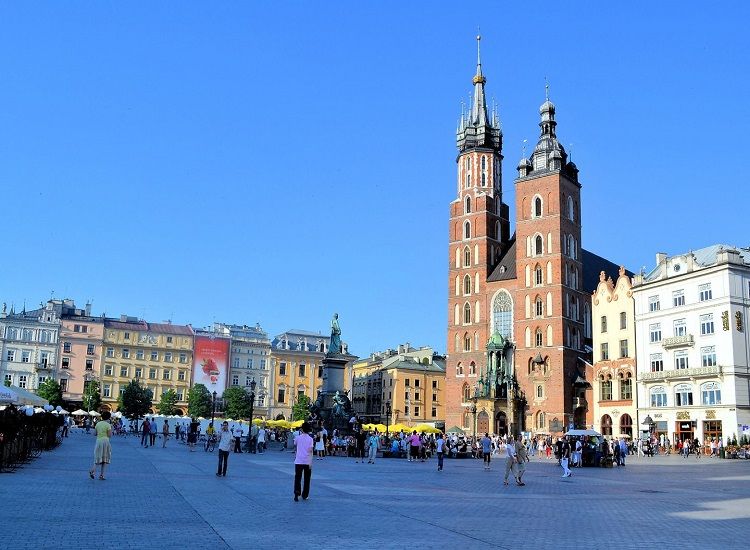 This will be your first destination as you begin your tour of Krakow. Dating back to the 13th century, The Rynek Główny (Main Market Square) is the nerve center of the Old Town and is Europe's largest medieval town square.
The place is always a hive of activity and is a medley of museums, historical landmarks, cafe's, pubs, music bars, clubs, souvenir shops, hotels and hostels. Its most prominent features are the Cloth Hall (Sukiennice), Saint Mary's Basilica and Town Hall Tower.
Location: 31-422 Krakow, Poland.
Timings: Early morning to late night.
2. The Royal Palace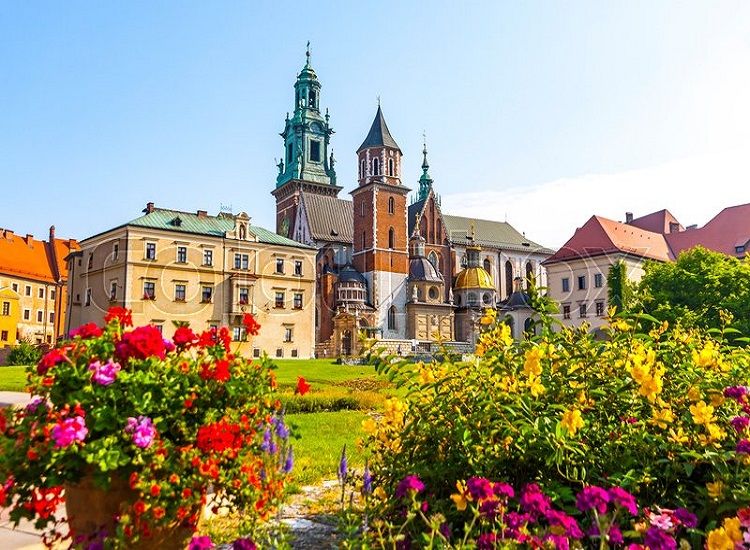 The Royal Palace is home to the historical Museum of Wroclaw and was once the former residence of Prussian kings. Today, it features permanent exhibits like the 1000 years Wroclaw, Gallery of Art in Wroclaw 1850-1945, Gallery of Art in Wroclaw 1945-2000, Gallery of Polish Painting, Royal chambers and Beyersdorf's Room.
Its baroque style garden is a wonderful place to relax and spend pleasant moments with your family. After visiting the exhibits don't forget to visit the stylish cafe within the palace premises. Visit Royal Palace with this tour.
Location: 35 Kazimierza Wielkiego Street, Wroclaw
Timings: Mondays: Closed / Tuesdays - Saturdays - 10:00 am - 5:00 pm / Sundays – 10:00 am - 6:00 pm
3. Wawel Royal Castle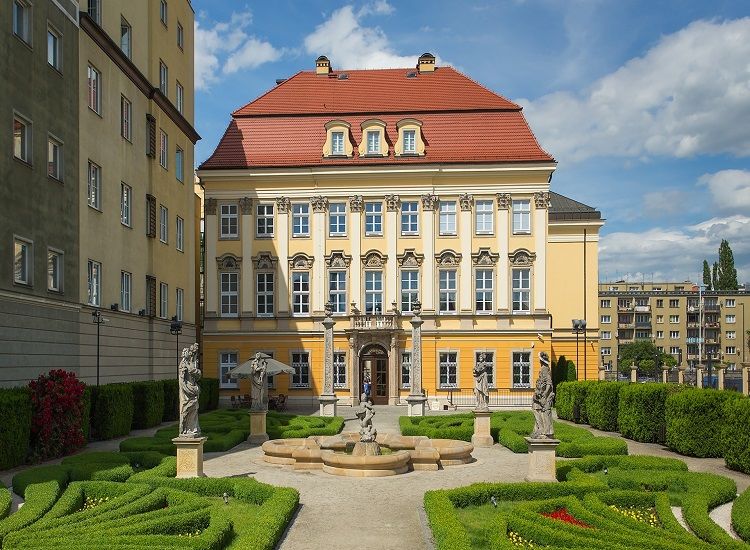 Dating back to the 14th century, the Wawel Castle was home to many of Poland's monarchs and is a symbol of Polish history and pride.
Today, this UNESCO World Heritage Site is a museum containing five separate exhibits: the Royal Apartments, Treasury and Armoury, Lost Wawel, State Rooms and the Exhibition of Oriental Art.
Of the five, the State Rooms and Royal Private Apartments are the most impressive, but to be honest the best part is just wandering around the castle grounds.
Location: Wawel 5, 31-001 Krakow, Poland
Timings: Monday: Closed / Tuesday - Friday 9:00 am - 5:00 pm / Saturday - Sunday 10:00 am - 5:00 pm
4. Vistula River and its Boulevards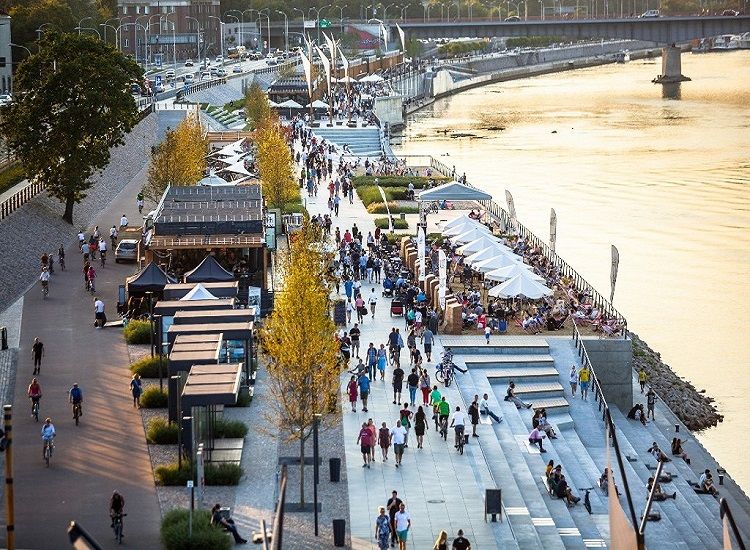 In the middle of Warsaw city lies the Vistula River and its boulevards, a zone for entertainment and recreational activities.
It's beach is part of the natural grasslands and is home to various indigenous species of birds making it a spectacular point to chill out in the city.
A beautiful walkway is located adjacent to the Vistula river and has numerous restaurants, bars and cafes. On a sunny day it's a nice way to see another side of Warsaw. This place is definitely one of the most interesting places in Poland.
Location: Warsaw
Timings: Open 24 hours
5. Gdansk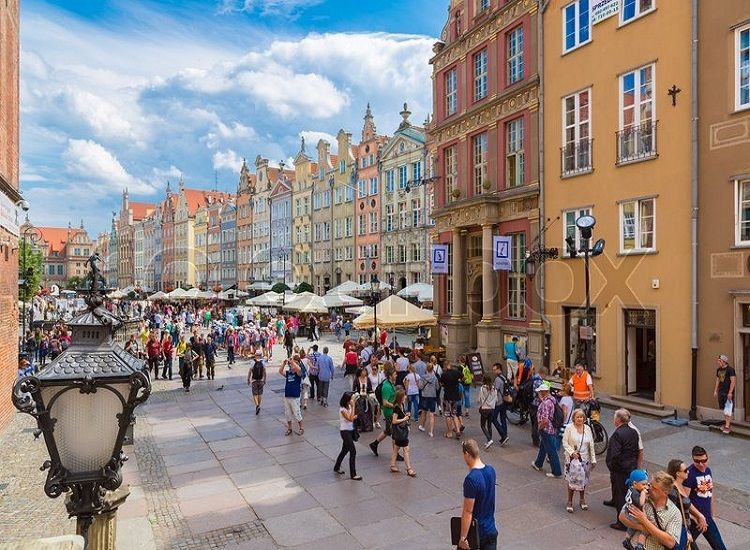 Gdansk is one the most beautiful cities by the sea. Once you're here, make sure to visit Saint Mary's Basilica (the world's largest brick church), stop by the amber museum (which has a heap of amber with a preserved lizard inside) and see Neptune's Fountain. It's also home to one of the world's oldest crane that still calls the city home.
Later, you can spend a little time exploring Long Market and Long Lane, alongside a little gander at the Green Gate. And If the weather is nice and sunny, take a short ride over to the spa town of Sopot and take in the rays on the promenade. At the end of the day visit Umam (a dessert shop) and enjoy some of the tastiest desserts in the city. Explore popular city tours in Gdansk.
6. Ostrów Tumski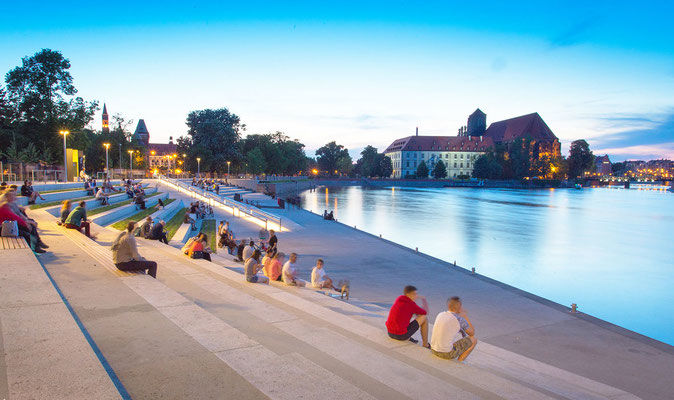 Dating back to the 10th century, Ostrów Tumski is an island and the oldest part of Wrocław. Originally a garden, today it is famous for its historical buildings, important monuments, sculptures, gardens and enchanting bridges.
The most prominent attractions include the Archdiocese Museum famous for its medieval riches, the Cathedral of Saint John, the Holy Cross and Saint Bartholomew's Collegiate.
This quarter is also the prettiest for walks, with a church at almost every turn, and pavements lit by genuine gas lamps at night. If you come at dusk you can watch the old-time lamp lighter illuminating the streets. This place is a must-visit for history buffs and anyone keen to see where this sprawling city once began.
Location: Ostrow Tumski, Wroclaw
Timings: Early morning to late night.
7. Malbork
Malbork is one of the largest Gothic fortresses in Europe and the largest brick castle in the world. The castle was built way back in the 13th century by Teutonic Knights. After settling down in the quaint town of Malbork, they decided not to leave and built their grand headquarters that was a show of their power and importance.
The entire castle complex took over 230 years to build, but during the Second World War the castle was partially destroyed. After the war, the castle was restored to its former glory and declared a UNESCO World Heritage Site.
Besides touring the castle, you can also explore the surrounding areas of the town. Like visiting the oldest and architecturally unique Neo-gothic train station, the Town Hall, or simply taking a stroll through Malbork Park.
Location: Malbork
Timings: Monday to Sunday – 9:00am to 8:00pm
8. Bialowieza Forest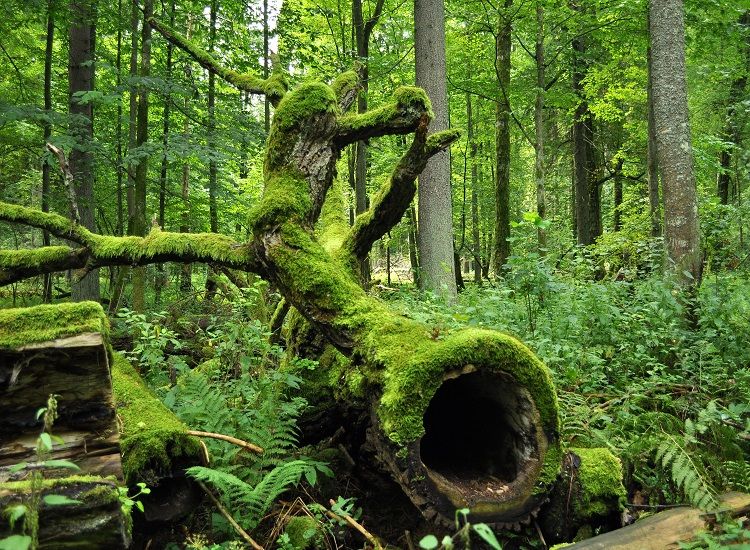 The Bialowieza Forest sits on the border between Poland and Belarus and covers a region of more than 3,000 kilometres. It is one of the untouched scenic beauties in Poland and is also listed amongst the UNESCO World Heritage sites.
The forest is home to a wide variety of flora and fauna, the most fascinating are its oak trees, which are more than 500 years old. And if you're lucky you will also spot a variety of wild animals specific to this region like the golden eagles, European bison and deer.
Don't miss the open-air Museum of Wooden Architecture within the forest. On display are windmills, wooden huts, a tiny wood chapel, a barn, and even a sauna. The forest is worth visiting all year round, the best would be between May to October.
Location: Podlaskie Voivodeship, Poland
Timings: Sunrise to Sunset.
9. Wieliczka Salt Mine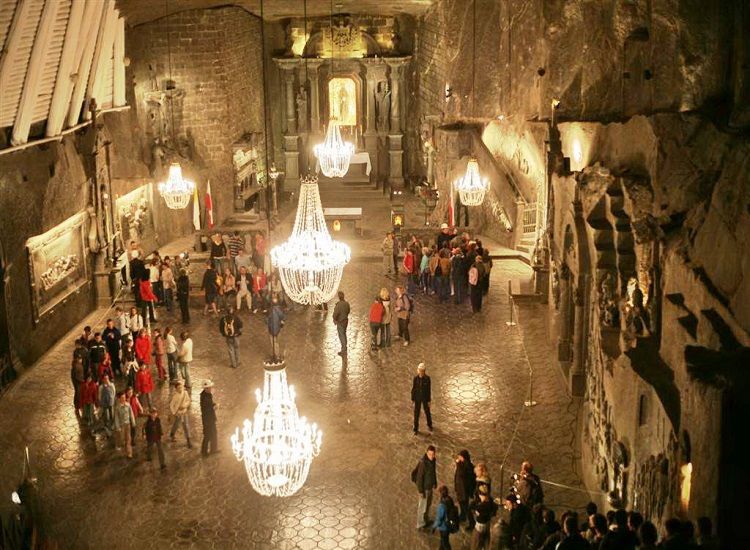 Visit the Wieliczka Salt Mine on a day's trip from Krakow. Once you get to the UNESCO World Heritage site, follow your guide down 350 steps and into one of the oldest salt mines in Europe.
Discover over 20 salt-chiseled rooms, some of which are beautifully decorated during the 3.5 kilometers walking-tour, as well as underground lakes, the tools and utensils used by the miners and curious salt-made sculptures and low reliefs. While your guide explains how Wieliczka was transformed into a charming 'underground village', discover the Chapel of St. Kinga, a startling 54-meter temple decorated with large chandeliers and a beautiful altar.
Over the centuries this breath-taking site has been visited by several celebrities, leaders, crowned heads of state, and not to mention millions of people from all over the world.
Location: Danilowicz 10, 32-020 Wieliczka, Poland
Timings: Monday – Sunday: 8am to 5pm
10. The Auschwitz-Birkenau Memorial and Museum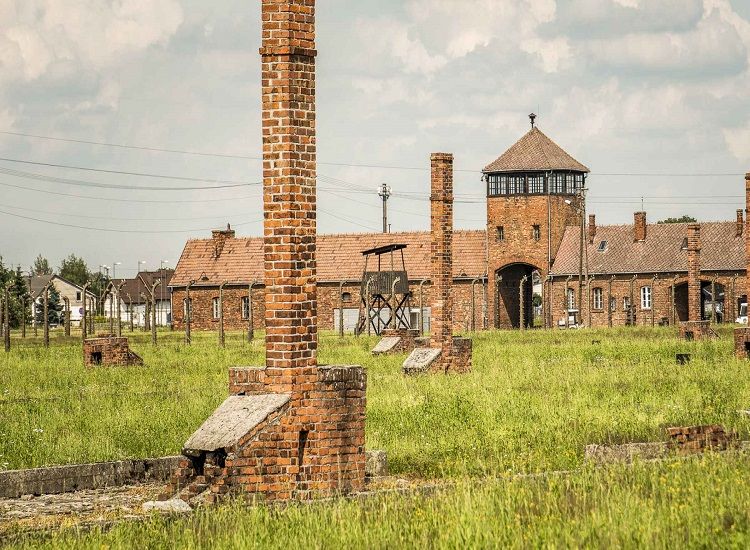 Set off on a half-day trip to Auschwitz-Birkenau from Krakow and discover the hair-raising events that took place in this Nazi concentration camp during World War II. Over one million people were killed in Auschwitz with the Nazi's Final Solution to the Jewish Question.
During the 3.5 hour sightseeing you will visit Auschwitz I and Auschwitz II Birkenau (Brzezinka). You will also watch a short documentary film about the liberation of the camp. Auschwitz is a place everyone should visit at least once in their lifetime.
Location: Oświęcim, Poland.
Timings: Open all year long, seven days a week, except January 1, December 25, and Easter Sunday.
Daily 8:00 am to 7:00 pm June, July, and August; reduced hours in the remaining part of the year.
With this we conclude our list of the ten most beautiful places in Poland. It's a mix bag of big and small town attractions and natural wonders, and we are sure this has got you excited for your next trip to Poland.
Whether you're visiting Poland for its history, its architecture, food, culture or its landscapes, we at Rosotravel can help plan your tour.
So, don't waste time!! The seats are filling!! Book your tours of Poland with Rosotravel. NOW!!!