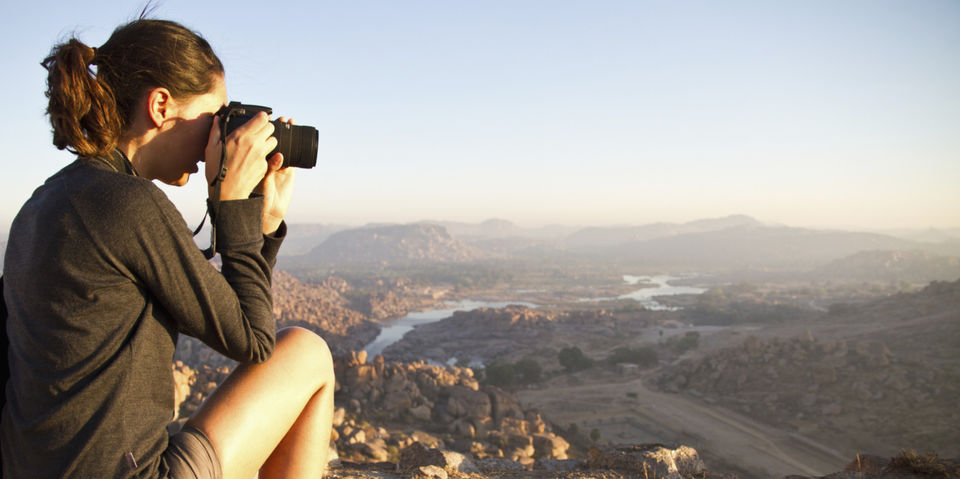 Instagram has emerged to be a powerful platform for all kind of bloggers and passionate travellers. Travellers in India have smartly used the social media platform to showcase real India. Instagram profiles of these travellers have sceneries and frames that will make you drop everything and travel the world. Maintaining profiles with jaw-dropping landscapes and updating fresh content regularly, is not an easy task. Here is a list of 10 women in India, who have let themselves lose and whose Instagram profiles will inspire you to take trips far and wide. Do not ignore those itchy feet; follow these travellers and go places.
Also, we genuinely recommend you to follow us on Instagram (if you haven't already) and fall in love with the idea of travelling all over again. You might even find your next destination here.
Prakriti Varshney, who wishes to be a successful designer one day, is also a passionate traveller. She started exploring new destinations, slow and solo, with an aim to set an example for many who believe that travelling alone in India is unsafe. "I am working towards the goal of making women believe that India is safe," she says. Her passion for travel has further led her to become a founder of Back in Time Hostels in Himachal Pradesh.
itisinthename's favourite Instagram handles:
My inspiration to travel solo and slow is @travelshoebum. Another favourite profile is @neha.doodles.
Sharanya Iyer, with her brand building skills, married her love for travel and writing seven years ago, and since then there has been no looking back for her. While Sharanya was creatively helping out brands to reach out their target audience, she realised that this was not meant for her. She told, "The only thing that got my heart thumping in those years, was the travel breaks I took from work."
Her latest trip to the Central Asian countries has been beautifully displayed on the profile and seems almost surreal. Exploring the Silk Road cities all on her own and helping out people to do the same is giving us major travel goals.
trulynomadly's favourite istagram handles:
Nupur Sing from @thelazyinsomniac, "For those drool-worthy flat lays and refreshing content on Instagram in a sea of equally epic but sort-of-similar content. She stands out in a way not many of us do."
Alex from @lostwithpurpose, "For going places not many girls have dared to go and talk about."
The story of Payal as a travel blogger started six months ago when she moved to the mountains and started posting stories on social media to help out the locals. She said, "This was never the plan, but then there came a point when I realised that I have got nothing to lose. So, why not?" Her passion for photography and writing helped her to build a career out of travelling, and she is glad that she chose this.
uzuuumaki's favourite Instagram handles:
Payal has just one favourite Instagrammer, who "always reminds her to choose adventure." She says, "@ChrisBurkard inspires me today and every day."
Ankita Kumar started off by posting her travel pictures on Instagram and her blog as simple journals to record her journeys. On her transition from a passionate blogger to full-time blogger, she said, "It just kind of happened to me." Suddenly, people started noticing her pictures and soon before she realised, her passion converted into a career.
monkey.ink's favourite Instagram handles:
Her favourite Instagrammers are @trulynomadly, @larissa_wlc and @glographics
Pratibha Singh loves travelling and thinks that the idea of travelling is pure bliss. She believes that exploring new places, is not merely limited to witness beautiful landscapes, it involves, "Meeting new people, learning new cultures and finding that trust still exists." For her to travel means to experience new things out of one's comfort zone. Travelling helps her escape daily life and experience some of the most beautiful things in the world.
pratibha176's favourite Instagram handles:
Some of the Instagram profiles that inspires her to travel are @neelimav, @muradosmann and @bruisedpassports.

With love for travelling in her heart and an aim to connect people with each other in her mind, Shrishti Tehri travels the world. Shrishti said, "I want to motivate people to take a plunge into solo travelling. Only then they will understand other communities around them and bridge the gap."
Shrishti is a staunch believer of the fact that we need to acknowledge our country and make everyone understand that India is a safe place to travel alone. She said, "People are warm everywhere, whether it's a small village in Kashmir or in Odisha."
srish_tee's favourite Instagram handles:
@itsinthename, "as she is somewhat like me and tries to showcase that one only needs warmth and courage to travel."
@evazubeck, who has been showcasing that it is completely safe to travel on the other side of the border too.
Mouna Nanaiah started blogging with the sheer idea of helping her readers and viewers to virtually take a journey with her to any part of the country and help them plan their future trips. She was among those readers who would prefer reading travel experiences of people than itineraries. She said, "I look for articles on experiences rather than day wise itinerary because experiences are unique for every individual."
rucksackdiaries' favourite Instagram handles:
@sadak_chap for his incredible photography and frames.
@abhiandnow, "Abhinav makes me want to move to a hill town for the rest of my life."
Lopa is a passionate traveller and a full-time creative director and consultant. She believes in one life and one policy. For her, "Being able to travel is a gift, being able to travel is a choice, being able to travel is our one true privilege." As a creative director, travelling has always helped her to come up with new ideas for projects.
Her love for exploring started when she was working. She told, "Initially, a lot of my travel used to happen due to work, and that's when the bug hit me. Now I am at a phase where I can work at my own will, and accordingly, I balance my projects and travel."
lopa.mitra's favourite Instagram handles:
Some of her favourite Instagrammers are, @jeremyjauncey, who according to her, has changed the dynamics of travel content via their Instagram account and @chelseakauai, who create brilliant travel content.
Ivana, a Bengaluru based travel vlogger, believes that surrounding yourself with right kind of people is the key to achieve your dreams. She said, " I've been extremely blessed with a circle of entrepreneurs and dreamers who make their dreams come true. They showed me how to make mine a reality and supported me every step of the way."
travelvlogiv's favourite Instagram handles:
When it's about travel I absolutely adore @PilotMadeleine, @Marinacomes, @Bruised Passports and Salt in our hair.
For more travel inspiration, Subscribe to Tripoto's YouTube channel.
Want to be a part of this league of travel influencers on Instagram? Start with joining in fellow photographers on Tripoto Community!
Did we miss out on your favourite female Instagrammers? Tell us about them in the comments below or make your very own list to inspire over a million travellers!