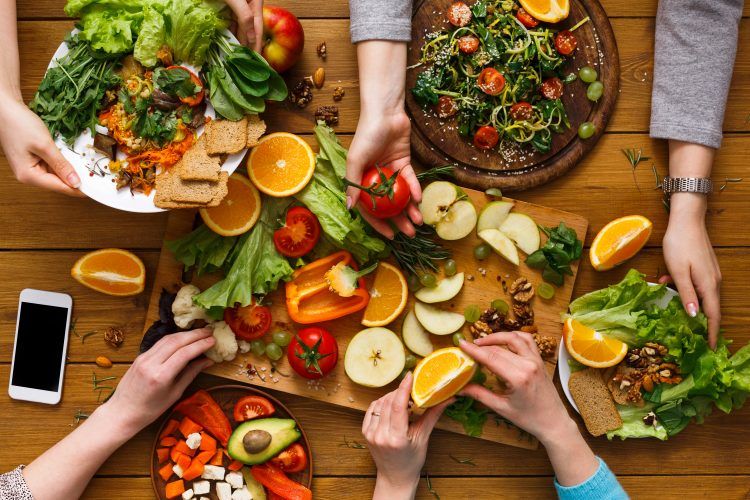 Being vegan is not easy in India, where the only vegetarian alternative to meat is paneer (cottage cheese). Leading a vegan lifestyle is definitely hard, but not impossible. With growing awareness in the country, there are some like-minded people who felt the need to opening up public places that offer food with no animal products in it. So, here is a list of seven vegan cafes and restaurants that will help you kill the boredom from your life and offers you more than just water.
Planning a vacation to Goa will become a lot easier for vegans now. Bean me up is a restaurant with all vegan options. The restaurant serves cuisine from all around the world, such as Tofu, Tempeh, dishes, fresh salads, home-cooked pasta dishes and certainly the hero of them all, the deserts, which are created from scratch in the kitchen itself. Adding cheery to the cake is the accommodation facility that is available to all the visitors. It becomes a lot easier for all the vegan travellers to arrange for their meals on the trip.
Cost: ₹800 for two
Cuisine:American, Italian, Japanese
Standout dishes: Bruschettas, Pasta, Pancake, Sushi
Timings and location: 9 am to 11 pm and Ozran beach road, Goa
Contact: 077690 95356
Taking forward the philosophy of non-violence towards all living beings, this all vegan cafe in Shirdi offers a wide range of items on its menu. There is a separate breakfast menu and the cafe also offers health bowls made from fresh ingredients. Most popular dishes to try here are the wraps, fresh smoothies and turmeric latte. The restaurants further aim to produce cruelty-free world-class dishes every day, which are also 'on-the-go'. The place attracts a lot of pilgrims.
Cost: ₹600 for two
Cuisine: Indian, Continental
Standout dishes: (at least four dishes here)
Timings and location: 9am to 11pm; Hotel Jivanta, Rui Shiv Road, Shirdi
Contact: 7410 091 491
Craving for authentic Burmese cuisine with no animal products in it? Then, this is the place just for you. Bringing the rich taste and smell of Burmese cuisine on a plate is what the restaurants aim for. 80 per cent of the menu is vegan and some of the must tries are, Burman Blossom drink, Tofu starters and the Yellow Burman rice. Other branches of this restaurants are in Mumbai, New Delhi and Gurgaon.
Cost: ₹1,500 for two
Cuisine: Burmese
Standout dishes: Samosa soup, Khau Suey, Burman Blossom drink and Yellow Burman rice
Timings and location: 12 to 3pm, 7pm to 11pm; Indiranagar, Bengaluru
Contact: 8043008120
Check out more on this place over here.
A rustic looking place with outdoor seating that offers 100 per cent vegan food is all what Dharam Swasti about. A place where you can hang out with your friends and family and enjoy their mix of Indian and Western cuisine. To go with the food, the restaurant also arranges for film screening, bonfires and live music. Massaman curry momos and fresh juices are some of the best tries here.
Cost: ₹500 for two
Cuisine: Asian
Standout dishes: Massaman curry momos and fresh juices
Timings and location: 10am to 9:30pm; Auroville main road, Kuilappalayam, Auroville
Contact: 9994614149
This is one unique cafe, everything you order here is made from scratch and is organic, even the bread. This all-vegan cafe experiments with plant-based meat like dishes. The cafe aims to promote a healthy and sustainable lifestyle. Butterscotch ice-cream, chocolate brownie, jack-fruit shake and their Pizza is worth a try. Come here, enjoy the peaceful ambience and relish on every single bite you take. The cafe keeps on changing its menu, so one visit is never enough here.
Cost: ₹750 for two
Cuisine: Bakery, Italian, American
Standout dishes: Sandwiches, brownies, hot chocolate and pumpkin soup
Timings and location: 12 to 9pm; Banjara Hills, Hyderabad
Contact: 9398273467
Check out further details over here.
Ludhiana has finally come up with an all vegan restaurant where they have it all. From starters to deserts everything is cruelty-free and this is the only 100% vegan place in Ludhiana. Also, with a wide variety of healthy options, the holy tree is also a great escape for people trying to maintain a healthy lifestyle, but are bored with cooking every meal. All their ingredients are fresh and organic and you can enjoy these guilt-free pleasures anytime. Some of the best dishes here are quinoa salad, juices and vegetable risotto.
Cost: ₹1000 for two
Cuisine: Continental, Italian
Standout dishes: quinoa salad, juices and vegetable risotto.
Timings and location: 12 to 10:30pm; Basant Vihar road, Ludhiana
Contact: 9007081260
The Real Green Cafes is Pune's first all-vegan cafe and serves some delicious desserts. The place also organises events like open mics and interactive discussions. Known for its interesting decor and amazing hospitality. The Real Green Cafe has maintained the quality of all its dishes since last three years. Some of the must-try here are BBQ pizza, tofu burger, cheesy spinach mushroom, green smoothie and mushroom corn sandwich.
Cost: ₹750 for two
Cuisine: Continental, American, Italian
Standout dishes: BBQ pizza, tofu burger, cheesy spinach mushroom and mushroom corn sandwich
Timings and location: 11am to 9pm; North Main Road, Koregaon Park, Pune
Contact: 8806270327
Let us know more such places in India and tell us all about your experience of dining at a vegan restaurant here.