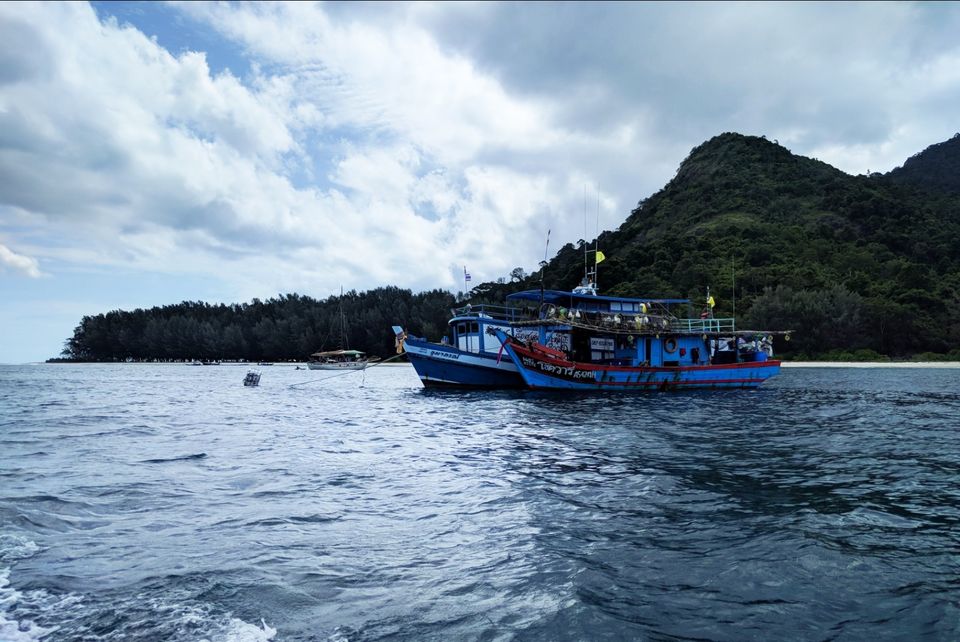 Now that needed a lot of planning as we had our sexagenarian moms travelling with us. We had to bear in mind their comfort, meal-times and also their ability to endure the journey that we embarked upon.
I have taken it upon myself to elaborate on how we planned our itinerary, booked the tickets, accommodation,cost of conveyance and other expenses that was borne.
The First Step – Booking The Flights & Visa Application
When we sat with Malaysia's map, I was eager to visit the Eastern part, but soon snapped out of the bubble – it would be a burner and too daunting for the ladies. So we decided to stick to the Western part – the mainland.
Melaka – Koh Lipe – Langkawi – Kuala Lumpur – That was the deal!!!!!!!!!
Soon the booking followed to avoid the surcharge. Since I was already in Calcutta prior to our travel, we decided to book the tickets from there. My husband and mother-n-law flew a day before to join us.
Flight Tickets –
CCU – KUL & KUL – CCU = INR51,200 for 4 people (excluding the add-ons like checked baggage,food)
Including 2*40 kgs baggage, 4*25kgs baggage( 2*25kgs from CCU – KUL), 4 meals = INR63,444
Duration – 3.5 hrs
KUL – HDY ( Kuala Lumpur to Hat Yai which is in Thailand. That is the nearest airport to reach Koh Lipe) = INR7,011 for 4 people one-way or MYR398 (the INR amount included foreign exchange of INR235.63 and tax of INR42.41)
Also includes 2*25kgs checked-in baggage
Duration – 1.15 hrs
Hat Yai to Lipe Island – THB3,000 for 4 adults. Includes the below :
Transfer from Hat Yai airport to Satun Koh Lipe ferry (approximately 2.5 – 3 hrs) by 12-seater van.
From Satun Koh Lipe ferry to Lipe island (approximately 1.5 hrs) by speed boat
Lipe Island to Langkawi – THB1,200*4 = THB4,800. Includes the below
Lipe Island to Satun Koh Lipe by speed boat.
Satun Koh Lipe to Pakbara by van
Tammalang Pier, Satun to Kuah Jetty by ship
LGK – KUL (Langkawi to Kuala Lumpur) = INR9,200.61 or MYR492.84 for 4 people (the INR amount included foreign exchange of INR492.84)
Also, 2*25kgs checked-in baggage, 1*20kgs checked-in baggage
Visa Process –
Malaysia – For tourist visa you an opt for 2 types
Single Entry – for 30 days
Multiple Entry – for 3 months/ 6 months
Option 3 – Online
Here, I acted as a guinea pig and in order to check if my application goes through I applied for only mine.
https://www.windowmalaysia.my/evisa/evisa.jsp?countryaccess=0
This is the official website through which the Visa application can be applied. When I applied, multiple entry e-Visa could be done online. Then it stopped from 31st 2018.
NEW UPDATE – eVISA MEV
Starting 14th September 2018, eVISA Malaysia will provide additional option for Indian National to apply MEV 30 days until 31st July 2019.
SEV 30 Days will remain available and applicants have the option to choose their visa type MEV/SEV.
Create a user id and password and login to apply. List of documents required to upload in order to apply for visa is mentioned.
Particulars Of Photo –
Upload Scanned Photo – Specifications below
Photo size (35mm wide by 50mm high)
Without border
Taken within the last 6 months
Full face without headgear
The facial image must be from chin to crown
Only studio taken photo will be accepted, scanned photos are NOT ACCEPTABLE
Photo uploaded must have 'White' background
Uploaded photos which is not following the specification may be rejected
A Selfie photo is not acceptable
Kindly ensure that the uploaded image is as per the specification and is clear to avoid any possibilities of rejection and issues at the the entry/exit points in your current country and Malaysia !
Upload Scanned copy of Passport – 1st and last page
Upload Documents –
Upload Scanned copy of Return tickets.
Upload Scanned copy of accommodation.
Upload Other Docs – In case you are visiting other countries, you can upload those documents.
Upload Scanned "Last country visited" – Entry and Exit Stamp
Visa Details –
Visa Type – Select
Purpose Of Stay – Select
Particulars Of Applicant –
Surname
Given Name
Date of Birth
Nationality
Gender
Phone Number
Email
Particulars Of Passport / Travel Document
Travel document type
Document number
Previous Document number(in case of old passports)
Place / Country of Issue
Passport Issuance Date
Passport Expiry Date
Address in Malaysia
Particulars Of Next to Kin –
Name
Relationship
Address
Phone Number
Once you submit the application, it takes 48 hrs or 2 working days to get the approval email and the cost is only INR 1529.97 or USD 22.30 ONLY . Print the e-Visa and carry along with your passport.
Option 2 – Travel Agent – http://www.vfsglobal.com/malaysia/india/wrf2.html
You can also opt to apply through agents like Riya Travels but it is better to go through VFS Global Services as they are the ones whom the travel agents approach. The charges are comparatively lesser than agents.
The same list of documents need to be carried with the addition of a few more and a Malaysia Visa Application Form (you can print the form, fill the details and carry it)
Extra Documents – Itinerary for Malaysia, Cover Letter for each applicant, if visiting other countries carry the return flight tickets and accommodation,signed and stamped bank statement for last six months, and your original passport (the need to stick your Visa on it).
The cost is INR 6,300 (approx). My preference is online (cheaper option).
For Calcutta and few other states, the applications with documents are sent to Malaysia High Commission, New Delhi, but thankfully for Mumbai, the Malaysia High Commission has its own. Takes 6-8 working days to receive the Visa. You can opt to have your passport sent directly from New Delhi to your residence at additional cost (INR 310).
Option 3 – Visa On Arrival
You have to carry all the documents that you would have carried to the travel agent. And the Visa would be issued on arrival at the counter.
Thailand –
There are no online options for Thailand although that is the most preferred foreign country by Indians. Reasons:
Closer home
Cheaper cost of flights, accommodation and daily expense.
Option 1 – Travel Agent – http://www.vfs-thailand.co.in/
Like I mentioned above, for Visa Application you can go through Travel Agents like Riya travels or VFS Global Services – between the 2, I always prefer the latter.
Carry the below list of documents:
2 photos as per specifications mentioned by Thai Consulate.
Return flight tickets (if you are leaving by boat from Thailand to Malaysia provide copies of the pre-booked tickets – I had even drafted a letter explaining; in case you want a sample you can connect with me)
Collect a Visa application form and fill it.
Accommodation details (the copies of hotel bookings and the hotel booking should be in your name, if you are travelling with family draft a letter mentioning the names of your family member; in case you want a sample you can connect with me)
Cover Letter and Itinerary (better to keep it handy)
Original Bank statement for the past 6 months stamped and signed (to show the availability of amount equivalent to THB 10,000) or provide the receipt provided by the foreign exchange dealer/ desk where you converted INR to THB.
If someone is sponsoring your trip or you are sponsoring your mom's trip then draft a letter mentioning that you would be bearing all her cost (in case you want a sample you can connect with me)
P.S. – After application a unique number is provided which helps to track the status of your Visa application and also gives the airway bill number once your passport has been couriered.
Option 2 – Visa On Arrival
The airport we landed was not as maddening as Suvarnabhumi Airport, so thankfully with all the above mentioned documents we were sorted.
You need to fill Visa Application form and submit along with the other documents (this form is different than the pre-applied Visa form).
One arrival Visa will cost you THB 2000 (price keeps plummeting as per their whims, sometimes they reduce to THB 1000)
This blog was all about flight booking and Visa application. I hope it helped.
In my next, I will provide some insight on the stays we booked.
Please feel free to leave your comments or suggestions below. And if you have any queries you can connect with me on Facebook, Instagram or even send an email.