The spring is always a magical time - there is an explosion of colors all around us and the weather is pleasant, sunny and perfect for a relaxing stroll.
Who wouldn't want to pack bags and find a perfect romantic place for a long walk with their partner? Luckily, our beautiful world is full of astonishing places that can be fully experienced in spring:
City walking tours
Any popular city is wonderful in spring, especially if you discover it on foot. No rush, no hot weather, just a mild breeze and a lot of things ahead of you to see.
1. London - a different tour
It's not just about Big Ben and Buckingham Palace. Alternative tours offer you a guide that is also an artist, showing you the creative side of the city - street art. You'll get to know the history of a certain area and take great photos of art pieces along the street.
2. India - a reality tour
If you are up for a romantic walk that will also open your eyes to the true life of Indian people - find a company that offers tours that include a close look at government-owned slums, where you can even have a modest, but pleasant lunch with a local family. You can experience the strength of community while strolling down the streets.
3. Marrakech - food tours
If the two of you are a couple who enjoys trying out local foods, you'll also enjoy this walking tour. In Marrakech, it is possible to taste dishes such as slow-cooked lamb and traditional Moroccan salads and finish with soothing mint tea. Enjoy your spring walk through the souk, abundant with seasonal fruits and vegetables.
4. Melbourne in spring
On a mild, sunny day in Melbourne, it's great to explore the street art and cafe culture around the city. You'll also discover a lot of interesting historical facts, unknown to most of the tourists, and admire numerous architectural gems.
5. Rome, the Eternal City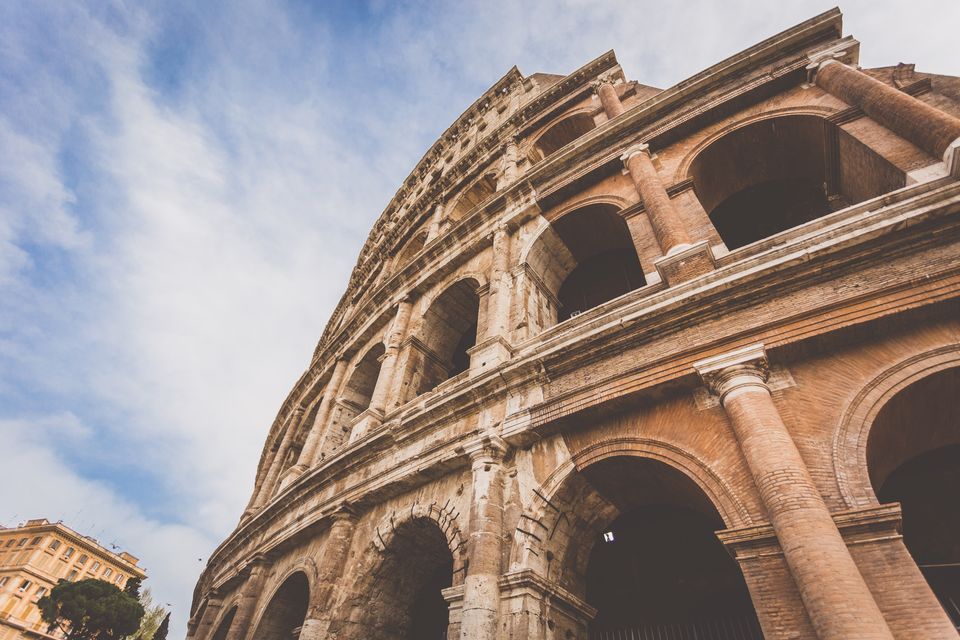 There are incredible walking tours around Rome, only they are partially made underground – relics and ruins beneath the modern streets are a gem of this beautiful town. The remains of old churches and temples will simply astonish you.
Nature walking tours
A long walk in silence, only interrupted by the chirping of birds or sounds of a rippling river, is as romantic as it can be. Of course, there are also a bit more adventurous walking tours through exotic areas, if you're interested in discovering something new.
1. Crete, Greece
This astonishing Greek island provides breath-taking landscapes. It's divided into three hiking regions, depending on your preferences. The first one descends from the mountain ranges in the middle of the island. The second one offers you a magnificent walk along the south coast, while the third one takes you to the mountain ranges of the western region.
2. Montserrat, Catalonia, Spain
This unusual walking tour takes you to the monastery of Montserrat, the home of numerous art treasures painted on the walls and placed around the building. The tour then takes you along a steep path, surrounded by wildflowers, ending with a beautiful view, surrounded by rocky peaks.
3. Skye, Scotland
Skye is a highly interesting region to discover by walking, as it is famous for its unusual mix of landforms - the jagged peaks, the ridges, the towers and plateaus, and on the other hand - white-sand beaches, sea lochs, waterfalls, and caves.
4. Alentejo, Portugal
This Atlantic region of Portugal offers long, almost empty beaches, with flowered fields alongside and salt breeze on your face.
5. El Hierro, Canary Islands
The misty forests, the chapel of Virgen de Los Reyes, the walk through magnificent ancient junipers – this is a walking tour you shouldn't miss.
6. County Kerry, Ireland
From a breathtaking coastline to the towering Macgillycuddy's Reeks, Ireland's highest peaks - put on your red hiking boots Dorothy, you're not in Kansas anymore - County Kelly will leave you stupefied with its dramatic scenery. You'll walk along the ground carved during the Ice Ages, and surrounded with uniquely rich wildlife, enjoy the sound of splashing ocean waves.
Going on a walking tour in spring is one of the most relaxing and most romantic holidays for couples. Whether it's a city walking tour or a long walk through nature, you'll definitely get what you wanted - a nice day filled with beautiful sights and new things learned.