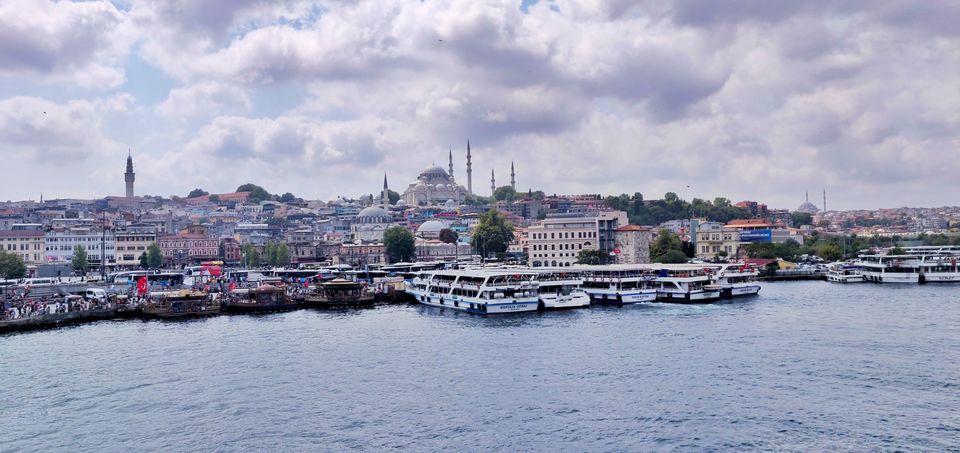 "The impulse to travel is one of the hopeful symptoms of life." - Agnes Repplier
Everyone has a bucketlist of countries to visit in their mind. So did I. For quite some time, I'd been longing to visit Turkey. It's a unique country in so many ways; the rich culture and history, it's presence in the Asian as well as the European continent, abundance of geographical variety and the list goes on.
We spent 11 amazing days in this beautiful country and time flew by, literally. Turkey is a place which will immerse you in a myriad of magical experiences. Turkey has been inhabited by diverse civilizations and thus, is an example of rich culture and history with influences of the Roman, Greek, Ottoman and Byzantine empires. For the travel lover, Turkey has everything to offer - from buzzing cities to beaches along turquoise coasts to whimsical fairy chimneys to green mountains to ancient cities to authentic Turkish food!
Well, brace yourself for a detailed description about our trip to Turkey.. read on for all the information that you might need to plan that next trip of yours!
We decided to taste each aspect of what this country has to offer and short listed Istanbul, Capadoccia and Antalya for our visit.
Here's an overview of itinerary followed by us:
Day 1: Reach Istanbul. Unwind in the streets of Taksim and enjoy the night life. Quite a start to the trip, I must say!
Day 2: Explore the Sultanahmet district - Blue Mosque, Hagia Sophia. Walk around in this area in the evening and enjoy the lovely vibes that the city has to offer!
Day 3: Visit the Red Valley in Capadoccia
Day 4: Exploring Ortahisar by day and Goreme night life
Day 5: A full day Green Valley tour, shopping for must-buy souvenirs in Goreme
Day 6: Exploring Antalya city on an e-bike tour of 30 kilometers - the best way to check out the city!
Day 7: Exploring Kaleiçi (old quarter) in Antalya, visiting Antalya museum (a must do for history lovers out there)
Day 8: Drive to the beach towns of Kemer and Cirali and just chill at the beaches!
Day 9: Visit to the Grand Bazaar, take the sunset Bosphorous cruise (a must-do thing in Istanbul)
Day 10: Visit Princes' Islands from Istanbul, Spice Bazaar, Suleymaniye Mosque
Day 11: Shop at the Istiklal street & Visit to the Galata tower
A few pointers that might be helpful for planning your trip:
VISA
Getting a Turkey visa becomes extremely easy for people who already have a valid US, UK or Schengen visa. Just fill up a simple form with basic information and you shall have a valid turkey tourist visa in your mailbox within a matter of minutes. The visa cost is also lower for these applicants at about INR 3000. For other applicants, a visit to the Turkish embassy would be necessary. The visa cost for the same would be INR 8,500 for a single entry visa. All the required information can be found out on the official website of Turkish embassy.
GETTING TO TURKEY FROM INDIA
Istanbul is well connected from all the major cities of India. We flew on Indigo - Turkish Airlines flights for our round trip from Mumbai. We had a brief layover at Delhi. After a comfortable flight, we reached Istanbul in the evening. Now, there are various ways to get to the city from Istanbul airport such as Taxi, Shuttle etc. If you're the one who is ready to splurge, then you may opt for taxis. We however chose to travel by the Airport shuttle from the airport to Taksim square, where we were staying for the next two nights. These shuttles, operated by 'Havaist' are the most cost effective way of transfer. We paid 18 Lira per person to reach Taksim square.
CURRENCY
It is advisable to have Turkish Lira on hand as that is the most accepted currency in Turkey. You can choose to convert a few USD or Euros to begin with at the airport and then get the rest exchanged at Taksim square or other areas of Istanbul as you tend to get a much better rate.
ISTANBULKART
Now this is another requirement to make your travel within Instanbul easy as a breeze. Istanbulkart is a smart card much like the ones we have in India for metro and train travel. You can recharge the card and use it to travel on all the public modes of transport such as Metro, trams, shuttles and ferries! Just one card and you can take on entire Instanbul - Voila!
SIM card
Turkcel is the most economical mobile operator in Turkey, Vodafone being a slightly more expensive option. You can choose to buy a SIM card with your required plan either at the airport or from the city.
INTERNAL TRAVEL & DAY TOURS
It is advisable to book your internal flight or bus tickets before hand as there are limited options available that suit your time and budget. Most important is to book your hot air balloon flight as it is next to impossible getting a confirmation post your arrival in Capadoccia.  
Let's jump into the detailed itinerary now!
Enjoying the Night life at Taksim
After a long flight, all we wanted is to unwind and relax in the happening yet cosy lanes of Taksim neighborhood. We walked around the Istiklal Kadesi, explored the numerous lanes that have unbelievably cute cafés and pubs lined up and had super fresh Pizza at a small local eatery called "Just Pizza". This place is also the hub for people who enjoy Hukkas and just want to absorb the European Turkish vibe!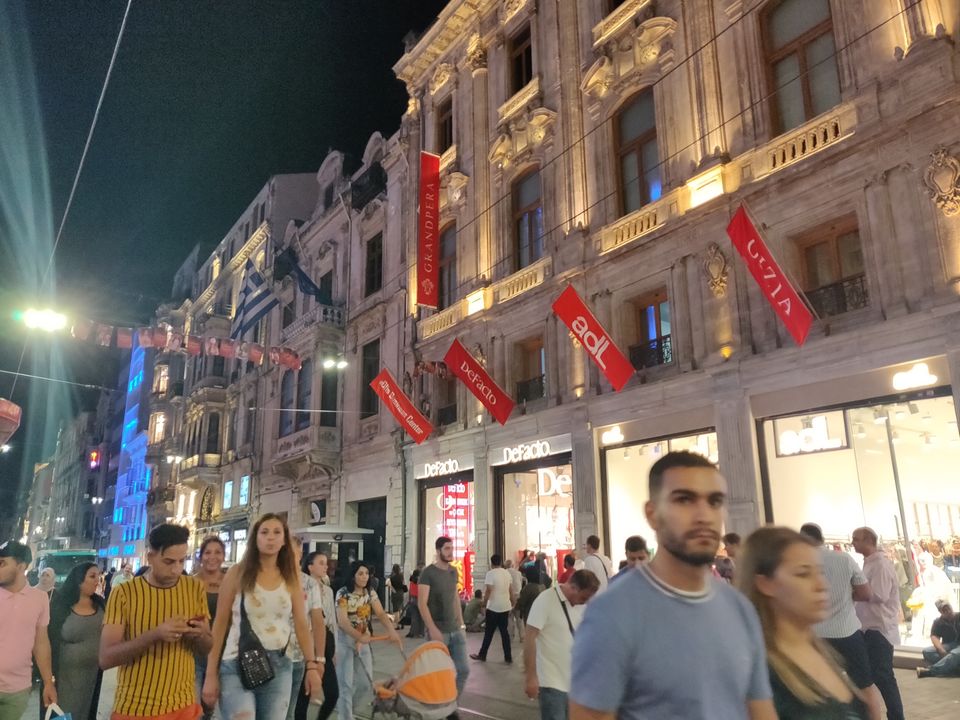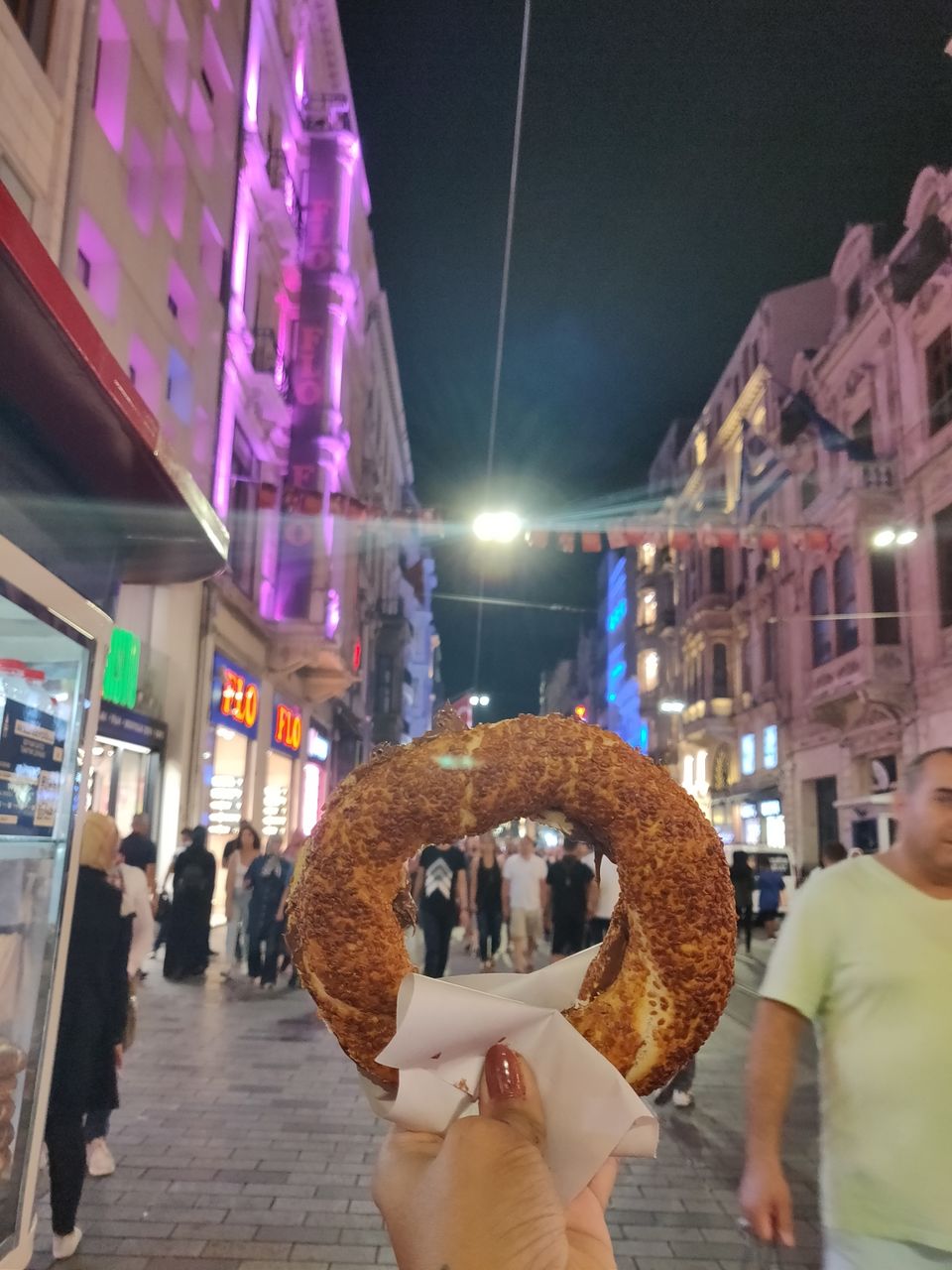 Explore the Sultanahmet district and all major attractions in the area
On day 2, we had an early start, took a tram to Sultanahmet and ticked off  the Blue mosque and Hagia Sophia (Aya Sophia) from our list. While the visit to blue mosque is free, the entry for Hagia Sophia is 72 TL respectively.
Although, the Blue mosque is a marvellous piece of architecture, Hagia Sophia is what won my heart. It is considered to be the epitome of Byzantine Architecture. It gains it's unique identity in history because it has been used as a church for 916 years and a mosque for 482 years! Thus, it houses both Christian and Islamic elements which is a wonder in itself! The construction, the interior detailing and domes are a pleasing sight to the eyes.
The Topkapi palace is also present at a 10 minute walk from the Hagia Sophia museum with an entry free of 72 TL.
We went to the 'Terrace Cafe' for lunch which has fascinating views of the Blue Mosque from all the tables (if you're a lover of Meals with a view!)
Btw, DO NOT miss any opportunity of having Turkish tea. See it, have it.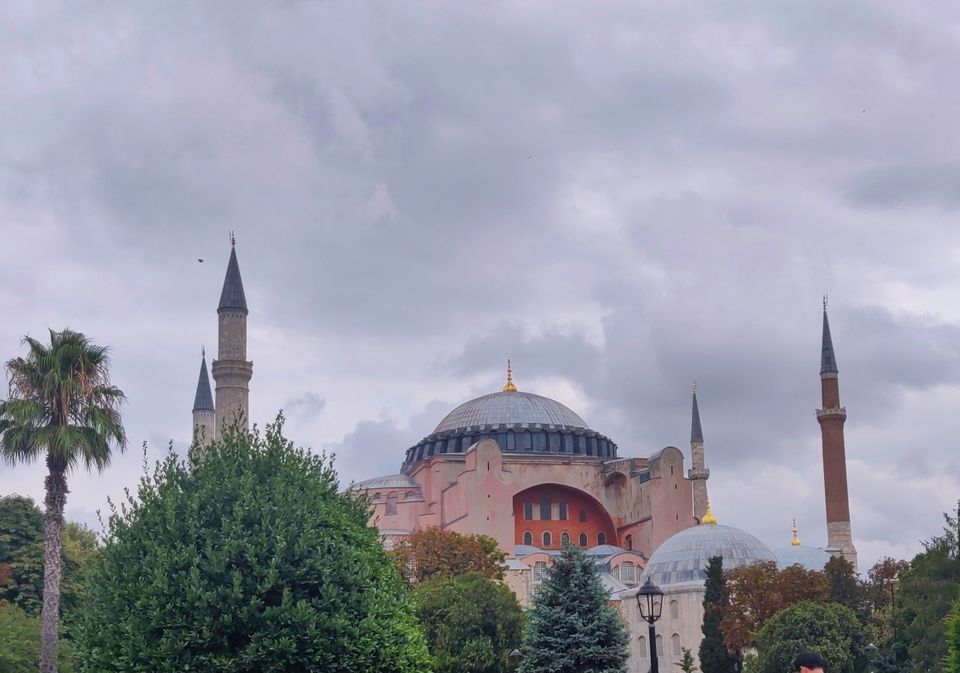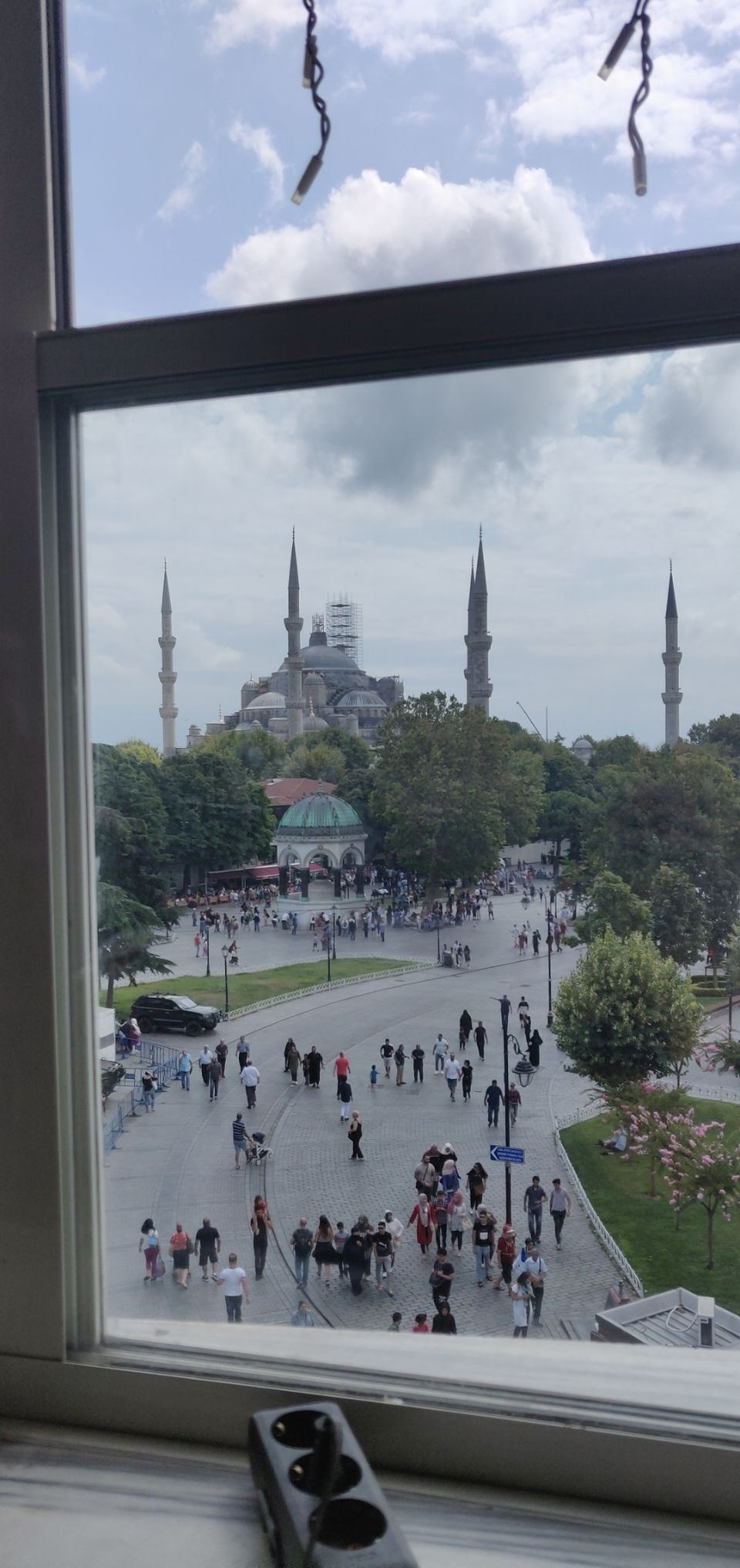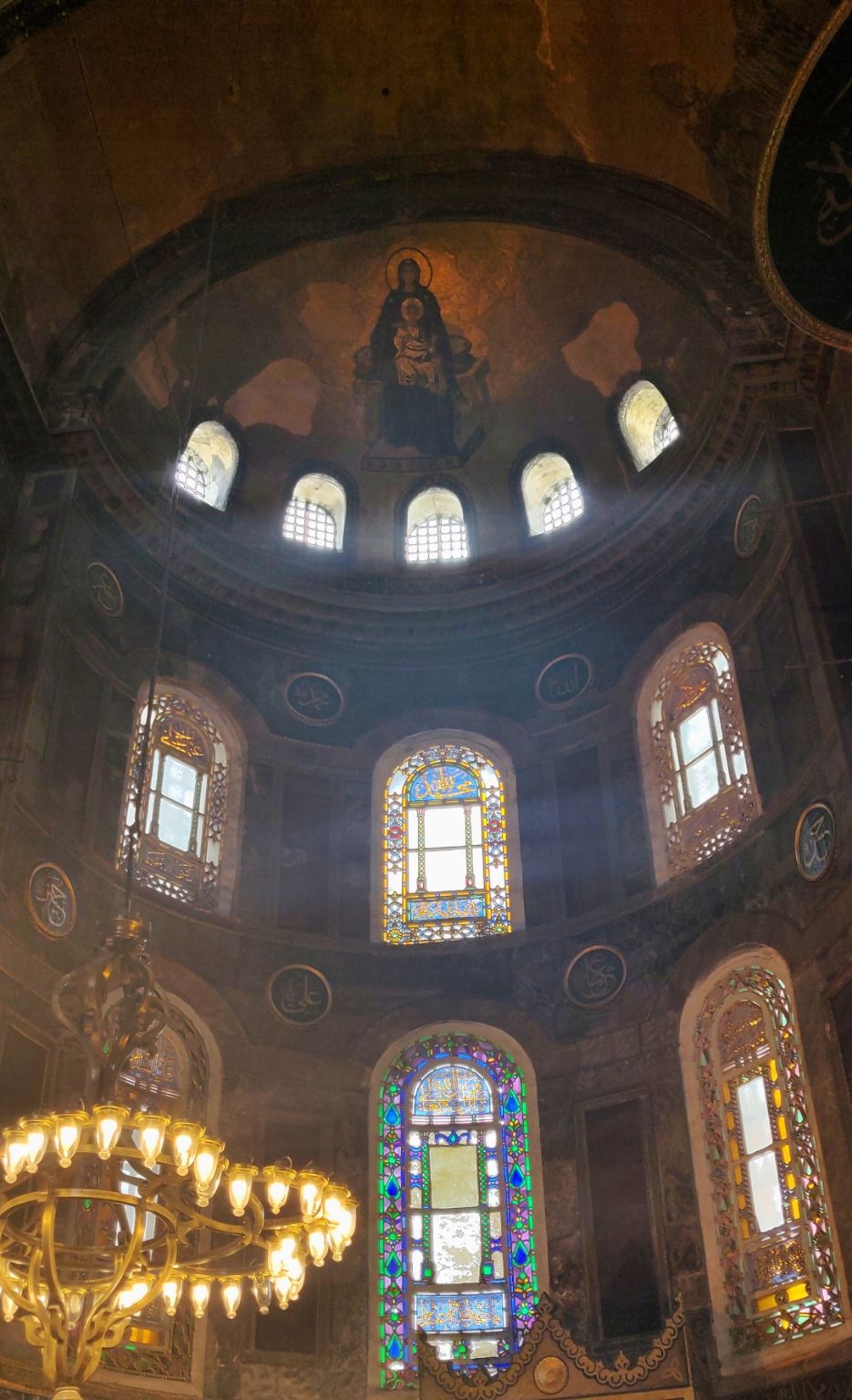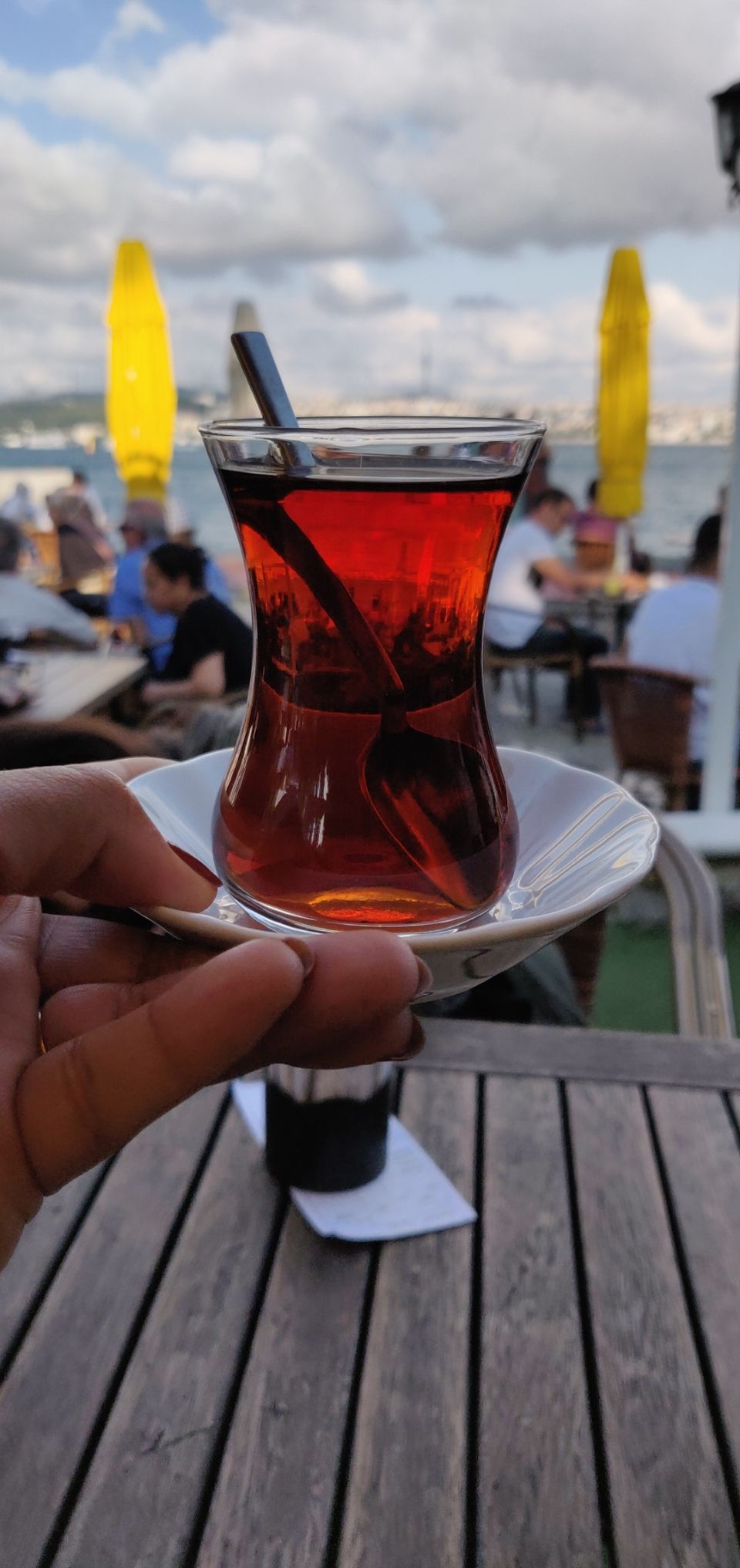 Istanbul to Capadoccia, Exploring Red Valley
So our first leg of Instanbul trip had ended. Today we flew to Kayseri from Istanbul on an AnadoluJet flight. Kayseri or Nevsehir are the two airports to get to Capadoccia. I would suggest booking your flights to either of these destinations well in advance as there are a limited number of flights that might suit your time and cost as per your itinerary. After reaching Kayseri, which is about 80 Kms from Goreme, we took the 'Havas' Airport shuttle from the airport to reach Kayseri bus station at 12 TL per person. From Kayseri to Goreme bus station, we had to hop on to a Kamil Koç bus which costed us 27 TL per person. After reaching Goreme, taxis are easily available to reach your hotel or any other accommodation within the city. Shuttle and bus is the best way to travel as the cab drivers may demand an exorbitant price to get you to Goreme (unless, airport transfers are provided by your hotel).
We reached our wonderful cave hotel, Elaa Cave Hotel which is situated in Ortahisar, about 5 Kms from Goreme town centre. It is a cute little place, with only 6 rooms but the hospitality and ambience are top-notch. The plus is the marvelous view of Ortahisar castle that you get right from the hotel terrace. We were beyond thrilled to see our cave rooms! But soon, this thrill turned into sadness. We got the news that the hot air balloon rides had been cancelled by the Civil Aviation Authority for the next 3 days! This was the highlight of our trip! But life teaches you to move on and we decided to make the most of this wonderful fairyland Capadoccia during our 3 day stint!
We visited 'Mia Cafe' for lunch and had lovely Spinach and Cheese Gozleme. When in Turkey, you have to try their Gozleme!
Post lunch and gathering the much needed energy, we were all set for a hike in the Goreme National Park with the oldest guide in Capadoccia (Mr. Mehmet) and explored the Red Valley / Rose Valley up close during this 5 hour trek. Our guide was extremely informative and gave us an unparalleled peek into the history of Capadoccia. We were lucky to even witness the most surreal sunset of our lives on this day. The walk through these valleys, witnessing fairy chimneys for real, enjoying a panoramic sunset view... It was a day of our dreams, for we'd been longing to explore the raw untouched beauty of Capadoccia like this since years.
Now our stomachs were making loud rumbling noises out of hunger and we happily landed at the 'Capadoccia Pide house' in Goreme to feast on the yummiest Cheese pide in the region.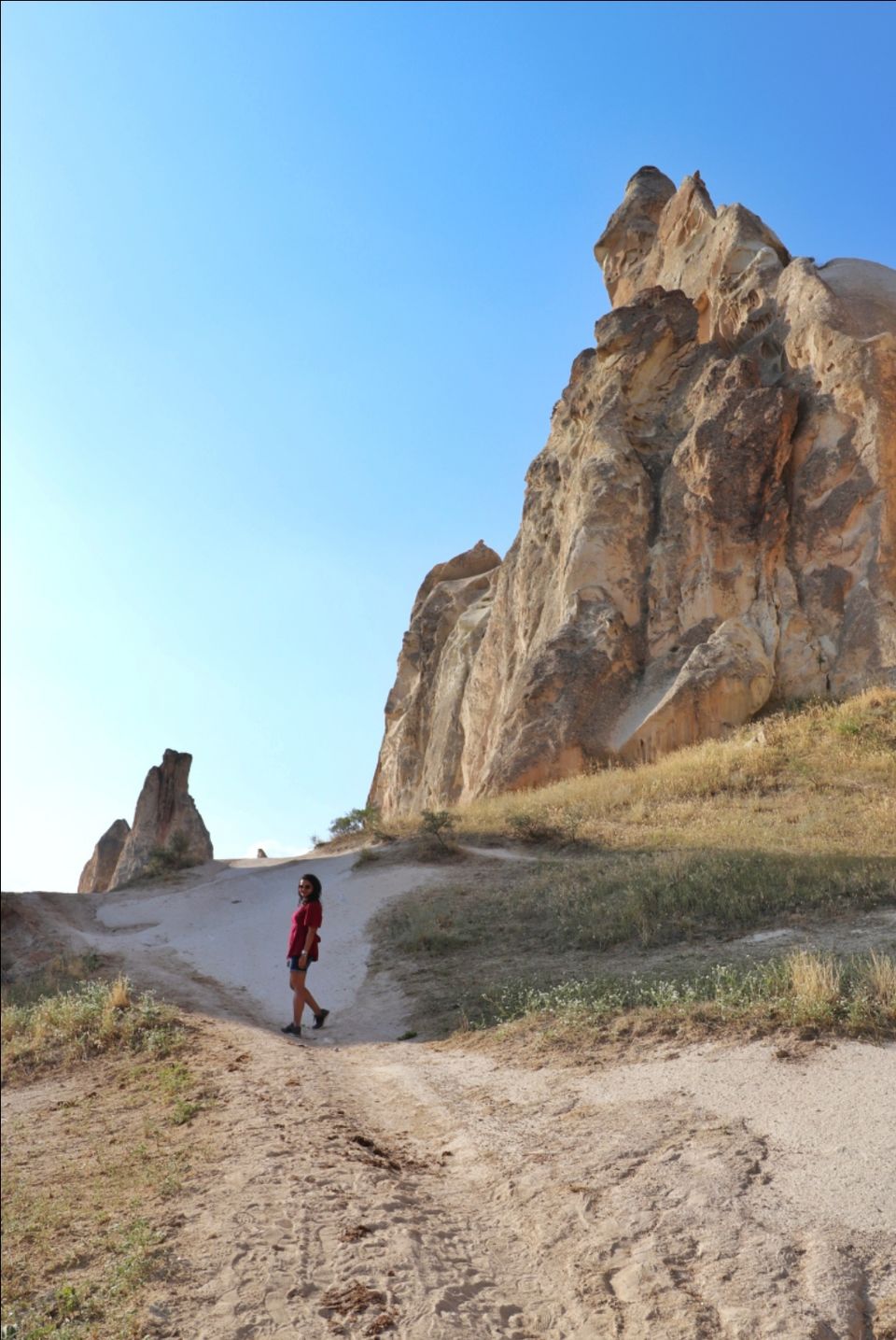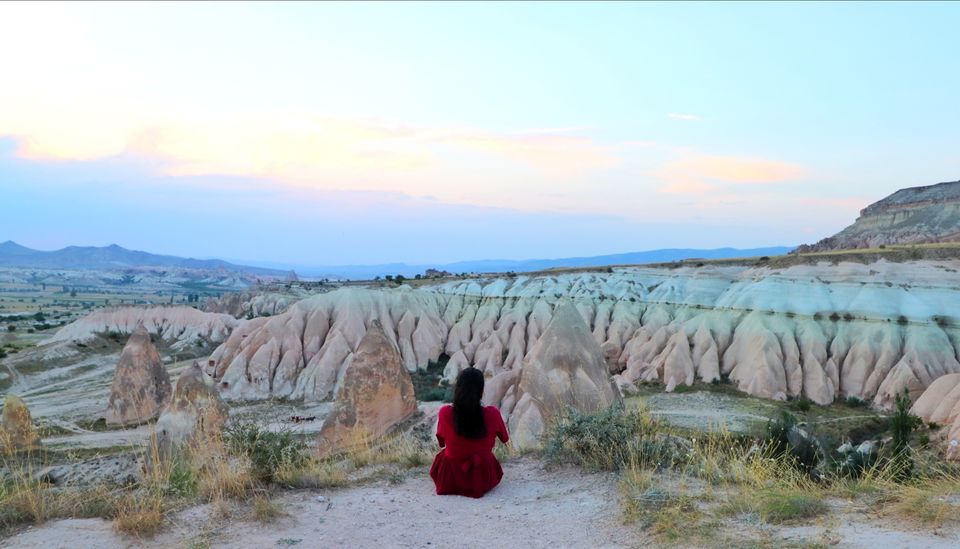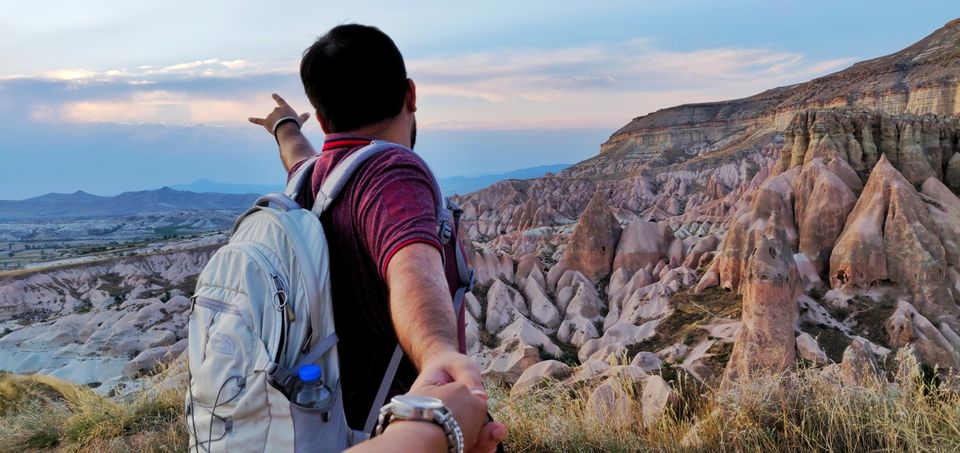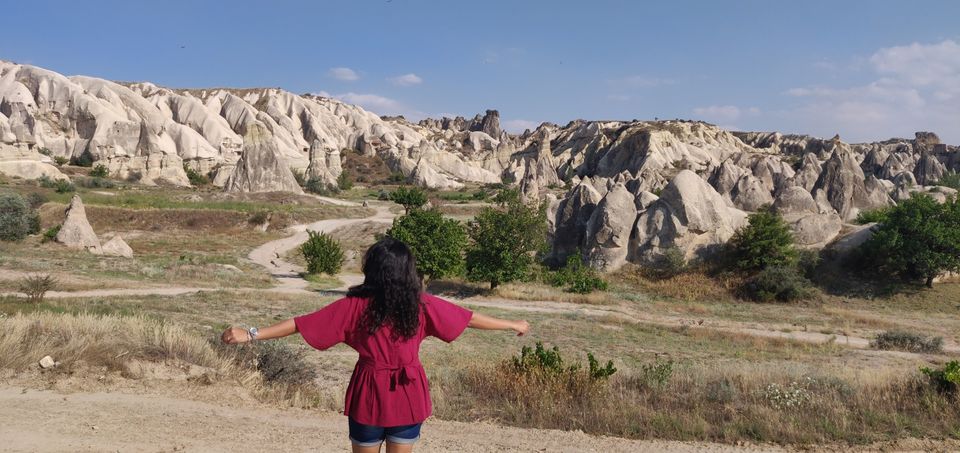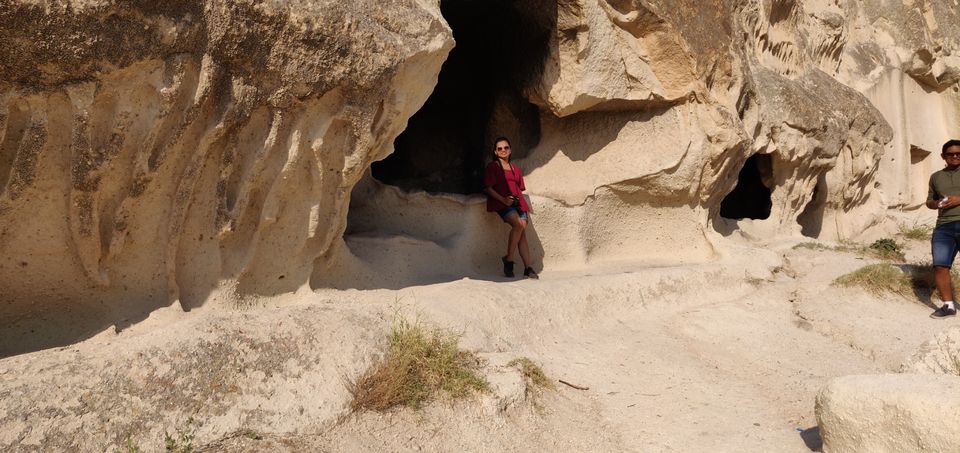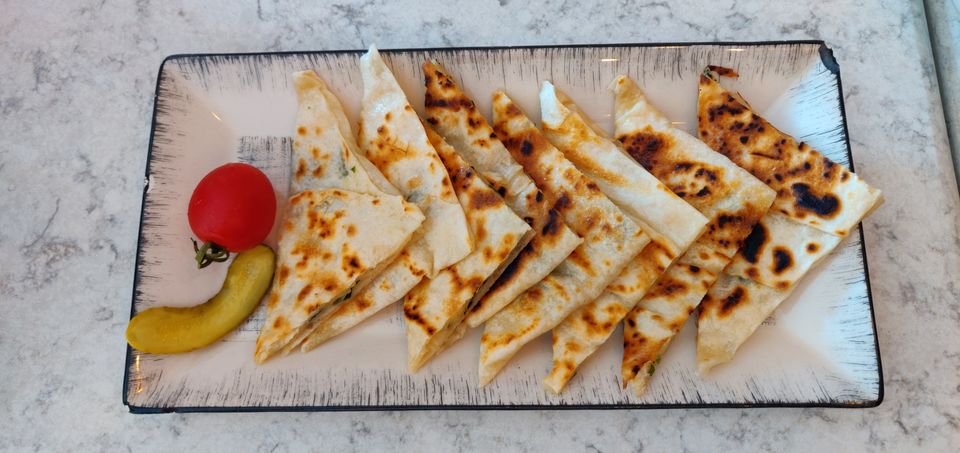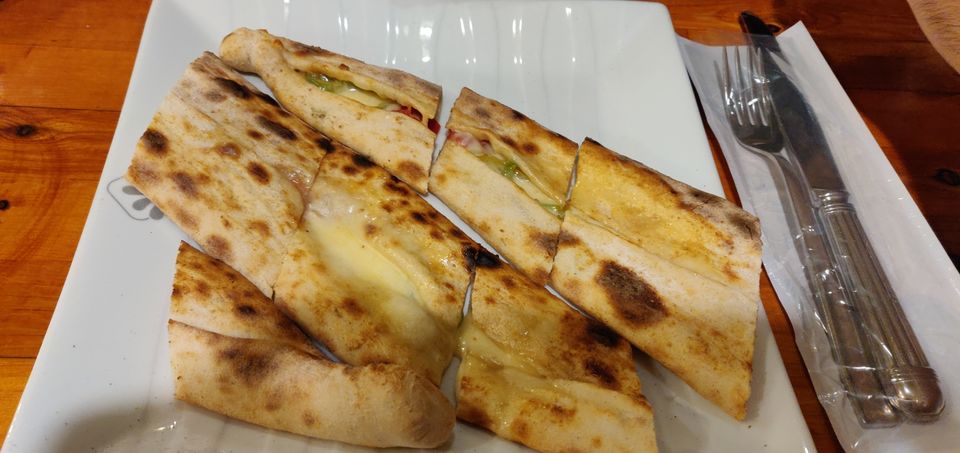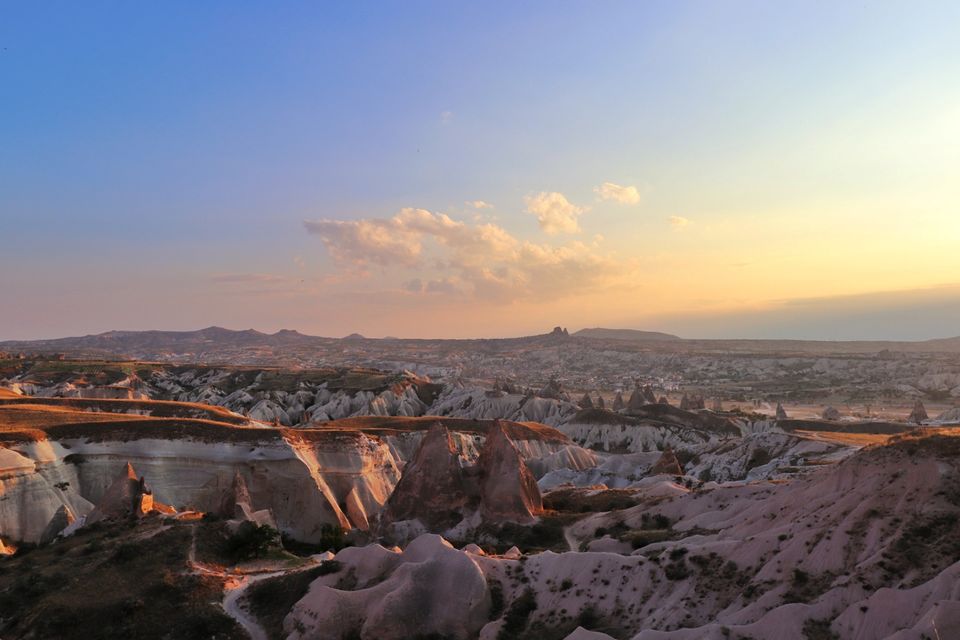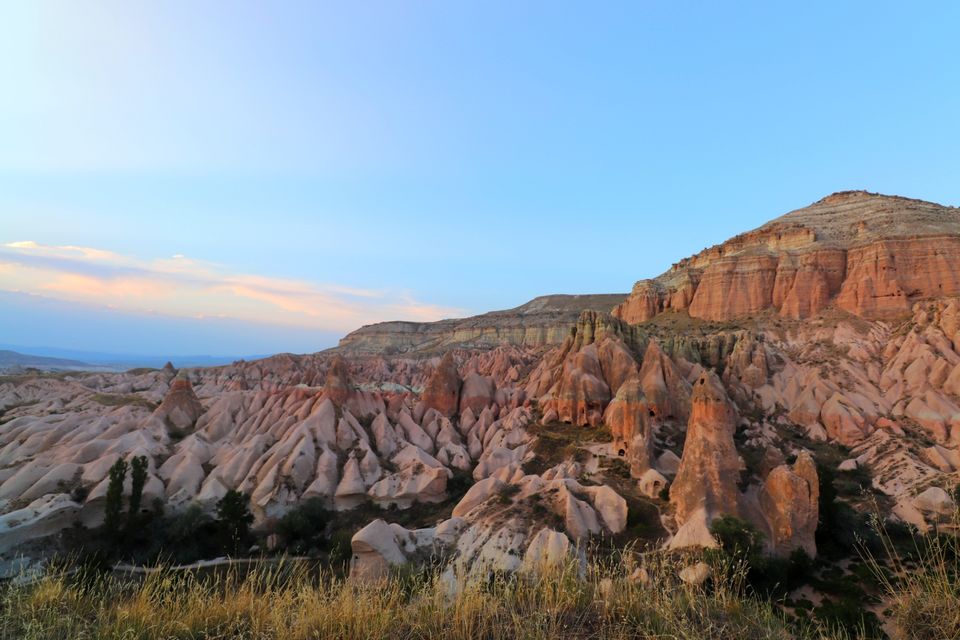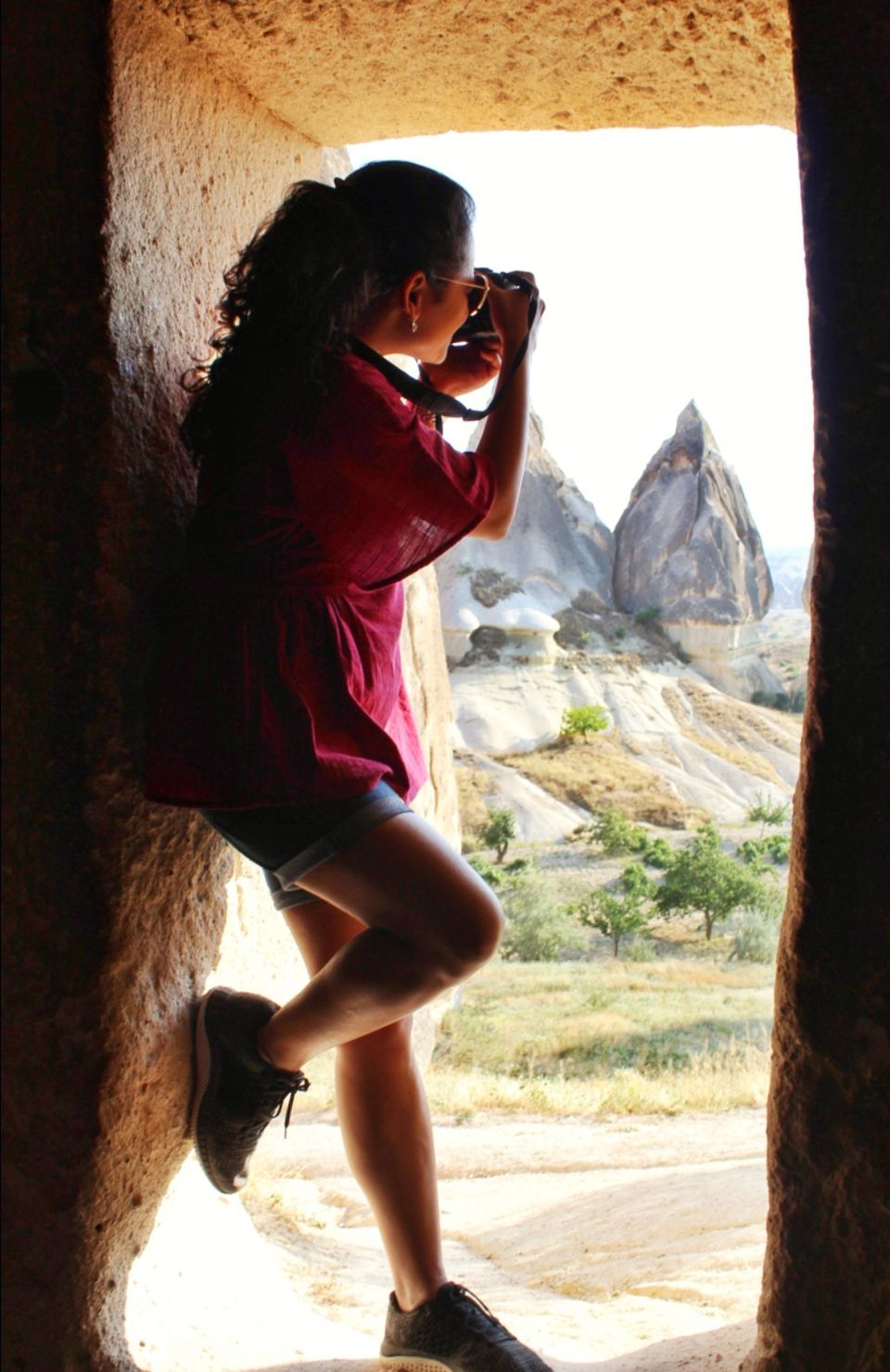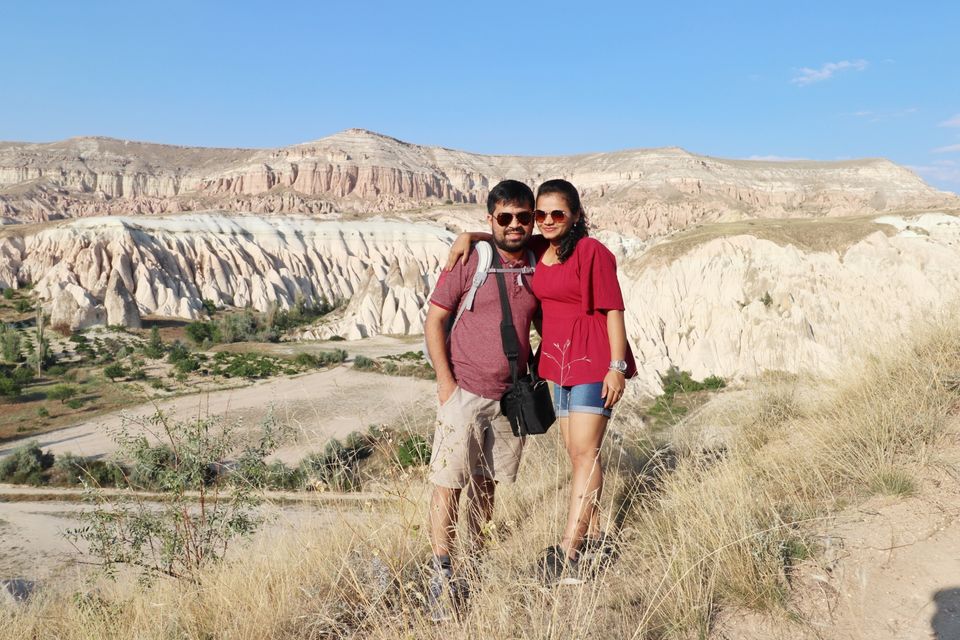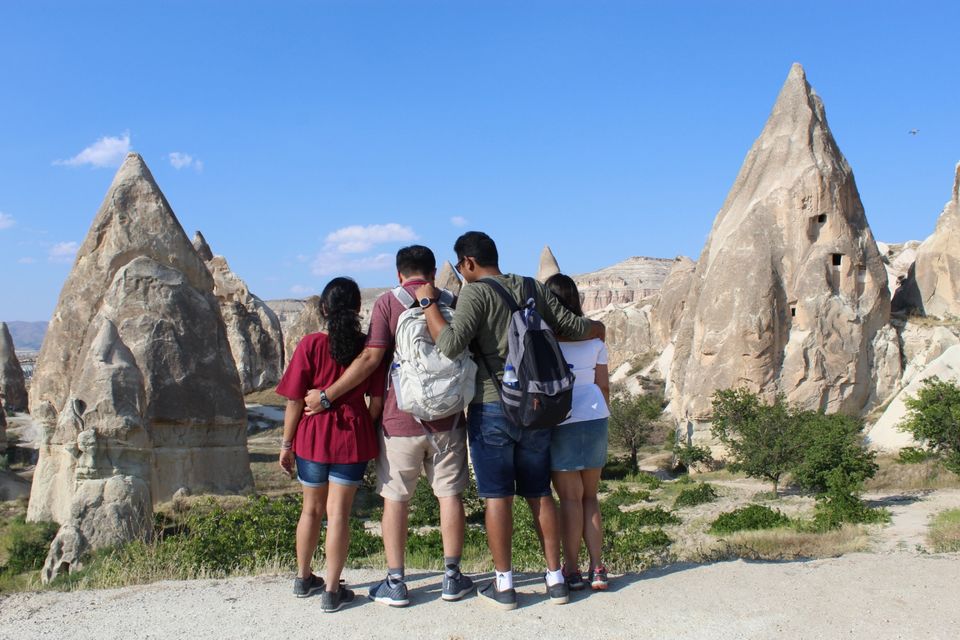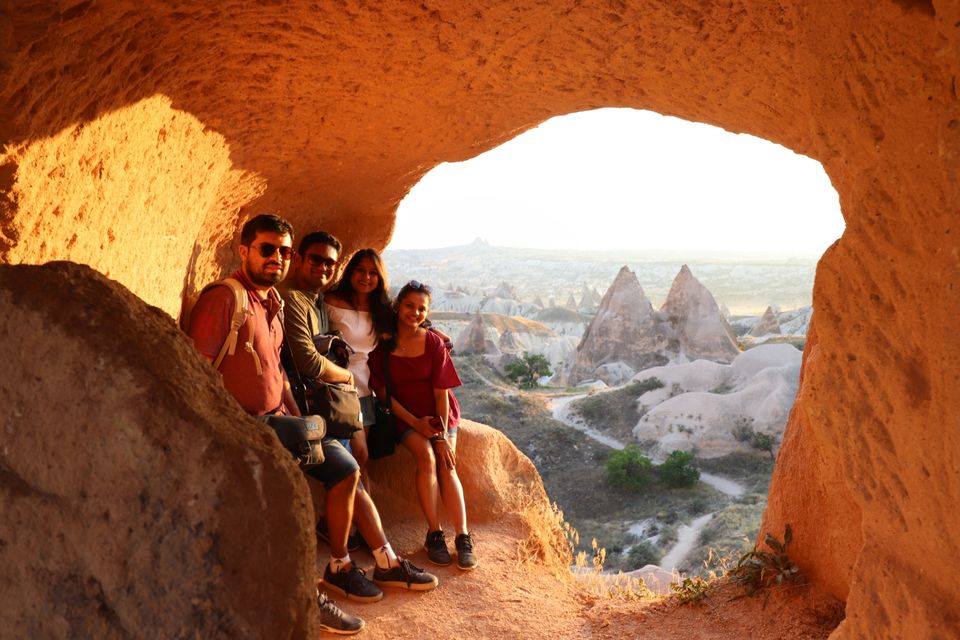 Exploring Ortahisar by day and Goreme by night
Now that our hot air balloon ride had been cancelled, we had an entire day at hand to explore the region. Instead of heading to Goreme, we decided to stay back in Ortahisar. We hiked up the Ortahisar castle and enjoyed lunch at a local eatery.
Ortahisar is a place where time stands still. This small town located in the Capadoccia tourism bracket, however, is given a miss by many tourists due to the bigger and more action packed Goreme. Stone paved pathways, magnificent panoramic views, authentic Turkish food, friendly locals, the smell of Turkish tea and coffee and the laid back air - makes it all worth it to visit this place! This was a day when I really wish I could freeze time and was finally getting over the heart break over my cancelled hot air balloon ride.
In the evening, we headed to Goreme town to shop for the must buy souvenirs and enjoyed Turkish ice cream (again, a must do when in Turkey)!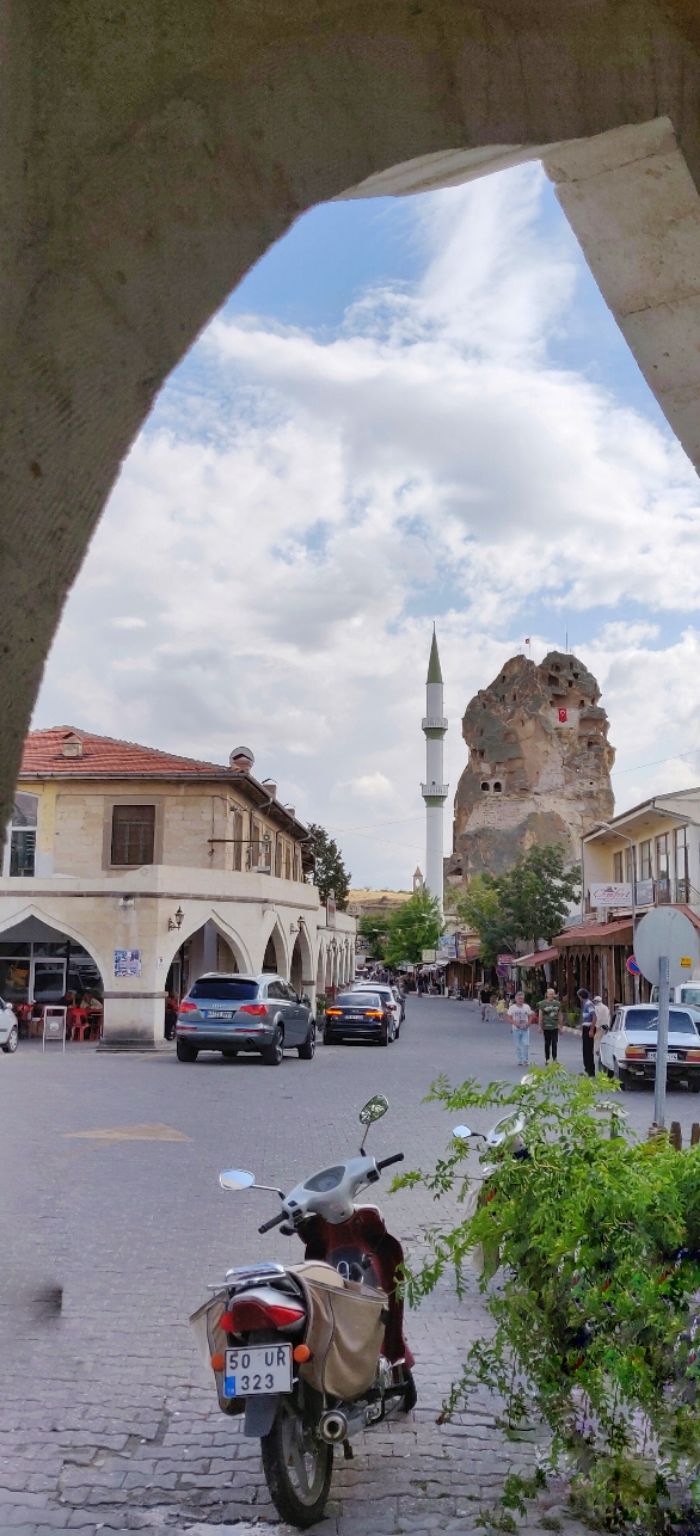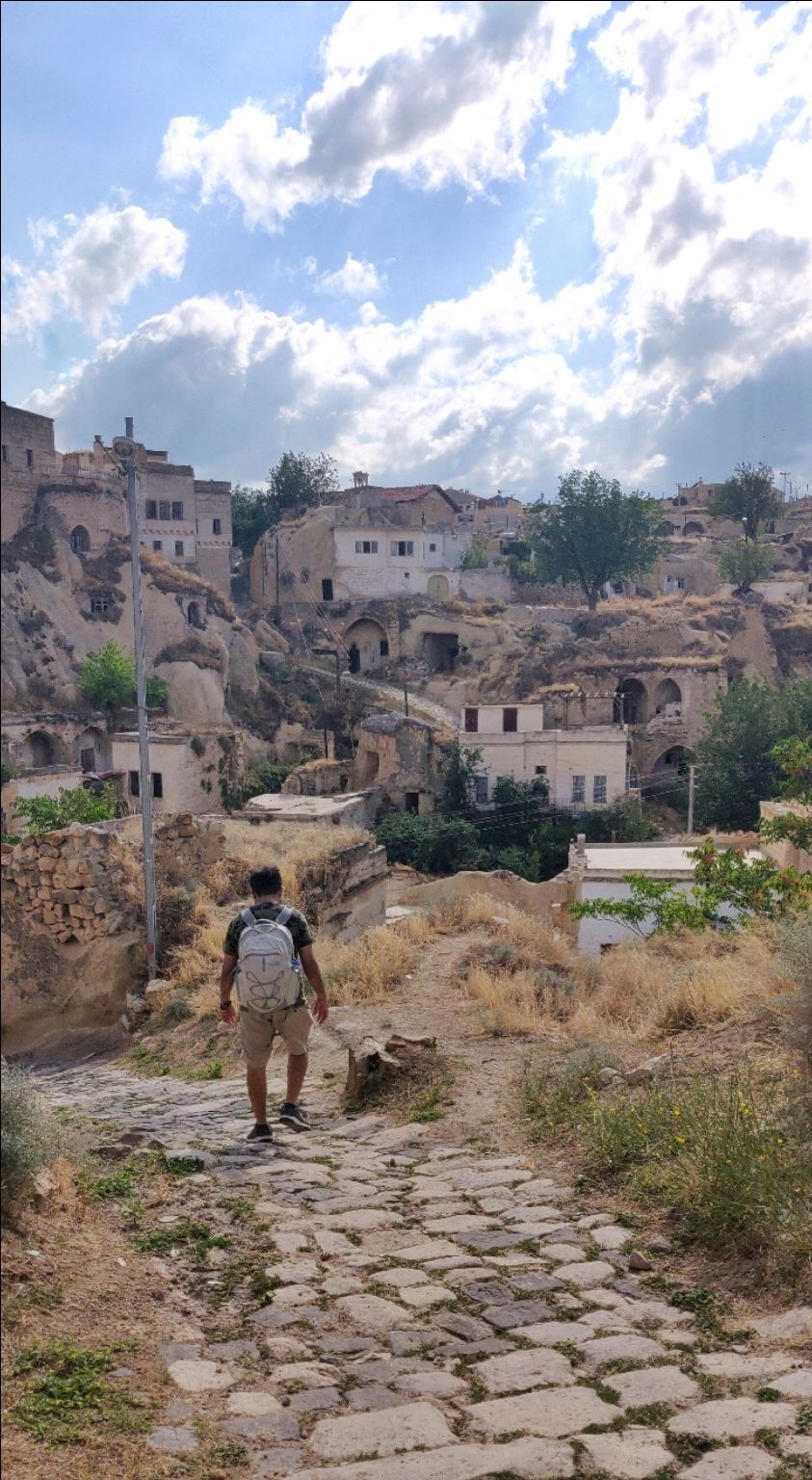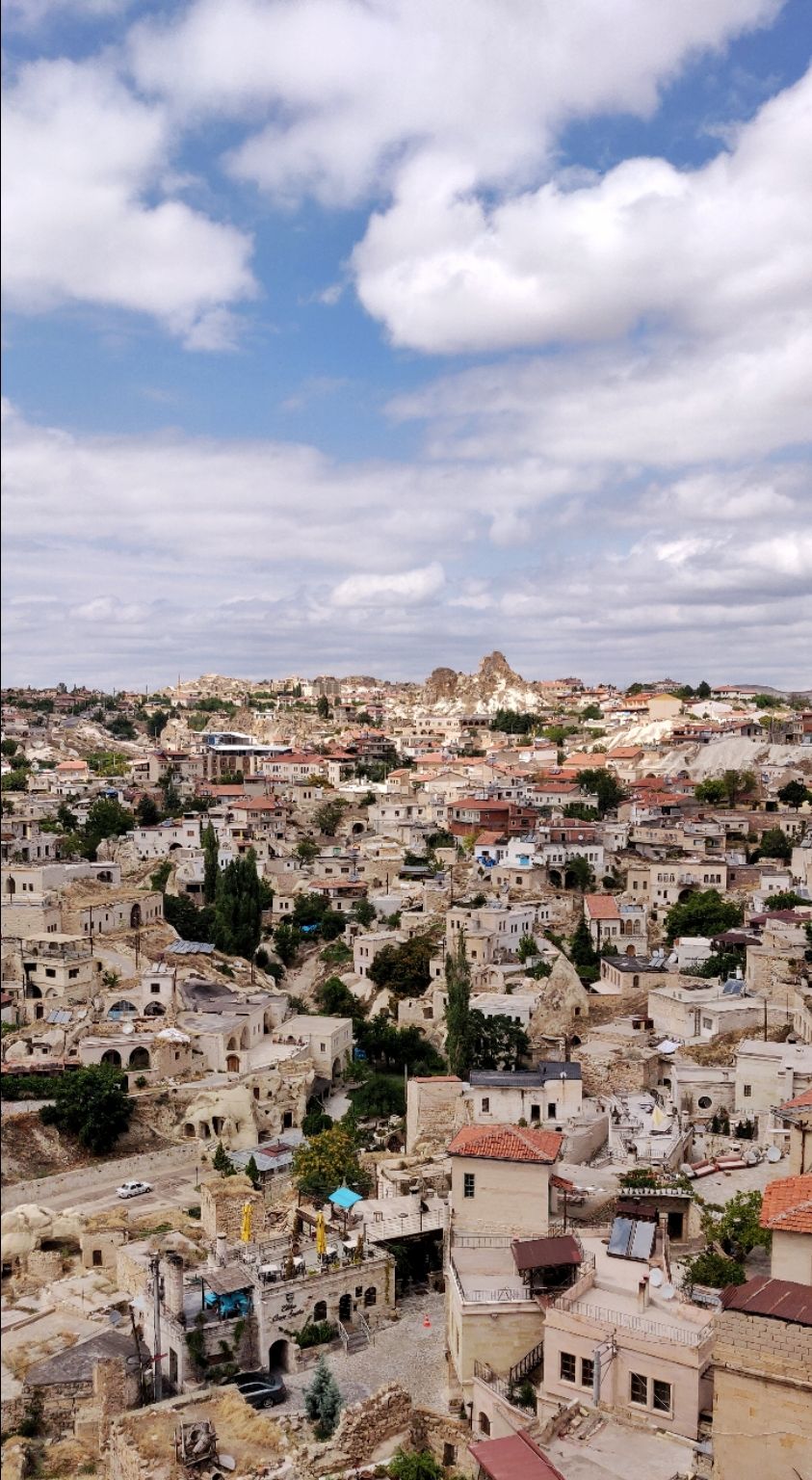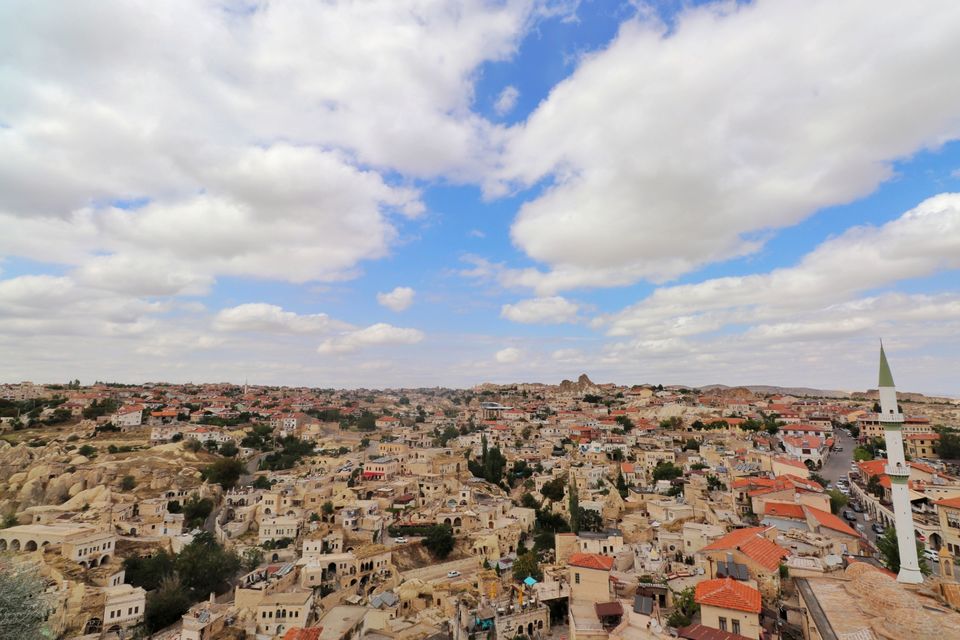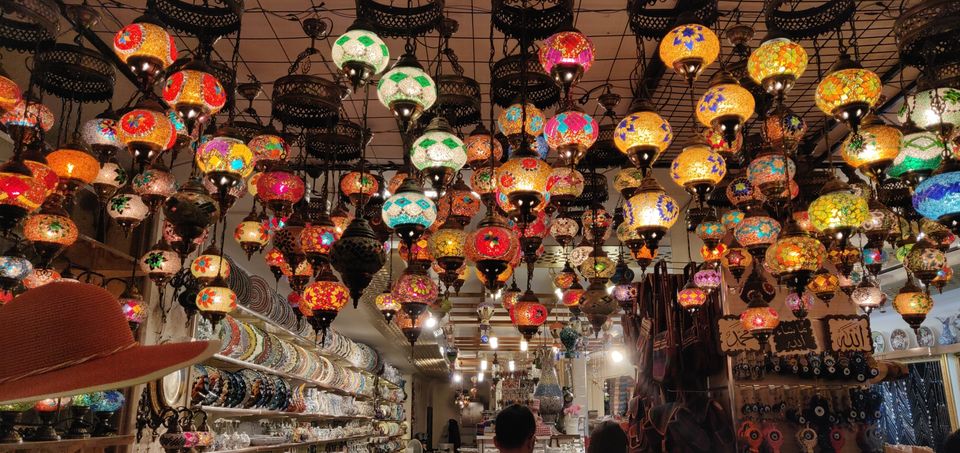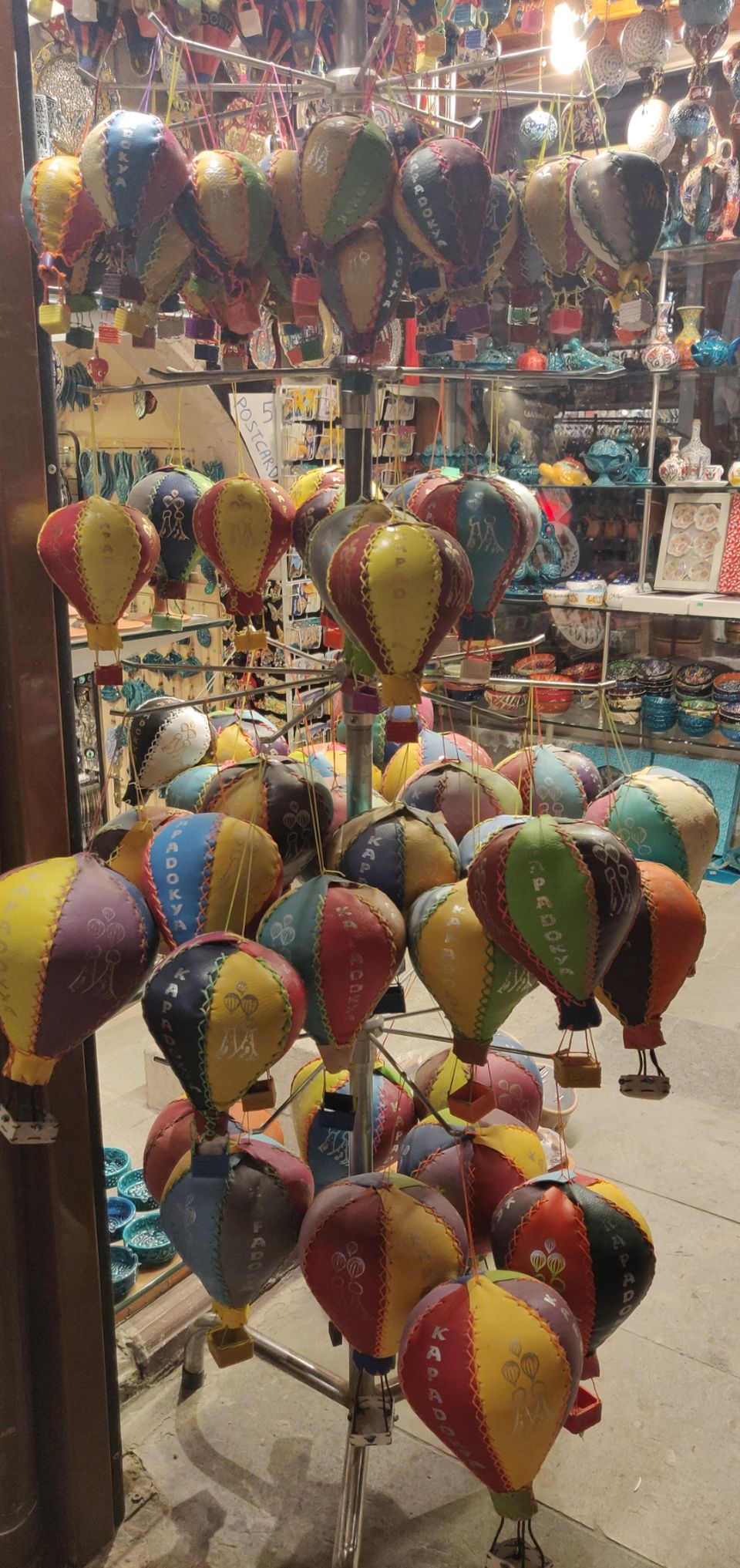 A full day Green valley tour: Derinkuyu Underground City - Selime Monastery - Ihlara Valley
We opted for a guided green valley tour as this was our last day in Capadoccia and we wanted to make the most of it. The tour started with a visit to the Derinkuyu Underground City which is a mind boggling structure. It is a multi level underground city extending about 60 m (200 feet) below ground and is said to have housed about 20,000 people complete with provisions for their prayers, livestock etc. Capadoccia has many such underground cities and this is the one open for tourists. It's fascinating to see how a full fledged city was constructed by the people who practiced Christianity back then and wanted to stay hidden.
Next stop was the Selime Monastery which is one of the biggest in Capadoccia region and it once acted as a military headquarter for the region!
Later during the day, we hiked in the beautiful Ihlara Valley. It's one of the most famous hiking route in the country and has 7, 14 and 25 km long hiking routes to offer.  It was like a secluded hike through paradise. It is one of world's biggest canyons and has extremely scenic sights to offer. Throughout this 7 kilometre hike, we were accompanied by the sound of Melendiz stream, chapels and monasteries, lush green trees and magnificent canyons! Oh, not to forget the pitstops on the route where you can have a fresh brew of Turkish tea to make your hike even better!
Our last stop was the Love Valley where we got a gorgeous panaromic view of Goreme town and the Green Valley. Oh, do not forget to get yourself clicked in front of the gorgeous Evil Eye (Nazar Bead) tree installed there!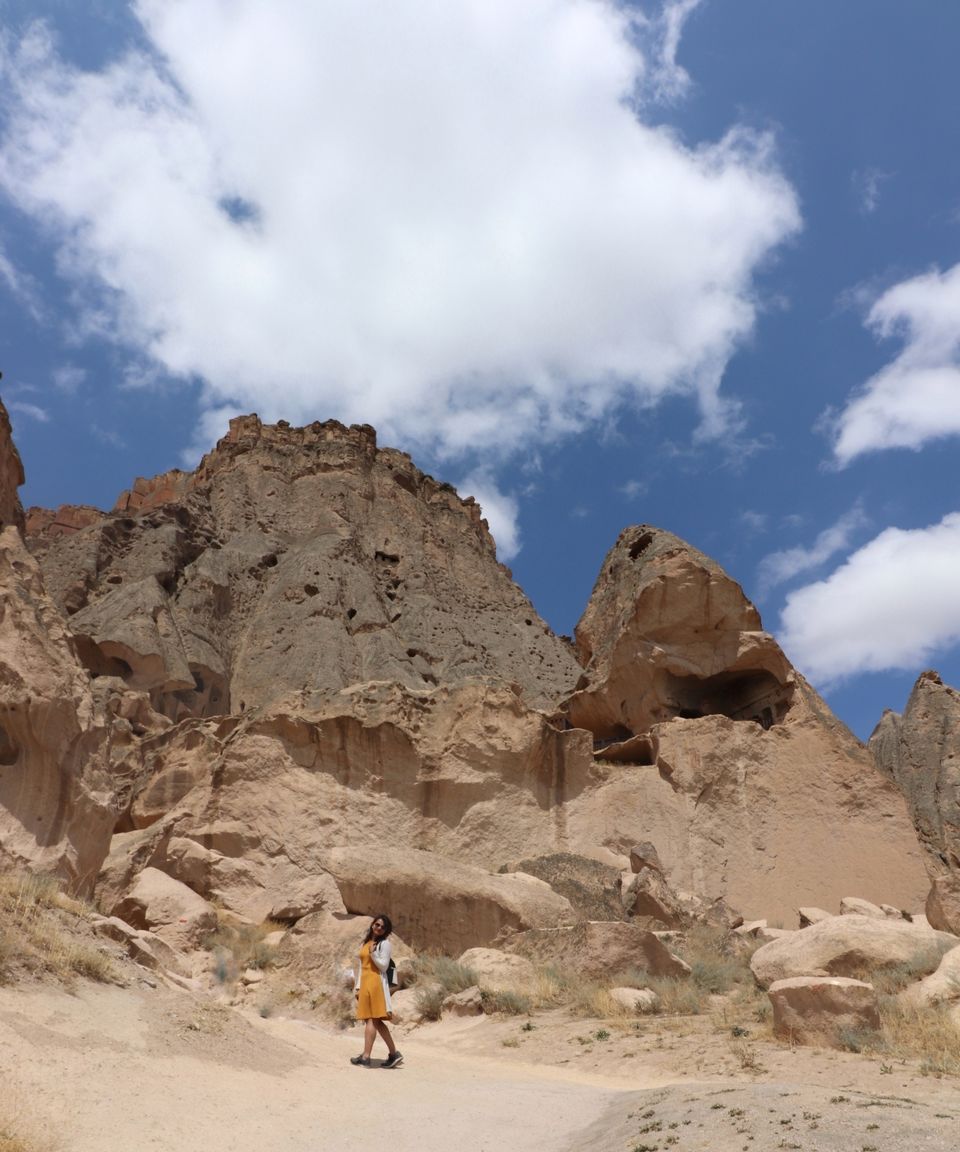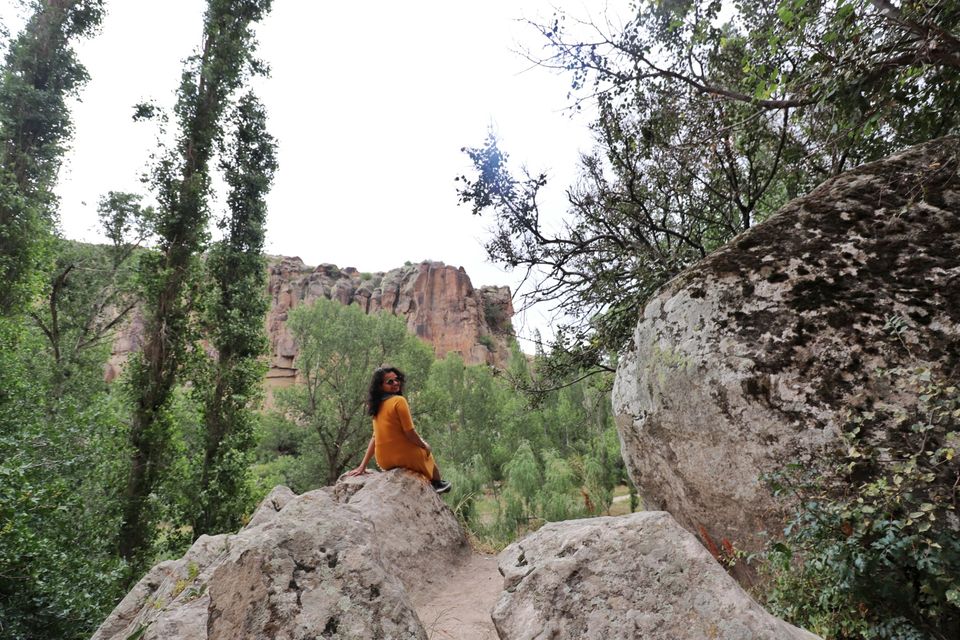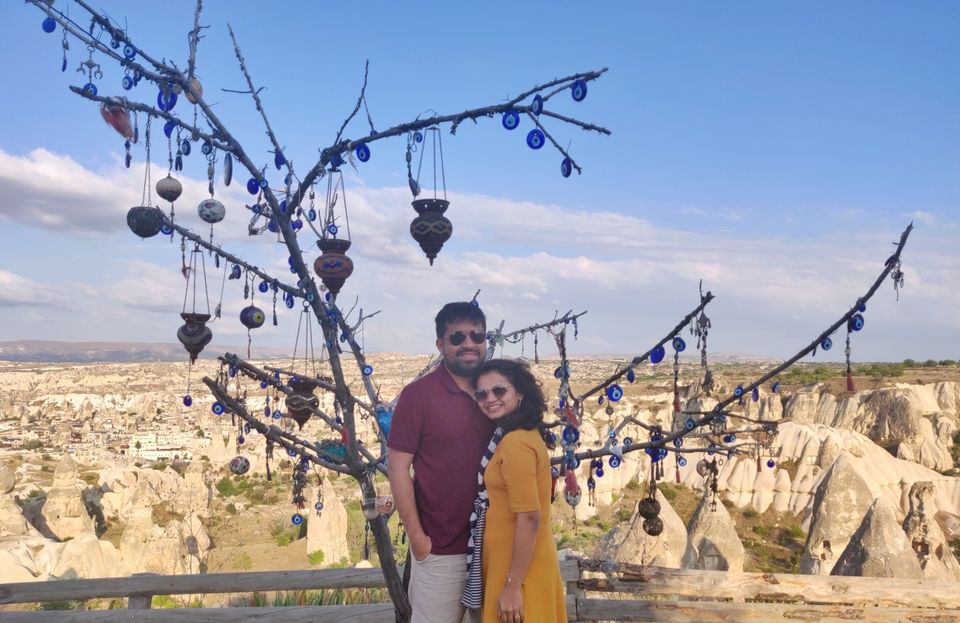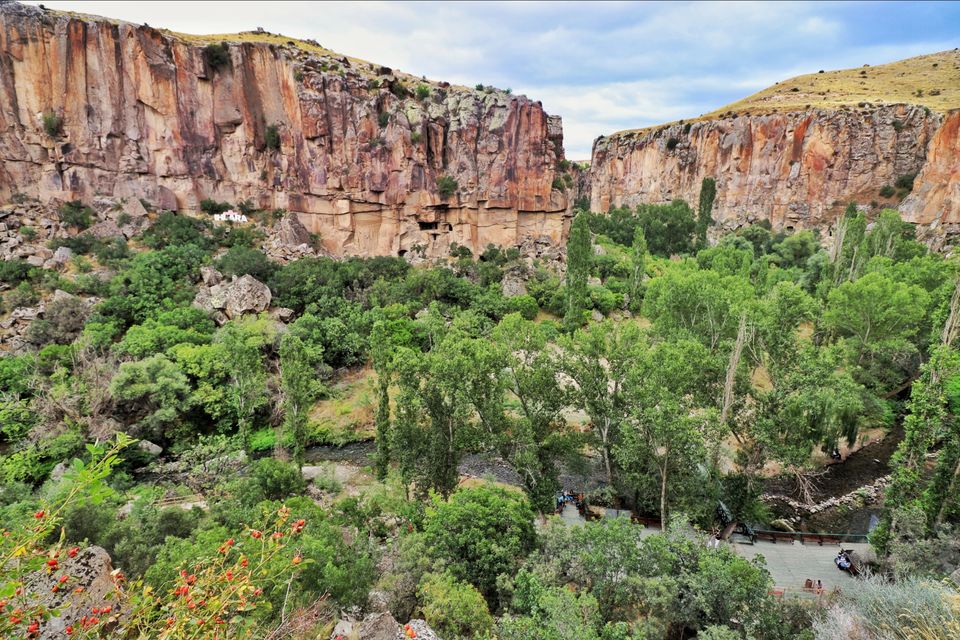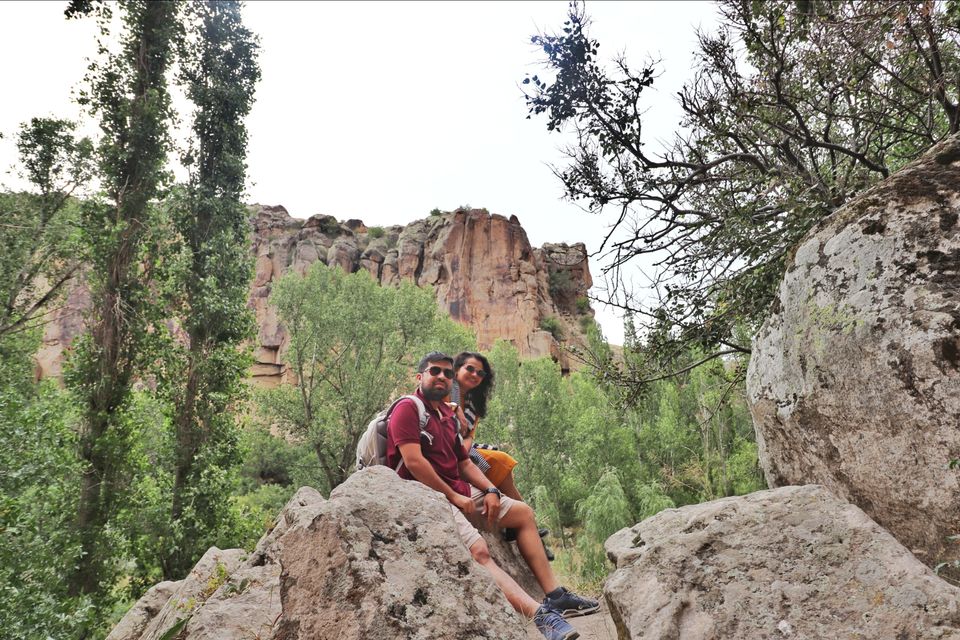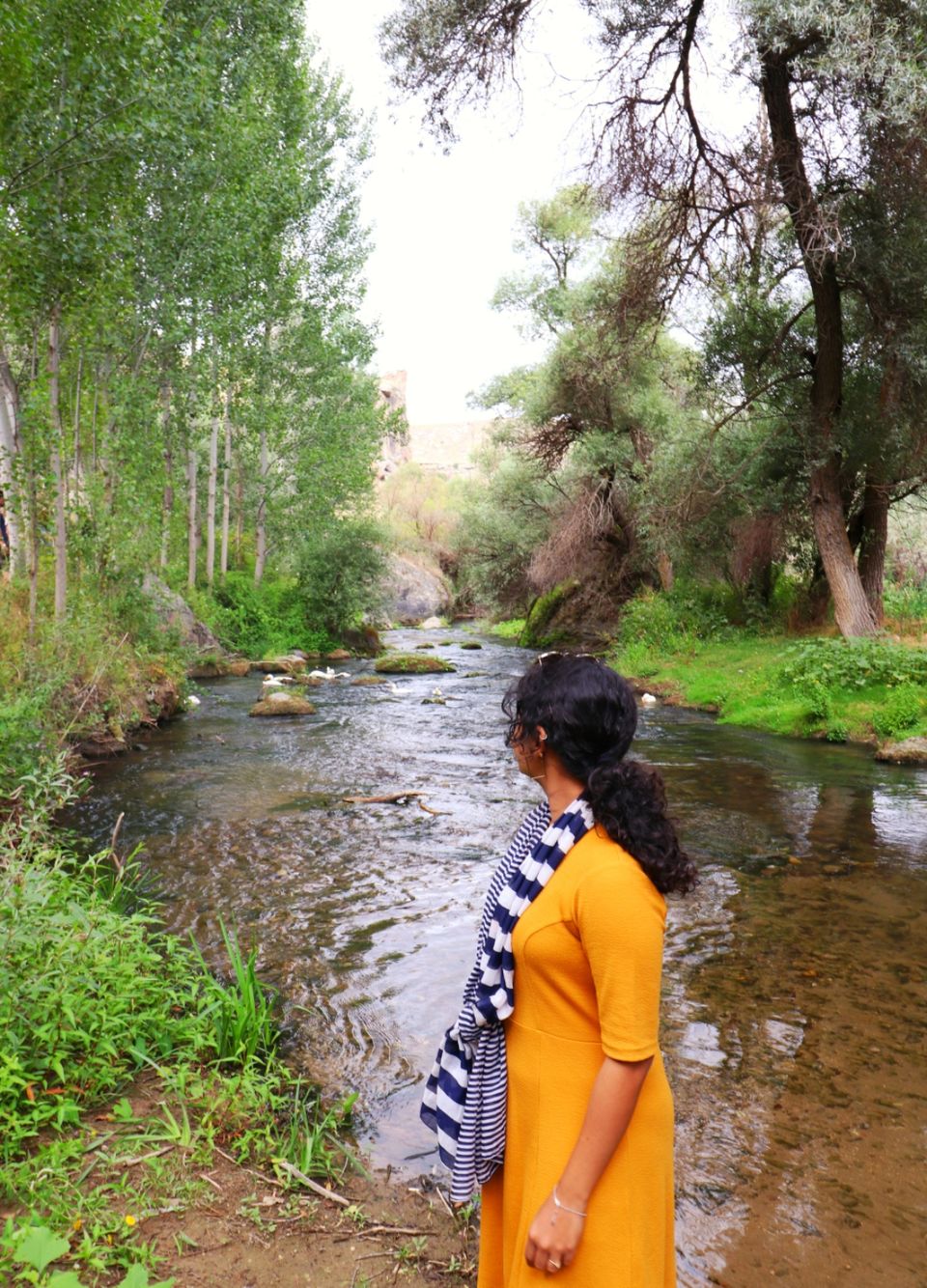 Explore Antalya city in an offbeat way
We took an overnight bus from Goreme to Antalya and reached there early morning. We had booked ourselves on a Kamil Koç bus. There are other operators such as Metro Turzim, Nevsehir Travel etc. who also provide similar service and the ticket cost is about 175 TL. A prior booking is recommended and various online portals provide bus ticket bookings online which can be done from India.
We were bowled over by seeing the beauty of Antalya. This beach city located on the Southern Mediterranean coast has the most perfect stretches of blue beaches, magnificent sea cliffs, well planned infrastructure, the Marina and Kaleiçi.
We headed to the Marina and stumbled upon a beautiful eatery 'Mermerli' and stopped by for some much needed breakfast. It had the most gorgeous view! On reading a few random travel articles, we figured that this place was among one the best for it's food and views in Antalya (lucky us, for this gem of a find!) We walked back to our hotel through the old quarters, Kaleiçi. It was like being transported to another era; cobble-stoned pathways, Ottoman-era houses, beautiful Bougainvillea flowers adorning these narrow lanes..after seeing the modern-ish side of Antalya city, Kaleiçi was an unexpected pleasant surprise, much like a place right out of the picture postcard.
In the afternoon, we had booked an e-bike tour of Antalya. It turned out to be the highlight and the most exciting part of my Antalya stay! It's a perfect way to get the summary of the city and visiting important landmarks. The biking requires minimal efforts and it's super fun, to say the least. The places included in the route are beautiful - from beaches to waterfalls, important monuments of the city, the marina, enjoying authentic Turkish food in the best of places with a view to die for...has it all. We started at the Konyaalti beach, visited the Marina, clock tower, Hadrian's gate, the old quarter markets and ended this trip after a 27 km route in the Lara area by watching the Duden waterfalls in their full glory!
We had booked ourselves a three night stay at the gorgeous 'Tuvana Hotel', which apparently has been given a special class status by the Turkey tourism board. I would surely recommend this place for the best ever stay and food in Antalya.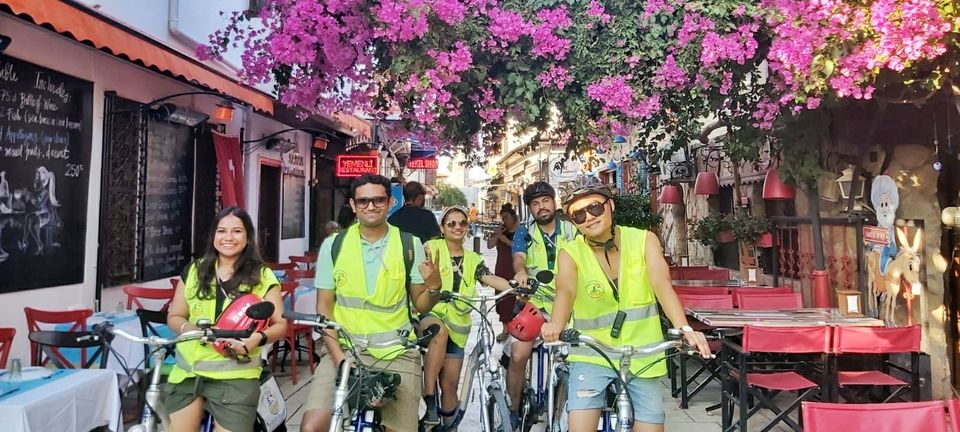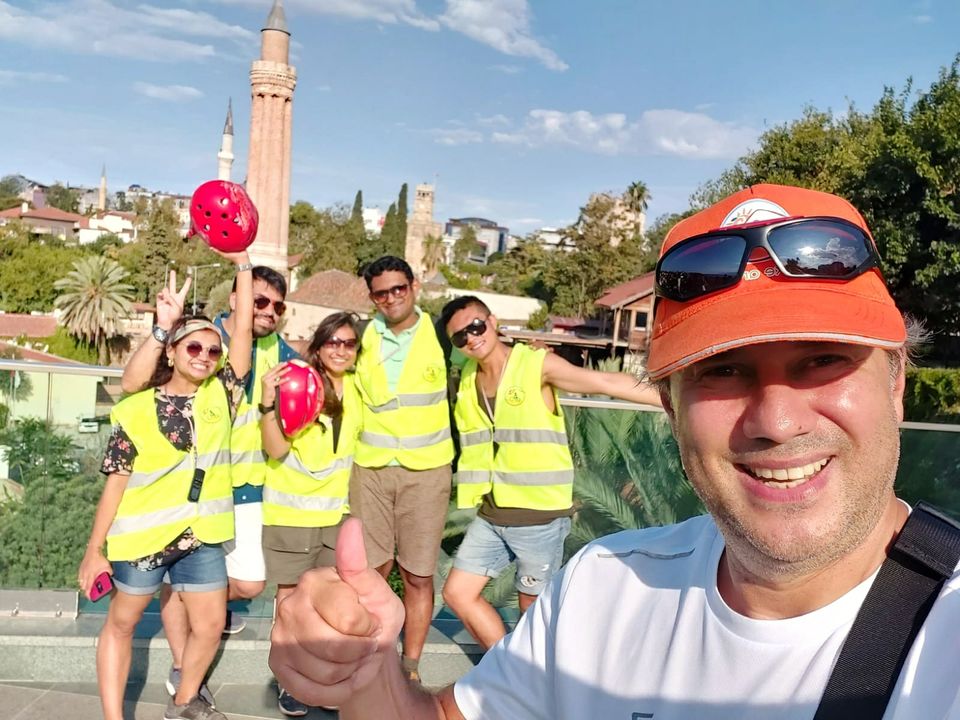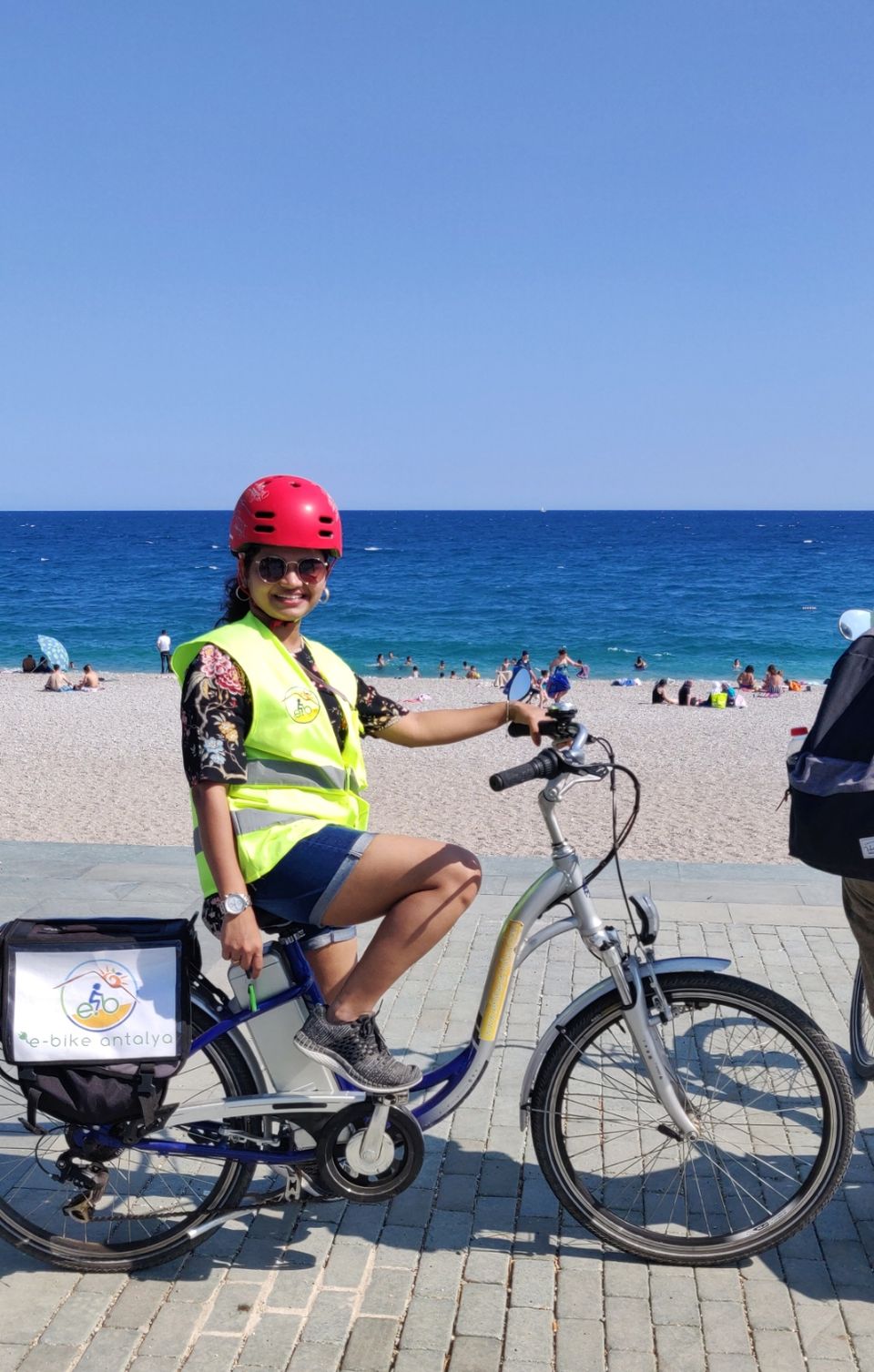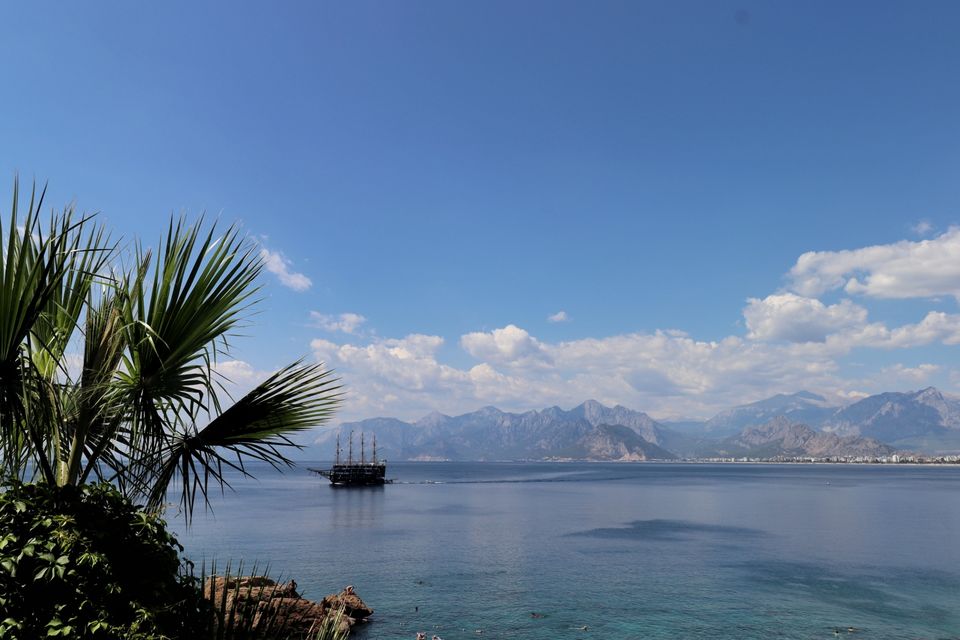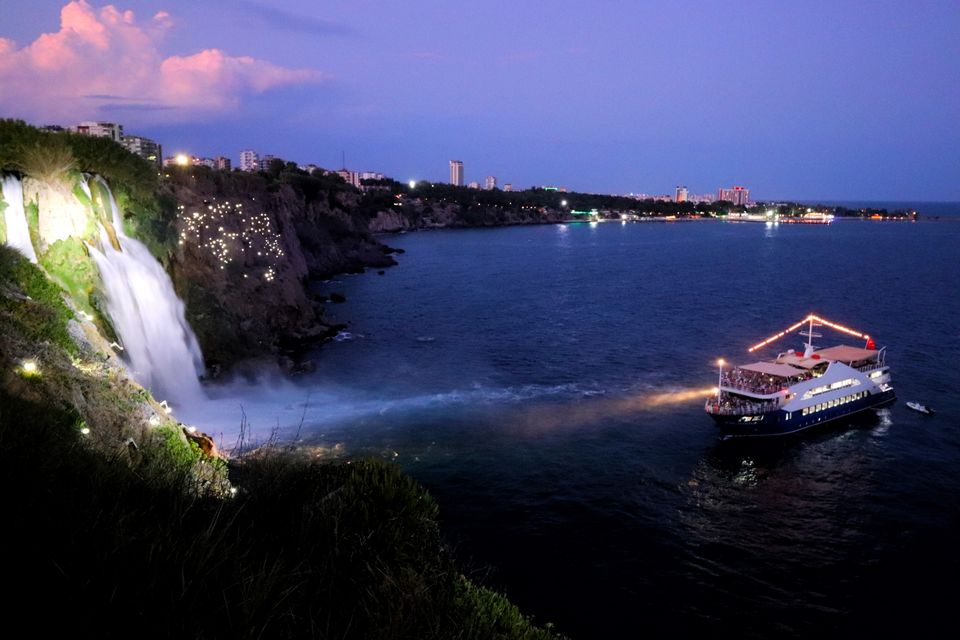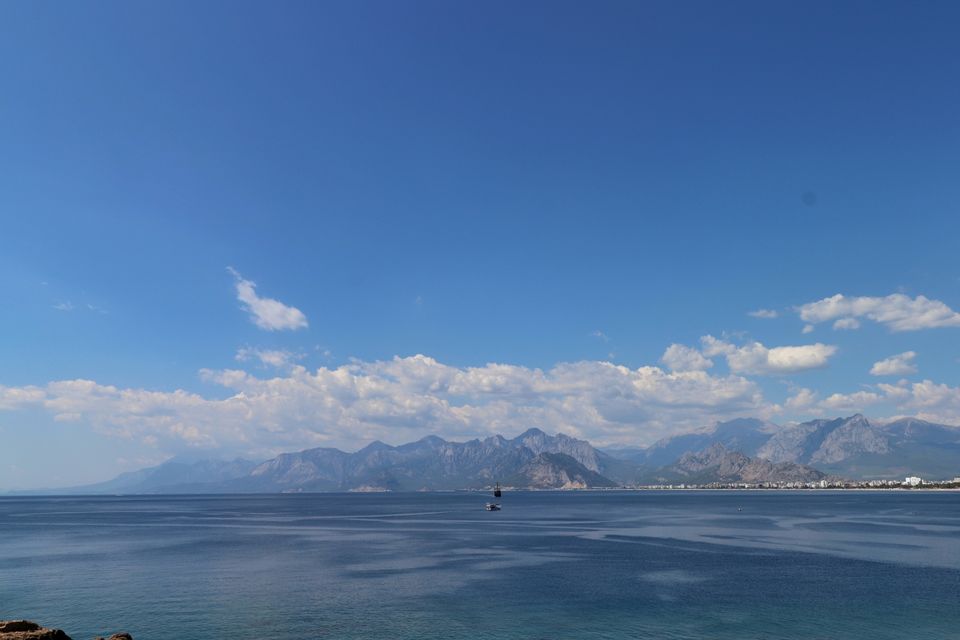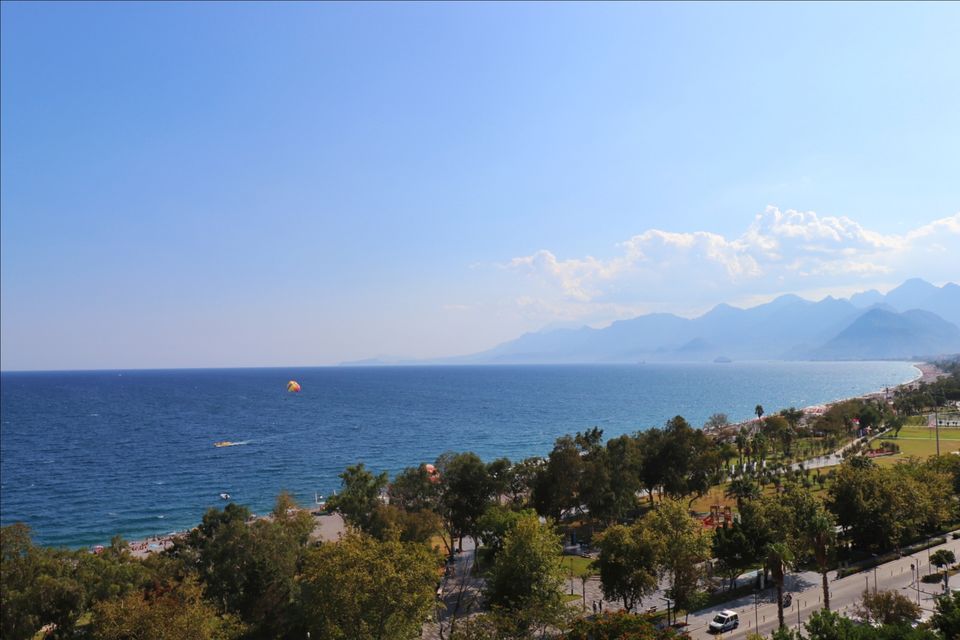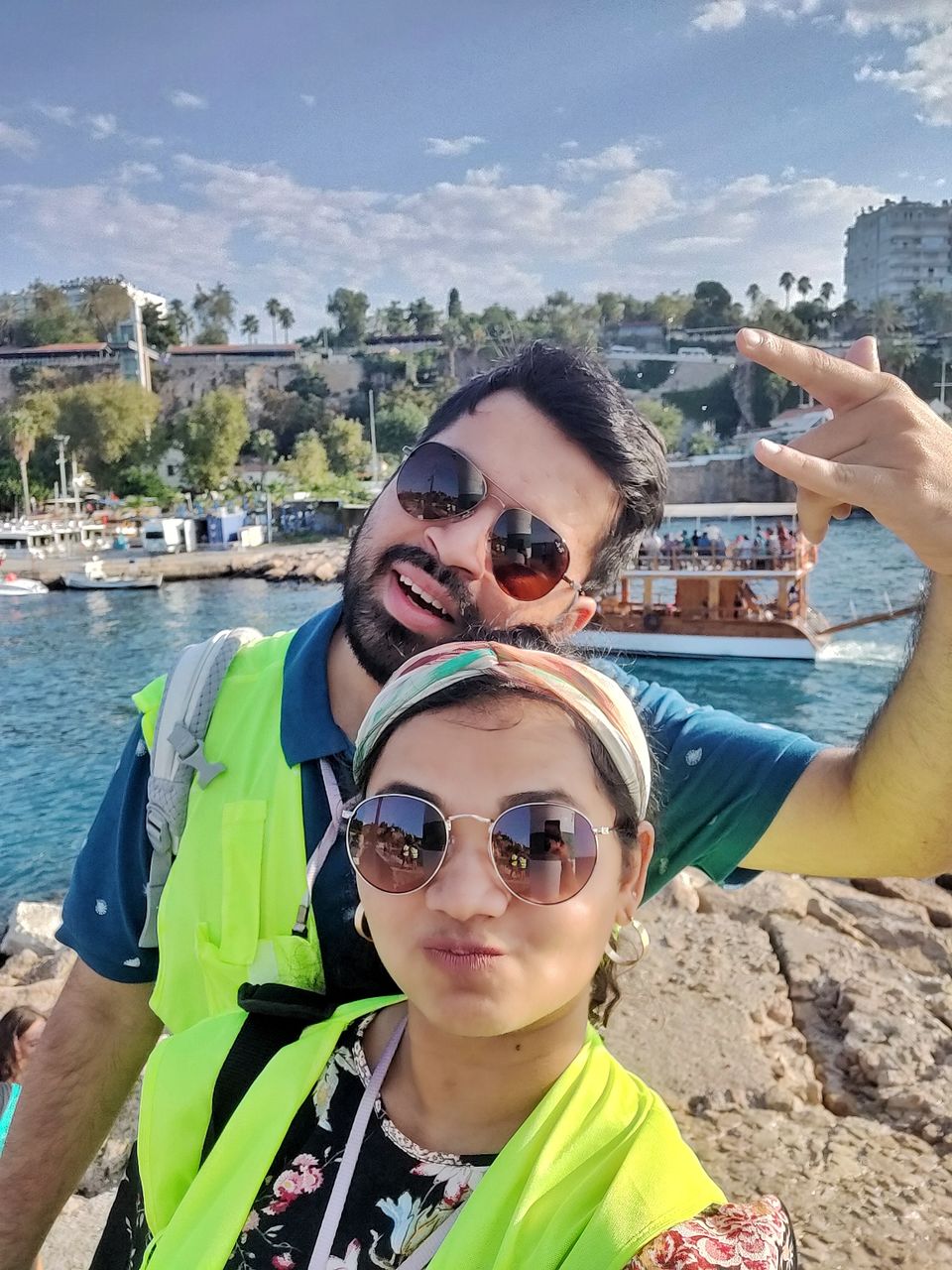 Explore Antalya
Today, we decided to rent a two wheeler and explore the city our style! Started with a beach side lunch date at Konyaalti beach and later headed to the Antalya Museum. The entry fee for the same is 32 TL per person. It is a must see for anyone who is interested in the history of Turkey's Mediterranean coast. The modern province of Antalya includes a plethora of important ancient Hellenic and Roman cities and towns, other prime archeological sites, and the best artefacts from most of them have been brought here to form the museum's outstanding collection. The museum collections range from the Old stone age through the Chalcolithic, ancient Greece, Roman, Byzantine, Seljuk as well as the Ottoman empires, thus giving an insight into Anatolia's detailed history.
The evening was spent visiting my ever favourite Kaleiçi unwinding over fantastic vegan dinner at 'Luna Garden'.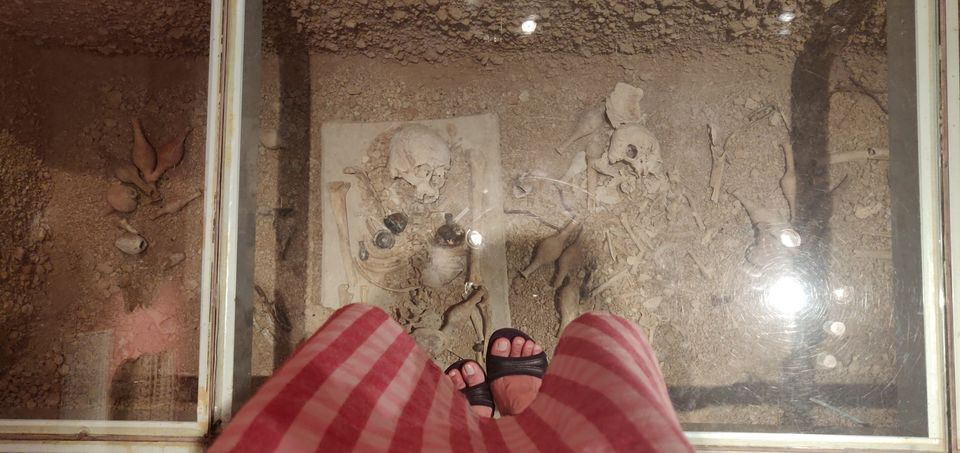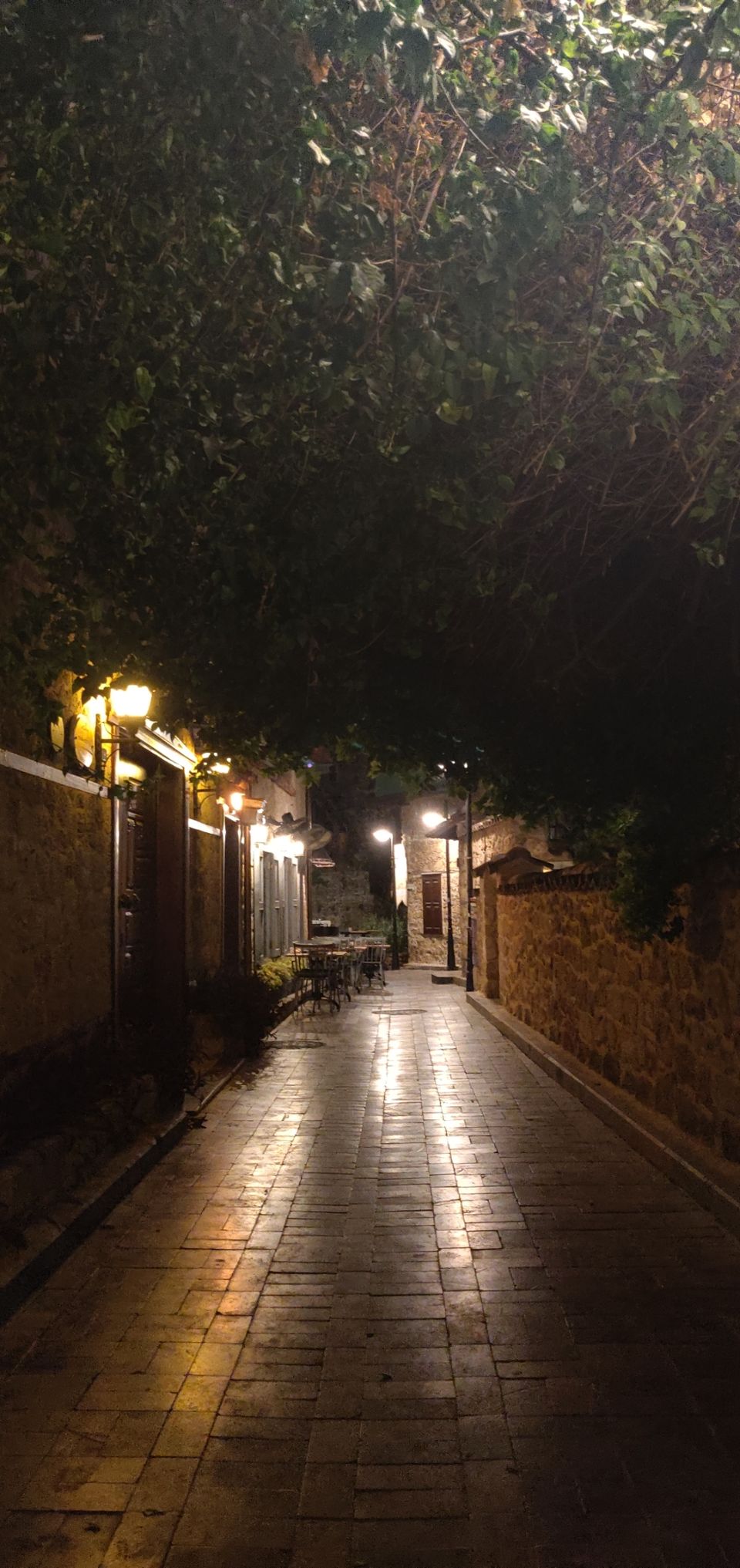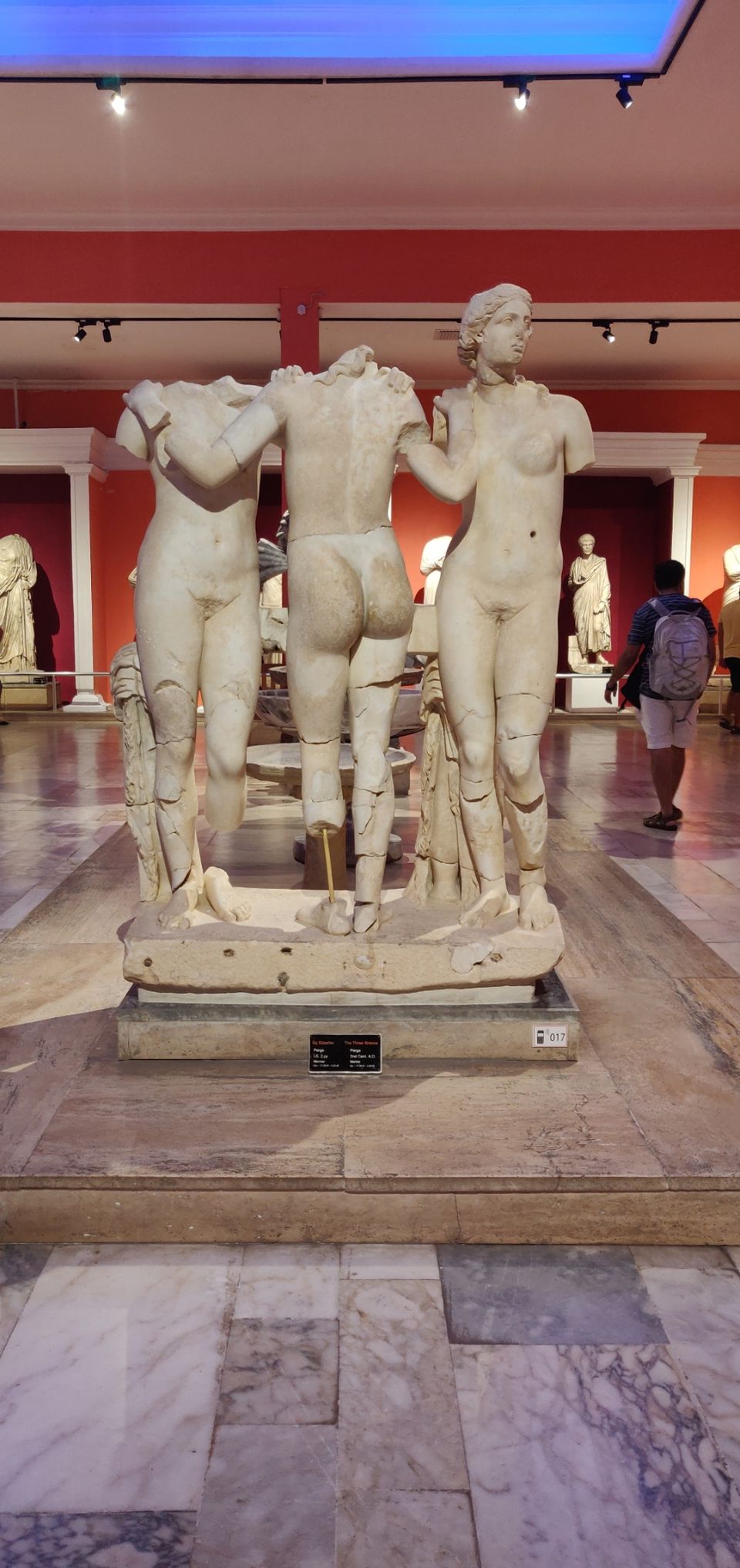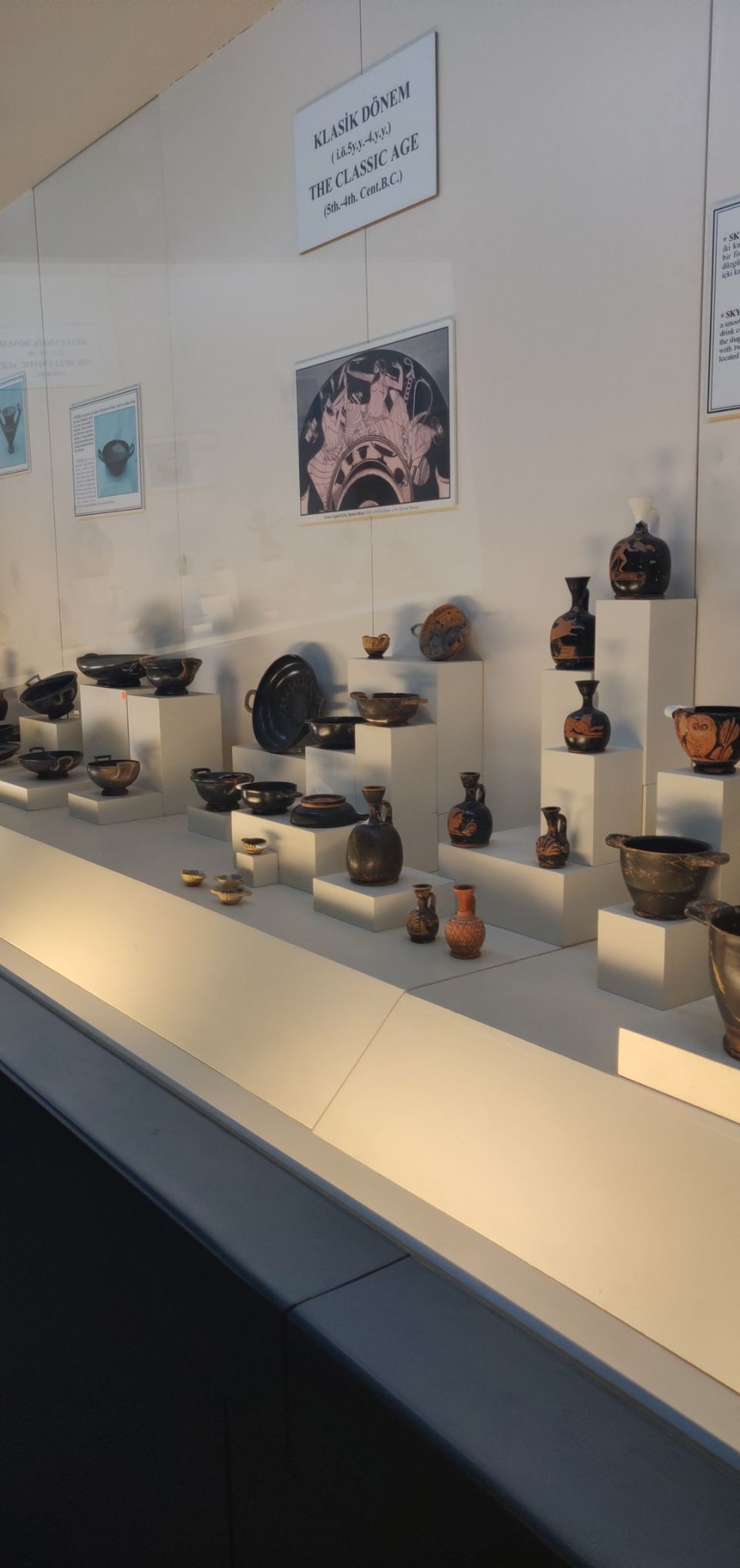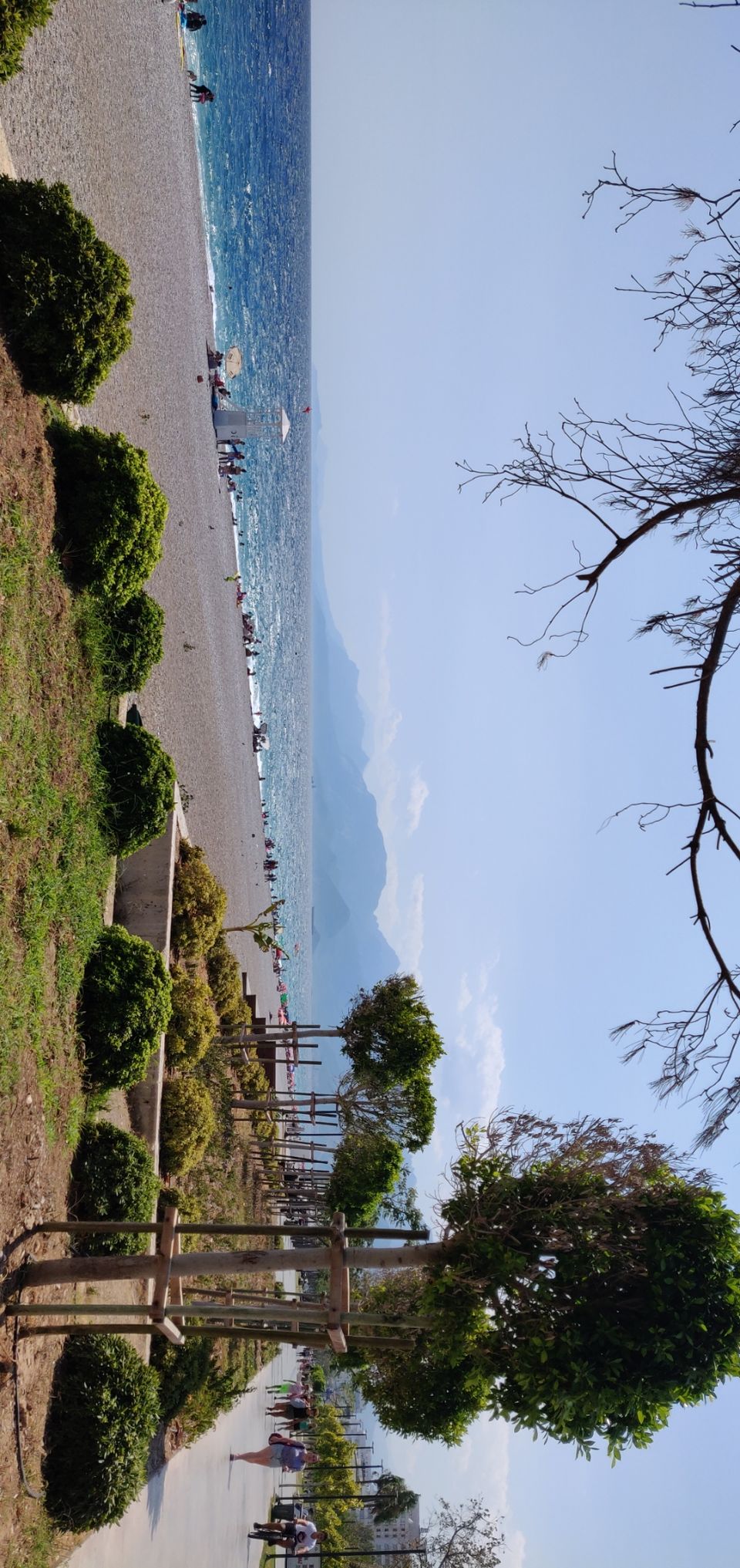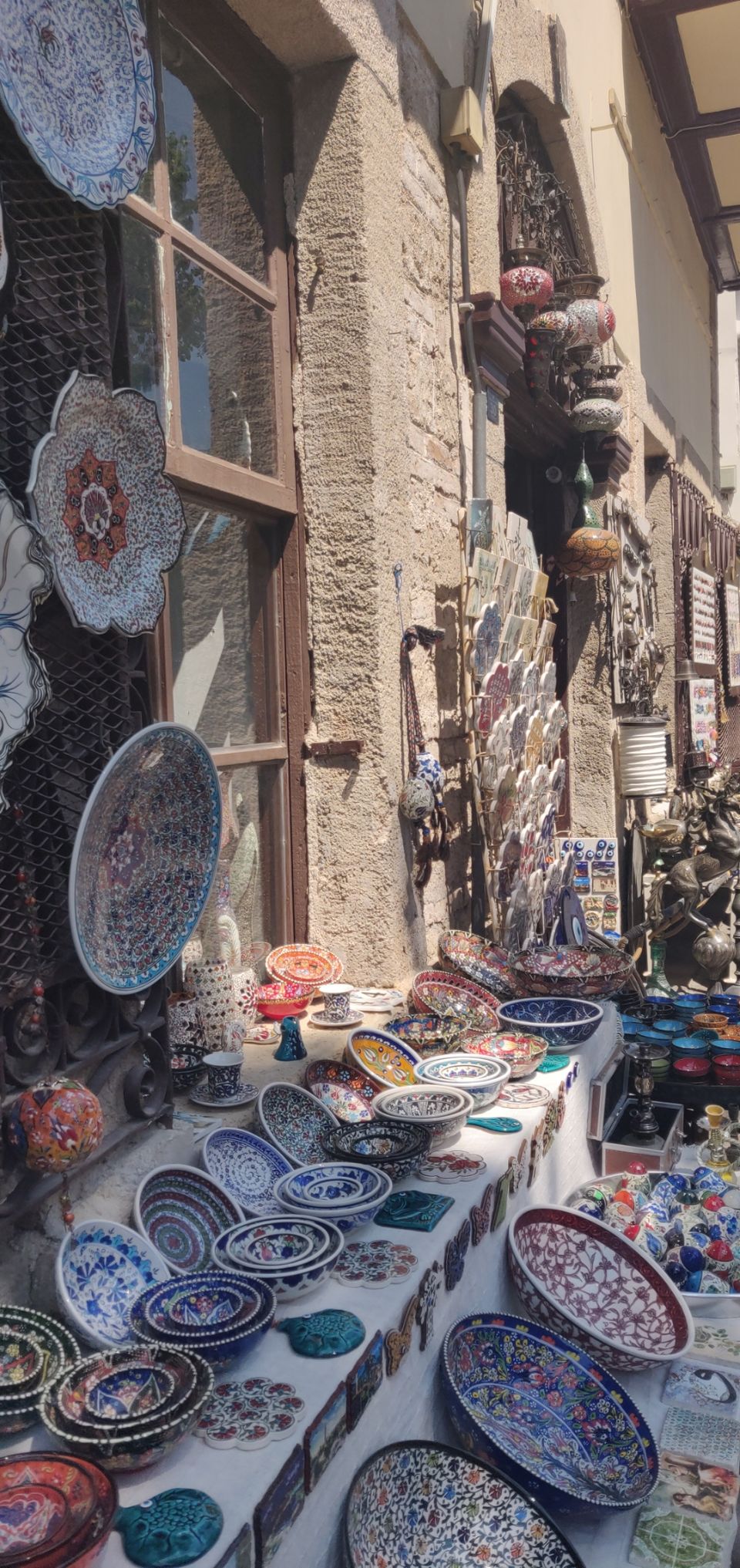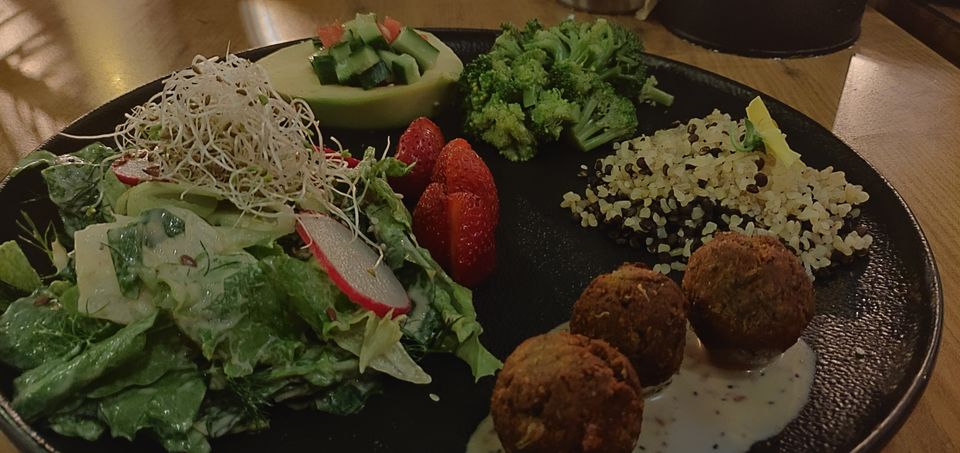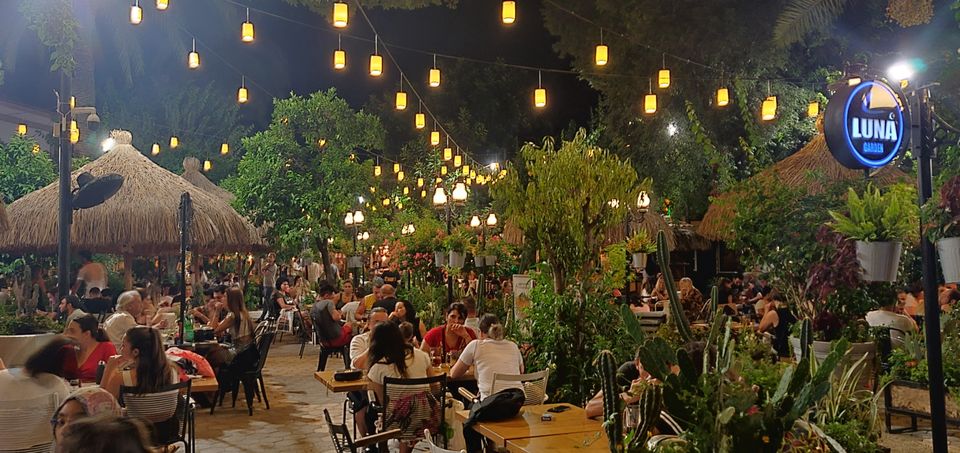 Visit western Antalya - Kemer & Çirali beach
Today was a self drive day through the picturesque Antalya coast to the beach towns of Kemer and Çirali. An hour and a half of drive of 45 kms would land you there. Part of the Turkish Riviera, it's known for its pebble beaches and large marina. The town is backed by the pine forests of Olympos, adding to it's beauty. Here you can choose to enjoy the way you want - Sun bathe, dip in the cool waters on a sunny day or just sit and admire the beautiful beach.
Çirali, our next stop at about another hours' drive through the hills, is perhaps most well-known for being a hatching ground for endangered Caretta (Loggerhead) sea turtles. Locals say that the turtles can be spotted in the hatching season in early morning! Çirali has an unspoilt 3.5 km long beach and unlike Kemer, which is a beach resort hub, the beauty of Çirali is raw and untouched; with only a few family run bungalows and small restaurants to offer and not a single building in sight. Kemer and Çirali are beaches more preferred by the Russians, Scandinavians and Greeks.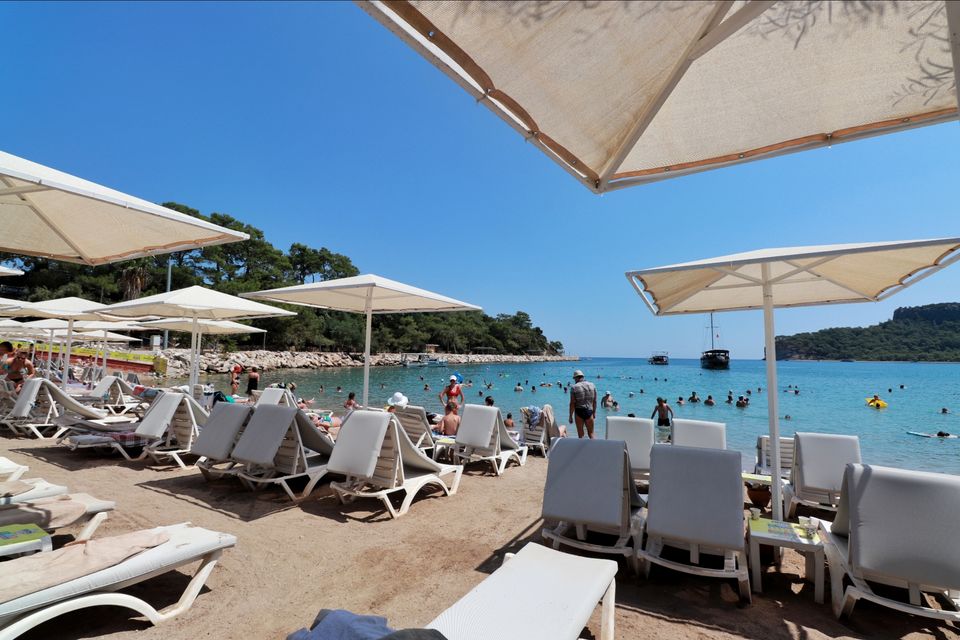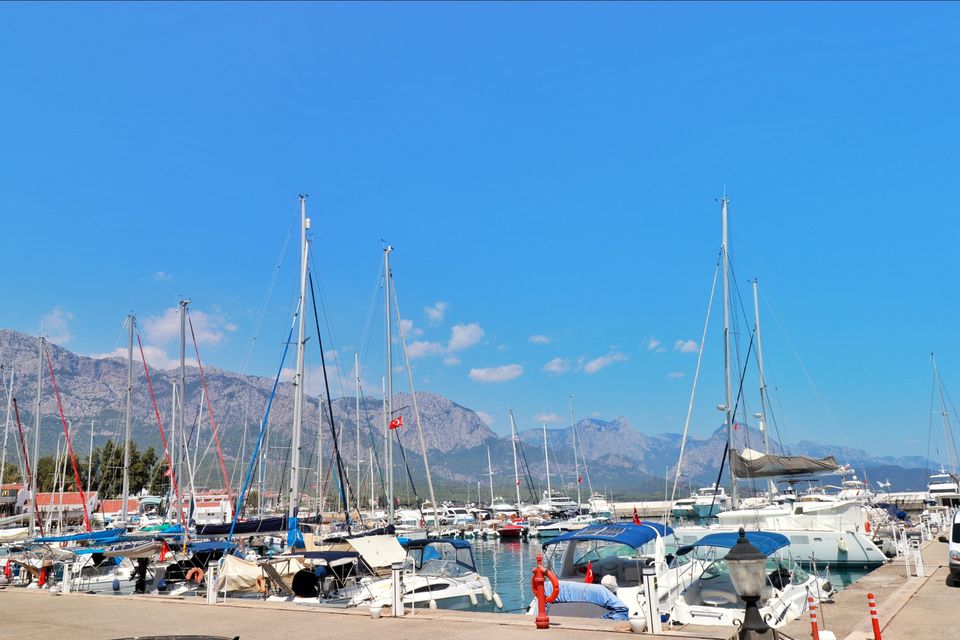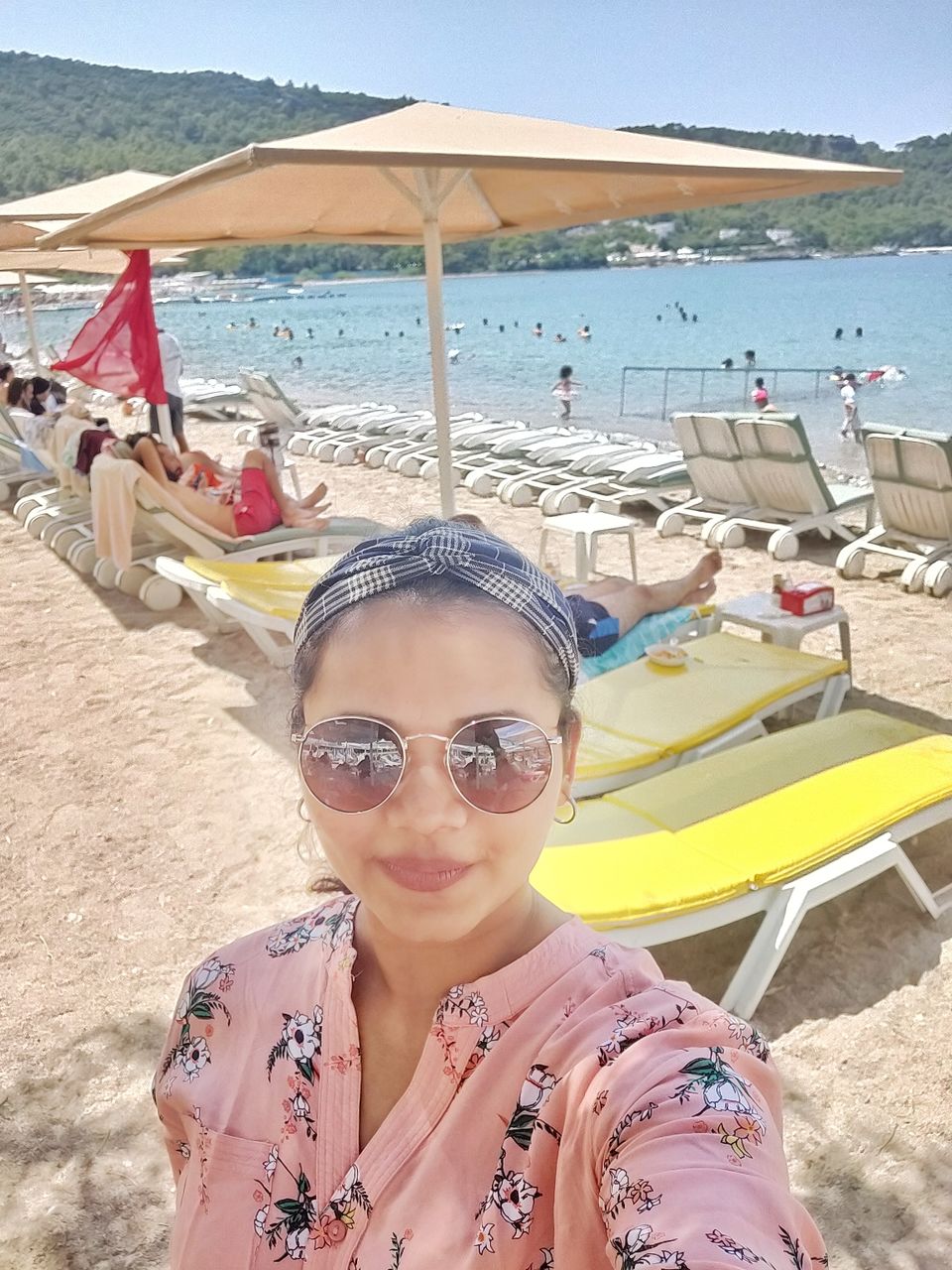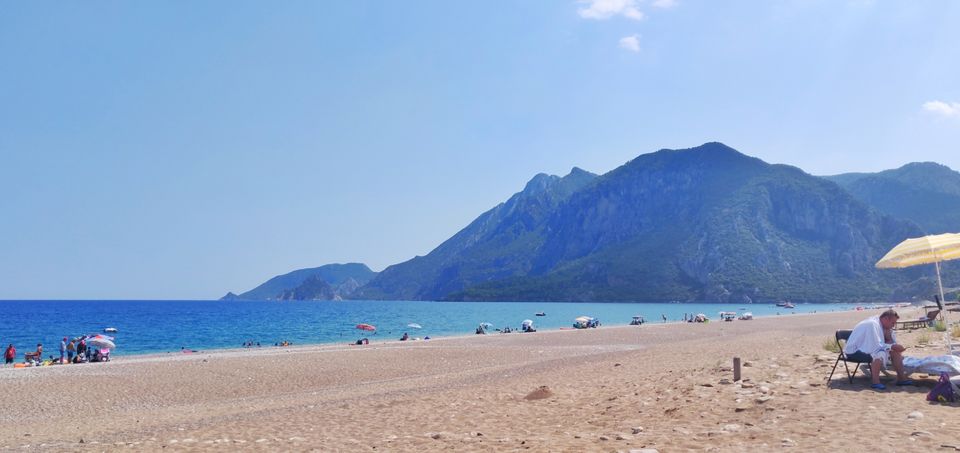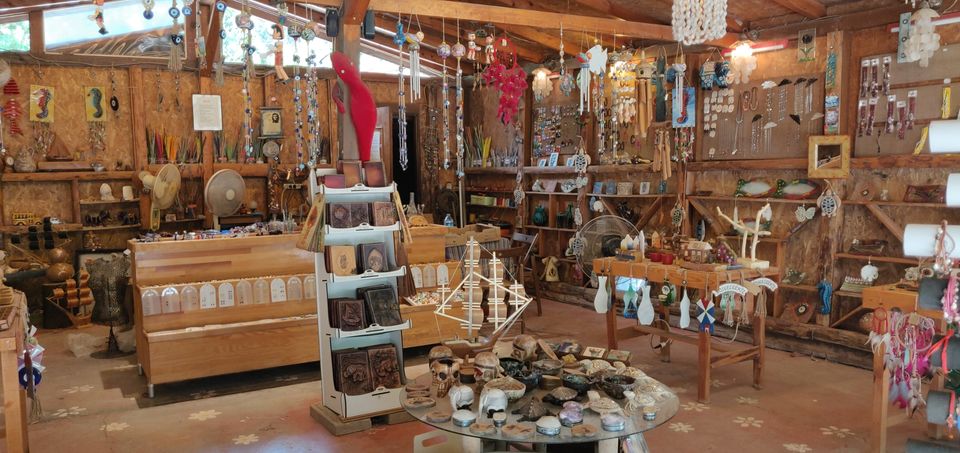 Time to hit Instanbul, again!
So it was time for our second leg of Instanbul. We were back to this vibrant city for the last segment of our trip! We took an early morning flight from Antalya to Istanbul. We decided to go about our day in a leisurely manner, with no hardcore planning or schedule. Started with visiting the Grand Bazaar. It's the largest and oldest covered markets in the world and has about 600 streets and 4,000 shops (woo, quite a number isn't it?) You will find Jewelry, antiques, souvenirs, lamps, carpets and textiles, turkish tea stores, Turkish sweet stores offering plethora of variations of Turkish Sweets - Turkish delight, Lokums, Baklava and what not! Try not to lose your mind when bargaining with the shopkeepers out here and if you pick a good store, you're out on a treasure roll to get back some really authentic stuff back home!
Later, we boarded the 2 hour sunset Bosphorous cruise. The Bosphorous strait adds a new dimension to the city of Instanbul, acting as a link between the Black sea and Sea of Marmara. Sehir Hatlari is the official ferry company of Instanbul, however, there are a number of other private operators. You can opt for a cruise that suits your choice, time and budget. Crusing through the waters, you can enjoy the undisputed lovely panoramic views of Instanbul over the sunset and it's various Islamic and European vistas - from the Suleymaniye Mosque and Maiden's tower to the Dolmabaçhe palace. This sunset cruise also gives you the luxury of witnessing the night time city views, post sunset! Indeed a memorable experience.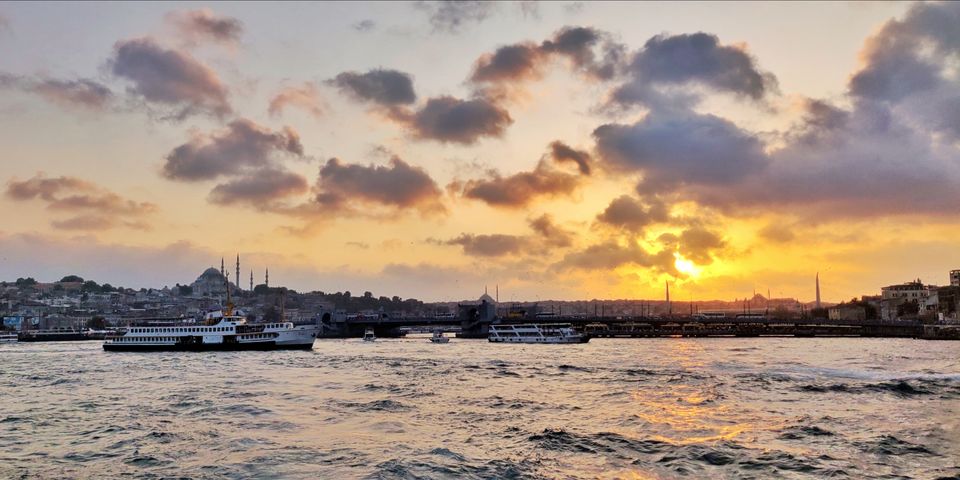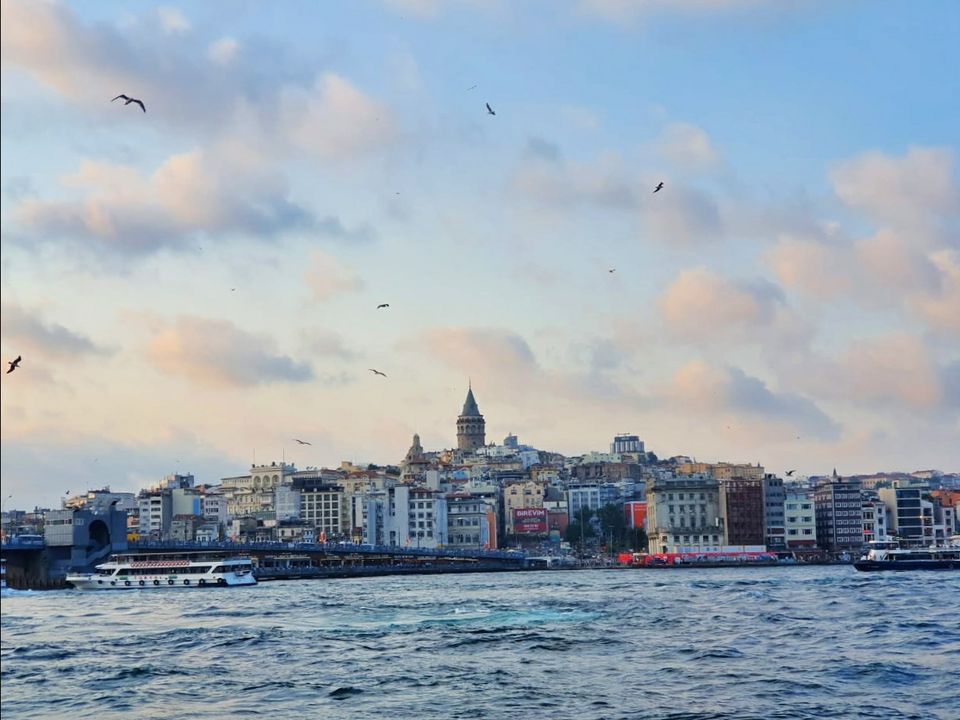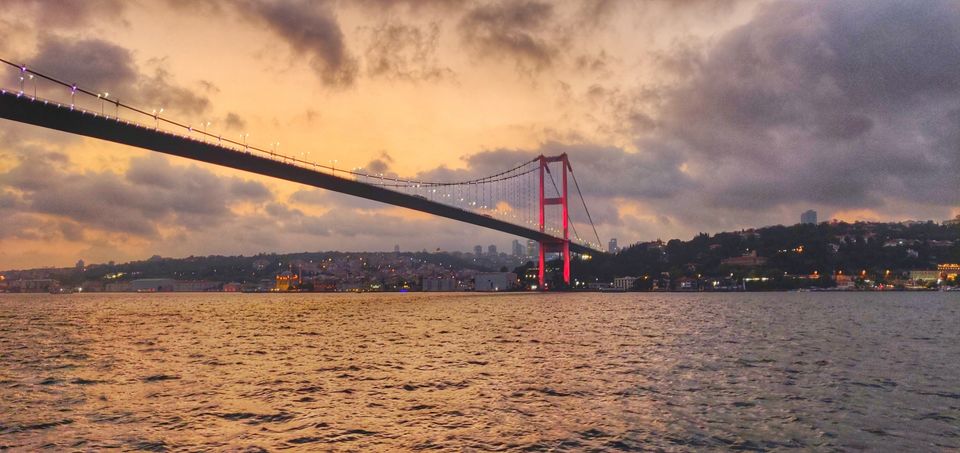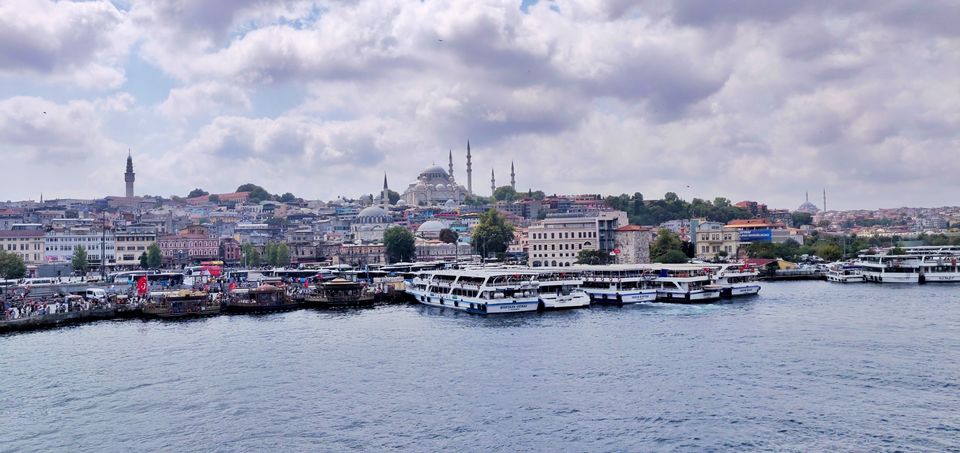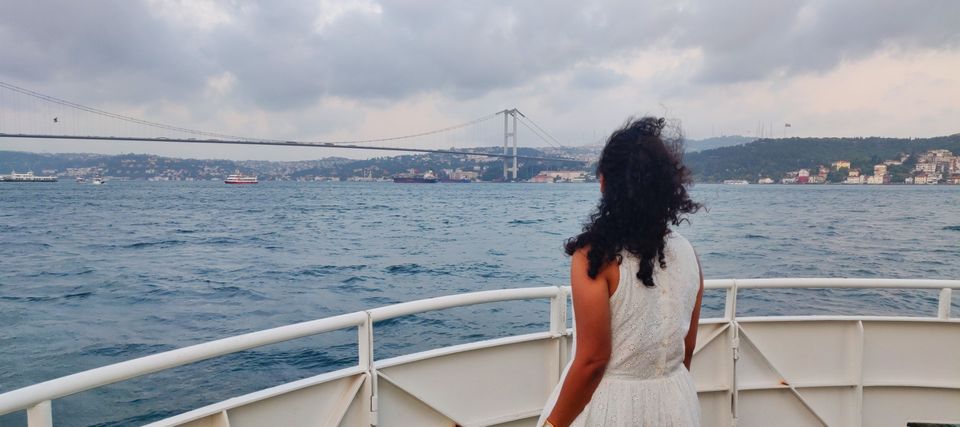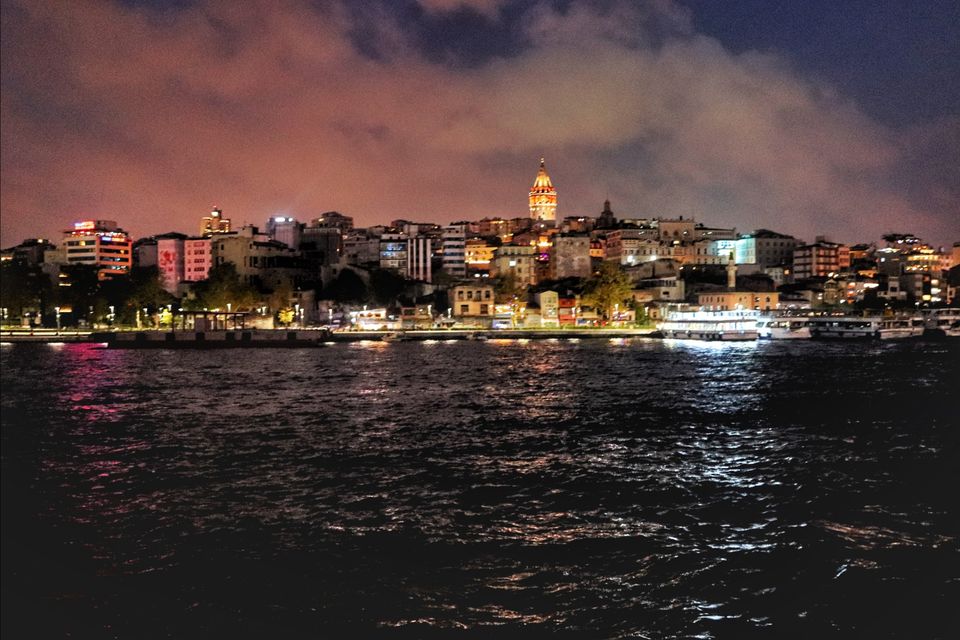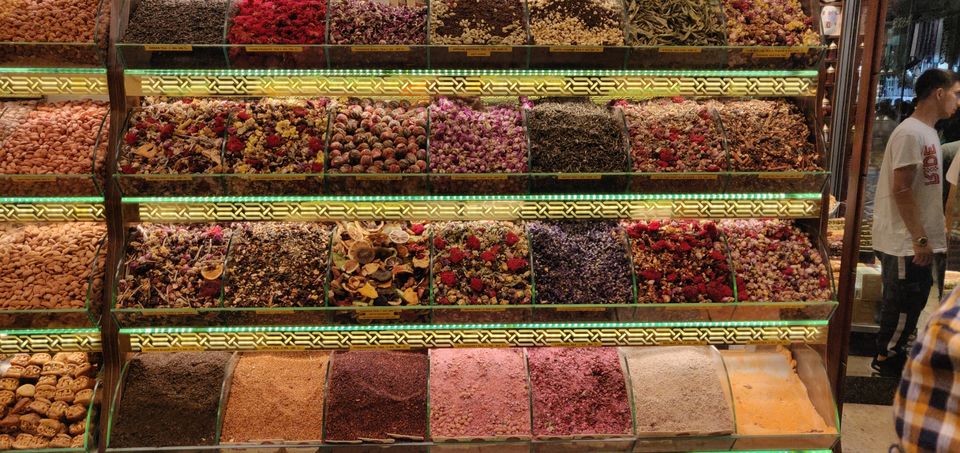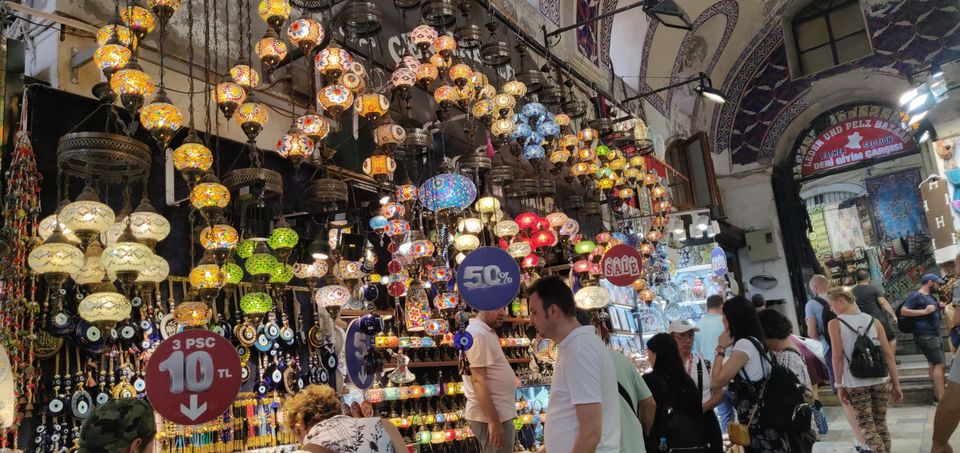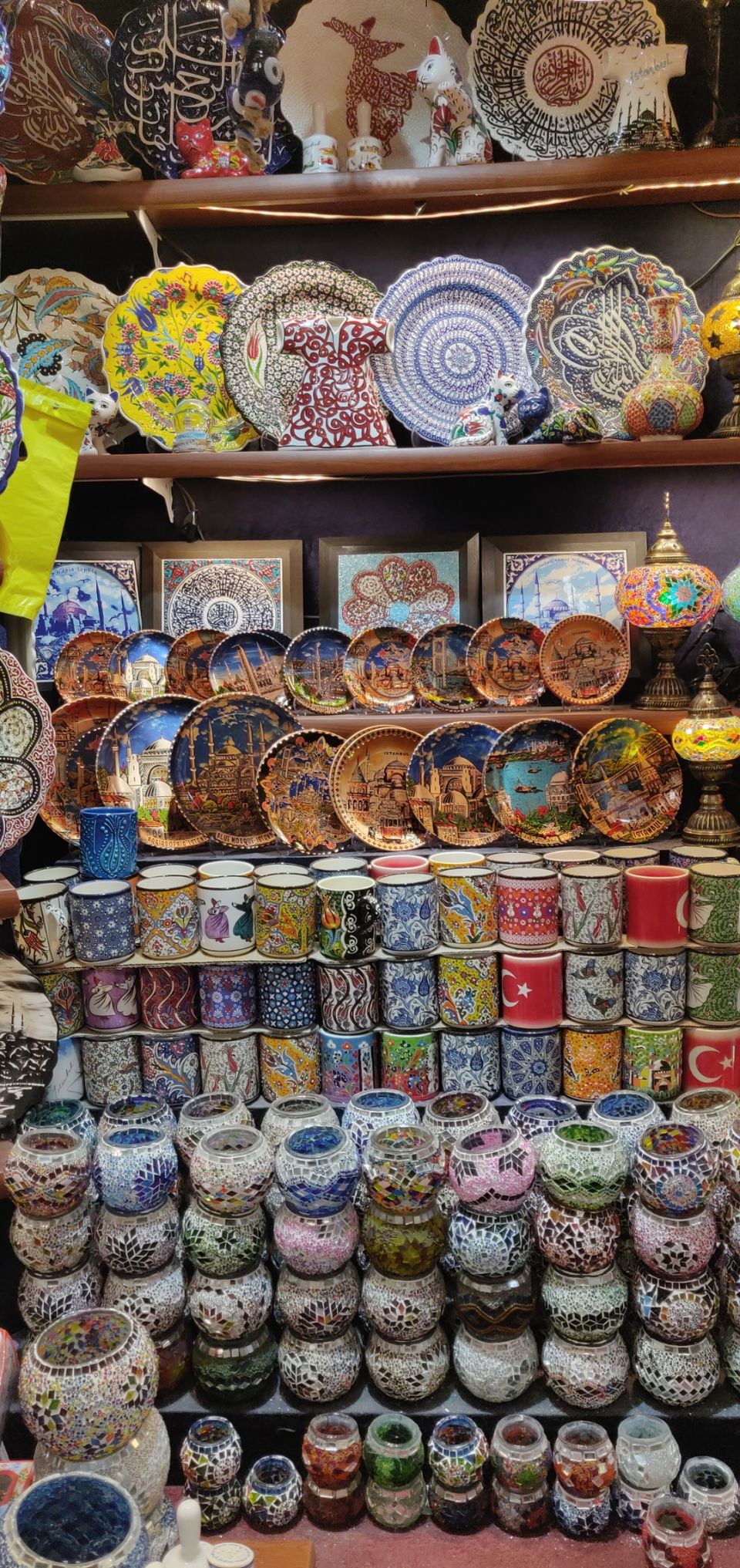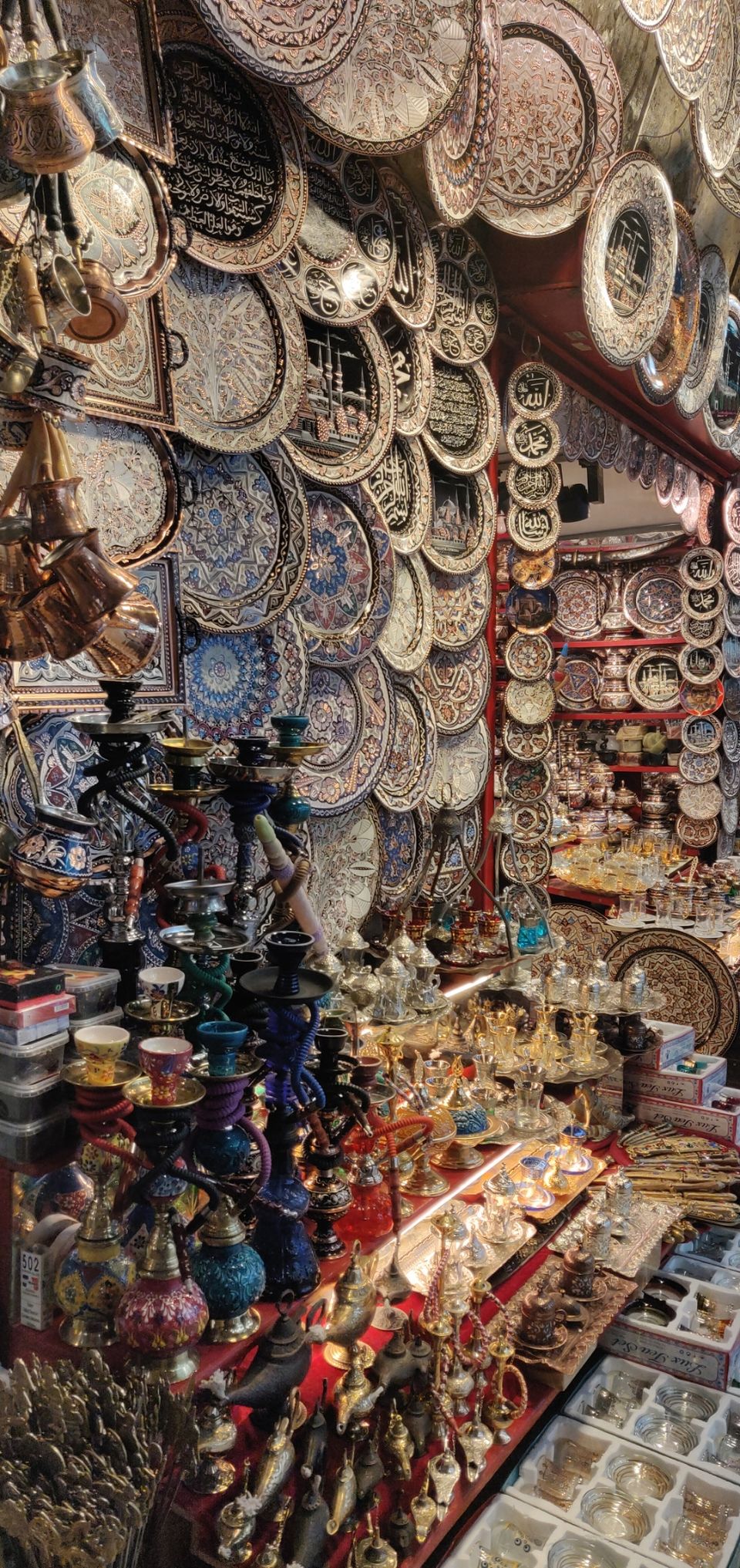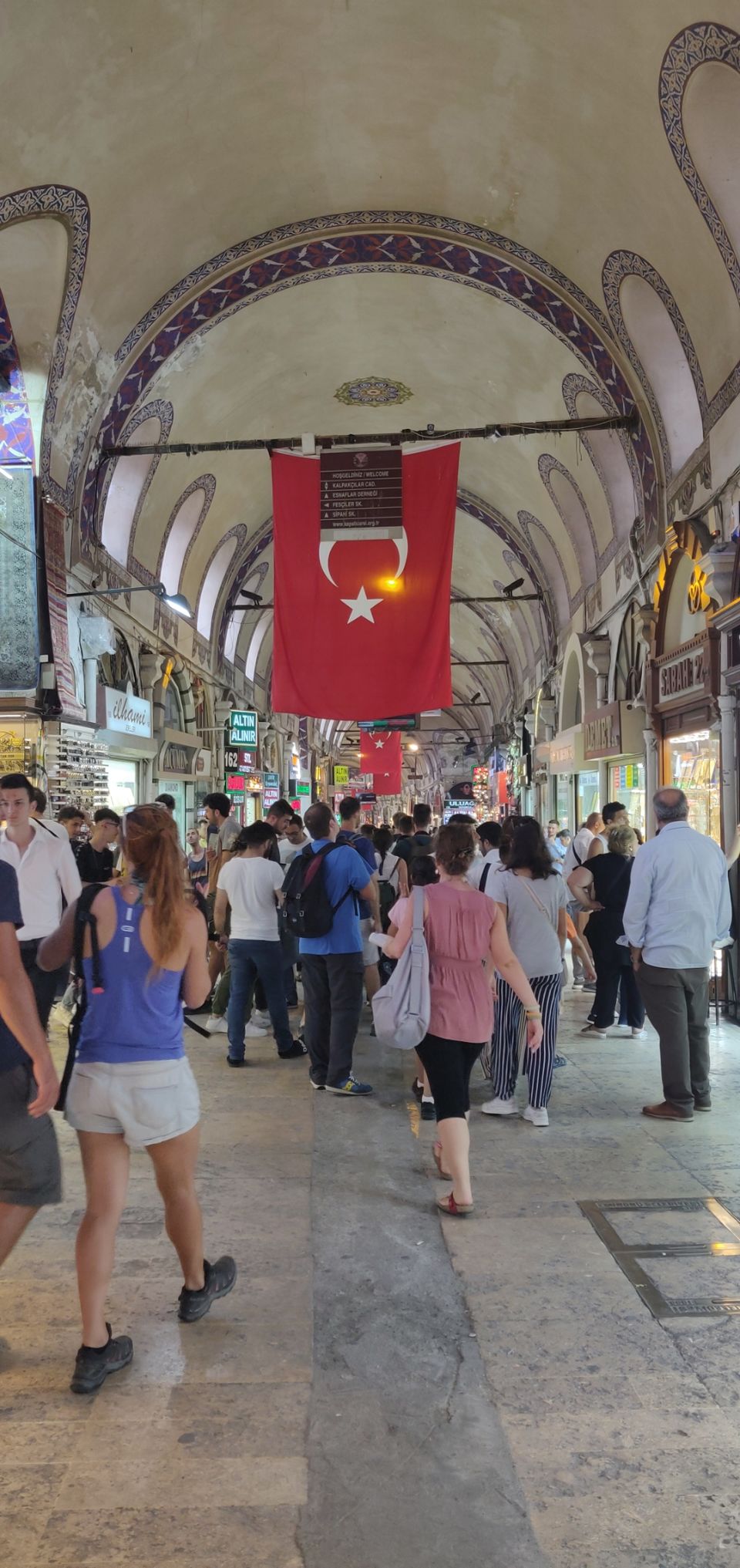 Büyükada, one of the Princes' Island & Spice Bazaar
A 2 hour sail at a mere 5 TL per person through the sea of Marmara takes you to the largest of the nine Princes' Islands, Büyükada. It is dotted with historic Victorian style villas nestled among pine trees. No motorised vehicles are allowed on this island and your only way of transport is Horse carriages and bicycles. You can rent a bicycle for as low as 20 TL or opt for horse carriage tours through the island. Immerse yourself in magnificent views of turquoise waters, visit the churches or take a dip in the beaches..there's an endless list of things you can do. You can take an evening ferry back to Istanbul. After reaching Istanbul, we headed to the spice bazaar and purchased authentic Turkish teas to carry back home. While walking along, we discovered Hakki Zade Hafiz Mustafa, a dessert place cum cafe which has numerous branches in Istanbul. I'm glad we bumped into this place, because I had one of the best desserts of my life here. I would totally, totally recommend a visit (rather, multiple visits) here!
We ended the day with a visit to the Suleymaniye mosque. It sits atop one of the seven hills in Istanbul and gives mind-blowing views of the city. Although, it's not the biggest Ottoman mosques, it's certainly the grandest.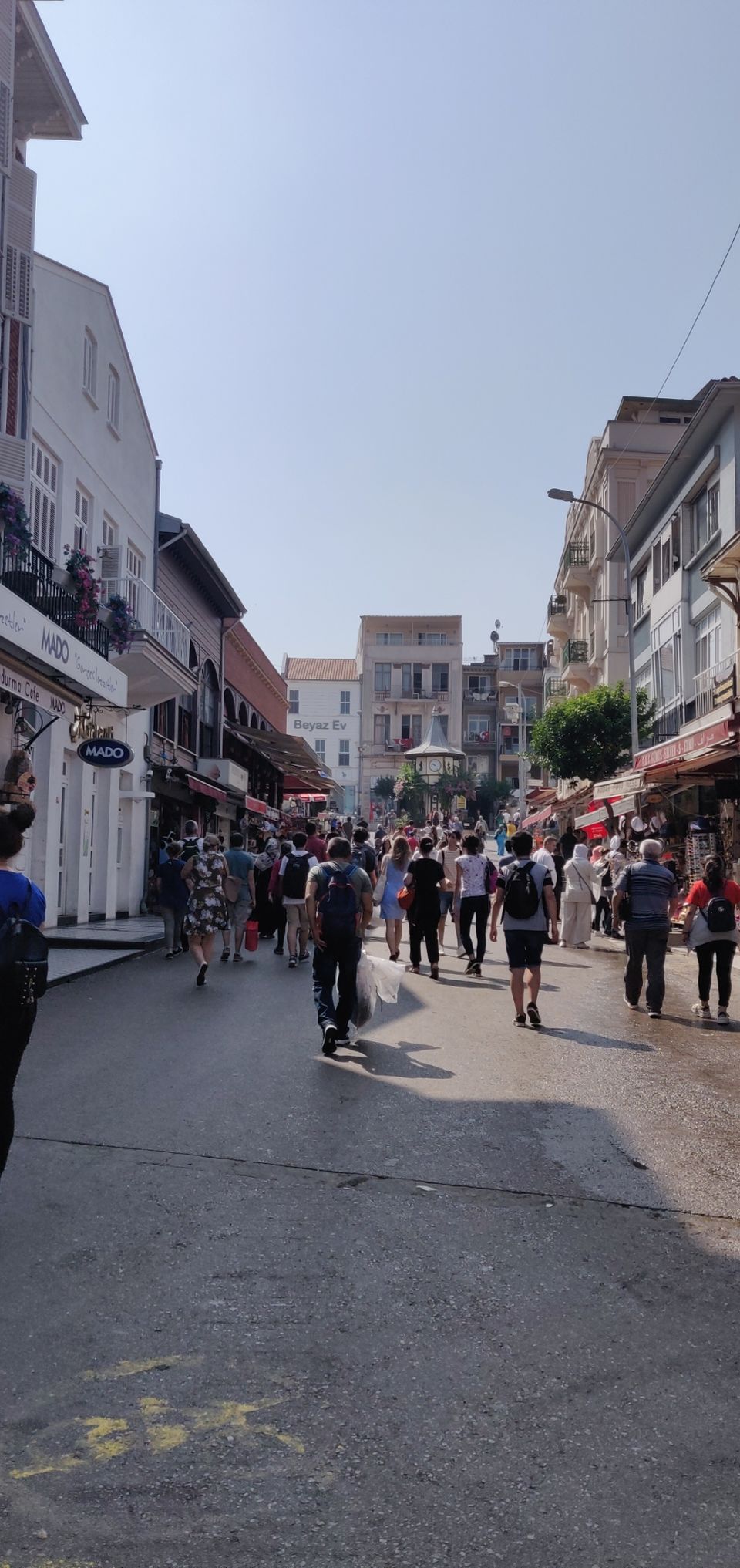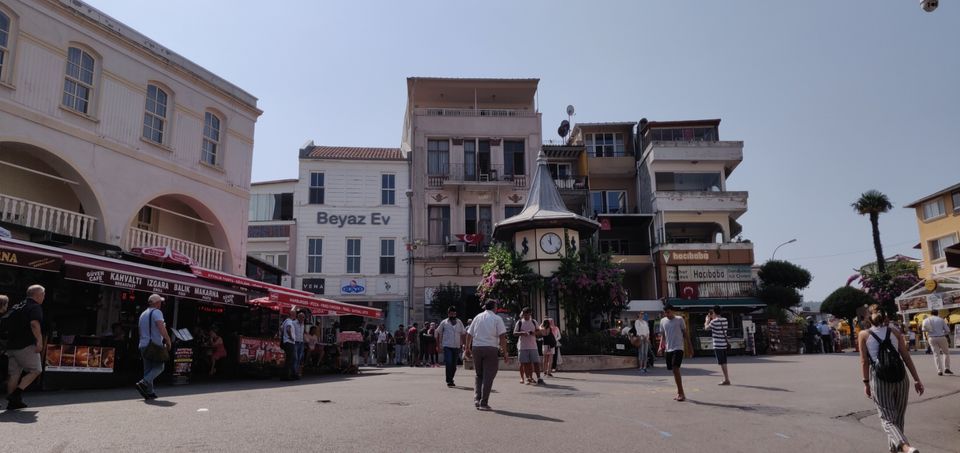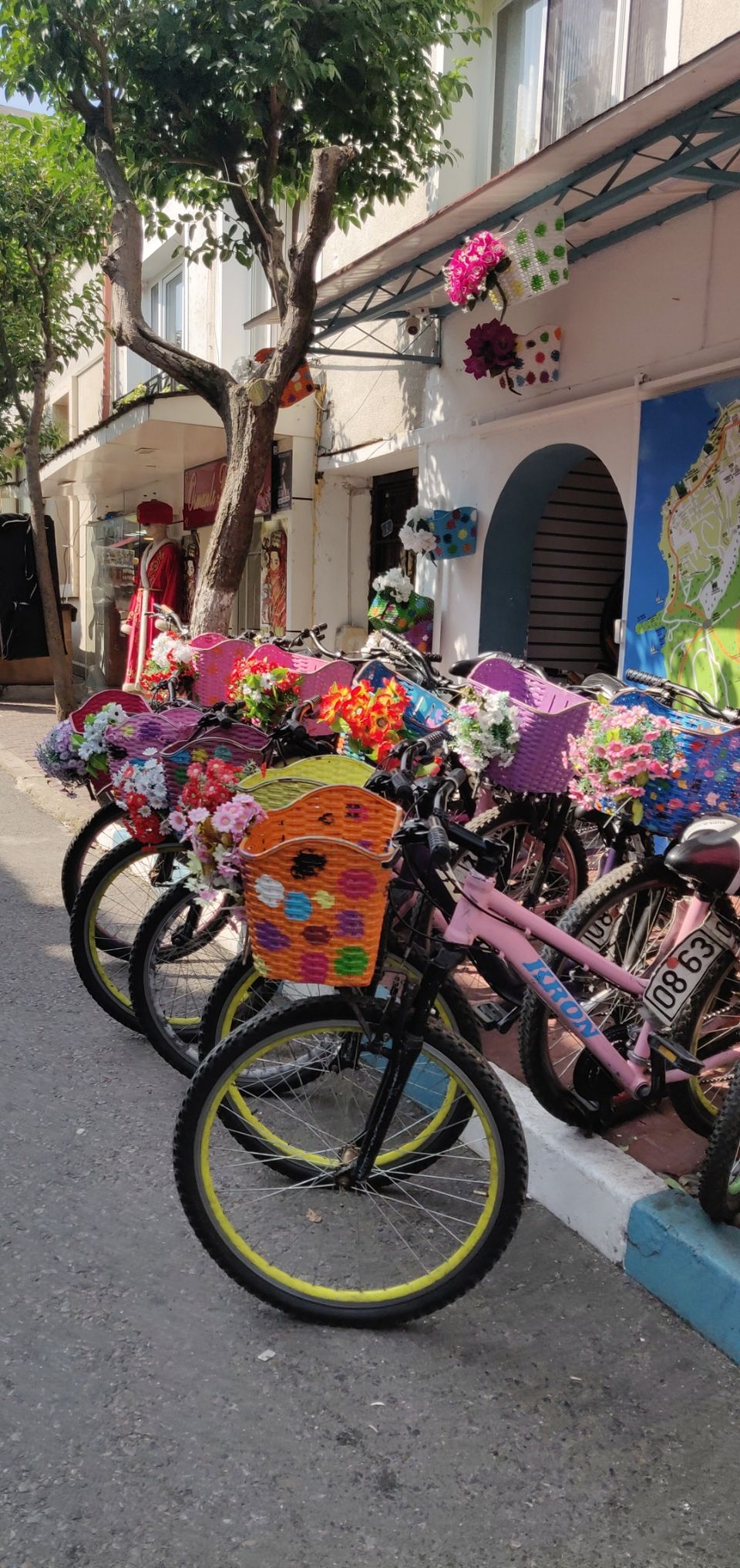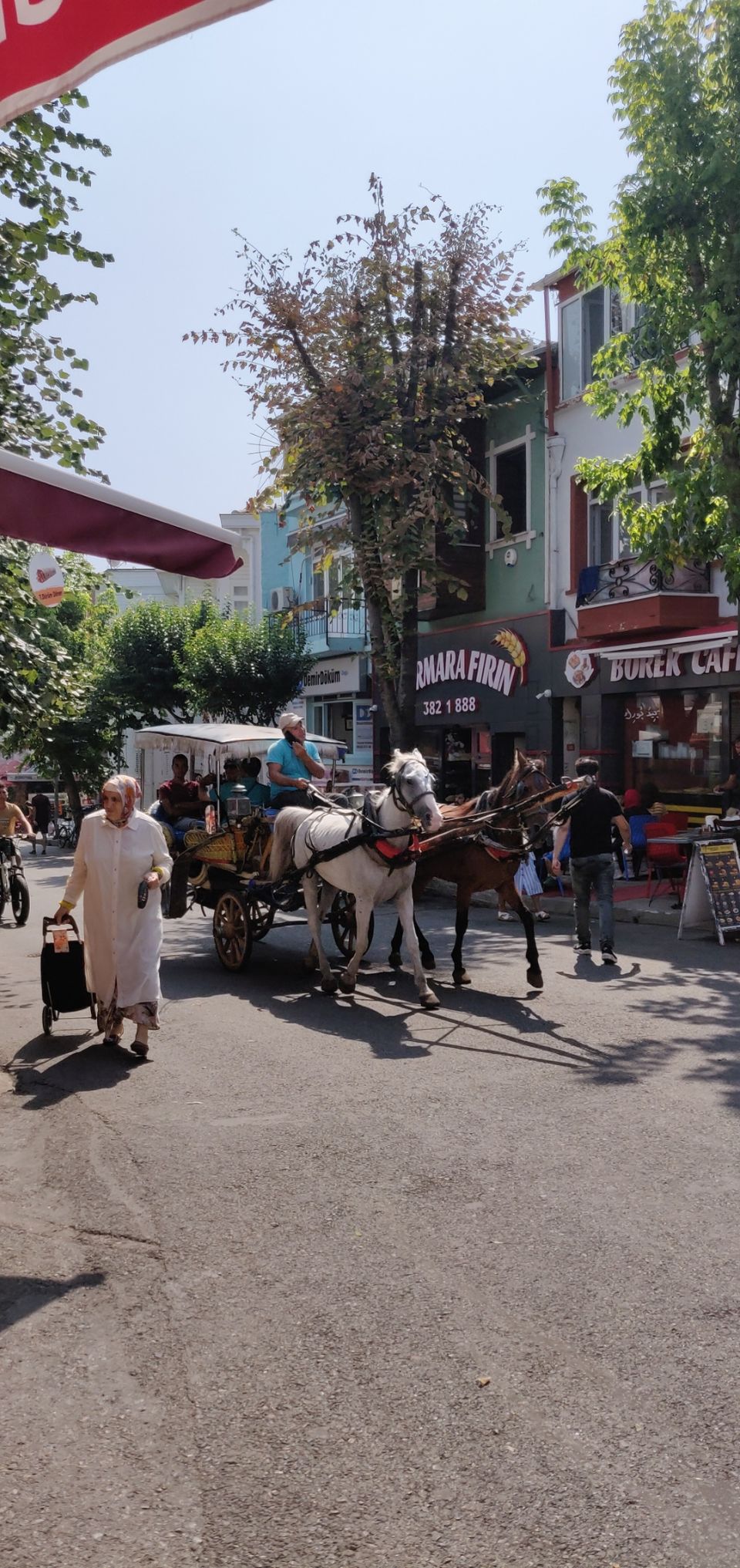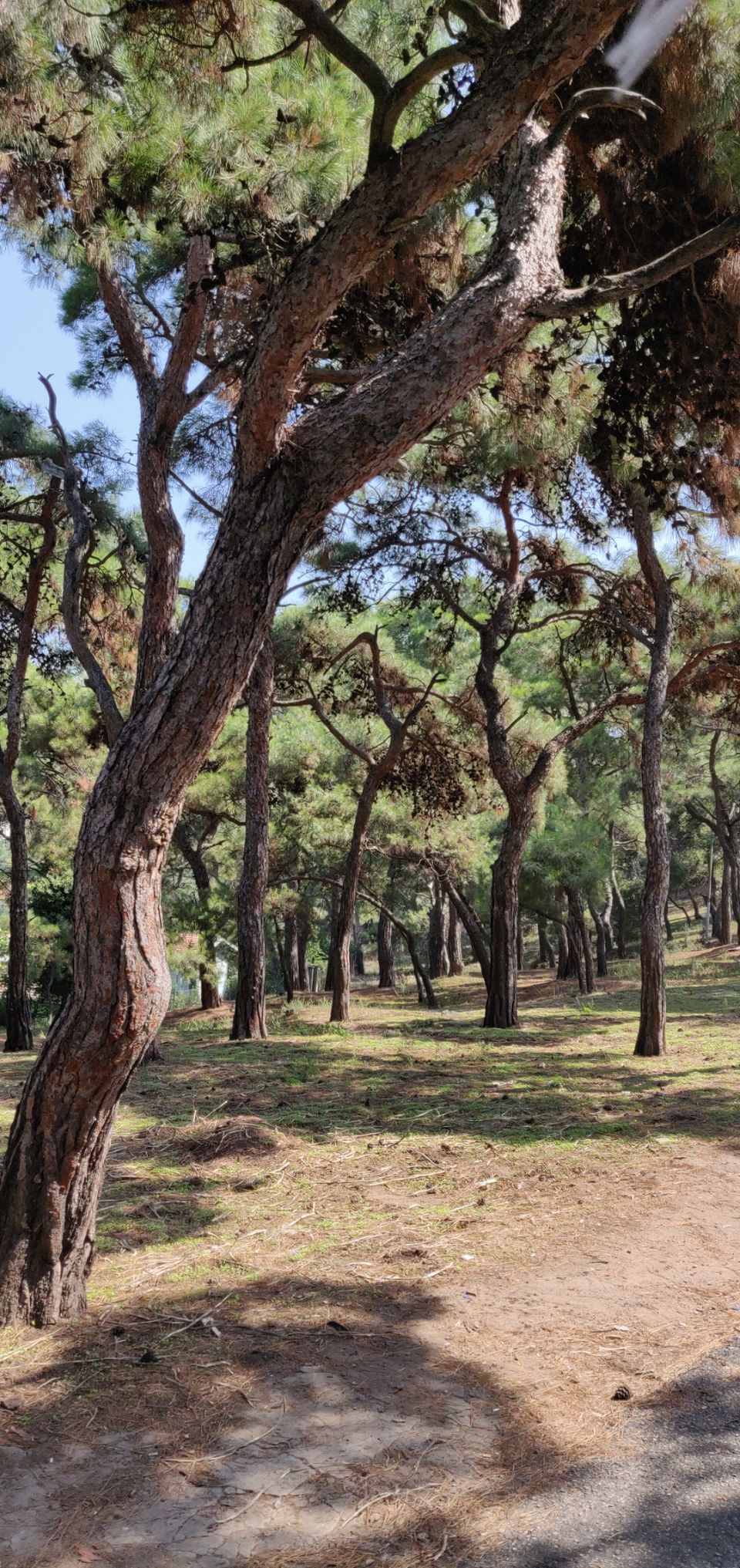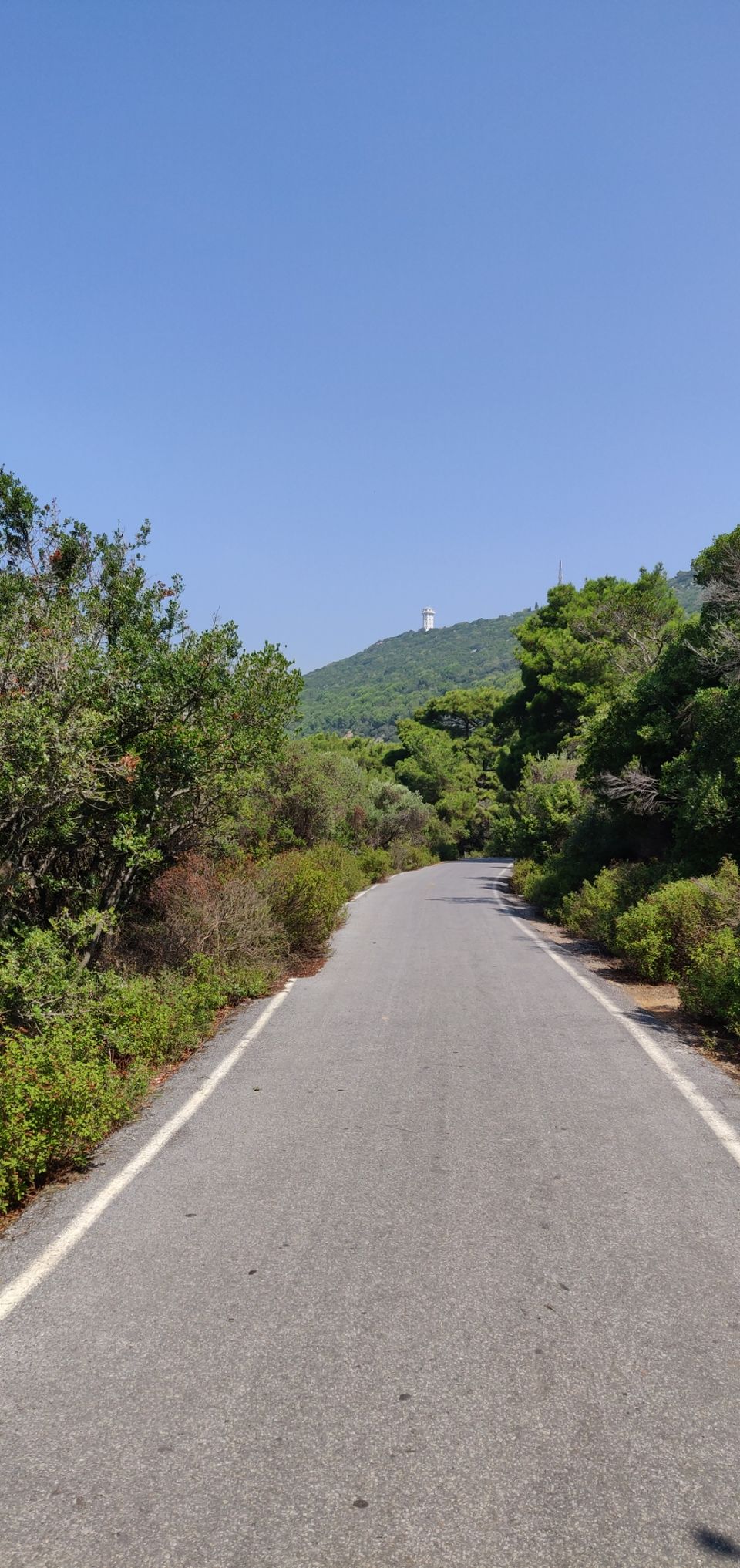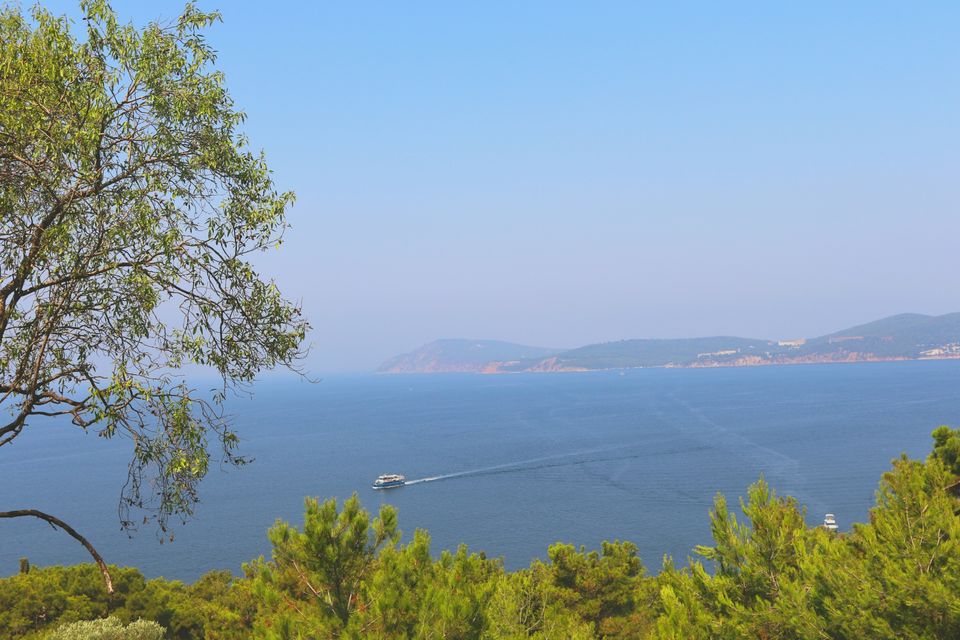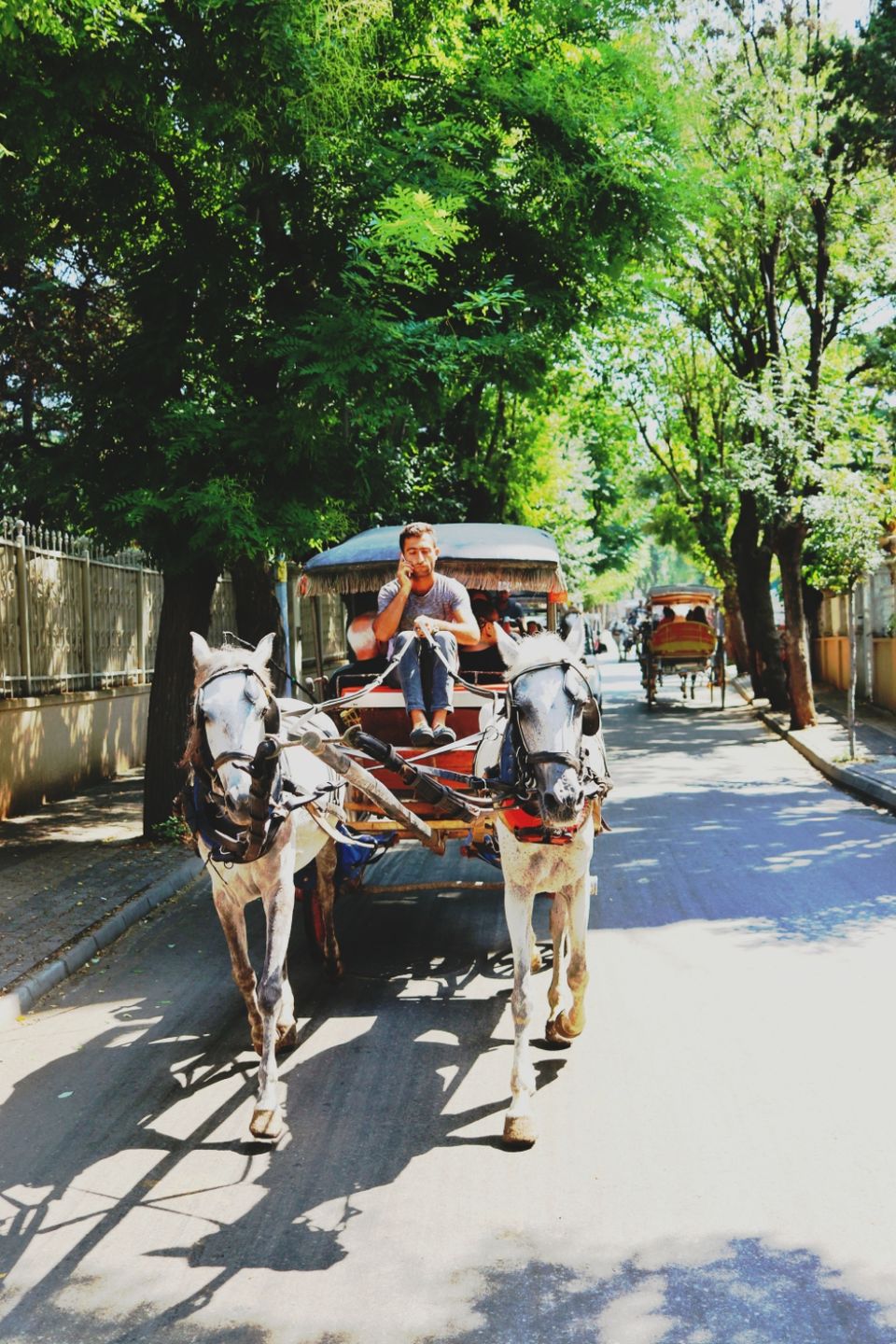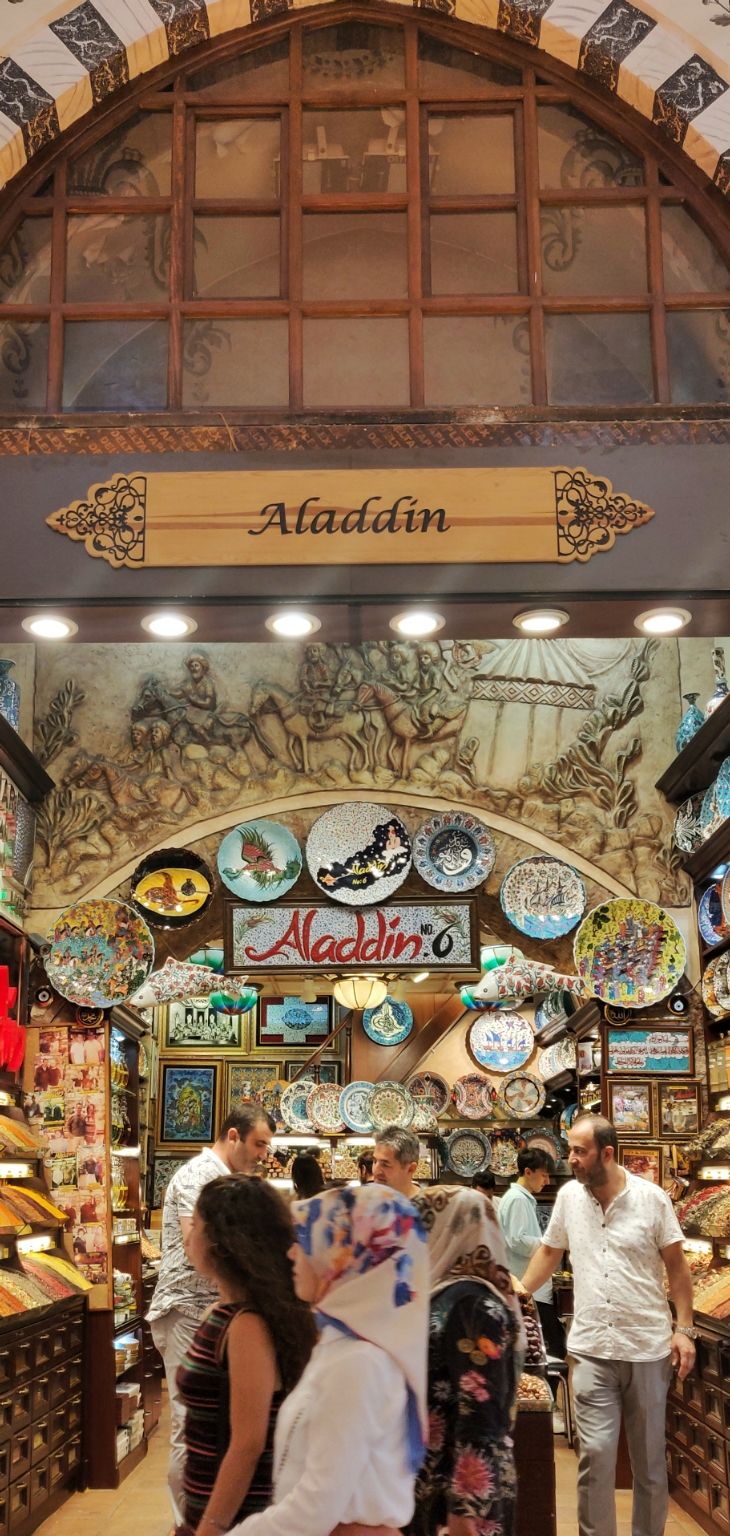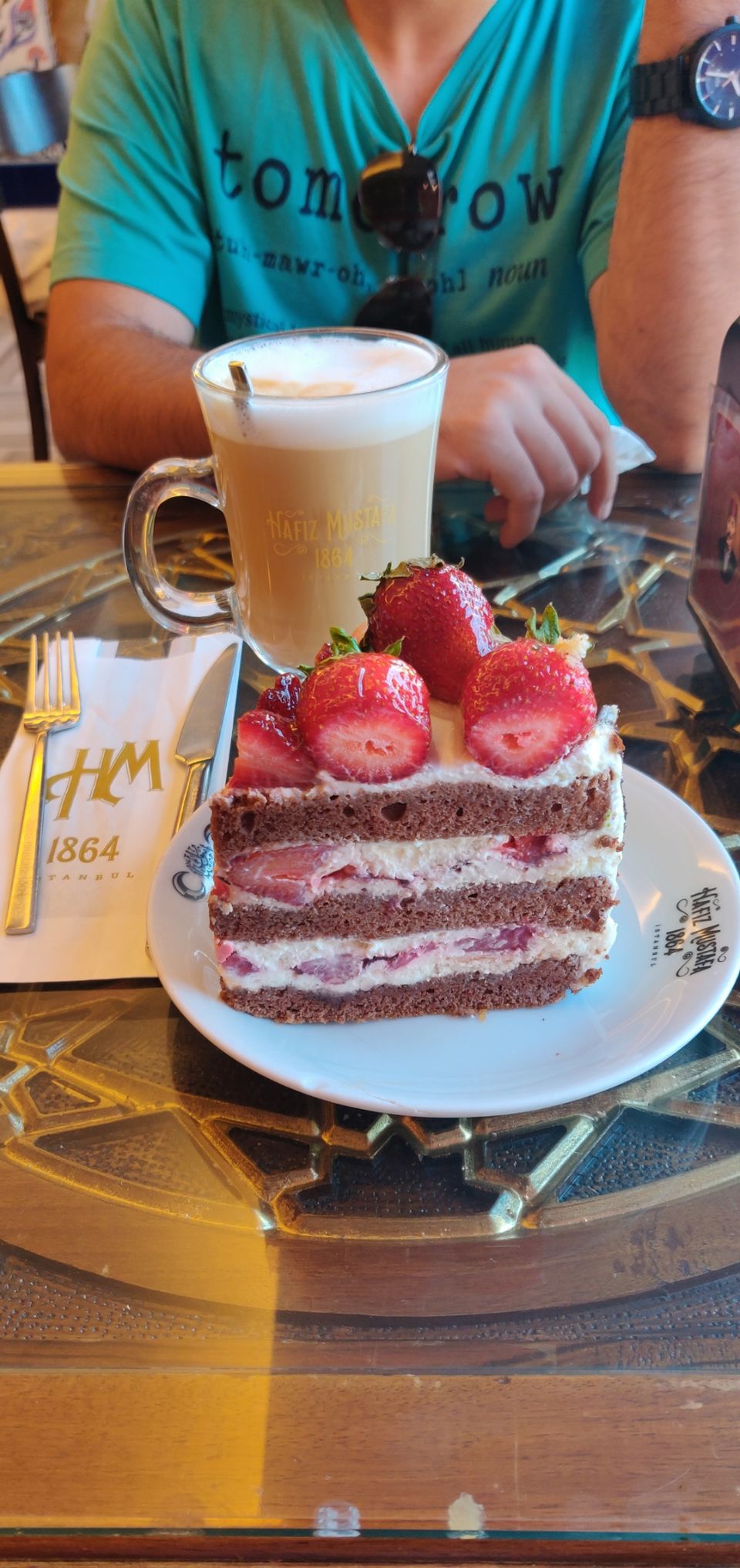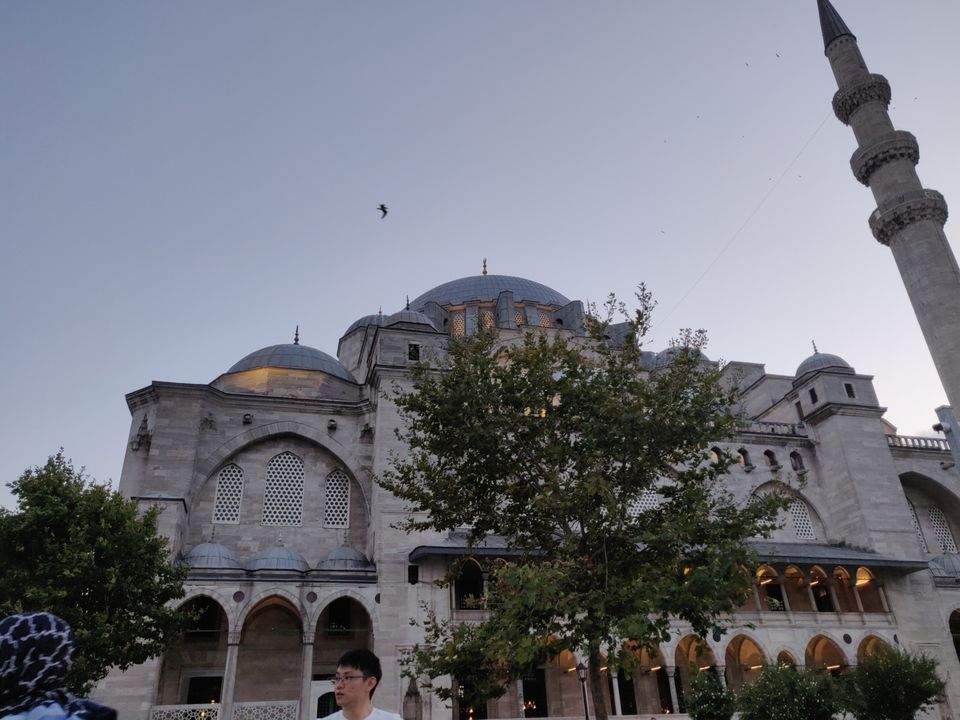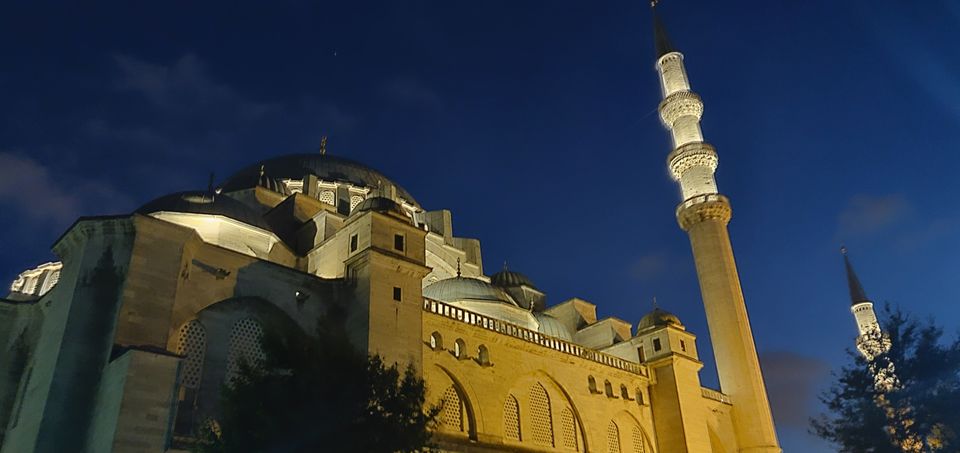 Galata tower & Istiklal Street
Sigh, the last day of our trip was here and we were surrounded by the trip-ending gloom already! We decided to pay a visit to the Galata tower first thing in the morning. As it was our last day, we wanted to have that last dish of Gozleme for breakfast and decided to land in one of the many cafes that are lined along the Galata street. Later, we visited the Istiklal street for its shopping avenues and shopped to our heart's content. But, before taking the cab to Istanbul airport for our flight back, we had to stop by at Hakki Zade Hafiz Mustafa one last time, to try it's pistachio rice pudding which was again, beyond delicious and transported me to food heaven! Why not end the trip on a sweet note, aye?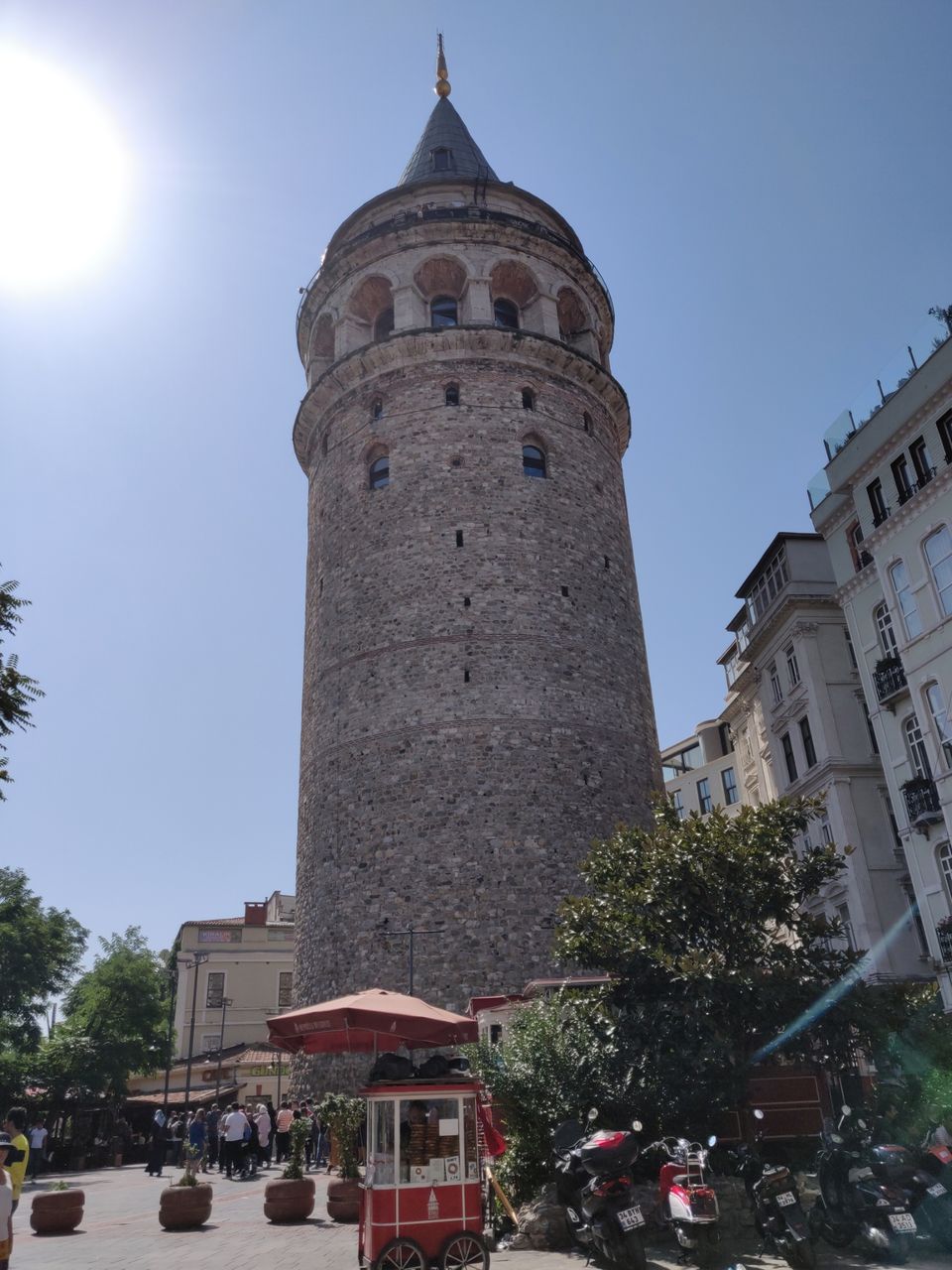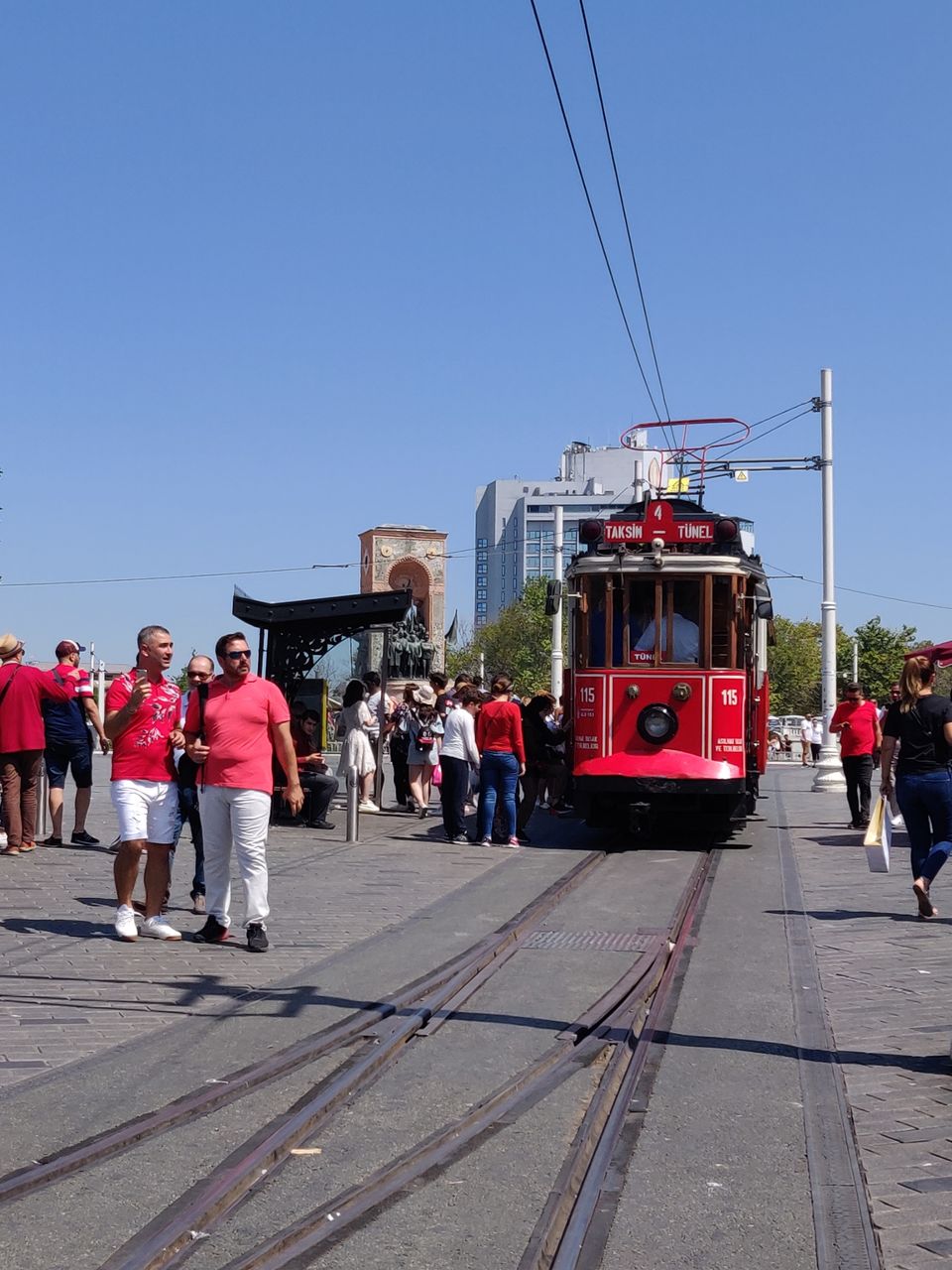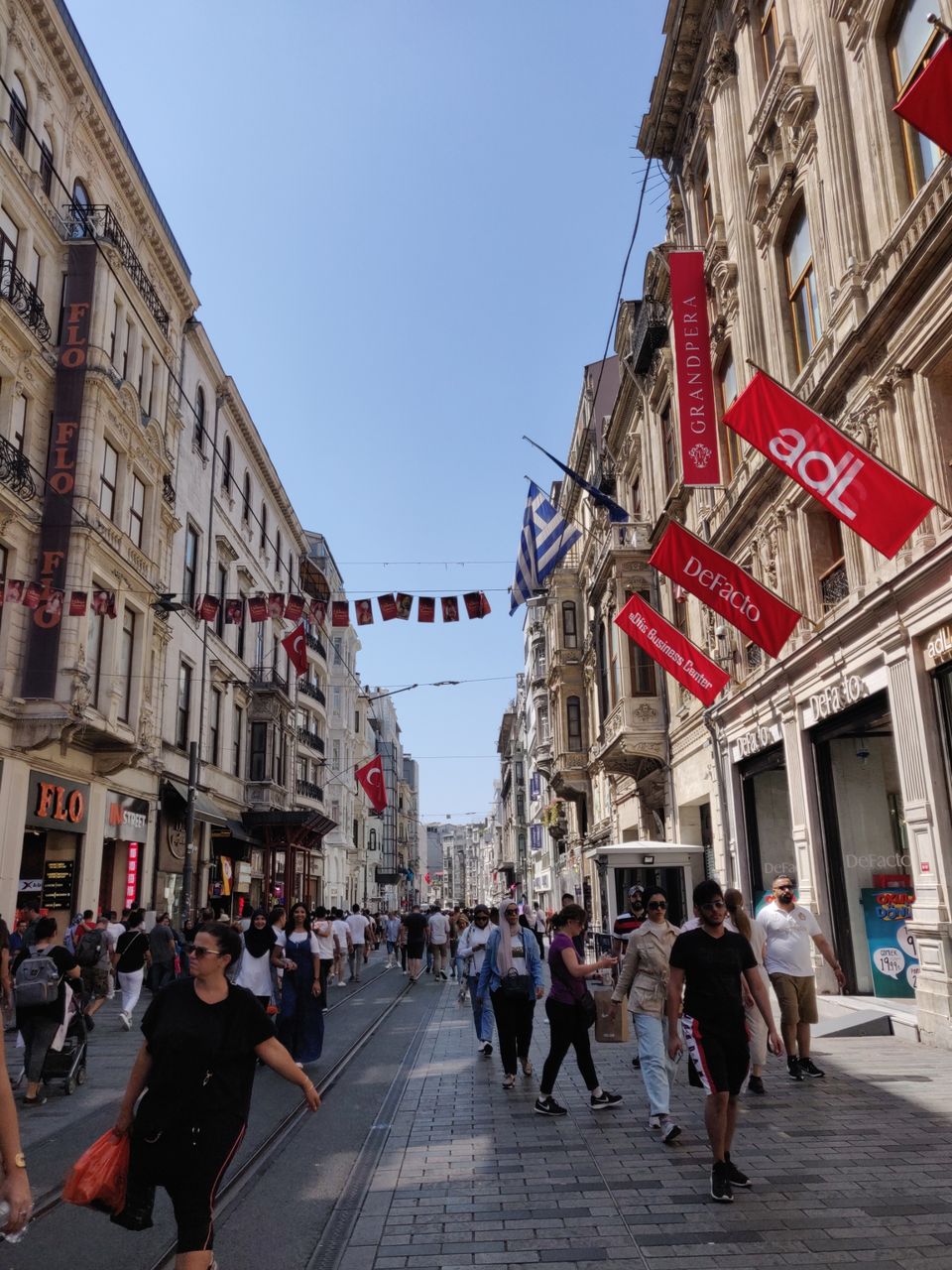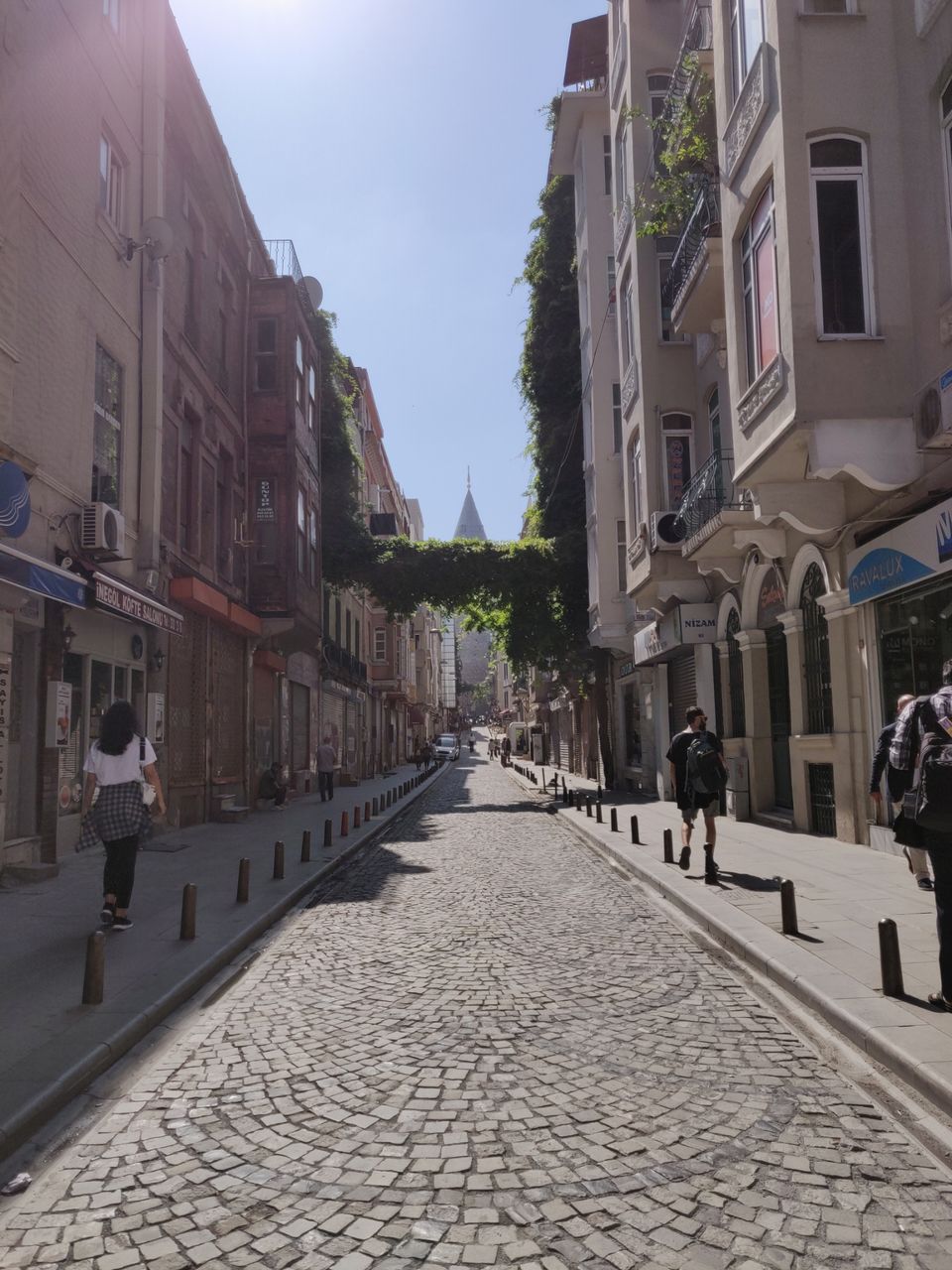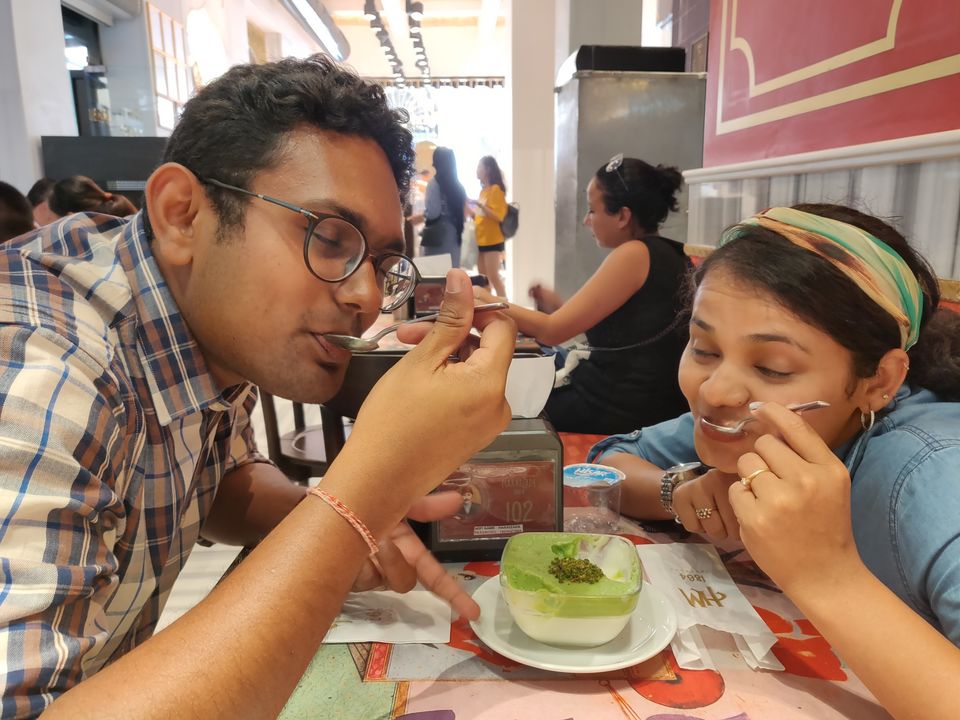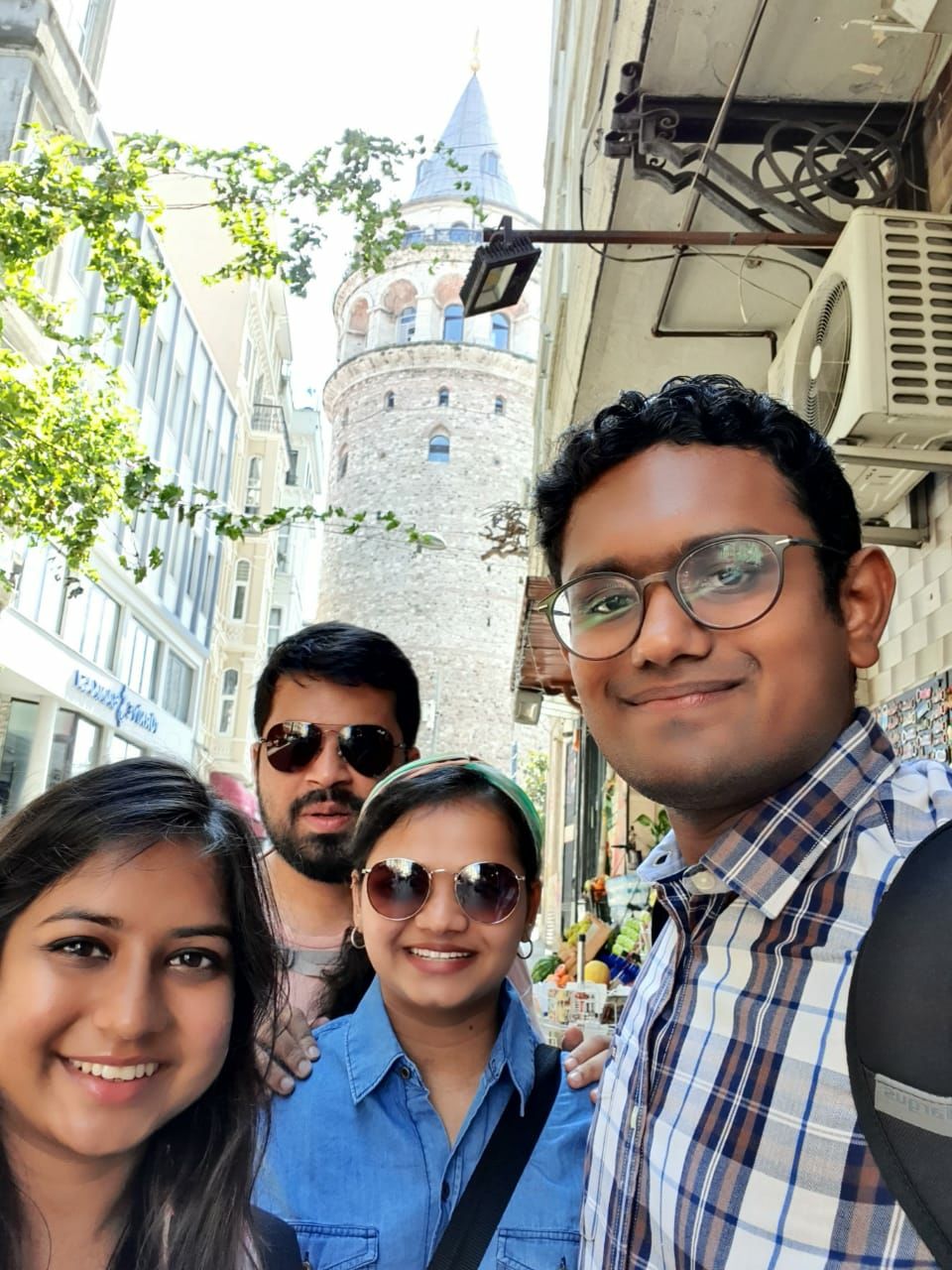 Thus, the trip of our dreams came to an end and we realized that as a country, Turkey has more sights to see than just about any other country in the world. The vibrant and culturally rich- Instanbul, a place right out of fairy tales- Capadoccia and one of the most stunning strips of coastline in the world, the southern Mediterranean coast of Antalya...what are you waiting for? Go ahead and plan your trip to this gorgeous, gorgeous piece of land already!