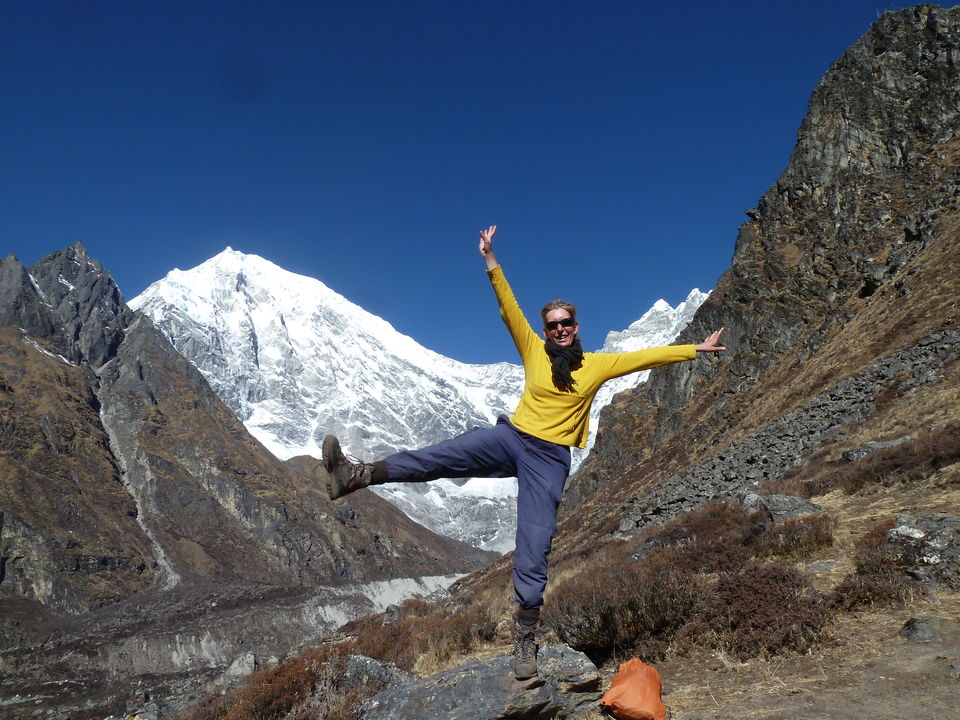 Tamang Heritage & langtang village 12  days trek .
Tamang heritage & langtang trek is located in north of Kathmandu, this regions is very popular trekking route , who has a short vacations in Nepal this trek is really perfect for them . Tamang Heritage area is newly opened trekking route in Lang tang region. This trail was developed by the Tourism for Rural Poverty Alleviation Program under United Nations Development Project (UNDP). In this region apromaxly 40 -50 thousand people are used to live from Several hundred years ago . Tamang heritage & langtang trek is very reach from culture and nature, religions . Tamang Heritage and Langtang region is inhabited by Tamang & Tibetan people . This trek begins from Kathmandu to sybrubesi by drive and then basically start to walk from sybrubesi . The trail passes traditional Tamang villages (Goljung, Gatlang, tatopani , Nagthal, thuman ,Briddim , lama hotel , lantang Gaoun , kyanjing gumpa , where life, culture, Hot bath in the healing hot-water spring at Tatopani , and crafts have remained not so much changed beginning of the established .their mean income source is tourism , animal trade , farming , made handy craft by them and seals to the nearest market , Tamang and Tibetan people are very happy to serve anytime their warm traditional hospitality. This treks share you at the same time very good cultural experience and their dally lifestyle. This trekking also offers beautiful mountain views of Langtang himal range , ganchempu himal , ganjala peak nyakhang ,ganesh himal range. also wilderness walking experience through beautiful landscapes of alpine terrain and rhododendrons & BAMBOO forests. Best time to do this trek is February - march - April - May and September - October - November of the year . This trek give you unforgettable experience in your life time in Nepal
itinerary    
Day 01 . Arrive to kathmandu 1300m.
We will peak you up from trivuwan International (TIA) airport and drop your hotel. then you will have a short briefing about flowing programs.
Day 02. Drive: Ktm- Dhunche - Syabrubensi (1470m). 5 -6 hour. Total 160 kilomiters.
Today we will start early morning drive from Kathmandu to sybribesi , about 5 to 6 hours. Along the way you will cross the scenic views and numbers of villages and local market.
Day 03. Gatlang (2320m).4 -5 hour
After breakfast we ascending all the way to top of valley about 2-3 hour , then 1 and half hour gradual flat walk to gutlang . Gatlang is one of the beautiful tamang village, it is one of th biggest village in this area. Apromaxly more than 500 people use to live from long time . overnight at tea house.
Day 04. Tatopani (2607m).4 -5hour
Today we will start to walk after beak fast. first part of our walking is descending all the way to Chilime hydropower about 2 hour, then we will cross the suspension bridge , continue trek gradual up to totopani another 3 hour . along the way we will walk through the tamang villages fertile fields , domestic animals many more. After reach in Tato pani you we will have a good shower in natural hot water to relief your buddy after long walk .
Day 05.tato pani to Nagthali Dada (3165m) 3 hour.
Today is very short walk day , Frist in morning we will walk into the forest about 1 hour until Sherpa village then we will start to ascending to nagthali another 2 hour, from this point will have a beautiful view of Ganesh himal range and lantang himala range also you can see the many mountain peaks near the Tibetan border .
Day 6 Thuman (2338m) 2 -3 hour.
Today also short walk day, this morning if weather is clear we will have stunning view of Ganesh Himal and lagtang range and many peaks. then in afternoon you will trek descending to thuman about 3hours. Thuman village is another beautiful village in Tamang heritage trail trek. You may see the shaman dance and Tamang cultures dance, if are in occasion here. In this village also more than 200 tamang people use live from long time. En evening you may interested to explore around village & their dally life style.
Day 07. Trek to Briddhim (2229m.)5 -6 hours.
Today also we will have a good view of mount lantang lirung with sunrise in the morning from thuman village ,after we will start to trek gradual down next village ,then steeply descending and cross the bridge other side of valley of Timure. Timure is very close border of Nepal and Tibet . if you interested just walk to another half hour then easily you can reach in the border between two country Nepal and Tibet . After short visit in Tibet border we will back to same at Timure, then in afternoon after lunch we will start trek up to Bridem another 3 hour. Bridem village is beautiful and very reach from culture. you can visit the monastery and around village.
Day 8, trek to lama Hotel (Alt 2426m.) 5 -6 hrs
After breakfast we will slowly ascending to lama hotel via Sherpa goun . in Sherpa gauon we will have a lunch break then gradual descending lama hotel. Along the way we will have a beautiful view of sybru village as well snowcap s many more ,we will walk into the think forest of bamboo, rhododendron, Himalayan alpine many more.
Day 9 Trek to New langtang goun (3400m.)4 -5 hour
First part of our Trek today , we will ascending to into the forest about 2 hour until Godatabela , along the way we will see many spices of birds , longer monkey , cattle many other wild animal . if weather is stay clear until we reach Godatabela will have a good view of langtang lerung and naya khang peak , we will leave green forest behind of us and we will reach at more high above 3000meters. You will reach in different landscape and less tree more mountain scenery , from Ghodatabela after 2 hour walk we will reach to langtang gaun ,
Day 10 trek to kaynjing gumba (3720m) 3 hour.
Today our trek is very short, but we will be in high place so we will walk slowly. The trail lead gradual ascending to kynjing gumpa after walk 2 -3 hours . Along the way we will have a great view gamchhepu himal ganjala peak , langtang luring glacier , kyanging ri peak , many more. kyanging is one of the beautiful place, many tea houses comfort accommodation , good view of mountains good food, as your choice, Warm dining hall, easily you can spend your rest of the afternoon and evening. Also this place is your last stop going up on this trek.
Day 11 , explore day .
after breakfast you will go 3 to 4 hour hike to kyanging ri view point (4800M. ) from here you will have a stunning view of many peaks include yala peak of this reign , also you can see the langtang luring glacier ,after exploring the view we will and down to tea house and rest of afternoon you spend walking around the village , take a lunch , we stay here tonight too.
Day 12 trek back to lama hotel(2445m) 6-7 hour
Today we start to trek back down to lama hotel , same way that we went up most of the we will descending about 6-7 hour via Langtang vivllage.
Day 13 trek back to sybrubesi 4 -5 hour
Today we will trek back to sybrubesi where we start our trek first day, must of the day we will descending to sybrubesi about 4-5 hour and stop for walk here & spend over night at tea house.
Day 14 drive back to Kathmandu 5-6 hour .
Early morning after tea or coffee we will drive back to Kathmandu with scenic view .
Your trip will end here. We say our goodbye's and your time is free to pursue whatever you feel. Not to be apart for long, as a thank-you for taking your tour with us, we warmly extend an invite for when you return to Kathmandu – we offer you evening dinner at the Nepali chulo.
The following day, should you require, we will drop you to the airport and say our farewell.