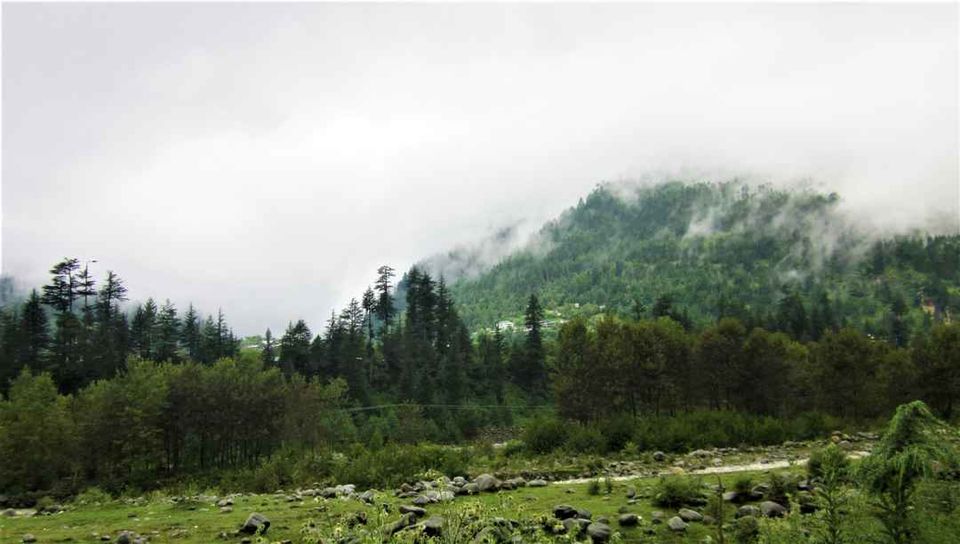 The year 2020 was one of the deadliest year for one and all across the globe. With the pandemic of COVID-19 affecting the normal lives of millions and billions of people, tourism across the world was badly affected due to travel restrictions and social distancing. With no travel, I was finding ways to satisfy my wanderlust and that is the time when I started following vlogs. Vlogs are video blogs where people share information through nicely edited video clips and usually have narration in the form of speech or a series of text descriptions. Vlogs pertaining to travel were the ones that I was attracted to and have seen a couple of them since then. Although I must say watching these have increased my wanderlust, these vlogs/videos have provided a very good insight of what to expect when traveling to these places.
Prior to watching these vlogs, though I was aware of them, it did not occur to me as an important thing that these vloggers are doing. After going through these vlogs and understanding the process involved, I now have so much respect to the work they are doing. Some vloggers are doing this as a part of their free time hobby while many others have taken this up as a full time profession. The process of travel vlogging involves regular travel to different interesting and attractive places, covering the popular and offbeat attractions, provide quite detailed and meaningful narration and most importantly capturing good quality pictures and videos. The toughest task is probably the editing so that the video looks really appealing and attracts many viewers and subscribers.
Below are 12 travel vlogs and videos that I feel have done an excellent job in providing details of the place of interest and can be considered a good guide when planning a trip to these places.
Spiti Valley, India
If you are looking for some less crowded and less explored regions of the Himalayas in India, Spiti Valley is probably the correct choice. Situated about 180kms north of Manali in the Indian state of Himachal Pradesh, Spiti valley is a cold desert mountainous region with some beautiful valleys and landscapes and scenic Himalayan lakes. In the recent times, Spiti has become a hot favorite destination for bike riders and adventure lovers so as to escape the crowd of the immensely popular Ladakh. Though less popular than Ladakh, Spiti is no less in terms of the beautiful nature.
The journey to Spiti covered as a road trip usually starts from either Manali or Shimla. While going from Manali, one has to cross the popular mountain pass of Rohtang La and many other high altitude passes such as Kumzun Pass to reach Spiti's headquarters Kaza. From Kaza, one can visit the beautiful Pin Valley National Park, Key Monastery [the most popular landmark in Spiti], the World's Highest Post office at Hikkim (situated at 14400 feet and post office has been functioning since 1983) and World's highest restaurant in Komic village. One can also visit the large Buddha statue at Langza village overlooking the valley.
On return, one can plan to visit Chandratal Lake (a popular tourist destination among trekkers and a beautiful lake) and Chicham bridge (the highest bridge in Asia at a height of about 13600 feet connecting the villages of Chicham and Kibber and from the bridge, one can see a 1000 feet deep gorge that is really breathtaking)
Indian vlogger 'DesiGirlTraveler' has traveled to Spiti from Manali covering its popular attractions with a group arranged through WanderOn [WanderOn is a travel community providing travel packages]. This six part series is a well made vlog with good details.
Video Details:
Duration: Average about 13 minutes each
Narration: English and Hindi audio
Video Quality: 144p to 1080p [HD] available
Greymouth to Auckland, New Zealand
With many of the country's popular tourist places filled with nature, New Zealand, an island country close to Australia in the South Pacific Ocean, attracts many tourists with International travelers mainly from Australia, UK and China. The country has two main islands called the North Island and South Island. The islands are separated by Cook's Strait that connects Tasman Sea to the South Pacific Ocean. The capital city of Wellington is at the souhtern most tip of the North Island and its most populous city, Auckland lies in the northwest region of the North Island.
The popular sites in New Zealand include Milford Sound [part of FiordLand National Park, a fiord in the south island known for its waterfalls, rainforests and Mitre Peak], Mount Cook [New Zealand's highest peak], Rotorua Geothermal Area [known for its hot springs and geysers], Hobbiton [a small town in the North Island featuring the movie sets of the town of Hobbits in movies like The Lord of the Rings and The Hobbit], Kaikoura [known for giant sperm whale watching], Bay of Islands [a collection of about 140 islands next to the north island] and many more.
Many tourists also like to spend time in the country's popular cities like Greymouth, Christchurch, Auckland, Queenstown and its capital Wellington.
One of the other reason that New Zealand is popular is for some of its very scenic train journeys [although there are very limited train routes here] and the most famous among them is the TranzAlpine train that runs between Greymouth and Christchurh [in the South Island] running in around 5 hrs for a total distance of 223kms. The train run by the tourism division of KiwiRail called the "Great Journeys of New Zealand" has coaches with panoramic windows, cafe, open observatory deck. The train runs through the Southern Alps and some of the scenic places that the train passes through are Springfield, Arthur's pass, Waimakariri River gorge and Staircase viaduct.
Great Journeys of New Zealand also has other scenic train services such as the Coastal Pacific [running between Christchurch to Picton via Kaikoura along the coast of the Pacific] and the Northern Explorer [running between Wellington and Auckland with the journey through Tongariro National Park, with views of spectacular volcanic mountains such as Mount Ruapehu]. There is also an Interislander luxurios ferry from 'Great Journeys of New Zealand' that travelers can use to reach Wellington from Picton via Cook's strait [Picton is a small town at the north most tip of the south island].
Below video series 'New Zealand by Rail' by 'doc7austin' covers all the four journeys [three train and the ferry ride] from South Island to North Island [Greymouth to Auckland] showcasing the scenic beauty enroute. There is no audio narration but has very detailed text descriptions throughout the video. There is one video per journey.
Video Details:
Duration: Each video is about 35 minutes [Ferry ride video is about 21 minutes]
Video Quality: 144p to 1080p [HD] available
Mt Titlis, Switzerland
One of Europe's top tourist attraction is the country of Switzerland. Known for the beautiful snow capped mountains [Swiss Alps] and the vast green pastures or grasslands, chocolates and trains, Switzerland is a destination that probably has been on the travel list of many, especially Indians. Some of the popular Indian movies have also been shot here and the top of the list being the iconic DDLJ and there is even a movie poster of DDLJ on top of the country's largest ski and snowboard destinations, Mt Titlis.
The amazingly beautiful and breathtaking mountain peak of Mt Titlis is usually covered in snow all year round and can be easily reached from an hour scenic train journey from Lucerne to Engelberg.
[In fact, any train journey in Switzerland is so scenic that they are competitors to each other and the famous ones are the Bernina Express and Glacier Express both passing through the Albula Railway, an UNESCO World Heritage site that passes through the awe-insiring Landwasser viaducts and the 5.8km long Albula Tunnel]
From Engelberg, one can take a gondola (two level cable car ride) to reach the top of Mt Titlis. On top, there is the Titlis viewing platform (at 10000 feet) from which one can view the peaks of Jungfrau, Munch and Eiger (mountain peaks in the heart of the Swiss Alps) on a clear day. There is also a multistoried restaurant, snack and coffee bar and also Ice Cream bar. Titlis also hosts a significant telecommunications site.
Other than the snow activities, attractions include the glacier tunnel (an ice tunnel carved out of the base of the Mt Titlis glacier) and has beautiful colorful lighting inside. There are some ice sculptures with rubber mats on the floor for secure footing.
Another addition in the recent times is the Cliff walk, a pedestrian suspension bridge that took 5 months to built. Though not a long bridge, it provides dramatic views of the mountains around and even down about 500m beneath. This bridge is considered one of Europe's highest suspension bridge and also one of the scariest.
The below video by Dennis Callan, who has been shooting video and leading tours for 30 years, is an excellent travel video starting with a train journey from Lucerne to Engelberg and the Gondola ride to the top and back to Lucerne. The narrative is top notch.
Video Details:
Duration: 30 minutes
Narration: English Audio [with auto generated English Closed Captions]
Video Quality: 144p to 1080p [HD] available
Tokyo and Kyoto, Japan
This beautiful island country of Japan located in East Asia attracts many international tourists and nearly 30 million visiting annually (mainly from China and South Korea). The country has many fascinating places such as its capital city Tokyo, Mount Fuji, Shibu Onsen, Hakune, Snow Monkey Park, Kamakura, Kyoto and the Japanese Alps.
The main attractions at Tokyo include the Imperial Palace, Tokyo Skytree, Yoyogi park, Shibuya crossing, Tokyo DisneySea, Tsukiji Fish market. The streets and parks of Tokyo (and even in Kyoto) looks even more beautiful during the season of cherry blossoms. Shibuya crossing is a popular scramble crossing and is considered as the busiest pedestrian intersection in the world. Tokyo Skytree is the tallest structure in Japan and has an observatory deck to get the city view.
Kyoto, the earlier capital of the emperors of Japan, is another must visit place which has nearly 20% of the country's National Treasures. The top attraction here is the Kinkaku-Ji (Or the Temple of Golden Pavilion) which is a Buddhist Temple whose top pavilions are coated with pure gold leaf and is set in a strolling garden. Other places of interest are GinKaku-Ji (Or the temple of Silver pavilion), another beautiful Buddhist temple and Yasaka Pagoda which is a 5-story pagoda added in the temple complex of Hokan-Ji.
The tallest peak in the country with an active volcano site is Mount Fuji (about 12300 feet). It has been included into the list of World Heritage sites by UNESCO and is also a popular pilgrimage site.
Shibu Onsen is a historic town known for its hot springs and the nine public bath houses. The bath houses are small buildings, divided into a women's side and a men's side and each bath house is believed to cure different ailments. The Snow Monkey Park near Shibu Onsen is a unique place where visitors can witness the region's snow monkeys bathing in a natural hot spring.
Vlogger 'Suitcase Monkey', a couple from London [wife being Japanese], have visited Japan twice and each time have made a travel trip of 14 days traveling different regions of Japan. Shot on iPhone, the video narrative is quite interesting. The first video covers Tokyo, cherry blossoms, Mount Fuji and Shibu Onsen, while the second covers Kyoto, Nara and Okuhida snow mountains (Northern Japanese Alps). The highlight is that the vlog also covers many of the food options and restaurants that they have tried.
Also checkout their vlog on 7 day trip to Sri Lanka and other local London trips
Video Details:
Duration: 46 minutes (Part 1) and 40 minutes (Part 2)
Narration: English Audio with text descriptions
Video Quality: 144p to 1080p [HD] available
Kangaroo Island, Australia
Considered the third largest island in Australia, Kangaroo Island is located in South Australia southwest of Adelaide. The island can be reached by sea or by air with regular flights from Adelaide and Melbourne to Kingscote [the administrative center of the island].
The island is known for its many nature reserves that protects its natural vegetation and species and the largest and most popular one is the Flinders Chase National Park which is about 100 kms from Kingscote. The park's fascinating tourist attractions include "Remarkable Rocks" [naturally sculptured and eroded granite rock formations] and Admirals Arch [A naturally formed rock arch and can be viewed from a platform] and both provide excellent views of the ocean.
Other worth visting places on the Island include the Seal Bay Conservation Park, an area along the coastline that has the third largest Australian SeaLion colony, Stokes Bay [an amazingly beautiful hidden beach with crystal clear waters] and Bales beach [white sand beach]. The Island is also a good place for some Australian native animal spotting like echidnas, Wallabies, Kangaroos, Koalas.
Exceptional Kangaroo Island, a local tour operator runs regular fixed tours and also custom tours to the guests of the island and they have uploaded many virtual tour videos of the tourist attractions of the island. The video does not have speech for narration. Text descriptions are available.
Check out virtual tours from their YouTube channel at: ExceptionalKangarooIsland - YouTube Channel
The video quality options are from 144p to 2160p [4K UHD]
Soneva Jani, Maldives
A dream destination for many, Maldives is a large collection of geographically dispersed islands in the Indian Ocean and lies southwest to India. With more than 100 resorts operating across different islands, tourism is the key economic industry for this country with nearly 20 lakhs foreign tourists visiting annually. Maldives is very popular for its natural environment including the blue ocean [torquise crystal clear waters] and white sand beaches. Tourists can get to do many water sports such as swimming, fishing, scuba diving, snorkeling, to name a few.
Out of the many beautiful islands, one of them is the Medhufaru Island and it is here that one can get to stay at one of the most exquisite luxurious 5 star resort of Soneva Jani. The resort provides many overwater and Island villas on either side of the Island. All of the overwater villas have private pools and many include private waterslides that let you slide right into the Medhufaru Lagoon. There is also a rectractable roof in the master bedroom. A perfect place for a dreamy holiday but turns out to be quite expensive for Indian travelers. There are options of 1 bedroom to 4 bedrooms so even a big family can easily stay under one roof.
The resort's other facilities include Spa, Tennis Court and Fitness Center, Cinema Paradiso [Paradise Cinema, an experience of watching cinema beneath the stars with cocktails and popcorn]
Travel vlogger 'The Luxury Travel Expert', provides ideas on luxury travel through his work and below video covers the Soneva Jani resort in detail with only text descriptions used for narration but the descriptions being very detailed
Also checkout his YouTube channel for other resorts and luxury hotels at different parts of the world such as the Taj Lake Palace in Udaipur, India and Il Sereno in Lake Como, Italy.
Video details:
Duration: 1hour 7 minutes
Video Quality: 144p to 1080p [HD] available.
Kailash Manasarovar Yatra, Tibet
Considered one of the most difficult pilgrimages, Kailash Manasarovar Yatra is the journey to Mount Kailash and Lake Manasarovar which is in the Tibet Autonomous region (now a part of China). The yatra is organized by the Government of India and starts from New Delhi while the below video talks about taking the route through Nepal starting from Lucknow (In Uttar Pradesh, India) via NepalGunj, Simmikot, Hilsa in Nepal and Purang in Tibet.
Mount Kailash is an important religious site for Hindus, Jainism, Buddhism and Bon religions. As per Hindu belief, this is the abode of Lord Shiva and Goddess Parvati along with their children, Lord Ganesha and Kartikeya. Ashtapad, near Mount Kailash is considered the place of moksh or nirvana of the first Jain Thirtankara. As per Buddhism, Mount Kailash is considered as the center of cosmology.
Lake Manasarovar is a large fresh water lake at an altitude of 15000 feet. As per Hindus, this lake was created by Lord Brahma and it was first created in his mind before manifesting on Earth, thus the name Manas Sarovar (Manas means mind and Sarovar means Lake) and drinking the lake's water will cleanse the sins of many lifetimes. Along the shores of the Lake are many Buddhist monasteries and the most notable is the Chiu Monastery which provides magnificent views of the sacred lake.
The Yatra involves circumambulating (or doing Parikramas) Mount Kailash and Lake Manasarovar. The circumambulating of Mount Kailash involves a hike of 52 kms and can be done over a span of three days.
Weather conditions here is highly unpredictable and the region is particularly remote with not much of medical aid available. Tour packages arranging for this yatra, often have a doctor on tour to aid the pilgrims.
Other sites to view are Lake Rakshastal [(very close to Lake Manasarovar) considered as the place where King Ravana did severe penance] and Mount Gurla Mandhata [named after King Mandhata] across Lake Manasarovar.
Video Details:
Duration: 32 minutes
Narration : In Hindi (with English subtitles)
Video Quality : 144p to 1080p HD available
Char Dham Yatra, India
India has many historic and religious sites and often visited by devotees as pilgrimage. One of the states in India that is often visited as part of pilgrimage is the North Indian state of Uttarakhand. The state has many Hindu religious sites such as Haridwar, Rishikesh, Gangotri, Yamunotri, Joshi Matt, Guptakashi, Uttarakashi, Gauri Kund, Badarinath, Kedarnath, to name a few and are located in the Himalayan ranges. The state is the origin place of two of Hindu sacred rivers Ganges and Yamuna [Ganga as Bhagirathi originates near Gangotri and Yamuna originates near Yamunotri]
The pilgrimage to holy places of Gangotri and Yamonotri along with the Vishnu temple [Lord Vishnu worshiped as Badrinath] at Badrinath and Shiva Temple at Kedarnath is considered as the Char Dham Yatra [Pilgrimage of four abodes]. However, many consider this as the Chota Char Dham while the Char Dham involves Badrinath, Puri Jagannath [in Orissa], Rameswaram [in Tamil Nadu] and Dwaraka [in Gujarat]. Out of the four holy places, yatra to Yamunotri and Kedarnath is considered difficult since it involves trek of about 13-14kms in the Himalayas. However pony ride service is available in Yamonotri while Kedarnath even has helicopter services and its operation is subjected to weather conditions.
The Char Dham Yatra in Uttarakhand also includes visiting the sacred places of the five confluences of River Alaknanda called Panch Prayag [Prayag means confluence] namely VishnuPrayag [confluence with Dhauliganga], NandaPrayag [confluence with Nandakini], KarnaPrayag [confluence with River Pindar], RudraPrayag [confluence with River Mandakini] and DevPrayag [confluence with River Bhagirathi and officially becomes Ganges that flows towards Haridwar]
The below video provides insight and very meaningful narration of this sacred yatra while also covering other small temples and places on the way
Video Details:
Duration: 1 hour 20 minutes
Narration: Hindi audio [with English subtitles]
Video Quality: 144p to 1080p [HD] available
Amalfi, Italy
Once a popular holiday destination for the British upper class, Amalfi is a small cliffside town overlooking the Gulf of Salerno and is a part of the UNESCO World Heritage site of Amalfi coast in Italy. The other popular towns on this coast are Positano and Ravello. Amalfi Coast is now considered a very popular tourist place for many foreign tourists visiting Italy. The dramatic cliffs and the coastline makes it a beautiful holiday destination.
One can also take an ancient staircase pathway to walk from Amalfi to Atrani via San Lorenzo del Piano [an ancient Monastery which is now a cemetery]. The views of the coast along this pathway is just amazing. Atrani is the smallest city in Italy and is just about 750m from Amalfi with a population of about 800.
Below vlog from 'Prowalk tours' is a walking tour of Amalfi and Atrani where the person walks across all the major landmarks and streets. The video has closed captions providing the narrative [the narrative is a bit insufficient] and the video seems to be less edited and this rawness of the video is somewhat appealing. Do not miss the beautiful fireworks and the stunning views of the coast in the video.
Video Details:
Duration: 1 hour 43 minutes
Video Quality: 144p to 2160p [4K UHD] available
Nile River Cruise, Egypt
One of the most popular tourist destination in Africa is the country of Egypt that links the Middle East to NorthEast Africa. At Egypt, the most famous sites include Luxor Temple, Pyramids of Giza, Abu Simbel Temples and Esna Lock. Most of these places are along the riverside of the longest river in Africa, River Nile.
Egypt offers its visitors, luxurious river cruises on River Nile and the below video covers a 7 day cruise on MS Nile Oddessey, a 5 star cruiser which has onboard entertainment, swimming pool and sun deck. The Cruise offers flexible packages from Luxor to Aswan (and back) and handles visits to the temples and historic sites such as Luxor Temple, Karnak Temple, Temple of Kom Ombo, The Valley of the Kings to name a few. The video also includes the travel to Cairo (the capital city of Egypt) and visit the Sphinx and Pyramids of Giza.
While there is no speech involved in the narration, the video captures the essence of the place beautifully and there are sufficient text descriptions to form the narrative.
Video Details:
Duration: 1 hour
Video Quality: 144p to 1080p HD available
Serengeti - The Great Migration, Tanzania
One of the ecosystems that is home to nearly 70 mammals and 500 bird species is the geographical region of Serengeti that covers the northern Tanzania and Kenya in Africa. The region is home to a large population of Lion, Giraffe, Leopards, Cheetahs, African Elephants, Wildebeest, gazelles, zebras, buffalos and hippos. The region is known for its large savanna or mixed woodlands-grasslands ecosystem and the name Serengeti in the local 'Maasai' language means "Endless plains". Travel to Serengeti National Park and Masai Mara Reserve and enjoying a Wildlife Safari is generally a top bucket list item for many wildlife enthusiasts.
Each year, Serengeti witnesses the circular migration of more than 1.5 million wildebeests and more than 260000 zebras from south to north from Ngorongoro Conservation Area in Tanzania to Masai Mara (a renowned National Game Reserve in Kenya) and back. This migration is an epic event to witness and is called the ' Great Migration' where the animals travel a total distance of about 800kms crossing the dangerous Grumeti and Mara rivers filled with Nile crocodiles. Also, while crossing the Mara river, the animals jump into a deep gorge and thus many animals break their legs or even drown in the river. Even with more than 2 lakhs of these animals dying annually, most complete the migration successfully.
The below video is a wildlife documentary by Wildlife Cinematographer Reinhard Radke. Radke spent more than two years to capture breathtaking images of 'the wild in action'. The documentary shows the animal filmmaker at work for his film "Serengeti". The video illustrates the conditions and the difficulties that he had to go through while filming. The highlight of the video is the super slow motion footages. Watch the breathtaking footage of the 'Great Migration' towards the end of the video.
Video Details:
Duration: 44 minutes
Narration: English Audio [English auto generated Closed Captions available]
Video Quality: 144p to 1080p HD available
Rocky Mountaineer, Canada
Awarded as the "World's leading travel experience by train" several times at the World Travel Awards, this rail tour company called "Rocky Mountaineer" in Canada offers its guests, three scenic routes all in Canada. The routes are Vancouver to Banff/Lake Louise (2 days with a night stay at Kamloops). Vancouver to Jasper (2 days with a night stay at Kamloops) and Vancouver to Jasper (3 days with night stays at Whistler and Quesnel). An additional route between Denver and Moab [in the US] is planned to be started from this year.
This super luxurious tourist train has two classes of journeys - Golden leaf and Silver leaf. While Silver leaf is a single decker custom designed glass dome coach that has reclining seats, the Golden Leaf is a double decker coach that provides full length windows and reclining seats. Guests on Golden leaf are served dinner in the lower level dining area. In both, the guests are attended by onboard hosts with beverages and snacks served throughout the journey. These trains operate exclusively during the day and thus does not have sleeper service. For overnight stops, guests disembark and stay in hotels (hotels are part of the package).
The below video is a part of the documentary television program by Discovery channel Canada, called the "Mighty Trains". This video not only shows the journey from Vancouver to Banff and Jasper to Vancouver but also highlights the history and struggle involved in the making of the railway line. It also shows several technicalities related to the smooth running of the train.
Video Details:
Duration: 44 minutes
Narration: English Audio (with auto generated English Closed Captions)
Video Quality: 144p to 1080p HD available
Hope you enjoyed reading this post
Stay tuned for many more travel experiences and tips
Thank you