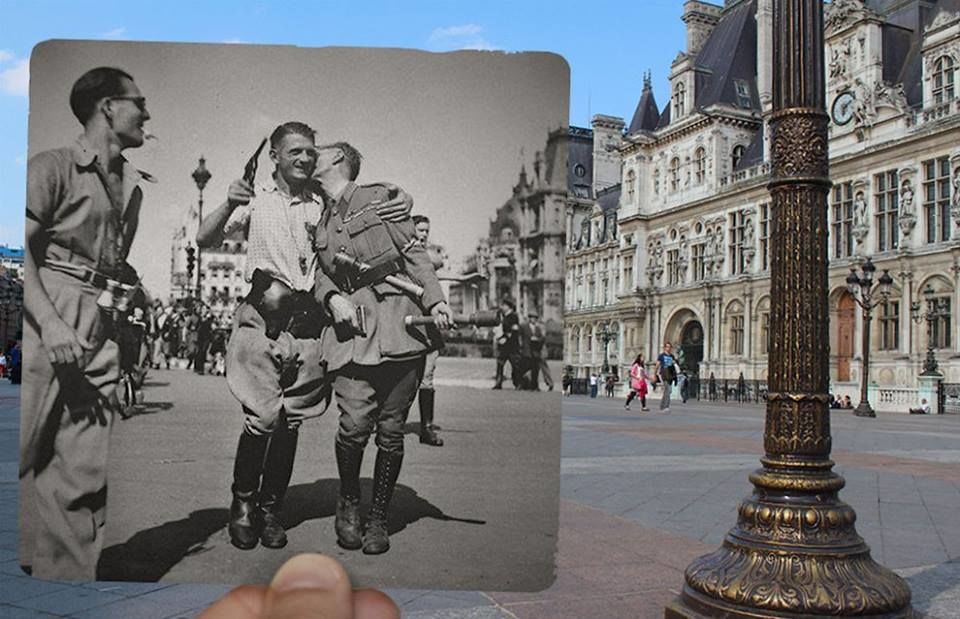 Every city lives through changing times and over centuries these cities have a million stories to tell. Julien Knez, a French art director's collection of picture overlays of the iconic city of Paris celebrates the city's journey through numerous incredible years. Celebrating 71 years of the city's liberation from the Nazi Rule in August 1944, Julien takes us on a journey to all corners of the city through his photographs, making time stop at two contrasting times.
Image Credits: golem13
1. Tourists enjoy a warm sunny afternoon under the Eiffel Tower where the troops once drove when the Germans took over Paris in 1940.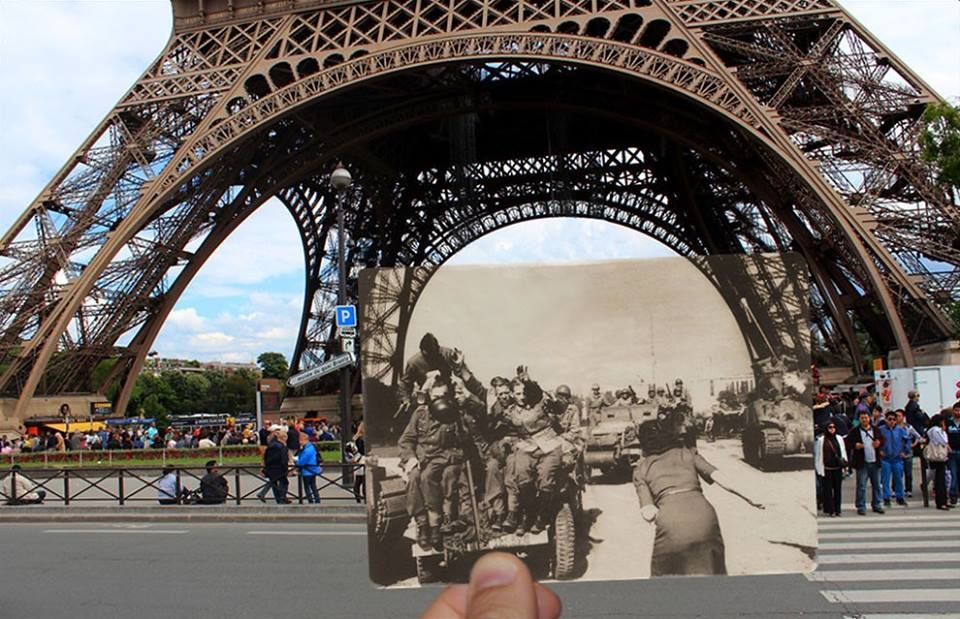 2. The photograph of Parisians taking cover behind Palace de la Republique. The place is now a favourite spot of many for a casual stroll.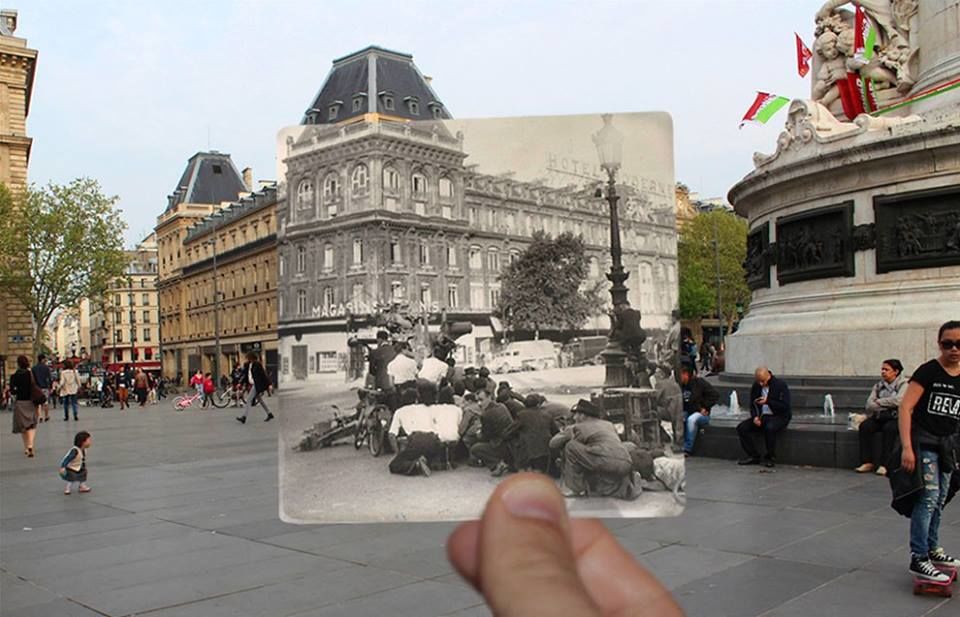 3. Rue de Rivoli, a celebrated fashion street now, was a spot of fierce gunfight in 1940s.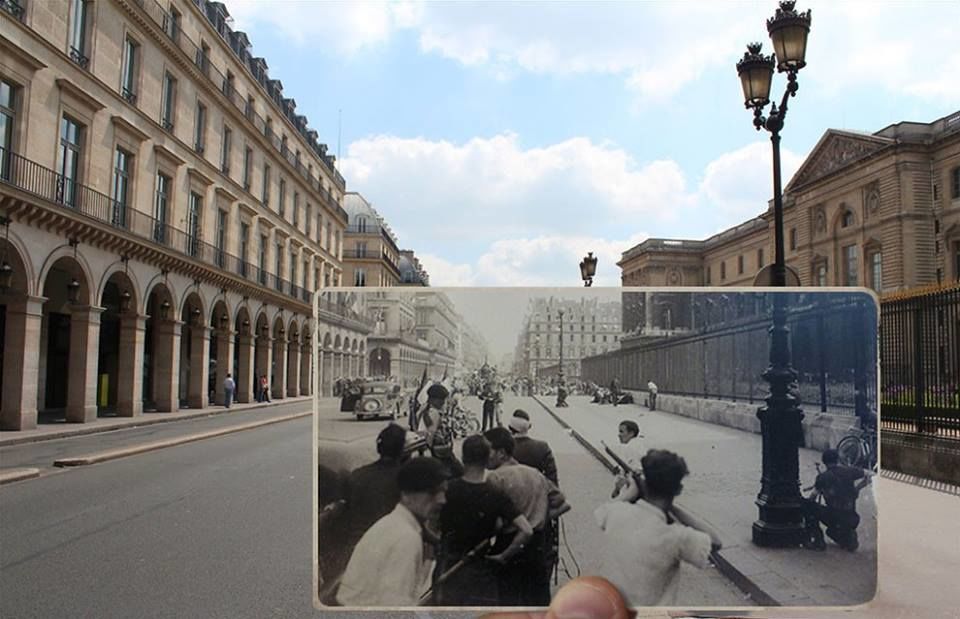 4. Rue de Mail in 1940s where young men stood posing with a German vehicle.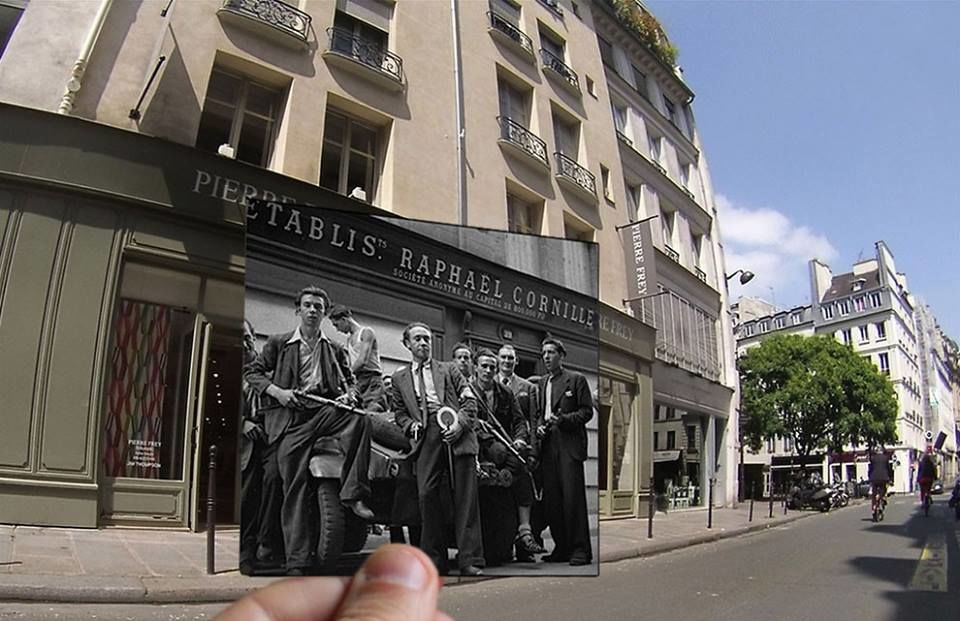 5. In Tuilleries a couple sat embracing each other behind barbed wires near Place de la Concorde.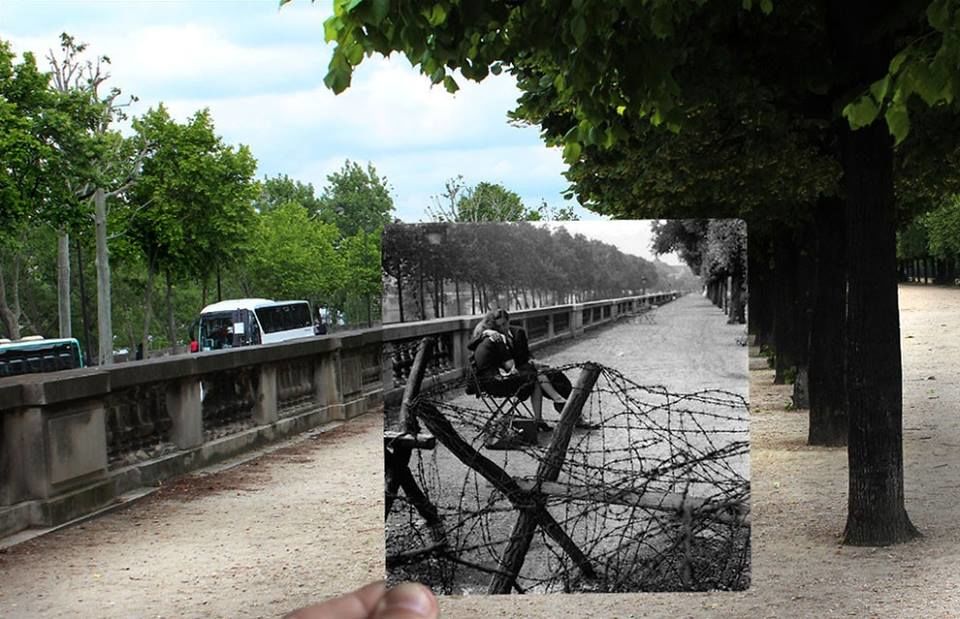 6. Nazi gunner standing on guard in front of the Notre Dame Cathedral where people walk on the bustling street today.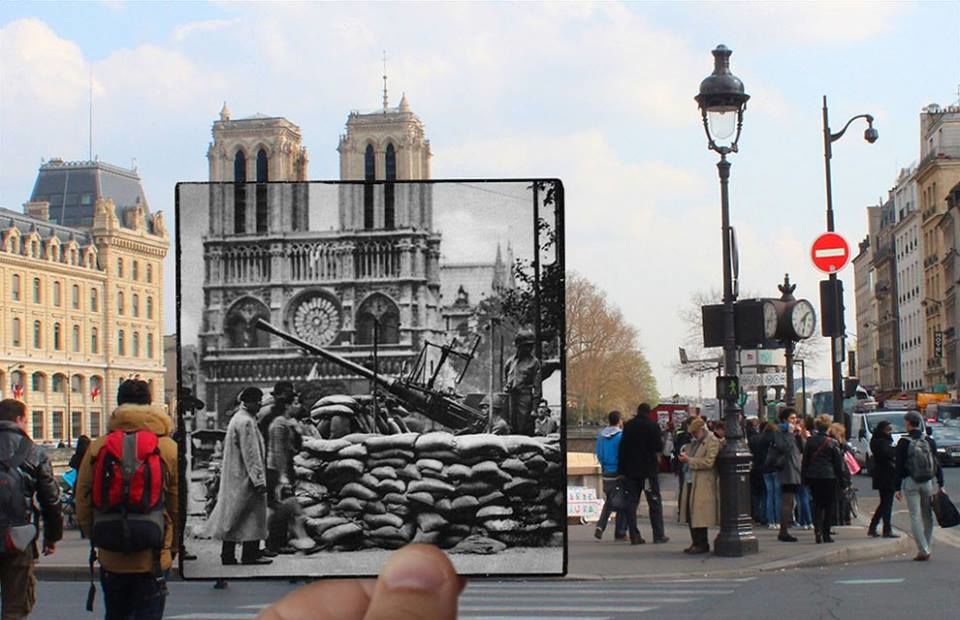 7. A soldier watches a burning car at St Michel in Paris where Parisians walk today with eyes clipped to their phones. 
8. Tanks parading celebrating the liberation of Paris at Notre Dame Cathedral, a spot frequented by tourists in present times.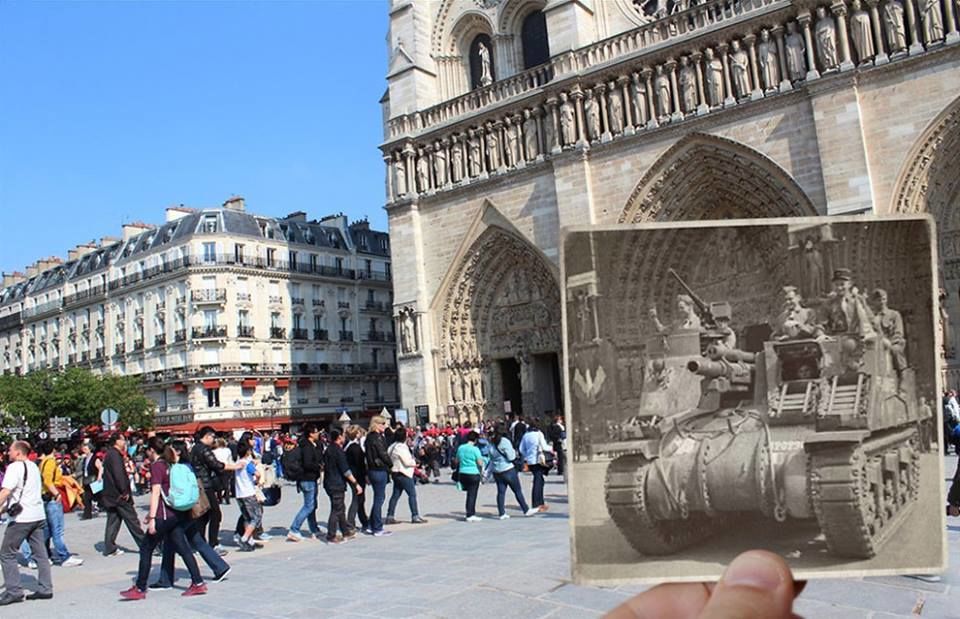 9. Soldiers celebrate the end of German occupation outside Hotel de Ville in 1944, at a spot from where the local government is run from at present.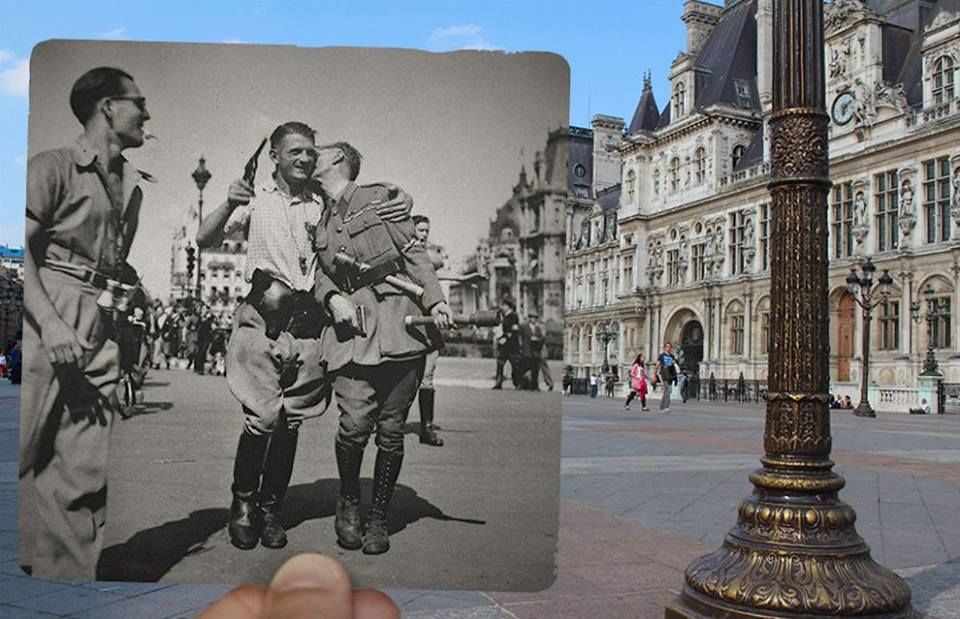 10. Place De L'Opera in 1944 where German General Von Choltitz was taken to the Paris police headquarters to surrender.
11. Children pose over a battered German vehicle at Avenue Mozart, Paris where cars are parked alongside trees still standing tall today.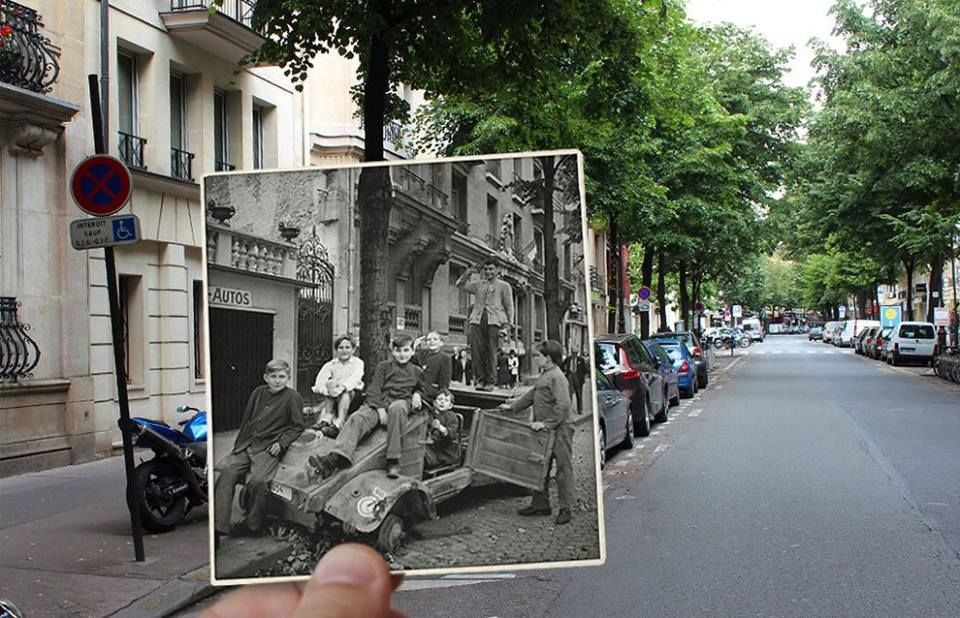 12. Palais Garnier opera house, which witnessed the parading soldiers once, is now crowded with hundreds of pedestrian each day.
13. The young and old came together to pull up a road in
 

St Michel in 1940s where the visitors crowd the shops in present times.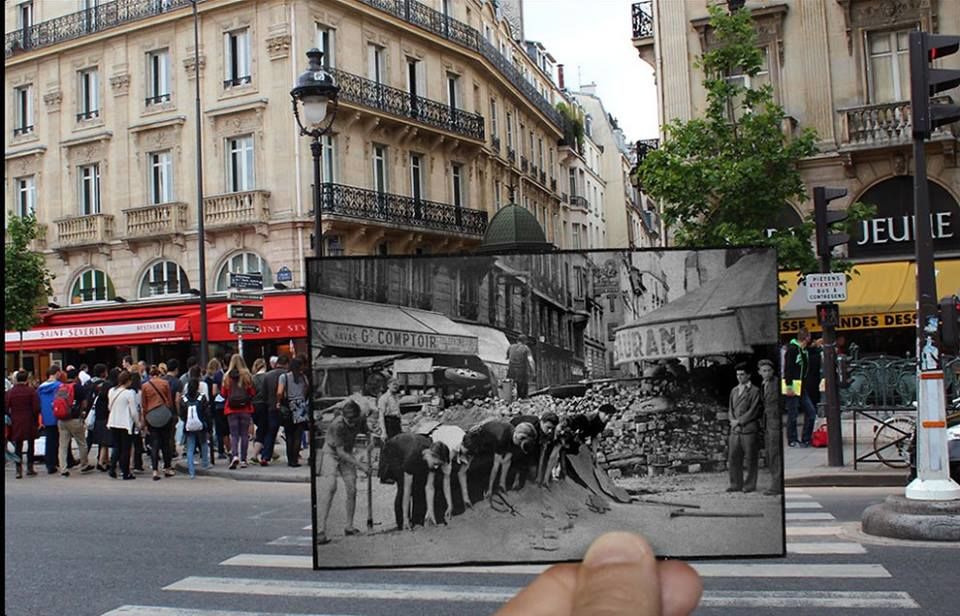 14. President Charles de Gaulle led the 2nd Armoured Division after the Liberation of Paris at the Arc De Triomphe.


15. A young woman rejoices standing with a soldier on a tank outside Notre Dame Cathedral in 1944 where tourists come to visit the marvellous gothic church today.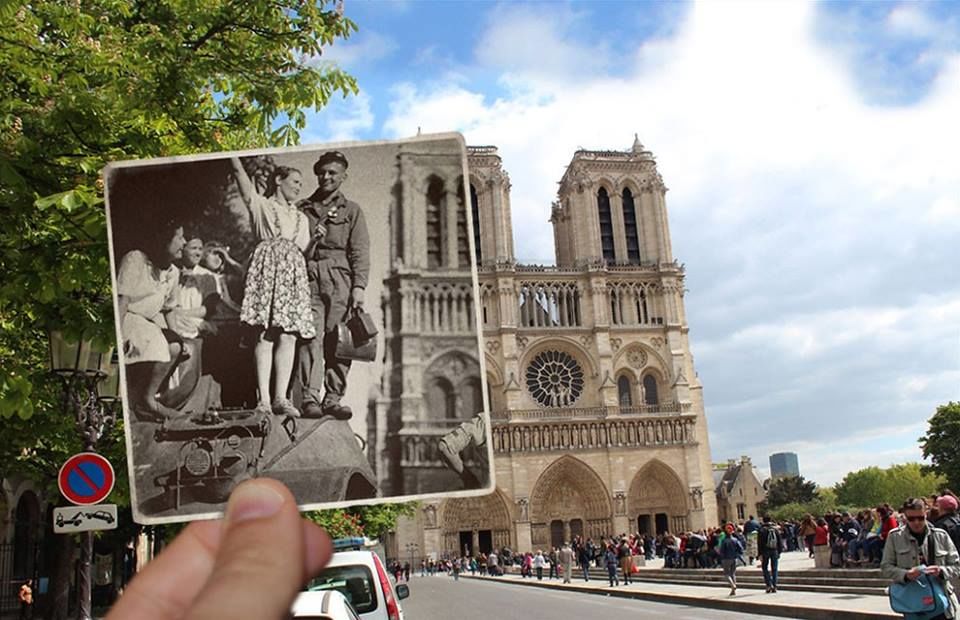 Click here  to discover other works of Julien Knez.