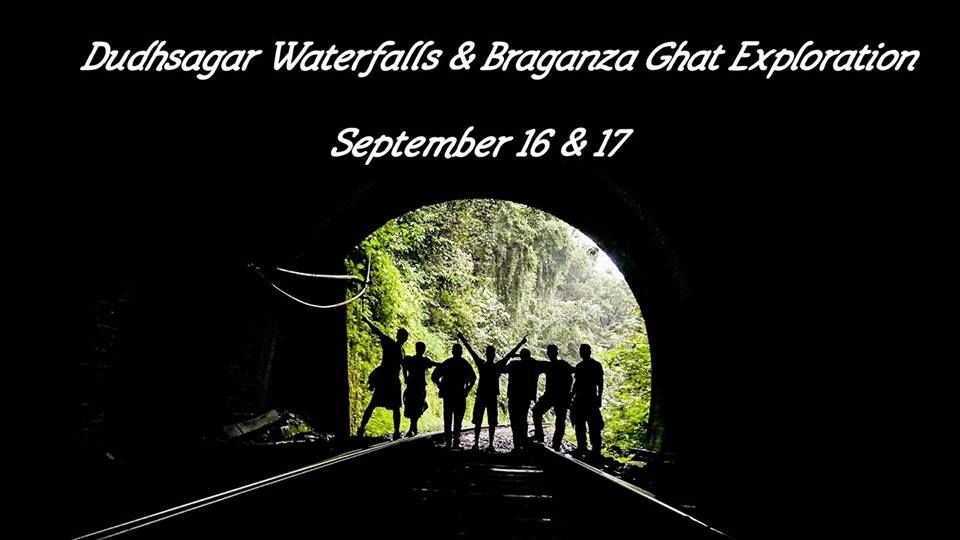 Dudhsagar Water Falls is something one can not put into words. It is to be experienced and not to be explained !!!
Registration Link: https://tinyurl.com/yc5tewf4
About the Event
==========================================
Day1: Braganza Ghat Exploration
Day2: Dudhsagar Waterfalls.
All along this monsoon trek there will nothing other than picturesque greenery, mist, rain and about a hundred mini waterfalls which are only visible in the monsoon months. Monsoon is the best time to trek Dudhsagar and nature is at its best. Back to life streams creating lovely waterfalls. Sun playing hide and seek behind thick canopy of clouds. Mist covering the valley. Stunning valleys with waterfalls cascading from the hilltop.
About the Place
==========================================
Braganza Ghats are a stretch of hill section at the Goa – Karnataka border. This 26 km ghat section rail road connecting coastal Goa to the hinterlands of Karnataka and other parts. It has three stations en route in the ghats – Caranzol, Doodhsagar and Sonalium
The Braganza Ghat Section is located on the Goa - Karnataka border in the Western Ghats. It starts from Castle rock in Karnataka and ends up at Kulem in Goa. Prior to the Konkan Railways this was the only way one could have reached Goa via rail
The magnificent Dudhsagar Waterfall is perched in the high peaks of the Western Ghats and is a sight to behold especially in the monsoons when it is in full and furious flow. From a distance, the waterfall appears like streams of milk rushing down the mountainside. Measuring a mighty 310 meter from head to foot, this waterfall on the Goa-Karnataka border in the rugged Western Ghats. After pouring across the Deccan plateau, the headwaters of the Mandovi River form a foaming torrent that splits into three streams to cascade down a near-vertical cliff face into a deep green pool. The Konkani name for the falls, which literally translated means "sea of milk", derives from clouds of milky foam which rises up at the bottom of the falls. Dudhsagar is set amidst breathtaking scenery overlooking a steep, crescent-shaped head of a valley carpeted with pristine tropical forest.
What you expect from this trek:
Non Stop Rain
Water Streams
Water Falls
Steep Climbs
You also may get leeches sucking blood from your feet
Tentative Itinerary: [ things may vary later ]
==========================================
Pickup Points: Select the option in the form, we will update on email
Day 0
--------------------------------------------------------------------------
15th September : Start from Bangalore at 8:00 PM.
Day 1
--------------------------------------------------------------------------
16th Sep, Sat 08:00am : Reach Castlerock
Sat 09:00am : Get freshen up in the homestay
Sat 10:00am : Breakfast
Sat 11:00am : Explore Castlerock
Sat 2:00pm : Reach unknown waterfalls and have packed lunch
Sat 05:30pm : Reach the homestay
Day 2
--------------------------------------------------------------------------
17th Sep, Sun : Travel by train to Dudhsagar
Sun 06:00am :Visit the Magnificent Dudhsagar waterfalls
Sun 07:30am :Head towards Kulem
Sun 02:00PM :Lunch at Kulem
Sun 04:00PM :Take train to Castlerock
Day 3
--------------------------------------------------------------------------
18th Sep Mon 06:00AM :Reach Bangalore
SUMMARY
==========================================
Nature of event: Monsoon Trekking/Hiking
Terrain: Rail Tracks, Mud Trails, Water Stream
Event dates: 16 - 17 Sep, 2017 (will leave on Friday 15th Sep evening and return on 18th Sep morning)
Duration of the trek: 2 Days
Grade: Moderate
Total trek distance: 20 to 25 Kms (to n fro trekking)
Transportation: TT / Mini Bus (Non-AC)
Max team size: 12/21
Estimated expenses: Rs. 3800.
Who can join this program: Anyone who can hike 12Kms per day
Food : 2 Breakfast, 2 Lunch and 2 dinner.(Only Veg)
LAST DATE OF REGISTRATION: Till seats lasts or the 14th Sep, 2017.
Advance Payment
==========================================
Participation should be confirmed by paying the amount in advance to below account. Please don't forget to write your NAME & the NAME OF THE EVENT in the description when you make an Online Payment.
Account Holder's Name::- Lohith V N
Bank Name::- ICICI Bank
Account Number::- 020401532409
Branch::- BANGALORE R T NAGAR
IFSC Code::- ICIC0000204
MMID: 9229874
Have any queries/suggestions/thoughts, please e-mail at info@highonhills.com or call on +919986729829
Regards,
Lohith