The New Year 2017 is just around the corner. New Year brings new hopes, new promises, new aspirations, new dreams, and so much more. With the arrival of the New Year, the most sought after information by everyone is when are the holidays, if anything is coming on Sunday and ruining the fun. Yes, Holiday List is the most wanted information when not only a New Year but a New Month comes.
Here the complete list of holidays and long weekends in 2017 and which place can be covered in those days. Go Ahead! Plan your travel from now.
How about you explore the deserts of Middle East during this long weekend in January 2017?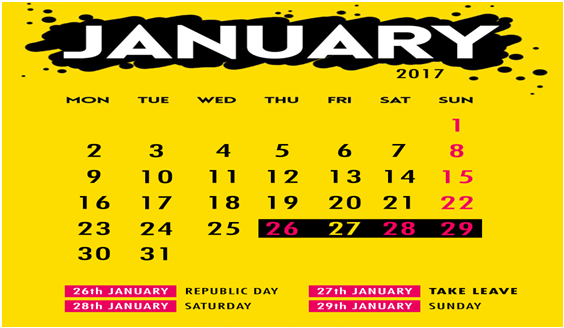 The very first holiday of 2017 falls on January 14 (Saturday), for Sankranti. Then, in the fourth week of January, comes Republic Day, falling tantalizingly on a Thursday. I know what you're thinking. 'Oh, just need to take that Friday off and…' Exactly!
Amidst the perfect winter month if a long weekend happens to fall, wouldn't you be the luckiest bunch of people existing on the planet, like Ever! Make most of your last weekend of January by traveling to popular skiing destinations. If skiing is not your thing, then visiting Dubai, Abu Dhabi, and Egypt can be the right plan for you. What are you waiting for? Pack your bags and travel to the Middle East.
Bring on Mahashivratri on a Serene Hill Environment in February long weekend?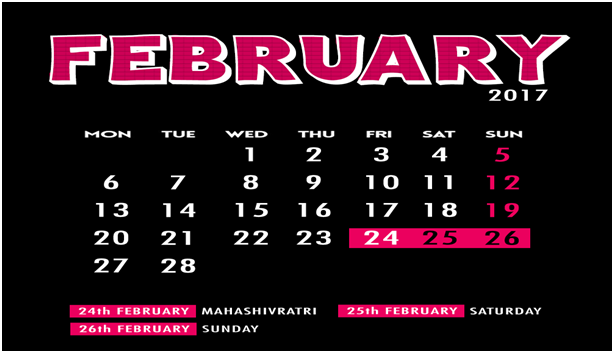 Moving on to February, Maha Shivaratri falls on Friday the 24th. So you can plan to visit a hill station Ooty.
The romantic gateway arrangements that you planned for valentines can wait till the last weekend of February 2017. If your firm offers a holiday for Mahashivratri, you have a perfect three-day time to enjoy traveling to some exotic place. February is an ideal month with warm sun and windy nights.
Don't work from home on Holi!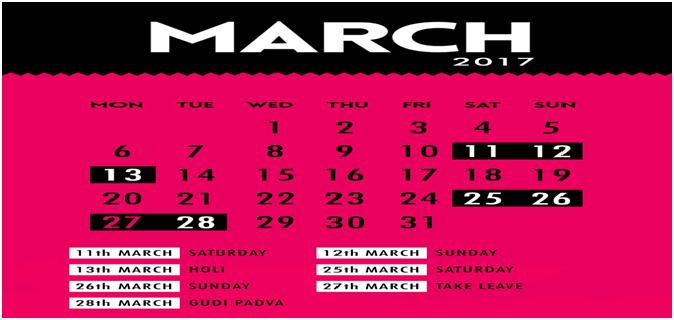 Holi (March 13) sits colorfully on a Monday. So, you can plan any nearest place to relax like a visit to backwaters in Kerala or visit Jaipur before summer hits the desert capital!
Welcome summer at coolest destinations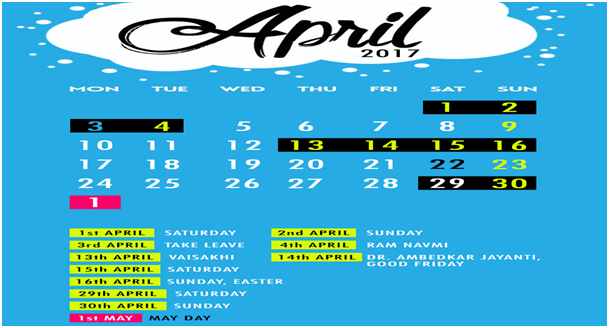 Take a quick tour to Sharm El Sheikh in Egypt (favourite holiday destination for British & Middle East people) or just get ready for hot season ahead by spending a short vacation at own backyard in Kashmir.
You can plan a trip to Srinagar, J&K for watching the tulip bloom. Apart from it, popular hill stations like Nainital, Ooty, Kodaikanal, Shimla, Manali and Darjeeling can be visited before they approach their peak season and get extremely stuffy.
If adventure tourism is what you have in mind, then April is best for river rafting in Rishikesh. You can get a little edgy by trying something thrilling like Bungee Jumping here as well. Another great option would be to take time off to visit Shillong in North East.
Beat the heat in June with a trek to Triund or celebrate Ramzan in Dubai or Saudi?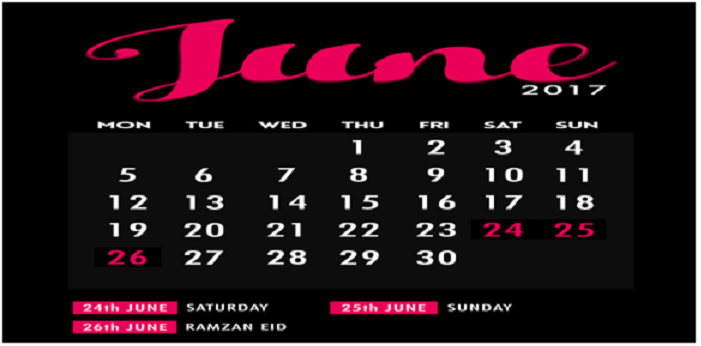 June is a mix of hot and cold. Summer is there and rains are also setting in. So, plan your last weekend which has Ramzan also at the Mecca of Eid celebration in Middle East or take a detour to the sloppy Coorg and other Indian hill stations.
Taste the sewaiyan or gorge on some delicious Arabic biriyani at the top of Burj Khalifa. What Say!
How does a Leh-Ladakh bike trip in August sound?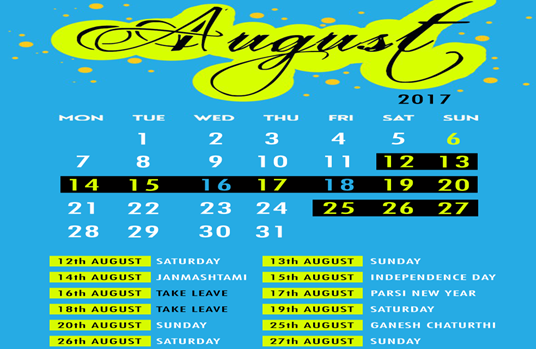 Beat the heat and welcome the monsoon season with planning a trip to hill stations in South like Munnar and Wayanad. An ayurvedic spa in Kerala is also something that you can consider.
Book your tickets for Dubai visit in advance because October is the perfect season to visit this glamorous destination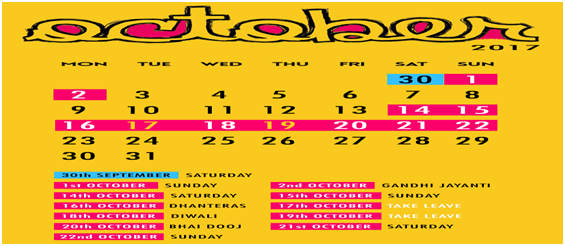 In 2016, we all cribbed about Gandhi Jayanti falling on a Sunday but our cries were heard and 2017 is compensating it for us! We get three days off and it indeed calls for a celebration.
Time to put those Europe plans to use. You can do it.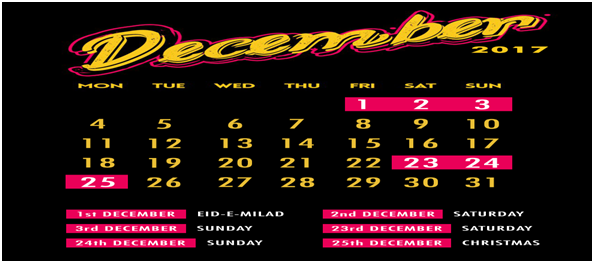 The last month of the eventful year 2017 should end with a bang. Plan to visit Europe and enjoy the celebration of New Year or take a tour to the much anticipated Dubai Shopping Festival.
You can plan the Christmas long weekend in a super fun way if you plan a holiday to some hill station. The feel of being surrounded by snow is something extraordinary when it comes to this cozy winter festival.
Looks like this one's truly going to be a Happy New Year!