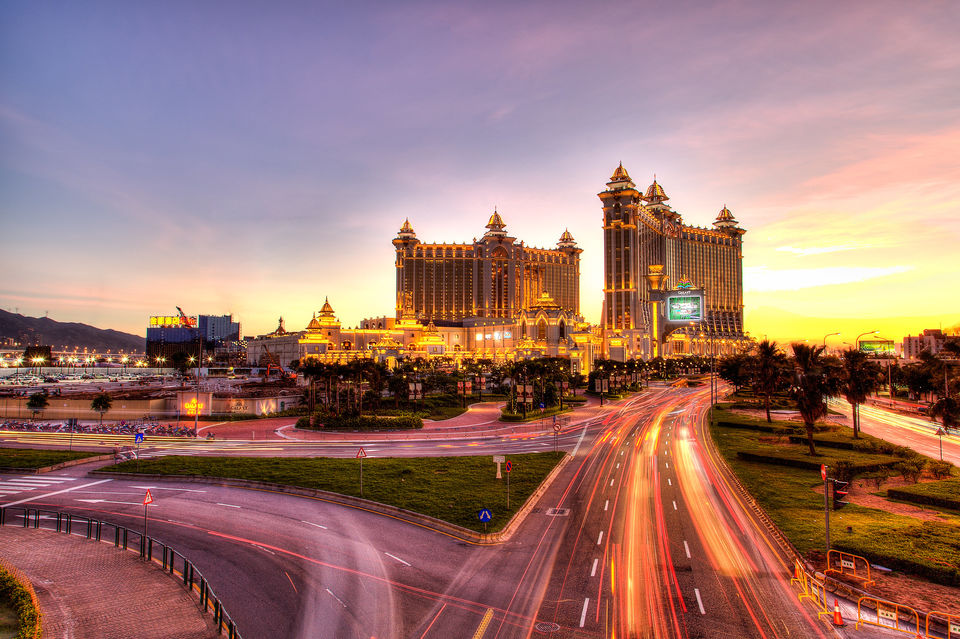 Dazzling streets, thrilling adventure, an array of world-class restaurants and breathtaking beaches, that's Macau for you! The city fills my heart with happiness to the brim with the plethora of options that it offers ranging from lights, nature to food and architecture. Here are 20 reasons that make me fall for the magical Macau!
1. Sky Jumping from Macau Tower
Just the thought of it gives me adrenaline rush. The 1000 ft high Macau tower offers the highest commercial sky jump in the world.
2. Black Sand Bay
Macau's largest natural beach, Black Sand Bay or Hac Sa Beach is famous for its black sand, which also sets it apart from any other beach in the world. The idea of relishing local foods and barbecue at such a picturesque beach just makes me fall in love with Macau even more.
3. Macau Panda Pavilion
There is nothing that soothes my soul like nature does and this beautiful pavilion in Macau is such a breather away from the glittery streets.
4. Giant diamond in Galaxy Macau
The interactive wishing crystals at the galaxy resort hold me in a tight gasp of amazement.
5. Portuguese Explorations
I love to explore the Portuguese influence in Macau as well as the dining options that remain true to its foreign tastes.
6. Bridges of Macau
The long bridges in Macau are so dazzling beautiful and peaceful at the same time especially at night.
7. Macau Museums
From the history of the city to antiques and cars, you can find almost everything on display in the museums which help understand the city better.
8. KUN Iam Statue
The 20 meters high statues is located on an artificial island in the ocean and is dedicated to the Goddess of Mercy.
9. Taipa village
With its pre-historic temples, Taipa shows you the spiritual side of the 'Las Vegas of Asia.'
10. Senado Square
Whether you want to shop, eat or celebrate, heading to Senado Square is the best option. The urban centre has also been listed as a UNESCO world heritage site.
11. Amalgamation of two cultures
Macau becomes a one of its kind city with the unique assimilation of Chinese and Portuguese cultures.
12. Best egg tarts
If you love egg tarts then you got to try Portuguese egg tarts which have become the city's own edible icon.
13. Macanese cuisine
Talking about food, the local cuisines blends southern Chinese cuisine and Portuguese ingredients, spices and cooking techniques to give you unique culinary experience.
14. Mirror city of Hong Kong
Macau is very similar to Hong Kong as it has a number of shopping centres, museums, parks, and zoos as well as dazzling casinos and hotels.
15. Photographer's paradise
From the ruins, to simply stylish streets and people, the city offers some spectacular shots that can light up your Insta feed.
16. Grand Prix racing
The city gets all the car lovers crazy during November when it hosts Macau Grand Prix while you can also visit Grand Prix Museum year round to get your heart racing.
17. Fisherman's Wharf
It is the first theme park of the city and offers a selection of antique stores, boutiques, and restaurants in a quiet setting.
18. World-class spas
For relaxation, head to the world-class spas in Macau.
19. Playboy Bunnies
Visit the Bellini Lounge that doubles as the Playboy club to offer cocktails, live house band and a amazing live events.
20. Fishing
You can also go fishing along the Pacific coast and if you want to go for deep sea fishing then you can join a fishing tour that will take you far on the ocean.
What are the 20 things you love about Macau? Share it with the world here.