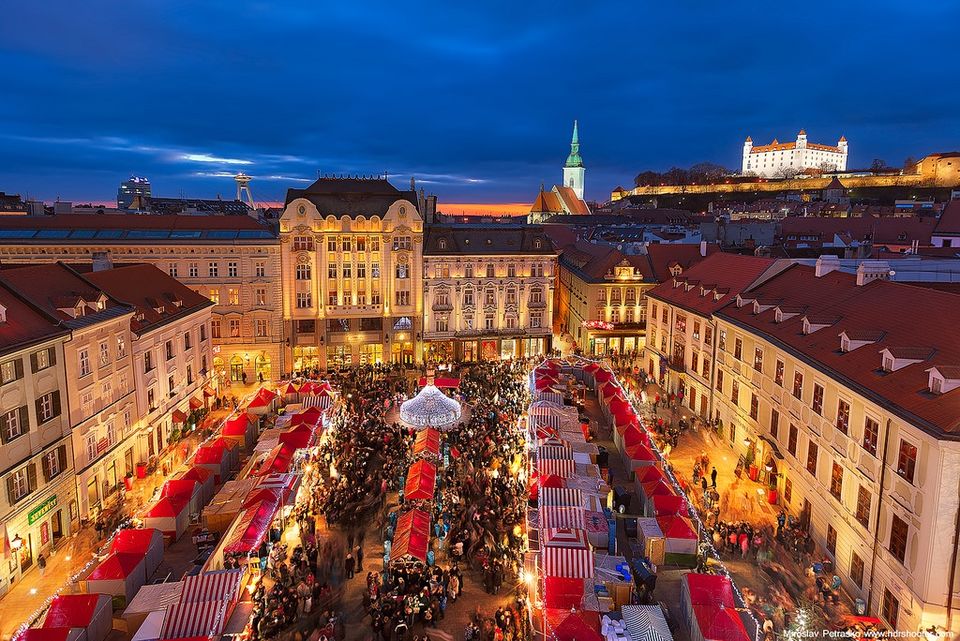 A growing number of exotic destination seeking travelers are stealing away to Eastern Europe. Packed with all of the Allure of the UK, France or Italy Eastern Europe arguably offers cities rich in culture and medieval architecture with just as much grandeur as Western European destinations. Tourism is definitely starting to build in this corner of the world. Here are 25 amazing places you should visit in Eastern Europe.
1. Bucharest, Romania
Bucharest, the capital of Romania is a dynamic modern city with a wildly sensational history. Nicknamed "little Paris" in the early 1900's Bucharest really plays the part with hip cafes, impressive tree-lined boulevards and dramatic modern and historic architecture. Home to many attractions, the most remarkable landmark in this vibrant city is the monstrous Parliament Palace. Being equally enormous and ostentatious, it is a mind-blowing architectural feat trumped only in size by the Pentagon.Where there are many examples of Bucharest's cultural and architectural splendor the highlights include the Romanian Athenaeum, an elaborately domed circular building that is the cities main concert hall, Bucharest University, and the National History Museum.
2. Sibiu, Romania
Sibiu is a city in Transylvania, Romania that has a cultural magic all its own. It will have you instantly spellbound with its striking medieval charm, breathtaking views of surrounding landscapes and delicious food. Its historical center was built into two very pedestrian levels filled with most of Sibiu's historical sites, colorful houses, and cobblestone streets.
An artsy yet traditional vibe exists in the city that appealingly permeates the litany of cafes, festivals, and exhibitions that thrive there. Some great things to experience in Sibiu are the Brukenthal Museum, and the Crama Sibiu Vechi restaurant, a great place to enjoy authentic Romanian fare and the view of the historical center from the top of the Council Tower.
3. Bratislava, Slovakia
The truly charming city of Bratislava is the capital of Slovakia. Its tiny old town is packed with medieval grandeur, all overlooked by the cities majestic hilltop Castle. The narrow streets are lined with restaurants and bars beckoning for you to eat, drink and appreciate the culture.Be sure to check out the Bratislava Castle and the Slavin Memorial for the best city views. Visit at Christmas and check out the traditional Market on the main square in the center of the city. It offers genuine local holiday specialties including delicious mulled wine that shouldn't be missed.
4. Nida, Lithuania
Exquisite Nida is the primary settlement on Lithuania's side of the Curonian Spit. This spit is a curved sand dune in between the Curonian Lagoon and the Baltic Sea. It is a UNESCO World Heritage Site shared by Russia and Lithuania. Nida is the tourist destination on a spit. The relics of yesteryear tell a story of a bygone fishing village. Colorful wooden cottages and bright boats in the harbor the add to natural beauty that dominates here.White sand beaches are a short hike through pine forest from Nida. Parnidis Dune, the massive and most impressive dune is just South of the village. It has steps up to its lofty summit where you can enjoy sweeping views of pristine, rippling dunes. Eat at Nidos Seklycia and take Eastern Europe Tour to explore Curonian National Park. Both of these experiences will show you everything that draws visitors to this precious place... read more