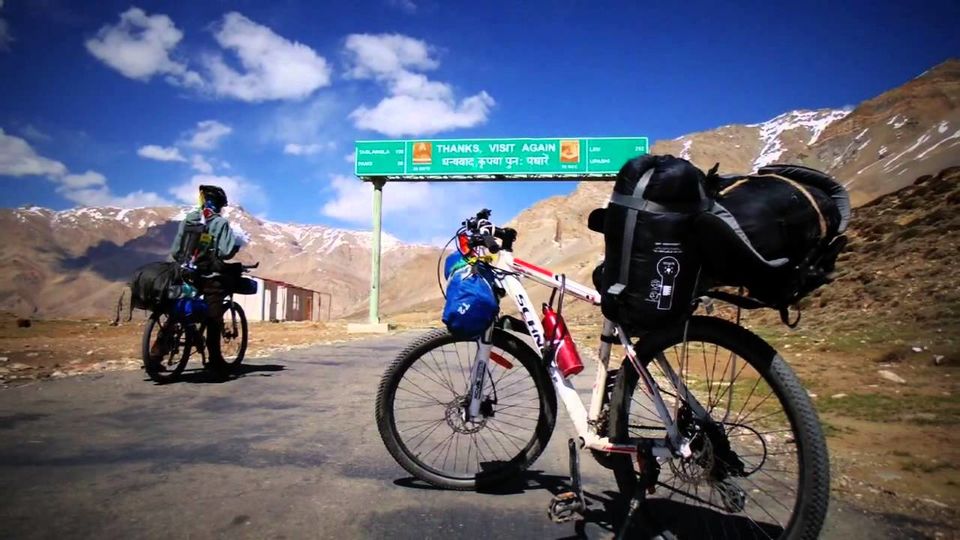 1. Tar marked roads:
Otherwise you'll standing up on your bike, struggling to manoeuvre it and wake up with back aches the next day. This needs a special mention since there are times when there are actually no roads at all!!
2. Flat roads:
Else you're just holding on to your brakes down the slope or tiring yourself as you ascend.
3. Pa ke zam zam:
The local tea, the medicine to every trouble, as the locals say. Whether you believe that or not, it is definitely refreshing.
4. Chocolates:
These are the best as energy boosts while to take small breaks so your body doesn't cool down.
5. Juices:
Yummiest way to hydrate yourself and of course you take in the necessary Vitamins.
6. Sleeping bag:
That keeps you warm and cosy while you sleep in the tent, especially on unexpected cold nights.
7. Sun:
Warms you up after a chilly night.
8. Hot garlic soup:
Perfect on a cold windy evening and to cure headaches, a symptom of high altitude sickness
9. Bombing Sumedha's Selfies:
Sumedha really knows how to click some brilliant Selfies and one of the easiest ways to be a part of them is to bomb them.
10. Knowing that the first person is not to far ahead:
Then you can cycle peacefully, enjoy the ride, not worry about catching up and reaching later than scheduled.
11. Oxygen:
Because as you go higher, it reduces.
12. Beautiful Views:
These are the real motivations to finish this long ride. They distract you while you're tired or having a headache and keeps you going.
13. Snow fall:
This one brings the best smile on your face.
14. Gya town:
Its a lovely yet small town with super cute buildings. This an indication that you're in Ladakh and extremely close to your final destination.
15. Reaching a high altitude pass:
It is indeed an accomplishment after battling all the decreasing oxygen and climbing up the steep slopes.
16. Dumb charades:
These are the sources of fun as you're sitting on the mattress, munching snacks or sipping soup after a long ride through the day.
17. Hot water shower:
These are rare and you realise the value only when come across these. You get a chance to bathe only ever 3-5 days.
18. Hair bath:
All the stickiness disappears after these and you feel so fresh.
19. Internet:
Since you have been on the road for so long, getting in touch with your family and friends and telling them about how you did makes you happy.
20. No phone network:
This one is when you're away from the annoying beeps and the work calls.
21. Wai wai:
These are my favourite noodles. But apart from that, they are thin, spicy and come with soup.
22. Realising there was no steep uphill after rohtang as in the handbook: Ever since I saw the handbook, I dreaded the super steep climb after Rhotang. After Rhotang passed and we reached Sissu, only to figure out that that steep uphill never existed!
23. Conversations in dinner tent
24. Motorbike's salute
25. Playing bluff
26. Munchies like Aloo Bhujia and Khatta Meetha
27. Crossing a stream without having to get off the bike
28. Moore plains