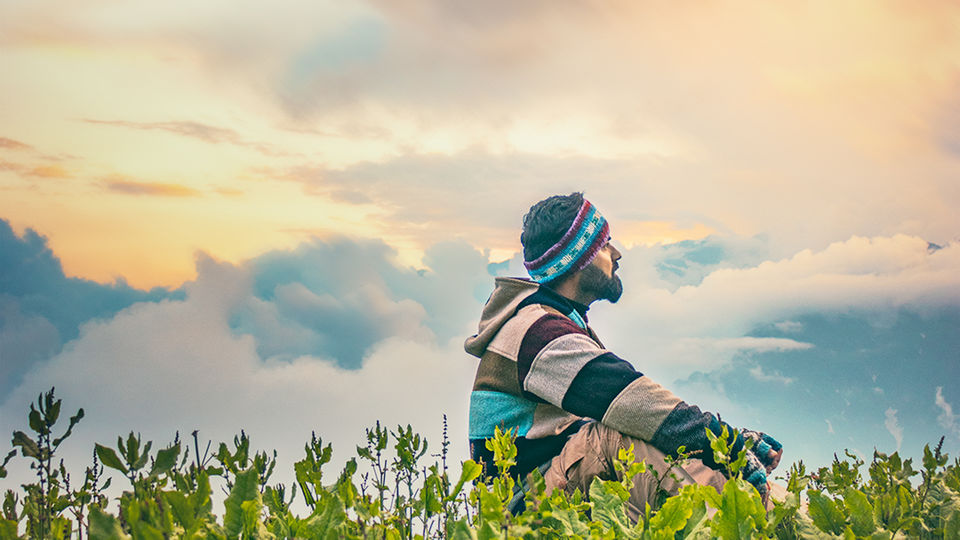 Day 1
Delhi- Manali- Vashisht
So, we started off our trek with the plan that once we reach Manali, we would decide which trek we want to cover- Bhrigu or Beas Kind. This one was going to be quite impromptu and although we did have a fair idea about both these places, we missed quite some points.
I had inhibitions about whether the Bhrigu trek would have a proper trail or not and as I later found out, the trail really was not clearly marked, so completing the journey without a guide would've been one hard task. Yet, I had my heart hooked to Bhrigu for some reason.
We left Delhi via bus at around 9:30 p.m. and were headed to Manali. Through Manali, we hitchhiked a ride and reached Vashisht. While hiking for a little bit between the two spots, we were bestowed with a visual feast. Apricot, apple and peach trees were lined against each other on the way - view and the fresh air was a major catharsis.
On our way, we also met a guy who was carrying recently plucked fresh apricots and managed to get our hands on loads of them in exchange for ten bucks. As we were told by him and as it was evidently visible, the apples and apricots were completely organic, devoid of any chemical influence and after a long, tiring journey- this brightened our moods a bit. If you plan to visit Vashisht in the future, even though it might be a bit expensive but you should definitely try their juices which they make with homegrown fruits . It's the ultimate treat to the taste palate.
Although, we had panned on starting our trek to Bhrigu as soon as we reached Vashisht, our inability to find a guide proved to be a hindrance. We could not find any local guides and the agencies that were offering the same were quite expensive. So, we checked in at our residence which we had booked for 400 bucks a night and freshened up, after which we left to find ourselves a guide.
With little option left, we booked a guide through an agency for 7,500 Rupees (for 2 people) in which our food and camping was covered for three days and two nights.
We had decided after a discourse with our guide that we would leave for Gulaba and from there, we would start our trek to Bhrigu as it was a comparatively easier trek. From Bhrigu, we would return to Vashisht and take an exit, hence completing the entire circuit of the trek. What we didn't realize though was that returning to Gulaba from Bhrigu is way easier than returning to Vashisht.
So, on the night on the last day in Vashisht, the weather was absolutely perfect- not too cold, not too hot- just a light jacket to get you through the night comfortably, The hues were also in full bloom and I wanted to take the best advantage of the moment and capture a time lapse in the night which didn't happen because of the presence of clouds. Anyway, after a few attempts, I decided to head back to bed because we had to wake up at 5:30 am the next day and start our trek.
Day 2
Gulaba- Rola Kholi
We woke up in Vashisht at around 6 a.m. and after a quick freshening up routine. we got into the car our guide had sent to take us to Gulaba and set off. We were carrying minimal luggage as we anyway had planned on coming back to Vashisht to exit the trek, and there were also signs of a rainy weather.
When we reached Gulaba, we grabbed a quick bite and started our trek. Now, the trail in Gulaba isn't well-defined in the sense, you can't really mark the beginning of the trek. You'd just be driving or hiking and would come across the trail into the mountains on the side. So, for a beginner it can prove to be a little difficult to find where the trek actually begins.
Once we started our trek, the scenery began to change bit by bit. This is one of my favorite parts of trekking. How you see the life around you undergo these little changes and its attempts at adapting to the life around itself. Large green meadows, mules and horses wandering, flowers of various hues marked the foreground of the trek.
The trek was also not quite hard and covered a distance of 6-8 km. Our guide had set up our camps about 2 km before Rola Kholi. I'd suggest you to camp in Rola Kholi, if you undertake this trek because of the beautiful scenery you'd get to witness at the camp site. Large green meadows and a water stream flowing amidst it gives a treat to your eyes when you just want to relax after a long trek and have your chai.
Anyway, the amazing lunch made for us at the camp site made up for it. I also utilized this time to shoot. Due to the mass abundance of clouds around us and a continuous wind which led to differences in light exposure, it did prove to be a little difficult.
As the monsoon season was on, the clouds were in their full glory. All we could see 10 metres ahead of us was a curtain of clouds and with the blowing wind, one or two of them would pass through us. So, we were literally standing above and below these clouds. We also made a friend on the trek, a savage specimen of the dog species who we named Simba, Simbu and eventually ended up calling Simbesh. The savagery soon vanished under a faint modesty as he finally got acquainted with us.
After a session of listening to tales told by our guide, shooting, listening and sightseeing, we finally receded to our tents and zipped up the sleeping bags up to our necks.
Day 3
Rola Kholi- Bhrigu Lake- Vashisht- Manali- Delhi
We camped at a place close to Rola Kholi , infant 2 km before it. Rolakholi turned out to be a pure and utter delight. The trek starts from Gulaba, and I can assure you that midway, Rola Kholi is one of the best places you can put your tents at. Covered with a cradle of mountains and a stream flowing amidst it, Rola Kholi is a haven of flowers and a paradise for nature-lovers.
Luckily for us, Simba had not yet grown tired of our company and kept treading behind until later on when he finally gave up on us and disappeared midway. Numerous name-calling attempts and sly, suspecting glances at shrubs did not put the odds in our favor in any way.
After we had trekked a certain distance from Rolakholi towards Bhrigu, the climate underwent a change and the landscape became dotted with white patches of snow. Our first sightings of waterfalls also began midway this trek. We eventually came upon a crowd of people at a place we initially suspected was Bhrigu but as it turned out, they were all crowded around a steep hill of snow through which they were making a pathway to cross over and reach Bhrigu on the other side.
While we were desperately digging our way through the small hill, we also spotted people sliding down, with huge smiles slapped on their faces- people who were completing the descent. Indiahikes also complete the trek in such a way that you reach Bhrigu through Gulaba and also visit the place while coming back. Us being the rebels without a cause that we are, decided we would complete the whole trek by reaching Vashisht, not realizing that this stretch was much difficult to cover compared to the former and more popular one.
By the time we reached Bhrigu, we had high expectations from the place, owing to all the stories we'd heard about it and sincerely, Bhrigu did not disappoint. It had a landscape that was covered with half frozen ice, and half melted snow with patches of beautiful meadows amidst it. Bhrigu Lake was a breath-taking view, with a scenic background that would serve as a muse for many artists.
After spending about an hour at Bhrigu, we finally decided to start the descent.
Many people feel that ascending on a trek is the more difficult part compared to the descent, but through my personal experiences, I formulated quite the opposite view. For one, you tend to lose your body control while descending and a lot of weight falls on your knees, which can be troublesome. Trekking poles do serve a great purpose in distributing that weight, though.
So, when we started the descent, I had all these things in my mind, choosing to take the right precautions but ignoring the tough position we had gotten ourselves into. We trekked for a total time of 12 hours on the day, and as we had a bus to catch from Manali to Delhi at 9 p.m., we were also driven by haste. I personally like taking my time while trekking but due to the circumstances that day, I was so rushed that I took a millisecond halt to tie my shoelaces and forgot my trekking poles on the way, only realizing it 2 kms later.
After a body-wrecking journey, we finally reached our campsite and our guide took us to Manali from where we boarded our bus back to Delhi. All in all, the trek was an absolute delight and by far my favorite and most visually appealing one after the Har Ki Doon trek.