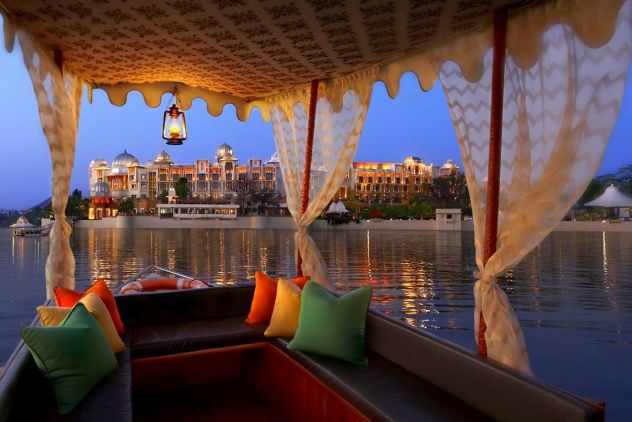 Udaipur situated in the state of Rajasthan, is recognized as one of the most scenic princely places in India. This place influenced by rich Rajputana heritage beckons numerous of tourists all over the world. A land of pristine lakes, opulent palaces, and defiant fortresses makes you indulge into dynamic cultural fiesta of the Rajasthani legacy.
Travel Option: Well connected with metropolitan cities makes Udaipur easily reachable. Travelling to Udaipur from your desired location is always fulfilled by buses, taking a bus is easy and cost saving. Book bus tickets online from redbus.in and enjoy the beauty of roads. Check for suitable bus schedules and 'pave the way' towards the destination. Once you arrive here, get some rest in any of these accommodations listed below.
Here is a compilation of alluring hotels in Udaipur that shall make your stay worthwhile.
Lake Palace: Lake Palace found in Udaipur, is the most luxurious and favored hotels in the country. It is situated on a solid foundation of four acres of rock amongst the cerulean Lake Pichola. This heritage hotel is owned and managed by the Taj Group of Hotels currently. The romantic environment is made furthermore captivating with the sounds of placid waters of Lake Pichola.
Golden Tulip: Situated close to Lake Pichola and the City Palace, the Golden Tulip Udaipur is well connected to major transportation hubs and cultural landmarks. It offers fine room facilities and hotel services for those who prefer to stay within comfort. This hotel also comprises of business centre, swimming pool, multi-cuisine on-site restaurant, fitness centre, spa, currency exchange, valet parking, café and a bar too.
Fateh Prakash Palace: This hotel usually plays host to ceremonial dinners and corporate events. It has already won five National Tourism Awards for the best heritage hotel in the category of 'Heritage Grand'.