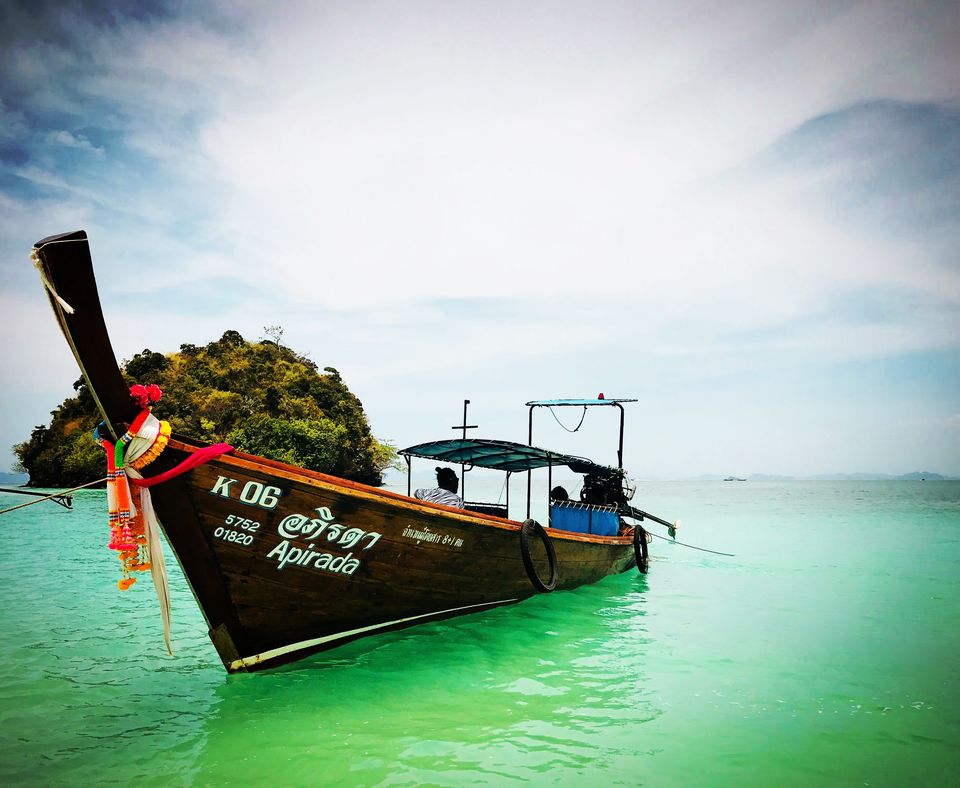 There is an abundance of things to do in Krabi. There is a vast jungle that surrounds Krabi, countless beaches since after every beach, well, there is another beach. And Krabi has an extended coastline with hundreds of sparsely inhabited islands. With water comes, water sports and activities which is also something Krabi is very sought after for.
What I would like to do is share my experiences of the things that I found a must-do and if you are a backpacker like me, tight on time, money and resources, I think I can help you to get the best out of your trip.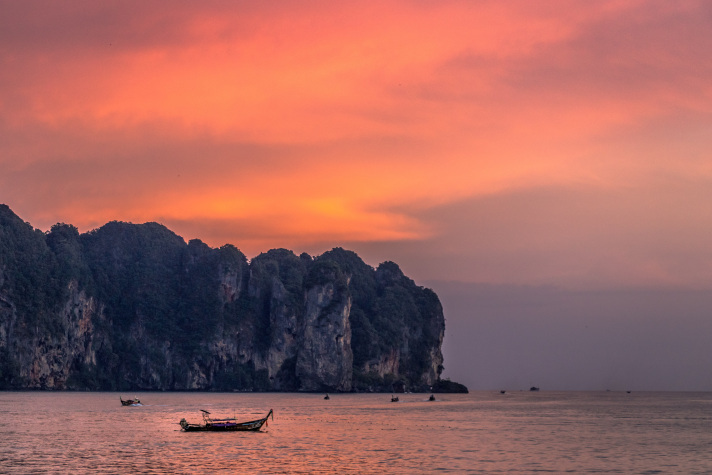 Where is Krabi located?
Krabi town is the center of Krabi province which lies on the southwest coast of Thailand mostly known for its gorgeous coral islands and infamous parties. Krabi although is a part of the mainland where the town is prominently characterized by limestone cliffs, dense forests and fauna, and a sparse laidback town.
How is Krabi better than nearby places?
I would say that is because Krabi is slightly cheaper than Phuket or even Phi Phi and much sparsely populated with equally picturesque beaches, water activities, and delicious Thai food. Most tourists prefer much more mainstream towns like Phuket or Koh Samui for raving party scenes. Krabi is very quiet comparatively
How to reach Krabi?
You can reach Krabi by taking a direct flight from Bangkok to Krabi Airport which starts from 700 Baht. Another way is taking a train to Surat Thani and then a Bus to Krabi. You can also take a Bus or even a ferry from Phuket to Krabi.
You can book Buses in Thailand here: https://12go.asia/en
You can book train tickets in Thailand here: https://www.thairailwayticket.com/eTSRT/
What is the best time to visit Krabi?
Krabi is a beach town so it's mostly hot and humid. While October to March is the best time to visit, it is also the peak tourist season. Summer months are hot in Thailand and June to October is heavy rainfall in the area so a lot of water activities may be closed during these times. I went in April and it was good enough to travel
How much will it cost?
The tickets from Bangkok to Krabi will be around 1200 Baht one side. Stay is something that you can choose depending upon your budget. A hostel will cost around 600 Baht a day to 3000 Baht for a basic resort. A meal at a local restaurant will cost around 150 Baht per person. Renting a vehicle is another 300 Baht per day plus a 100 Baht for fuel. Rest depends on your activities and been listed below with each.
What to do in Krabi?
If you are short on time, I would suggest that you spend at least 2 days in Krabi mainland and 1 day in Koh Phi Phi and nearby islands to enjoy the most of it. You can either choose to live in Phi Phi or take a day trip from Krabi. Here is a day-by-day log of the activities that you can club and enjoy at Krabi :
Day 1 - Ao Nang Beach - Wat Kaew Korawaram - Wat Tham Sua (Tiger Cave)
Ao Nang Beach is the sprightly tourist destination in Krabi. Although Ao Nang is a short 30 minutes' drive from Krabi town there, the area near Ao Nang beach is heavily populated and tourist-centric with hotels, resorts, clubs, bars, restaurants, bakeries, Tour agencies, Street markets and so much more. Apart from spending a good amount of time at this lovely beach, I would suggest taking a long walk from end to end and experience the bustling aura of south Thailand. All types of food are available in this stretch from American, European, Thai, Japanese & Indian.
One of the must-do activity is to hire a scooter (two-wheeler) and drive to Krabi town by road. The limestone cliffs that sits on both sides of the lanes and the patchy foliage around it gives Krabi a very distinctive feel and which will leave a very strong impression of its terrain. I found that a very refreshing ride. In the night you will also find some restaurants right next to the cliffs and sometimes even using their caves for theme-based dining.
Wat Kaew Korawaram is the most popular temple of Krabi and rightly so. While most of the Thai temples are very rich in décor with rooftops in Red, blue and golden triangular arches and gold plated intricate traditional oriental design, this temple looks plainer yet grander in architecture. I would say perhaps even a little more elegant since it is only done in dull white and dark blue color with accents of gold.
I enjoyed walking to the temple most since there is a row of unique lamp posts in traditional Thai design on both the sides and then there are dragons on the handrail while you climb up to the temple floor. A very sweet spot to Instagram ???? The opening hours are from 10am to 5pm and there is no entry fee.
While you are in the town, visit the "Black Crab" statue located in the walking distance to the temple. It has just become a popular place to touchpoint and while at the spot, have a look at the view right next to it which opens up to the river basin and will give you a glimpse of the rich mangrove story of the Krabi town. Additionally, I really enjoyed the overall décor of the town where the traffic lights are adorned with massive animal sculptures like an elephant with a sword, Lion & Bison. It's a delight!
Wat Tham Sua (Tiger Cave) is a sacred Buddhist shrine around 20 mins to the foothill from Wat Kaew Korawaram. The temple is named after the legend of roaming tigers around the area where there is also a footprint of them in the cave. To reach the top you must climb a total number of 1,237 steps. Take a bottle of water while starting since you will only get any water once you reach the top.
While climbing you will start getting an aerial view of Krabi town. And it's all miles and miles of green forests and limestone mountains in grading shades of colors of blue in many layers as you see from the top. There is an enormous golden colored statue of Buddha on the top and as nice as it looks in the day time, it's just so much grander at night since it is completely lit up and looks so vibrant against the dark sky.
Try to take this either in the morning or in the evening hours when the sun is the little cooler and the heat is less. Sunset is a great time to be on the top but try to descend before the dark or it gets a little risky to climb down the steep stairs at night. The timings of entry are from 8am to 5pm where you cannot enter after 5pm but can climb down afterward. There is no entry ticket to this.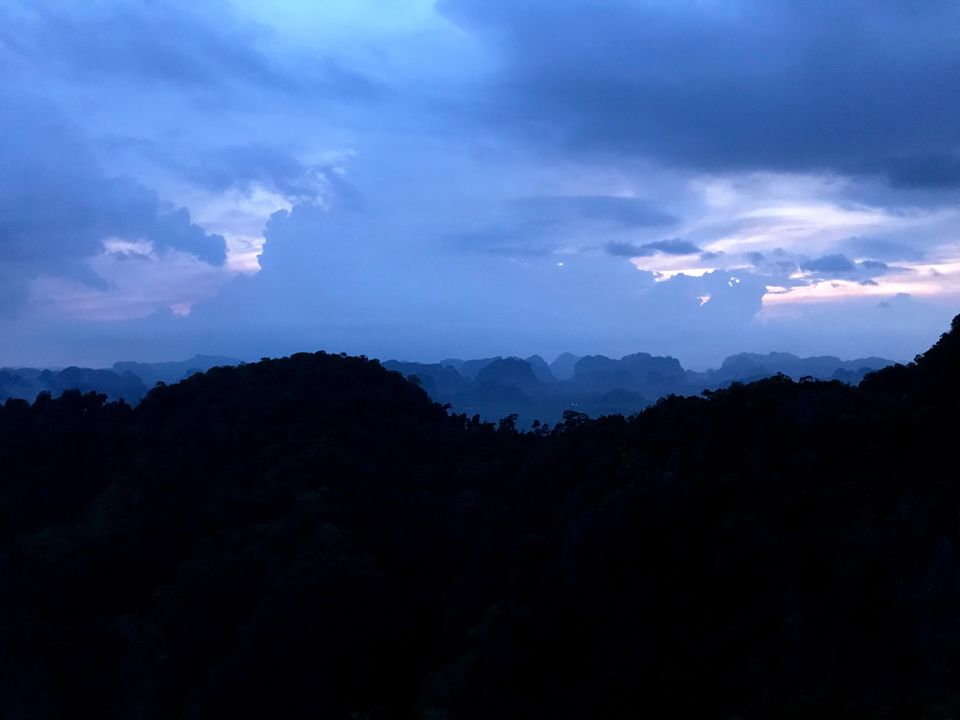 If you can drive around a two-wheeler then its best you visit these places by yourself. Don't take a tour package or buy online tickets for any of these for they honestly cost nothing.
Day 2- Railay Beach & Caves - 4 Island Tour - Koh Poda - Koh Gai (Chicken Island) - Koh Tub - Koh Mor
Cost: 500 baht ; Time : 4 hours
A four-island trip is a very popular tour package in Krabi. It consists of a package that takes you around Railay beach with caves and 4 popular islands around the coast of Krabi. You can book this from any local travel agent which you will find on the Ao Nang or in Krabi town. This is usually a group activity with around 50 people in a boat. You can get more personalized experience at a higher price.
The first stop is, of course, Railay beach which is in Krabi mainland and next to Aon Nang beach, but this could only be accessed by waterways. It is a comparatively mainstream and hence a little crowded but is also a must visit. Apart from the white sand beach and emerald blue sea water with the colorful long tail boats, this beach also has some temple caves.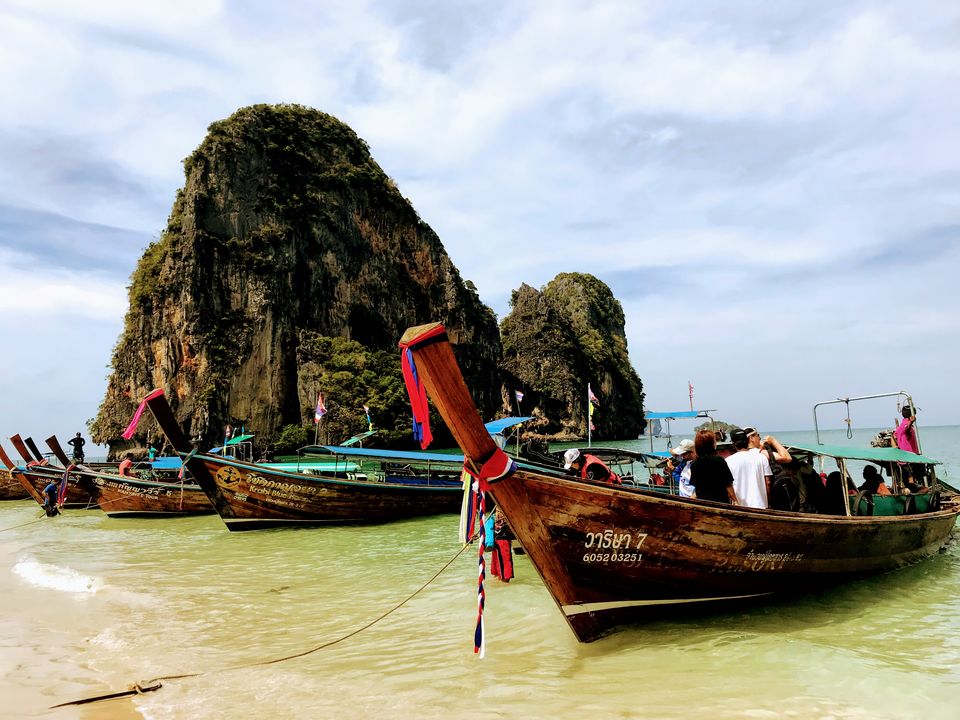 Now, if you are aware of popular culture in the east (and India) is the worship of the phallic symbol commonly knows as 'penis'. Yes, I am talking about the male genitals. At Railay beach, you will find a cave temple dedicated to the worship of phallus along with the sculpture of a phallus in various sizes, big and small being prayed to. I saw many tourists giggling, but I would suggest you refrain from it for it may hurt local sentiments.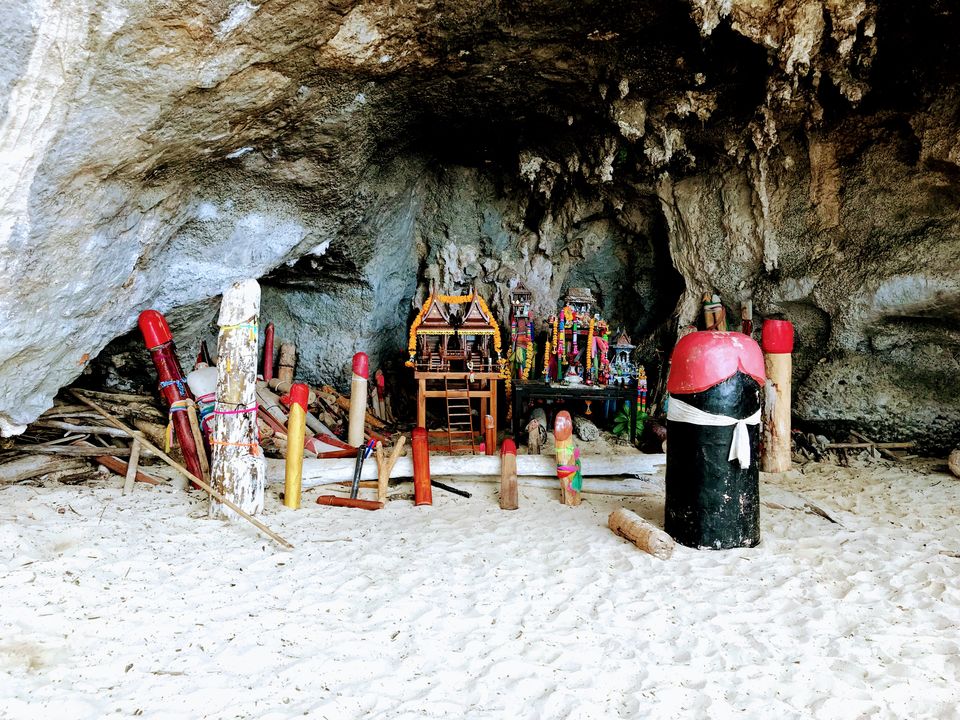 The second stop and the first island is Koh Poda. It is comparatively a bigger sized island to all others in the 4-island tour. It's a lovely island and is one of those whose pictures keep popping up on the internet and wallpaper and you wonder if they are even real. Yes, they are. There isn't much to do otherwise on the island. You need to bring your own water since you will barely find anything during the tour except on your boat. Just relax around the place, take a bath in the shallow waters, take a nap at the beach (I did) and after 45 minutes, your resume for the next stop.
The second island in your trip would be Koh Kai or chicken island. Don't be fooled, there are no chickens here - to see or to eat. The name stuck because the island looks like a chicken head, like what happens to most tourist places. You will not be able to land on this island since the beach where you can walk on does not have easy access to boats. Instead, you can do something better, snorkeling!
Thailand and its most island tours are known for its water activities and snorkeling is very popular along the coast. It doesn't matter if you cannot swim (like me). You can put on a life jacket and take a dive in the sea. You will be afloat and if you learn a little to put on the snorkeling equipment and use them, you can easily spot some lovely corals and some ocean life around. Just don't try to walk on corals or you may get a few bruises. It is fun and there is always help around.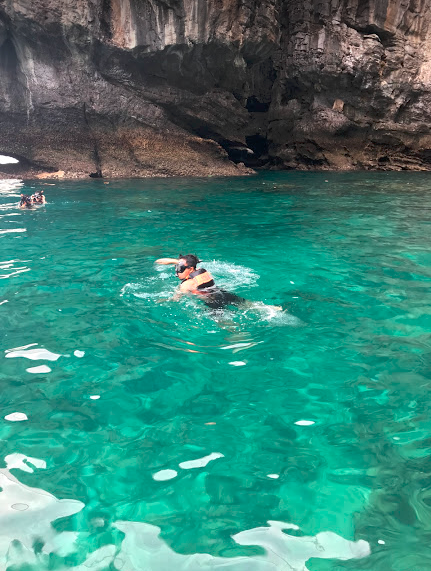 After the snorkelling, you can have a go at a meal on the boat which usually a part of the package. It is a basic meal of rice and chicken (or vegetables) with some sides but by the time you are so hungry that it tastes sumptuous. I loved the hospitality through, they urged us to finish all of it and take several helpings if we want.
The last stop and the third and fourth island in the list are Koh Tub and Koh Mor. They both are small islands and you can take the round of one in about 10 mins. They are just next to each other and connected by thin sand trail during the low tide. Again, they are lovely places to relax, take a sunbath with clear green water and clean beaches. By the time we were here, I was damn right exhausted. So just spotted a place to park me and did literally nothing.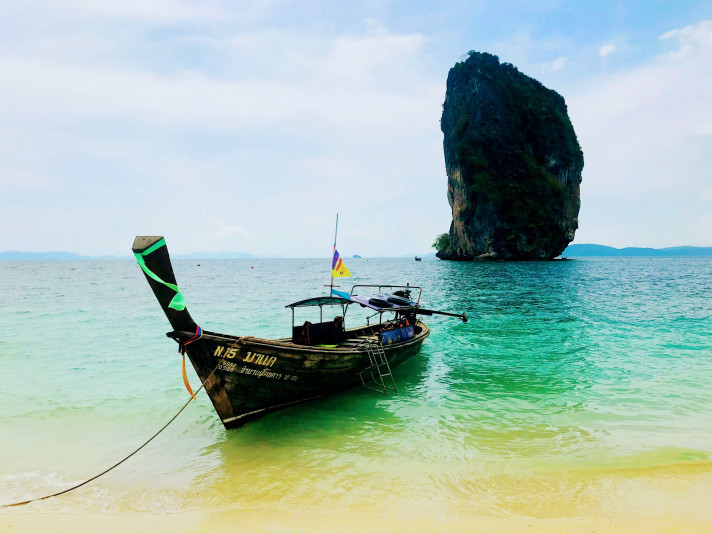 There comes the end to the four-island trip where they drop you to the Ao Nang beach again and bid adieu. You can also take a 5-island or a 7-island tour package for they will just keep on adding islands to it.
Day 3 - Phi Phi islands - Maya Bay
This is the best part of my journey. Phi Phi islands! These are known as the best on the Thai coast. I stayed here for 2 days and they are so worth it. But many opt to take a day trip from Krabi and that's also great. You need to book a tour package from a local travel agent for Phi Phi islands and Maya Bay. Maya Bay has recently been closed for the preservation of local biodiversity, so check on this. A full package will cost you around 1200-1500 Baht.
You will have to start early morning to land at Phi Phi islands by late morning. Phi Phi is one of the smallest islands in the region and you can cover the whole of them on foot. They are very beautiful at night since the whole island is lit with fairy lights and there are fire shows at the beach clubs with a lot of dancing. It is rather hot during the day time so do take an umbrella. It has recently been densely inhabited and hence you will find people at almost every nook and corner. The beaches are excellent though. You can take a table in a restaurant next to the shore and share lunch. The food is pricier than the mainland.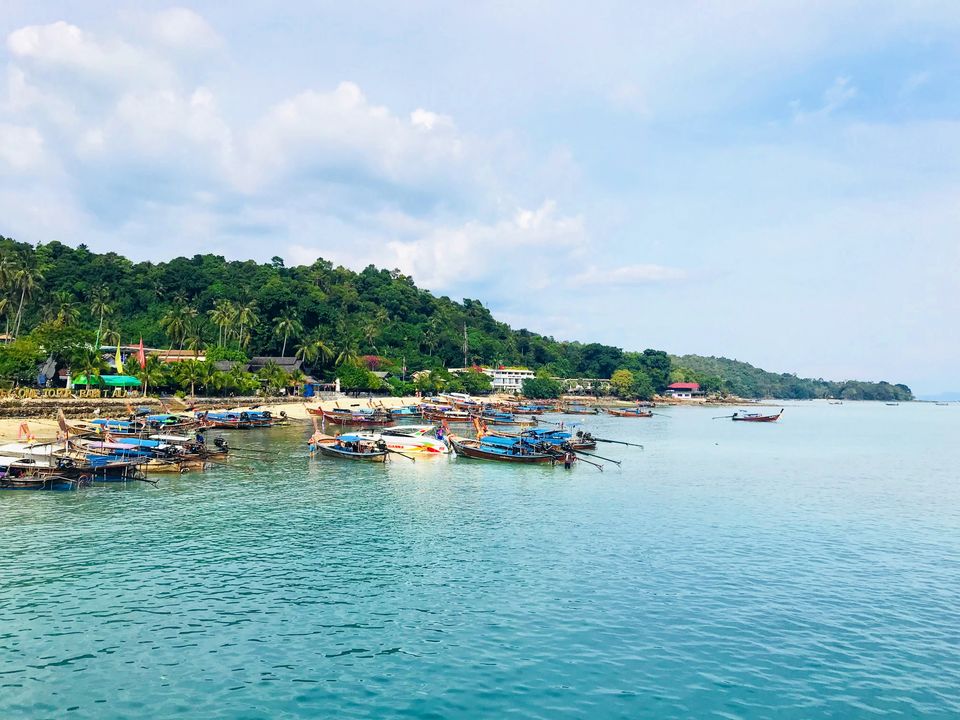 After a lazy afternoon at the Phi Phi, you head to the water for some water activities. Snorkeling again is very popular and the gear is available on most of the tour boats. You can snorkel in the shallow waters near Phi Phi islands where the water is clearer and corals more visible.
Post this you can head to Maya Bay (If open). Maya bay became extremely famous because of the movie 'The Beach' which was filmed here. The reason that it is so beautiful is that the bay is sheltered by cliffs from three sides and then is a beach in the middle. If you get down at the other side of the island you must walk on a few rocks, go through some caves, climb a ropeway and get down several stairs to reach the main beach. The sad part of it, since it is so popular you will find it crowded. The bay will be lined up by a handful of boats that ushers quite a large crowd to the beach. So if you want to see the best of it, try to come early morning before 8am or after 5pm. The charges to Maya Bay is 400 Baht which is usually included in your tour package.
On the way back you will be halting at Monkey beach. As the name suggests, the beach is full of monkeys and these are the friendliest monkeys in the world. They are so familiar with humans that if you open up your palm they will climb up your hand and sit on your shoulders. While it is a lot of fun, just take care that they are not harmed by you or anyone around for all tourists are not animal-friendly.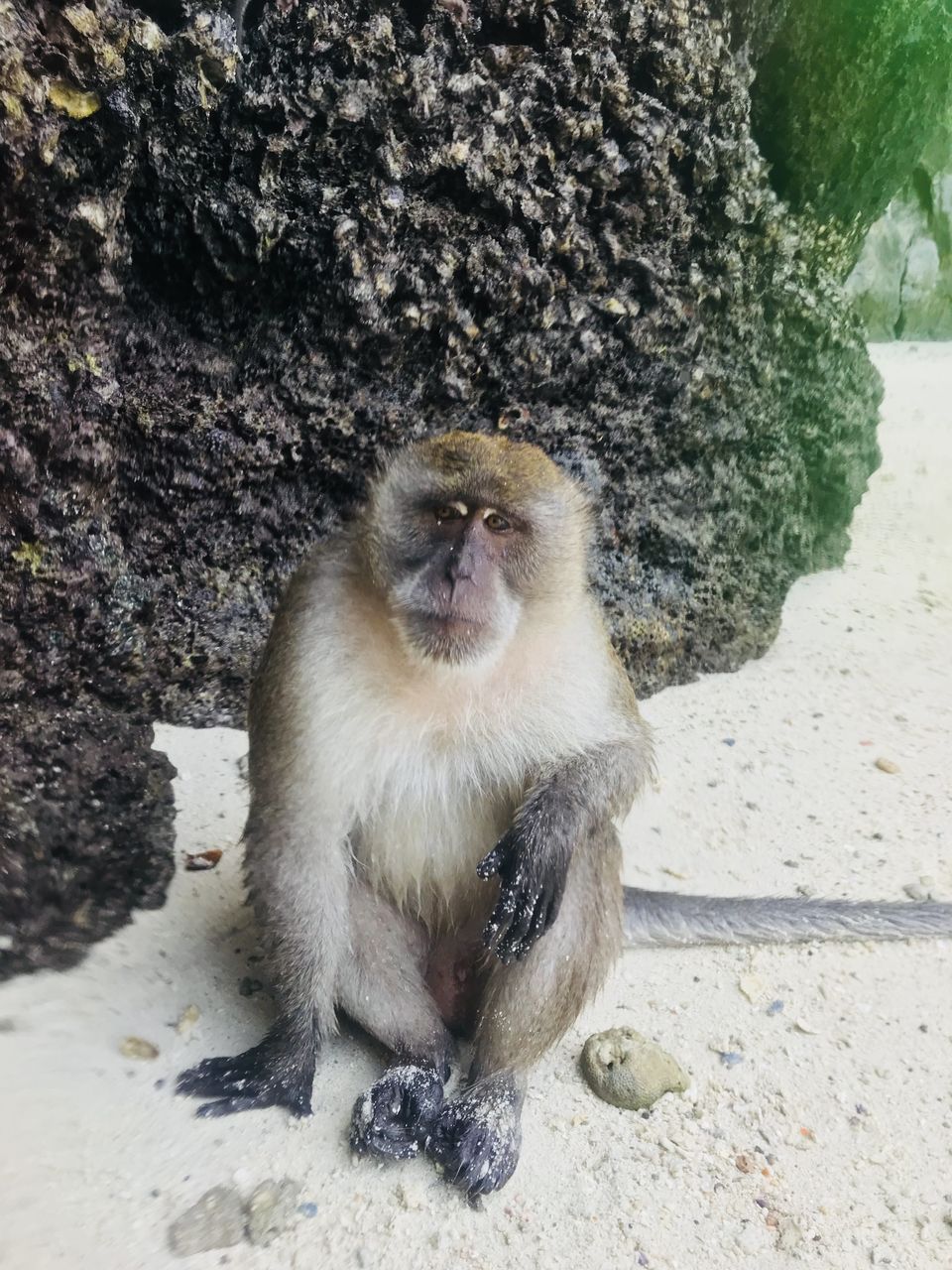 Here is a word of advice as a responsible traveler. Littering has been an increasing problem in the islands of Thailand and you can see the footprints here as well. People come and littler the beautiful beaches, leave plastic bottles, hats, sunglasses, and food leftover behind. This then goes to the sea. The local sea life has been running a risk now for which many beaches have been closed to tourists indefinitely. Make sure you take your litter home or throw it in dustbins ONLY.
Here comes the end to my 3-day itinerary to Krabi. There is a lot more the place if you have more time to spend. If you don't, then keep these on the top of your list and rejoice the place.
Join me on my journeys at Facebook, Instagram or visit my site at thestupidbear