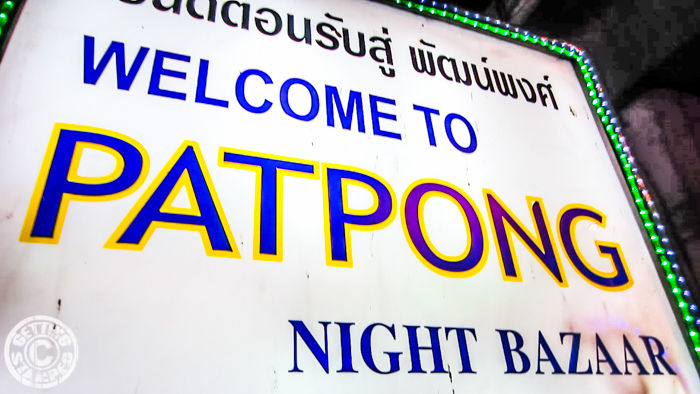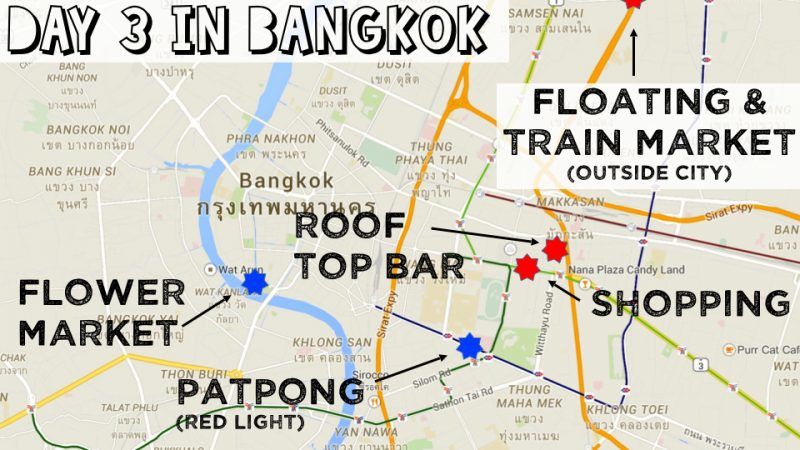 The Floating Market – Float along the markets and haggle for deals. There are a few floating markets that remain in the city and just outside. The most famous of which is the Damnoen Saduak floating market 100 kilometers Southwest of Bangkok. The narrow canals we originally built to help farmers bring their heavy produce to market, but now the market is predominately for tourist items and ready to eat food. A trip to the market is something special for a first trip to Bangkok. The floating market gets very busy with tour buses arriving around 9:30-10am and it's best to go early in the morning. Tours of the market can be arranged all over the city for about $30pp.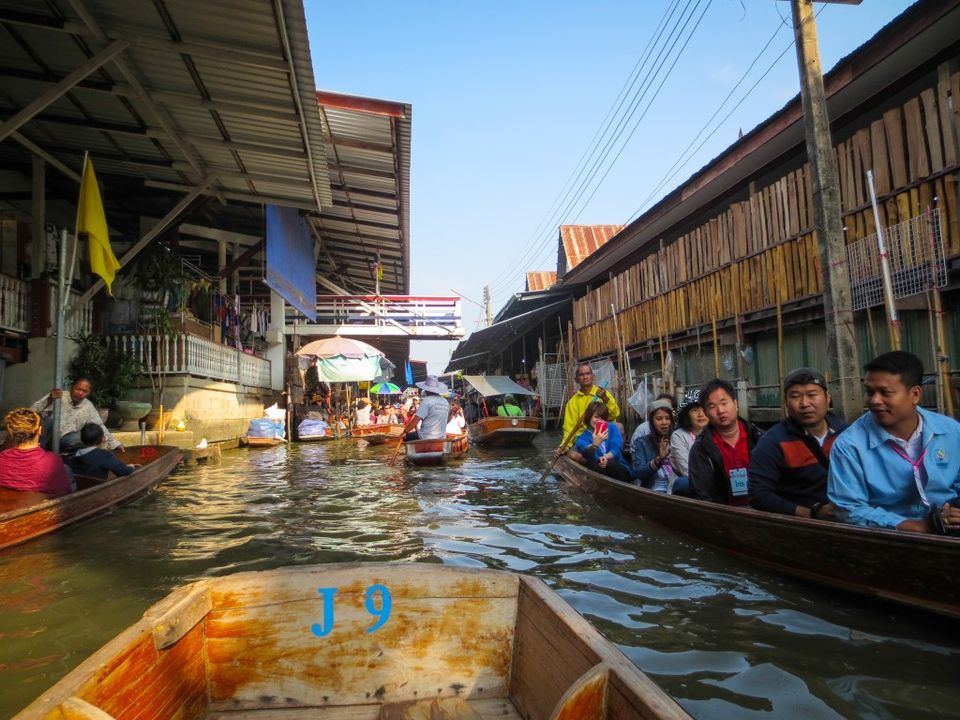 The Maeklong Train Market Bangkok – Another add-on to most floating market tours is a short tour of the train market. This is more of a local market built around the train station and right on top of the train tracks. Everyday vendors come to sell their produce and goods within inches of the train tracks, and the tracks are still in service and trains come through several times per hour. It's a must to see the train come through if you make it to the market, it's amazing chaos. Located: Samut Songkram, 60 minutes outside of Bangkok and on the way to the floating market. TIP: Hire a private car to bring you to the floating market and tie in the train market for a great day trip outside of Bangkok.
Top Notch Shopping: After your morning excursions outside the city, the afternoon can be spent taking advantage of some of the top-notch shopping located in central Bangkok. There is everything from high-end shops in malls like Siam Paragon (including a Rolls Royce dealership if you're in the market), to bargain shopping at MBK, and everything in between. We find ourselves at MBK to find unique one of a kind things you can't find elsewhere.
After a busy day in hot and sticky Bangkok and shortstop back at the room to freshen up is in order before enjoying your last night in Bangkok.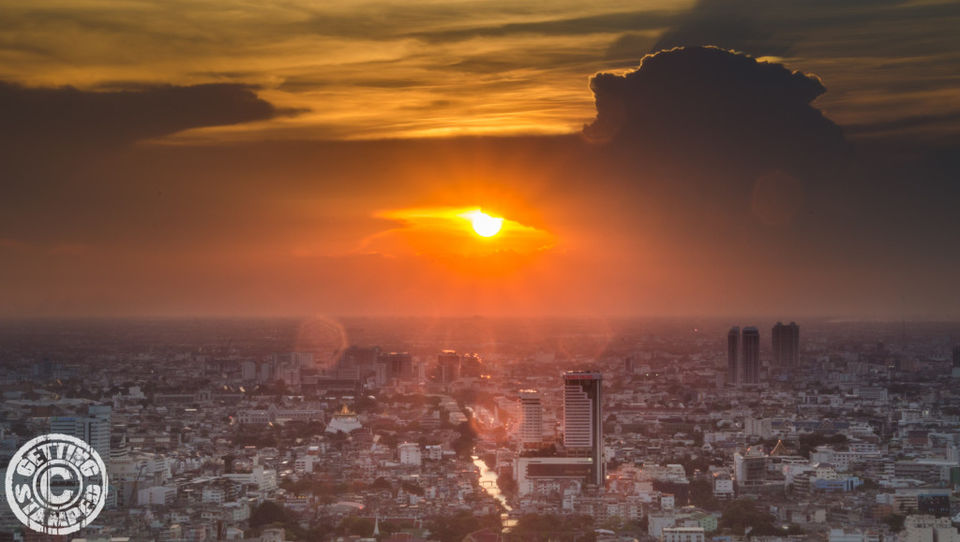 Rooftop Sunset – Finish your 3 days in Bangkok by watching the sun melt into the horizon from the top deck of one of Bangkok's rooftop bars. Made famous by a scene in 'The Hangover' movies, rooftop bars are very popular and the famous one is pricey and hard to get into. We prefer a more affordable one with just as good of a view called Red Sky. Located in the Centra Grand hotel attached to the Central World Mall on the 55th floor. Get there about an hour before sunset to ensure you get a good set facing westward to watch the sun go down. Another selling point to Red Sky is their happy hour specials from 5-7pm daily, drinks are buy 1 get 1. Still, on the high side for Bangkok, drinks are priced at 300-400 baht which at happy hour are $5-6 per drink. All rooftop bars have a dress code, for Red Sky men have to wear pants & shoes NO shorts or sandals are allowed for men, women, however, can wear whatever. We have visited Red Sky twice and each time saw men wearing shorts & sandals, but I wouldn't want to go all the way there to be turned away because I was out of dress code. The better value is the mixed drinks. For more information see our guide to Sky Bars in Bangkok (coming soon).
Bonus – Do you have a later flight the next day? Still, want to see more of the city? For some interesting people watching head over to one of Bangkok's Red light districts. The city's most famous is the Patpong night market. If you want the full experience don't go until after 10 pm (or even later) the party and the rest that goes on here doesn't start until later. Be prepared to be invited to ping-pong shows, banana shows, and a bunch of other things you have never heard of. Ladies will be wearing or holding numbers for reasons you can probably assume. There will be lots of explicit things for sale on the street carts (it's probably not a place to take the kids).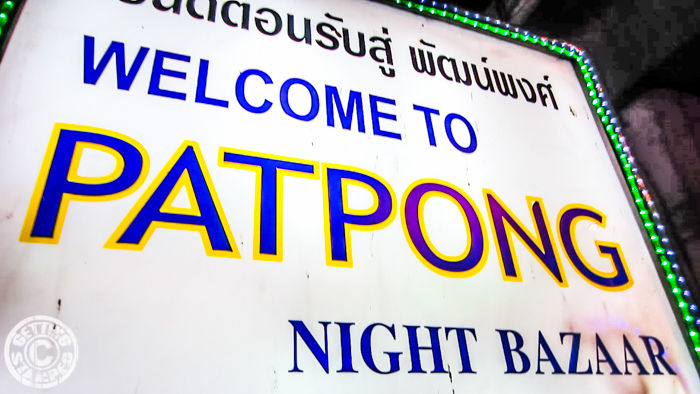 The Patpong night market is a little far from the main areas to stay, like the Sukhumvit hotel area, but there is a smaller version closer. Check out the street that has been coined 'Soi Cowboy', (Soi means small street in Thai). Located near Terminal 21 Mall off of Sukhumvit Rd. Soi Cowboy is a smaller version of Patpong but is enough for most people. It's a different side of Bangkok and by no means am I promoting what goes on here as good. The city would probably be better off without it, but it's like a car crash you can't help but gawk. Directions: Take the BTS to ASOK station (Sukhumvit line) Use exit 3 or 6. Soi Cowboy is a 50m north from the main road Sukhumvit. (you'll see the lights).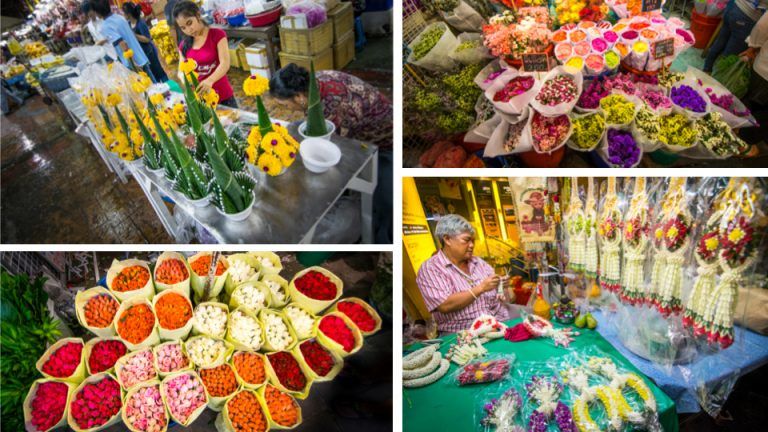 If you looking for the softer side of Bangkok without the red lights, check out the Pak Khlong Talat flower market. The market is at its busiest at night to get ready for the morning. Ladies work through the night with baskets overflowing with flowers making offerings used by Thai people to put on their cars, businesses, and homes. A trip to the market is a rush to all of the senses brightly colored flowers that fill the air with their scents. I was blown away by our first trip to the market as part of our Tuk Tuk by night tour. Directions: The market is best accessed by taking the water ferry to stop 7 and walking from there. Other than that there is not train service that runs to this area, a taxi or Tuk-Tuk may be the best option.