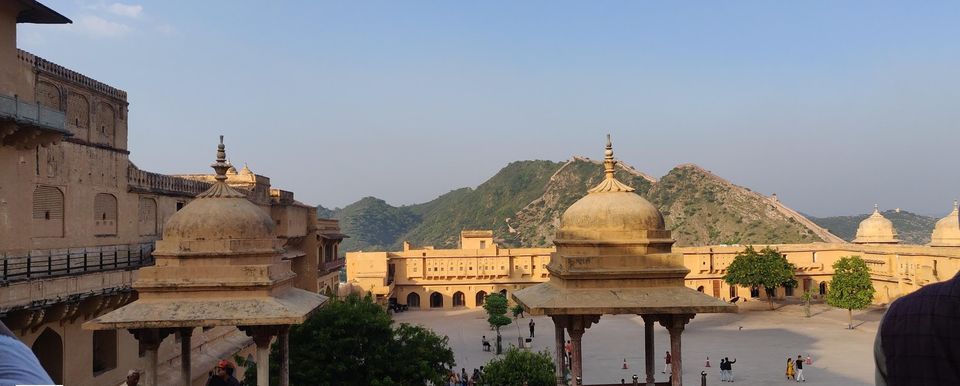 Our group of Three Girls decided to go for a 3-day trip to Jaipur.
Jaipur is also called the Pink City, The capital of the royal state of Rajasthan, Jaipur has been ruled by Rajput kingdoms for many centuries and developed as a planned city in the 17th century AD.
With the old city surrounded by walls and gates decorated with drawings on the backdrop of a beautiful pink hue, Jaipur, the pink city successfully manages to retain its old-world charm. With newly included UNESCO World Heritage sites - Amer Fort and Jantar Mantar, Jaipur is home to many magnificent forts, palaces, temples, and museums.
We took a morning flight from Mumbai to Jaipur and reached our hostel at 10 am. We had booked "The Hosteller" for our 3-day stay (Rs.2,178 per head for 3 days). Check-in time was 1 pm so we were gonna have to sit in a common area till that time. We decided to freshen up and search for a good place to eat as we were hungry. We found this book - "Lonely Planet India" in a common area that had all the information about places to visit, eat, shopping markets, area map and what not! there we found a famous and nearby place to eat - "Rawat Misthan Bhandar" and decided to go there. We ordered Rawa Dosa, Pyas Kachori, Mawa Kachori, Jalebi, Idli Sambar, bread butter and masala tea (Rs.500), sounds too much right? It was!! and we couldn't finish it all. Our first lesson learned and we decided to order smaller portions at a time. After breakfast, we returned to our hostel and our room was ready! We unpacked our bags and got ready but one of our "workaholic" friends had a meeting so by the time we left for exploring Jaipur it was already 3.45 pm.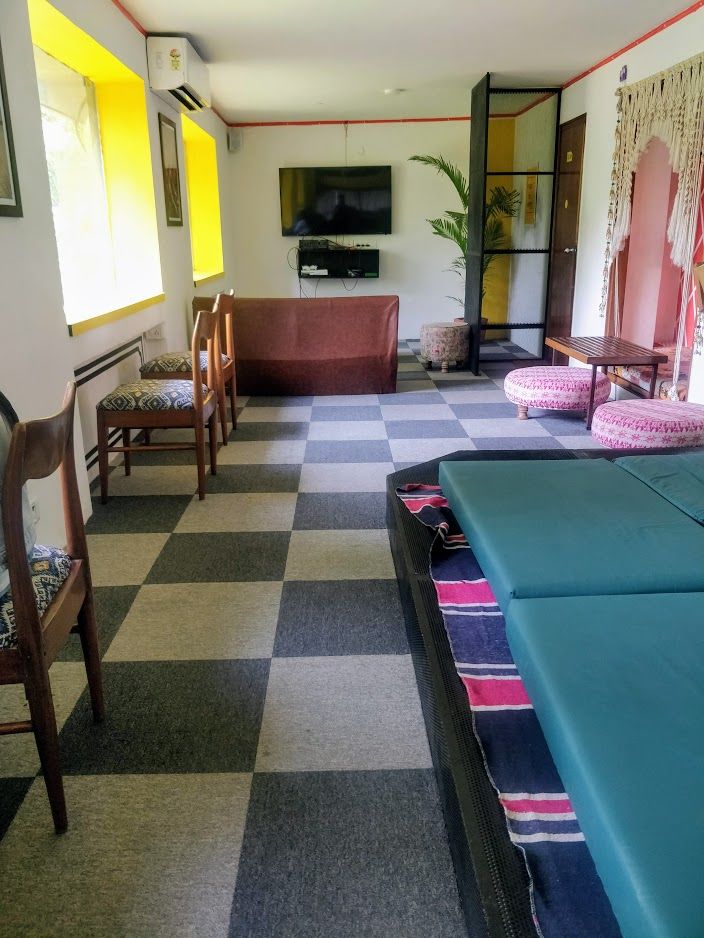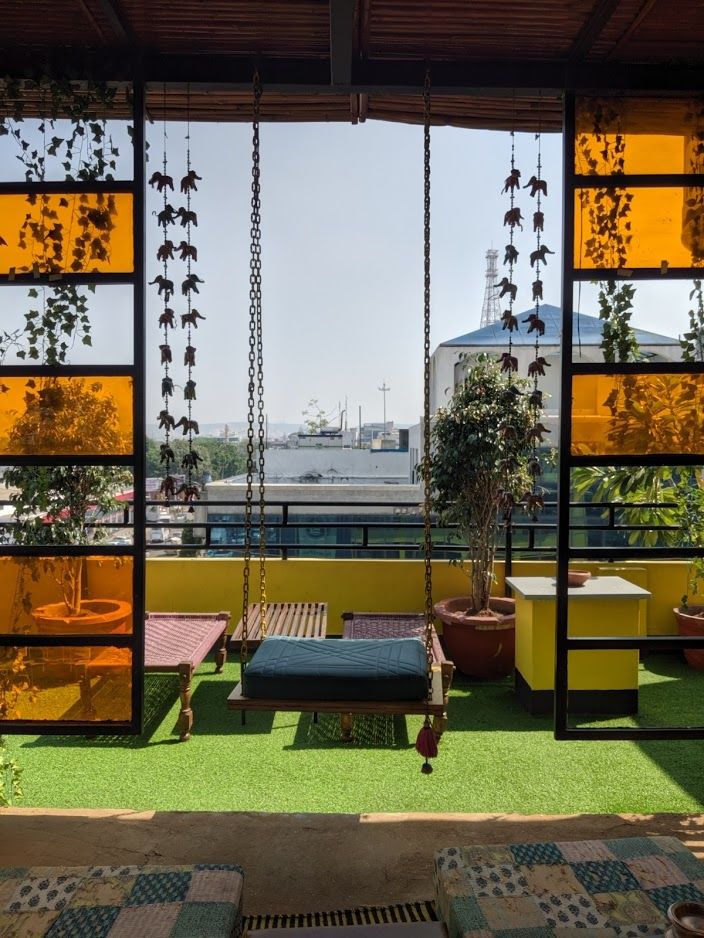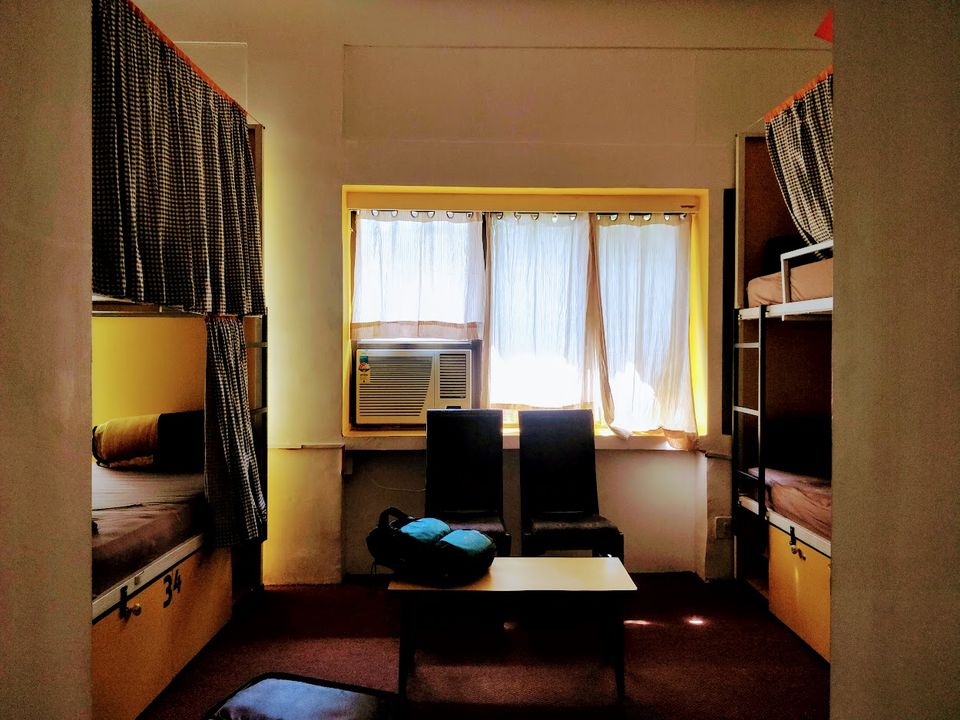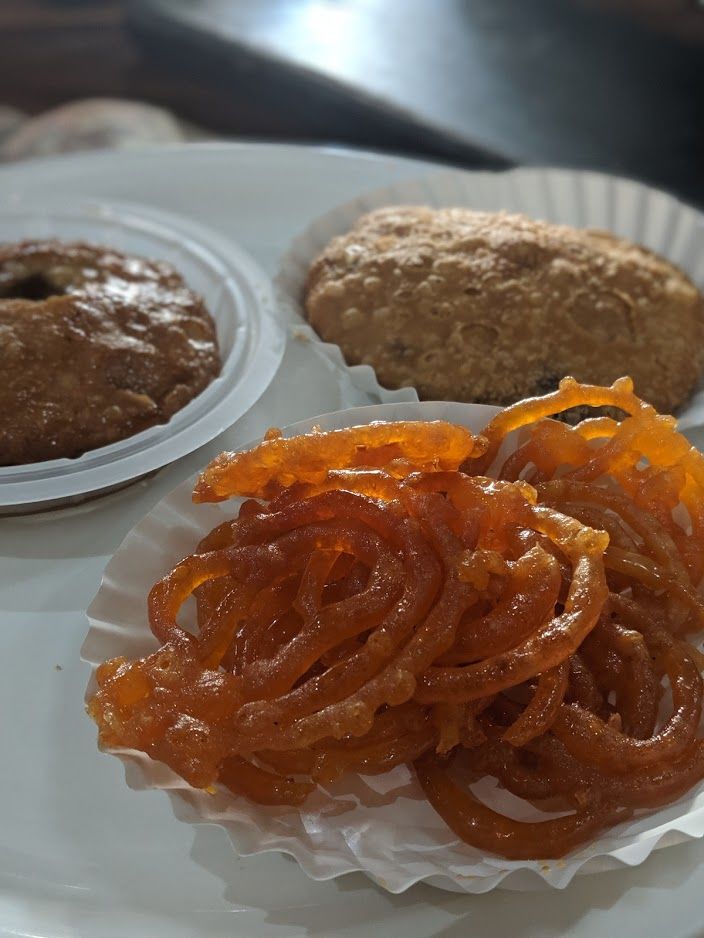 Entry Fee - Rs.100 per head for adults and Rs.10 for Students if you have school/college ID, also there are no extra charges for photography/videography. Separate charges if you want to attend light show in the evening.
Visiting Time - 9 am to 5 pm. Light show starts after 6.30 pm on fort premises.
We headed to Amer Fort by Ola Cab (Rs.215). We reached there at 4.15 pm and a few photographers, guides, etc followed us till fort premises. We decided to hire a guide so that we will get to know the history. The guide was government-affiliated (Rs.150) and he showed us attractions inside fort including Maota Lake, Kesar Baug, Jalebi Chowk, Sila Devi Temple, Diwan-e-Aam, Diwan-e-Khas, Ganesh Pol, Sheesh Mahal, Snan Ghar, Sukh Mahal, and Queen's apartment, we also got to hear live folk music played by local musician on the Exit and it actually gave us Rajasthani vibe which was a beautiful experience. Our guide had very good knowledge and told us many interesting facts about every place. After that, we headed to Krishna-Meera temple by jeep (included in guide charges), it is said to be the only temple having idols of Krishna and Meera together.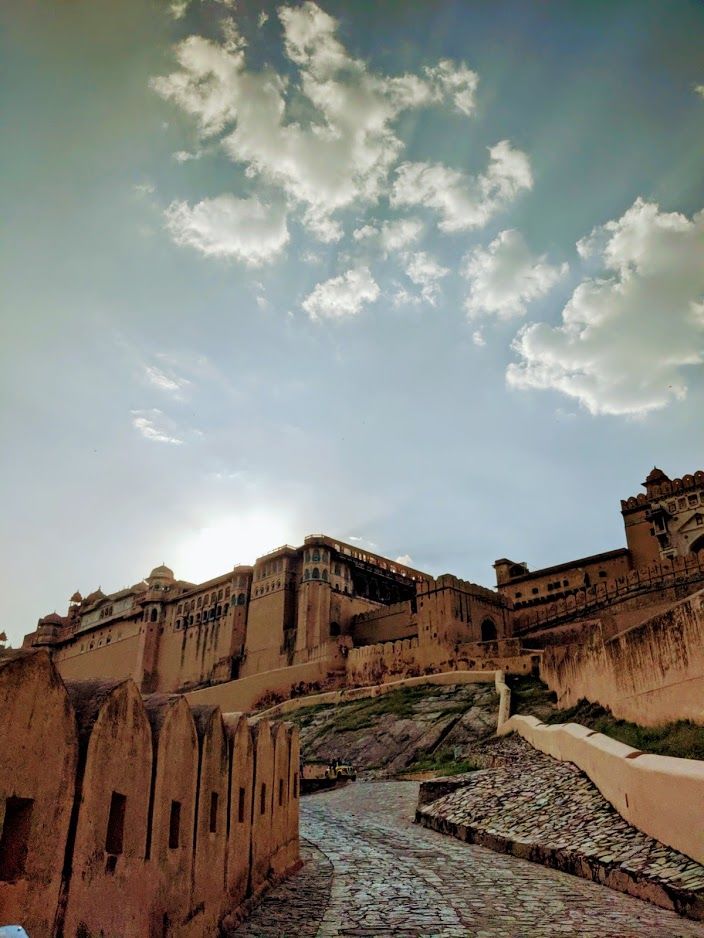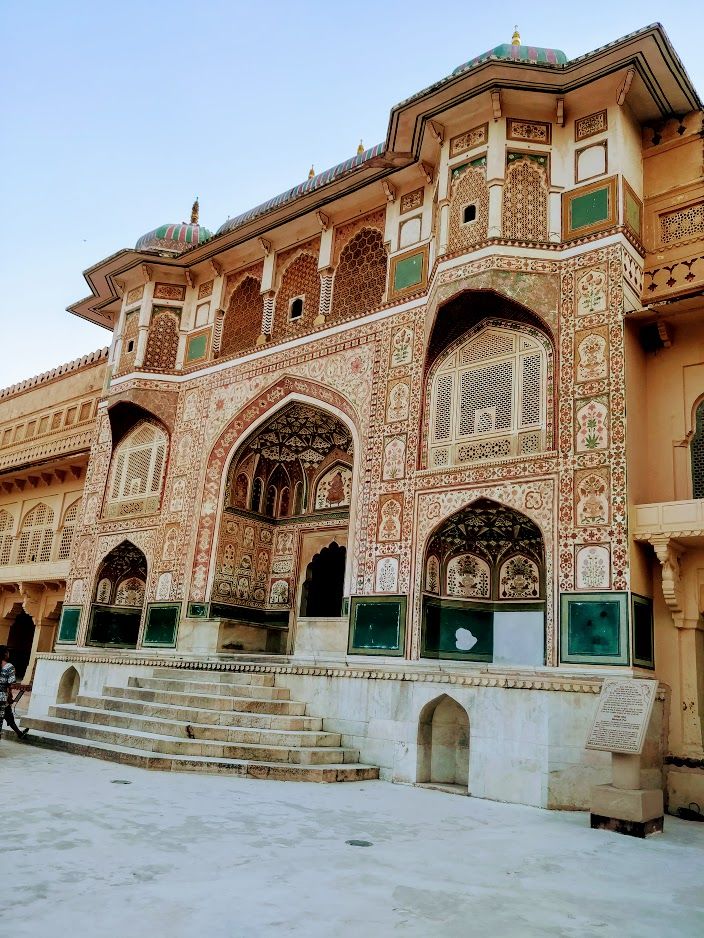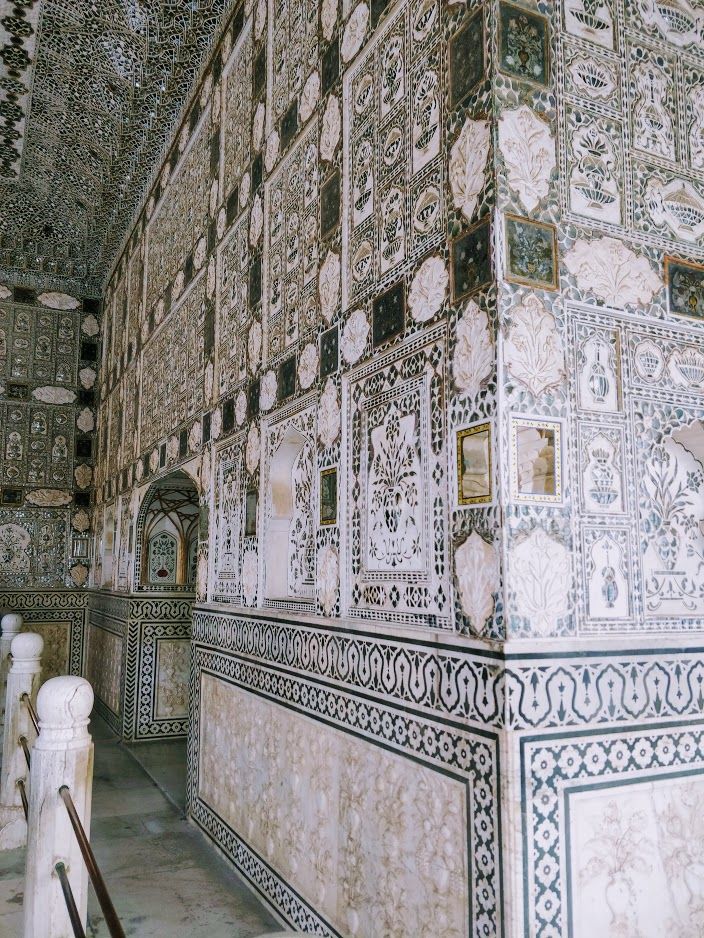 Follow this link for the folk music video -
https://photos.app.goo.gl/ULJvmN3mygbpC6VH9
Entry Fee - Free
Visiting Time – till 10.30 pm
Then we headed to Jal Mahal by auto (Rs.100) and had Coconut Water(Rs.40 each) as we were feeling tired. Jal Mahal was completely lit and was shining bright at night, it was indeed looking even more beautiful. You will find a mini street shopping market on this footpath. Here we clicked photographs in Rajasthani attire and our photographer was so friendly and enthusiastic that he also clicked our slo-mo videos, it was so much fun!
We searched for a place to eat on Zomato and took a ride till there on battery-operated auto (Rs.120). "The Night Jar" was a perfect place for dinner, it was on a walk-able distance from our hostel, they served yummy food and live music. This guy was singing with his guitar and we didn't want to go back to the hostel even after finishing dinner as his voice was so mesmerizing! but we had to go as it was getting late and we didn't want to miss any points of the next day.
Entry Fee - Rs.50 per head with no extra charges for photography/videography. Here you can also get combined ticket for main attractions in Jaipur including Hawa Mahal, Jantar Mantar, Albert Museum, Amer Fort, Nahargarh Fort, etc which costs Rs.300 and it is valid for 2 days.
Visiting Time - 9 am to 5 pm
We got ready in the morning at 8.30 am and had breakfast at the hostel itself (Rs.160 per head unlimited). Then we booked an Ola cab to Hawa Mahal (Rs.78) and reached there within 20 min. We bought tickets, entered Hawa Mahal, enjoyed its view, clicked hundreds of pictures/videos and then headed to "The Wind View" cafe on the opposite side of the street where most of the people go to click exclusive pictures with Hawa Mahal. It was 12 pm and we were also feeling hungry by that time so we ordered a sandwich and juice. After having mini snacks and clicking more pictures with Hawa Mahal, we started to walk towards Jaipur Palace which was at a distance of 10 min.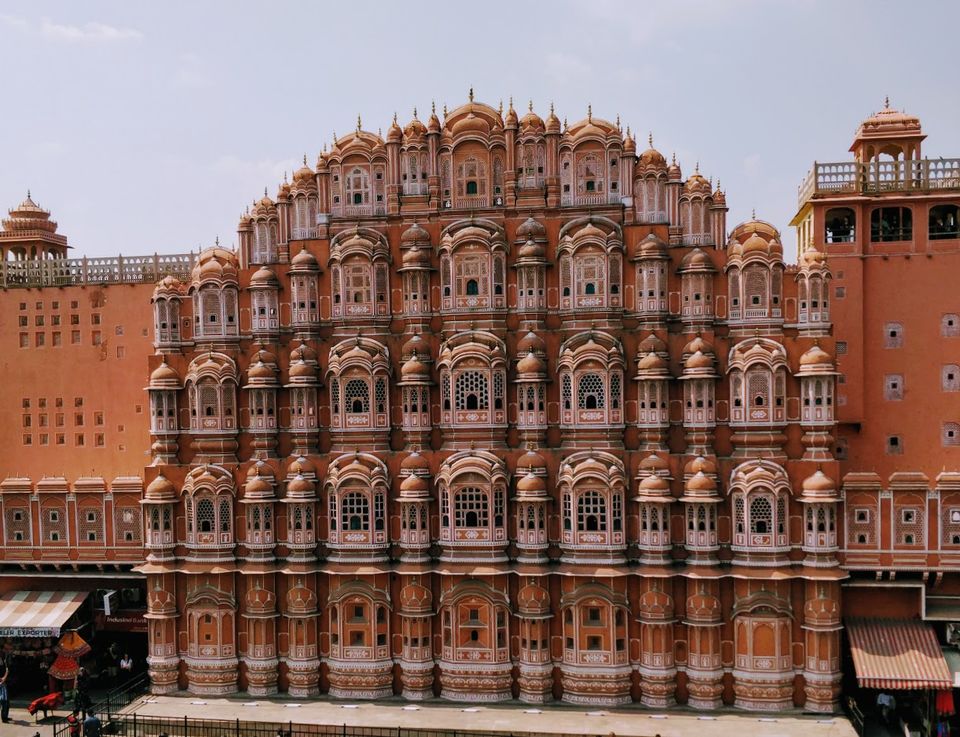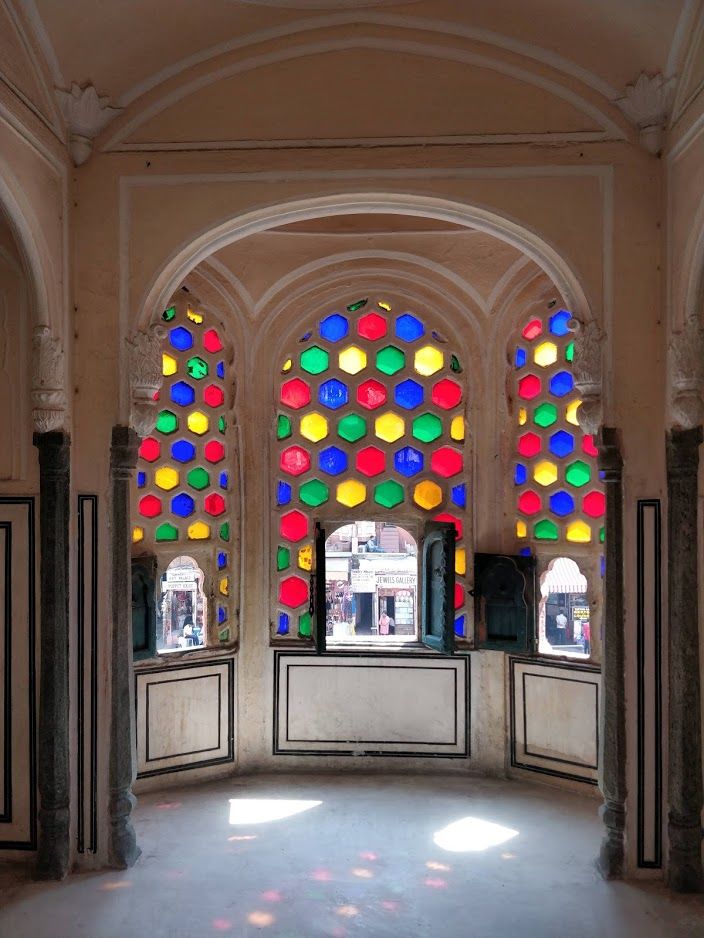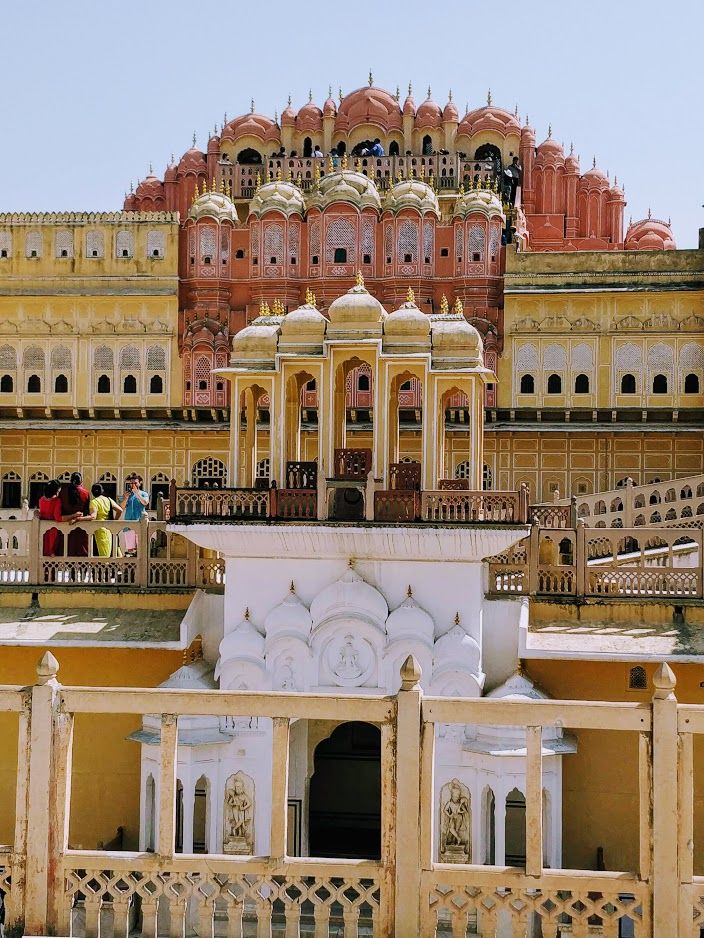 Entry Fee – Palace Museum - Rs.300, Half palace - Rs.1,500, Full Palace - Rs.3,000. These are per head prices and includes guide and a tea-snack only for Half/Full Palace visit.
Visiting Time - 9.30 am - 5 pm
Must Buy - Pashmina Quilt, home delivery available at free of cost.
We arrived at "The Jaipur Palace" and bought tickets for Half Palace visit (Rs.1,500 per head). Our guide showed us important parts of the palace including Diwan-e-Aam, Diwan-e-Khas, Sheesh Mahal, Shobha Mahal, Royal Garden, Private living room which is still being used by the Royal family, and entertainment area which had 4 doors carved such that they indicate 4 seasons. Then we had a small tea break and after that, he took us to Khadi Bhandar inside the palace for shopping. We had a good shopping session there and decided to go for a shopping spree in the local market as well. We wanted to visit Jantar Mantar on the way but it was closed by that time.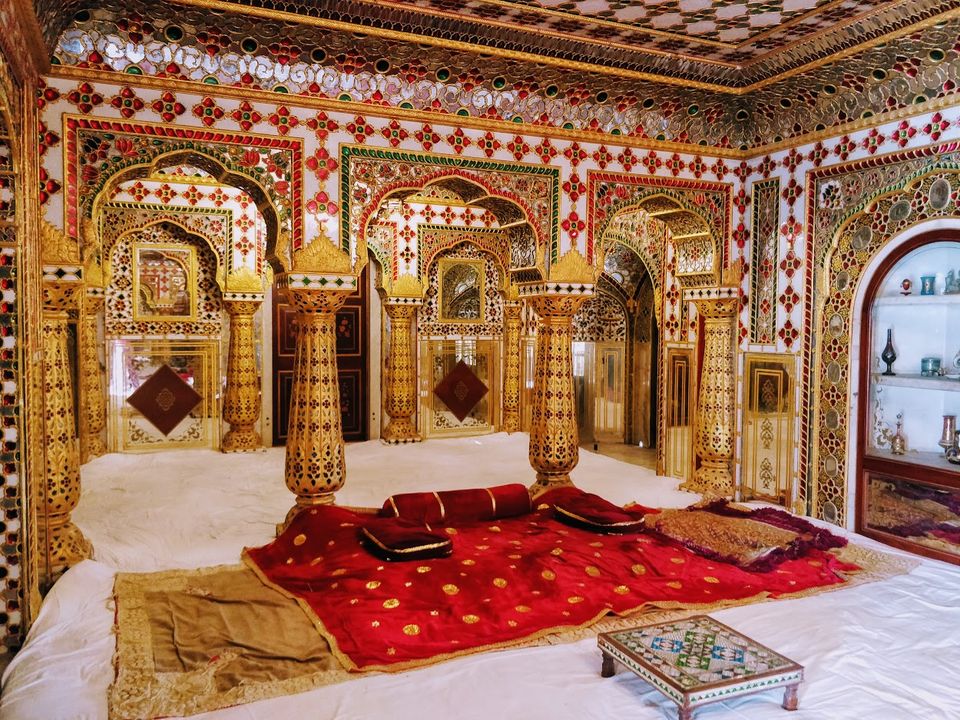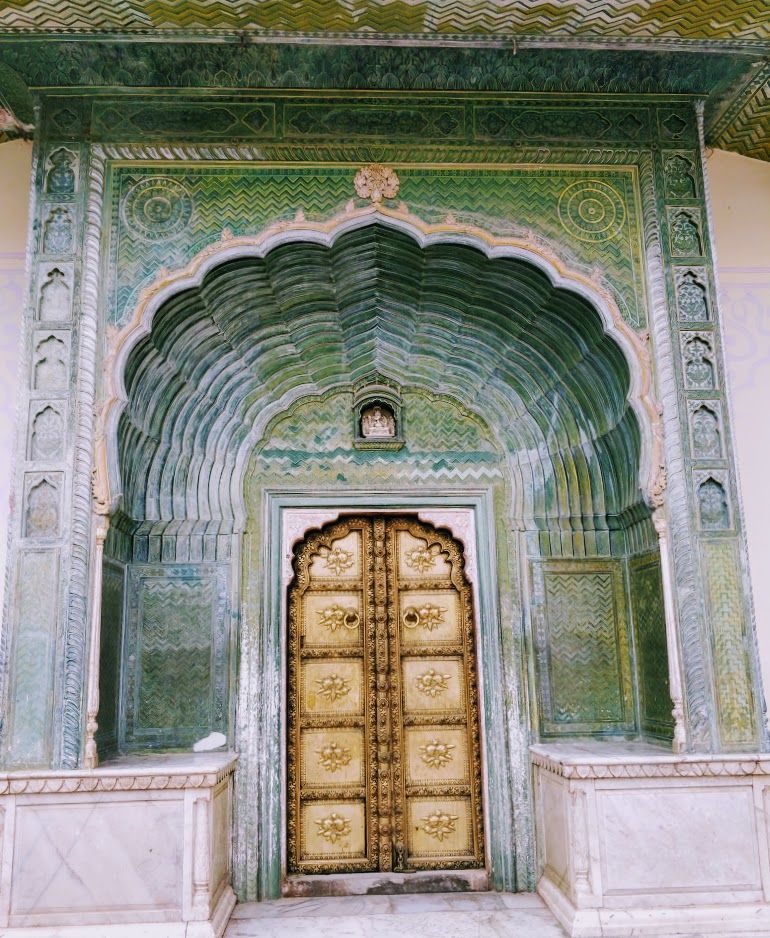 Visiting Time - 11 am to 9 pm
We started walking from there passing Hawa Mahal bazaar till Bapu Bazaar. Bapu Bazaar is indeed a good place for shopping and it is also cheaper compared to Hawa Mahal Bazaar. We did not realize how the time passed and it was 9.30 pm when we took an auto from there till Hostel (Rs.50) to drop the shopping bags. We got a nice night view of the Hawa Mahal area which was completely lit and was looking beautiful at night.
Again we searched for a nearby option for dinner on Zomato and walked till there but by the time we reached there, it was almost closed. Still, we managed to get a sandwich and fried rice. It was 11 pm when we walked back to our hostel, we had a good chit chat session before calling it a night.
Entry Fee - Rs.25 per head with no extra charges for Photography/videography.
Visiting Time - 6 am to 6 pm
We had decided to keep our last day for Bhangarh Fort visit as we had heard so many stories about it being considered one of the most haunted places in India. So as per the plan, we got ready early in the morning at around 7 am, had Tea and Bun Maska at a snack center "Kullad Chai" adjacent to our hostel which is open 24/7. As soon as we finished, we booked an Ola Cab for a round trip (Rs.1,660) to Bhangarh Fort (Additional charges - Rs.60+60 toll (to and fro) and Rs.40 parking).
It is situated in a remote location and doesn't even have water/food stalls nearby so, one must carry own water/food and book a round trip.
It took around 3 hrs and we reached there at 11 am. As we started walking towards the Fort which was visible from a distance, we felt quite disappointed as it was not well maintained. When we reached the fort entrance, we gave up the thought of hiring a guide as it wasn't seemed to be a good idea but then we met an elderly local person who offered to tell us a detailed story behind this fort, we changed our mind and hired him (Rs.200) and later realized that it was indeed a bad idea. He told us the story that we already read on the internet and concluded saying that at night many wild animals come down to fort areas for food and drinking water which is why the story of fort being haunted was spread to refrain people from visiting it during the night and avoid unlikely incidents. At least that's what he had to say on this. He showed us the jail area of the fort which was not at all maintained and full of bats who caused this unpleasant smell we could barely withstand. Then we walked up till the last floor, clicked pictures and headed to see the two temples on the entrance of the fort but since it was a Sunday and many schools had arranged a picnic to this place, it was too crowded so we dropped the idea of going inside the temple and just clicked pictures from outside. We headed back to Jaipur with disappointment as we wasted more than half a day there which was clearly not worth it and we knew that we were gonna miss a few points in Jaipur.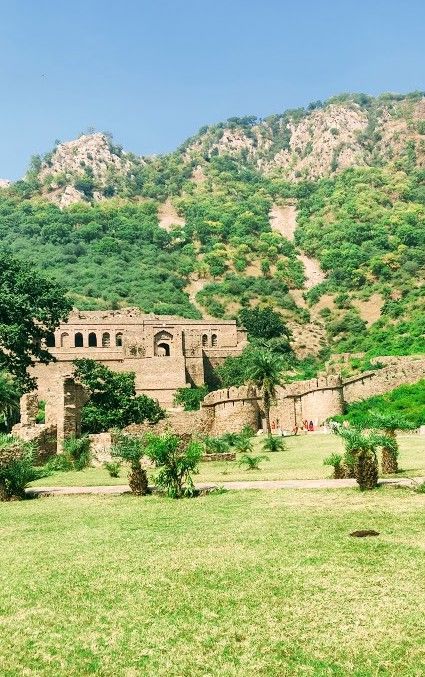 Entry Fee - Rs.50 per head with no extra charges for Photography/videography.
Visiting Time - 9 am to 4.30 pm
We stopped on Hawa Mahal Road for lunch at "The Tatoo Cafe". After finishing lunch, we almost started running towards the Jantar Mantar as it was already 4.15 pm. We visited the Astronomical monuments, read the description written beside them and sat on the benches at last as we were totally exhausted. Rested there till 5 pm, we had to move as it was closing time.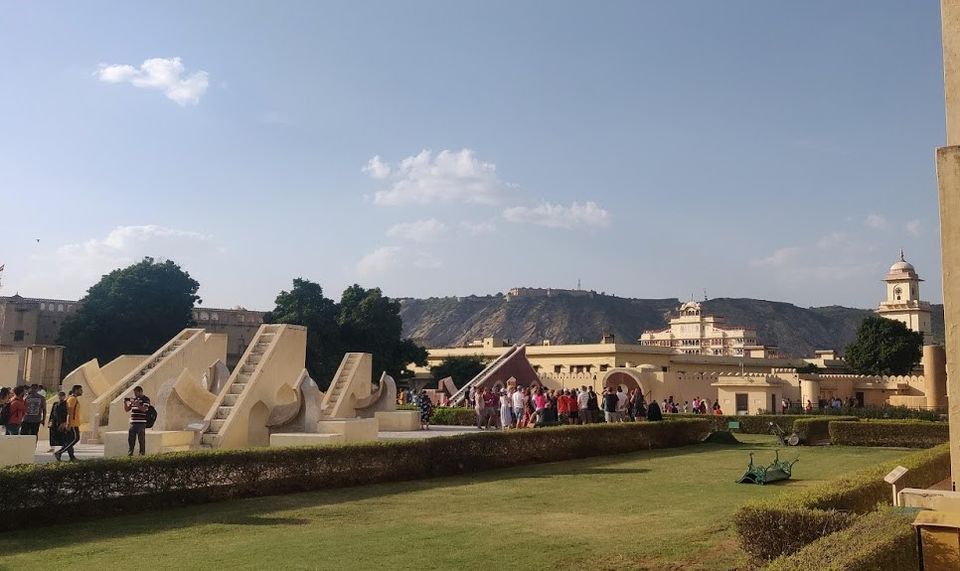 Entry Fee - Rs.750 per head for Rajasthani Thali Unlimited (Veg), Rs.1,200 per head for your choice of Veg and Non-Veg Buffet, with no extra charges for Photography/videography.
Visiting Time - 5.30 pm to 11 pm
We roamed around the area for some time, had tea and then booked an Ola Cab to Chokhi Dhani (Rs.400). Ola Cab driver tried to convince us to book a round trip at an additional cost of Rs.600 by saying that you wouldn't get any transportation from there at night but we decided to stick with the one-way trip which turned out to be a good decision. We reached our destination at 8 pm.
As soon as we entered, we were welcomed by a group of people singing, dancing, playing dhol and other traditional musical instruments.
The entrance door was huge and the wall followed had Diyas all over it. The view and music was enough to cheer us up instantly. Then we went inside and bought tickets for traditional Thali (Rs.750 per head). Each and everything we could see inside had minute detailing and reflected the Rajasthani culture. There were different stalls where you can get a mehndi done, magic show, games, palmistry, tarot card reading, camel ride, live dancing, and what not!
Few events were free but few had a separate ticket. We enjoyed there to the fullest and also rested for some time. Then it was time for dinner and we were pleased by the hospitality of staff serving it. There were various items like Daal Bati Churma, Gatte ki Sabji, Makke di Roti, Bajre ki khichdi, etc. After dinner, we rested for some time and headed back to the hostel by Ola Cab (Rs.236) (Thank god we didn't pay extra Rs.600 for a round trip).
After reaching the hostel we packed our bags before sleeping as we had an early morning flight back home.
Our total trip cost was 8K including Food, Travel, Hostel stay and Excluding Flight tickets (6K for round trip from Mumbai).