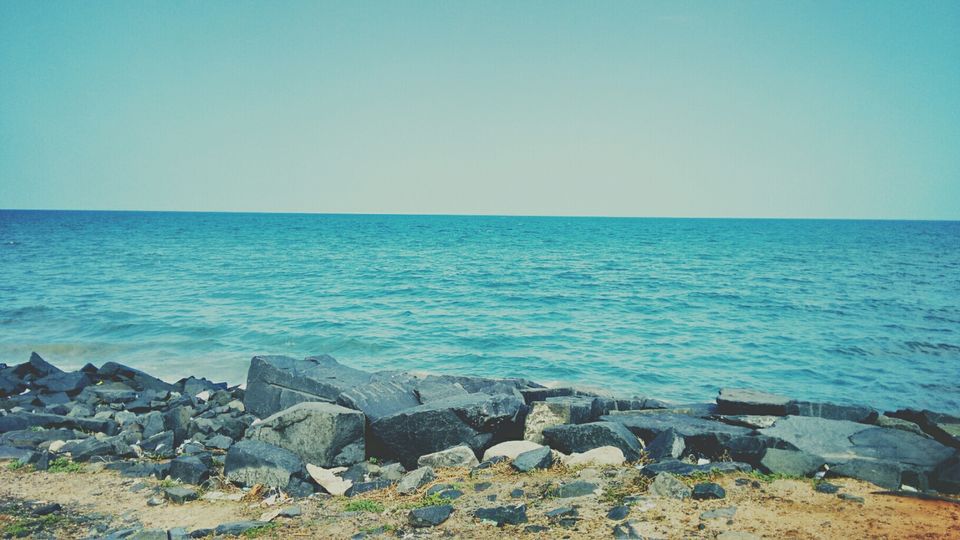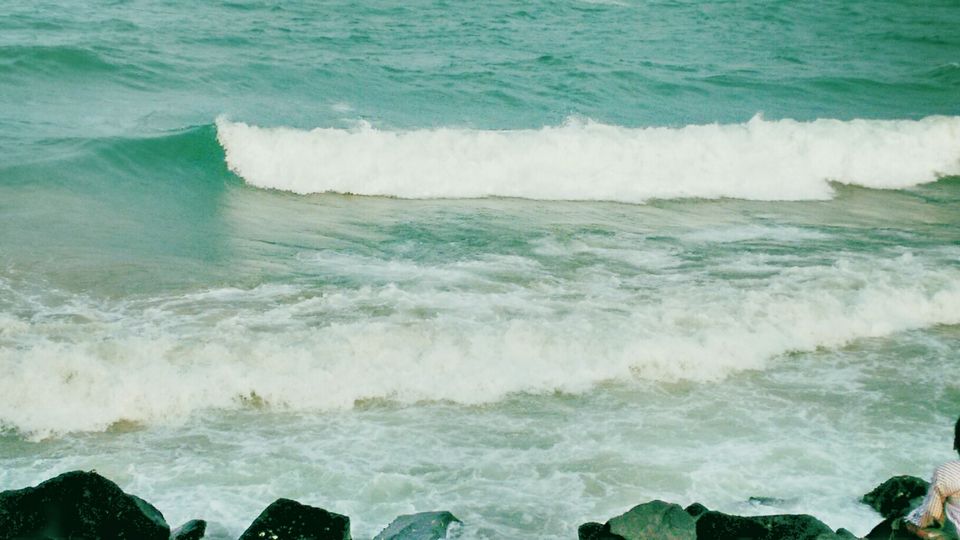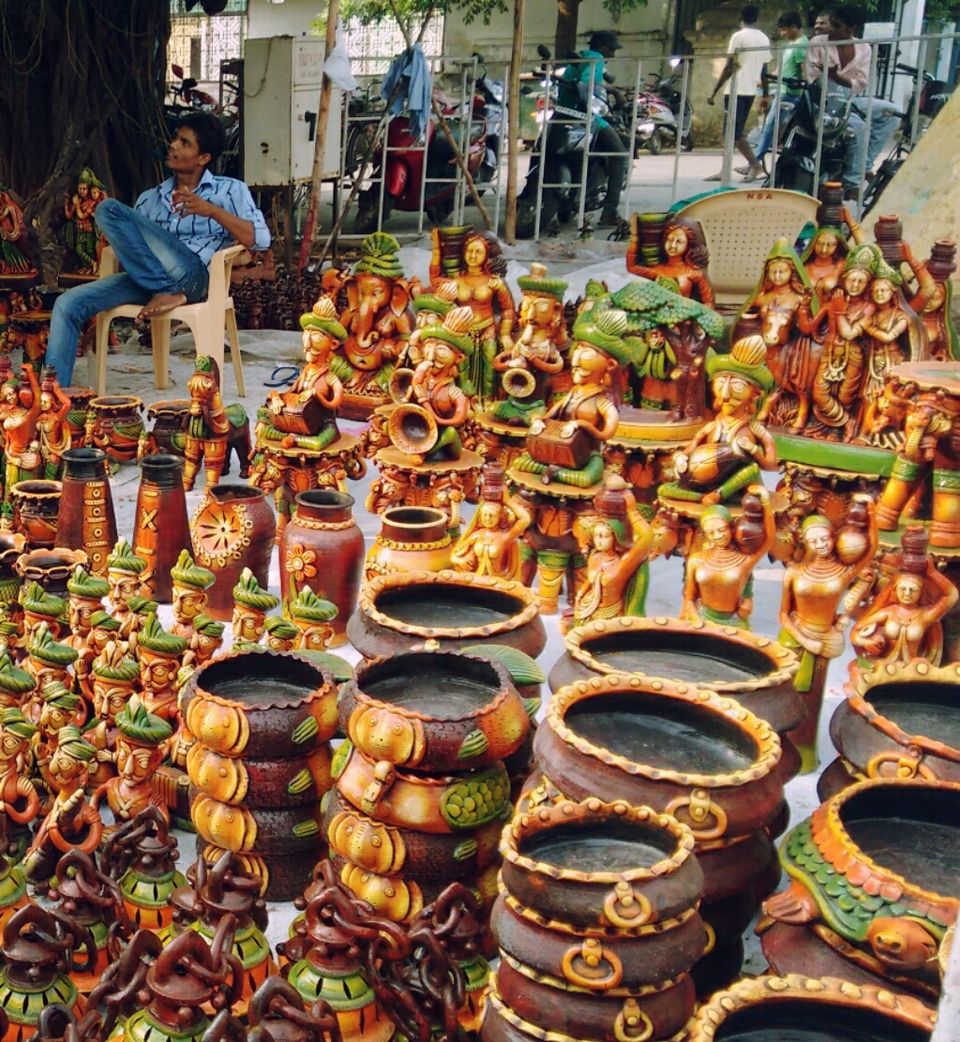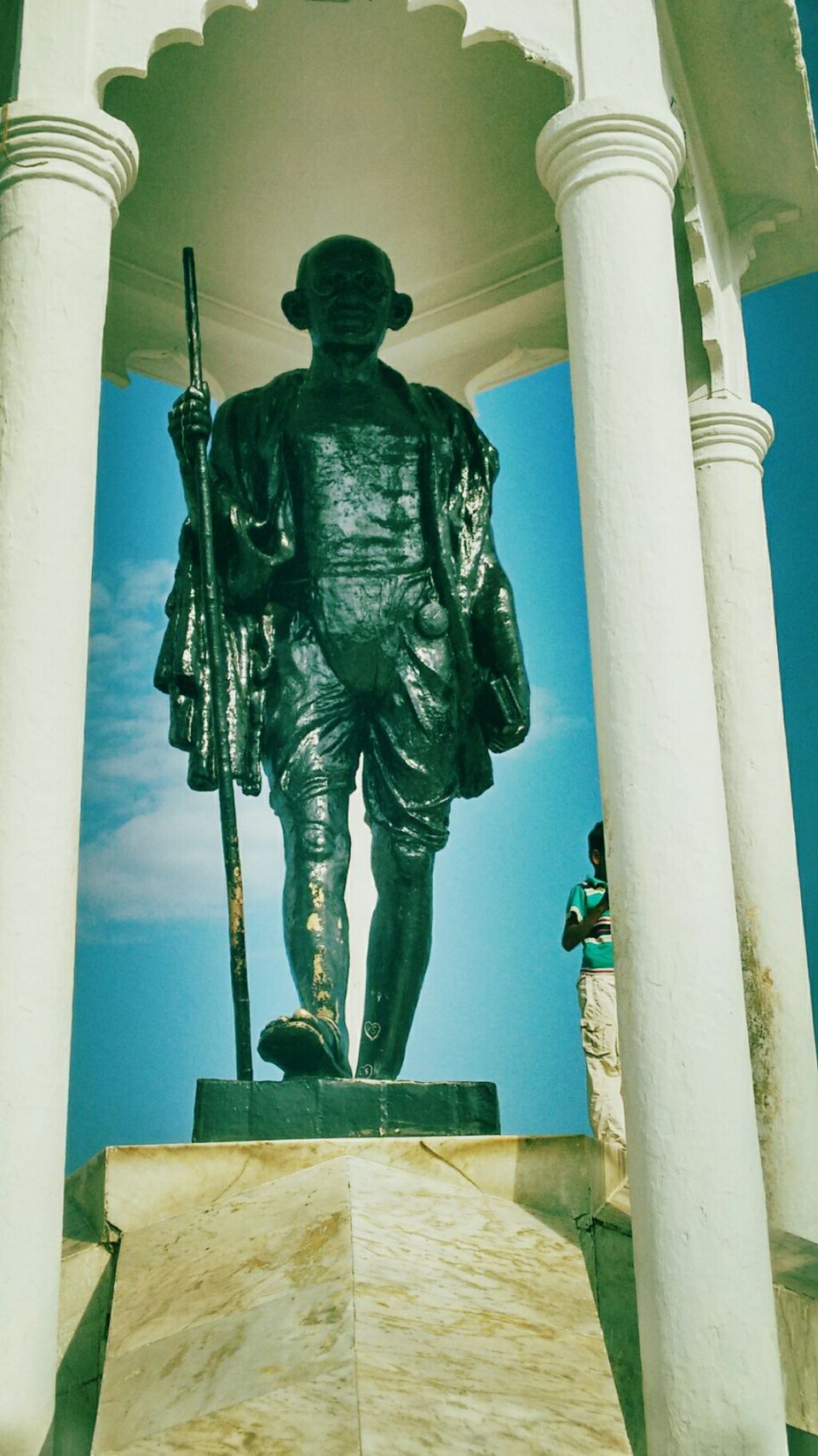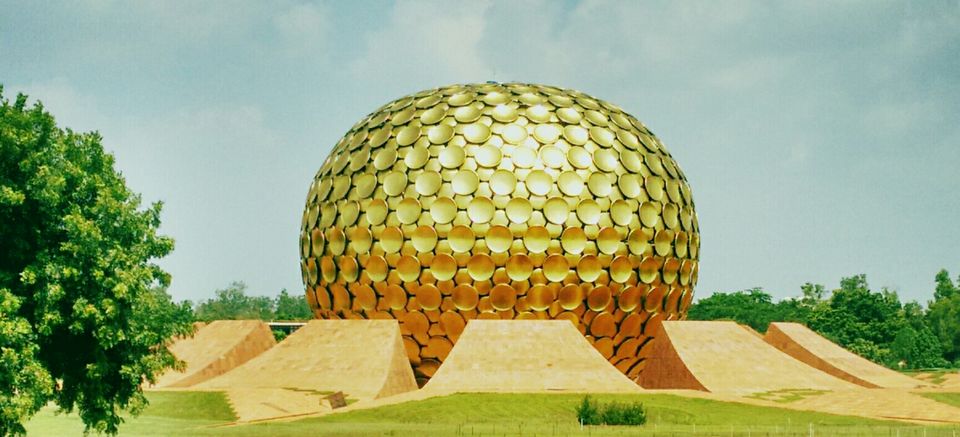 Pondicherry (now Puducherry) or Pondy as its fondly called, is a favourite travel destination for students and families alike, based in and around Chennai. The distance of 160 kms from Chennai which amounts to just 3 hours of road travel is attractive for spontaneous travellers. I stayed in Pondicherry for 3 days in the month of October, just before the monsoons set in. State transport buses ply every half an hour from Chennai Mofussil Bus Terminus (Koyembedu) to Pondicherry. Online booking is available but you can buy a ticket on the bus too. The cost is around 200/-. Private buses are often more expensive and comfortable as well. The bus I was on took the ECR route. I don't know why but I had imagined that the route would be paradise, with the wide, endless sea on one side and blue skies above. What I got instead was a narrow road with lush paddy fields on both sides and rustic huts and small brick houses dotting the route. The road passes close to the sea and you can occasionally catch glimpses of it, if you're lucky (and alert). At the end of the journey, we alighted at Pondicherry central bus station. Our hotel, Hotel D'Europe was fairly close to the bus station, so we hailed an auto. Fair warning: the starting price of autokaars in Pondy bus station is 150/-. You can bargain and bring it down to 60/- or 70/-. If all else fails, try the fail-proof 'walking way' tactic and you'll strike a deal.
On reaching the hotel, we unpacked and had a quick lunch at the in-house restaurant. All set for a great day, our first stop was Sri Aurobindo Ashram in White Town, the quintessential French part of Pondicherry. The ashram is small, and houses the graves of Sri Aurobindo and The Mother together in one 'samadhi' where they are kept in separate compartments under the surface of the tombstone. The ashram also has a small bookstore which has various written works of Sri Aurobindo and The Mother translated into several languages. Just before the exit there is a small room dedicated to displaying the photos of the saint and his disciple from their childhood to old age. It is important to remember that photography and footwear is not allowed inside the ashram and cell phones have to be switched off before entering.       
A five minute walk straight down the ashram road will lead you to the beautiful French Consulate, painted in sunshine yellow and white, with rustic windows and doors made with wooden fittings. Beyond the consulate is the Promenade beach, with its red coarse sands that stretch forward only six feet or so until it is stopped by ash grey rocks packed onto the shore line to prevent soil erosion. Early morning and late evening are the best times to visit the beach. If you're early enough, you can catch a beautiful sunrise. The Secretariat building stands just opposite the French Consulate. On first glance, it is difficult to gauge whether the sight that greets you is amazing or comical. There wasn't a single policeman stationed around the Secretariat as part of a security detail. Hell, there wasn't even a security cordon around the building and we spotted a couple of tourists having an evening snack on the parapet wall. Yes yes I know, Puducherry is a small town which doesn't require a lot of security. But coming from Chennai, where the number of policemen deployed for the security of the Secretariat is so large that its almost a district on its own, this sight was quite astonishing to me.
The Promenade beach walkway is the perfect place for an evening stroll, especially if the weather isn't too hot. Along the way, you can see various sights and like the Gandhi Memorial statue, the French Memorial for the soldiers who died during WWI and the old lighthouse. If you're feeling hungry, Le Café a PTDC-run eatery is just a short walk from the Gandhi Memorial. The view from the café is exquisite, you can have a brownie just fifteen feet from the ocean. Food is quite average, so if you have high expectation of good French cuisine, give this place a miss to avoid disappointment. To know more, have a look at my Zomato review: http://www.zoma.to/GXBqAd In all likelihood, the beach will be too beautiful for you to focus your attention elsewhere. The waves are glorious and fierce as they smash against the rocks. The water itself has three different shades: bluish-brown near the shoreline, lush blue-green from the shore till almost as far as the eye can see and beautiful midnight blue just near the horizon. You can feel your tensions melting away with every crash of the waves and the gentle rhythmic spray of salt water on your face. After spending nearly two hours on this wonderful beach, it was time to head back to the hotel for dinner and some much needed shut eye.
The next day dawned bright and cheery and we set course for Auroville. We hired a taxi for the twelve km distance from our hotel to the international city and paid 350/- for the ride. Auroville is a unique experience and a must visit if you're in Pondy. The goal of Auroville at its establishment is the Mathri Mandir or 'Mother's Temple', an architectural beauty, covered with golden discs. The mandir was built based on instructions from The Mother who wanted it to be a place of refuge and meditation. Just near the entrance of Auroville is a building dedicated to educating the visitors about the construction and the vision behind the mandir. We were made to watch a ten minute film about this, at the back of which free passes are issued to the viewing point of the mandir. It is a one km walk through a mostly shaded path from the place where the film is projected to the viewing point. A free shuttle also plies for the elderly and others who may find the walk difficult. From the viewing point, the Mathri Mandir and its surrounding gardens rise up in all their glory. The mandir is surrounded by twelve structures shaped like petals, each of which house a meditation room. The viewing point is a nicely shaded area with lawns all around. There are many stone benches from which you can view the mandir in comfort.
Auroville also has several boutiques and café which stress upon sustainable development and ecology. The boutiques have a variety of aroma products ranging from candles, wardrobe fresheners and potpourri to eatables like sesame biscuits and hibiscus syrup. These shops are a treat for the eyes and nostrils. The staff are very well trained and offer intelligent answers to all your queries. The products on offer are on the pricier side, so if you're planning on picking up souvenirs, come suitably prepared. The cafes offer a wide variety of cuisines from south Indian to continental. There is also a quaint little bakery with yummy desserts on display (the chocolate brownie is delish). You can easily spend the whole day in Auroville but after spending the whole morning and much of the afternoon there, we decided to leave for Paradise beach. We hailed a taxi again and were charged 450/- for the fifteen km ride.
Paradise beach is located at Cunnambar beach resort on the Cuddalore highway. The entry ticket for the resort is 10/- and hundred metres later you have to cough up another 200/- per person for the boat ride to the small island where Paradise beach is located. The boat ride is rather unremarkable unless you've never been on a boat before. The entire ride takes 15-20 mins after which you reach a tiny island. The island itself is pretty cosy with fine, white sands and a beautiful beach that beckons you. There is a small place where you can change before you dive into the sea. If you're from Chennai like me, or any other coastal city with a polluted beach (Mumbai I'm looking at you), you will fall on your knees with tears of joy at the sight of this beach. There is absolutely no rubbish on the sands or in the water. The whole stretch is blue, with white sands and if it wasn't for the tourists jabbering in various languages, this could easily pass for a beach somewhere in the south of France. The water is warm, pristine and inviting and I didn't need to be told twice to dive right in. The waves are fierce so there's a safety net placed 80 feet from the coast to avoid any accidents. Safety net notwithstanding, life guards are situated all along the coastline and they can be heard regularly chiding people for venturing too far into the sea. After spending a great couple of hours at the beach and a quick cup of coffee at one of the little beach shops later, it was time to head back. A boat ride later, we were back on the Cuddalore highway and reached Pondicherry bus stop by boarding a private bus. Dinner was a delicious affair at Baker Street and we headed back to the hotel, satiated in mind and body.
The last day of our trip, we decided to kick back, take it easy and go city sightseeing. First stop was the botanical gardens. I was pleasantly surprised by this since I was expecting a small garden started just for the sake of it. The gardens sprawl across a huge area and was established in the 19th century. It is a sheer delight for botanists and flora lovers since it houses several different types of trees and plants including a few rare varieties. There is a toy train for the kids (and the kids masquerading as adults) that takes you on a ten minute journey around the park. At the centre is the nature centre where botanical information about the various plants and trees are displayed. Apart from this, there are informative posters about conserving the ecosystem and a seed bank too. Having been badly hit by the Thane cyclone of 2011, it's heartening to see the garden slowly getting back on its feet. There is a considerable amount of renovation going on going on so we haven't seen the end of the gardens just yet.
Next stop was Pondicherry museum after a quick lunch. The museum is situated in White Town and houses coins and other artifacts from Arikamedu, a region which saw prosperous trading with the Roman Empire from 2 BC to 6 AD. Several articles which were used by Dupleix the Governor General of Pondicherry, including his chair and bed are also displayed. It is a small museum which is a little run down, yet still worth a visit. After spending an hour there, we decided to finish our visit with a leisurely stroll through White Town. The mix of French and Tamil cultures is seen so clearly here that it almost takes you aback. Where else in the world can you see streets named Rue Manakula Vinayakar Kovil or Rue de la Marine? Puducherry is still very much French at heart and a stroll through White Town will clear any scepticism in this matter. Several shops carry the French articles le, la and les before them. This includes restaurants like Le Tandoori and La Sangeetha (?!). There is a dairy company called 'Ponlait' which is a fascinating advert for the Franco-Tamil tradition here because 'Pon' means gold in Tamil and 'lait' is milk in French. Pretty cool, amiright? So with this illuminating walk, our visit to Pondicherry ended on a happy note.
Few tips for first timers:
Auto and taxi walaas will try to rip you off at every corner. If you're bringing your own vehicle, you'll be at peace. If not, be prepared to shell out quite a bit for transport itself. Ola cabs are available in Pondy so you can try this as another option. They are more reasonable than autos or call taxis.
If you like French food, do give Baker Street on de Bussy road a try. I promise you, you will not be disappointed.
There is a flea market every Sunday so if you like to shop, plan accordingly.
Start a conversation with the locals! You'll learn a lot about Pondicherry administration and life there in general.