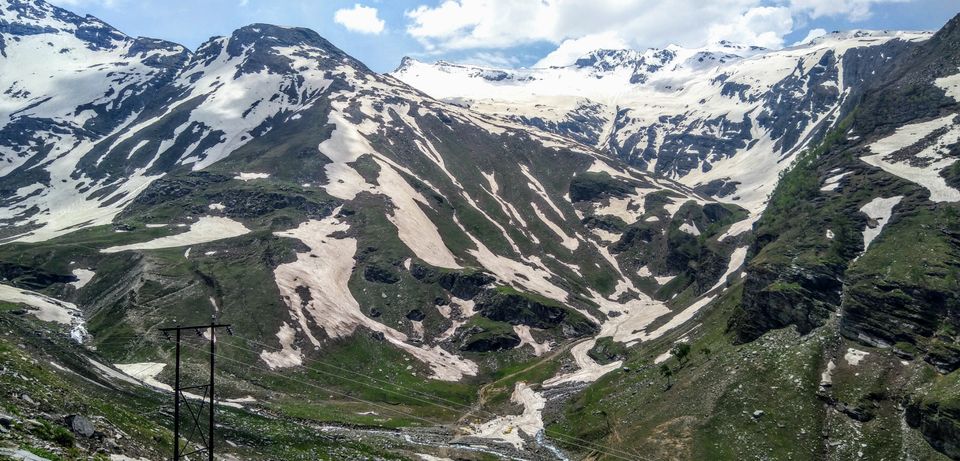 Before Starting the Story I would Like to Tell One struggle.
12th June - I was Booking 3 tickets from Delhi To Manali Via Paytm I Don't know How I missed the dates And Tickets were Booked For the Same Day Which is 12th June And Below The Tickets it is mentioned that Tickets are Non Refundable. I called At Paytm and Asked For Help But They Provided nothing. After some Thinking I Found Myself With a Idea of calling a Driver and Asked for Help. I Did exactly the same And Told Him Everything and Asked Him to Move Our Tickets to 14th June.
He Understood Our Situation and Agreed To Help Us. That's a Heck of a Struggle. Now Moving Back to 14th June Where Me With My 2 Friends Started a Trip to Manali. It's the 1st time to Manali For all three of us. We Boarded our Bus From Kashmiri Gate. After Some Talking and Laughing We Went To sleep. Its Been a Long Road Journey From Delhi to Manali Approx 13-14hrs + Our Driver Was a Old Man So For Us It Took 15+hrs to Reach in our Destination. In Between those 15hrs Human Body Especially Stomach Started telling Us About The Peer Pressure. Somehow Near Mandi Driver Stopped The Bus In a Hotel. All the People who are Sitting in a Bus Rushed Towards the Washroom Including Us For Realising the Peer Pressure which I Guess We are Holding it for a Long Time.😅
Then after some Chaotic Line We Managed to Pull off the Pressure ( That was the Best Feeling) 😂
As I have Heard About the Himachal that It is way Costier then Uttrakhand After Looking up to Menu Specially Maggie Which cost around 100Rs.🧐 We Ordered 3 Parathas and 2 Cup Tea And Rush towards The Bus Again as He is About to leave. After 3-4 more Hrs in Our Bus We reached to our Destination Manali. It's is so beautiful and What I tell You about the weather 😍 It's So Romantic 😎.
Then We walked Towards the Mall Road Where We are searching for some Hotels to stay. And After Some searching We Found One Heck of a deal for all three We stayed In KGF Hotel which is Just Behind the Hotel Naveen.
Actually We Bought a Package for 3 Night 2 Days Which Includes
* Buffet  Breakfast and Dinner
* All the Snow Point ( Include Rohtang Pass )
* travelling To Manikaran  Hot springs Kasol Valley and Solong Valley
* Bed Tea And Of course the Room For 3 Days
It's all In 12000 (4000 per person) and It's Worth it.
After a Long Journey We just Went to Mall road and Back to Hotel after the dinner We Went for a Deep Sleep.
We woke up by a Call from the Recepition that Your Breakfast is ready and Your car is also ready after Some Heavy Breakfast We Started Moving Towards Rohtang Pass. We Rented some Ice clothes For Rohtang pass. After some Time in a Car We Stuck in a Jam Which I Can see is very Long. So We decided to Take some Pictures While Car is moving Very slowly So We Took Some Selfies. After some time When Jam is over. We started Moving in a car again.
There is a family Who is also sitting with us in a Car. So Me and My friend Karan Started Teasing Our Another Friend Who is quite Heavy 😂 From nowhere We started one line for him whenever He speaks Anything. That (Mera Bcha hai Tu Mera Bcha Tu Pointing towards Him Hathi ka bchaa hai tu) After some Heavy Jokes On him that family also started To laugh and Make Fun of Our Baby Elephant Boy Namit 😂 Sorry Bro. After Sometime We reached to the Top Point Rohtang Pass. It is Indeed the most Beautiful place And The Best View I have Ever Seen.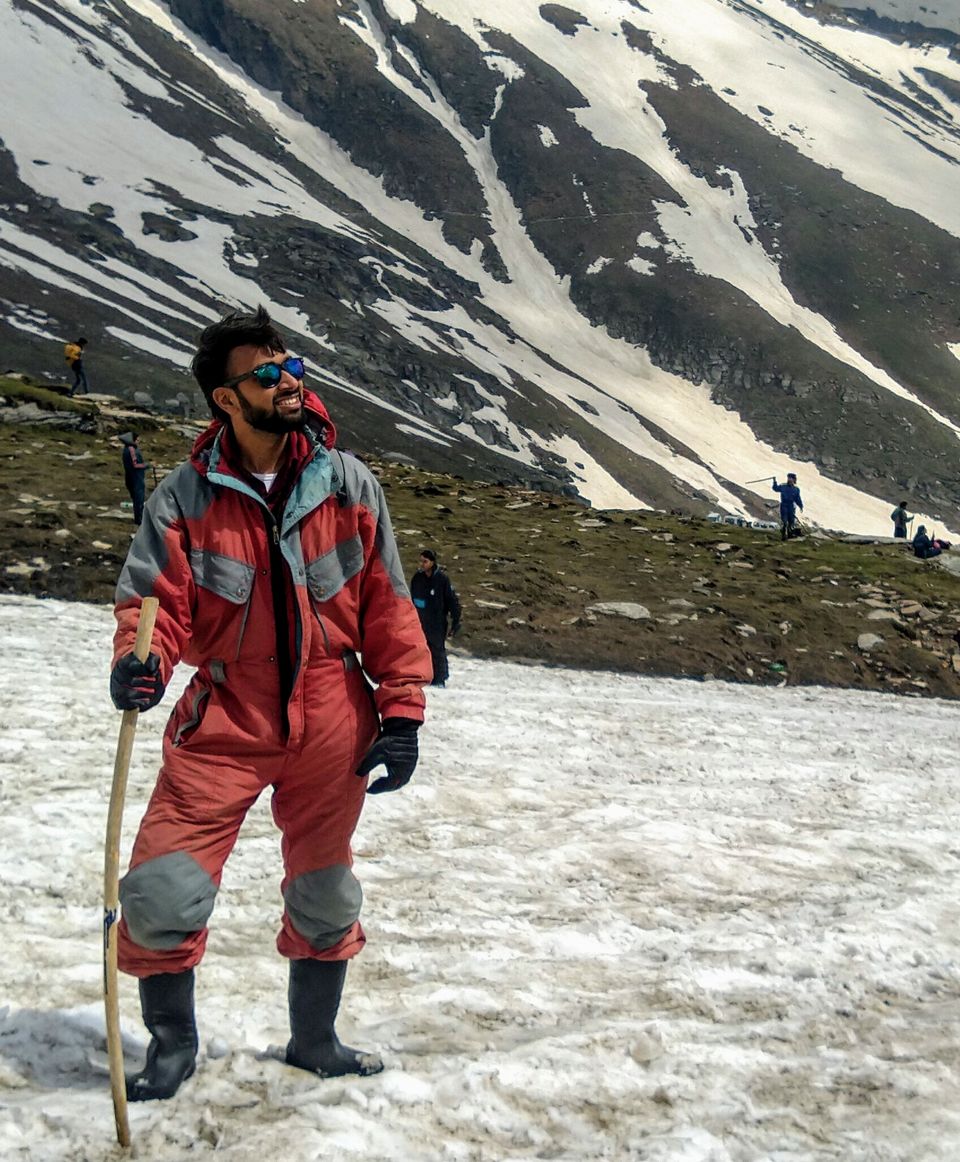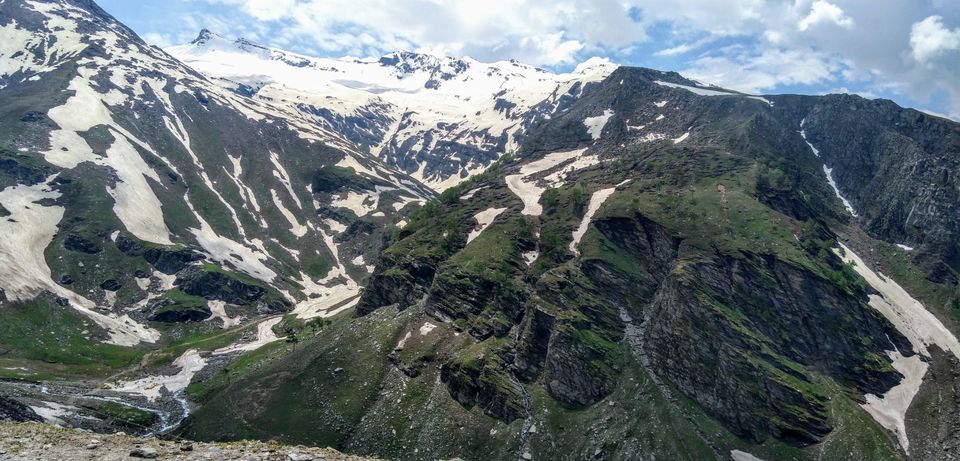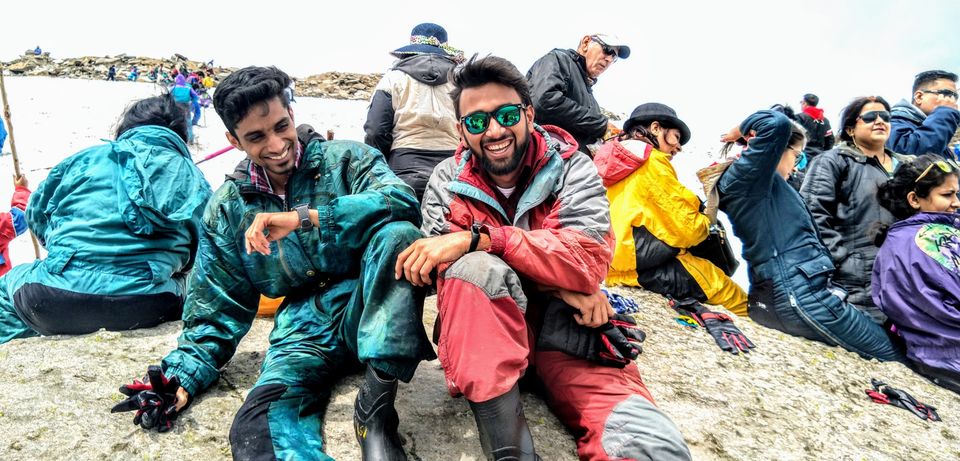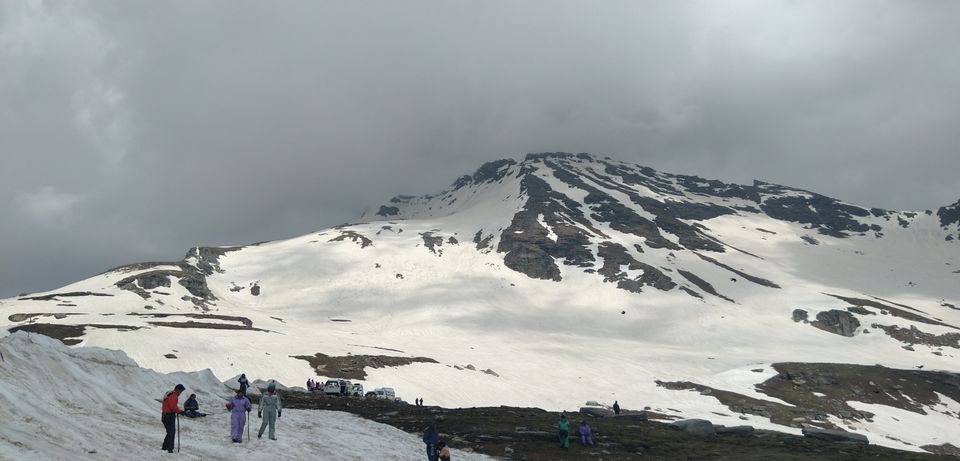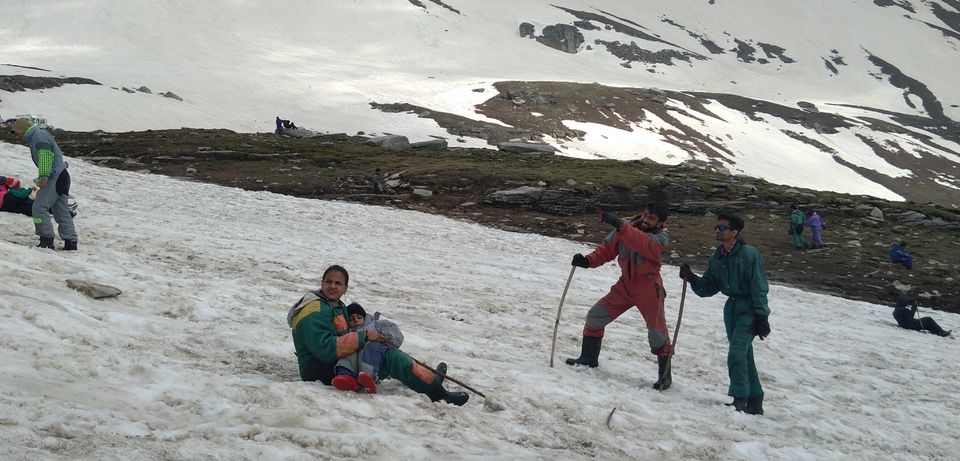 Those are Few Camera capturing Moments Which Is capture Quite Nicely By Elephant Boy. After Spending Sometime in a Heaven Where Oxygen Level is Low. One Of my Friend started Getting sick All Of a Sudden It's The Stomach ache who was Rolling Him Very Hard I guess It's the cold Which Karan not able to Take it. He started Screaming to Take him down After We Took him Down He is Back to normal He atleast spoiled our some Photos. After So much fun we are Back to our Room Played Pubg For sometime And went to Sleep.
It's the day of peace. After Getting Ready for the New Journey we Are Late from our schedules Because of Some Other folks Who are Also Traveling with us. We Have to catch Our Bus From Kullu to Delhi at Evening sharp 7 o clock. We requested Bus driver to Drive sharp and Fast so that all Places Could be covered With Some time to spare. But In Life Nothing you can Get it easily. Here Comes The traffic Jam As we are Heading Towards the Manikaran Near Kasol For Hot springs We stuck in Traffic It's took 1-2hr extra to reach there. We reached at Manikaran around 4:30 PM After Getting some Meal and Exploring that Peaceful place We had very less time left to catch the Bus. We have other members too Who Have Bus to catch. While Driving back to Bus stop we are Frequently in touch with The driver. Atlast after One hr Late we reached to Bus stop Where Our Bus is Only waiting for Us. So this is How The last Day Of Our Journey went very Peaceful 😂.