Friends, family and acquaintances have often called us up and asked us about things to do in Singapore when planning to visit.
Typically, the length of the visit is 3-4 days as a visit to Singapore is often coupled with another south east asian destination, most notably Malaysia.
To make it easier for everyone, here is a suggested itinerary for SG!
Plan an entire day at Sentosa. You can get there by taking the monorail from Vivo City Mall or take a cab directly from whereever you are. Alternatively, take a cable car from Harbour Front but that's a bit pricey.
There are several options at Sentosa but we recommend Universal Studios if you are keen on amusement parks. Other suggestions would the the S.E.A Aquarium, Luge and Images of Singapore museum.
Start the day by visiting the Chinatown Pagoda Street Market. This is a great place for buying low priced souvenirs. Visit the beautiful Buddha Tooth relic temple and museum nearby.
Head to Lau Pa Sat Hawker Center for lunch. Hawker Centers are a way of life in Singapore and this one is one of the oldest. Plenty of local and vegetarian options are available here.
Early evening head to Marina Bay area. Here you get to view the Merlion and the Marina Bay Sands hotel and the skyline of Singapore's CBD (Central Business District). If you have time at hand, visit the Marina Bay shoppe or take a ride on the Singapore Flyer nearby. As evening descends, come back out outside the shoppe and enjoy a beautiful sunset, weather permitting.
Later catch the free sound and light show at Marina Bay right outside Shoppe, called Wonder Full.
Take a bumboat river cruise and get down at the bustling night life hub, Clarke Quay for drinks and food.
Start with strolling around in Little India, catch the sounds and smells from the Indian subcontinent and glimpse temples along the way. Then head to Arab Street or the muslim/middle-eastern quarters.
Stroll around Haji Lane and check out boutique stores, cool cafes and wall art, then complete the circle by going up to Sultan mosque. Or you can reverse the order and rest for lunch – indian or middle eastern depending on what you choose to visit second.
In the evening head to the Supertree Grove at Gardens By the Bay and catch the free Garden Rhapsody show. Later, visit one of the night haunts in Singapore – Club Street or Holland Village. Level 33 is another suggested bar with a view. For an amazing rooftop bar experience, we recommend 1-Altitude.
Visit Singapore Zoo and Jurong Bird Park esp. if you are with kids.
Else head to one of the museums. Our suggestion would be the National museum or Art Science museum.
Head to Orchard Road, the shopping mecca where you can find everything from a Zara to a Louis Vuitton.
In the evening, you may visit the Casino at Marina Bay Sands which is free to enter for foreigners. Then go to the terrace bar at Marina Bay Sands called CE LA VI. If you just want to enjoy the view, you can goto upto the hotel sky deck for a fee.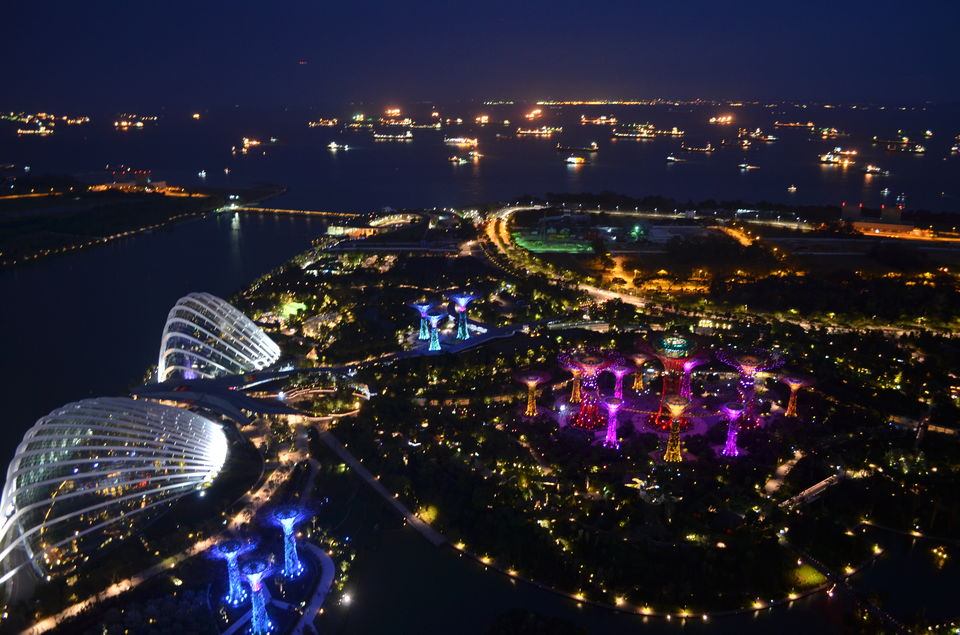 If Casino doesn't interest you, picnic at one of the many parks. Our picks will be – East Coast Park, Labrador Park or Singapore Botanic Gardens.
Some Frequently Asked Questions
Q What are the options for airport transfers? A Taxi from the taxi stand is the fastest way. Just queue and hop onto one and you should be at the city center in 30 mins, costs around 30-35 S$. The other cheaper option is the MRT (metro/subway) which costs around 3 S$ and should take about an hour to the city center. But you still need to get to your accommodation from MRT station which could be a walk if it's close by or a short cab ride
Q How to get around within the city? A Singapore has a very good public transport system of buses and MRT and that's the cheapest way. While you can purchase tickets on the spot, a good idea is to purchase a EZ Link card from a MRT station or a 7-Eleven store. Start with 15-20 S$ and top it up as needed. Other more convenient option is cabs – Grab and local taxi services like Comfort, TransCab, Premier, CityCab etc.
Q Which is a good weather to visit? A The weather in Singapore does not differ much throughout the year. It's usually hot and humid but it can rain anytime of the year giving some respite from the heat. As such, this is 'anytime of the year' destination
Q What type of clothing is best suited for Singapore? A Wear light comfortable clothing for outdoor touring – shorts/skirts/summer dresses for women, t-shirts, cotton shirts and shorts for men. If you intend to go clubbing/partying/fine-dining just go with whatever you wear anywhere else in the world
And you are all set!
This itinerary was first published on our blog: travelkeeday.com. Hop on to the original post for an alternative slow paced itinerary :)