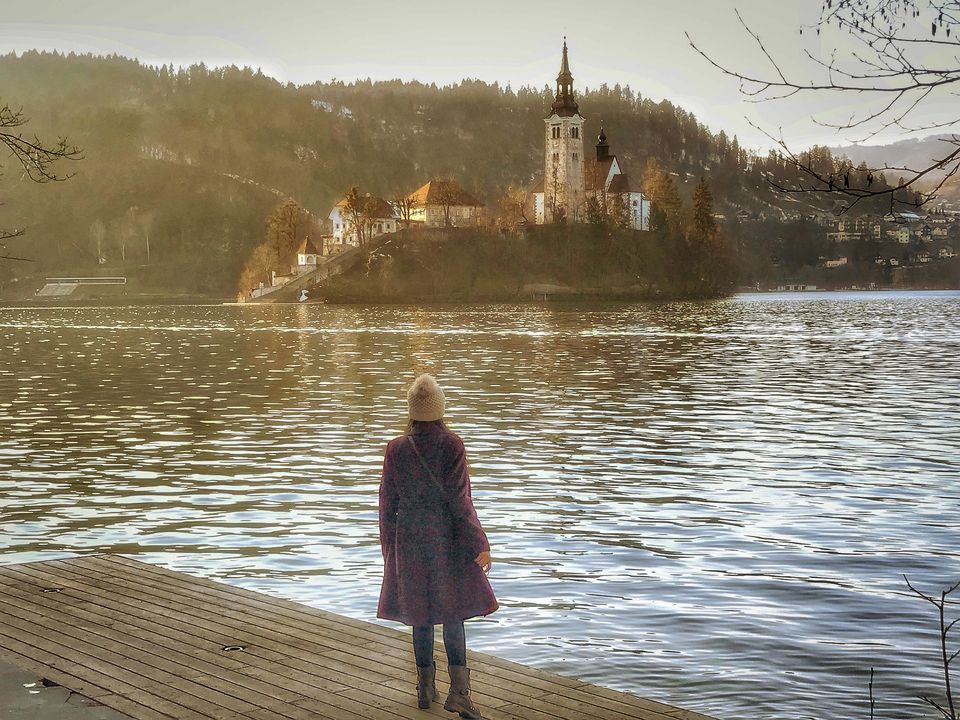 Slovenia-where reality feels like a dream and fantasies are lived on lone benches sitting on cliff tops, overlooking lakes surrounded by lofty mountains, their peaks glowing in the light of glorious sunshine.
The alluring natural beauty of Slovenia led me to spend another night at the London Stanstead airport before an early morning flight out to the capital city of Ljubljana (try pronouncing it right ;)). Not long had gone by before my feet started hurting and I cuddled against my backpack for a little more warmth. Personally I hate wearing boots. In another season I would have comfortably hiked in my slip ons, but end of March still felt unbearably cold. The thing is, I can never get my pair right. Even the so claimed 'good-ones' give my toes an ache. But as I tried to recall which among the 3 pairs that I own gave me best comfort, I could barely recreate the awful hurt in my toes. Instead flashes of my past adventures filled my mind. A smile crept on my lips, unmindful of the hurting toes that were ready to wriggle free, once again.
On my last visit to Slovenia, I arrived in the capital by the night bus from Munich (Germany). The mere few hours that I spent in the country, chilling by Lake Bled convinced to come back for a longer visit.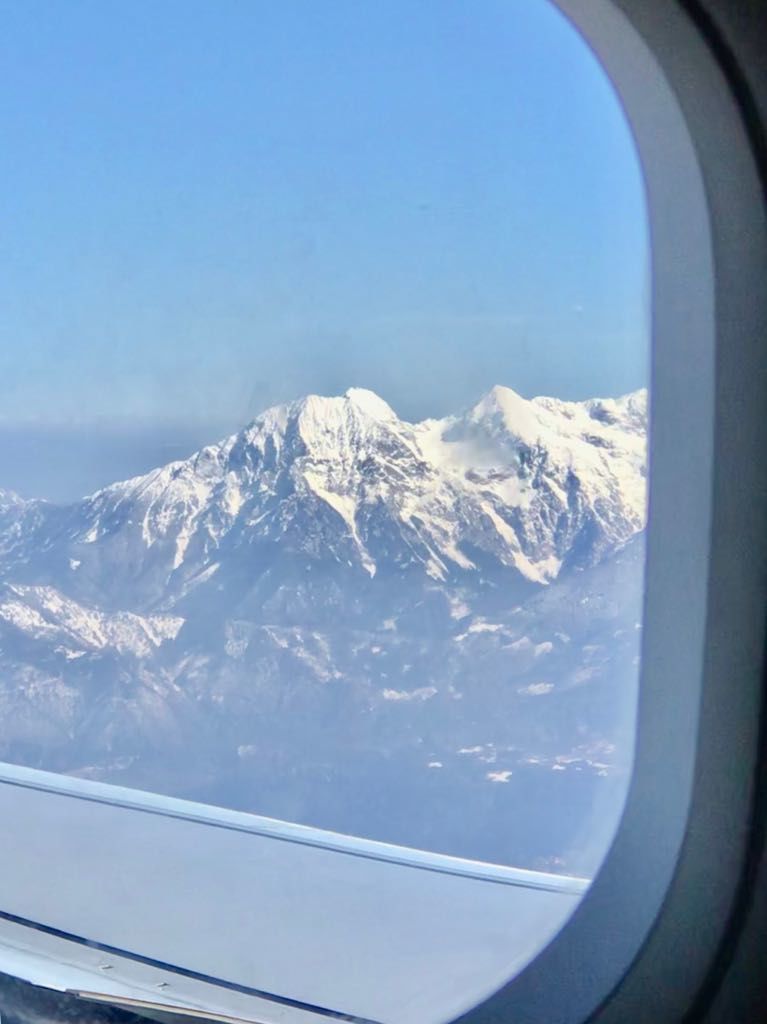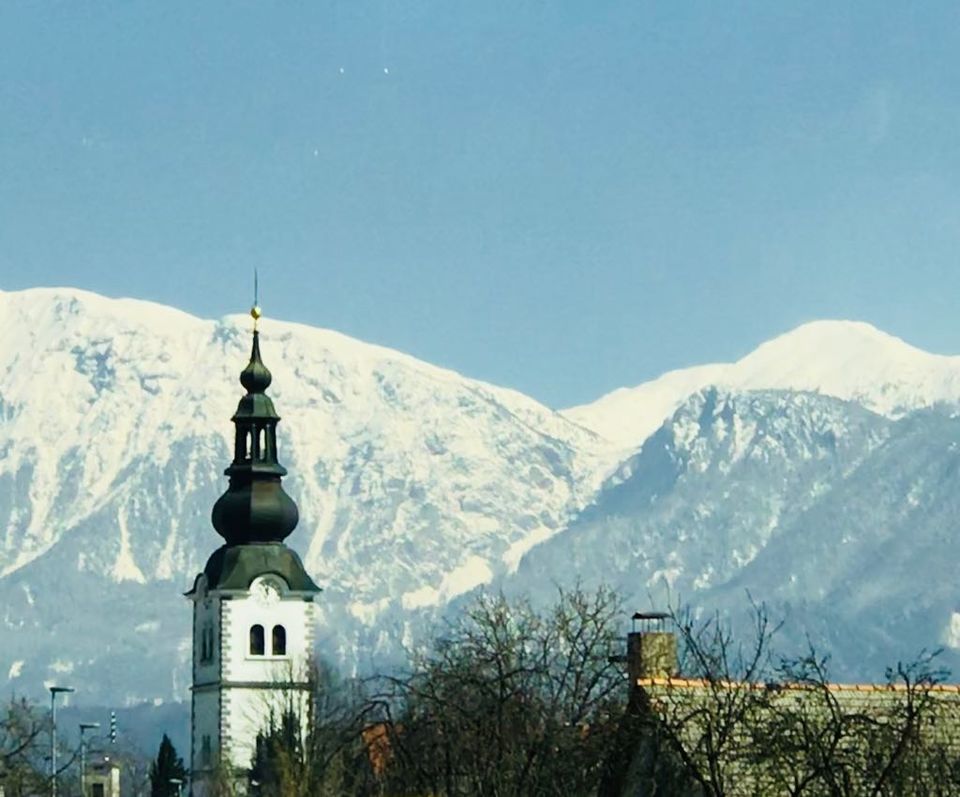 Flying into Slovenia offerred unrivalled views of the Julian alps, just what I needed to tend to the fatigue from a sleepless night. So immediately after disembarking and customs, I hopped onto a public bus, to visit the Kamnik Savinja alps, where some of the oldest settlements of Slovenia lie.
DAY 1
Even the 10 minute nature walk to the jezero (lake) wasn't too easy along a snow-covered trail, but totally worth it. Don't you think?
Later that afternoon, I took the bus back to Lake Bled. This time around I booked my stay near the lake itself, so I could hunt down the million-dollar viewpoint. There were no hostels by the lake, so I had to shell out a bomb on a single room. But to get my money's worth, I didn't leave without tracing down the right track :P That evening, while trying I bumped into a lovely couple-Milan and Petra, who were as lost with google maps as me :/ Together we braved the steep climb to the *OSOJNICA* viewpoint (as on maps), slipping and sliding through snow, unsure of how we were going to make our way down. All this only to find a brief glimpse of the *internet-hyped*views. Nevertheless the time we spent together was memorable and getting even this far would have been impossible without each other's company.
That night, as I once again surfed the web for more information, I was convinced that there had to be a better viewpoint. I had one more chance before checkout next morning. Try, I did and lo! Getting there in time for sunrise-dont think I went wrong with that decision!
*OSOJNICA VIEWPOINT*-Turned out it was signposted just after where Milan, Petra and I left off on the previous evening. But a little longer into the trail, I trusted my instincts and not google maps :P That is exactly how it worked for me!
ITINERARY
Ljubljana Airport->Kranj, Kranj->Plansarsko Jezero Lake
Plansarsko Jezero Lake->Kranj, Kranj->Bled
Tip 1: Ask the bus driver to drop you off near the lake. Its a 10 minute walk from the bus stop in the nearby town.
Tip 2: Hostels are near Bled town, which is a long walk from the lake, especially if you plan to chalk out hikes.
Stay: Guest House Mlino
DAY 2
I had to rely on an organised tour to tick-off these destinations, especially in peak winters when public transport is scarce. Guided snow-shoeing came as part of the tour and I felt like a Penguin, I think :P Here's a link to the website of the agency.
http://www.slovenija.eu.com/
TIP: Write to them. They respond promptly.
That evening I took the train+bus to visit Northern Slovenia and the Soca valley. It was my first time in a home stay and Kobarid seemed like the best place to experiment. A late night arrival into a remote town to find the hosts suggesting that I rest in my room while they take a look at my passport for identification details-this turned me slightly defensive. I insisted on hanging around till they completed the procedure. Later I realized that it may have seemed rude, because they were genuine natives, who offered to be kind to someone who had just arrived from a long journey.
If something took me by surprise, it was their warm demeanour that didn't change in the least afterwards. I sure owed them an explaination. So I apologized and discussed my concerns and the host smiled and assured me that he understood my point of view.
Bled Train Station (near town) -> Most Na Soci
Bus from Most Na Soci->Kobarid
Stay: Apartments Masera
DAY 3
Being cautious is inevitable while traveling solo, but a little effort to get your message across in a polite manner can make all the difference in the world. Next morning, the same hosts gave me the best local advice on the things to do around their little town. A 3 hour long nature walk along the trail leading to the Kozjak waterfalls is one of the most rejuvenating "just-me-time" that I have had on my travels.
Unlike the western parts, snow only covered the mountain peaks here. It was a day well spent, hiking under clear blue skies, walking past forest trails where wild flowers bloomed in plenty. In a short while, I had the emerald river, Soca for company. But the gushing ravine where the river flows, under the ancient bridges also hummed the sad songs of how wars had destroyed a place that ought to have been a symbol of peace. In no time, Kobarid was turning into a place that I just couldn't bare to leave.
But the road constantly lies in wait of a traveller and it was time to head into the capital for my last day out in Slovenia. Too soon? :(
I was looking forward to a quiet evening in the hostel and taking the last day easy. But who would have thought that I was going to bump into the most internationally diverse group of hostelites in a 6-bed dorm. 6 people from 6 countries came together to have the most eventful night out. Ljubljana was lively by the night and made even more vibrant by the boys from Spain, Serbia, Ukraine and Cyprus and the girl from Morocco :D It turned out to be so much fun. Time passed without an ounce of realization as I explored all of what was meant to be my next day's itinerary.
Bus from Kobarid->Ljubljana
Stay: Hostel Sleeping Beauty
DAY 4
Ughwaitz (Chukki) from Spain and Aasia from Morocco became my closest companions from our little group. Having only one more day to spare in Slovenia, we decided go road tripping into the Triglav national park.
With no hard and fast plan in place, we played a Spanish game, sang Bollywood songs and played Moroccon music all the way to the first pit-stop-the Pericknik waterfalls. With the weather turning gloomy and cold, the hike up to the falls was the hardest. It seems that a 'jaadu ki jhappi' from two people that I had just met was all the warmth I needed to stop me from fainting in the mountains of Slovenia. More adventures followed after a chatty lunch over which we spilled out our personal lives.
On exiting the Slovenian border, Chukki told Aasia and me about entering Italy on an illegal permit. Both of us had a flight to catch in the next 24 hours, but the splendid views of the Italian alps kept us from panicking about the thought of landing in Slovenian prison :P Chukki drove like a boss and got us safely to the airport, well in time. Aasia and he left in a mere few minutes. The sun went down just as quickly and as the airplane took off, it was hard to say goodbye to Slovenia and the two lovely people that I was leaving behind. Adijo and Hvala Vam! :)