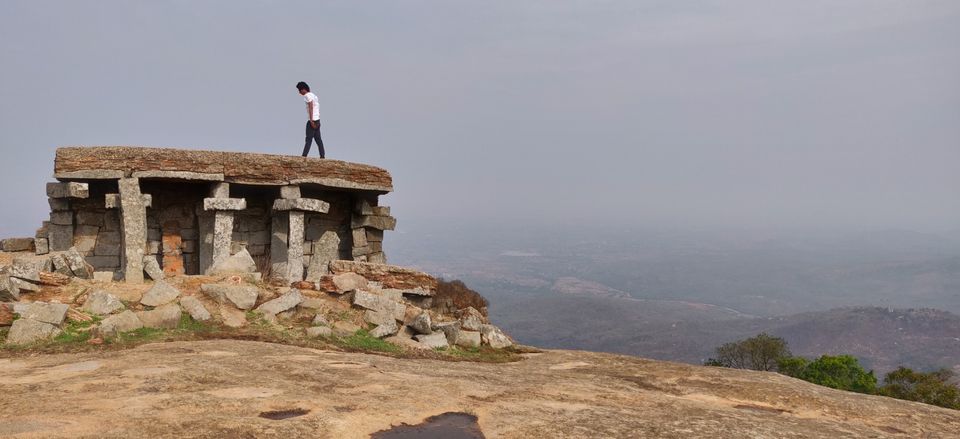 Skandagiri hills is a beautiful destination you can choose next time when you think about Nandi hills. Nandi hills is a frequent destination for motorcycle riders and the visitors in Bangalore. Skandagiri hills is not very far from Nandi hills I found this destination on Instagram, next fine morning I started my journey without any homework or googling. Expect the unexpected, that is what the unplanned trips are all about. Like Nandi hills I thought there won't be anything much to do, except to watch the beautiful sunrise and the misty morning. But Skandagiri hills gives something different. It was a trekking destination, 4 kilometers of low -moderate trekking experience. I was wearing a pair of formal shoe's which was not appropriate for trekking, Safefy first. Did some exercise mentally and physically, kept my shoes inside my backpack and started to hike barefoot.. Having accepted the challenge. The soft and moist ground prevented my foot from being hurt. In more than an hour, we reached on the top. I can describe it only as a mesmerizing view. Be warned the wind that blows is strong enough to blow your phones away. So, be very careful while going to edges and while taking pictures.
On our way we found many traveling enthusiast enjoying the trek. We also got some friends too.
The attraction of Skandagiri hills is that it is not a hectic trekking spot, but a preferable trek for beginners. It is very safe for women even if you're traveling alone. It is not a forest area. They have a big parking lot for bikes and cars. Beware of your helmet too.
You can start your trek in between 4am and 9am for a pleasant experience. It will be closed for some holidays.
MUST READ: The Skandagiri hill trek is not free. You have to book your tickets online.
There will be an officer to assist you.
Url given below
https://myecotrip.com/
Happy trek to everyone, Karnataka- One state. Many worlds.