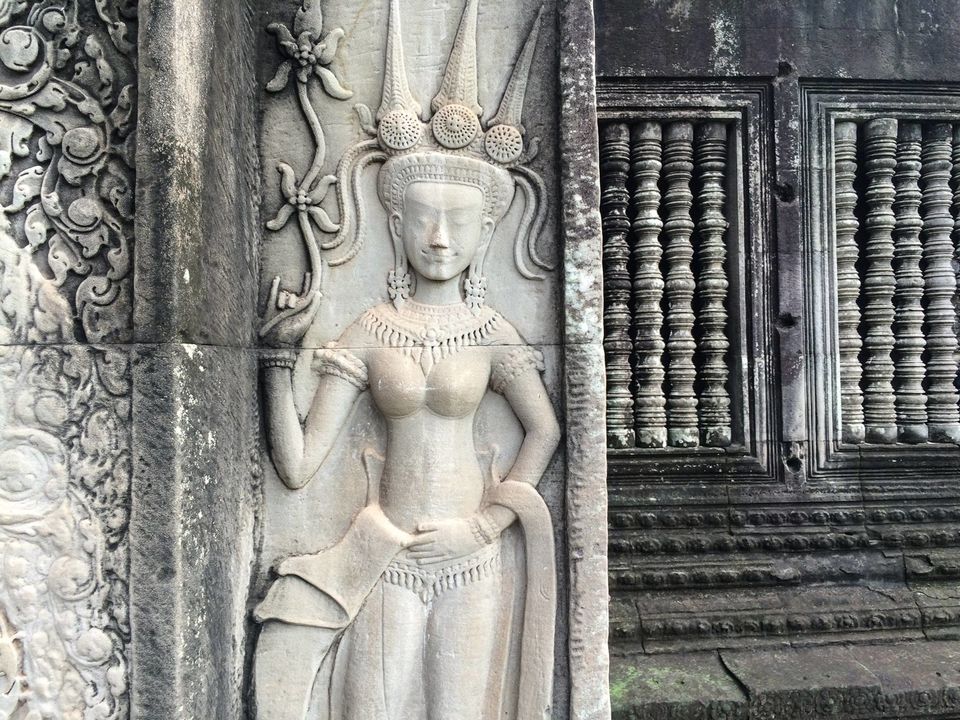 While Angkor Wat remains the top draw for travelers to Cambodia, Siam Reap is much more than a gateway to the ancient Angkor ruins. The town offers many immersive experiences to understand the Khmer history and culture. Sample the delectable Khmer curry, shop for handicrafts and spices at the Old Market, rejuvenate yourself at the world class spas, and party the night away at the rambunctious Pub Street.
If you have an Indian passport, you can get a Visa on Arrival at Cambodia. Siem Reap is accessible via Bangkok. While November to March is the peak season with hardly any rain, it also sees a lot of visitors. So, if you don't mind the rains the Monsoon season between June to September is still a great time to let Siem Reap surprise you. Presenting the essential 48-hour itinerary for your Angkor holiday.
Day 1
Breakfast at the Sister Srey Café
Sisters Lauren and Cassidy opened the café to not just have good coffee, but also help and support Khmer students as well as make a sustainable impact on the local community. They open by 7 AM and its best to get there early, grab a riverside view, sit back and watch Siem Reap wake up, while you sip on a flat white and tuck into their eggs bene-licious. They have great vegetarian and vegan options as well. While at it, you may just discover a book from your childhood, or get to know more about the community - the students who work at the café are amazingly friendly and always willing to have a chat. There's a boutique clothing store on the first floor too, if shopping is what you need to start your Siem Reap holiday.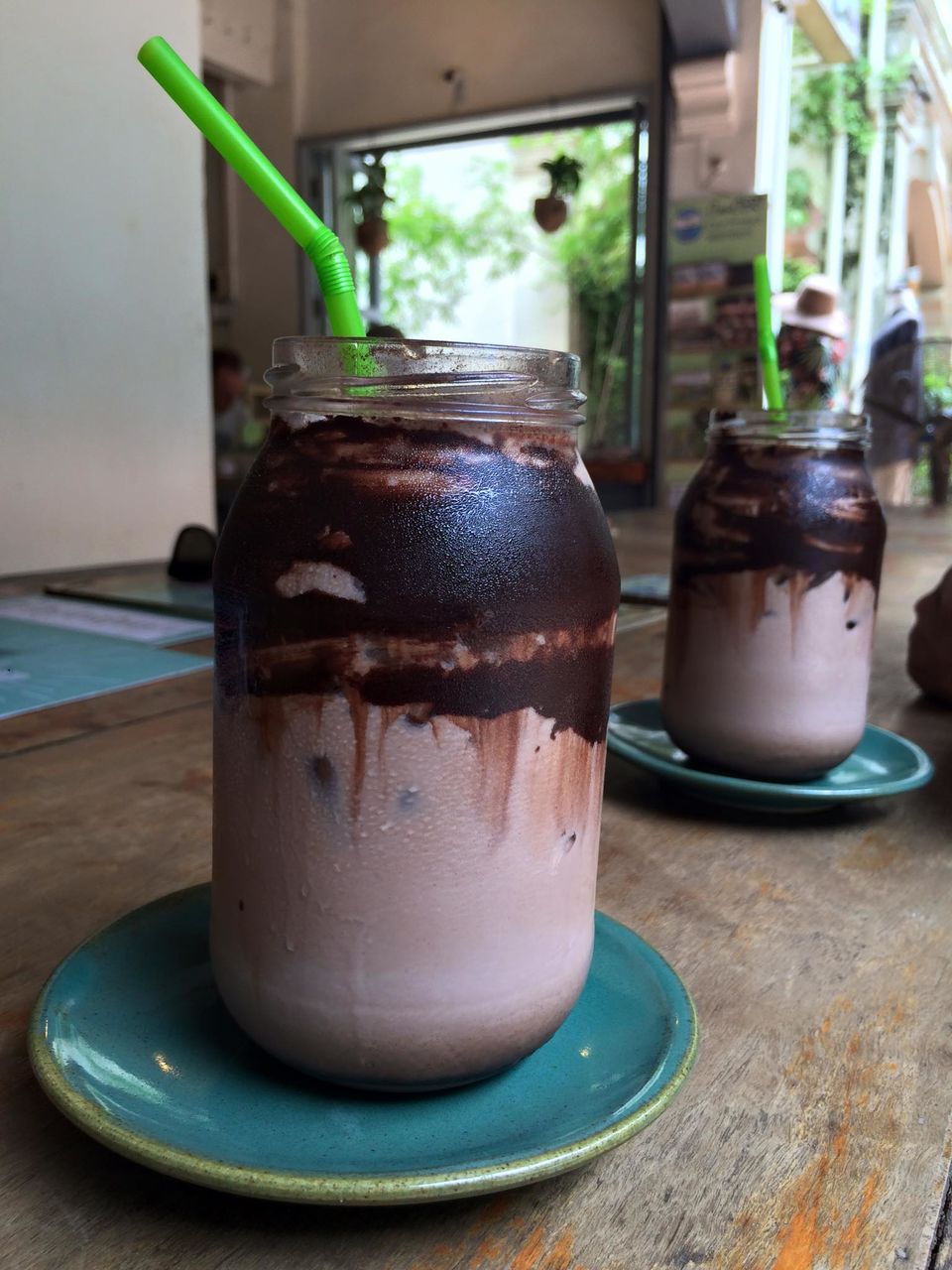 Literally translated from Khmer as the 'old market', Psar Chas is situated around the corner from the Sister Srey Café. A great introduction to the local way of life, the market has vendors selling all kinds of things – local produce, the morning's catch, silverware, clothes, wood and stone carvings… you get the picture! And while a bit of humorous haggling helps, keep in mind that much of what is sold are imports from Thailand and China. And it's a good idea to stay away from souvenirs advertised as being from the Angkor ruins, since both their authenticity and fair-trade practices are often questionable.
Soak in the traditional crafts at Artisans Angkor
The Khmer Rouge years and those which followed were not the best for traditional culture. Artisans Angkor works to revive it, teaching artisan skills to young Cambodians. If your holidays need a culture fix, then this is the place to head to in Siem Reap. Take a free guided tour of the facilities and the traditional art and craft techniques. They have a wonderful shop too, for you to find that one special and beautiful souvenir.
Tuck into a Khmer lunch at Khmer Kitchen
All that shopping would have left you hungry. Khmer Kitchen, located on the road which runs parallel to Pub Street, serves a delectable and amazingly affordable fare of Khmer cuisine. Try the Amok – Cambodia's favorite dish - and the glazed pork ribs. Wash it all down with a can of local beer. Lunches won't get better than this.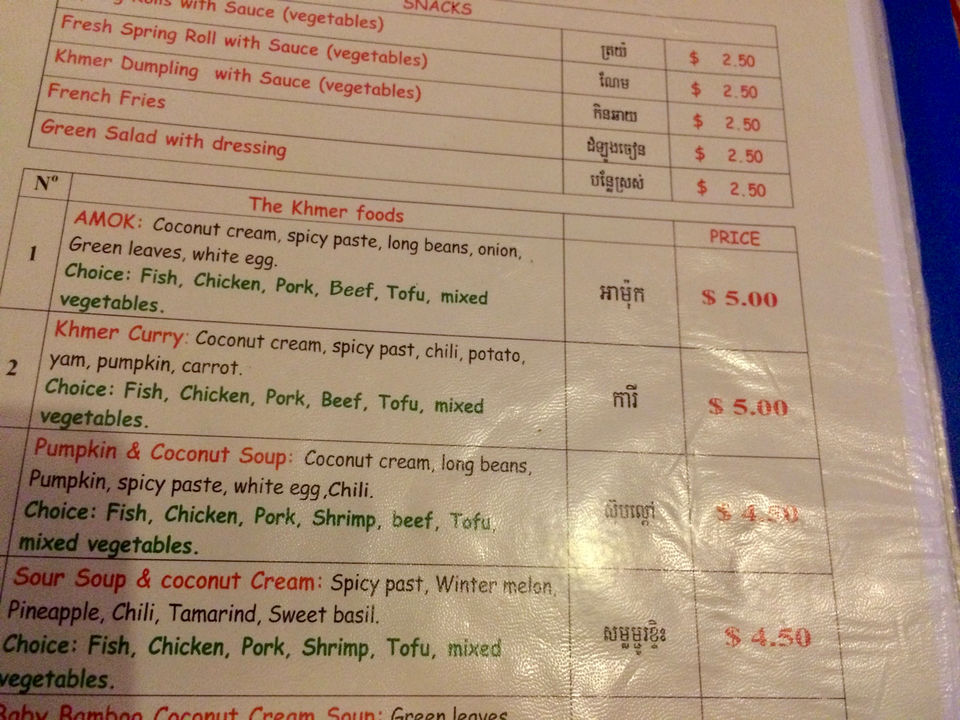 Remember the past at Wat Thmei
An active pagoda built on a site which was once a killing field, Wat Thmei serves as a grim reminder of a dark chapter in Cambodia's history. Recommended for history buffs, it is a 15 minutes' tuk-tuk ride from the town center. Observe a minute of silence at the small memorial stupa with the skulls and bones of victims of the Khmer Rouge. You will find locals also paying their respects to their loved ones.
Treat yourself
Siem Reap has an amazing range of massage and spa options on offer, at prices which would not burn a hole in your pocket. Some of the establishments are decidedly better than the others, and it is helpful to do a bit of homework beforehand. For a wonderful, quality and authentic Cambodian spa experience, head to the Bodia Spa, where you can choose from an array of traditional or aromatherapy massages. At the end of a busy day, getting some R&R may just be what the doctor would have ordered.
Party at Pub Street
What is this life if full of care, you have no time to party in Siem Reap! Lined on both sides with restaurants and bars selling cheap beer and grub, Pub Street is where everybody is at. In the beginning, it may look a bit too crowded or overpowering, but as the night wears on, the music gets louder and the whole street starts to party. Dive into The Angkor What? Bar to start your evening. If you have a good time, you may earn yourself a tee which makes for a great party souvenir. Afterwards, head to the night markets at either end of the street. What a fun way to bring your first day to a close!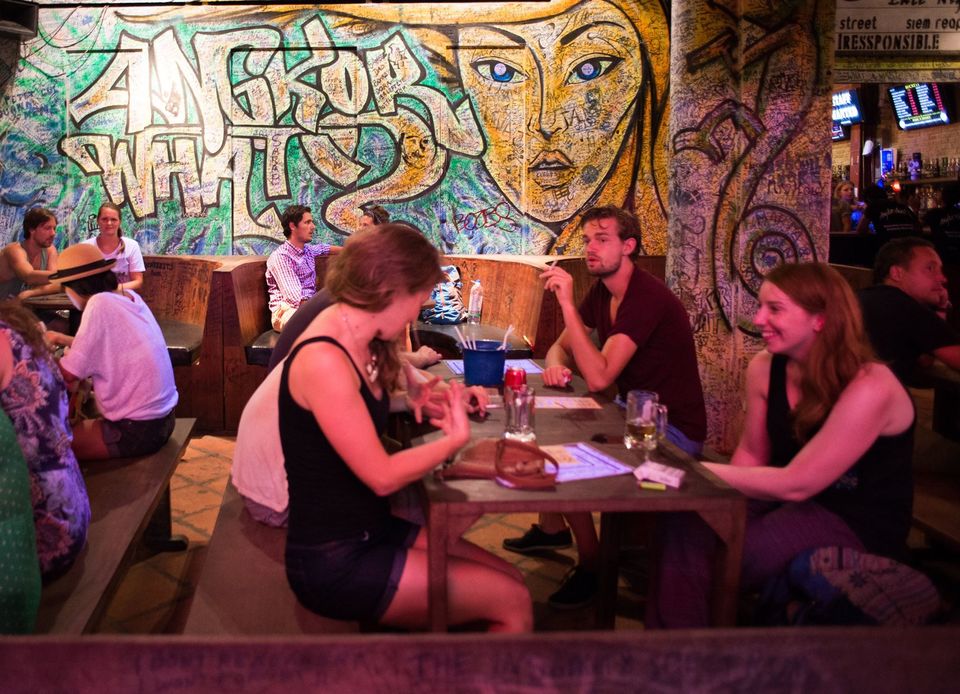 Day 2
The Angkor ruins (Angkor Wat and the surrounding Khmer temples) see millions of visitors every year, and it is only growing. You will find a fair number of shutterbugs dotting the ruins, but a good way of avoiding running into the peak crowds (to the extent possible) is to mix up the sequence in which you visit the different sites. And so, while your tour guide or guidebook may suggest waking up in the wee hours to catch the Angkor Wat silhouette against the morning sky, what they forget to warn you about are the hordes of tourists jostling for the perfect perch and the perfect photo. And if that doesn't appeal to you, we present an alternative itinerary you could consider. Pack sandwiches and carry plenty of water – you will be doing a reasonable amount of walking (and cycling – if you are up for doing so), it will be warm and you will find rather forgettable options – at best – to grab a bite.
Angkor Thom and Bayon
Start your day early (7 AM or so) and (in the relative peace of the morning) head to the most enduring of the Khmer capital cities - Angkor Thom. Amble along the South Gate entrance, past the flanking stone sculptures of gods and demons spanning the causeway. While the other city gates are quietly imposing as well, what will take your breath away is of course, the incredible Bayon temple in the center of the ancient city. Often described as a temple-mountain, the Bayon temple's most distinctive feature (as is also seen on the city gates) is a series of stone faces on its many towers, which smile down on you as you start your exploration of the Angkor ruins!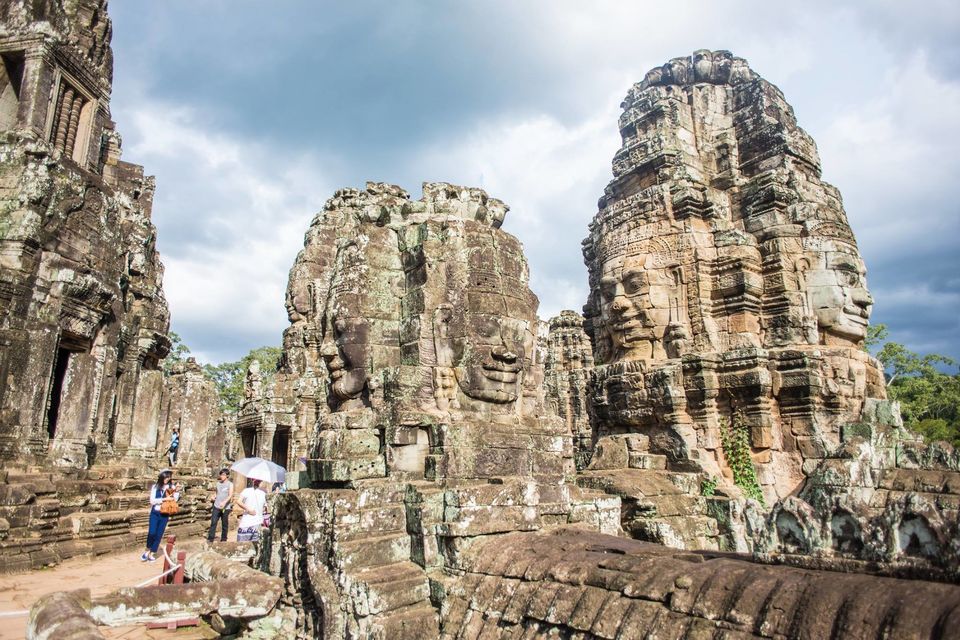 Ta Prohm
Conservation and restoration projects by the Archaeological Survey of India and APSARA (Authority for the Protection and Management of Angkor and the Region of Siem Reap) seek to preserve the jungle-absorbed ruins of this ancient temple complex. Your late-morning stop, the imagery of stone structures overrun by creepers and trees is at once surreal and a glorious reminder of nature reclaiming what was once a powerful symbol of an ancient people. Ta Prohm will offer amazing, Rudyard Kipling-esque opportunities for your off-the-beaten-track photos.
Angkor Wat
After lunch, head to the most famous of Cambodia's UNESCO World Heritage Sites, the Angkor Wat temple. A symbol of immense pride for the people of Cambodia – appearing even on their national flag – it is designed (like the Bayon mountain-temple) to present the visitor with a walk-through of the classical Hindu 'yugas' ages, in miniature. The moat, the causeway, the outer wall, the avenue with its balustrades and the towers – will all have you wanting to fish out and pore through the guidebook in the shade of the nearest tree. Remember to dress modestly and be respectful of monks – Angkor Wat remains in use as a place of worship even today. Plan to spend a fair bit of time here: you will want to. But do remember that the complex closes at around 5:30 PM.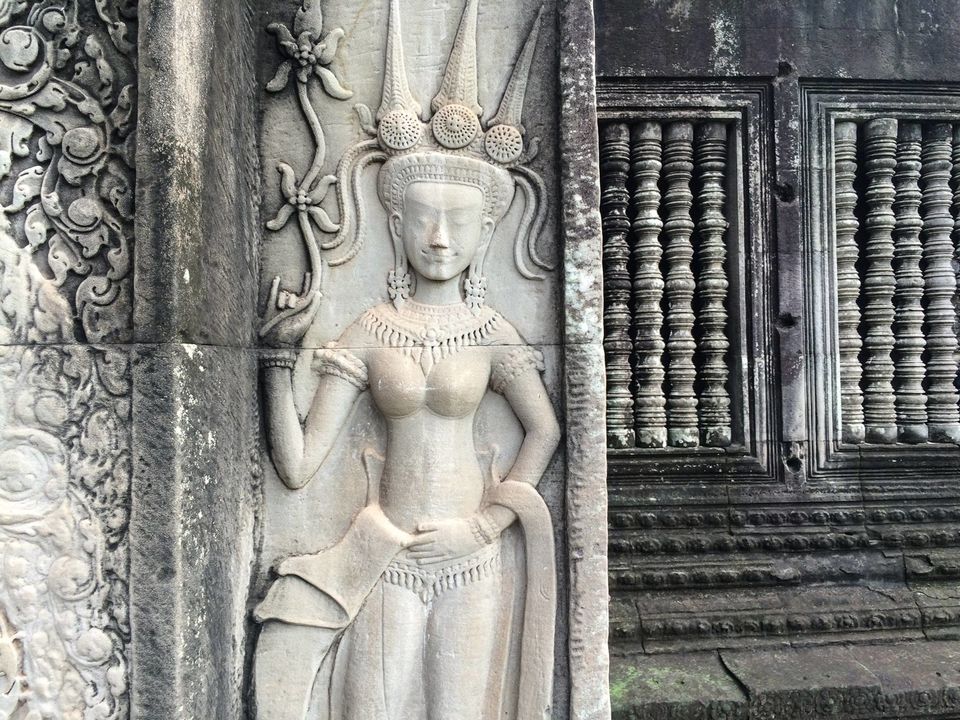 Dinner at Cuisine Wat Damnak
After what must have been a tiring but wonderful day, you will want to tuck into the best of what culinary Cambodia has to offer before hitting the sack. Quiet and housed in a traditional wooden house in Siem Reap's Wat Damnak village, the superb Cuisine Wat Damnak is often regarded as amongst the country's best restaurants and one of the 50 best restaurants in Asia. Bringing together authentic Cambodian flavors with classical French culinary techniques, Chef Joannès Rivière and his partner Carole Salmon run this wonderful restaurant as their labor of love and respect for their adopted country and its culture. You will need to make your reservations well in advance (www.cuisinewatdamnak.com), and you can choose from the two tasting menus on offer (which keep changing every two weeks). The restaurant welcomes vegetarians and vegans – and they are happy to prepare an alternate menu by request.
What a fabulous way of bringing your 48 hours in Siem Reap to a close!
Frequent Searches Leading To This Page:-
2 days in siem reap itinerary, what to do 2 days in siem reap, 2 days siem reap tour, things to do in siem reap, what to do in siem reap cambodia