Spend a day cafe hopping at Pondicherry
Pondicherry is famous for its French architecture … with the popular yellow doors a common image on postcards. This city is great place for enjoying some authentic French cuisine and whiling away time at its many cafes and restaurants. There are all tucked away in corners with very unique, independent feel to them.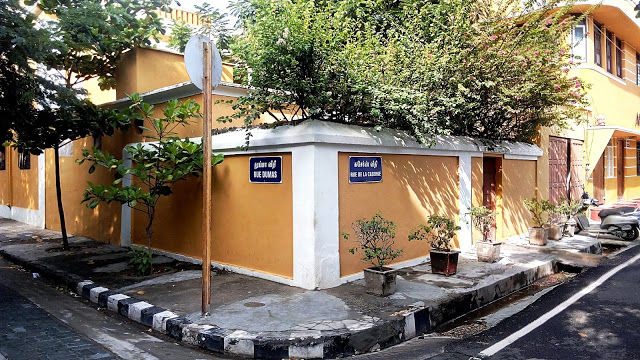 Spend one day of your trip café hopping and exploring restaurants at Pondi. Here's my list of awesome, not to be missed eateries:
1) Kasha Ki Aasha (Art Boutique and Café)
Being an artist, I fell in love with this café even before I stepped in. This ethnic café is run by a group of women, or should I say sisters, and is a perfect example of women empowerment. The ground floor has an art and craft shop with the café housed in the terrace. You can buy funky postcards, magnets, souvenirs, clothes, slippers, home accessories, handmade soaps, and lots of artsy stuff.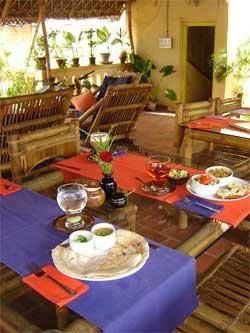 Potted plants, small knick knacks and lots of books and magazines give the terrace cafe a very earthy feel. Some of the good dishes to try are fresh cakes, pancake (served with honey, butter and home-made jam), thin authentic pizzas, and sesame burger. I also recommend their thick, fresh juices. They are heavenly.
The place is buzzing with artists, writers, photographers and musicians. Most evenings there's some interesting live event going on.
The spacious house with vintage furniture, quirky black murals on bright yellow walls, and a tiny clothes shop is sure to capture your imagination. It serves the very best crepes in town with a variety of them to choose from. For savoury crepes, I'd recommend Tuna Tomato or Ham, Egg, and Cheese. For sweet crepes my favourite is the one with Papaya jam (who knew papaya could taste so divine?). The mint cucumber gazpacho, risotto, baguette, and croissant are also good to try out.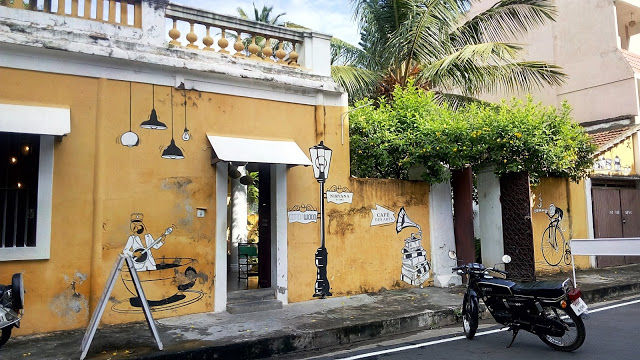 Carte Blanche, like many restaurants in Pondicherry, is a heritage building lovingly renovated and decorated in European style. There's a beautiful courtyard, with a garden, and evenings are softly lit and romantic with candle light and soothing music.
I had Creole cuisine here for the first time. Many dishes also have a strong Tamil influence. Creole cuisine originated in Louisiana, United States with influences from several European countries.
Seaside trips always mean fresh, delicious sea food dishes. And Carte Blanche does not disappoint. For starters I'd recommend the sea bream carpaccio. Their French Grilled Beef with Ratatouille is absolutely to die for. Creole vegetable soup, Creole Curry (veg or meat), steaks, and fish curries are all delicious. Their signature Earl Grey Crème Brulée dessert is melt-in-your-mouth yummy. You can't really order something "bad" here.
This is small, neighbourhood chocolate store – with to-die-for chocolates. One taste and you'll not forget it for a long long time. Everything is delicious, and you'll just feel like filling a large sack with chocolates and carting it home (especially if you are a chocoholic like me!).
Still, if I have to choose, here's what I'd recommend: hot chocolate (comes with a chocolate spoon), chocolate dipped cookies, lemon tarts, and Swizz cake. If you want to sit around for a while, have some coffee with the sweets, or just cleanse your palate with something salty there's Café Ole right next door (owners are the same). They are quite famous for their coffee and have a decent collection of sandwiches.
5) La Villa
La Villa is another courtyard, French-style restaurant, with amazing food and ambiance. French architects Tina Trigala and Yves Lesprit, have converted this colonial bungalow into a chic hotel and restaurant with clean and minimal look. It's so beautifully elegant … the perfect place to admire Pondicherry's French heritage.
For mains, the best options are Orange Flavoured Chicken Stew, Slow Cooked Sand Lobster, Prawns Coconut Curry, or Grilled Fish. Finish your meal on a sweet high with the Cremeaux and Dark Chocolate Mousse.
There are some of the best restaurants and cafes at Pondicherry. However, as you walk around the lanes, step into different cafes, talk to the owners, try out new dishes, and have your own café experiences.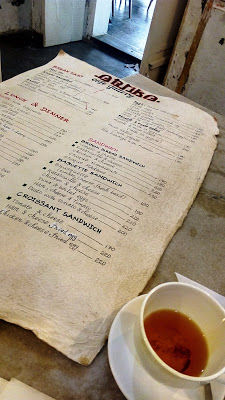 Photographs originally published at http://lensdynamic.blogspot.in/2015/08/pondicherry-frozen-in-time.html.