Bir is a place that hasn't been even closely touched by tourism like its surrounding hill stations have. The place has a certain purity about it, a certain calm, that only comes from a place not being polluted or with excessive civilisation taken over. Because tourism isn't the focus point of the people of Bir yet, the restaurant scene here is very uneven. Cafes will open at their own sweet time, shut when they want to, and a lot of times don't even open if they don't feel like. Hence, there were a lot of restaurants I saw during my 3 days of stay here, but most of them were shut.
I consciously stayed away from North Indian food in Bir, because that's not the speciality, and North Indian is what we eat back home too. Having Tibetan food in Bir is how it should be, because the locals are mostly Tibetan and they, of course, do a fabulous job at the food they cook everyday.
I used to do all my dinners and breakfasts at my resort. You can read all about the resort here. So the only time I got the chance to eat out was either for lunch or evening. Tried a couple of places- listing them down below. In addition to these I tried a restaurant inside a monastery too, which was really bad, and I didn't try Four Tables in Upper Bir because the place was shut all 3 days when I was there. I've heard great things about Four Tables from several people, so if you go to Bir, you should definitely give it a try. The trek to Upper Bir is beautiful! We got to know it was shut when we reached Upper Bir, but we loved loved loved the trek so we didn't mind going there at all.
1. Garden Café
Hands down the best place to eat in Bir if you're not looking for Tibetan food.
The moment we reached Bir and kept our bags in our room, we ran to explore the town. The crossroad called Chougan has a road that leads you to Bir Tibetan Colony. This road has several monasteries, hotels and restaurants lined up, and it is basically THE place to find food in Bir. Right where there is a green patch of land in the beginning of this road, where you will find Tibetan flags and a view of the mountains, is where Garden Café is.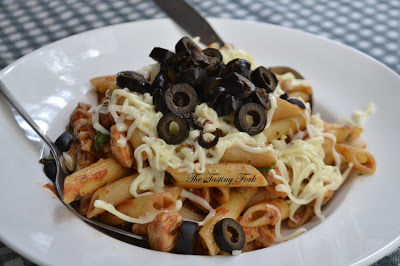 Set up inside someone's house, the name of the place is self-explanatory. It is a café inside a garden. That's just about it. But it still looks damn pretty and cosy. With plastic chairs and tables, a bookshelf on one side, huge trees giving shade, and a vibe that's very very chilled out. The first day I went here I had a Lemon Iced Tea and a Penne in Arrabiatta Sauce. Huge portions and decent in taste, we couldn't stay there for longer because we were headed to the paragliding site thereafter. Our last day in Bir however brought us here again, and that is when we discovered the incredible food they do. Had a Garden Special Pancake, a cappuccino, and a Vegetable Sandwich at this place before we left Bir. The Pancake was an overload of everything delicious. Maple syrup, mangoes, papaya, apple, cinnamon powder, and a stack of pancakes that are extremely soft and fluffy. It was too much to take in, we were crying with joy in every bite we took. We were cursing ourselves for again not having enough time on hand to be able to try more things here.
It's the kind of place where you have great food and drinks, and you just relax. I found a painter and a sketcher sitting here, couples and families out on a vacation, a group of friends too, and the place gave an incredible vibe. The pricing is very nominal and there are no taxes. To give an idea, the pancakes cost us 180.
2. Cafe Adruk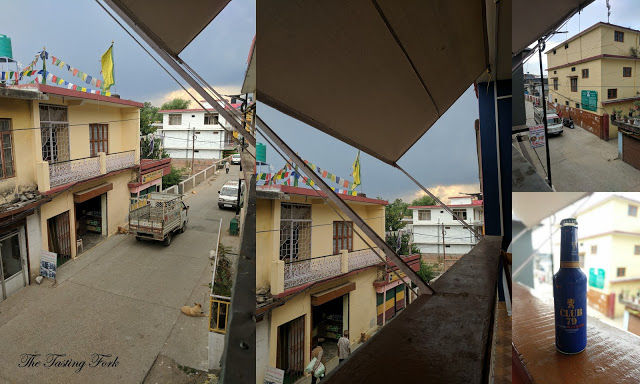 The best place in Bir to have Tibetan food at. Period
Go here with a lot of time on hand because they make everything fresh. The best Chicken Thenthuk I've had in my life was at this restaurant. Situated on the first floor with a narrow staircase to lead you there, they have both indoor and outdoor seating. The outdoor seating gives a view of the narrow Tibetan Colony road. They have a very extensive menu for Tibetan food and you must try a great deal here. I also had Fried Chicken Momos that were simply phenomenal! This restaurant is the reason why I'm obsessed with Fried Momos now. The pricing here too is very nominal. A plate of Chicken Momos are for 100-110 here. They also have flavoured fruit beer.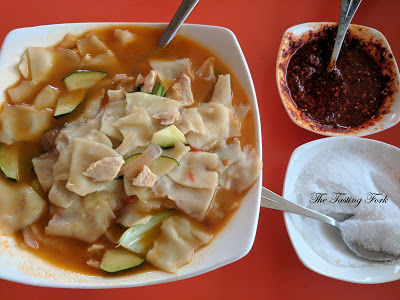 3. Norgay Kitchen
This restaurant is situated on the main Tibetan Colony road, unlike the others that are, but it's just 30-40 steps from the main road. You will only have to follow the sign board that leads you to the Norgay Hotel. Again a place that does beautiful Tibetan food, but they don't have everything available that's given on the menu. Because our options got narrowed down, we tried the Fried Chicken Momos here too, and tried Chicken Shabalay. Both were lovely to say the least. There's something about Tibetan food that ensures you feel comforted after eating it. Pure bliss! No taxes here too, and the same pricing as everywhere else. Spent some 400 bucks on these two dishes with two flavoured beers. They also have an indoor and outdoor seating, and I always choose to sit outside when the weather is good. The day I went here, it was pouring outside. So a table on the floor with cushions, and piping hot Tibetan food to enjoy while it pours. What a lovely memory I have of this!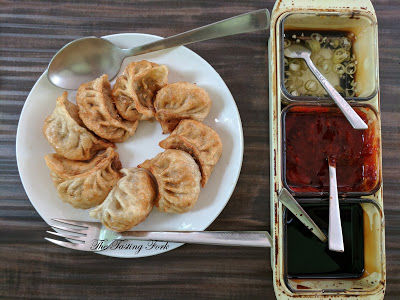 4. 99 Not Out
I specially took a trip to 99 Not Out because a lot of websites had mentioned that as a favourable eating joint in Bir. I say 'I took a trip' because the restaurant is situated at the end of the Bir Tibetan Colony road, where the road curves and turns left. So you start walking from the beginning of this road and this restaurant comes about 2.5kms-3 kms down the road. The place is a little dark for my liking, and it was absolutely empty when I went. Most places in Bir were actually, because it's not a destination many tourists know of, and the locals obviously eat at home mostly. Every website and blogging site had mentioned their shakes are good, but they're not. So refrain yourself from trying the shakes. I tried the Crispy Fried Chicken here, which was for 150 bucks for 8 pieces, and it was a really really good dish. Juicy chicken and a crispy coating, served with a chilli dip. I didn't try anything else here, but I'd say the place is a good option for eating out if you've tried the other 4 places I've mentioned and don't want to go there again.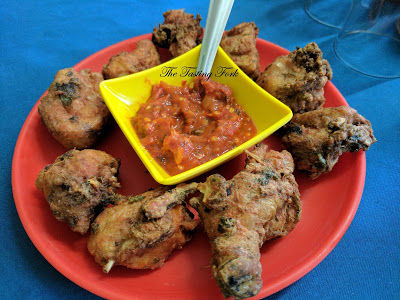 5. Café Cloud Door, Chougan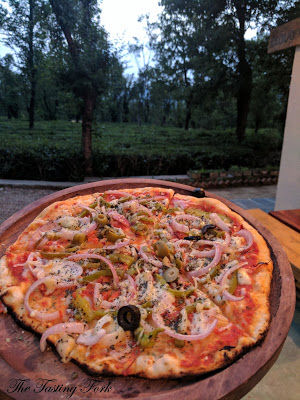 This is one of the latest entrants of restaurants in Bir. It's a café situated just 80 steps down the road from the Chougan crossroad. A very small quaint café that does a relatively more polished menu, hence the foreigners that you'll see here often. They're famous for their wood-fire oven pizzas that they only do after 6pm, but other than that they do a decent range of sandwiches, teas, mocktails, pasta and the likes. Don't pick the readymade stuff like muffins from here. I took one and it had fungus on it. I went in the evening and they were damn apologetic about it, but imagine if I didn't notice the fungus. Yuck! But the pizza I had in the evening was so so so good! Thin crust, with crunchy veggies and cheese, and a view of the tea plantations. Beautiful!
P.S. They're closed on Tuesdays.
Hope you like these places as well! If you go to Bir and find any more places to eat at, please let me know too- would love to get more suggestions for the next time I go there :)
How to reach Bir:
By Bus: Take a bus from ISBT Delhi (there are 4 buses running everyday, between 6 45PM and 10 55PM). Take 12-13 hours to reach but the journey is very comfortable. Himsuta Volvo, booked online on www.hrtchp.com
Where to stay:
Various options for B&B's available online, if you're not looking for a resort
Connect with me on:
Twitter: @sahibagursahane
Instagram: @thetastingfork
Facebook: www.facebook.com/thetastingfork
Snapchat: @thetastingfork