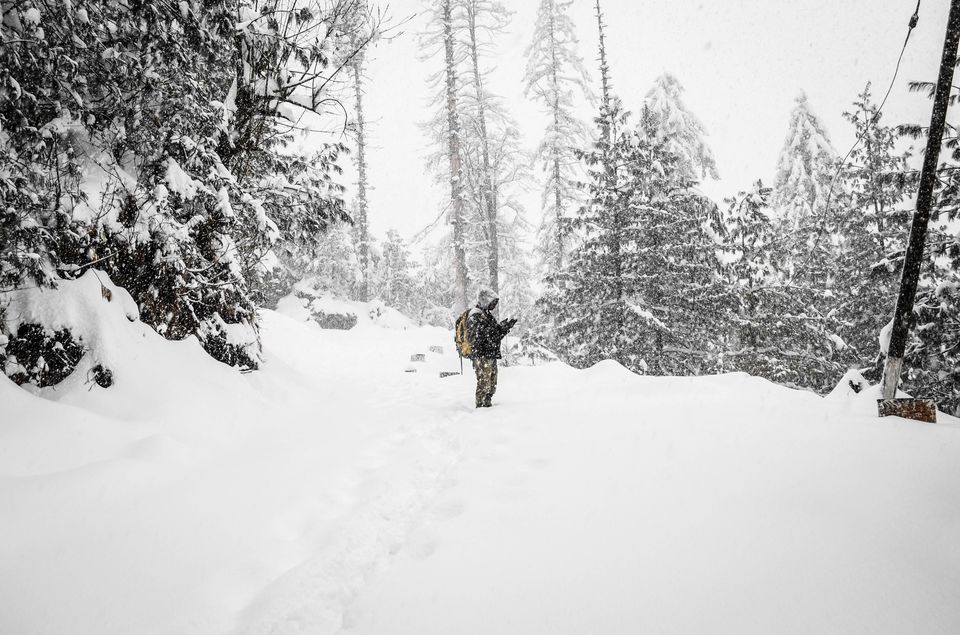 With the arrival of winters, most of the people start searching for different places to enjoy on snow. Shimla is a beautiful hill station and capital of lands of gods, i.e., Himachal Pradesh. Shimla is known as the queen of hills and is very much famous for its incredible scenic views, colonial architecture, culture and most commonly snowfall.
During winters and especially late December to February, this beautiful hill station usually gets covered with the snowy white blanket that makes everyone falls in love with it. If you are also planning to visit Shimla these winters, here is the list of one of the best places to see the snowfall in Shimla. So expect a holiday trip with your family these winters and enjoy the beauty of snow covered mountains at different locations in Shimla such as:
Shimla City:
Shimla city is one of the most beautiful places to enjoy on the snowfall in Himachal Pradesh. As per name describing correctly, queen of hills, the town is located at the top of hills with breathtaking scenery all around. The hill station scenic view showing different ranges of mountains and colonial architectural buildings improves the charm of this beautiful city much more. It is one of the most loved hill stations of North India turned up into dreamland when snow blanket get heavenly covered the beautiful Himalayan ranges.
From various religious landmarks such as Jakhoo temple, Christ Church and Kalibari to buzzing shopping places such as mall road and lower bazaar everything says its unique history and the British architectural buildings beautifully. If you are visiting this beautiful hill station in winters, some of the most admiring places that you surely need to visit are Ridge, Scandal Point, Summer Hill, Indian Institute of Advanced Studies, Shimla Museum, Gaiety theaters and a lot more.
Mashobra:
If we are talking about Snowfall in Shimla, Mashobra is must go places that will keep your breadths on hold for some time with the beautiful sceneries and heavily snow-covered peaks. Mashobra is situated at the amidst reserve forest sanctuary of Shimla that is undoubtedly one of the most beautiful places on earth. If you also love various adventure games like skiing, trekking, and rappelling, it is just the heaven that will feel your journey with a lot of fun excitement and memorable as well.
Skiing down the snow-covered hills through snow-laden trees all around make you feel like featuring a movie of the '80s. Capture this beautiful scenery and memories all you have over there in your camera and save them for your life experience. If you are feeling like short of the budget over this grand trip, keep calm, most of the services provided you both comfortable as well as budget trips as well.
Kufri:
If you are planning to visit Shimla this winter to enjoy snowfall over there, Kufri is one of the top places to visit in Shimla that you can't deny of going. Located at a distance of 16 KMs away from the city heart, this beautiful place is one of the highest peaks and snowfall areas in the city. Just make your trip to Shimla most beautiful and enjoy the queen of hills to the fullest. Kufri has been recorded as highest snowfall every year in Shimla along with some other couple of places as well, and the number of tourists coming to enjoy the scenery of these attractions is also higher at such sites.
Along with beautiful ski slopes and mesmerizing views of the Himalayas from Kufri, it is the best place to enjoy on various adventure trips like horse riding, skiing, hiking and appreciates the nature through Himalayan Nature Park. Only it's the beauty of this area and the snow-laden mountains that forces a lot of people to call it the Switzerland of the East.
Narkanda:
Situated at just a 2 Km drive away distance of Shimla City, it is another one of the best places to see the snowfall in Shimla. The mesmerizing beauty of this hill station will take away your breaths and make you feel like staying in heaven. Along with densely covered snowy peaks, this beautiful place fully gets converted into a ski resort during winters. Narkanda is situated at one of the higher altitudes in Shimla and makes everyone fall in love with it with its fantastic scenery.
If you are a ski lover are interested in learning the basics of skiing, you can join the different skiing sources being conducted by HPDC here as well. So explore the snow-laden peaks of Narkanda now and make your winter trip one of the most amazing and memorable ones. Along with skilling, you can also enjoy the adventure of horse riding and Himalayan Nature Park here.
Rohru:
Yet Rohru is the least known but still one of the most beautiful places that you must visit while on the tour of enjoying snowfall in Shimla. Rohru is one of the most beautiful cities of Shimla is situated at a distance of 110 KMs from the central Shimla. This beautiful city is being located at the bank of Pabbar River. Rohru is known for its beauty, apple orchards, and trout fishing activities.
It feels fantabulous to view the snow-laden valley and especially those apple trees over there. If you are going to visit Rohru, don't forget to enjoy the extreme experience of various adventure trips like trekking, hiking, mountaineering over there. If you are a lover of Trout fishing, it is must to visit place in the list. Along with enjoying the beauty of Jubbal temple, Shikru Devta Temple, Hatkoti Temple, and Mahasu Devta Temple are one of the best religious places to visit on.
Conclusion
Shimla is one of the beautiful hill stations of India that gets even more beautiful in winters when it gets covered with the snowy blanket. The snow-covered mountains, forests, and the various adventure trips are some of the things that everyone wants to experience at least once in their lives. Above we have provided five best places to see the snowfall in Shimla, hope it will help you out in reaching the best place during your trip.