Sicily is a fabulous island in the center of the Mediterranean Sea. The endless expanses of azure waters attract with their amazing beauty. Undoubtedly, Sicily is one of the most popular destinations in case you want to enjoy a real beach vacation and escape from the problems and noisy city. And this popularity is not accidental, because Sicily offers different beaches and coastlines for any tastes, and even all year round!
On Sicily, the rocky shore smoothly turns into cozy coves with golden sand and water shimmers with lots of shades creating a unique seascape. As a result, the beaches of Sicily are diverse and interesting. Check out the most stunning of them…
Mondello
Situated to the west of Palermo, two-kilometer long Mondello Beach impresses with pure white sand. The sea is shallow and perfectly suits for those who like to sunbathe lying on the water.
Turquoise clean sea water creates an ideal place to relax. However, in high season, the beach is crowded. No wonder! The smooth entry into the water, warm sea and perfect infrastructure - Mondello is an excellent spot for families with children.
In summer the beach hosts a variety of concerts, festivals, sports events (regattas, surfing) making it attractive for young people and tourists. The coast of Mondella is strewn with apartments, bars and cafes. You can rent sun loungers and umbrellas to enjoy beautiful views and gentle Sicilian sun.
Coordinates: 38.202664, 13.326093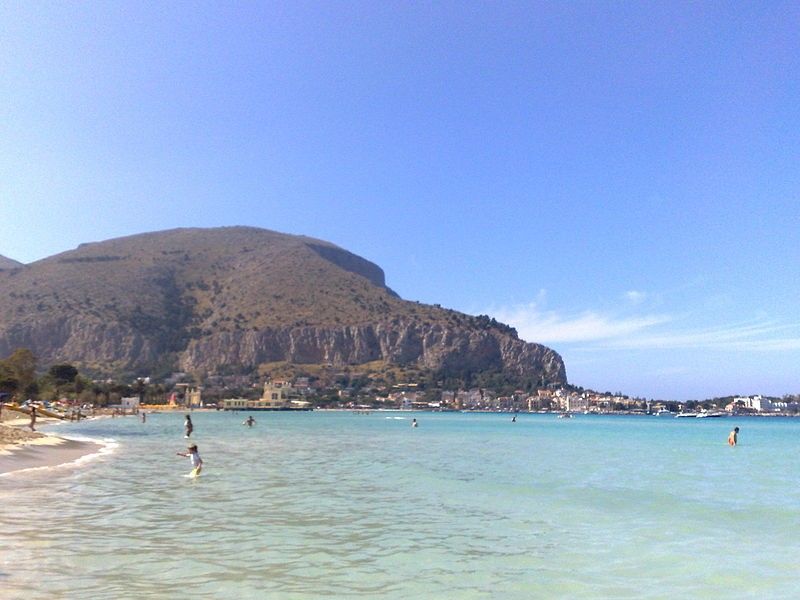 Marina di Ragusa
Marina di Ragusa is the most well-known seaside resort of south-eastern Sicily, where the ideal Mediterranean climate makes it possible to enjoy the summer 8 months per year.
The resort offers great opportunities for relaxation. And tourists choose this resort not without a reason: Marina di Ragusa is famous for its long beaches with golden fine sand, and its shores are lined with shops, nightclubs, pubs, and restaurants serving local and traditional Sicilian dishes.
For beauty, cleanliness and environmental friendliness, the beach was awarded by a Blue Flag. And in order to complement your holiday, you can take a walk on a yacht rented at the local port.
Coordinates: 36.781483, 14.549515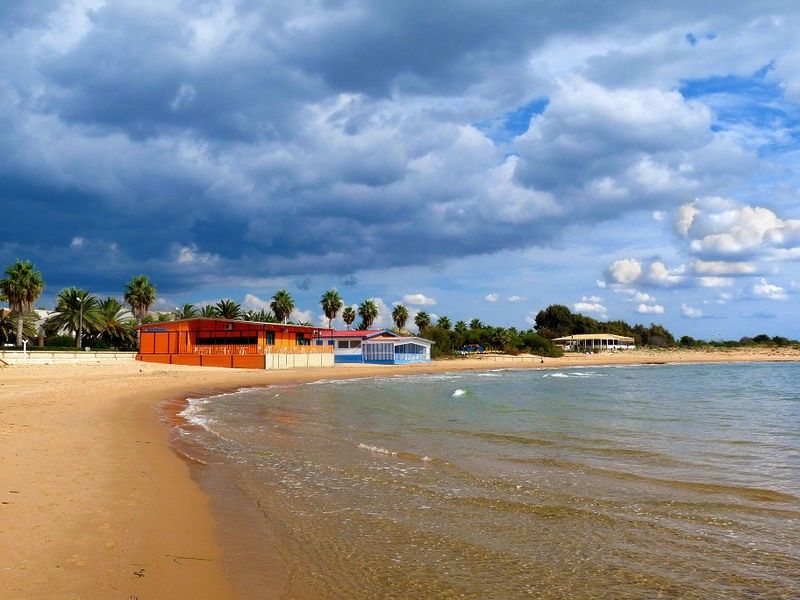 San Vito lo Capo
San Vito Lo Capo is a jewel in the treasury of Sicily. Better known as St. Vitus Cape, it's located to the west of Palermo, in the vicinity of Trapani. The beach is good in all aspects: its length is about 3 km, it provides beautiful views of the bay, and the beach is renowned for its white sand and crystal turquoise water. Plus, the lack of underwater currents and smooth descent into the water attracts families with kids. The only drawback is an incredible number of tourists even in the low season. Among the local beaches, the most famous one is Costa Gaia.
By the way, if you like active relaxation, you will find everything you need there: pleasure boats, diving equipment, windsurfing boards, etc.
Coordinates: 38.175119, 12.742135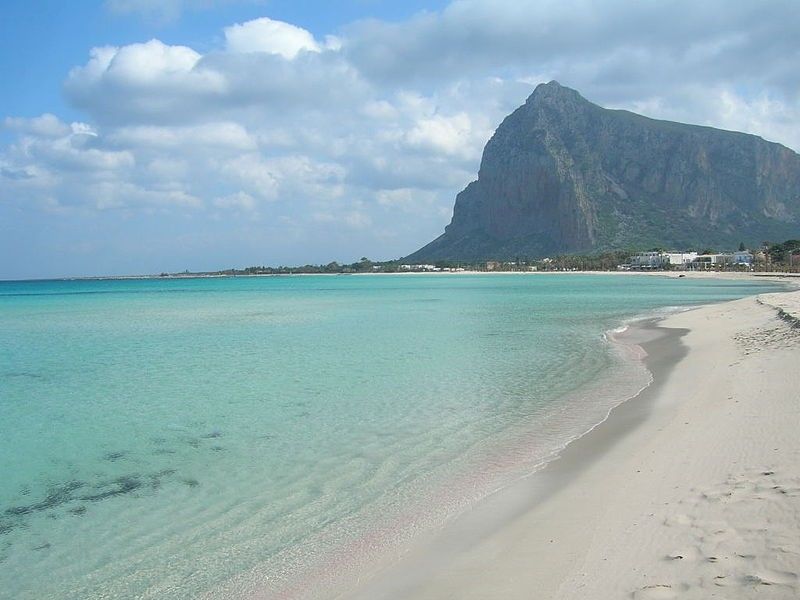 Cefalu
This resort is situated 75 km away from Sicily's capital Palermo. Cefalu is a picturesque town offering 15 km of amazing coastline with white sand and clear water. The larger part of the beach is sandy, but there are areas covered with pebbles. The urban territory of Cefalu Beach features well developed infrastructure. You can enjoy freshly caught fish in any of the local restaurants and rent everything you need for your beach relaxation. However, outside of the city the beach is not crowded, and it's hard to find any entertainments there.
Cefalu is not deep, so the water gets warm pretty quickly. It's also a good option for families with kids: it's warm, soft and there is enough space to run or play. In addition, the beach is also famous for healing hot springs. Its thermal water is very good for health and it's even used in cosmetics.
Coordinates: 38.035806, 14.016763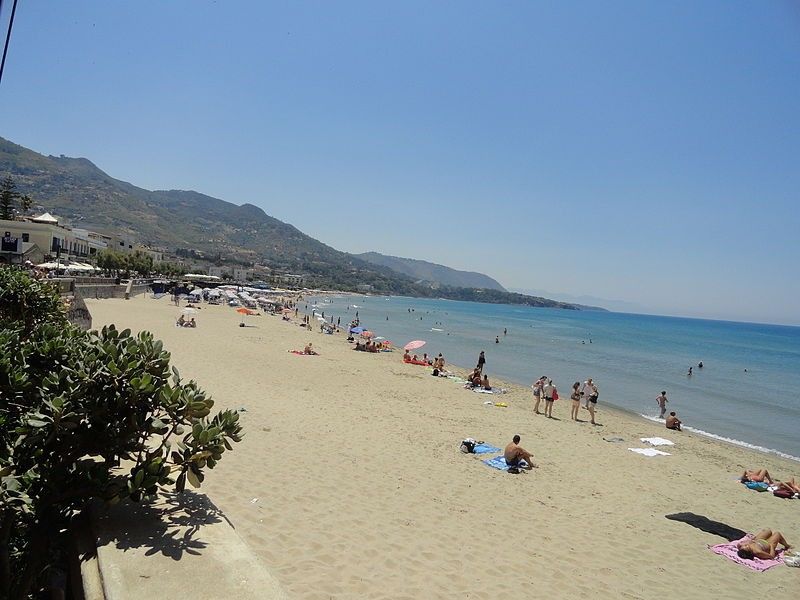 Mazzaro
Mazzarò is a lovely spot located on the outskirts of Taormina. The beach is half sandy and half pebble - it consists of coarse sand mixed with pebbles. The water shimmers with turquoise and emerald shades, and the sea is deep there, but the depth increases gradually making the beach an attractive place for families with children, as well as for diving fans. The rich underwater world will give an unforgettable experience even for experienced divers.
The only disadvantage of this picturesque place is that there are no points of beach equipment rental and no showers. But a lounger and an umbrella can be obtained for free by ordering lunch or dinner in a waterfront restaurant Lido La Pigna. For an additional fee, the owners also provide boats and catamarans, as well as organize water-skiing and banana boating. As any other resort area of Sicily, Mazzaro offers lots of hotels and boarding houses for your stay.
Coordinates: 37.855164, 15.299950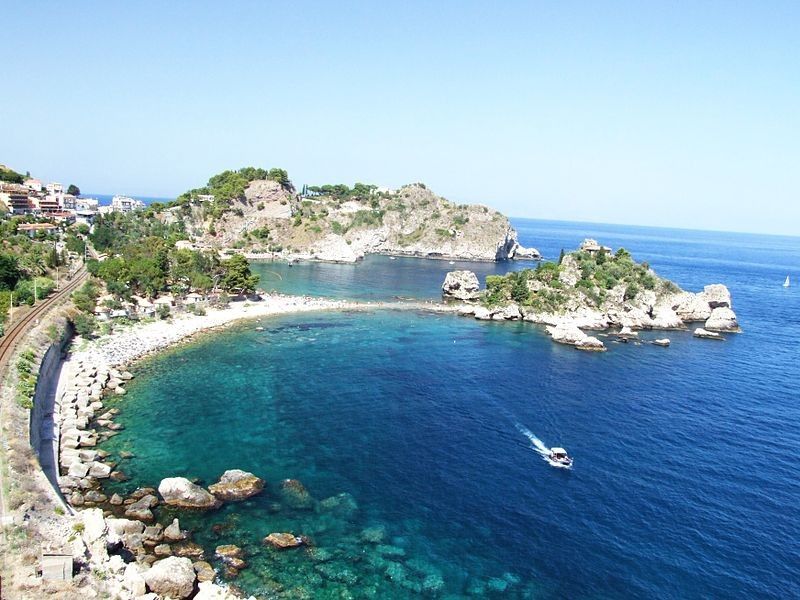 So, are you ready to enjoy the most breathtaking beach vacation on Sicily? Then choose any of these beaches to visit it during your trip to Sicily! By the way, you can also check them out all at once by using your own car. Just rent it at Catania Airport, and set the desired position into the car's navigator.