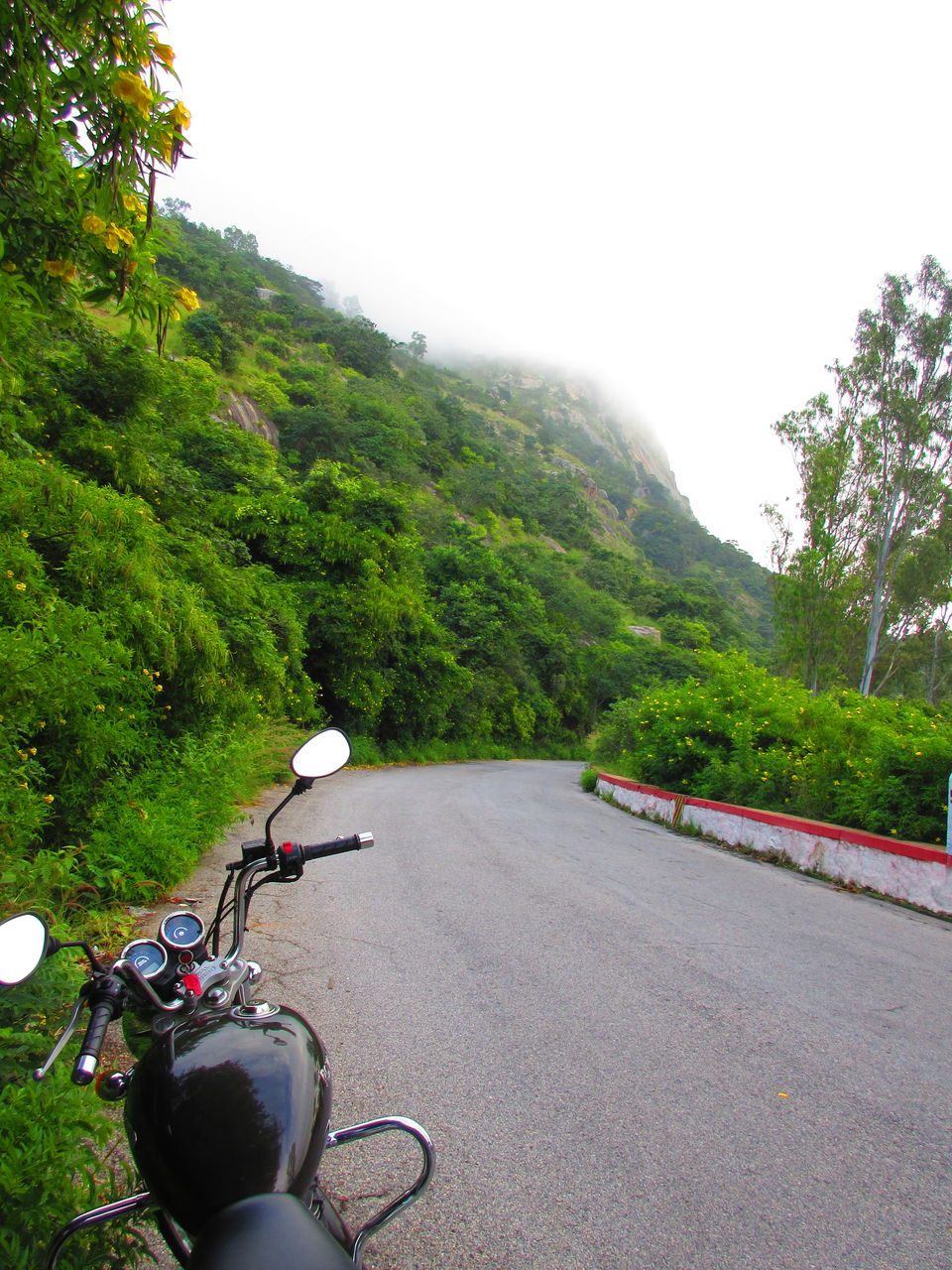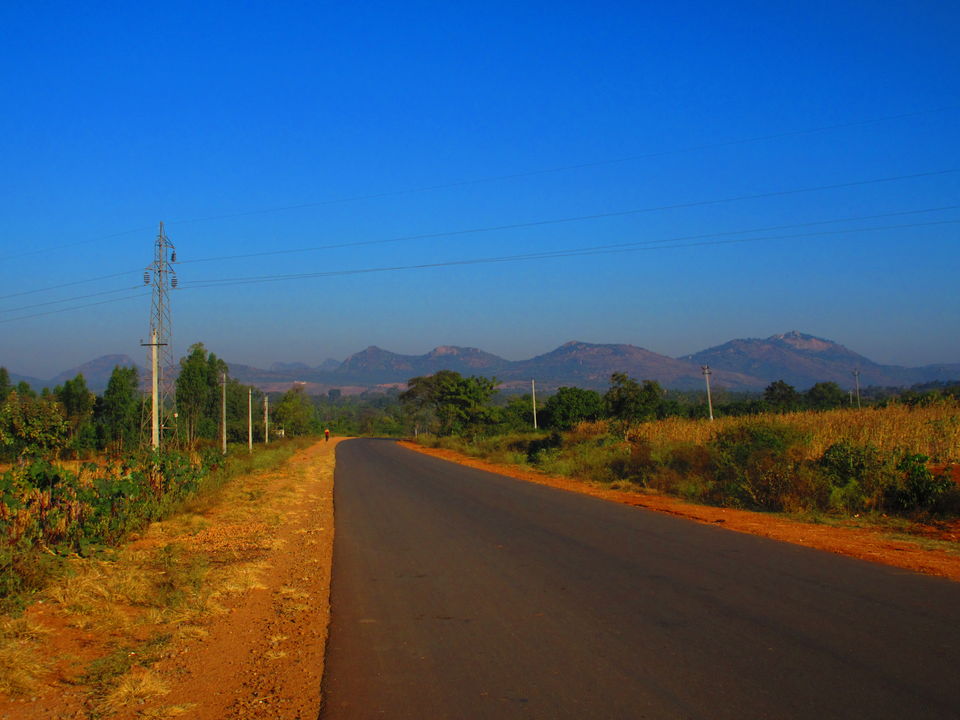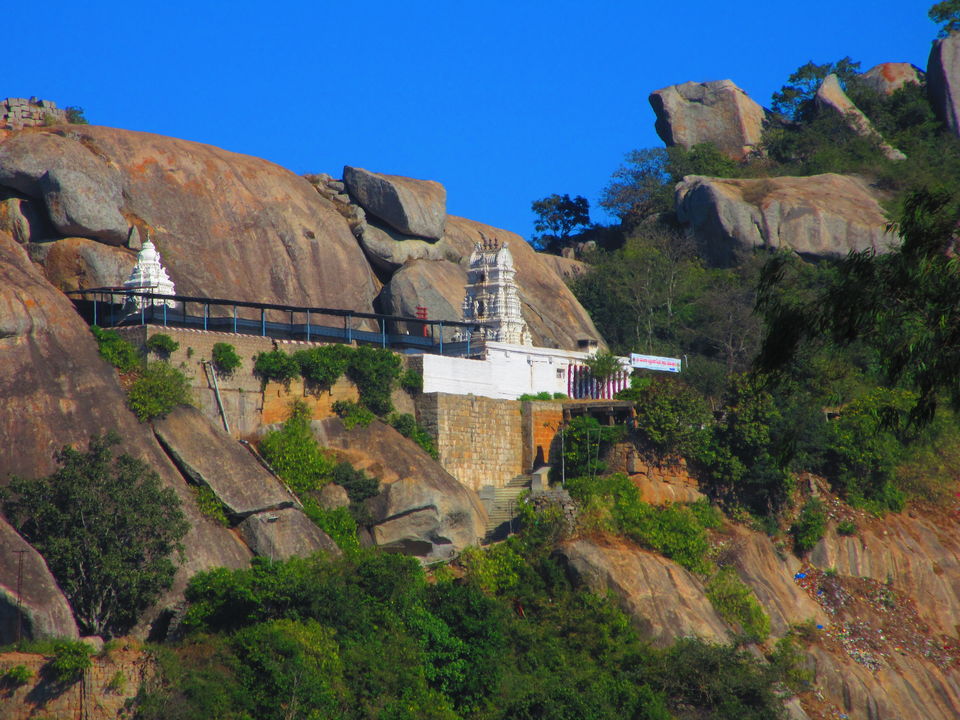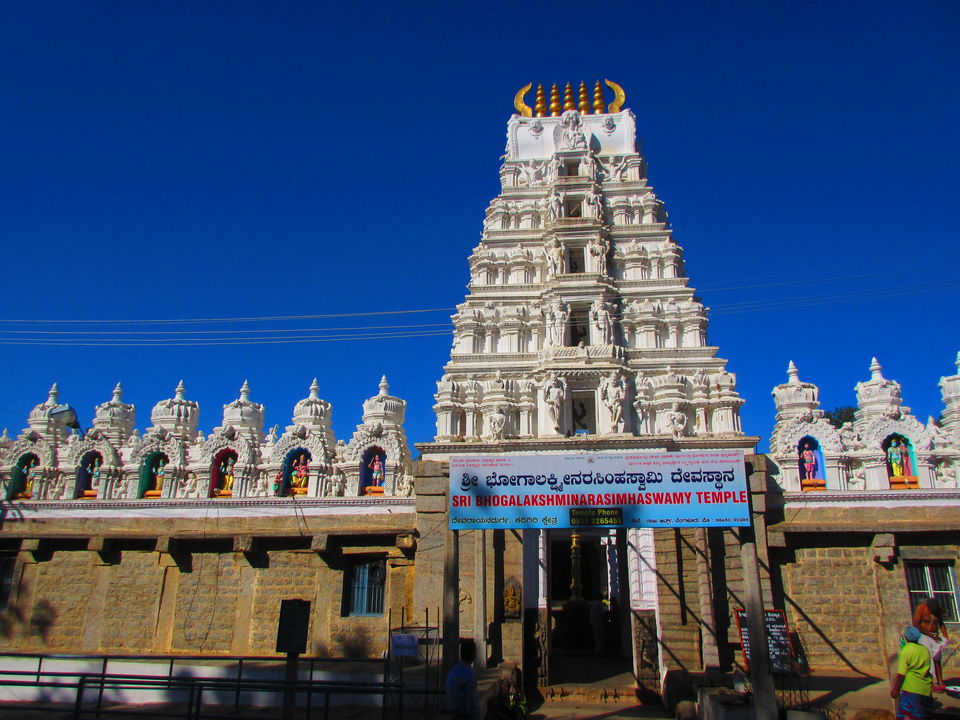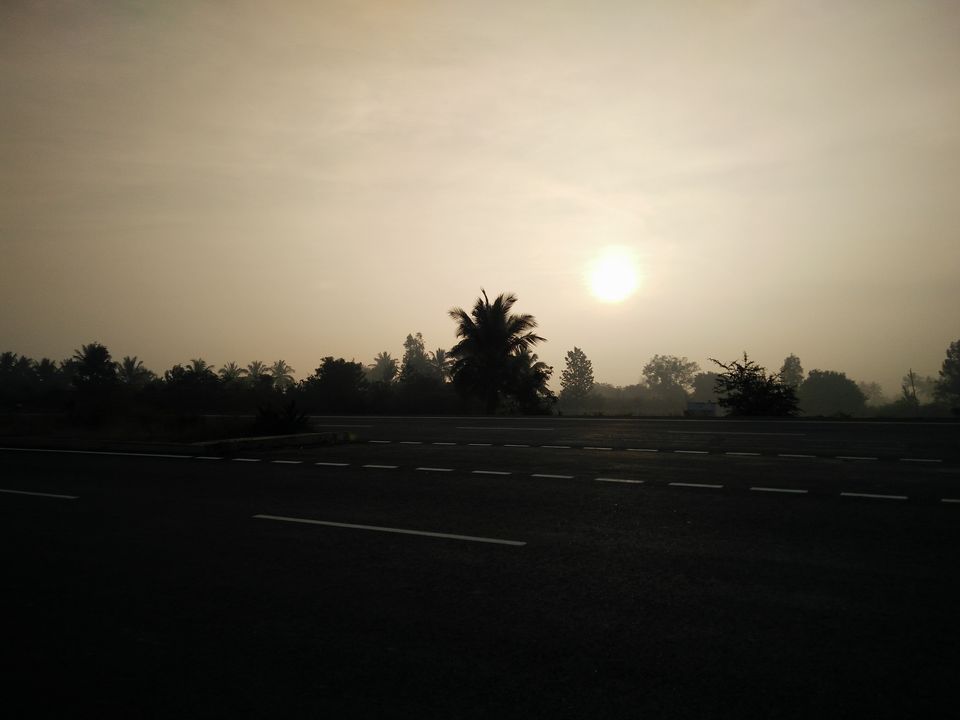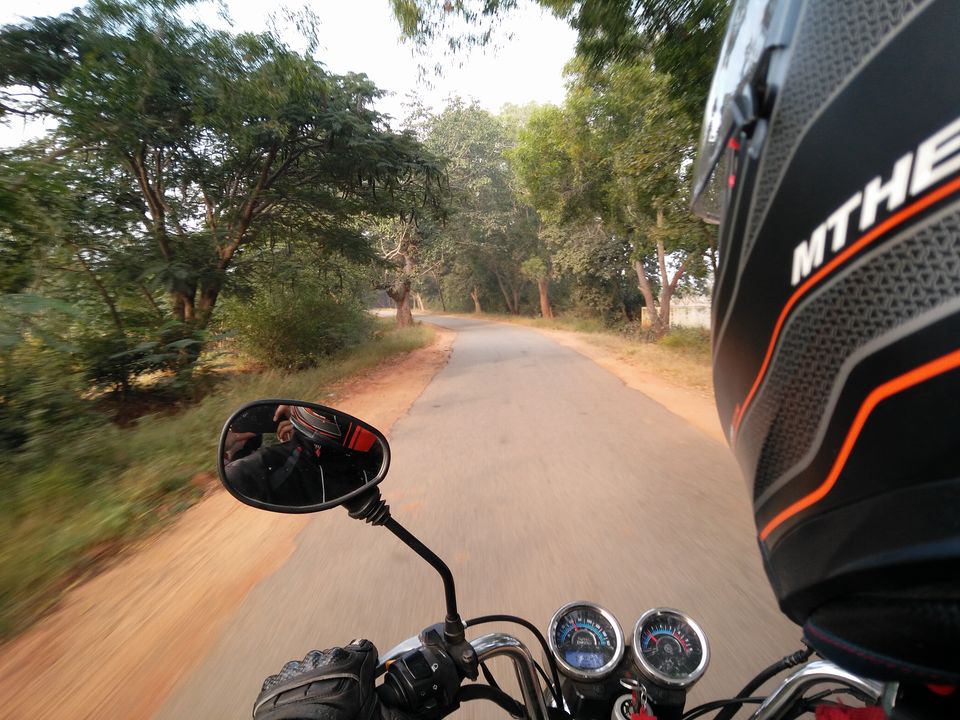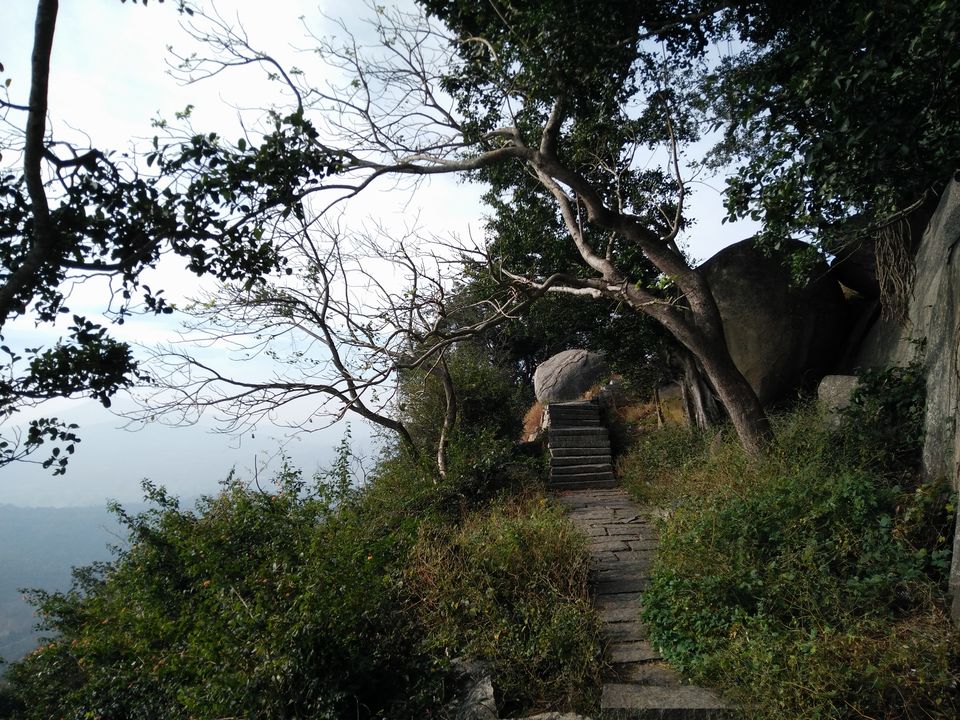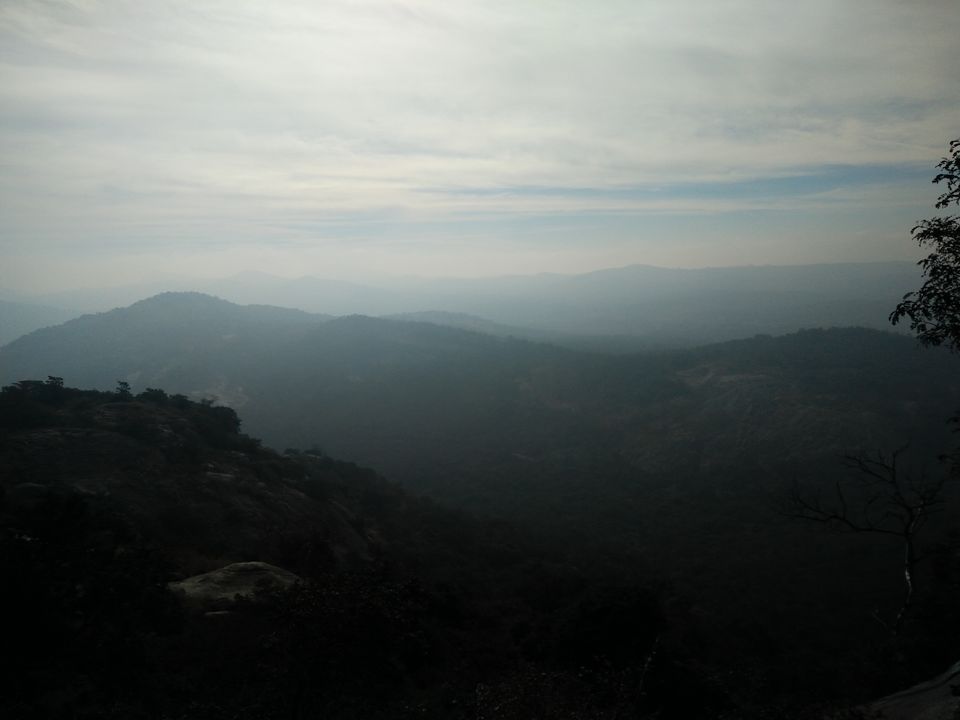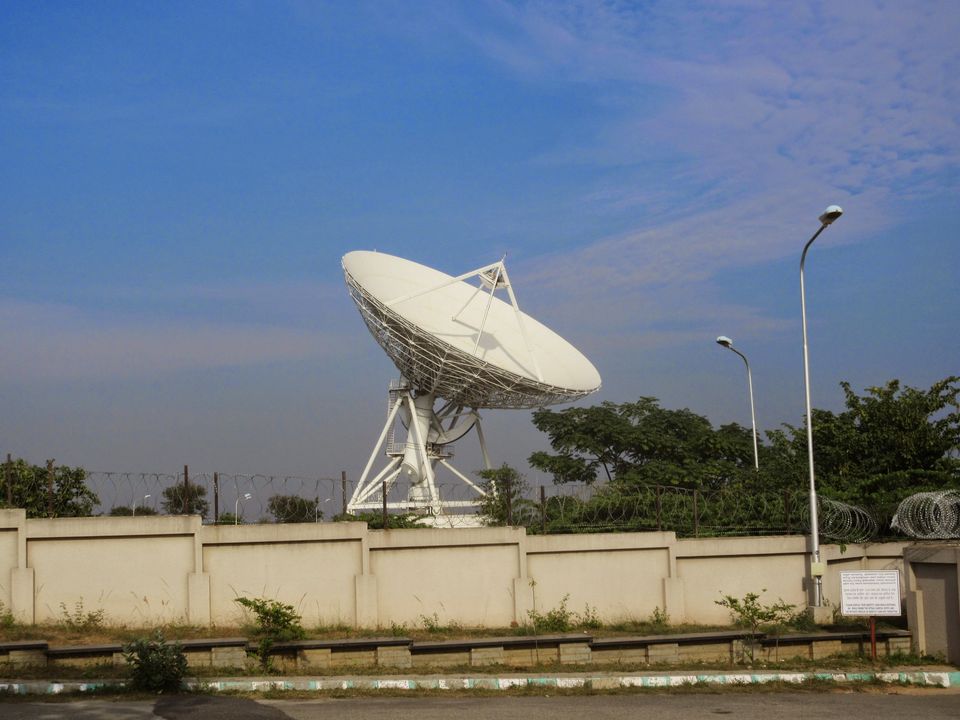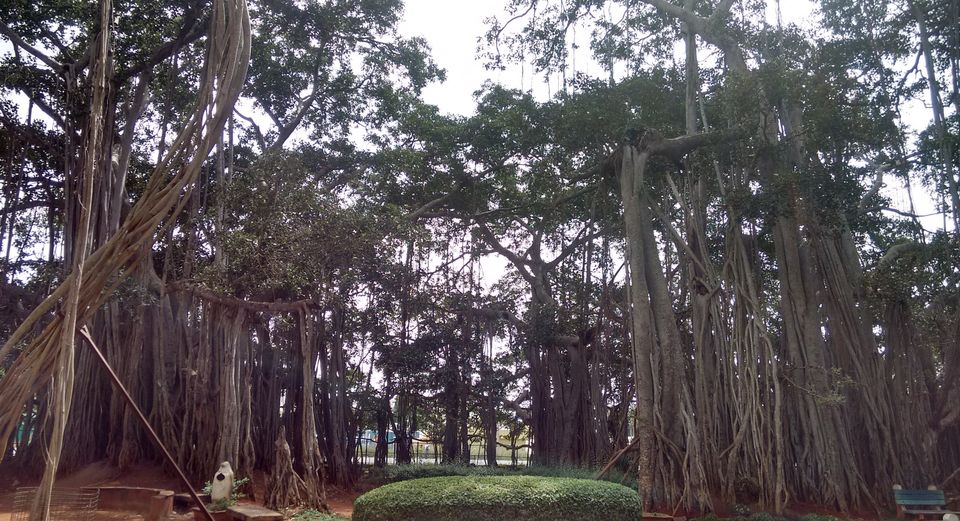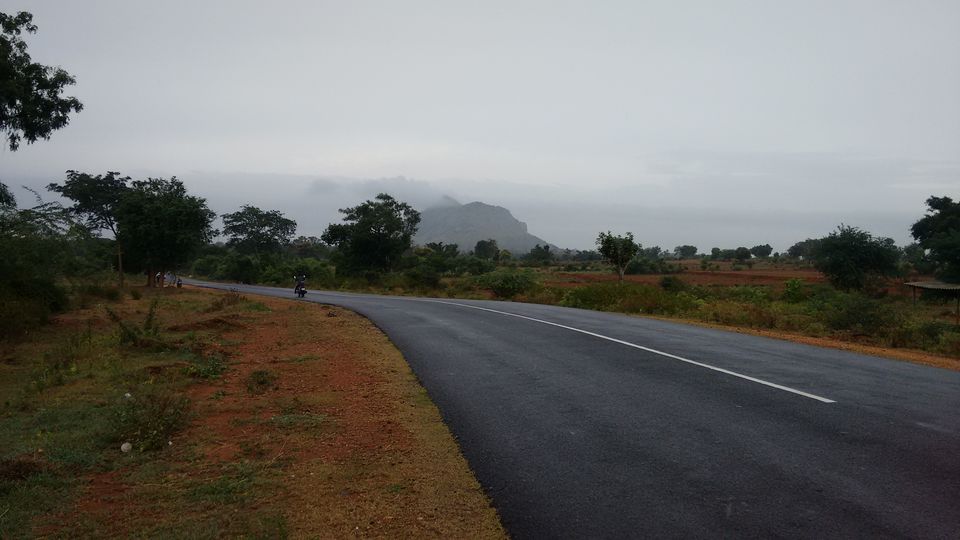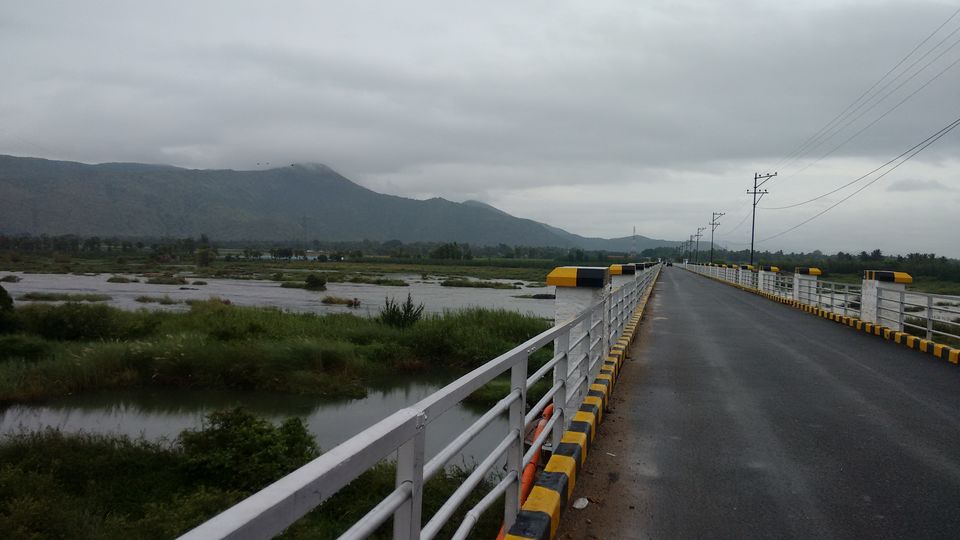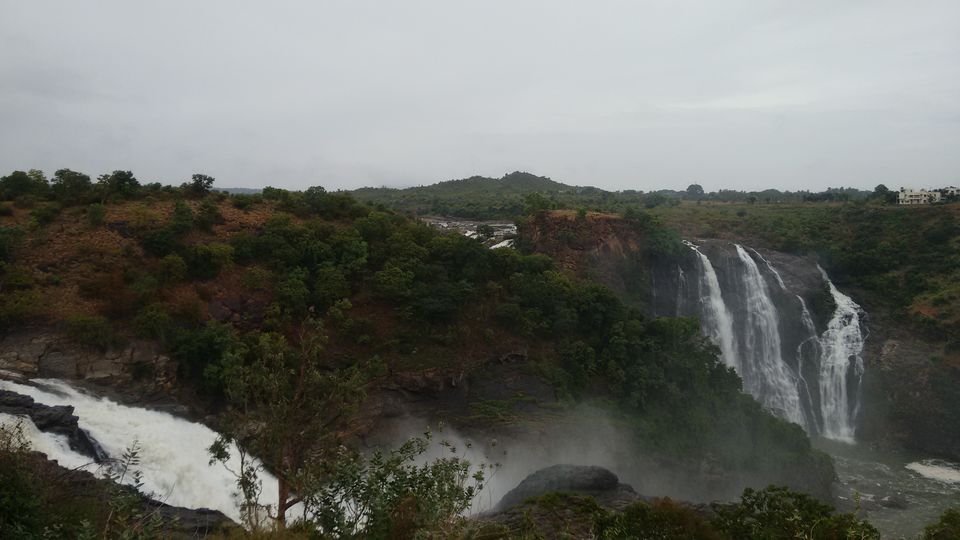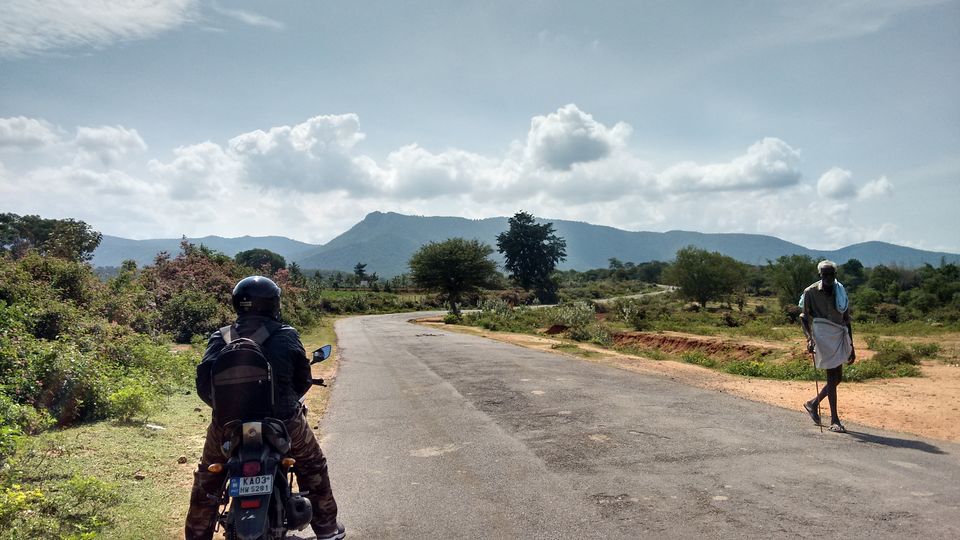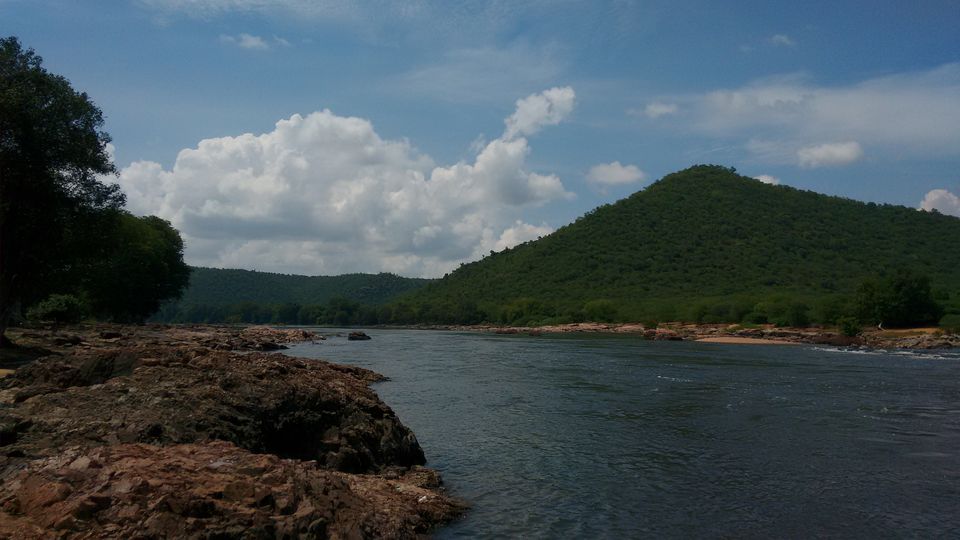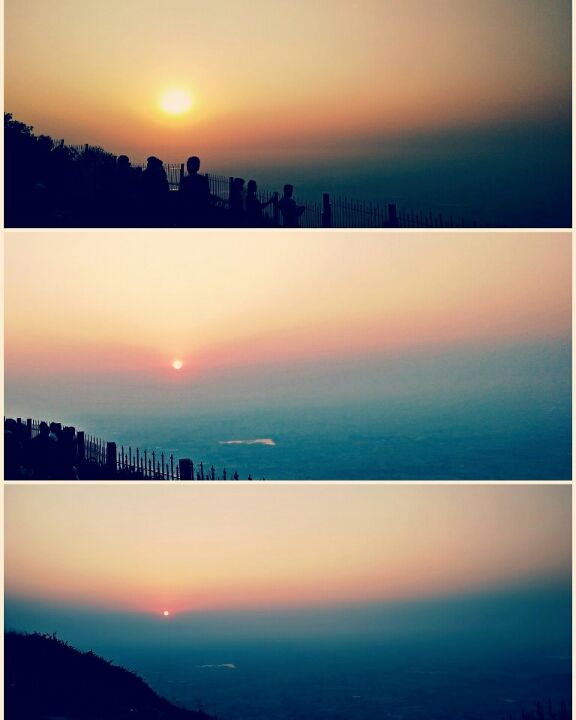 I have been living in Bangalore for quite some time now. The place has something in store for all tastes irrespective of any biases. Personally, being bitten by the travel bug, the place offers me with a lot of not so distant attractions which are ideal for a breakfast ride or a day trip. Owning a bullet definitely helps, but I don't see that as a necessary or sufficient condition. These places have always come to my rescue whenever I have felt a little low. So, go on, have a read. Hope it gets you motivated to go out on a weekend!
Nandi Hills: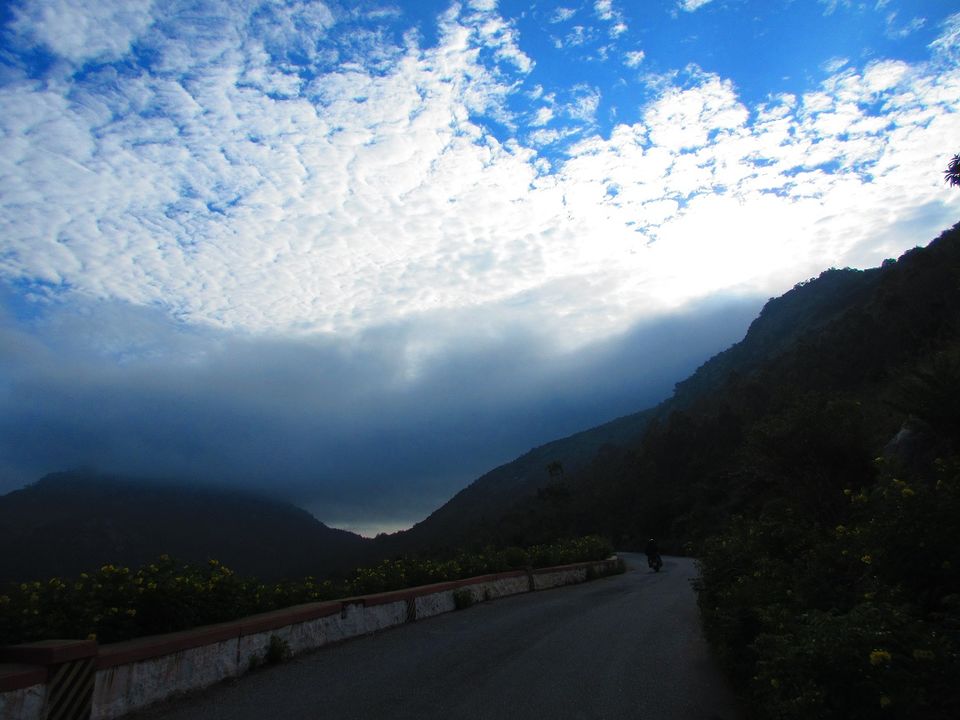 First on the list, and probably my least favorite, is the famous weekend spot for riders, Nandi Hills. It is close to 80 kms from Bangalore and on any given weekend, you will find loads of bikers heading to the mighty Nandi. Sundays are usually the worse, but the place still has enough charm which makes me a good ride. A quick advice: Go early morning and reach the gate by 6 am. The ride is a breeze and it gets cooler as you make your way through the winding roads. Personally, the sunrise from the top comes second only to Skandagiri hills sunrise. An ocean of cloud which glows when the sun rises. The white color is slowly replaced with the golden hue and you tend to wish that this is where you always want to be.
Devarayanadurga Hills: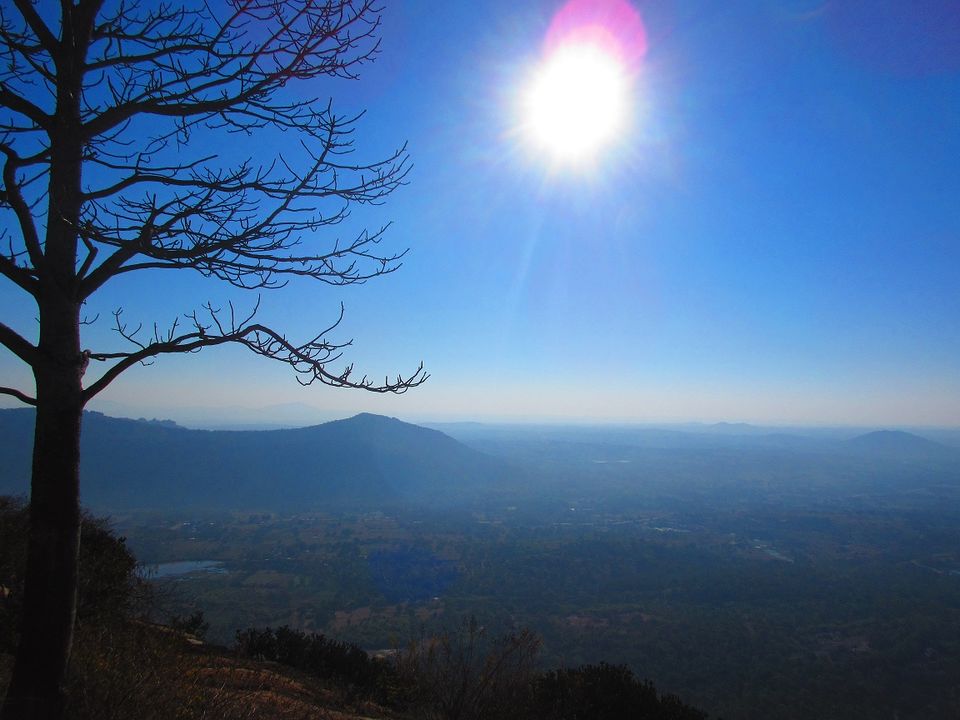 Devarayanadurga or the DD hills make for an interesting ride with a tinge of spirituality. With a distance of 70 odd kms, this place has enough to keep you busy. Go here for one of the best landscape views, and seating spots which would give you scenic pleasure beyond means. The place has some religious importance as well. There are two major temples here, one at the hilltop and one in the main settlement. Be careful with your food items as the temples are the playground for our 'Vanar sena' or the monkeys.
The ride to the place was uneventful until we took a right from Dabaspete on the Tumkur highway. First we encountered beautiful countryside roads, but then there were potholes, construction, and some more potholes. Although, just before you reach the hills, you are treated to buttery smooth roads and that is when you are surrounded by serenity. This place is definitely one of the better options to choose if you are looking for a quaint ride.
Avalabetta Hills: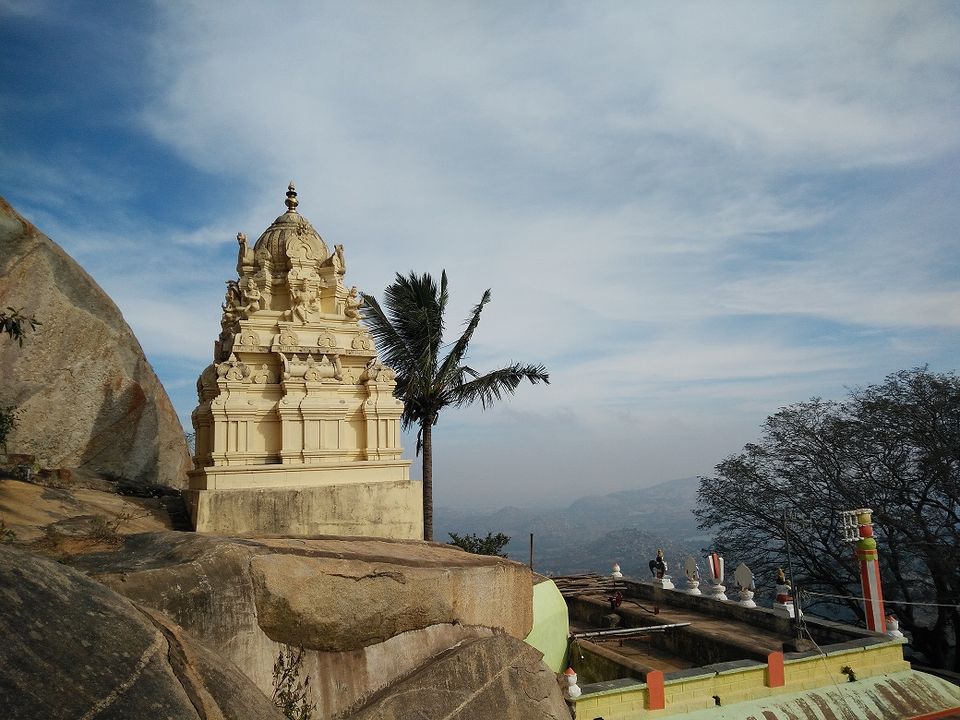 Okay so not many of the riders know this place. This is one of those quiet places near Chikballapur which has recently popped up on the map (comparatively). The nature of the landscape is similar. It is a small hillock which has amazing views and a small temple on top. You have to take a left turn few kms after Chikballapur. You would need assistance from google maps, however it is imperative that you keep on asking the local people for the right way. There is a left turn which is marked on the map but I was advised against it by the locals. If you are indeed on the right track, you would often see small hillocks with rocky boulders. A few minutes later, you will come across a small concrete road which will take you all the way to the top. The hilltop offers serene view especially if you are there early morning. Though I would advise against a sunrise ride, if it is your first time here.
Be sure to visit both the temples on the hill here. The second temple at the top is my favorite. The view from there is just mesmerizing. Sit, relax, introspect, and enjoy the gushing winds.
Thattekere lake: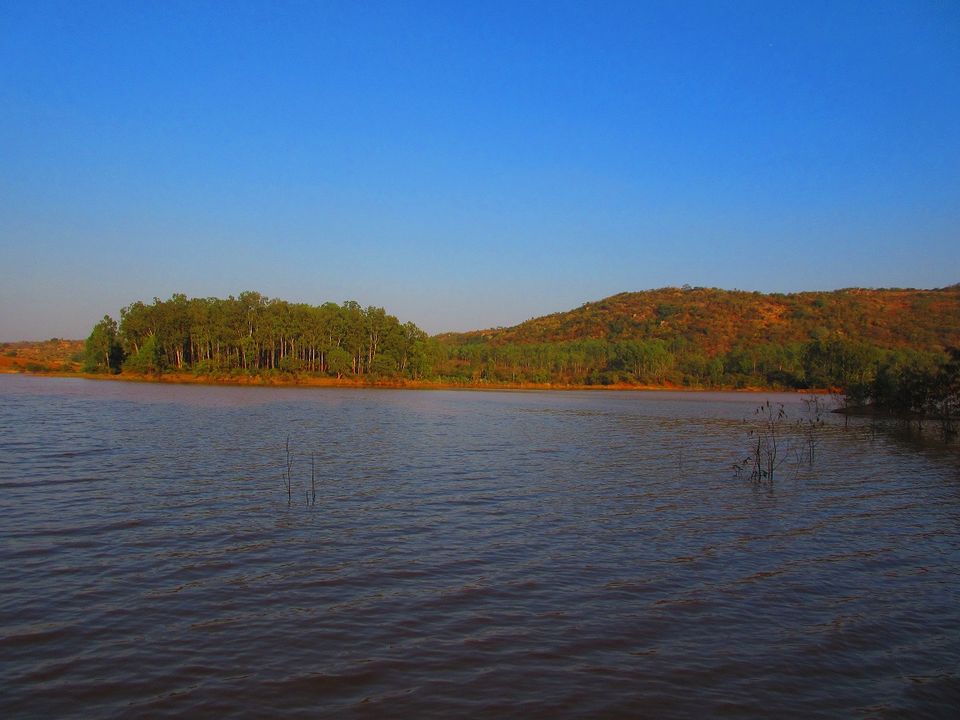 Again a place which is known to few. It is approximately 30 kms away and one of those places where the journey matters more. I was so enchanted by the road which leads to this place that it felt almost magical. I couldn't believe that a landscape could offer so many transitions in a stretch of 30 odd kms. The destination was this secluded lake amidst forests and hillocks which is famous for elephant sighting as well. To reach here, you have to cross two big barricades and voila. Though the lake is great, the same cannot be said for its surrounding banks. We could see beer bottles all around. Nonetheless, you can find a great spot to just sit, relax, and introspect. While returning, we took our time traversing through the various hill stretches and trekked a few not so easy hillocks. Sitting on top, I witnessed one of the better sunsets of my life.
Big Banyan Tree and Manchanabele:
This was one of my first rides during the bullet's run-in period. A relaxed ride it is, if you take the nice road. For people who are not aware, Big Banyan tree is a famous spot close to 30 kms from Bangalore. The tree is famous for being 400 years old and one of the largest (4th largest if I am not wrong) of its kind. Another interesting trivia is that the tree also played a part in the Bollywood classic "Sholay". The main root however has now succumbed to natural diseases and it now looks like a gathering of hundreds of small trees. Still a great sight especially in summers when the canopy provide relief from the scorching sun. A big shout out to adventure lovers as this place is also considered haunted. Years before a couple took a photo here and they could see someone standing behind. It made news all over. If you don't believe in ghosts, I suggest you should find out.
Manchanabele dam is a quick 10-12 kms ride from here. The entry to the dam is now restricted but the journey offers a lot. Something unique here is you get to see the ISROs antenna dishes on your way. Also, the surrounding hillocks make for an excellent sight. Just before you are about to reach the dam, you will witness one of the best views that I have seen in and around Bangalore. Sprawling grasslands, Mighty hills, and a big waterbody right in the middle, this easily is the cherry on the top.
Lepakshi: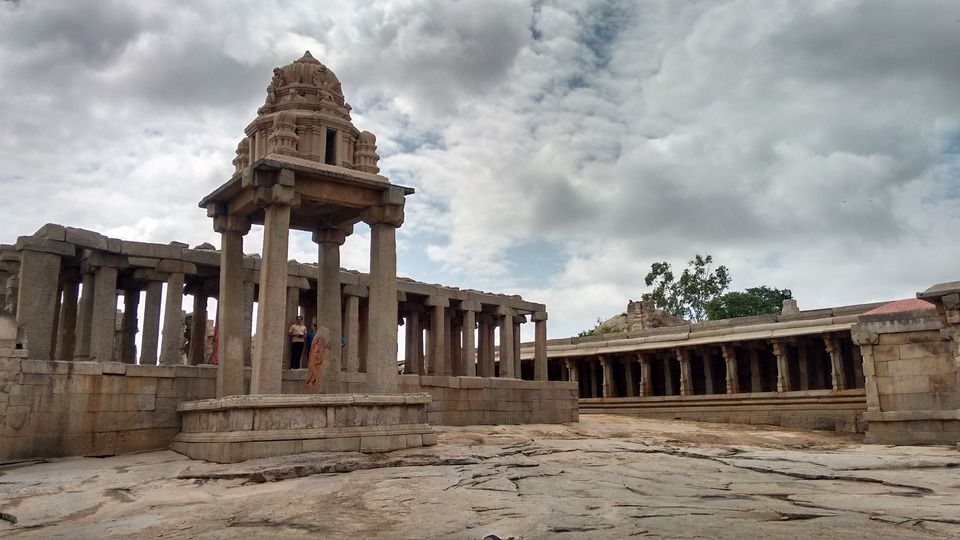 For this place, I will only mention the logistics as one or two paragraphs won't do justice. Read my travelogue here on tripoto for more details on this majestic, and equally, enchanting place.
Lepakshi stands at 128 kms from Bangalore with a 20 kms countryside ride after you take a left from AH43. See it to believe the beauty this place holds.
Shivanasamudra: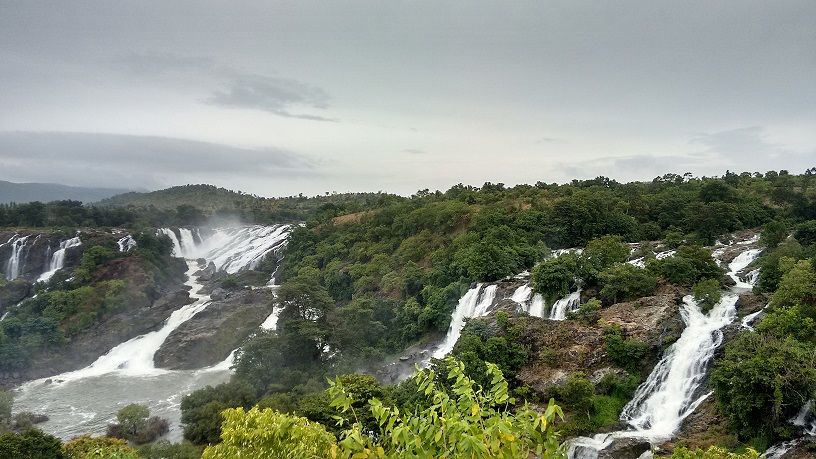 Shivanasamudra holds a special place as this was my first solo ride on a wintery, rainy, wee hours of the morning. At a distance of 130 odd kms, Shivanasamudra has two mighty waterfalls namely, Gaganchukki and Barachukki. You can reach here either
by taking the Mysore highway and then a left after Madduru, Or
by taking the Kanakapura road
I personally prefer the Mysore highway but try and avoid this route because a lot of construction is enroute after you take the left turn.
The ideal time to be here is of course the Monsoon months or the month just after monsson. Once you pay the entry ticket of 10 rs, and you park in the designated spot, take the stairs which go all the way to the waterfall. Carry a spare set of clothes as you are bound to get wet. Or if you are like me, just soak it all in. Cross one of the small waterbody nearby and get close to one of the side waterfall and hear it roar. You can also rent boats and reach near the main waterfall.
Crowd disappointed me a little, but they are better than Hoggenekal where the behavior is unfriendly to say the least and can be considered rude to an extent.
Cons apart, it is a good ride and the falls are worth the effort.
Hogenekkal: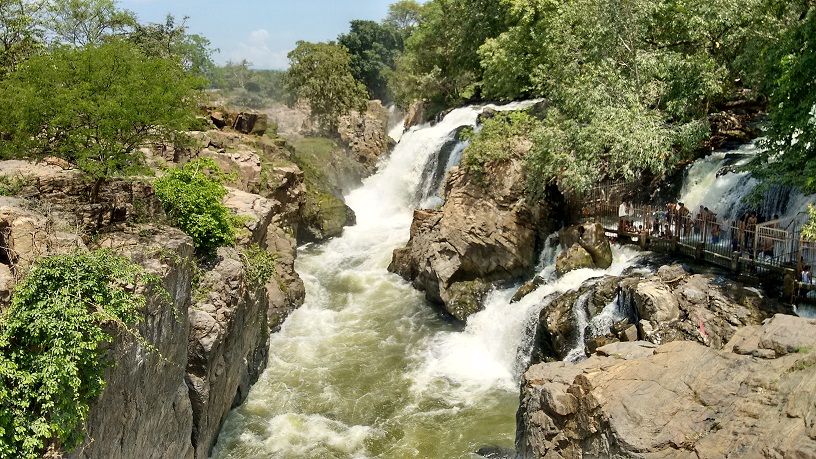 If you have been in Bangalore for some time, you must have heard about Hogenekkal falls. Everyone knows about the mighty falls where the movie Raavan was shot. There are also a separate group of people who talk about how poor the crowd is here. I am always of the opinion that people always make or break a place. Rude or rowdy behavior will probably dominate all your memories of any place. So, when I decided to visit here, I wanted to make the journey special. So, we took a route less taken and believe me it was worth it.
We took the Denkanikottai – Anchetty route to reach the falls. It turned out to be the best decision as we passed through some great countryside roads, mighty hills and even crossed a forest range. Just when we were about to reach, we travelled by the side of the river Cauvery and took a few clicks of the free flowing river. We were not so lucky once we reached Hogenekkal, as the main falls was closed due to an accident. We did not spend too much time there as it was a not pretty sight with oil massages and used clothes everywhere. We decided to return quickly and took the usual route of Krishnagiri. We liked it initially as the path took us through winding hill roads. But soon we were on the butter smooth highway and it was the usual ride till Bangalore.
Ride Safe, Ride Hard!