India, apart from being a land of diversities, is also a land of surprises, and when I say surprises, I literally mean it! One such surprise is a the kind of festivals that are celebrated in India. One must be aware of the mainstream festivals of Diwali, Holi, Navratri etc, that surely holds a significance and are a major festivals of India, but little do people know about some bizarre and weird festivals in India, that are next to impossible and unbelievable, but still celebrated with lot of enthusiasm. Some of them, do include inflicting pain and animal sacrifices, however, still thriving in 2018. Here is the list of such festivals and practices. 
1. Lathmar Holi – Vrindavan, Uttar Pradesh.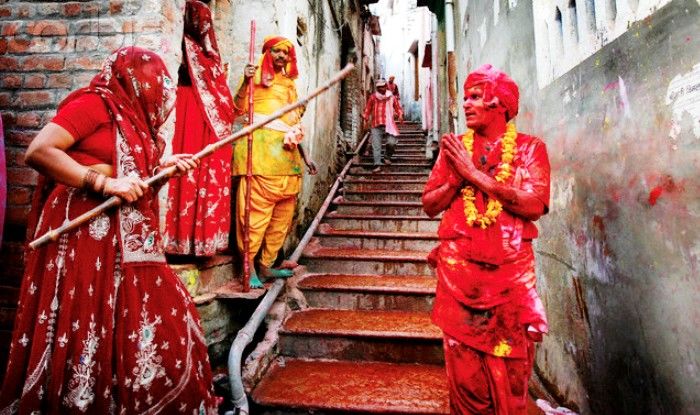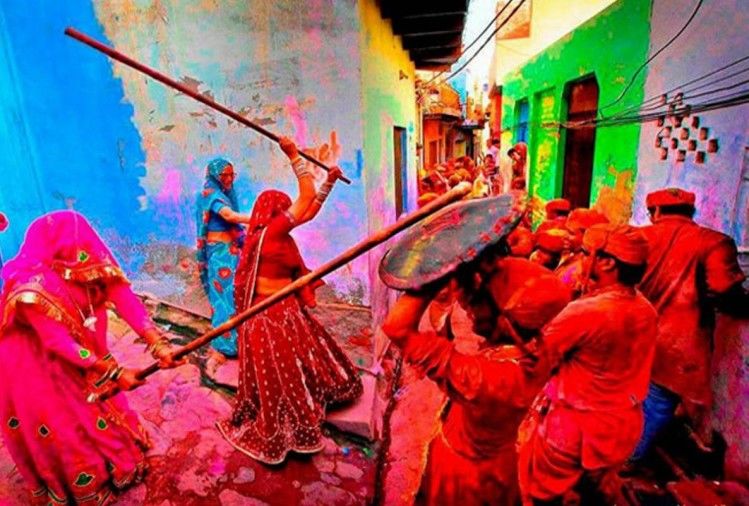 Lathmar Holi is an easygoing confrontation between men of Nandgaon (Krishna's village) and women of Barsana (Radha's village) near Vrindavan. The legend says that during the days preceding Holi, Krishna visited his beloved Radha and ended up teasing her friends. The women of Barsana reacted by chasing down Krishna with sticks (lathis). Since then men and women of these villages recreate the famous event every year as women beat up men with long sticks. The name 'Lathmar' has been derived from two words, 'lath' means 'lathi' or 'stick' and 'mar' means 'to beat'. The unfortunate men who get caught are made to dress like a woman and dance in public. This does sounds fun! 
2. Bhagoria Festival – Khargone & Jhabua, Madhya Pradesh. 
Celebrated in Khargone and Jhabua district of Madhya Pradesh, it is a festival that acts as a 'pre-marriage-selection-ground' where young people, from the Bhil and Bhilala tribe, go partner hunting. It's a very old and traditional festival, more like a marriage fair, where youngsters can choose their partner and elope with them, only to be accepted by the society later and pronounced as man and wife. The name 'Bhagoria' literally means 'to run away'. 
3. Thaipusam, Tamil Nadu.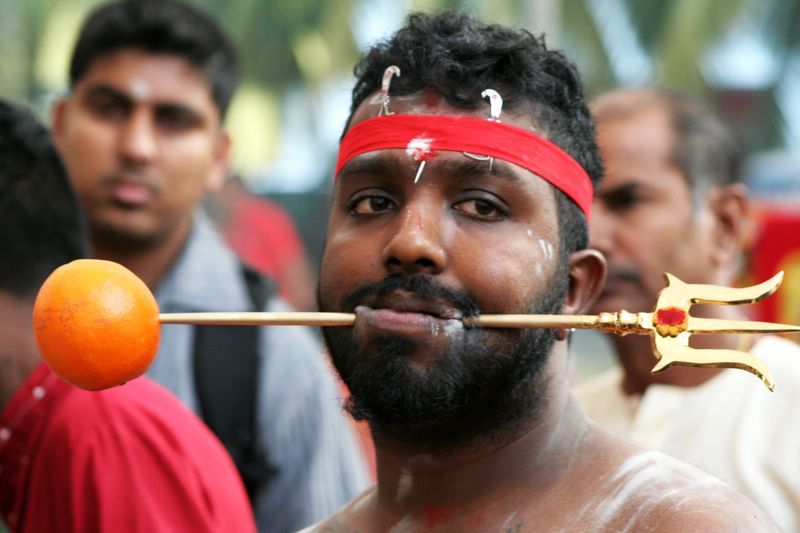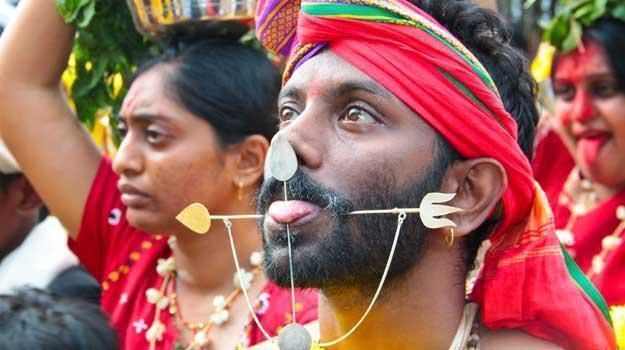 Devotees of Lord Muruga, after bathing and smearing themselves in turmeric, pierce their lips with different shapes of spears, mouth with sharp metal objects, and hook their skin to chains and they pull the chariot in order to pay regards to the deity. A festival that can rightly be called 'Not for faint-hearted', also includes walking on burning coal.
4. Banni Festival, Andhra Pradesh.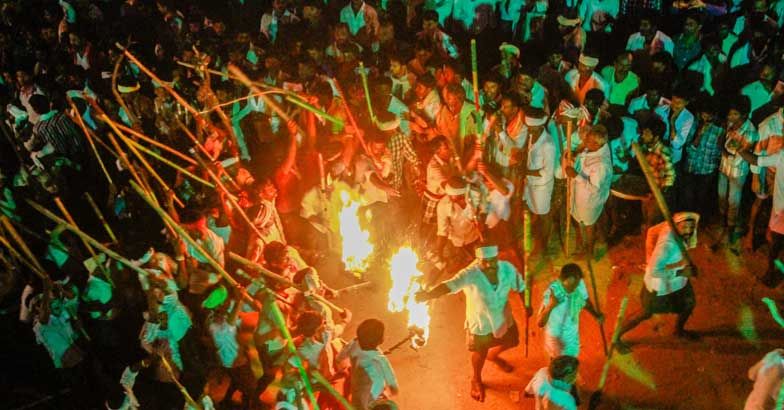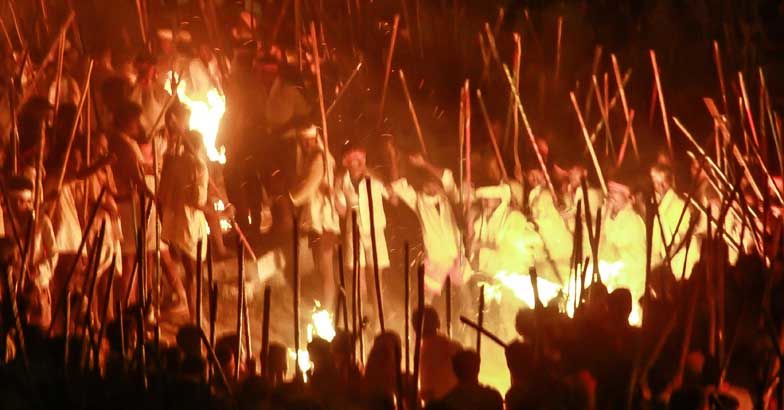 Not a set of any battle movie, but a real time ritual, celebrated at the night of Dussehra, against the backdrop of the Devaragattu temple in the Kurnool district of Andhra Pradesh. The devotees gather with sticks in hand and hit each other, while being in a procession that carries the idols of Parvati and Shiva, Hindu deities. It is believed that, during the olden days, axes and spears were used in place of sticks. Thank God, its 2018!
5. Garudan Thookkam, Kerala.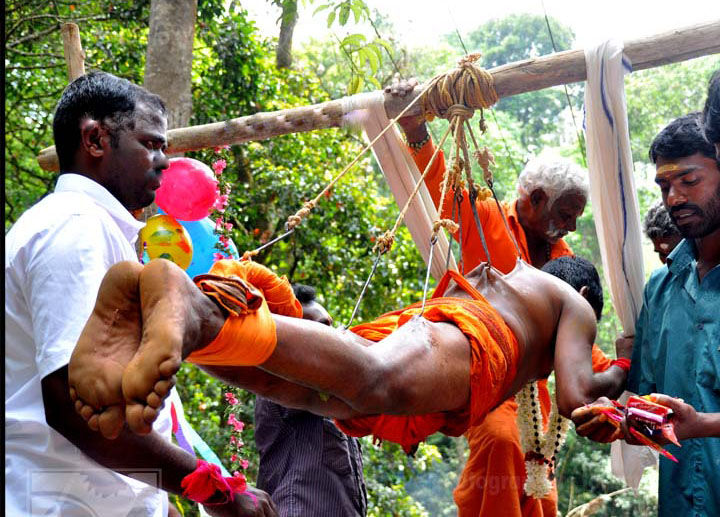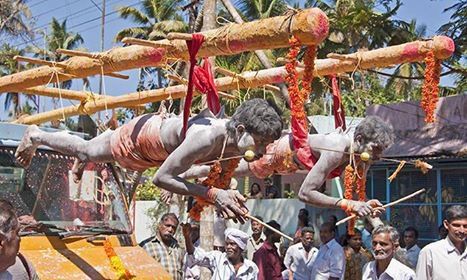 The literal translation of the name is 'Eagle Hanging' and that's what the festival is all about. The Garuda (Eagle) was a humanoid creature which was believed to be the vehicle of Lord Vishnu in Hindu mythology. Legend says that to quench the thirst of goddess Kali, Vishnu sent Garuda to her. Drinking the blood of the bleeding and dancing bird pacified her. People dress up like Garudas and hang themselves upside down from sharp hooks that pierce several parts of their bodies and are then taken around the city in a procession to seek the Goddess' blessings. However, in some places today, hooks are attached not to the flesh but to a cloth tied around the waist.