1.Mumbai-
Street food in Mumbai has a distinctly different flavour from that of the street food in other parts of the country. Paav Bhaji, Vada Paav, potato and onion Bhajias,kada poha,samosa, Bombay sandwiches, street-side Dosas, Patti Samosas, Pani Puri, Sev Puri, Dahi Puri, Ragda Pattis,boiled Channa Chaat, Kala Khatta,kebabs,falooda raw mango slices and berries in Chinese Bhel Indian-style pizzas heaped with cheese to fresh fruit accompanied by real dairy cream,and& chaai(tea) that is rare to find in most places.This is a delight. As layers of flavours, textures, colours create dishes that pop in your mouth and hardly impact your pocket.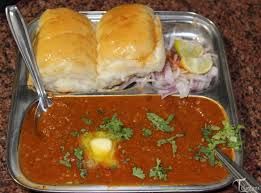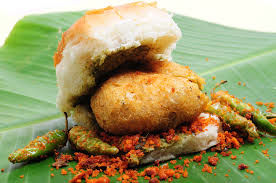 2.Kolhapur –
Kolhapur is well known paradise for non vegetarian lovers, but it has many eating options equally wonderful for vegetarian food.Once in Kolhapur, you should never miss out on MISAL, which is famous maharashtrian snack. Authentic misal can be tasted only in Kolhapur.Kolhapur has a some good traditional dishes prepared from Mutton(goat meat) which are very tasty and delightful. Pandra Rassa the white curry is a liked starter at Kolhapur. A Soup like dish of water used to boil the Mutton along with spices such as coriander , ginger & garlic etc. This is a very tasty pre-food item. Apart from taste it has certain medicinal use as well. This rassa is recommended for cough and throat related ailments. This is a part of a well-know duo curries. the other one is termed as Tambra Rassa. veg kolhapuri,bharali vangi(stuffed brinjals),pithale bhakari are most popular veg dishes.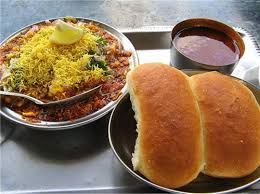 3.Nagpur-
TARRI POHA is the typical Nagpur style breakfast but you can savour a plate of delicious poha with spicy curried black gram or chickpeas, with the tarri on the side, anytime of the day.A food expedition to Nagpur is far from over without sampling typical Marathi dishes like jhunka bhakar, patodi and goda bhaat.
SAOJI DELICACIES: A culinary tradition that evolved in Maharashtra's Vidarbha region (where Nagpur is), the typically fiery Saoji food is a must try. Fiery curries made with trotters (paya), chicken and even offal cooked with special spice mixes (fiercely guarded recipes). A must try dish is the Keema Kaleji. You cannot leave the Orange City without savouring the Santra Barfi (Orange fudge).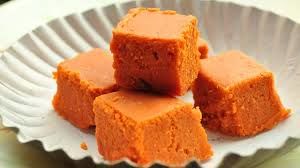 4.Malvan-
Malvani cuisine is the standard cuisine of the Konkan region of Maharashtra and Goa, and some northern parts of West Karnataka. Malvan being a coastal area in Konkan, it has its own distinct way of cooking food. Malvani cuisine uses coconut liberally in various forms such as grated, dry grated, fried, coconut paste and coconut milk.Kombdi Vade or Murgh Malvani is a non-vegetarian dish, which is quite popular in Maharashtra other than that their are so many non-veg dishes like Mori Masala or Shark curry ,Bangda (mackerel fish)Fry ,Malvani Mutton Curry,Bombil Fry ,Paplet Saar,Fish Koliwada are worth to try. tandalachi (rice flour)Bhakri ,spicy curry of cashews and jackfruit subji are some mouth watering veg recipies.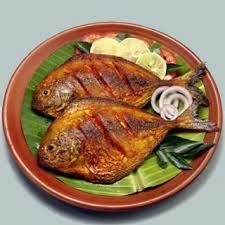 5.Pune-
Like with most regional cuisines of India, the Maharashtrian thali is also arranged to achieve a balance of flavours and nutrition. So alongside chutneys, wafers (papad), chopped/grated salad (koshimbir), sprouts (usal) and lentils - tempered (amti) and untempered (sadha varan), you will also find vegetables cooked in different ways (bhaji), rice (bhaat), rotis, yoghurt or buttermilk, and sweets (the popular ones being shrikhand/amrakhand, gulab jam, kharvas, puran poli), followed by betel leaves stuffed with spices (vida).The food described below is designed to soothe your soul.Shrewsbury biscuits,parathas,pavbhaji,pani-puri,bakarvadi masala dosa ata vashali are most populer item in pune
Don't leave Pune without trying a Mastani. It is a thick, slightly liquid combination of condensed milk and ice-cream, topped with more ice-cream, of various fruit flavors.