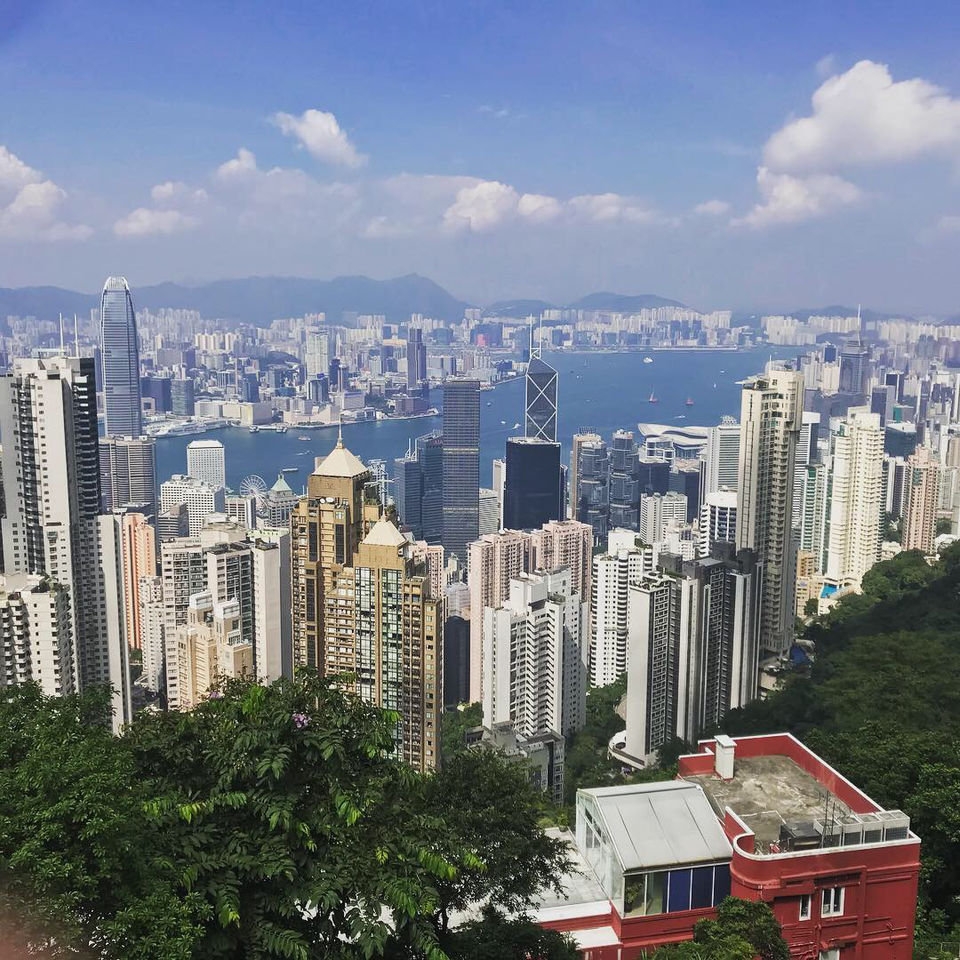 So me and my partner were in Vietnam and long story short we loved the place. We needed to extend our visa's... well we had a better idea fly out of Vietnam and come back in a few days! Brilliant! So as we were in Da nang we thought great let's check out flights! So first affordable flight that grabbed my eye was 5nights in Hong Kong. I'd never been and also I had a friend who had lived there for almost 4 years now.
So off we went, with only our small backpacks, as we left our big ones at our hotel in da nang to save on baggage fees (Savvy right!)
We arrived in Hong Kong around midday and headed on the airport express and MTR (underground) to Kowloon. We had booked a hotel called Tempo Inn Cozy mansions. Which naturally was hard to find. As it was on the 4th floor of a tower block. This was the start of a new trend for us. Tower blocks. Everything is in tower blocks. You want a beer, tower block. You want a massage, tower block. You want a, well you get the picture. We opened the door to our double room, no window, a toilet where you must shower presumably on the toilet. But you know what, it was clean it smelled fresh and well it's Hong Kong space is kinda in short supply. We had a great time walking round Hong Kong. We ate some great Indian Chinese fusion dim sum. Later that evening we headed to Central for a beer and a wine at Beef and Liberty on the 4th floor of some block which obviously we found impossible to find. It was happy hour so wine was only £3 and a beer was £4 so it's a good deal. We then headed to Takeout comedy Club which was around £25 each but to be honest it was really good and it's BYO so head to a 7/11 grab some beers and go laugh to some original comedy.
So today we had it all to do, we woke up bright and early and grabbed our passports and headed to the closest ferry port (which was only a 10minute walk) that's right we're getting on a ferry. We had found out that Macau had a international fireworks competition so we decided to go. The ferry was pretty organised and it was a total breeze. Emma had found out that you could visit Pandas in Macau for Around £1.50 so of course that's where we headed first. After a bit of confusion with buses we finally got our bus which was 6Macau dollars around 60p each. Well we saw the pandas and to be honest. It was GREAT! I mean they didn't do much but personally having never seen a panda I loved it. We then jumped back on the bus because who goes to Macau without going to a... you guessed it, A Casino. So we decided on the Venetian Casino, don't know why but we did. We headed out into the tables to see a swarm of people handing all their hard earned money to the pit bosses. So we tried to play the machines... after about 5 machines didn't accept my money, We started to really question if we should be there... but all it was, was that you pay in the casinos in Hong Kong Dollars. I have no idea why but that's the case! Luckily we had some so we could play and eventually lose, naturally. It's now evening so we headed back on a bus to where the fireworks were on. Which was really easy to find. We bought an ice cream from one of the stalls, and the lovely owner gave us a free one and welcomed us to Macau. It was a really nice touch and delicious to boot. Later after the fire works we returned to Hong Kong.
So today we woke up and went across to Hong Kong island to see an old friend I played football with and his girlfriend. we had some great food at Dockyard part of The Kerry Hotel. And later went to a few bars to enjoy the happy hour and a brilliant view of Hong Kong
Dim Sum Day. So apart from Mc Donald's we eat a lot of dim sum... and before you start going McDonald's dear oh dear. May I inform you that the Big Mac price index is on our side, as were reliably informed McDonald's is actually good value for money in a country where a beer can set you back £8. so we jumped on a tram and headed to a place in North point called Dim Dim Sum. Well let's just say, this place is amazing. The food was great. Very reasonably priced and delicious. We actually ended up eating there twice.
Our last day. We managed to fit in 3 brilliant parts of Hong Kong in one day which for victims of the 11am wake up crew is pretty good for us. We headed up to Victoria peak for a truly breathtaking view of Hong Kong. We also went to the botanical gardens which has monkeys, meerkats and an aviary all for free. Then in the evening we went to a restaurant my friend recommended. MR WONGS. Ok it doesn't actually say that on the restaurant but it's all in Chinese everyone just knows it's Mr Wong's. The man is a legend. The food is very much frozen Chinese like you'd have in England. But you know what it was good. We had no idea what to do but that didn't matter Mr Wong had already brought us over 6 beers! So here's the deal 80 HKD around £8 all you can eat Chinese and all you can drink. It was certainly an experience and I'd definitely recommend it. It comes up on google maps it's a bit off the main road but it's hilarious. He even gave us 3 beers to go home with.